MAS Consolidation: Opportunities in the FAS Engine Room
MAS consolidation is all about breaking down barriers, eliminating stovepipes, and streamlining procurement processes. For this reason, GSA is to be commended for this important contracting effort to bring efficiency to government contracting. As the largest commercial item contract, accounting for over $30 billion in annual purchases by the Federal government, MAS consolidation is the centerpiece of GSA's Federal Marketplace Strategy.
To date, MAS consolidation has focused on addressing procurement processes, the MAS solicitations, and resulting contracts. In Phase 1, the Federal Acquisition Service (FAS) reviewed and rationalized hundreds of MAS clauses and issued a single, updated MAS solicitation that replaced the 24 pre-existing solicitations. As part of the new solicitation, FAS also consolidated the Special Item Numbers (SINs) from approximately 900 down to just over 300. In Phase 2, FAS issued a mass modification to current MAS contractors implementing the consolidated set of MAS clauses and new SIN structure. In Phase 3, FAS continues working with MAS contractors with multiple contracts to merge those contracts into a single contract with the updated terms and conditions.    
Consolidating the MAS solicitation and contracts will increase customer agency access to best value commercial products, services, and solutions. In turn, this effort will translate into increased competition and business opportunities for MAS contractors seeking to support customer agency missions. It is important to note that GAS has recognized that to effectively communicate and fully leverage the benefits of MAS consolidation, FAS's IT systems, both internal and external facing, must be modernized. To this end, it is gratifying to see FAS moving forward with modernizing its electronic catalog, GSA Advantage, and associated systems. Indeed, modernizing its IT systems is the surest way to ensure the benefits of MAS consolidation adhere to customer agencies, contractors, and FAS's acquisition workforce. 
Significantly, MAS Consolidation provides another wonderful opportunity to improve FAS management and operations. It sets the stage for a top-down review of FAS to reduce duplication, eliminate unnecessary organizational stovepipes, leverage resources, and increase efficiencies. 
At an operational level, too often FAS's industry partners see inconsistent approaches to, and interpretations of, procurement policies, including pricing negotiations and End User License Agreements.  MAS consolidation provides the platform to address these "procurement policy stovepipes" across the acquisition centers and among contracting officers. Further, a top-down review would serve as a catalyst to enhance FAS management's ability to focus on strategic and market-driven opportunities to enhance customer agency mission support. Simply put, MAS consolidation provides GSA's Federal Marketplace Strategy with the golden opportunity to review, reinvent, and reform the FAS organization's management and operations. 
As always, the Coalition looks forward to engaging with GSA and all stakeholders across the procurement community on the benefits and opportunities of MAS consolidation.    
House Requests Additional Funding for Technology Modernization
Fedscoop reported that Rep. Carolyn Maloney (D-NY) and Rep Gerry Connolly (D-VA) sent a letter to House leadership requesting $9 billion for the Technology Modernization Fund (TMF). The additional funding could be included in the next COVID-19 relief package. The Biden Administration has also requested additional funding for the TMF in their COVID relief proposal. There has been $150 million appropriated to the TMF since its establishment in 2017.  
White House Releases Billions in Agency Funding
On January 31, the White House lifted the freeze on $27 billion in funding across 12 agencies. The Trump Administration had issued a rescission request under the 1974 Congressional Budget and Impoundment Control Act only a few days before he left office. At that time, the funds were identified as unnecessary spending. Congress has a 45-day window to consider the rescission request. While Congress can deny the request prior to the ending of the 45-day period, the Office of Management and Budget can still tell agencies not to spend the funds proposed in the rescission request for the full 45-day period. The $27 billion in funding is currently available to agencies because the current Administration withdrew the rescission request.  The agencies that will now receive the released funding include the Departments of Agriculture, Commerce, Education, Energy, Health and Human Services, Homeland Security, the Interior, Justice, Labor, State, and the Treasury. 
GSA 
Pledges
 Funds to AbilityOne
On January 26, the General Services Administration (GSA) released a memo in which they pledge to commit 2% of contract spend for fiscal year 2021 to the AbilityOne Program. This memo also establishes an AbilityOne Representative (ABOR), which will be available on the AbilityOne Program page once established. The Office of Federal Procurement Policy (OFPP) released a memo in October 2020 that requested Federal agencies increase opportunities for the AbilityOne Program. OFPP specifically asked agencies to establish an AbilityOne pledge of at least 1% in fiscal year 2021 and at least 1.5% of dollars in fiscal year 2022. In addition to the agency level ABOR, GSA will also name AbilityOne representatives for the Federal Acquisition Service (FAS) and Public Building Service (PBS).  
DoD's OTA Spend Doubles During COVID-19
Last week, Federal Computer Week reported that the Department of Defense (DoD) obligated $16 billion in other transaction authorities (OTAs) in 2020. According to the Defense Pricing and Contracting Agency's annual report, $7.7 billion of this was spent on COVID-19 response. DoD's use of OTAs more than doubled from 2019, where the agency spent $7.4 billion. Despite the increase in OTA spending, DoD had fewer contract actions in 2020 for the military services and Defense Logistics Agency (DLA) than in 2019, dropping 8%. OTAs allow for faster acquisitions and have attracted non-traditional companies to do business with DoD. The report also highlighted a 9% increase in contract obligations.   
New Webinar on The Defense Production Act, February 11
The Coalition is pleased to host David S. Black and Eric S. Crusius of Holland & Knight LLP for a webinar on February 11 at 12 noon EST regarding The Defense Production Act – Trends, Developments, and New Applications.
In 2020, the Defense Production Act (DPA) emerged as an important tool of the Federal Government to respond to the COVID-19 Pandemic and to strengthen U.S. manufacturing capacity in strategically important industries. In the past year, there have been new trends and developments in DPA policy, regulation, enforcement, and Government investment. The Biden Administration has already signaled that the DPA has an important role to play in battling the pandemic and decreasing U.S. reliance on foreign manufacturing for critical supplies and technology. In this webinar, we will bring you up to date on changes in the DPA and how the Act is likely to be used to manage key segments of the economy in the near future. David and Eric will be discussing:
A review of DPA developments and applications in 2020;

DPA-related provisions in the 2021 NDAA;

Early actions by the Biden Administration about its intended use of DPA authorities; and

Potential opportunities and risks for manufacturers in the healthcare, defense, and technology sectors.
Please CLICK HERE TO REGISTER!
MSPV 2.0 Meeting, February 23
The Medical/Surgical Subcommittee will have its first meeting of 2021 on February 23 at 2 pm EST. We are pleased to announce that our guest speakers will be from the U.S. Department of Veterans Affairs and they will be joining us to discuss the MSPV 2.0 program. Our guest speakers will be:
Rick Lemmon, Executive Director of Procurement, Office of Procurement & Logistics, VHA

Katie Hulse, Director (acting), Acquisition Services 3, Medical/Surgical Prime Vendor Program, Chief, Acquisition Services 3B, VA SAC

Amanda Anderson, Chief, Acquisition Services 3D, Medical / Surgical Prime Vendor Program, VA SAC

Fredrick Hilliard, Lead CO, MSPV 2.0, VHA
The VA's briefing will cover the latest on the MSPV 2.0 BPA awards and the MSPV-NG program. Please send your questions on the MSPV 2.0 program to Aubrey Woolley at awoolley@thecgp.org and we will share them with the VA in advance of the meeting. To RSVP to attend the virtual meeting, please email Michael Hanafin at mhanafin@thecgp.org.
GSA to Require FAS ID for eOffer and eMod Starting March 8
On February 3, the General Services Administration (GSA) posted a notice on Interact that as of March 8, contractors will need to use FAS ID to access eOffer and eMod. FAS ID is a centralized identity management system that allows contractors to access GSA applications with one email and password. FAS ID has already been implemented on the FAS Sales Reporting Portal (SRP), GSA Advantage Purchase Order Portal, GSA Vendor Portal, the Mass Mod Portal, and eBuy. Contractors that already have an established FAS ID with one of these applications and have access to eOffer and eMod will not need to re-register. Users without an established FAS ID will need to register for an account starting March 8. GSA noted that contractors will not be able to access eOffer and eMod on March 6 or March 7. The agency also noted that digital certificates will no longer be required to access eOffer and eMod once the transition to FAS ID is completed. However, contractors may still need to maintain their digital certificates for other government and non-government customers. 
Next Steps for CMMC
According to Federal Computer Week, a final rule on the Department of Defense's (DoD) Cybersecurity Maturity Model Certification (CMMC) could arrive as early as April. Diane Knight, DoD's lead for CMMC pathfinders and programs, gave details of a potential timeline during a January 26 townhall meeting. The theoretical timeline for the pilots includes requests for proposal (RFPs) being released in April, proposals being submitted by July, and awards in August. This timeline relies on other factors, including CMMC training and certification of assessors by the CMMC board.  
According to Ben Tchoubineh, CMMC Board Member and Chair of the Training Committee, formal training content created by licensed partner publishers should be available by late spring or early summer. Around this time, classes for training should be available. So far, 12 schools have already been approved as licensed training providers out of 22 applicants. Currently there are 100 approved provisional assessors who are able to work with Certified Third-Party Assessment Organizations (C3PAOs) to conduct cybersecurity assessments. However, out of 408 applications for C3PAOs, only 53 have been approved. Most applications and approvals so far are for registered providers in the CMMC AB marketplace, meaning they can help companies prepare for assessments, but cannot administer them.   
DoD has CMMC pathfinders with the Missile Defense Agency (MDA) and the Defense Logistics Agency (DLA). The DLA pathfinder will be the first to use authorized C3PAOs. According to Knight, up to 15 pilots that will use DoD acquisitions are set to roll out this year. DoD continues to look for CMMC pilot nominations, and is exploring opportunities with other agencies including the General Services Administration (GSA), the Department of Homeland Security (DHS), and the Department of Interior (DoI). 
Industry Feedback on GSA's VSC
The General Services Administration (GSA) released the results for a request for information (RFI) about improvements to the Vendor Support Center (VSC). The RFI showed that 68% of VSC users are satisfied or extremely satisfied with using the VSC, but some users found it difficult to navigate and disliked the help desk.  
GSA received the following feedback in the RFI and plans to make strategic updates to the VSC to better serve stakeholders. 
Industry wants a user-friendly site that is easy to navigate 

Increase support at the help desk 

More plain language including defining acronyms 

Updated information and current training 

Replacing or updating SIP 
Lawsuit Leaves Future of JEDI 
Uncertain
According to Fedscoop, the future of the Joint Enterprise Defense Infrastructure (JEDI) cloud contract could be at risk if the Court of Federal Claims (COFC) does not dismiss allegations of political influence in the award. Last Thursday, the Department of Defense (DoD) sent an information paper to Congress that explained the potential impact of the COFC's decision on the agency's motion to dismiss the allegations. DoD wrote in the paper that a significant ruling should be made within the coming weeks. If the court rules that the allegations are sustainable, then the future of the JEDI contract may be in question. Even if the court dismisses this particular allegation, DoD believes that it will likely take four to five months for a ruling on other aspects of the lawsuit.  
DPC 
Ann
ounces New 
Director
of 
Contracting eBusiness
Defense Pricing and Contracting announced that Lisa Romney has been appointed as the Director, Contracting eBusiness (CeB) effective January 31, 2021. The CeB manages Department of Defense-wide procurement capabilities using data standards, enterprise services, internal controls, and business intelligence. The CeB also oversees policies for DoD purchase cards. 
Legal Corner: Biden Leaves in Place Key Portions of Buy American Act Changes, Targets New Domestic End Product Test and Services
Authors: Stephen Ruscus, Morgan Lewis
The Legal Corner provides the legal community with an opportunity to share insights and comments on legal issues of the day. The comments herein do not necessarily reflect the views of The Coalition for Government Procurement. 
President Joe Biden issued on January 25 an Executive Order on Ensuring the Future Is Made in All of America by All of America's Workers (EO). This EO leaves in place key portions of the prior administration's July 15, 2019 EO 13881 (Maximizing Use of American-Made Goods, Products, and Materials) and related implementing regulations, orders a sweeping review of multiple domestic preference rules, including proposing standards for domestic products, and establishes a central Office of Management and Budget (OMB) authority to approve federal agency waiver requests of Made in America requirements.
KEY POINTS
Broadly defines "Made in America Laws" as those relating to financial assistance awards, including grants, and contracts requiring or providing a preference for goods, products or materials produced in the United States. This includes the US Department of Transportation's Buy America provisions and Buy American Act (BAA) requirements, but does not include Federal Trade Commission (FTC) Made in USA labeling issues.
Seeks to maximize use not only of goods, products, and materials produced in the United States, but also services offered in the United States, but does not offer a clear path toward required purchases of US services. 
Click here for the full article.
Healthcare Spotlight: Biden Signs "Sustainable Public Health Supply Chain" Executive Order
On January 21, the President signed an Executive Order (EO) to secure the supplies needed for the Federal government (and State, Local, Tribal and Territorial authorities) to respond to the COVID-19 national pandemic.  In short, the EO requires that:
The Secretaries of Defense, Health and Human Services, and Homeland Security take immediate inventory of the critical materials, treatments, and supplies (including personal protective equipment (PPE)) needed to combat COVID-19

Where shortages exist, all legal authorities available, including the Defense Production Act, should be used to fill these shortages through additional stockpiles, improving distribution systems, building market capacity or expanding the industrial base

The status of the Strategic National Stockpile be provided to the President

The Secretaries of the Defense, HHS, State, Homeland Security (and other agencies) provide:

An inventory of pandemic response supplies

An analysis of their agency's capacity to produce, provide and distribute pandemic response supplies

An assessment of their agency's procurement of such supplies and their availability on the open market

An assessment of any gaps and recommendations to address them

Depending on the above agencies' inventory assessments, the COVID-19 Response Coordinator is to recommend to the President whether additional use of the Defense Production Act would be useful
The EO also addresses the pricing of pandemic response supplies by requiring the Secretaries of Defense, HHS, and Homeland Security to make recommendations for how to address the pricing of pandemic supplies, "including whether and how to direct the use of reasonable pricing clauses in Federal contracts."  It also asks these agencies to assess "whether to use the GSA Schedules to facilitate State, local, Tribal, and territorial government buyers… in purchasing pandemic response supplies using Federal Supply Schedules."
Finally, the order requires a strategy be established to design, build and sustain a long-term capability for the U.S. to manufacture supplies for future pandemics and biological threats including an analysis of the roles of the Strategic National Stockpile and other Federal and military stockpiles.  Certain Tribal governments, Indian Health Service healthcare providers, Tribal health authorities and others are also to be given access to the National Stockpile. 
The Coalition will continue to follow policy developments from the current Administration and update members as new information becomes available.  To access the full EO, click here.
Legal Corner: Find Your Path to Polaris: Important Takeaways from the Draft to GSA's Latest GWAC
Authors: Jeff Clayton, Leo Alvarez, Tim Pergolin, Baker Tilly
The Legal Corner provides the legal community with an opportunity to share insights and comments on legal issues of the day. The comments herein do not necessarily reflect the views of The Coalition for Government Procurement. 
Polaris overview
In an effort to introduce and guide new small business contractors in the U.S. federal government marketplace and provide a replacement vehicle for the recently cancelled Alliant 2 Small Business (A2SB) contract, the General Services Administration (GSA) has released its next-generation Governmentwide Acquisition Contract (GWAC), "Polaris." GSA's Polaris GWAC is meant to provide the next generation of IT services-based solutions to all eligible federal buyers.
The Polaris GWAC is designed to provide opportunities for small businesses under socioeconomic categories that may have been underrepresented on previous GWACs. To that end, the Polaris GWAC is slated to include three separate pools based on size and socioeconomic status:
Small Business (SB) Pool

HUBZone Small Business (HUBZone) Pool

Women-Owned Small Business (WOSB) Pool
The Polaris contract provides government agencies with a streamlined approach to the acquisition of both commercial and noncommercial services. Fixed-price, cost-reimbursement, incentive, time-and-materials and labor-hour task orders are all anticipated under the GWAC.
The draft request for proposal (RFP) was released on Dec. 31, 2020, with feedback to the draft RFP due Jan. 29, 2021. It is unclear when the formal release of the RFP will occur, but based on communications from GSA on a speedy rollout, Baker Tilly is expecting the RFP to be released by this summer.
Polaris at a glance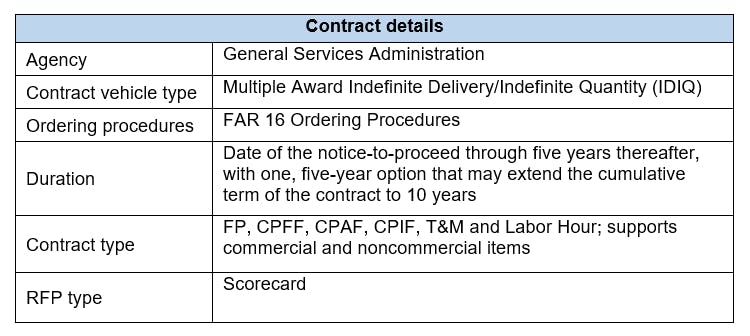 Catering to small businesses
In a recent blog post, Laura Stanton, assistant commissioner of the Office of Information Technology Category (ITC), highlighted that one of GSA's strategies for increasing the pool of qualified small businesses on Polaris could be the use of Section 876 of the Fiscal Year 2019 National Defense Authorization Act (NDAA). Section 876 granted GSA the authority to award contracts to qualifying offerors without considering prices for services acquired on an hourly rate basis. The draft RFP does indeed incorporate this new authority, shifting price competition to the task-order level, rather than the IDIQ contract level itself. This should reduce the level of effort for developing a proposal – a welcome addition for many in the small business community.
Also highlighted in the aforementioned blog post, open season on-ramps were contemplated to allow for companies that were not part of the initial award to propose for the GWAC as needed. The draft RFP also incorporates this important feature. In addition to potentially increasing the pool of qualified small businesses, on-ramping new contractors at different times during the contract period would provide federal agencies with access to the most innovative small businesses working at the leading edge of technological advancements – an important consideration given the ever-changing IT marketplace.
Scorecard RFPs
Based on the draft RFP, it appears that GSA intends to use a "Scorecard RFP" approach for the Polaris procurement. GSA has successfully run several of its recent large procurements using a Scorecard RFP approach, including OASIS, ASTRO, HCaTS and Alliant 2. What this means is that offerors will complete a self-scorecard that considers a number of factors and will need to provide supporting documentation along with their scorecard so that GSA can verify the points that an offeror is claiming. Upon receipt of proposals for Polaris, GSA will rank bidders based on their self-scores and then will go down the list to either verify scores, correct scores or remove noncompliant proposals from consideration.
With Scorecard RFPs, there is not typically a traditional written technical proposal that allows a bidder to describe how well they can support the government's needs; rather, a prospective bidder needs to demonstrate its ability to perform using historical project and past performance documentation. Having worked on a number of Scorecard RFP offers, Baker Tilly believes it is very important for bidders to understand the scoring system, in order to leave enough time to capture relevant data. The data retrieval process can often become a test of a company's contract management practices and their ability to organize and submit information in a manner that maximizes an offeror's self-score, while remaining in compliance with RFP instructions.
While the draft RFP clearly indicates that Polaris is being planned as a Scorecard RFP, and it did include many of the areas that are being contemplated for point-scoring, it did not include the actual points being allocated to each area. (We have included a table near the end of this article highlighting the scoring areas that are currently contemplated.)
While the draft RFP did not include information on how points will be allocated under Polaris, we can draw conclusions from the recent scorecards used in similar GWAC solicitations. As highlighted in the table below, Relevant Experience (RE) projects and Past Performance (PP) ratings have accounted for more than 70% of point-scoring opportunities in several recent GWACS that followed a scorecard approach. Based on this, it is safe to assume that RE and PP will play a huge role in deciding awards under Polaris.

The draft RFP has also stated that "Breadth of Primary Relevant Experience" will be an important deciding factor when evaluating RE. GSA may assign higher point totals to RE projects that cover multiple "performance areas" and also those that use multiple "emerging technologies," are of higher dollar value and are highly complex.
Key RE factors for Polaris: performance areas
Polaris is placing an emphasis on emerging technologies in both the initial award period and future on-ramp periods. The government is broadening the landscape of the normal performance areas it will assess in the RFP to support the inclusion of new and innovative offerings. One would think that this would also mean that the Polaris procurement will be designed in a manner that allows companies who are somewhat new to the federal space to qualify for Polaris; however, based on what we can see in the draft RFP, it is not clear that this will be the case.
While the draft RFP allows for commercial projects to be submitted to support RE, it is not clear yet whether commercial projects will provide for the same amount of base point-scoring (this has not been true on other Scorecard RFPs). While the total points that can be accumulated for these other areas is yet to be determined, there are several additional point-scoring categories that, if taken at face value, will only be available to bidders who are submitting RE projects where they have served as federal prime contractors.
For example, the draft Polaris RFP indicates that additional points will be available to bidders who can provide primary RE projects demonstrating that they are doing work with multiple federal government customers (up to five different customers). It will include scoring opportunities for contractors with approved cost accounting and purchasing systems. The scorecard also provides points for different Capability Maturity Model Integration (CMMI) levels, International Organization for Standards (ISO) and government facility clearances. Many of these points and some others that fall more into the RE "bucket" will be hard to come by for small and disadvantaged businesses that have not done a lot of federal government contracting. It will be interesting to see how the available points break down if GSA releases a draft scorecard at some point, or if not, how it breaks down in the final RFP.
The five performance areas highlighted in the primary RE portion of the RFP are as follows: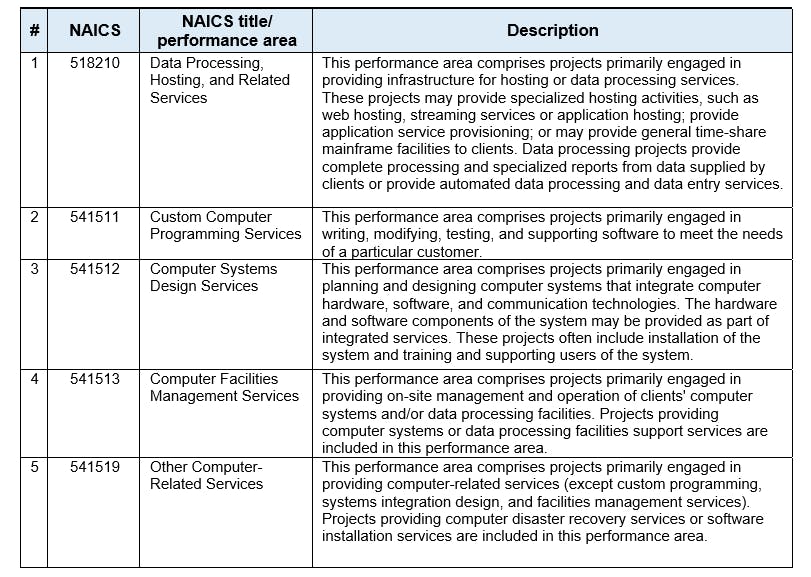 Per the draft RFP, prospective bidders will be allowed to submit information for up to seven projects to demonstrate their experience in these areas. As noted previously, large volume projects that are highly complex and incorporate a variety of different factors will allow for higher point-scoring. A single project cannot be used to support relevant experience in multiple performance areas. Each primary RE project must be ongoing or have been completed within five years from the proposal due date, and must have at least one year of performance unless it meets certain conditions. Projects must have a project value of at least $1 million.
One should note that while NAICS codes are provided to help organize the performance areas that GSA will be looking at for history of IT services performed, NAICS codes will not be a point-scoring factor itself (as it has been in previous scorecard solicitations). The draft RFP also allows offerors the opportunity to provide projects (and receive points) with specific scopes in cloud services and cybersecurity services – highlighting the importance of these areas to GSA and federal agency customers.
As mentioned earlier, the "breadth of primary RE" will also represent a critical deciding factor when evaluating RE. The scorecard allows for an increasing scale of points for offerors that can demonstrate coverage over all five performance areas. Just keep in mind that you will need to provide a single project for each performance area, so you will want to identify a set of projects representing a diversity of services.
Past performance ratings for relevant experience projects that are provided to support performance areas will also be a very important scoring factor. The Contractor Performance Assessment Reporting System (CPARS) is GSA's preferred means of providing past performance information, and if prior Scorecard RFPs can be used as a basis, it will be important to provide projects where CPARS scores have been high in order to maximize point-scoring. A past performance rating form is provided for instances where CPARS do not exist – it is not clear if the same point totals will be possible for projects where a rating form is used instead of a CPARS.
Key RE factors for Polaris: emerging technology areas
Although the RE performance areas are the main focus of the draft solicitation for the GWAC, Polaris is encouraging contractors to also highlight project information illustrating innovative technological approaches to servicing customer needs. The specific "emerging technology" service areas cited in the draft RFP are as follows:
Advanced and quantum computing: Advanced computing refers to technical capabilities that support computation and data intensive modeling and simulation. This includes the use of quantum mechanics and information theory to enable faster speeds, better precision and optimum functionality.
Artificial intelligence (AI): AI, also known as machine intelligence, is a branch of computer science that aims to imbue software with the ability to analyze its environment using either predetermined rules and search algorithms, or pattern-recognizing machine learning models, and then make decisions based on those analyses.
Automation technology: Automation is the creation and application of technologies to produce and deliver goods and services with minimal human intervention. The implementation of automation technologies, techniques and processes improve the efficiency, reliability and/or speed of many tasks that were previously performed by humans.
Distributed ledger technology (DLT): DLT is a type of ledger that is shared, replicated and synchronized in a distributed and decentralized manner. DLT can be used to decentralize and automate processes in a large number of sectors. The attributes of a distributed ledger technology allow for large numbers of entities or nodes, whether collaborators or competitors, to come to consensus on information and immutably store it.
Edge computing: Edge computing brings computation and data storage closer to the devices where it's being gathered, rather than relying on a central location that can be thousands of miles away. This is done so that data, especially real-time data, does not suffer latency issues that can affect an application's performance. Processing is done locally, reducing the amount of data that needs to be processed in a centralized or cloud-based location.
Immersive technology: Immersive technology refers to technology that attempts to emulate a physical world through the means of a digital or simulated world by creating a surrounding sensory feeling, thereby creating a sense of immersion.
Prospective bidders are allowed to submit up to six emerging technologies RE projects. Each of these projects must have been for the performance of one of the noted emerging technologies, and no emerging technology project may be used to support relevant experience in more than one emerging technology area. However, it is acceptable to use the same project to support one of the performance areas and one of the emerging technologies. Each emerging technology project must be ongoing or have been completed within five years from the proposal due date, and must have at least one year of performance unless it meets certain conditions. Emerging technology projects must have a project value of at least $150,000. There is no indication in the draft RFP as to whether NAICS codes will be important for emerging technology RE.
Additional point-scoring opportunities will exist, related to a number of other factors. While RE is likely to be most important, prospective bidders should be aware of all opportunities in order to maximize their score.
Cybersecurity and supply chain risk management (SCRM)
Many recent GSA-led procurements have included cybersecurity and SCRM requirements. 8(a) STARS III included similar requirements, as did ASTRO. This has become a growing focus given its importance to national security, and it has only been heightened by recent incidents involving bad actors looking to access restricted information, either through cyber-based or supply-chain based hacks, or to disrupt the supply chain.
While Cybersecurity Maturity Model Certification (CMMC) is technically a Department of Defense (DOD) requirement, the Polaris draft RFP highlights it as something that Polaris bidders should prepare for and participate in. The draft RFP also indicates that GSA may survey Polaris awardees from time to time to identify and publicly list each industry partner's CMMC standing. The draft RFP goes on to state that it reserves the right to require CMMC Level 1 certification as mandatory to be considered for the Polaris option period, as well as for any open season on-ramps.
One of many requirements for companies that are awarded the Polaris GWAC will be to complete and provide a SCRM plan within 30 days of the end of each contract year. The RFP notes that cybersecurity and SCRM are dynamic areas, and refers contractors to NIST 800-161 (a federal government requirement that wasn't designed for private companies) for guidance in developing a framework for their SCRM plans. GSA, along with DOD and the Intelligence Community, have been at the forefront in requiring contractors to understand and manage risks to their supply chains. We have worked with a number of companies to develop these plans, and they can be complex.
GSA also notes that it will rely on its Vendor Risk Assessment Program (VRAP), to assess and monitor supply chain risks of critical vendors, and that the contractor must agree that the government may, at its own discretion, perform audits of supply chain processes or events. We expect this to be a growing area of concern for or all federal agencies, and as a result, for federal contractors. Given the current environment, we also expect that these types of requirements will continue to evolve and expand, possibly under Polaris, and likely in many other procurement and rulemaking activities.
Teaming arrangements and joint ventures (JV)
Teaming arrangements and JVs are permitted under Polaris, as is the use of past performance information from parents, affiliates and subsidiaries, but there are a number of restrictions and qualifying factors. The manner in which points will be available in all areas is highly nuanced and varies dependent upon which type of relationship is being employed. Some important things to consider here:
For teaming arrangements and/or prime-sub bidders, all members must qualify as small businesses

For JVs, each member must be small, or it may include two business concerns in a mentor-protégé relationship when both the mentor and the protégé are small, or when only the protégé is small and the concerns have received an exception to affiliation pursuant to 13 CFR 121.103(h)(3)(i) or (iii) – which essentially means that Small Business Administration (SBA)-approved mentor-protégé JVs are eligible to bid; however, for the DOD's Pilot Mentor-Protégé Program, only JVs where both members are small will be eligible to bid

Meaningful commitment relationship letters will be required to demonstrate the relationship that exists between team members, JV members and parents, affiliates and subsidiaries
Please note that GSA will also conduct an "organizational risk assessment," favoring those organizations with a history of working together. If organizations come together for the purpose of this procurement with no prior history of working together, they will not receive the points associated with this scoring factor.
We recommend that anyone planning to team, rely on affiliates or form JVs in pursuit of Polaris read the draft RFP carefully to ensure they understand how points will be counted for each of these types of relationships.
How to prepare for Polaris
The list below includes some ways to prepare for Polaris:
Identify potential relevant experience projects: Work with key personnel in contracts, finance or program management to find as many projects as possible that:
      a. Were performed in the past five years
      b. Have an IT focus and offer a wide range of services and cover at least one of the performance areas and/or emerging technologies
      c. Have a large annual value (at least $1 million project value, but the larger the better)
      d. Have a strong CPARS rating (at least an average of "Very Good" [4.0] or above) or are              commercial projects for which you believe your customer would be willing to rate your performance very high and give you a positive recommendation
Begin accumulating documentation: The administrative burden associated with these proposals is significant. We recommend beginning to accumulate the following documentation:
        a. For relevant experience projects, identify and organize all contract award documents,        statements of work, contract modifications and most recent CPARS. Make sure the contract documents are signed by the cognizant contracting officer.
        b. Identify and organize documentation to demonstrate DCAA, DCMA or CFA approval for your company's accounting system and/or purchasing system.
Assign roles and determine responsibilities: To avoid confusion when the solicitation is released, it is best to get the personnel question answered first:
      a. Who is responsible for checking beta.sam.gov and the GSA website for any pre-solicitation updates?
      b. Who will be the lead program sponsor, contracts manager, finance manager and proposal manager?
      c. Who will communicate the status of Polaris to leadership?
      d. Does your team need to outsource support to ensure a compliant proposal?
Assess risk/benefit of proposing as all possible "business arrangements" listed above
     a. Have preliminary dialogue with possible JV organizations or prime contractors/subcontractors
Read the draft RFP and respond with your firm-specific questions 

For more information on this topic, or to learn how Baker Tilly specialists can help, contact our team. As noted above, we have included the draft scorecard below as provided by GSA, which does not show how points will be allocated but does provide information on the different areas for which points will be available.
Polaris Scoring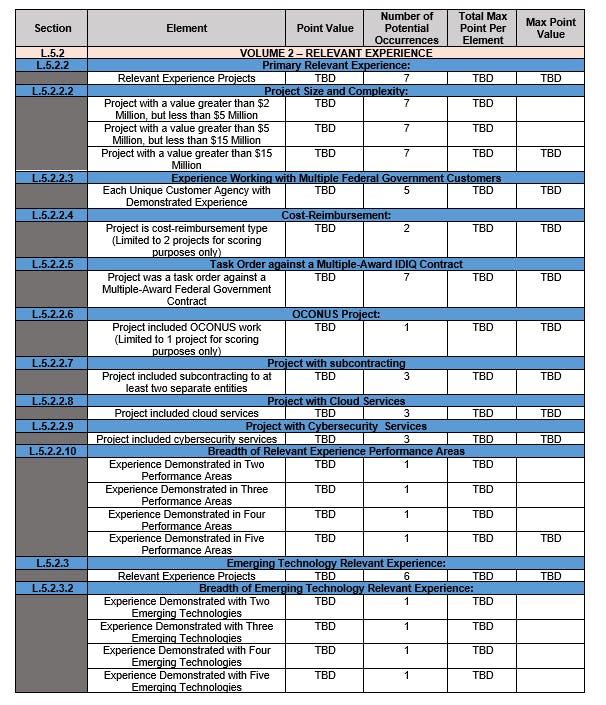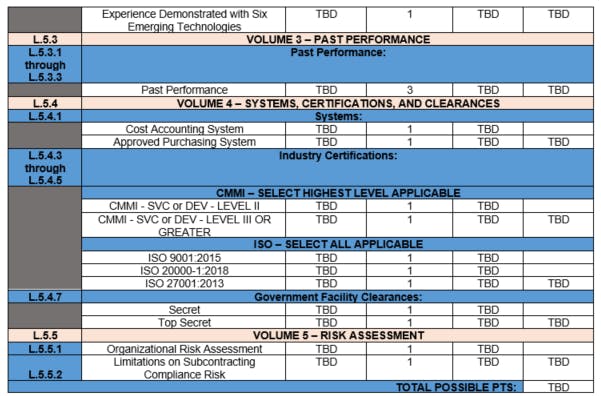 Legal Corner: White House Issues COVID-19 Response National Strategy and Executive Order Describing Expanded Use of the Defense Production Act
Authors: Marcia Madsen, David Dowd, Luke Levasseur, Mayer Brown
The Legal Corner provides the legal community with an opportunity to share insights and comments on legal issues of the day. The comments herein do not necessarily reflect the views of The Coalition for Government Procurement. 
On January 21, 2021, as part of his administration's National Strategy for the COVID-19 Response and Pandemic Preparedness ("COVID Response Strategy"), President Biden issued an "Executive Order on a Sustainable Public Health Supply Chain"("Supply Chain EO"). The EO makes clear that in addition to inventorying supplies and developing strategies to improve availability of the supplies necessary for the states' and the federal COVID-19 response, the federal government will use all available authorities, including the broad authorities under the Defense Production Act ("DPA"), to address shortfalls in needed supplies and develop strategies for their delivery. The Supply Chain EO also emphasizes the development of a robust pandemic supply chain that will secure supplies for responding to the COVID-19 pandemic and future crises while reducing reliance on foreign sources.
The administration's COVID Response Strategy includes numerous ways that, while establishing clear federal leadership of a nationwide response, the Biden administration will increase emergency funding to the states and bolster the Federal Emergency Management Agency's response to improve state, local and tribal responses to the pandemic. In addition to the COVID Response Strategy and the Supply Chain EO, the administration published a Presidential Memorandum to Extend Federal Support to Governors' Use of the National Guard to Respond to COVID-19 and to Increase Reimbursement and other Assistance Provided to States. Among other things, the federal government will reimburse state, local and tribal governments for 100% of the cost of emergency supplies (including personal protective equipment, "PPE") and 100% of the costs related to use of the National Guard to assist with the pandemic response. In short, the federal government is removing substantial parts of the states' financial burden resulting from the pandemic in order to facilitate a faster and more comprehensive COVID-19 response.
The administration also intends to address supply shortfalls for vaccination supplies, testing supplies and PPE by use of the DPA. Under the COVID Response Strategy, resolving "twelve immediate supply shortfalls" has been identified as critical to successfully responding to the pandemic. Agencies will use the DPA to the extent possible "to accelerate manufacturing, delivery, and administration to meet shortfalls in these twelve categories of critical supplies." Within those categories, agencies have been tasked with increasing the availability of supplies such as:
•   N95 masks
•  isolation gowns
•   nitrile gloves
•   polymerase chain reaction ("PCR") sample collection swabs
•   test reagents
•   pipette tips
•   laboratory analysis machines for PCR tests
•   high-absorbency foam swabs
•   nitrocellulose material for rapid antigen tests
•   rapid test kits, low dead-space needles and syringes
•   all the necessary equipment and material to accelerate the manufacture, delivery and administration of COVID-19 vaccine
There will necessarily be a large number of procurement decisions and actions required to effect the anticipated use of the DPA. With respect to just one of these examples mentioned above, the president's chief of staff explained that "we've got a very carefully coordinated program with the vaccine manufacturers to increase production" and that "one of the orders . . . signed today was to use the [DPA] to ramp up the production of a very specific kind of syringe that allows [a more efficient distribution of vaccine]" and "that DPA authority . . . actually increases our supply effectively 20%."
The Supply Chain EO, which is intended to facilitate the rapid procurement of significant quantities of the necessary products, emphasizes the development of a robust pandemic supply chain needed to secure supplies for responding to the COVD-19 pandemic and future crises while reducing reliance on foreign sources. It describes the administration's planned inventory assessment, price analysis and strategic development necessary to complete the effort.
Section 2 of the Supply Chain EO calls for an assessment of the inventory of response supplies and identification of emergency needs. If the assessment reveals a shortfall in the provision of pandemic response supplies, the head of the relevant agency shall take appropriate action using all available legal authorities, including the DPA, to fill those shortfalls as soon as practicable by acquiring additional stockpiles, improving distribution systems, building market capacity or expanding the industrial base.
The Supply Chain EO's Section 2 also contemplates actions to be taken in response to reports provided by agencies regarding pandemic response supplies. The COVID-19 Response Coordinator must review reports that the Supply Chain EO requires regarding assessment of pandemic response capabilities and provide recommendations to the president that address (i) whether additional use of the DPA would be helpful and (ii) the extent to which liability risk, regulatory requirements or other factors impede the development, production and procurement of pandemic response supplies and actions that can be taken to remove such impediments.
Section 3 of the Supply Chain EO addresses pricing of pandemic response supplies. The Department of Health and Human Services ("HHS") must "promptly recommend" whether changes should be made to the authorities delegated to HHS by EO 13910 of March 23, 2020 (which concerned hoarding of health and medical resources) regarding scarce materials or materials that would be threatened by accumulation for hoarding or price gouging. Section 3 also requires HHS, the Department of Defense ("DoD") and the Department of Homeland Security ("DHS") to recommend how to address the pricing of pandemic response supplies, including whether and how to direct the use of reasonable pricing clauses in federal contracts and investment agreements or other related vehicles. The secretaries also must recommend whether the General Services Administration Schedule program should be used to facilitate purchasing of pandemic response supplies for state, local, tribal and territorial government buyers and compacts.
The Supply Chain EO's Section 4 directs the development of a Pandemic Supply Chain Resiliency Strategy. DoD, DHS and HHS, among other agencies to be identified, must develop a strategy within 180 days to design, build and sustain a long-term capability in the United States to manufacture supplies for future pandemics and biological threats. Among other elements, this strategy must include an analysis of the role of foreign suppliers in the US pandemic supply chain, the Unites States' role in the international public health supply chain and options to strengthen and better coordinate global supply chain systems in future pandemics, as well as mechanisms to address points of failure in the supply chains and to ensure redundancies. The Supply Chain EO also calls for an approach to develop a multi-year implementation plan for domestic production of pandemic supplies.
Section 5 of the Supply Chain EO directs HHS to consult with tribal authorities and take steps to facilitate access to the Strategic National Stockpile for federally recognized tribal governments, Indian Health Service healthcare providers, tribal health authorities and Urban Indian Organizations.
The Defense Production Act—What To Expect
Although the DPA authorities are broad, they are not necessarily a "silver bullet." Section 101 of the DPA gives the president the power to shape civilian markets and control the distribution of materials and resources upon making certain findings about the criticality of the material to national defense and the potential dislocation of civilian markets. Where there is production capacity that needs to be prioritized, the "rated order" process under the DPA allows the president to specify the most important production and flow those priorities down the supply chain. Such orders could potentially be issued to US vaccine manufacturers, as well as suppliers of items such as syringes or cold storage facilities.
Section 101 also allows the president to determine the allocation of health and medical resources. This authority has seldom been used and was used for the first time in EO 13909 on March 18, 2020. This authority would permit the government to actually adjust production capacity and resources. However, the impact of this authority may be longer-term.
Other uses of the DPA require more planning and development. The Title III authorities for loans and loan guarantees (which were enhanced in some respects for a two-year period under the CARES Act) are tools to facilitate domestic production of PPE, for example. However, because so much of that production had moved out of the United States, use of these authorities is longer-term and requires analysis and expertise to structure financial incentives. Such work has been conducted at DoD through its Industrial Policy Office and most recently also through the US International Development Finance Corporation in conjunction with HHS, for example. See EO 13922, May 14, 2020.
In addition, authorities under Title VII of the DPA allow the president and industry to work cooperatively with protection from the antitrust laws. This authority may help facilitate, for example, distribution of vaccines by cooperation among potential distributors such as retail pharmacies.
For further information on the DPA, see David Dowd, Luke Levasseur, and Marcia Madsen, Defense Production Act—Using Authority To Address Emergent Needs, Thomson Reuters Briefing Papers Issue 20-8 (July 2020) [available from Thomson Reuters on Westlaw].
Off the Shelf

: Key Procurement Issues in 202

1

 
This week on Off the Shelf, Tim Cook, Executive Director of the Center for Procurement Advocacy and Tom Sisti, Executive Vice President and General Counsel for The Coalition for Government Procurement, looked ahead to the procurement policy issues and opportunities awaiting the new Congress and the Biden administration. 
Cook provided a wide ranging update on the current organizational and committee statuses in the Senate, along with insights on the procedural and process calendar for Congress as a whole — as it weighs further pandemic relief support and begins an impeachment trial. 
Sisti provided updates on key policy issues facing the executive branch, including Section 889, the Cybersecurity Maturity Model Certification, and Section 876. 
Click here to listen to the full show. 
DoD is Working to Better Support the Space Force through Acquisition
Federal News Network reported that earlier this month the Air Force split its space acquisition shop into three directorates. The three directorates will focus on acquisition, architecture, policy, and integration. These changes are a part of the Department of Defense (DoD) making space acquisition more centralized and straightforward. The FY2020 National Defense Authorization Act (NDAA) requires DoD to appoint a space acquisition executive by October 2022. The space acquisition executive position may be within the Air Force, Space Force or DoD's office of the secretary of defense. There may also be a creation of a new role, or the authority for the position could be allocated to the Air Force assistant secretary for space acquisition and integration, which is currently held by Shawn Barnes. 
DHS Looks to Automate Electronic Invoicing
According to Fedscoop, the Department of Homeland Security (DHS) is seeking ways to automate electronic invoicing. DHS issued a sources sought synopsis which states that the agency is looking for information technology support to aid its Financial Systems Modernization (FSM) Joint Program Management Office (JPMO)  in applying products that will receive electronic submissions and manage data. The Financial Crimes Enforcement Network (FINCEN) bureau within the Treasury Department, which sets governmentwide rules for protecting financial systems from fraud and abuse, mandates that agencies use machine learning or artificial intelligence in their systems. DHS's current system does not use these technologies. DHS is planning a one-year contract with a one-year option for software engineers, testers, business process re-engineering, change management, and IT portfolio management. The following five tasks are expected to be completed by contract support for the financial system: 
Data capture and optical character recognition for scanned invoices 

Automated workflow and robotic process automation for routing invoices, sending approval and rejection notifications, masking sensitive data like banking information, and optimizing based on learned human behavior 

Process analytics and a dashboard for monitoring business process and invoice statuses, as well as finding anomalies 

Test and development environments 

Training of initial user groups 
Businesses interested in developing this system have until February 8 to respond. 
Woman-Owned Small Business Certification Update 
On January 29, the Civilian Agency Acquisition Council (CAAC) issued a letter that authorizes agencies to issue a class deviation regarding the certification of Women-Owned Small Businesses (WOSBs). The class deviation applies the Small Business Administration (SBA) final rule, 85 FR 27650, which revises the eligiblity of a WOSB and Economically Disadvantaged Women-Owned Small Business (EDWOSB) under the WOSB Program. SBA's Dynamic Business Search is the source for determining the status of WOSB or EDWOSB concerns until the SBA certification status is implemented in the System for Award Management (SAM). The letter includes contracting officer procedures, which should be followed until FAR case 2020-013, Certification of Women-Owned Small Business, is effective. The procedures for contracting officers to follow are: 
Contracting officers shall make clear in their solicitation the inclusion of these new procedures by providing a statement in the solicitation information section similar to the statements below: 
For Set-Aside awards for WOSB concerns or EDWOSB concerns eligible under the WOSB program: "If the offeror is not designated as certified or does not have a pending application for certification in the Dynamic Small Business Search (DSBS) at the time of the submission of the offer, its offer is not eligible for award and will be removed from consideration. Any award resulting from this solicitation will be made to a WOSB or EDWOSB concern designated as certified as a WOSB or EDWOSB concern in DSBS. The DSBS website is located at

 

https://web.sba.gov/pro-net/search/dsp_dsbs.cfm

.

The WOSB and EDWOSB representations completed in response to FAR provisions 52.212-3, 52.219-1, or 52.219-28 will not be used for this award."

 

For Sole-Source awards for WOSB concerns or EDWOSB concerns eligible under the WOSB program: "A concern must already be certified at the time of submission of the offer. Any award resulting from this solicitation will be made to a WOSB or EDWOSB concern designated as certified as a WOSB concern eligible under the WOSB program or EDWOSB concerns in the Dynamic Small Business Search (DSBS). The DSBS website is located

 

here

.

The WOSB and EDWOSB representations completed in response to FAR provisions 52.212-3, 52.219-1, or 52.219-28 will not be used for this award."

 
For WOSB or EDWOSB set-asides, if the concern becomes the apparently successful offeror while its WOSB or EDWOSB application is pending, the contracting officer shall email the SBA's Director of Government Contracting at 

WOSBpendingcertification@sba.gov

.

SBA will complete a determination within 15 calendar days of receipt of the email. If a determination is not provided to the contracting officer within that timeframe, the contracting officer may either grant SBA an extension, or presume the concern is not an eligible WOSB or EDWOSB and make award to the next highest evaluated offeror.

 
For WOSB or EDWOSB set-aside or sole-source procurements, contracting officers shall only make an award to a concern that is designated as certified as a WOSB or EDWOSB in DSBS.