Strategic Asset Spotlight: NASA SEWP
In this week's Strategic Asset Spotlight, the Coalition turns our attention to the oldest IT governmentwide acquisition contract (GWAC) program, NASA's Solutions for Enterprise-Wide Procurement (SEWP). NASA SEWP provides federal agencies and their approved contractors with streamlined access to the latest innovative IT products and services spanning across a wide range of technologies, such as desktops and servers, cloud-based services, telecommunications, storage systems, health IT, and security tools. SEWP is a best-in-class, multi-award indefinite delivery, indefinite quantity (IDIQ) vehicle that offers low pricing and a speedy ordering procedure through pre-competed contracts. NASA launched the program in 1993, and it currently sits on its fifth iteration, SEWP V.
 SEWP is not only the oldest GWAC program in government, but also the largest in terms of annual contract purchases by federal agencies. Over the past several years, SEWP has experienced consistent growth in obligations. Since SEWP V's release in fiscal year (FY) 2015, obligations have increased by over 500 percent, surpassing $9 billion in FY 2022. Furthermore, in FY 2022, SEWP V accounted for nearly 40 percent of all GWAC obligations, exceeding the second largest vehicle by over $3 billion in sales.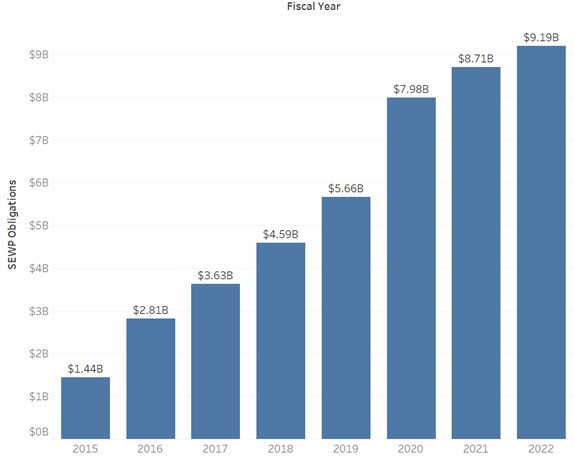 | | | |
| --- | --- | --- |
| Fiscal Year | Sales | Growth |
| 2015 | $1,443,350,669.71 | – |
| 2016 | $2,811,473,410.85 | 94.79% |
| 2017 | $3,634,204,204.72 | 29.26% |
| 2018 | $4,589,233,096.79 | 26.28% |
| 2019 | $5,660,236,827.90 | 23.34% |
| 2020 | $7,984,442,861.26 | 41.06% |
| 2021 | $8,705,680,069.47 | 9.03% |
| 2022 | $9,188,713,089.61 | 5.55% |
SEWP, generally regarded as the "vehicle of choice" for the Federal Government for IT and communications solutions, is used by all federal agencies for their mission needs. In FY 2022, with $3.6 billion in spending under the program, the Department of Defense accounted for over one-third of SEWP spending obligations. The chart below shows the spending obligations of the top ten federal agencies using SEWP. From FY 2021 to 2022, nine of the top ten agencies saw their SEWP spending increase.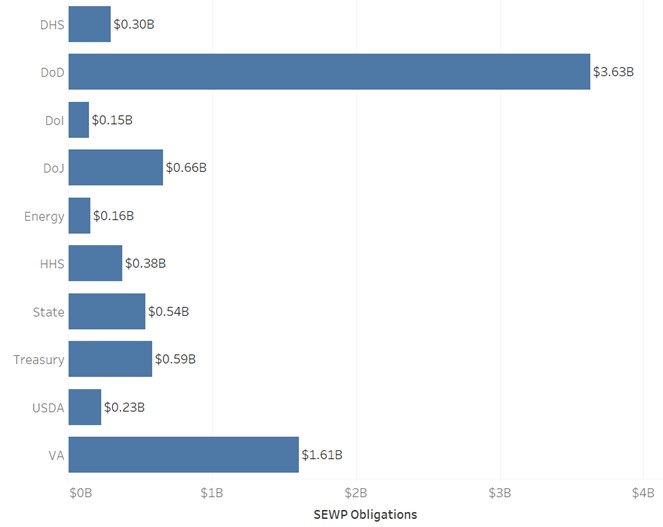 Agency
 2022 SEWP Obligations
Growth

Defense, Department of

$3,627,993,426.05

7.51%

     Air Force, Department of

$856,392,840.23

4.47%

    Navy, Department of

$799,584,539.27

-1.60%

    Defense Information Systems

    Agency (DISA)

$556,742,098.53

8.18%

   Army, Department of

$505,030,835.78

11.70%

Veterans Affairs, Department of

$1,605,037,948.32

-11.79%

Justice, Department of

$658,748,963.55

1.41%

Treasury, Department of

$587,593,817.53

16.36%

State, Department of

$538,155,819.68

25.35%

Health and Human Services, Department of

$377,655,044.32

3.85%

Homeland Security, Department of

$297,450,819.64

9.23%

Agriculture, Department of

$231,955,461.87

4.81%

Energy, Department of

$157,978,507.32

117.85%

Interior, Department of

$145,553,938.53

32.74%
The SEWP program provides excellent opportunities for small businesses and is key in helping agencies meet their small business contracting goals. The contract's structure contains three small business set-aside groups – HUBZone businesses, Service-Disabled Veteran Owned businesses, and Small Businesses. In fact, out of the 140 prime contract holders, more than 100 are small businesses. In total, small businesses accounted for over 75 percent of SEWP obligations in FY 2022. There is strong participation in the program across a range of socioeconomic categories, as demonstrated by the chart below.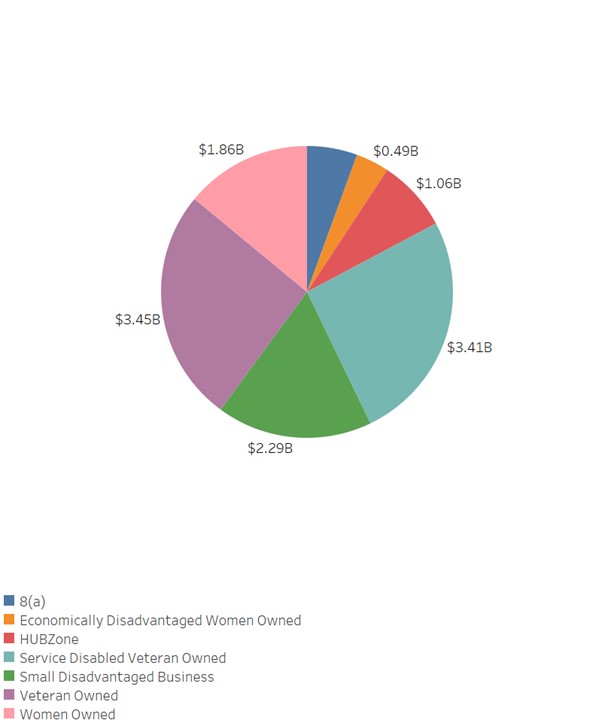 | | |
| --- | --- |
| Small Business Category | 2022 SEWP Obligations |
| 8(a) | $740,379,436.62 |
| HUBZone | $1,061,440,466.42 |
| Economically Disadvantaged Women Owned | $490,810,898.67 |
| Small Disadvantaged Business | $2,293,656,441.79 |
| Service Disabled Veteran Owned | $3,412,061,917.30 |
| Women Owned | $1,862,756,344.60 |
| Veteran Owned | $3,448,640,973.05 |
There is no question that SEWP has served customer agencies over the program's history by providing innovative IT solutions and flexible procurement procedures. The Coalition commends NASA's dedication to delivering an effective, best-value GWAC. The SEWP team has begun its market research into the formulation of the contract's next iteration, SEWP VI, which is anticipated to launch in 2025. NASA has held multiple engagements to hear ideas and recommendations from industry on how the agency can improve the program in the future. With each iteration of SEWP, NASA has expanded the scope of services.
The Coalition is excited to support NASA to ensure that SEWP's next iteration continues along this path and aligns with the program's mission of providing best value for the Federal Government and American taxpayer. As with OASIS+ and Alliant 3, we have formed a NASA SEWP working group for our members to communicate on the future procurement. For those interested in joining, please email Michael Hanafin at mhanafin@thecgp.org.
Coalition Sponsorship Opportunities Now Available for 2023
The Coalition for Government Procurement (the Coalition) is excited to share its new 2023 Sponsorship Prospectus which highlights a number of sponsorship opportunities that are now available for the Coalition's annual Spring and Fall Training Conference, as well as several others offered year-long. Secure your sponsorship now, and showcase your organization's brand while demonstrating your support for the Coalition!
Spring Training Conference is quickly approaching! This year, it will take place on May 2-3 at the Fairview Marriott in Falls Church, VA.  You will see in the prospectus that a variety of Premier and Auxiliary sponsorship packages are available to choose from, each offering many great benefits to further boost your company's exposure!
To view the Sponsorship Prospectus, click here.
All sponsorship opportunities will be offered on a first-come-first-serve basis. If you have any questions, or are ready to secure your sponsorship, contact Heather Tarpley at htarpley@thecgp.org or 202-315-1055.
We look forward to hearing from you and appreciate your continued support of the Coalition!
Register for February and March Committee Meetings
The Coalition currently has six member-only committee meetings scheduled for February and March. All times are in Eastern Standard Time:
Our February 21 General/Office Products Committee meeting will be a briefing open to all members with Josh Royko, Branch Chief at the FAS Catalog Management Office. The briefing will cover the General Service Administration's (GSA) Verified Products Portal (VPP) and the Price Point Plus Portal tool (4P tool). Please send any questions you would like covered in the meeting to Joseph Snyderwine, JSnyderwine@thecgp.org. The meeting will be held virtually on February 21 from 10:00 AM – 11:00 AM EST through Microsoft Teams. To register, click here.
On February 28, the IT/Services Committee will be hosting Cheryl Cameron-Thornton, Executive Director at the Office of Acquisition Operations, to provide an update on price escalation adjustments. The event will be held on February 28th, from 10:00 – 11:00 AM EST at the offices of Northrop Grumman, 7575 Colshire Drive, McLean Virginia. Virtual attendance will also be supported through Microsoft Teams. To register, click here.
For our March 2 Furniture and Furnishings meeting, we will hear from the IWAC Leadership Team, who will provide a general update on the work of IWAC as well as a more focused update on the Packaged Office Program. We will hear from IWAC Director Ryan Schrank; John Breen, Branch Chief, Projects; Shaun Kelly, Branch Chief, Multiple Award Schedules; Linda Valdes, Branch Chief, Contract Administration and Kristine Stein, Business Development Director. To register, click here. On March 21, Dr. Jennifer Martin, Deputy Chief Consultant in the DLA Pharmacy Benefit Program, will speak with the Pharmaceutical Subcommittee regarding a potential Specialty Pharmacy program and the Pharmacy Benefit Program in 2023. To register, click here.
Please direct questions regarding the Office Products and IT/Services meetings to Joseph Snyderwine, jsnyderwine@thecgp.org and questions about the Furniture and Furnishings and Pharmaceuticals meetings to Ian Bell, ibell@thecgp.org.
GSA to Hold Alliant 3 Listening Sessions with Industry
GSA announced that the agency will be holding Alliant 3 listening sessions with industry to hear perspectives on "the evolution of the technology environment over the next 15 years." Specifically, GSA is looking for feedback in the following areas:
How will industry's offerings develop and shift with regards to the following Executive Orders and proposed changes to FAR Regulations? 

What suggestions for improvement can you offer to the Alliant 3 Draft RFP?
During the sessions, GSA will be actively listening, and will not provide additional information on the future of the Alliant 3 solicitation. Each session will be approximately 30 minutes, conducted virtually. To sign up for a listening session, submit a request to A3LSappt@gsa.gov by February 23 at 12 pm EST using the template that can be found here.   After the listening sessions are concluded, the Coalition will be surveying members seeking input for GSA regarding the evolution of the technology environment over the next 15 years. If you are interested in providing feedback for GSA, please email awoolley@thecgp.org.
GSA Launches AI Challenge for Innovative Healthcare Solutions
On February, GSA launched its Applied AI Healthcare Challenge, which seeks "diverse and practical solutions to help Federal agencies provide the highest level of medical care." According to the notice, the challenge focuses on the following areas:
Mental Health: AI technologies applied to mental health data to identify potential treatments.

Addiction and the Opioid Epidemic: AI technologies to help public service agencies identify trends to detect and intervene earlier.

Equity: AI to improve outcomes for populations disproportionately impacted by illness or disease.

Supply Chain and Safety: AI to improve access to and safety of medications and supplies.

Cancer: Research-based AI detection models to help detect cancers earlier and improve outcomes.
GSA urges both large and small businesses to participate, including women-owned, minority-owned, small disadvantaged, and service-disabled veteran owned organizations. GSA launched its 'AI Challenge' series last April, and received over 120 participants in its first competition.
More details on the challenge timeline can be found in the announcement.
Experts Question New Packet Capture Requirement 
Last month, the National Archives and Records Administration (NARA) officially established new retention requirements for Federal agencies. Agencies will be required to retain cybersecurity logs for 30 months and packet capture (PCAP) data for 72 hours in an effort to improve breach investigations. Experts inside and outside the government, however, are raising concerns that "the new rule is unclear, resource intensive, and of little value during a real-world breach investigation."  
Speaking with Nextgov, an anonymous Federal cybersecurity official stated that the NARA requirement and a 2021 OMB memo that required agencies to begin "full packet capture" are insufficient for agencies who wish to use PCAP and "don't seem to offer leeway for those trying to build a similar cybersecurity posture without PCAPs."  
Robert Graham, an independent cybersecurity consultant, noted that the policy was difficult to interpret and only workable "if agencies set the PCAP up" on parts of the network with traffic they want or need to capture, considering the expense and limited utility of PCAP. Setting PCAP to capture data sent between a backup and main server, for instance, would be unnecessary, redundant, and risk overloading systems. Because most agency traffic is now encrypted (per OMB's January 2022 Zero Trust mandate), cybersecurity investigators also would be unable to glean much of value in a breach investigation from PCAP. Finally, Graham raised concerns that the 72-hour retention requirement for PCAPs would mean that the data would not be used by investigators because most breaches take longer than 72 hours to detect, and that the Federal Government may lack the necessary, highly specific cybersecurity expertise to analyze PCAPs effectively. 
Coalition Submits Comments on Greenhouse Gas and Climate Risk Rule 
On February 13, the Coalition submitted comments on the Federal Government's proposed rule regarding greenhouse gas disclosure and climate risk, which would add new climate-related reporting requirements for contractors with over $7.5 million dollars in annual Federal sales. We expressed support for the rule's Scope 1 and 2 emissions disclosure requirements, but recommended that the Government take a different approach to Scope 3 emissions reporting and science-based emissions targets. We also recommended that the Government reduce the rule's effect on small businesses and that it expand the number of locations companies may publish their climate disclosures. To see the full comments, click here.
Seeking Member Feedback on GSA's Software Attestation Acquisition Letter
In January, GSA issued an acquisition letter notifying the procurement community that it will update its software attestation policy by June 12, 2023 to "ensure only approved software (including products containing software) is acquired and used at GSA." The update comes in response to Executive Order 14028, Improving the Nation's Cybersecurity, and a subsequent OMB memo, M-22-18, that requires Federal agencies to use only software that complies with specific National Institute of Standards and Technology (NIST) guidance. For existing GSA-funded contracts that include software, GSA will provide contracting personnel with an internally accessible list of approved software and start collecting attestations regarding NIST compliance from contractors by June 12. For GSA-administered contracts like the Federal Supply Schedule and Governmentwide Acquisition Contracts, GSA will allow, but not require, attestations and will "make such information available" to ordering agencies "to the extent possible" by the same date. GSA will further update its approach after a final FAR rule is issued implementing E.O. 14028. 
The Coalition is interested in hearing feedback from our members on the approach laid out in the acquisition letter, and, more broadly, on what approach the Government should take to software attestations and the implementation of E.O. 14028. Please email any feedback or experience you would like to share to Aubrey Woolley, Vice President, at awoolley@thecgp.org.
Changes come to SAM.Gov Administration 
GSA has announced that effective March 3, 2023, a contractor's Entity Administrator in the System for Award Management (SAM) must be either an employee, officer, or board member of the organization. Current Entity Administrators who do not fall into these categories, such as third parties who manage SAM registrations on behalf of an organization, will be transitioned to a Data Entry Role. 
The change is intended to ensure that entities remain in control of their registrations. Per the announcement, organizations that use a third-party Entity Administrator should either send an Entity Administrator Appointment Letter to the Federal Service Desk to reassign the role, or have the third-party Administrator assign an Entity Administrator Role to someone in the organization. Third parties still will be able to manage registrations, but they must do so using Data Entry Roles. Additionally, third parties will no longer be able to assign roles to other accounts. Entities that currently have an employee, officer, or board member serving as an entity administrator do not need to make any changes at this time, but it is recommended that they assign at least one backup administrator "in case of staff changes or absences." 
GSA OIG Releases Report on Performance-Based Contracts
The Office of Inspector General (OIG) at GSA released a report on the administration of performance-based contracts. The report found that GSA contracting personnel do not always establish or enforce quality assurance surveillance plans (QASPs), prepare justified or timely past performance reports, and comply with an internal policy intended to improve contract administration. In a sample of 26 GSA contracts, five had no QASP established; eight did not include the work requiring surveillance or method of surveillance; seventeen did not include measurable performance standards or performance incentives; and fifteen had insufficient monitoring and enforcement of QASPs. The GSA IG indicated that the lack of QASPs leaves GSA unable to evaluate if contracted services have been fulfilled. The report noted that two FAS IT contracts lacking QASPs resulted in the government paying $16 million without receiving operable systems. The OIG found that internal GSA guidance is insufficient for providing a template for QASPs that allows for effective enforcement.
The OIG also found that GSA past performance reports are often unjustified and untimely. When evaluating ratings entered into the Contractor Performance Assessment Reporting System (CPARs), the OIG found that about one-third of CPARs ratings are not justified and completed before the required deadline. CPARs ratings are required to be justified with supporting narratives, but for 31 percent of the ratings evaluated, supporting narratives did not include justifications. Additionally, 88 percent of evaluated cases ratings were not shown to be supported by QASP monitoring and enforcement. Often, GSA personnel were found to base ratings on recurring meetings and contractor status reports as opposed to establishing and enforcing QASPs. Finally, in 38 percent of evaluated cases, GSA contracting personnel failed to complete the CPARs report within 120 days of the end of the period of performance.
Finally, the OIG found that FAS contracting personnel were not complying with the Contracting Officer's Representative (COR) Standard Operating Procedures. For example, in eight out of ten contracts evaluated, Quarterly COR reports were not completed as required. When questioned about this lack of compliance, contracting officers stated they were unaware of the requirement and that the workload was too voluminous to conduct quarterly reviews. As the policy is not being followed, it is unable to be evaluated for effectiveness. The OIG recommended the following:
Revise or issue agency policy to ensure:

The appropriate oversight of acquisition planning activities for performance-based service contracts, including the creation of a QASP that complies with applicable regulations; and

Contracting personnel have clear, descriptive instruction on how to monitor and enforce QASPs during contract administration to ensure compliance and improve acquisition outcomes.

Require contracting personnel to complete refresher training on any revised policies and new training on any policies issued in response to this audit report.

Ensure Contractor Performance Assessment Reporting System assessments are supported by justification narratives, accurately depict contractor performance, and are timely.

Implement management oversight to ensure contracting personnel comply with policies and procedures intended to ensure sufficient government oversight of contractor performance.
GSA agreed with the findings and recommendations.
DoD MHS GENESIS EHR Arrives on the East Coast in Double-Wave Deployment
EHR Intelligence reports that the Department of Defense's (DoD) Military Health System (MHS) Genesis Electronic Health Record (EHR) system was deployed in a double wave to 12,000 clinicians and providers along the eastern seaboard. The double wave follows a system update in January that affected over 50 percent of all MHS providers. Despite the slowdown from the system update the deployment, remains on schedule overall. The slowdown led to long loading times within the system, and "configuration changes" have been made to resolve the issue. Terrence Hayes, the Department of Veterans Affairs Press Secretary, confirmed that the VA would "continue to monitor the system and user feedback to confirm the lag is fixed."
Bill to Authorize Federal Executive Boards
U.S. Senators Gary Peters (D-MI), Chairman of the Senate Homeland Security and Governmental Affairs Committee, John Cornyn (R-TX), and Alex Padilla (D-CA), reintroduced The Improving Government Efficiency and Workforce Development through Federal Executive Boards Act. Federal Executive Boards (FEBs) assist in the coordination Federal emergency response activities, build partnerships between Federal agencies and local entities, and assist in training Federal talent. The bill would formally authorize FEBs and provide them with stable and consistent funding. Additionally, the bill would provide funding for FEB internship and apprenticeship programs, and require a report to Congress on FEBS.
OMB Requires Federal Agencies to use .GOV Domains 
The Office of Management and Budget (OMB) issued a memorandum last week that requires Federal agencies to use .gov or.mil domains for "all official communications, information, and services," Nextgov reports. The memo implements the DOTGOV Act, a 2020 law that requires the Director of the Cybersecurity and Infrastructure Agency to manage and disburse .gov domains in consultation with OMB. GSA previously managed the .gov registry.  
The memorandum provides an exception for "third-party services … on non-governmental domains that are needed to effectively interact with the public," allowing Federal agencies to continue using social media services and tools for source code collaboration and software bug reporting. Agencies must report and explain any non-.gov domains they use to OMB, and OMB may order an agency to cease using those domains. The memo also reminds agencies that good government domain names "should be memorable for the American people, not longer than necessary, and describe the relevant government or service in an unambiguous way." 
VA Releases Second T4NG2 Draft Solicitation
Washington Technology reports that on February 14, the Department of Veterans Affairs (VA) released the second draft solicitation for its $60 billion dollar IT services contract, T4NG2. The VA has given a deadline of February 21 at 1 pm EST for industry to respond to the draft solicitation. The VA also released a Q&A on comments the agency received from industry on the first draft solicitation. The Q&A covers topics such as the self-scoring evaluation process and previous experiences.
DOJ's Annual False Claims Act Statistics: Relators Forging Ahead with Success
The U.S. Department of Justice (DOJ) on Feb. 7, 2023, released its annual statistics for its civil False Claims Act (FCA) and fraud cases from the 2022 fiscal year (FY).
Up front, we see the following key takeaways:
For the first time on record, the value of settlements and judgments where DOJ declined and relators pursued the case was higher than in DOJ-led cases.

DOJ pursued with increased success cases outside the healthcare industry and U.S. Department of Defense (DOD).

The total number of cases is slowly but steadily increasing, both in qui tam and DOJ-initiated cases; however, the total amount recovered is the lowest since 2008.
DOJ reports it recovered more than $2.2 billion for 351 settlements and judgments, the second-highest quantity of settlements and judgments in a single year. Still an incredibly large number, this year's dollar recovery pales in comparison to years past where a few very large recoveries inflated the total: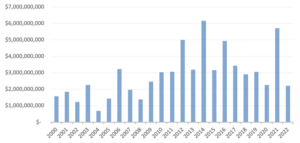 More important than the total is the story the underlying numbers tell. Namely, that FCA enforcement actions continue to rise. The DOJ's report highlights an increase in total of number of cases brought by both the government and qui tam relators:

The data demonstrates a continued upward trend of government enforcement under this administration, with 296 new matters initiated by the government, compared to 212 in the prior year. Government initiation is still significantly outpaced by whistleblowers, who filed 652 qui tam suits in fiscal year 2022, compared to 598 in 2021.
Also notable this year is the total number of "other" cases beyond healthcare and DOD. There were 418 cases in the "other" category, up from 266 and similar in years past: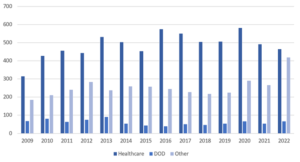 To be sure, the value of healthcare recoveries continues to dominate the returns, with $1.76 billion of the $2.2 billion recovered relating to healthcare cases.
Quite notably, for the first time ever, proceeds from qui tam suits where the government declined to intervene exceeded amounts recovered for suits brought by the government. Of the $2.2 billion, $1.96 billion came from qui tam suits. Typically, the value of those suits comes from DOJ intervention, and many cases are not pursued by the relators after DOJ declines to intervene.
But this year, relators forged ahead and with success – recoveries for relator-led cases more than doubled in 2022 at $1.18 billion, representing roughly half of the total recoveries for the year: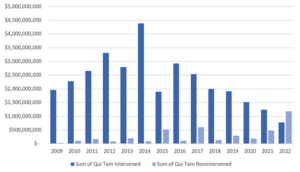 Although these FY 2022 statistics represent somewhat of a return to normalcy after the monumental recoveries in FY 2021, the increase in the number of cases brought signify this administration's continued focus on enforcement. The numbers may also lead to more relators pursuing cases on their own in hopes of post-intervention recovery.
Procuring agencies use both experience and past performance evaluation factors in federal procurement.[1] Experience is the degree to which the offeror has performed similar work, and past performance is the quality of the work performed.[2] SBA's rules provide," a procuring activity must consider work done and qualifications held individually by each partner to the joint venture as well as any work done by the joint venture itself previously. A procuring activity may not require the protégé firm to individually meet the same evaluation or responsibility criteria as that required of other offerors generally. The partners to the joint venture in the aggregate must demonstrate the past performance, experience, business systems and certifications necessary to perform the contract."[3] In 2019, GAO denied a protest challenging a solicitation which required a protégé to submit at least one example of experience in each category of required experience. GAO found that this did not violate SBA's regulations and that the agency had a reasonable basis for the limitation on mentor experience and requirement for protégé experience.[4] In 2021, GAO sustained a protest where the solicitation limited the experience that a mentor could provide but did not require the protégé to submit any experience. GAO found that the limitation did not violate SBA's regulations but was unduly restrictive of competition.[5]
In a recent decision, an unsuccessful offeror challenged the agency's past performance evaluation of a mentor protégé joint venture, where all 10 examples of past performance were from the mentor as the prime contractor, with the protégé as a subcontractor. The agency attributed all 10 examples of past performance to the joint venture and supplemented the record with a statement from the contracting officer's representative from all 10 projects. Although the agency failed to consider the percentage of work to be performed by each party to the joint venture as part of the past performance evaluation as required by the solicitation, the protester was not competitively prejudiced. The protester had not shown that the agency would have changed its past performance rating of the joint venture even if the agency had attributed the past performance to the mentor, especially in light of SBA's rules requiring accommodation for proteges lacking past performance. Further, even if the agency had given the awardee a lower past performance rating, the protester did not have a substantial chance of award considering the protester's lower rating under the management capability factor and higher price.[6]
Affiliate Past Performance
An agency may consider the past performance or experience of an affiliate where the proposal demonstrates the resources of the affiliate will impact contract performance. However, an agency is not required to do so. Here, the solicitation required three past performance examples, and only one could be from a major subcontractor or team member. An ANC subsidiary submitted two past performance examples from affiliated companies. The agency disregarded the past performance examples and gave the protester a low confidence rating. GAO denied the protest finding that the agency acted reasonably under the terms of the solicitation.[7]
Do you have a topic you wish to be covered or a question on how Live Oak Bank can support your business? Email me at ken.dodds@liveoak.bank.
[1] FAR 15.304(c)(2).
[2] AnderCorp, LLC, B-419984, Oct. 14, 2021, 2021 CPD 343.
[3] 13 CFR 125.8(e).
[4] Ekagra Partners, LLC, B-408685.18, Feb. 15, 2019, 2019 CPD 83.
[5] Computer World Services Corporation; CWS FMTI JV LLC, B-419956.18, B-419956.19, B-419956.24, Nov. 23, 2021, 2021 CPD 368.           
[6] Meltech Corporation, Inc., B-421064,B-421064.2, Dec. 22, 2022, 2022 WL 18401677.
[7] Arcticom, LLC, B-421256, B-421256.2, Dec. 28, 2022, 2022 WL 18387634.