FAR & Beyond: Inflation and the Imperative of Acquisition Streamlining
At the end of last month, the "FAR & Beyond" blog focused on the impact of supply chain and inflation challenges on government contractors. The blog highlighted the urgent opportunity for GSA's Multiple Award Schedule (MAS) program to address these challenges proactively to ensure its government customers continue to have access to best value commercial services, products, and solutions.
Yesterday, the Federal Acquisition Service's policy office attended an expedited meeting with Coalition members on this critical economic and contract challenge. Attendees were gratified to learn about the policy and procedural streamlining measures FAS is undertaking to provide for an efficient economic price adjustments (EPAs) process that responds meaningfully to ongoing market changes. These measures will provide contracting officers with the flexibility to work with contractors to mitigate the inflationary pressures driving commercial pricing. Coalition members, along with all other MAS contractors, look forward to a swift, effective roll out of these EPA streamlining measures.
Developing a streamlined contractual framework for EPAs is a timely, positive step.  Moving forward, FAS can build on this effort, identifying opportunities to streamline its processes and programs across its contracting portfolio. As it does so, there are measures that will be key to increasing value for customer agencies based on their impact on reducing costs and barriers to entry for firms seeking to do business through FAS programs. These include:
Implementing voluntary Transactional Data Reporting (TDR) across the MAS program – TDR can reduce administrative costs for GSA and its industry partners, when it is consistent with commercial practice, while reflecting the competitive federal market for pricing.
Eliminate generic, government-wide BPAs that are inconsistent with the Federal Acquisition Regulation – It will be more cost effective and efficient to build FAS's cloud marketplace through MAS contract level terms and conditions rather than through duplicative, generic, government-wide BPAs.
Create and deliver in-person training on negotiations and price evaluations – Training and professional development will improve the efficiency of operations over time.
Review all touch points with customer agencies and industry partners to identify and eliminate duplicative processes and burdensome paperwork submissions requirements – Technology and AI provide an opportunity to streamline many purely administrative functions across the procurement process.
These are just some of the steps that can be taken to reduce acquisition burdens and cycle times for all. In the current environment, procurement streamlining must be a continuous management focus because it is imperative to unlocking value in the commercial market that will support customer agency missions. The foundation for streamlining is built upon understanding the opportunities and challenges facing industry. As Administrator Carnahan noted in her address at the Coalition's 2021 Fall Training Conference,
"For the government to be a better partner, we need to have a better understanding of the emerging challenges industry is facing in this complex global economy. Understanding your business challenges and collaborating with you on solutions is the smart thing to do, and the government needs to get better at it."
Consistent with Administrator Carnahan's vision, the Coalition regularly surveys our members to identify additional opportunities to streamline processes and address market conditions. Working together, GSA and its industry partners can deliver for the common good.
Deadline Approaching: Nominate a Deserving Excellence in Partnership Awardee Today
The nomination deadline for the Excellence in Partnership (EIP) awards has been extended to February 28, 2022. The Coalition for Government Procurement encourages members to nominate a deserving individual or organization in the Government or the private sector for an Excellence in Partnership (EIP) Award.   
The EIP Awards honor individuals and organizations in the acquisition community who have made significant contributions to the Federal procurement system and have delivered best value and met agency missions. Historically, these awards have recognized individuals, organizations, and contractors involved in procurement with GSA, VA, DOD, DHS, and other Federal agencies.       
We are seeking nominations from qualified candidates in the award categories below from both Government and industry:       
Lifetime Acquisition Excellence Award       
Presented to an individual in the contracting community for demonstrating a life-long commitment to advancing "common sense in government procurement." Awards will be made in the following subcategories:       
Department of Defense      

 

Civilian agency      

 

Industry      

 
Acquisition Excellence Award       
Presented to an organization or individual for outstanding performance over the year in meeting the mission-critical needs of a Federal agency through a government contract. Awards will be made in the following subcategories:       
Department of Defense      

 

Civilian agency      

 

Industry      

 
Sustainability/Green Excellence Award       
Presented to an organization or individual that has made outstanding sustainability contributions in support of the Federal government's goal to address climate change. Awards will be made in the following subcategories:       
Department of Defense      

 

Civilian agency      

 

Industry      

 
Advocating for Veterans Award       
Presented to an organization or individual for promoting and executing a successful program that supports veterans. Awards will be made in the following subcategories:       
Department of Defense      

 

Civilian agency      

 

Industry      

 
Click  here to submit your nomination for the 2021 EIP Awards before the February 28, 2022 deadline. Awardees will be named this March and recognized at our Spring Training Conference. If you have any questions, please contact Michael Hanafin at  mhanafin@thecgp.org.    
GSA Launches Initiatives to Improve Customer Experience for Contractors and Customer Agencies
Federal News Network reported that the General Services Administration (GSA)'s Federal Acquisition Service (FAS) is emphasizing customer experience for both front-end systems and back-end processes. Crystal Philcox, GSA FAS Assistant Commissioner of Enterprise Strategy Management, said that these changes are a result of customer feedback. The agency intends to create more of a single entry point for buyers and sellers to simplify their experiences. According to Philcox, contractors would like to see more standardization in what is accepted by contracting officers and what they require. GSA plans to provide examples of completed templates which will help contractors fill out forms with the necessary information. Philcox added that having a checklist with the steps of the submission process would be very helpful for contractors.  
GSA is working to launch a number of tools within the next six months to address issues that buyers face. The contract acquisition lifecycle management system will help GSA collect and share data with suppliers, including solicitation progress. In January, GSA launched a new service under GSA Advantage that gives details of stock disruptions from manufacturers and wholesalers that report issues in the Verified Products Portal (VPP).  
For back-end systems, GSA is improving the organization and presentation of data through a series of dashboards. Philcox said that data allows for GSA to think about collaborative policymaking and purchasing power to address top level priorities such as strengthening cyber and supply chain risk management, promoting climate-friendly purchasing, complying with Made in America policies, and creating a diverse and resilient supply chain. Another priority for GSA is progressing its services marketplace through short and long term goals. Tiffany Hixson, Assistant Commissioner of the Office of Professional Services and Human Capital Categories (PSHC), said that GSA is looking to improve service contracts in a similar way that the agency is addressing front-end systems and back-end processes. Hixson said that the agency is looking to have one place in which contractors can ask questions and receive feedback from staff on how to use the service contracts.  
Laura Stanton, Assistant Commissioner of the Office of IT Category, said in a blog post that GSA started standardizing the scope review process and created a digital tool that allows contractors to submit their requests. In the blog post, Stanton wrote that "this will allow for better tracking, management, and coordination across portfolios, as well as create a single customer experience. PSHC has already created a pilot single intake form and we are working to integrate that across other portfolios." She added that GSA is launching a single delegation of procurement authority (DPA) training for OASIS and Human Capital and Training Solutions in the coming months, as well as one on-demand DPA that combines 8(a) STARS III, Vets 2, and Alliant 2 in order to simplify the customer experience. The agency is also in the early development stages of an order management tool for all services task orders that will help improve solicitation development, tracking, and task order management on GSA contracts.  
Another initiative that GSA is working on is updating its Calc tool which provides pricing intelligence. Hixson said that "we are working closely with Crystal's team in thinking through how to refresh that particular dataset, how to bring in other pricing intelligence related services, that is searchable, and can help Federal buyers as well as industry, benchmark their pricing in the services space." GSA currently has two separate pricing tools, one which provides labor rates for a particular service, and another which is a price estimating tool that FAS has been testing with the OASIS program. GSA is looking to align these two tools. GSA is also looking to reduce procurement lead time with the use of robotics process automation (RPA) tools that can help to speed up contracting paperwork. Specifically, GSA is looking at using RPA to automatically complete pre-negotiation letters for new contractors.  
Stanton added during the panel that all of these efforts are aimed at improving processes for GSA's contractors and customers. The agency is looking to improve these processes by streamlining how buyers and sellers interact with FAS across the board. 
DLA Releases Industry Engagement Plan
The Defense Logistics Agency (DLA) has released an updated Industry Engagement Plan (IEP). The first IEP was delivered by DLA in 2018. The updated version aligns more closely with the 2021-2026 DLA Strategic Plan which includes modernizing acquisition and supply chain management as a line of effort. In the revised IEP, DLA communicates their strategy to engage with industry to achieve this and more.  
The IEP includes five Industry engagement focus areas.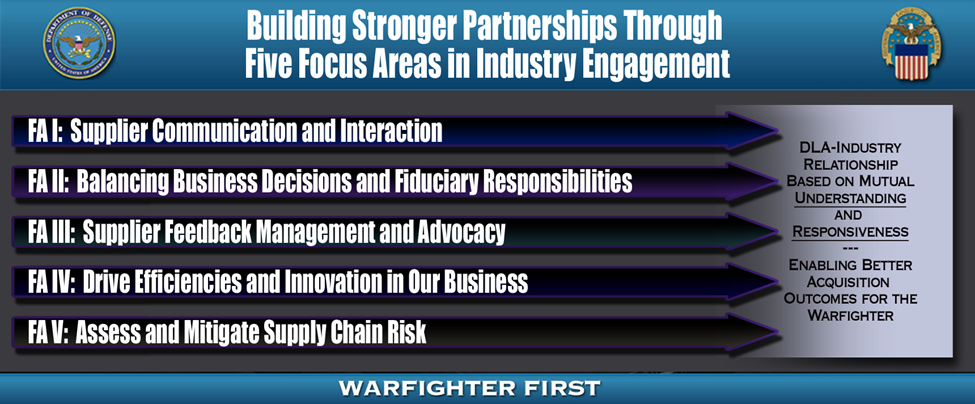 DLA wants to continue to strengthen its relationship and connection with industry, and in doing so, will engage in one-on-one meetings, site visits, and participation through industry associations. The IEP discusses a new focus on improving DLA operations. To support this goal, DLA is committed to requesting supplier feedback that will be used to implement operational change. Lastly, the agency plans to work with industry to protect the supply chain from external threats that affect DLA's capability to support the warfighter.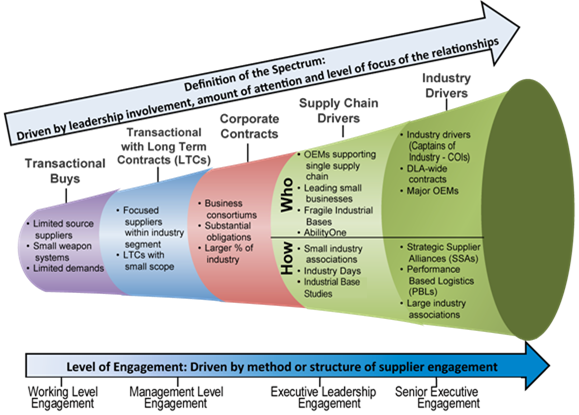 See the full Industry Engagement Plan here. 
GSA Extends EIS Transition Period 
Federal Computer Week reported that the transition to GSA's Enterprise Infrastructure Solutions (EIS) telecom contract for Federal agencies has experienced delays, causing the agency to implement "continuity of service" clauses in its legacy contracts. Customers on the Networx, WITS 3, and Regional Local Service contracts will be able to maintain their current service after these contracts expire on May 31, 2023. Under the original timeline, agencies were expected to fully transition to EIS by the end of fiscal year 2022, with a 90 percent transition by March. EIS was awarded in August 2017, however the contract's transition has been delayed several times since. The most recent FITARA scorecard showed that 15 out of 24 covered agencies were failing in their EIS transition goals. Issues that have led to the delays include extended task order award timelines, continuing resolutions, the COVID-19 pandemic, and supply chain issues. 
IRS to Transition to Login.gov Authentication Tool 
Fedscoop reported that the Internal Revenue Service (IRS) plans to transition to GSA's Login.gov as its user authentication tool. The transition comes after the IRS agreed to drop another tool that would use third party facial recognition technology to authenticate taxpayers creating online accounts earlier this month. The Department of Treasury said that it is working with GSA to achieve "security standards and scale" that are required for adoption of the service. While Login.gov will most likely not be ready for the current tax season, taxpayers do have the ability to sign up for IRS online accounts without the use of biometric data. Any previously collected biometric data by the IRS will be deleted over the coming weeks. Biometric data has been linked to concerns of reduced accuracy and increased security risk. In a statement, the IRS said that "taxpayers will have the option of verifying their identity during a live, virtual interview with agents; no biometric data – including facial recognition – will be required if taxpayers choose to authenticate their identity through a virtual interview." Taxpayers will still have the option of verifying their identity automatically through ID.me. 
VA CIO Supports VistA Modernization Efforts
Federal Computer Week reported that the Department of Veterans Affairs' (VA) new Chief Information Officer (CIO) Kurt Delbane plans to continue supporting the Veterans Health Information Systems and Technology Architecture (VistA) electronic health records (EHR) system during the transition to the commercial Cerner EHR system which is scheduled to be completed in 2028. Currently, most patient care is handled through VistA, while the Cerner system is running in a medical facility in Spokane, Washington with more deployments scheduled for the future. The Cerner EHR project was launched in 2017 with a $16 billion budget, with the VA's Office of Information and Technology (OI&T) supporting its shift and development. The OI&T is also responsible for maintaining VistA's operations. During a call with reporters, Delbane said that "I think of VistA as a system that we absolutely have to continue to modernize. The health care landscape changes, and VistA needs to change and continue with the great support as it has had before."  
Todd Simpson, VA Deputy Assistant Secretary of DevSecOps, said during the same call that two out of 130 instances of VistA have been moved into the VA's Amazon Web Services Cloud as a part of a pilot effort. Additionally, all VistA backup data has been moved to the cloud. Simpson stated that it is possible that more instances will be moved into the cloud, but that it will be determined by funding and overall strategic direction from leadership and the Veterans Health Administration. Funding for VistA is a complicated issue due to its costs being difficult to measure. VistA currently has 130 separate instances in use at different VA facilities. VistA's use in multiple systems means that the VA lacks a comprehensive definition of the program and cannot accurately report its costs. 
National Defense Budget Request Expected to Exceed $770 Billion
Reuters reported that President Joe Biden is expected to ask Congress for a defense budget of over $770 billion for fiscal year 2023 as the Department of Defense (DoD) aims to modernize the military. These sources added that negotiations within the Administration are ongoing and that the final amount could change before the budget request is made. The White House responded to DoD's proposed budget request last week with a figure on par with the request. Top priorities in the budget include shipbuilding, space capabilities, missile warning, and modernizing missile submarines, bombers, and land-based missiles. The defense budget request during former President Trump's final year in office was for $752.9 billion. Congress increased this by $25 billion, leading to the $778 billion budget for fiscal year 2022. One source anticipates that Congress will once again increase the President's defense budget request for fiscal year 2023. 
VA Experiments with 5G to Modernize Its Networks
Federal News Network reported that the VA is experimenting with fifth-generation (5G) mobile networks at three medical centers in addition to using 5G to strengthen connections at rural locations. The VA's Director of Network Engineering Daniel Mesimer said that the department has developed a multi-layered strategy for modernizing its networks, placing a large emphasis on alternative forms of transport. In addition to conversations about 5G, the VA is also exploring software defined wide-area networks. These two areas combined could potentially lead to additional services and support for VA clinicians, service providers, and veterans. Over the past few years, the VA has launched 5G projects at medical centers in Palo Alto, Seattle, and Miami. These projects remain in the early stages. The VA plans to eventually combine the experimental 5G networks with the operational networks at these medical centers to give staff and patients access to high-speed, low latency data connections. This would mean faster access to telehealth systems and easier access to data sets.  
In addition to new applications, the VA also aims to use 5G to strengthen connectivity in rural areas where wireless connections are harder to find. According to Mesimer, rural areas have been an ongoing challenge for the department. Recently, the VA has helped support site activations in rural California by combining 5G networks with software-defined wide area networks. This led to lower latency, reduced jitter, and increased bandwidth compared to LTE and 4G counterparts. 
Legal Corner: Am I Already Too Late? GAO Finds Offeror's Pre-Proposal Communications with Agency Started the Protest Clock
Authored by  Alex Sarria, Jason Workmaster, and Sarah Barney; Miller & Chevalier
The Legal Corner provides the legal community with an opportunity to share insights and comments on legal issues of the day. The comments herein do not necessarily reflect the views of The Coalition for Government Procurement.
Last month, the Government Accountability Office (GAO) denied as untimely a pre-award protest where the agency had responded unfavorably to a letter from the protestor and started the clock for filing a GAO protest. The decision in Science and Technology Corporation, B-420216 (Jan. 3, 2022), serves as a cautionary reminder that pre-proposal communications with an agency can constitute an agency-level protest that triggers GAO's protest timeline.
Summary of Decision
On September 7, 2021, the National Centers for Environmental Prediction (NCEP), a subset of the National Weather Service (which is itself a part of the National Oceanic and Atmospheric Administration (NOAA)), issued a fair opportunity request for proposals (FORFP) for scientific support services to holders of a NOAA IDIQ contract that included a key personnel requirement of five lead physical scientists.
On September 13, 2021, potential bidder Science and Technology Corporation (STC) sent a "letter of concern" to the director of the Western Acquisition Division of NOAA, asserting that the key personnel requirement was too stringent and disproportionately favored the incumbent contractor. The letter also requested that the required number of scientists be decreased to two. NOAA responded that there was a "legitimate need" for the key personnel requirement, reinforcing this viewpoint in a subsequent amendment to the FORFP released September 15, 2021, which indicated that key personnel requirements would not be changing. On October 1, 2021, prior to the proposal submission deadline, STC filed a pre-award protest at GAO challenging the key personnel requirement as unduly restrictive and improperly favoring the incumbent.
In reviewing STC's protest, GAO reiterated the general rule that pre-award protests alleging obvious improprieties in a solicitation are considered timely if filed before the due date for receipt of the proposal. This general rule does not apply, however, when an agency takes adverse action on a timely agency-level protest of the solicitation. In these cases, the protester must file its protest at GAO within 10 days of learning about the agency's initial adverse action.
GAO found that "STC's September 13 letter to the NOAA acquisition director was an agency-level protest" because it was a written statement that conveyed an intent to protest an agency procurement action. NOAA's response on September 14 disagreeing with STC's interpretation of the key personnel requirement and refusing to change those requirements constituted adverse agency action that triggered STC's 10 days to file a protest. GAO broadly defined "adverse agency action" to include "action or inaction by an agency that is prejudicial to the position taken in the protest."
Takeaways
To avoid being untimely to GAO, offerors who question the terms of a solicitation in pre-proposal exchanges with an agency must answer two simple questions for themselves:
Have I complained too much? In raising "concerns" to an agency about the terms of a solicitation, offerors must take care to avoid language that can be construed as a direct challenge of an agency procurement decision, and thus an agency-level protest. There are no safe or magic words per se and GAO will look to the content and context of an offeror's message to determine whether a communication constitutes an agency-level protest.
Has the agency already rejected my complaints? At the same time, offerors should be ultra-careful in assessing whether an agency's response to pre-proposal communications could be "adverse action" on an agency-level protest, as such action may have already started the clock on a GAO protest deadline. This can be an extremely fine line to walk. While an offeror may view an agency's response as leaving room for interpretation or being subject to future amendment, there is a risk GAO may see it differently and conclude that the agency has denied the offeror's request for relief.
If you have questions about the Science and Technology Corporation decision or managing pre-proposal communications with U.S. government customers, please contact one of the Miller & Chevalier attorneys listed below:
Alex L. Sarria, asarria@milchev.com, 202-626-5822
Jason N. Workmaster, jworkmaster@milchev.com, 202-656-589
Sarah Barney, sbarney@milchev.com, 202-626-5920
Healthcare Spotlight: VA Requests Industry Input on VA Supply Chain
The U.S. Department of Veterans Affairs is currently conducting an enterprise-wide Supply Chain Assessment (SCA) to evaluate and develop the VA's Supply Chain Modernization strategy. Our understanding is that one of the deliverables will be an enterprise-wide logistics supply chain management system that will be implemented with the VA Office of IT. The SCA covers various industries within the VA's supply chain (e.g., medical/surgical supplies, pharmaceuticals, IT, furniture, etc.)
VA Request for Industry Input
As part of the Supply Chain Assessment, the VA has asked the Coalition for industry feedback on the following:
From a supply chain and/or acquisition perspective, what is working well at the VA? And what could be improved?
Please send your responses to Aubrey Woolley at awoolley@thecgp.org by Tuesday, March 1.
Based on members' input, we will draft a consolidated response to VA Chief Acquisition Officer, Michael Parrish, and his team who are leading the Supply Chain Assessment. Please note that the responses will be for non-attribution. If you have any questions, please contact Aubrey Woolley at awoolley@thecgp.org or (703) 999-6372.
Discounted Training Offerings for Coalition Members
To complement the Coalition's current education and training offerings, we have partnered with Federal Publications Seminars (FPS) to provide even more online training courses to our members at an affordable price.
FPS will provide Coalition members access to an annual training subscription to both the FPSOnline Professional and FPSOnline Premium curriculum for $395 and $1,795 per person/year, respectively. These fees represent nearly a 50% discount off the FPS retail price of each online curriculum.
The FPSOnline Professional subscription, regularly priced at $795, includes unlimited access to all live and on-demand webinars and webinar series. There are more than 550+ webinars in the on-demand library, and 100+ live webinars and series produced each year. The discounted subscription can be purchased here FOR $395 using this promotional code 395THECGP2022.
The FPSOnline Premium subscription, regularly priced at $2,495, includes the Professional subscription benefits listed above plus unlimited access to 150+ live and on-demand 1-5-day virtual training courses which are offered annually. The discounted subscription can be purchased here for $1,795 using this promotional code  1795PREMCGP2022.
Other highlights include:
8-12 NEW live webinars offered each month; most of which are CLE/CPE approved;

Live virtual 1-5 day training courses offered annually and in the classroom;

Live webinars and on-demand courses are usually 60-90 minutes in length and cover everything from emerging hot topics to more substantive compliance and regulatory issues like CMMC – What this Means for Industry, Cost Accounting Standards, Effective Ethics Programs for Suppliers, and FAR Part 37 – Service Contracting; 

A wide collection of government contracting related resources, white papers and job briefs; and 

Downloadable course completion certificates.  
(Please note, FPS Classroom Courses, Certificate Programs, and FPSCustom training are not included in the FPSOnline Professional or Premium subscriptions and may be subject to additional charges from FPS.) 
For more information about this member benefit, please contact Matt Cahill at mattcahill@thecgp.org.
GSA Announces Automatic 60-Day Extension for Entity Registration Renewals
GSA posted a notice on Interact informing contractors that, starting on April 4, 2022, the new Unique Entity ID will be the official, Governmentwide identifier used for Federal awards. In order to reduce the burden during the transition, there will be an automatic 60-day extension for any existing SAM.gov entity registration needing to renew with an expiration date ranging from March 18, 2022 to April 18, 2022. No action will be required by the entity registrants. Impacted entity administrators will receive an email from samadmin@sam.gov with the subject line "60-Day SAM.gov Extension Granted for [Entity Name/DUNS/CAGE]." The extensions will be processed in an incremental manner over the course of several weeks and will be completed by March 3, 2022. For any assistance with GSA's IAE systems, including SAM.gov, contact the Federal Service Desk at FSD.gov.    
DHA Will Host an Industry Day on March 30
On March 30 at 9am EST, Defense Health Agency (DHA) will host a virtual Industry Day Requirement Exchange (IDRE) to inform Industry on upcoming requirements and business opportunities. Attendees will have the opportunity to submit questions throughout the event. If you have any questions you would like addressed at this event, submit them to dha.ncr.acquis-procure.mbx.industry@mail.mil. DHA requests that you include "IDRE Vendor Question – [Insert Company Name] – [Insert Detail Here]" in the subject line. 
Registration is available here and will close on March 26. All IDRE materials, including a detailed agenda and speaker presentations, will be posted to the SAM.gov (https://sam.gov/) and Health.mil (https://www.health.mil/) pages accordingly. 
Webinar: Foreign Sourcing and Supply Chain Issues, April 12
The Coalition is pleased to host an upcoming webinar on Foreign Sourcing and Supply Chain Issues. This webinar will take place on April 12 from 12 -1 pm EST and will feature speakers from Covington, including Susan Cassidy, Partner; Mike Wagner, Partner; and Anna Menzel, Associate.
The recent stress on worldwide supply chains is causing contractors to look for new sources of supply. This webinar considers the implications of U.S. Government sourcing obligations when making supply chain adjustments, including the requirements of the Trade Agreements Act, Buy American Act, limitations on using certain foreign telecommunications equipment (even if such equipment is not sold to the U.S. Government), and other emerging sourcing requirements and restrictions in this time of intensifying U.S.-China tension. The three presenters will review the sourcing limitations imposed by the U.S. Government and address the need to update certifications and contract documents when making changes to the supply chain.
Click here to register.
Upcoming Coalition Meetings
To RSVP for any upcoming meetings, please contact Michael Hanafin at mhanafin@thecgp.org.
GWAC/MAC Committee Meeting with GSA's PSHC, March 1     
On March 1 from 10 – 11 am EST, the GWAC/MAC committee will be hosting a virtual meeting with Sheri Meadema, GSA's Director of Program Operations for Professional Services and Human Capital (PSHC) Categories, where she will provide updates on programs and initiatives from GSA's Professional Services Category team. Please submit any questions or topics for the meeting to Michael Hanafin at mhanafin@thecgp.org.    
All-Member Meeting with GSA'S Erv Koehler, March 3 
The Coalition is pleased to announce a virtual all-member meeting with Erv Koehler, GSA Assistant Commissioner, Office of Customer and Stakeholder Engagement, on March 3 at 10 am EST. Topics Mr. Koehler will cover during the session include: 
Insights and observations regarding the state of interagency contracting;

 

Updates on the performance of GSA's Schedules program, IT GWACs, 4PL, and e-commerce;

 

Increased support for the VA and its Schedules program; and

 

The outlook for future customer agency mission support opportunities for GSA and its industry partners.  

 
IT/Services Committee Meeting with GSA's IT Category Part 2, March 8    
The Coalition will be hosting our second virtual IT/Services Committee meeting with GSA's Office of Information Technology Category team on March 8 from 11 am – 12 pm EST. Guest speakers for this meeting include Cheryl Thornton-Cameron, Executive Director, Office of Acquisition Operations, and Larry Hale, Acting Director, Office of IT Services. Please submit any questions or topics for the meeting to Michael Hanafin at mhanafin@thecgp.org.      
General/Office Products Committee Meeting, March 10   
On March 10 from 1 – 2:15 pm EST, the General/Office Products Committee will host a virtual meeting with Jeff Lau to discuss the next steps of the e-commerce pilot. Jeff and his team will also provide a Region 2 update. If you have any questions or concerns that you would like addressed at the meeting, please email them to Samantha Holt at sholt@thecgp.org. 
Pharmaceutical Subcommittee Meeting with VA PBM, March 16    
Join the Pharmaceutical Subcommittee on Wednesday, March 16 from 12:30 – 1:30 pm EST for a dialogue with Dr. Jennifer Martin, Deputy Chief Consultant, VA Pharmacy Benefits Management (PBM) Services. Dr. Martin will provide members with an update on the latest initiatives at the VA PBM and also respond to member questions. To submit questions for Dr. Martin, please send them to Aubrey Woolley at awoolley@thecgp.org.  The Pharmaceutical Subcommittee will also address other issues of relevance to our pharmaceutical industry members.   
All-Member Meeting with GSA's Senior Procurement Executive Jeff Koses, March 22    
The Coalition is pleased to announce a virtual all-member meeting on March 22 from 1 – 2 pm EST with Jeff Koses, GSA Senior Procurement Executive. The Coalition is collecting questions and topics in advance of the meeting. Please submit any feedback to Michael Hanafin at mhanafin@thecgp.org.      
Medical/Surgical Subcommittee Meeting with VHA Procurement and Logistics, March 24  
Join the Medical/Surgical Subcommittee for a virtual meeting with Ricky Lemmon, Executive Deputy Chief Procurement Officer for the Veterans Health Administration, on Thursday, March 24 at 1:30pm EST.  Mr. Lemmon will discuss the ECAT order process at the VA as well as the latest on the MSPV Supply BPAs. To attend, please RSVP to Michael Hanafin at mhanafin@thecgp.org.    
Coalition Hiring a Senior Director for Procurement Policy
The Coalition for Government Procurement (Coalition) is a Washington D.C.-based non-profit association of firms selling commercial services, products and solutions to the Federal Government. Its members collectively account for a significant percentage of the sales generated through GSA contracts, including the Multiple Award Schedule (MAS) program. These members include small, medium, and large business concerns. The Coalition is proud to have collaborated with Government officials for more than 40 years in promoting the mutual goal of common-sense acquisition.     
The Coalition seeks a candidate to serve as Senior Director for Procurement Policy. The successful candidate for this position will possess experience in, and understanding of, the Federal Government procurement process; commercial product and services acquisition; the fundamental policy and regulation governing the acquisition process; and familiarity with the Legislative Branch authorization, appropriation, and oversight processes. Finally, the successful candidate will have familiarity with the contracting activities of the General Services Administration and/or the Department of Veterans Affairs (VA).       
The Senior Director of Procurement Policy will be responsible for working with the Coalition President to formulate policy and acquisition strategy recommendations to the Government, representing industry with key Federal agencies and contracting programs (e.g., GSA, Department of Defense, and/or Department of Homeland Security) on behalf of member committees, and contributing to the association's publications.     
Other skills that would enhance the attractiveness of a candidate are:     
The ability to work both collaboratively and independently    

 

The characteristics of a strategic, accountable team member dedicated to the project at hand    

 

Strong analytical skills    

 

Strong written and oral communication skills    

 

High levels of motivation to a task at hand   

 

Advanced degree a plus   

 
Interested candidates please send a resume and cover letter to Rob Rendely at rrendely@thecgp.org.    
Coalition Hiring a Program Assistant 
The Coalition for Government Procurement (Coalition) is a Washington D.C.-based non-profit association of firms selling commercial services, products and solutions to the Federal Government. Its members collectively account for a significant percentage of the sales generated through GSA contracts, including the Multiple Award Schedule (MAS) program. These members include small, medium, and large business concerns. The Coalition is proud to have collaborated with Government officials for more than 40 years in promoting the mutual goal of common-sense acquisition.      
The Coalition seeks a candidate to serve as Program Assistant. As a member of the Coalition team, the position will perform association program and administrative responsibilities including:     
Serving as the initial contact for members about association activities and events    

 

Providing administrative support for the Coalition President   

 

Supporting the management of content on the association website and the member portal with Marketing    

 

Managing the Customer Relationship Management (CRM) system    

 

Supporting Coalition meetings and events from a logistics and technical perspective    

 

Preparing articles and other written materials for the association's publications and events    

 
 The ideal candidate for the position will have:     
Excellent writing skills     

 

Ability to work independently     

 

Ability to multi-task and remain flexible in a fast-paced work environment     

 

Knowledge of Microsoft Office and ability to use other office software programs     

 
 Interested candidates please send a resume and cover letter to Rob Rendely at rrendely@thecgp.org.