Congratulations to the 2020 Acquisition Excellence Award Recipients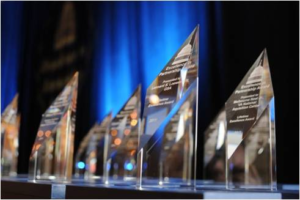 We previously announced that the 2020 Excellence in Partnership (EIP) awardees would be revealed throughout the first quarter of the new year in the Friday Flash. In January, we recognized our Lifetime Acquisition Excellence recipients for their outstanding achievements and demonstration of a career-long commitment to supporting the advancement of "common sense in Government procurement." In this week's FAR & Beyond blog, we would like to highlight the recipients of the Acquisition Excellence Award. This award is presented to both organizations and individuals for exceptional performance over the past year in meeting the mission-critical needs of a Federal agency through a Government contract. This year, we received multiple outstanding nominations from Government and industry in the Acquisition Excellence category. All of these nominees displayed the ability to execute at a high level in order to aid the efforts of Federal agencies, making the award decisions difficult.
We would like to congratulate the following 2020 recipients of the Acquisition Excellence Award.
Government
Defense Logistic Agency's Medical Directorate's Strategic Materiel Sourcing Group, Readiness Division
The Defense Logistic Agency's (DLA) Medical Directorate's Strategic Material Sourcing Group (SMSG), Readiness Division has provided a tremendous amount of support to the Whole of Government during the COVID-19 pandemic. The SMSG Readiness Division used innovative acquisition strategies to allow the Services and Government agencies to immediately access Personal Protective Equipment (PPE), including ventilators, gloves, gowns, and N95 masks through the DLA's Warstopper Program. This program invests directly in industry to ensure that critical items during crises are readily available. The Medical Readiness Division has over 14,000 medical items covered on 76 Warstopper contracts. Because of this, DLA had a supply of over 6 million N95 respirators ready to be shipped to customers immediately. The Medical Readiness Division's contracting model has been praised by Congress and other departments who have contacted DLA to understand the program's methodology and how it can be applied to the Government as a whole.
Meghan Michalski, Fire & Marine Division Chief, Construction & Equipment Supply Chain, DLA
Meghan Michalski works for DLA Troop Support (DLATS) as the Fire & Marine Division Chief within the Construction & Equipment Supply Chain in Philadelphia, Pennsylvania. In her role, she manages the DLATS Tailored Logistics Center for Special Operations Equipment and Fire & Emergency Services. Her team services all branches of the Department of Defense with essential warfighter equipment, annually obligating more than one billion dollars. During the COVID-19 pandemic, her team provided essential support by supplying PPE, as their contracts were in place and had high ceiling values. Meghan and her team worked to orchestrate the appropriate Domestic Non-Availability Determinations (DNADs) to be able to procure critical equipment from overseas, and obligated hundreds of millions of dollars' worth of COVID-19 relief equipment.
Milton Reese and Melina Andino, Naval Surface Warfare Center Indian Head Division
Milton Reese and Melina Andino serve as Team Leaders for the Naval Surface Warfare Center (NSWC) Indian Head Division (IHD) Cartridge Actuated Devices/Propellant Actuated Devices (CAD/PAD) In-Service Engineering (ISE) Branch. CAD/PAD devices are unique and highly specialized technology specifically rated for saving lives. In these roles, Reese and Andino assist the Branch Manager in leading a team of over 33 engineers, technicians, and equipment specialists. After assuming the Team Lead positions, they launched a systematic effort to revise and consolidate every aspect of the ISE process. Through their efforts, hundreds of technical data packages for all of the active CAD/PAD devices were updated, resulting in significant improvements to the procurement process. Efficiency and transparency have increased, while the cost of providing ISE has decreased. Additionally, the work done by these two leaders has improved cohesiveness between the ISE Branch and other CAD/PAD Division Branches.
Dr. Christopher Wilhelm, Customer Advocate for Science and Technology, Naval Surface Warfare Center Indian Head Division
Dr. Christopher Wilhelm of the NSWC IHD Explosive Ordnance Disposal Technology Division led his organization's pursuit of Partnership Intermediary Agreements (PIAs). Dr. Wilhelm engaged in several discussions with regional Technology Transition Offices to gain the best means of funding a PIA with the College of Southern Maryland. Most Technology Transition Offices used a non-procurement instrument to fund PIA activities, however, after an in-depth discussion, Dr. Wilhelm decided to use a grant instead. Dr. Wilhelm drafted the grant and received approval. The grant established a funding mechanism between institutions to support innovation within the NSWC IHD's mission space. The funding was used towards an advancement effort in support of an underwater explosive remediation device. The design team was able to produce a device that was reliable for underwater deployment. The grant has also been used by NSWC IHD's Velocity Laboratory to provide specialized events that bring together NSWC IHD and academia to study, employ, and train on new topics of importance to the Warfighter.
Robert Sorzano, Expeditionary Exploitation Unit One, Naval Surface Warfare Center Indian Head Division
Robert Sorzano provides support to the NSWC IHD's Expeditionary Exploitation Unit One (EXU-1) in a variety of roles. As Government Purchase Card Approving Official, Sorzano screened over 400 Purchase Card Transactions valued at $120,000 in compliance with the Naval Sea Systems Command (NAVSEA) purchase card business rules. These procurements supported four forward-deployed platoons, as well as multiple EXU-1 Headquarter Departments. Sorzano's work ensured that all customers received their requirements in a timely manner. Without Sorzano's efforts, EXU-1 would not be able to sufficiently resource command personnel to perform vital missions. He is involved in many high priority purchases of equipment, materials, and services that are needed to train, equip, and deploy platoons. As the facility manager for Building 900, Sorzano has led a team of uniformed service members, contractor personnel, and government employees in the overhaul and renovation of three major EXU-1 workspace initiatives. During the current phase of construction at the EXU-1 Command Headquarters, he identified two major design flaws, and has worked with the construction manager to find cost effective solutions to these issues.
Industry
Mike Pullen, Vice President, CGI
Mike Pullen is a highly skilled and accomplished executive and information technology professional with over 35 years of experience. Mike serves as the leader of the Indefinite Delivery, Indefinite Quantity (IDIQ) Strategic Solution Center (ISSC) for CGI's contract vehicle portfolio. In this role, Mike manages all aspects of IDIQ contracts as well as CGI's IDIQ contract vehicle portfolio, and develops partner relationships to leverage small businesses to respond to requirements. Mike serves as a trusted industry advisor and leader to small businesses, partner organizations, and Federal Government program offices.
Sellmark Corporation
Sellmark assists Federal agencies by competing as a prime contractor under Special Item Numbers (SINs) 426-1A, 426-4C, and 426-4S, with offerings including riflescopes and thermal equipment. Sellmark offers these products with incentivized programs to Government and law enforcement. Since the award of the General Service Administration's (GSA) Schedule 84, Sellmark has been able to significantly broaden its reach and support of first responders through the implementation of a streamlined and trusted process for agencies to follow.
Once again, the Coalition congratulates these deserving recipients of the 2020 Acquisition Excellence Award. These awardees show the importance of the partnership between Government and industry. In March, we will announce the recipients of the remaining two EIP Award categories: the Excellence in Innovation Award, and the Advocating for Veterans Award.
Thank you to all of our members for your continued support of the EIP Awards!
President Biden Signs Executive Order on Securing America's Supply Chains
On February 24, President Biden signed the Executive Order (EO) on America's Supply Chains. The purpose of the EO is to strengthen national security and the resiliency of the United States' supply chains. Within the next 100 days, specified agency heads must complete a review of supply chain risks for semiconductor manufacturing, high-manufacturing batteries, critical minerals and other identified strategic minerals, and pharmaceuticals and active pharmaceutical ingredients. These reports will be reviewed by the Assistant to the President for National Security Affairs (APNSA) and the Assistant to the President for Economic Policy (APEP) before being submitted to the President.  
The Secretary of Health and Human Services (HHS) is responsible for submitting the report that identifies risks in the supply chain for pharmaceuticals and issuing policy recommendations to address them. The report should complement the ongoing work being done to secure the supply chains of critical items needed during the COVID-19 pandemic, such as Personal Protective Equipment (PPE), as described in the Sustainable Healthcare Supply Chain EO. The review will address the defense, cyber, environmental, and economic risks that could compromise the supply chain.   
Within one year of the EO, agency heads will submit another report to the President through the APNSA and APEP on the following industrial bases: defense, public health and biological preparedness, information and communications technology, energy, and agricultural.  The Coalition will update members on the findings of the agencies' reviews and future recommendations to strengthen the resilience of America's supply chain as a result of this EO. 
FAS Deputy Commissioner on the Technology Transformation Service 
On February 19, Nextgov published an interview with Dave Zvenyach, the new Deputy Commissioner for the General Services Administration's (GSA) Federal Acquisition Service (FAS), and Director of the Technology Transformation Services (TTS). During the Obama Administration, Zvenyach served as an Assistant Commissioner of FAS and Executive Director of 18F, a federal digital consultancy under GSA. As TTS Director, Zvenyach will oversee programs including 18F, the Centers of Excellence (CoE), and the Federal Risk and Authorization Management Program (FedRAMP). In the interview, he discussed his priorities for TTS, the progress he has seen in programs since the Obama Administration, and some of the projects TTS is currently working on.  
Zvenyach spoke about how TTS has been active in supporting the Government's COVID-19 response. TTS published a website for the Safer Federal Workforce Task Force on USA.gov that has served millions of inquiries about the virus. He also touched on the work being done by 18F, including releasing a program known as the De-Risking Government Technology Guide, which works with agencies and gives specific advice on how they can effectively buy technology.
A priority for Zvenyach is customer engagement. He is focused on strengthening existing relationships with agency partners, as well as meeting new partners. TTS hosts an Impact Summit that allows engagement to occur with agency partners. Zvenyach also plans to talk with agency Chief Information Officers (CIOs) to understand their goals and how TTS can help serve them. 
GSA Waives Experience and Annual Financial Statement Requirements for COVID-19
The General Services Administration (GSA) released a memorandum to temporarily waive certain requirements for offers under the GSA Schedules in order to better support the Government's COVID-19 response. The memo waives the following requirements for both new offerors and current Schedule holders adding new solutions:  
two years of corporate experience 

one relevant project experience per Special Item Number (SIN)

two years of financial statements 
The memo is effective immediately and directs GSA contracting officers to review any rejected offers from the past 90 days for offers that did not meet these requirements. The memo does not have an expiration date and will remain in effect until rescinded by GSA. 
GSA 
to 
Focus on Cybersecurity Requirements at Order Level
FedScoop reported this week that the General Services Administration (GSA) will introduce Cybersecurity Maturity Model Certification (CMMC) requirements at the order level. Keith Nakasone, Deputy Assistant Commissioner for Acquisition in GSA's Office of IT Category, said at a recent AFFIRM event that by allowing for CMMC requirements at the order level, GSA can begin requiring contractors to prove that their networks meet a certain maturity level. GSA has already included CMMC language in the STARS III solicitation and in the Polaris draft solicitation. Nakasone's goal is to harmonize CMMC and governmentwide acquisition contracts (GWACs) so GSA will have the opportunity to phase-in new DoD programs and projects.  
New Voluntary Security Features for SAM.gov
The General Services Administration (GSA) announced new security features for SAM.gov, which will be rolled out on May 24. The new security feature, called identity proofing, is a voluntary security protocol that prevents unauthorized access to an entity registration account. The feature will be managed through login.gov and will require entity administrators to upload a photo of their state-issued identification, social security number, and a valid phone number.  
Identity proofing is voluntary and recommended by GSA, but it will become mandatory in fiscal year 2022. Identity proofing will become available when beta.SAM.gov and SAM.gov merge on May 24. 
NITAAC 
Update on CIO-SP4 Timeline and Evaluation Plans
According to Federal News Network, the National Institutes of Health Information Technology Acquisition and Assessment Center (NITAAC) is releasing its $40 billion Chief Information Officer-Solutions and Partners 4 (CIO-SP4) contract within the next few weeks. As many as 450 large and small contractors may receive awards by early 2022. CIO-SP4 Program Manager and NITAAC Acting Director Brian Goodger said that he expects to receive over 1,000 bids on the contract, which will be due on April 30. In order to avoid delays in the rollout, Goodger said that NITAAC plans to address all potential complaints early on in the evaluation process.  
Vendors will go through a three-phased evaluation process. The first phase will require vendors to complete a self-scoring sheet on their experiences doing work with the Government in the past, with scores based on the dollar value of the contracts they previously performed. According to Goodger, the second phase will be a "go, no-go decision" in which NITAAC will check to make sure contractors meet all requirements that are in the Request for Proposal (RFP). The third and final phase will include both a technical and a business proposal review. The technical proposal will have a 10-page limit, and the business proposal will have a 15-page limit. During this phase, NITAAC will also look at vendors' past performance and pricing of labor categories. Goodger expects most protests to occur in phases one and two. NITAAC hopes to complete the awards and address any possible protests of CIO-SP4 before CIO-SP3 ends in May 2022. Goodger alerted vendors that the technical proposal is more important than price, and that health information technology abilities take precedence over other business experience. 
SolarWinds Cyberattack Investigation Continues
Federal News Network reported on the SolarWinds network breach that compromised the networks of nine agencies and about 100 private-sector companies. The breach will take months for the Administration to fully investigate, but the lead investigator believes that it will result in agencies "building back better" through information technology modernization efforts. Currently, the investigation is in its early stages, and additional network compromises may be uncovered.  
The full extent of the attack is still unknown, however, investigators believe that files and emails on breached networks were compromised. Anne Neuberger, Deputy National Security Advisor for Cybersecurity and Emerging Technology, said that the breach highlights the need for investments that will increase network visibility and combat future attacks. President Biden is currently working on an executive action that will aid agencies' response to the breach. Neuberger warned that additional attacks may be launched using products offered by the technology companies affected by the SolarWinds incident. In response to this threat, there will need to be greater information sharing between the Government and industry partners. 
VA OIG 
Identifies Improvements for Biologic Implant Procurement
The Department of Veterans Affairs (VA) Office of Inspector General (OIG) released a report auditing the procedures for the purchase, inventory management, and tracking of biologic implants. The audit focused on the activities of four medical facilities and their associated outpatient clinics, and the OIG found deficiencies in implant purchasing, inventory, and tracking.  
The OIG found that the documentation for the implants was vague or incomplete and the correct type of funding may not have been used for certain purchases. They also found that VA staff did not keep inventory or tracking records for approximately 28 percent of the biologic implants. Additionally, over 700 implants valued at over $1.1 million could not be located in the facility inventory. The VA also lacks a national consistent inventory management policy for biologic implants. Furthermore, the VA's inventory system, the Generic Inventory Package (GIP), does not allow staff to record critical information such as serial numbers.  
The VA OIG made 11 recommendations, all of which the VA concurred with. The recommendations include: 
Provide guidance and controls to staff on making determinations to purchase requests and consult notifications to the appropriate purchasing agents;

Provide guidance to purchase agents on how to effectively evaluate biologic implants requests for the correct funding source;

Provide guidance to prosthetics agents to ensure they receive clinic staff consult requests; 

Create a biologic implant cost code for funds to improve accountability and tracking;

Clarify guidance on the use of an approved inventory management system specific to biologic implants;

Monitory facility compliance with the use of an approved inventory management system;

Ensure staff perform inventory reviews of biologic implants;

Monitor facility compliance with reviews of on-site inventory;

Establish oversight that can provide guidance for tracking implanted biologics;

Create policies and procedures for facilities to implement controls for tracking biologic implants; and

Establish standardized systems and requirements for facility staff to record necessary biologic implant attributes to improve patient safety.  
Join the BRIC and Cyber Committees for a Joint Meeting on NDAA, New Congress, and the Biden Administration 
The Business Regulatory Issues Committee (BRIC) and Cyber & Supply Chain Security Committee are hosting a joint meeting taking place virtually on March 2 at 11 am EST. Our special guest presenter will be Moshe Schwartz, President of Etherton and Associates (review his full bio here). Moshe will be discussing the following topics:
A review of key provisions in the FY21 NDAA and Appropriations bills

What's on tap in the new Congress, including:

Leaders/changes

Additional subcommittees

The FY22 NDAA

The Biden Administration priorities

COVID activities to date

Cyber update, include Section 889 and CMMC

The future of Section 3610 ready state support
If you would like to attend this meeting, please RSVP to Michael Hanafin at MHanafin@thecgp.org to receive the dial-in information.
Strategic National Stockpile/ASPR Funding Agreements Webinar, March 4
Join the Coalition for Government Procurement for a virtual panel discussion on Strategic National Stockpile/ASPR Funding Agreements, moderated by James W. Kim from McDermott Will & Emery on March 4 at 2 pm EST. In response to COVID, Strategic National Stockpile contracting has received a great deal of attention as well as funding. This discussion will provide insights from individuals with decades of collective experience with SNS/ASPR funding, negotiation and performance of contracts and compliance with regulatory requirements.
The panel, which includes regulatory experts, individuals with recent Government service, and a current SNS contractor, will discuss:
Experiences with SNS / ASPR funding, both prior to and in response to COVID;

Key insights regarding the evolving political, legislative and regulatory environment for organizations seeking to do business with the Government; and provide; and

Advice regarding funding opportunities for FY 2021 and forward
Speakers:
James W. Kim, Lead Partner, Public Sector Practice, McDermott Will & Emery (Moderator)

Adey Pierce, Director, Industry Specialty Services- Biodefense & Government Contracts, BDO

Chia-Wei Tsai, Ph.D., Senior Advisor, Mapp Biopharmaceutical
Click here to register.
Legal Corner: Biden Leaves in Place Key Portions of Buy American Act Changes, Targets New Domestic End Product Test and Services
Authors: Jacqueline Unger and Anna Sullivan; PilieroMazza PLLC
The Legal Corner provides the legal community with an opportunity to share insights and comments on legal issues of the day. The comments herein do not necessarily reflect the views of The Coalition for Government Procurement. 
President Biden signed an executive order (EO) on January 25, 2021, titled "Ensuring the Future Is Made in All of America by All of America's Workers." Referring broadly to all statutes, regulations, rules, and executive orders that relate to Buy America, Buy American, or domestic sourcing requirements as "Made in America Laws," the EO expresses the new administration's policy that the U.S. government should maximize the use of domestic products and services and "should, whenever possible, procure goods, products, materials, and services from sources that will help American businesses compete in strategic industries and help America's workers thrive." This new EO was issued just days after the Federal Acquisition Regulatory Council (FAR Council) finalized a rule to increase the Buy American Act (BAA) domestic content requirements. With the EO directing significant changes to federal procurement practices under the Made in America Laws, we have highlighted key implications for government contractors below.
Strengthening BAA Domestic Content Requirements
The EO proposes significant changes to promote the enforcement of the BAA's preference for domestic end products. The EO directs the FAR Council to, within 180 days, consider proposing for notice and public comment amendments to the Federal Acquisition Regulation (FAR) provisions implementing the BAA to replace the "component test" used to identify domestic end products and construction materials with a "value added" test. Under the new proposed test, domestic content would be measured by the value added to the product through U.S.-based production or U.S. job-supporting economic activity—though the EO does not explain how such value would be calculated.
Additionally, the EO states that the FAR Council should consider FAR amendments that would increase the numerical threshold for domestic content requirements for end products and construction materials and increase the price preferences for domestic end products and domestic construction materials. The FAR Council is also directed to promptly review any existing constraints on the extension of the Made in America Laws to information technology that is a commercial item and develop recommendations to lift these constraints to further the EO's policy.
Importantly, the FAR Council recently published a final rule on January 19, 2021, which increases the BAA domestic content requirements and pricing preferences to implement President Trump's EO 13881, "Maximizing Use of American-Made Goods, Products, and Materials." The final rule makes three critical changes: (1) it increases the domestic content requirement to 55% for most products and to 95% for products consisting "wholly or predominantly" of iron or steel (or a combination of both), (2) it removes the commercially available-off-the-shelf exception for products consisting "wholly or predominantly" of iron or steel (or a combination of both), and (3) it increases price preferences for domestic products to 20% for large businesses and 30% for small businesses. This final rule applies to solicitations issued on or after February 22, 2021.
Though Biden's EO does not invalidate this final rule, it remains to be seen whether these changes will be kept as is or further modified as a result of the new EO.
Increasing Scrutiny of Requests for Waivers of Made in America Laws
Next, Biden's EO indicates that it may become harder to obtain a waiver of Made in American Laws in the future. The EO directs the Director of the Office of Management and Budget to establish a Made in America Office, headed by a Made in America Director. Before an agency grants a waiver, and unless the OMB Director provides otherwise, the agency will be required to provide the Made in America Director with a description of its proposed waiver and a detailed justification for the use of goods, products, or materials that have not been mined, produced, or manufactured in the U.S. The Made in America Director will review all proposed agency waivers and make a determination as to whether the waiver is justified. Any disagreements between the Director and the agency would be resolved through administrative procedures. Additionally, in order to increase transparency, the General Services Administration is to develop a public website that includes information on proposed waivers and whether those waivers are granted.
Assisting Contractors with Supplier Scouting
The EO also directs agencies to take action to identify suppliers of American-made products, which may be helpful to prime contractors looking for domestic sources for their supply chains. Pursuant to the EO, agencies are to partner with the Hollings Manufacturing Extension Partnership to conduct supplier scouting to identify American companies that can produce goods, products, and materials in the U.S. that meet the federal government's procurement needs.
Imposing Agency Reporting Requirements
Lastly, the EO imposes new reporting requirements on agencies. It directs federal agencies to, as soon as practicable, consider "suspending, revising, or rescinding" any agency actions that are inconsistent with the aforementioned policy and to consider any additional action necessary to enforce it. More specifically, agencies are directed to submit a report to the newly created Made in America Director within the 180-day window detailing their implementation and compliance with Made in America Laws, a description of any waivers to Made in America laws, and any recommendations on how to further effectuate the EO's policy. Agencies are thereafter to submit biannual reports on implementation and compliance with Made in America Laws, with analysis on any applicable waivers.
The EO shows the intent of the Biden Administration to prioritize American industry, but it remains to be seen how its directives will play out among federal agencies and their procurements. Contractors subject to the BAA or other Made in America Laws should be cognizant of agency implementation of the EO.
We will continue to monitor developments as they become available. If you have questions about the EO and what it could mean for your business, please contact Jackie Unger or Anna Sullivan, the authors of this blog, or another member of PilieroMazza's Government Contracts Group.
Healthcare Spotlight: Transition
 of Military Hospitals to DHA on Track
 for 2021
Federal News Network reported that Dr. Brian Lein, Assistant Director for Healthcare Administration at the Defense Health Administration (DHA), expects the transition of military hospitals and clinics to DHA to be completed by the end of 2021, despite reconsiderations of the transition over the past year. The transition was initiated by the 2017 National Defense Authorization Act (NDAA), and includes the transfer of 721 military treatment facilities (MTFs) and 174,000 healthcare personnel from management by the military services to DHA.  
As part of the transition, DHA plans to close about 50 MTFs and limit the scope of services at other MTFs in order to meet readiness requirements. The closing of the MTFs will move about 200,000 patients from getting care on base to getting assistance from private sector providers using their TRICARE insurance.  
In August 2020, military service leaders asked for a halt in the transition. As a result, DHA temporarily halted the transition. However, Congress made their support for the MTF transition clear in  the 2021 National Defense Authorization Act which stated that the transition should continue. 
Roger Waldron Talks Cloud Purchasing on Government Matters
This week, Coalition President Roger Waldron was interviewed on Government Matters about cloud procurement and the GSA Schedules. During the interview, Waldron discussed the barriers to entry that companies face when selling to the Government and the challenges of offering cloud services through the Schedules program due to its current pricing policies. To access the full interview, click here.  
Agencies Release New COVID-19 Plans for Employees and Contractors
Federal News Network reported that agencies are starting to issue new COVID-19 guidance to their workforces. The guidance is being updated in response to new requirements from the Biden Administration. For example, all employees, contractors, and visitors are required to wear masks in Federal buildings.  
Additionally, agencies are encouraging telework to the maximum extent possible. The Office of Management and Budget (OMB) has required that agencies limit occupancy in Federal buildings to 25 percent of normal capacity. Agencies, including the Department of Justice (DoJ) and Environmental Protection Agency (EPA), issued guidance to limit occupancy and encourage telework. Additionally, some agencies, like the Department of Agriculture (USDA) and Office of Personnel Management (OPM), will give 30 days' notice before requiring employees to return to the office.  
DHS to Elevate Cybersecurity Across the Government
On February 22, the Department of Homeland Security (DHS) issued a press release stating that the department will carry out President Biden's vision to elevate cybersecurity across the Government. DHS strives to lead efforts to reduce cyber risks against the United States, strengthen its partnership with industry, and expand its infrastructure and personnel. The Cybersecurity and Infrastructure Security Agency (CISA), which is a DHS component responsible for securing Government networks and critical infrastructure from physical and cyber threats, was granted extended powers from Congress that allow the agency to seek out cyber threats in federal agency networks and identify vulnerable technologies.  
According to the DHS press release, over the past months, CISA has worked towards advancing national security with the following actions:  
Leading the national effort to secure the 2020 election, including by sharing timely cybersecurity information with state and local election officials; 

Driving urgent remediation of risks posed by the exploitation of commonly used network management software and providing incident response assistance to compromised entities; 

Collaborating with government and private sector partners to disrupt and help protect against malicious activity perpetrated by North Korean actors against financial institutions, including the distribution of technical alerts to help network defenders protect against these threats; 

Issuing a directive to federal agencies requiring implementation of vulnerability disclosure programs, which allow security researchers to proactively identify weaknesses in government websites and applications; and 

Facilitating shared cybersecurity services that can be used by federal civilian agencies and local governments to rapidly improve cybersecurity capabilities. 
This week, DHS announced that it will increase the required minimum spend on cybersecurity through Federal Emergency Management Agency (FEMA) grant awards. CISA is working on evaluating and implementing more capabilities, such as new grant programs, that will accelerate improvements in state and local cybersecurity. DHS will reinforce CISA's new "Reduce the Risk of Ransomware" campaign aimed at encouraging Government and industry to take actions to reduce ransomware risk. DHS is also working with the United States Secret Service through its Cyber Fraud Task Forces in order to respond to ransomware incidents. DHS Secretary Alejandro Mayorkas is set to participate in many upcoming engagements to highlight how the department will improve cybersecurity. 
DOL to Increase Contractor Enforcement
Bloomberg reported that the Department of Labor (DoL) Wage and Hour Division plans to increase its enforcement of wage standards on Federally-funded construction and service projects. DoL will focus its efforts on the enforcement of the Davis-Bacon Act (DBA) and the Service Contract Act (SCA) by updating their enforcement policies and possibly increasing staffing.  
The Administration has announced plans to support an infrastructure and stimulus package. DoL's updated enforcement efforts would support any potential relief package. Secretary of Labor nominee and Former Boston Mayor Marty Walsh has pledged to renew enforcement of the DBA and SCA if confirmed by the Senate.  
GAO Advises DoD to Increase
Services Acquisition
 Oversight
The Government Accountability Office (GAO) released a report about the Department of Defense's (DoD) oversight of services acquisition. DoD contracting has been on GAO's high-risk list since 1992. GAO updates the list every two years to identify programs and operations that are high-risk based on their vulnerabilities, fraud, waste, abuse, and mismanagement. GAO has highlighted issues with the oversight of DoD's contract management of service acquisitions. Previously GAO has found that: 
DoD's service requirements reviews were narrowly focused on individual contracts rather than entire capability portfolios;

DoD's efforts to use its inventory of contracted services to inform management decisions were hindered by data collection issues; and 

DoD's budget exhibits did not clearly identify service acquisitions. 
Service contracts accounted for over $190 billion in fiscal year 2019 (FY19) for DoD. In October 2020, DoD reported to Congress on the actions the department has taken or plans to take. GAO recommends DoD leadership collect 5-year spending plans for services across the department. GAO believes these plans may better inform DoD's decisions about how much money the department will spend on different types of service contracts. 
S
BA 
Publishes 
Corrections
 on
 Mentor-
Protégé Program and SDVOSB
 Rules
On February 23, the Small Business Administration (SBA) released correcting amendments to the Mentor-Protégé Program regulations, which were published on October 16, 2020. The October 2020 rule merged the 8(a) Business Development (BD) Mentor-Protégé Program and the All Small Mentor-Protégé Program to eliminate duplication of functions within SBA. SBA released the corrections to revise and clarify requirements for joint ventures (JVs). The amendments state that SBA may consider a relationship between a prime and an ostensible subcontractor a JV. 
The SBA released another correcting amendment on February 23 which revises the regulation published on September 28, 2018 about ownership and control of Service-Disabled Veteran Owned Small Business Concerns (SDVOB). The rule defines ownership and control for the Department of Veterans Affairs (VA) verification of Veteran-Owned (VO) and SDVO Small Business Concerns with SBA. The SBA updated its definition of "Interested Party" to say that any contractor that submits an offer for a specific sole source or set-aside SDVOB contract or order, including Multiple Award Contracts, or any contractor that submitted an offer in full and open competition and its opportunity for award.