Entering the New Normal with Caution and Optimism
This Sunday marks an inauspicious anniversary. On that day two years ago, the Coalition team shifted to virtual operations in response to the pandemic. Like other organizations and the Federal government, the Coalition did its part to safeguard its staff and members to mitigate the spread of the virus.
In no way was this decision made lightly, as our platform for the delivery of highly valued business intelligence and stakeholder engagement, to a significant degree, leveraged in-person activities via events and meetings at the facilities of our members. The Coalition responded nimbly, leveraging the power of our business tools, like Microsoft Teams, to collaborate effectively and maintain the continuity of services and products, like the Friday Flash and the Tuesday Tracker. In-person committee meetings yielded to on-line video calls, and our signature spring and fall conferences were held virtually, with breakout sessions, panels, keynotes, and the opportunity for heightened member engagement. A testament to the Coalition's successful management of the pandemic is the fact that membership engagement exploded, and only two signature events, the Spring Training Conference and the Joseph P. Caggiano Memorial Charity Golf Tournament, were canceled in 2020, as we wrestled with the uncertainties of the virus at that time.
We mention the foregoing not to pat ourselves on the back, but to highlight the fact none of us were immune to the unique challenges caused by the pandemic. The pandemic pushed all of us to persevere, to innovate, to leave our comfort zones, not only to survive, but also to serve as positive actors supporting our respective communities. By so doing, we all had an exponential impact on the country.  By way of example, the Coalition supported its members; member companies supported the Government; and most importantly, the Government maintained continuity of support and mission critical services to our fellow citizens. It is a level of service of which we all can be proud.
This story, however, does not end with the work everyone has done. Rather, it continues with a look forward to what the future may have in store for all of us. Many in industry are itching to engage with customers one-on-one to collaborate personally and in real time. It seeks to stand side-by-side with its Government colleagues working to implement the programs that will help meet citizen needs, supply our warfighters, and bring to bear the technology, products and services needed to promote our national security. With the reduction in COVID-19 cases and the corresponding decrease in mandates, we are optimistic that change is in the air.
On a final note, during the pandemic, readers of the blog may remember our occasional Reflections from the Porch (or basement), where the Coalition's unofficial mascot, Larry "Bird" Waldron, supported the updates to the member community by providing a calming influence during what otherwise were challenging circumstances. A loyal dog committed to caring for others, Larry remained within reach for the duration of my remote work activity and seemed to relish the continuous presence of others around him.  As we were approaching the cusp of the change to normalcy from the depths of the pandemic, we had thought Larry would be able to enjoy with us the world opening again, notwithstanding the fact that he was 16 years old (or 112 dog years). Sadly, that was not to be. This past weekend, Larry passed on, literally in the arms of the family for whom he cared since he was a puppy. A beloved member of the family, he made the pandemic and each day so much brighter, and he is missed.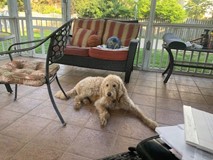 House Passes FY22 Omnibus Spending Bill 
On Wednesday, the House passed a $1.5 trillion omnibus spending package to fund the Federal Government through the end of the fiscal year, according to the Hill. The omnibus bill passed by the House provides $14 billion in funding to support the Ukraine crisis. However, at least $15 billion in funding to support the continued response to COVID-19 had to be removed and will be introduced in a separate bill.
The current funding stopgap expires today, March 11. While some Senators are hopeful that they will be able to pass the omnibus by midnight tonight, Senate Appropriations Committee Chairman Patrick Leachy believes that the Senate may not meet the deadline. In order to avert a government shutdown, the House also passed another continuing resolution on Wednesday that would fund the government through March 15, Roll Call reports. This would allow Congress through next Tuesday to pass the full year omnibus and send it to the President to sign.
GSA Announces Next MAS Refresh and Mass Mod
On March 7, the General Services Administration (GSA) announced that the next Multiple Award Schedule (MAS) Refresh #10 and an associated mass modification (mass mod) is scheduled to be issued this month. Some of the significant changes in the refresh are: 
Updating SCP-FSS-001 to clarify that remanufactured items are allowable under certain SINs; however, refurbished, reconditioned, and repaired items are not within the scope of the MAS Solicitation. See

SCP-FSS-001

document in the attachment section below for the revised language.

 
NOTE: Minor changes to the SIN description will be made to the 6 SINs that include remanufactured items to clarify the scope of each SIN. 

 
GSA has included an attachment that has all of the significant changes of MAS Refresh #10. 
GSA is hosting a webinar on March 17 from 1 – 2pm EST to discuss the upcoming changes due to the MAS Refresh and the mass mod. You can access the webinar here.  
See the full announcement here.  
Questions from GSA on Impacts of Inflation and Economic Price Adjustments
Last week, the Coalition met with GSA Assistant Commissioner for the Office of Policy and Compliance, Mark Lee, in response to our letter to GSA expressing members' concerns about the impacts of inflation on the supply chain and the ability of GSA's pricing policies to appropriately respond.  Our members sincerely appreciated the open dialogue with GSA on this topic and the opportunity to learn more about their efforts to modify the existing economic price adjustment (EPA) policy to adjust to historic inflation and supply chain challenges.   
As a follow-up to the meeting, GSA is seeking your feedback to gather information to create a robust business case to justify future more lasting changes of the EPA process. Your inputs are extremely valuable to explain the challenges industry is experiencing with the current clause, the impact on businesses, and the potential consequences for GSA's customers. Below are the questions discussed during the meeting that GSA is interested in member feedback on. Please provide any additional input you have by COB March 15.  
What are the main sectors that you believe have been impacted by inflation?

 

How is inflation impacting your business in terms of labor, materials, and transportation costs?

 

Are you experiencing issues with your lower tiers?  Are the issues related to price increases, supply chain disruptions, workforce shortages, or other factors?  How are you solving these issues?

 

Did you submit an EPA request in the last two years due to changes in the market?  What was the outcome (approved/denied)?  How long was the process from the time you submitted the request until you received notification of the decision?

 

EPA ceiling rates set an aggregate limit on price increases per 12-month period based on the applicable MAS large category, and are indicated under General Services Administration Acquisition Regulation (GSAR) clause 552.216-70 EPA – FSS Multiple Award Schedule Contracts and FAS clause I-FSS-969 EPA – FSS Multiple Award Schedule (and alternates). How does this 12-month period requirement impact your business and ability to stay in the MAS program?

 

According to the EPA clause, increases are only allowed on or after the first 12 months of the contract period, and no more than three price increases will be considered during each succeeding 12-month period of the contract. Under what circumstances do you need to request increases during the first 12 months, or more than three increases each 12-month period thereafter?  Please provide examples.  How does this limitation impact your ability to do business with GSA?

 

How is the inflation issue being addressed under other commercial IDIQs?

 
Please provide any business cases that can be used to understand limitations in the current regulations and justify changes and recommendations to improve current processes.   
Final Webinar on SAM.gov UEI Transition, March 23
On March 23 at 1 pm EST, GSA is hosting its final webinar on the transition from the DUNS Number to the Unique Entity Identifier (UEI) as the entity identifier for Federal awards. The transition will be taking place on April 4, 2022. During the webinar, GSA will cover how searching in SAM.gov will look using the UEI. GSA will also demonstrate upcoming changes to the registration and renewal processes for entity administrators.  
To register for the webinar, click here. In addition, the webinar will be recorded and posted on the IAE Interact space at a later date.  
GSA Expects to Relaunch Federal IT Dashboard in March
Federal Computer Week reported that the Federal IT dashboard, which has been offline for updates, is expected to be relaunched in March. The dashboard contains information on Federal technology spending and project information. The relaunch date is currently being finalized by GSA and the Federal Chief Information Officer. The date will take place after the deadline for agencies to file required Capital Planning and Investment Control submissions for fiscal year 2023. The updated dashboard was launched internally within GSA in September 2021. According to GSA, the dashboard has a completely new interface which is designed to be easier to navigate and search. A spokesperson for the agency said that throughout the dashboard's development, GSA met with groups of stakeholders, identified opportunities for improvement through surveys and interviews, tested the feedback they received, and incorporated U.S. Web Design System and accessibility standards. 
GSA Announces $9 Million in TMF Investments
On March 7, GSA announced that the Technology Modernization Fund (TMF) will invest $9 million in the U.S. Postal Regulatory Commission (PRC) and the Selective Service System (SSS) to support modernization and the protection of personal data. GSA Administrator Robin Carnahan said that the investments in PRC and SSS will help make customer interactions "easier, more responsive, and more secure." 
PRC will receive funding to modernize its website and key systems. The modernization will equip staff with more resources to provide better oversight of the U.S. Postal Service Operations. The investment in SSS will strengthen cybersecurity systems that protect the personal information of registrants. 
See the full press release here.   
Experts Call for Changes to FITARA Scorecard
Federal Computer Week reported that Federal officials, lawmakers, and industry stakeholders are calling for improved grading metrics for the Federal Information Technology Acquisition Reform Act (FITARA) scorecard after the release of the 13th edition earlier this year. Suggested improvements include adding new categories focused on legacy information technology, Zero Trust architecture, cloud adoption, and the cyber supply chain, and addressing legislative barriers which prevent the Office of Management and Budget (OMB) from gathering comprehensive data on agency IT efforts. The scorecard is compiled by the House Government Operations Subcommittee, which works with the Government Accountability Office (GAO) to provide updates on scoring methodologies and categories.  
FITARA allows for agency Chief Information Officers (CIOs) to keep their agencies informed on changes to the Federal IT landscape and gives them a say in budget development. However, many agencies have not met the CIO authority requirements. One suggestion to improve compliance through the scorecard is lowering an agency's score by an entire letter grade if they do not have the correct CIO reporting structure. An area in which the FITARA scorecard has helped drive change is data consolidation. Every agency received an A in this category on the last scorecard. Agencies also reported a total of over $6.6 billion in potential savings since the law was enacted in 2014. This category will be retired in the next scorecard. 
Experts have also called for improved data collection methods. Richard Spires, former CIO of the Department of Homeland Security, suggested collaboration between the Executive Branch, Congress, and GAO to change or add new reporting requirements. In testimony before the House Oversight Committee, he also suggested the formation of an advisory group to develop recommendations over a three-to-six month period that would include a plan for implementing changes to agency data collection. Some experts have recommended expanded self-reporting from agencies to assess new categories such as IT planning, legacy modernization, and budgeting.  
Legal Corner: The Final Buy American Act Regulations Are Here: What Contractors Need to Know
Authored by Alex Hastings, Anna Menzel, Jennifer Plitsch and Mike Wagner; Covington
The Legal Corner provides the legal community with an opportunity to share insights and comments on legal issues of the day. The comments herein do not necessarily reflect the views of The Coalition for Government Procurement.
On Monday, March 7, 2022, the Federal Acquisition Regulatory Council published a final rule aimed at strengthening Buy American Act domestic preferences in federal procurements. In particular, the final rule increases the numerical domestic content threshold for end products and construction materials and establishes a framework for providing further price preferences for items designated as "critical" products, materials, and components. The final rule will be effective October 25, 2022, so contractors have a short grace period to ensure compliance with the new requirements.
Read the full article here.
Legal Corner: Going Green: Biden Administration Kick Starts Green Procurement Efforts
Authored by Elizabeth Cappiello, Jason Workmaster, and Sarah Barney; Miller & Chevalier
The Legal Corner provides the legal community with an opportunity to share insights and comments on legal issues of the day. The comments herein do not necessarily reflect the views of The Coalition for Government Procurement.
On February 15, 2022, the Biden-Harris administration took another step towards its goal of achieving a net-zero carbon emissions economy by 2050, announcing a slew of new initiatives to support "clean" manufacturing and reinvigorate the American industrial sector. The administration believes these initiatives will "clean up industrial processes that have long been challenging sources of pollution; create good-paying, union jobs across American manufacturing; and use domestic procurement and global trade policy to reward clean, American-made materials." Government contractors in the industrial sector will want to consider how their businesses may be impacted by the federal government's prioritization of low-carbon materials and technologies and how they can remain competitive in light of these new initiatives and policies.
Below we highlight some of the key new efforts including policies aimed at accelerating the production and use of clean hydrogen, Buy Clean procurement efforts, trade policies to reward clean manufacturing, and investments in technologies that can reduce greenhouse gas emissions from heavy industry. Some of these new initiatives seek comments from industry stakeholders.
Accelerating Clean Hydrogen
The administration views clean hydrogen as an integral part of its plan to reduce emissions in many sectors of the American economy and is particularly important "for hard-to-decarbonize sectors and industrial processes, such as steel manufacturing." To bolster the use of clean hydrogen, the Department of Energy (DOE) is launching three new clean hydrogen initiatives of the Bipartisan Infrastructure Law (BIL) by issuing Requests for Information (RFI). These RFIs seek public input from industry players and impacted communities on "future implementation and priorities" for DOE to consider when implementing the clean hydrogen programs of the BIL:
$8 billion for Regional Clean Hydrogen Hubs: The BIL authorizes appropriations of $8 billion for the development of regional clean hydrogen hubs that demonstrate "the production, processing, delivery, storage, and end-use of clean hydrogen." DOE will support the development of networks of clean hydrogen hubs and prioritize hubs that can "provide significant training and long-term job opportunities." The deadline for comments is March 8, 2022.
$1 billion for a Clean Hydrogen Electrolysis Program: The BIL authorizes appropriations of $1 billion to reduce the cost of clean hydrogen produced using electrolyzers. This program seeks to lower the costs of electrolysis technologies by supporting the entire innovation chain, from research to deployment. The deadline for comments is March 29, 2022.
$500 million for Clean Hydrogen Manufacturing and Recycling Research, Development, and Demonstration Activities: The BIL authorizes appropriations of $500 million to DOE for Clean Hydrogen Manufacturing and Recycling Initiatives. DOE is launching the Clean Hydrogen Manufacturing program to support domestic manufacturing of clean hydrogen equipment and the Clean Hydrogen Recycling Research, Development, and Demonstration program to "support innovative approaches to increase the reuse and recycling of clean hydrogen technologies." The deadline for comments is March 29, 2022.
Launching "Buy Clean" Procurement Task Force
As outlined in our previous alert, the administration is creating a Buy Clean Task Force to provide recommendations on policies and procedures to promote the purchase of construction materials with lower embodied emissions and pollutants. The Task Force is established by the Council on Environmental Quality and White House Office of Domestic Climate Policy. It includes as members the Departments of Defense, Energy, and Transportation, the Environmental Protection Agency (EPA),. the General Services Administration (GSA), and the White House Office of Management and Budget. The now-established Buy Clean Task Force is convening to develop recommendations on how to increase the use of low-carbon construction materials.
GSA and the Department of Transportation (DOT) are also undertaking new Buy Clean efforts to support the use of low-carbon materials in federally funded construction projects. GSA issued two RFIs to gather information from industry on sustainable, low-emission concrete and asphalt to shape standards for upcoming land port of entry projects funded by the BIL. DOT is creating a new pilot program that will target key products and services to incentivize the use of low-carbon materials and increase the use of Environmental Product Declarations on federal transportation projects.
The administration is also expanding the coverage of the First Movers Coalition — a public-private partnership led by the State Department through the U.S. Special Presidential Envoy for Climate which was created to secure corporate purchasing commitments for low-carbon materials beginning with "steel, shipping, trucking, and aviation." According to the administration's February 15 announcement, the First Movers Coalition will expand to cover four additional sectors in 2022: aluminum, cement, chemicals, and carbon removal.
Using Trade Policy to Reward Clean Manufacturing
The administration's announcement reiterates its plan to use trade policies to reduce carbon emissions and support domestic manufacturers of clean steel and aluminum. In October 2021, the United States and European Union announced their plan to negotiate the "world's first emissions-based sectoral arrangement on steel and aluminum trade by 2024." Currently, the United States and EU are working to align their trade policies to "restrict access to their markets for dirty steel and limit access to countries that dump steel in both markets" with the goal of increasing investment in green steel and aluminum production in the United States, Europe, and beyond.
Responsibly Advancing CCUS Technologies
The Council on Environmental Quality (CEQ) is issuing new guidance on the responsible use of Carbon Capture, Utilization, and Sequestration (CCUS) technologies that can reduce emissions and help fulfill the administration's goal of achieving a net-zero emissions economy. The guidance covers the following issues:
Environmental reviews for CCUS projects
Environmental justice and equity considerations to protect communities from cumulative pollution impacts
Public engagement and Tribal consultations from early in the contracting process
Opportunities to create union jobs and training programs
Life cycle analyses of carbon capture and utilization and carbon dioxide removal projects
This guidance, directed at the federal agencies responsible for implementing more than $12 billion in CCUS investments, will help ensure that the advancement of CCUS technologies is done in a responsible manner that considers "community perspectives" and is aligned with the best available science. The deadline for the public to submit comments on the guidance is March 18, 2022.
Supporting Equitable Innovation Across the Industrial Sector
The administration is launching a new Initiative for Interdisciplinary Industrial Decarbonatization Research to ensure that innovations in the industrial sector support the needs of diverse stakeholders and equitably advance innovation. The Initiative will be focused on ensuring a "just transition to clean industry, with new, good-paying jobs for American workers and health and economic benefits for communities."
The announcement also details how DOE is working to establish the Industrial Technology Innovation Advisory Committee (ITIAC) to bring together entities from across the industrial sector to "find viable decarbonization pathways that will equitably benefit the industrial workforce and surrounding communities." DOE has issued an RFI that seeks information on emerging technologies to reduce emissions and increase competitiveness. Responses are due by February 28, 2022.
Conclusion and Takeaways
The February 15 announcement outlines an ambitious and far-reaching plan across agencies to create a cleaner industrial sector. The administration sees the industrial sector as "central to tackling the climate crisis" and believes that its support of "cleaner industry" will create the "next generation of products and materials for a net-zero economy." Many of the new initiatives could significantly impact federal contractors in a number of ways, including increasing supplier reporting requirements and creating new opportunities for manufacturers offering low-carbon materials and technologies.
Contractors will want to carefully consider how their businesses fit into this new procurement landscape to put themselves in the best position to compete for future contracts. Contractors, industry groups, and trade associations should also consider submitting comments in response to the recently issued RFIs to ensure that their views on these new policies and initiatives are considered. We will continue to monitor and report on any developments in climate-centric procurement policies and initiatives. In the meantime, if you have any questions about the announcement or how it will impact your company, please contact the Miller & Chevalier attorneys listed below:
Elizabeth J. Cappiello, ecappiello@milchev.com, 202-626-5975
Jason N. Workmaster, jworkmaster@milchev.com, 202-626-5893
Sarah Barney, sbarney@milchev.com, 202-626-5920
Healthcare Spotlight: Member Questions for the VA PBM due March 11
The Pharmaceutical Subcommittee will be meeting with Dr. Jennifer Martin, Deputy Chief Consultant, VA Pharmacy Benefits Management (PBM) Services on Wednesday, March 16 from 12:30 – 1:30 pm EST. Dr. Martin has agreed to address members' questions for her remarks. To submit questions for Dr. Martin, please email Aubrey Woolley at awoolley@thecgp.org by Friday, March 11. We will also cover other topics of relevance to the pharmaceutical industry like the recent collaboration between GSA and the VA FSS program, the HHS Public Supply Chain one year report, and other topics.
Discounted Training Offerings for Coalition Members
To complement the Coalition's current education and training offerings, we have partnered with Federal Publications Seminars (FPS) to provide even more online training courses to our members at an affordable price.
FPS will provide Coalition members access to an annual training subscription to both the FPSOnline Professional and FPSOnline Premium curriculum for $395 and $1,795 per person/year, respectively. These fees represent nearly a 50% discount off the FPS retail price of each online curriculum.
The FPSOnline Professional subscription, regularly priced at $795, includes unlimited access to all live and on-demand webinars and webinar series. There are more than 550+ webinars in the on-demand library, and 100+ live webinars and series produced each year. The discounted subscription can be purchased here FOR $395 using this promotional code 395THECGP2022.
The FPSOnline Premium subscription, regularly priced at $2,495, includes the Professional subscription benefits listed above plus unlimited access to 150+ live and on-demand 1-5-day virtual training courses which are offered annually. The discounted subscription can be purchased here for $1,795 using this promotional code  1795PREMCGP2022.
Other highlights include:
8-12 NEW live webinars offered each month; most of which are CLE/CPE approved;

Live virtual 1-5 day training courses offered annually and in the classroom;

Live webinars and on-demand courses are usually 60-90 minutes in length and cover everything from emerging hot topics to more substantive compliance and regulatory issues like CMMC – What this Means for Industry, Cost Accounting Standards, Effective Ethics Programs for Suppliers, and FAR Part 37 – Service Contracting; 

A wide collection of government contracting related resources, white papers and job briefs; and 

Downloadable course completion certificates.  
(Please note, FPS Classroom Courses, Certificate Programs, and FPSCustom training are not included in the FPSOnline Professional or Premium subscriptions and may be subject to additional charges from FPS.) 
For more information about this member benefit, please contact Matt Cahill at mattcahill@thecgp.org.
FAST 2022: Securing Next-Generation Hybrid Work Environments, March 16 
On March 16, GSA will host the next part of its FAST 2022 series, Securing Next-Generation Hybrid Work Environments, where they will discuss how GSA can help Federal agencies and industry with acquisition planning and contract administration. The speakers will discuss the following topics:  
Contracting for cloud computing solutions billed on a consumption basis; 

 

Delivering telework capabilities effectively; 

 

Emerging tech for the hybrid work environment; 

 

How to build out Zero Trust Architecture in a remote workforce environment; and 

 
How GSA can help agencies comply with recent laws, regulations, and executive orders requiring improved cybersecurity in the acquisition process.  

 
Register for the event here.   
Find the list of upcoming FAST 2022 series events here.   
WOSB Matchmaking Event, March 22
On March 22 at 1pm EST, GSA and the U.S. Women's Chamber of Commerce will host a virtual matchmaking event for women-owned small businesses (WOSBs). WOSBs will be able to connect with Federal agencies and GSA prime contractors through 20 minute roundtable matchmaking sessions. During these sessions, there will be discussions about subcontracting opportunities. 
Space is limited. Register for the event here. 
DHA Will Host an Industry Day on March 30 
On March 30 at 9am EST, Defense Health Agency (DHA) will host a virtual Industry Day Requirement Exchange (IDRE) to inform Industry on upcoming requirements and business opportunities. Attendees will have the opportunity to submit questions throughout the event. If you have any questions you would like addressed, submit them to dha.ncr.acquis-procure.mbx.industry@mail.mil. DHA requests that you include "IDRE Vendor Question – [Insert Company Name] – [Insert Detail Here]" in the subject line.  
Registration is available here and will close on March 26. All IDRE materials, including a detailed agenda and speaker presentations, will be posted to the SAM.gov (https://sam.gov/) and Health.mil (https://www.health.mil/) pages accordingly.  
Webinar: Foreign Sourcing and Supply Chain Issues, April 12 
The Coalition is pleased to host an upcoming webinar on Foreign Sourcing and Supply Chain Issues. This webinar will take place on April 12 from 12 -1 pm EST and will feature speakers from Covington, including Susan Cassidy, Partner; Mike Wagner, Partner; and Anna Menzel, Associate.  
The recent stress on worldwide supply chains is causing contractors to look for new sources of supply. This webinar considers the implications of U.S. Government sourcing obligations when making supply chain adjustments, including the requirements of the Trade Agreements Act, Buy American Act, limitations on using certain foreign telecommunications equipment (even if such equipment is not sold to the U.S. Government), and other emerging sourcing requirements and restrictions in this time of intensifying U.S.-China tension. The three presenters will review the sourcing limitations imposed by the U.S. Government and address the need to update certifications and contract documents when making changes to the supply chain.  
Click here to register. 
Upcoming Coalition Meetings   
To RSVP for any upcoming meetings, please contact Michael Hanafin at mhanafin@thecgp.org. 
Pharmaceutical Subcommittee Meeting with VA PBM, March 16      
Join the Pharmaceutical Subcommittee on Wednesday, March 16 from 12:30 – 1:30 pm EST for a dialogue with Dr. Jennifer Martin, Deputy Chief Consultant, VA Pharmacy Benefits Management (PBM) Services. Dr. Martin will provide members with an update on the latest initiatives at the VA PBM and also respond to member questions. To submit questions for Dr. Martin, please send them to Aubrey Woolley awoolley@thecgp.org.  The Pharmaceutical Subcommittee will also address other issues of relevance to our pharmaceutical industry members.    
All-Member Meeting with GSA's Senior Procurement Executive Jeff Koses, March 22      
The Coalition is pleased to announce a virtual all-member meeting on March 22 from 1 – 2 pm EST with Jeff Koses, GSA Senior Procurement Executive. The Coalition is collecting questions and topics in advance of the meeting. Please submit any feedback to Michael Hanafin mhanafin@thecgp.org.  
Medical/Surgical Subcommittee Meeting with VHA Procurement and Logistics, March 24    
 Join the Medical/Surgical Subcommittee for a virtual meeting with Ricky Lemmon, Executive Deputy Chief Procurement Officer for the Veterans Health Administration, on Thursday, March 24 at 1:30pm EST.  Mr. Lemmon will discuss the ECAT order process at the VA as well as the latest on the MSPV Supply BPAs. To attend, please RSVP to Michael Hanafin at mhanafin@thecgp.org.    
IT/Services Committee Meeting with NASA SEWP, April 5
On April 5 from 10 – 11 am EST, the IT/Services committee will be hosting a meeting with Joanne Woytek, Program Director, NASA SEWP to provide an update on SEWP, including customer base, growth profile, trends in IT across Government, and key features/enhancements driving customer use.
Coalition Hiring a Senior Director for Procurement Policy   
The Coalition for Government Procurement (Coalition) is a Washington D.C.-based non-profit association of companies selling commercial services, products and solutions to the Federal Government. Its members collectively account for a significant percentage of the sales generated through GSA contracts, including the Multiple Award Schedule (MAS) program. These members include small, medium, and large business concerns. The Coalition is proud to have collaborated with Government officials for more than 40 years in promoting the mutual goal of common-sense acquisition.      
The Coalition seeks a candidate to serve as Senior Director for Procurement Policy. The successful candidate for this position will possess experience in, and understanding of, the Federal Government procurement process; commercial product and services acquisition; the fundamental policy and regulation governing the acquisition process; and familiarity with the Legislative Branch authorization, appropriation, and oversight processes. Finally, the successful candidate will have familiarity with the contracting activities of the General Services Administration and/or the Department of Veterans Affairs (VA).        
The Senior Director of Procurement Policy will be responsible for working with the Coalition President to formulate policy and acquisition strategy recommendations to the Government, representing industry with key Federal agencies and contracting programs (e.g., GSA, Department of Defense, and/or Department of Homeland Security) on behalf of member committees, and contributing to the association's publications.      
Other skills that would enhance the attractiveness of a candidate are:      
The ability to work both collaboratively and independently     

 
The characteristics of a strategic, accountable team member dedicated to the project at hand     

 

Strong analytical skills     

 

Strong written and oral communication skills     

 

High levels of motivation to a task at hand    

 

Advanced degree a plus    

 
Interested candidates please send a resume and cover letter to Rob Rendely at rrendely@thecgp.org.     
Coalition Hiring a Program Assistant 
The Coalition for Government Procurement (Coalition) is a Washington D.C.-based non-profit association of companies selling commercial services, products and solutions to the Federal Government. Its members collectively account for a significant percentage of the sales generated through GSA contracts, including the Multiple Award Schedule (MAS) program. These members include small, medium, and large business concerns. The Coalition is proud to have collaborated with Government officials for more than 40 years in promoting the mutual goal of common-sense acquisition.       
The Coalition seeks a candidate to serve as Program Assistant. As a member of the Coalition team, the position will perform association program and administrative responsibilities including:      
Serving as the initial contact for members about association activities and events     

 

Providing administrative support for the Coalition President    

 

Supporting the management of content on the association website and the member portal with Marketing     

 

Managing the Customer Relationship Management (CRM) system     

 

Supporting Coalition meetings and events from a logistics and technical perspective     

 
Preparing articles and other written materials for the association's publications and events     

 
 The ideal candidate for the position will have:      
Excellent writing skills      

 

Ability to work independently      

 

Ability to multi-task and remain flexible in a fast-paced work environment      

 
Knowledge of Microsoft Office and ability to use other office software programs      

 
 Interested candidates please send a resume and cover letter to Rob Rendely at rrendely@thecgp.org.