FAR & Beyond: Opportunities for Contracting Efficiency
Discussions about acquisition reform tend to focus on the processes of procurement, and well they should. Despite decades of reform efforts, procurement in the federal marketplace still struggles with challenges centering on issues, like the coordinated management of acquisition and the increased use of commercial terms, conditions, products, and services. As stakeholders in the procurement community continue to address such challenges, there remain less global, but more transactional changes that, if implemented, could go a long way toward bringing efficiency to the contracting process and, thereby, reducing cost and increasing the speed of customer purchasing.
One such change concerns the care and feeding of the contracting workforce at GSA's Federal Acquisition Service (FAS). Currently, contracting officers are assigned to work in GSA's regional offices. Under these circumstances, they operate within the management construct of those regions, often following procedures and practices that are parochial in nature and otherwise implementing local interpretations of law and regulation. In effect, there are contracting "silos within silos," and their activities often lead to procurement distortions that undermine efficient procurement. Specifically, Coalition members have found regional inconsistencies in the implementation of the contracting process, the timing of modifications, the request for contractor information, and the interpretations of guidance, regulations, and laws. In the meantime, workloads are assigned and administered on a regional basis, impeding the fundamental macro workflow analysis and management that brings speed to the contracting process.
As stated above, we think there might be ways to breakdown the FAS contracting silos, thereby reducing costs and increasing the speed of acquisition. First, there is an opportunity to examine the current chain of command and communication to identify ways to better align contracting practices being implemented across its regions. Second, with the pandemic receding, opportunities exist to encourage in-person training of contracting officers, assuring that each of them receives the same education and messaging regarding the contract administration process as envisioned by the agency. Third, a review of the performance metrics and measures used to assess contracting officers and contracting organizations is in order. The current performance measures have led to unintended consequences that undermine overall performance of the MAS program. For example, refined performance measures around workload and processing time would help FAS balance contract administration across regions, utilizing contracting resources efficiently to expedite contract actions and, thereby, improve the speed of delivery of products and services to agencies.  Fourth, there is an opportunity to automate processes to address repetitive, administrative actions across the MAS program thereby reducing the burdens on contracting offices and contractors. Fifth, there is an opportunity to work with industry partners to identify streamlining measures and address divergent procurement practices across the regions. Working together to streamline processes and address consistency will benefit GSA's customer agencies and the American taxpayer.
It is often said that perfection can be the enemy of the good.  In a similar way, the quest for broad, global process reform to apply across the spectrum of government can cloud our vision to immediate opportunities that carry the potential for significant improvement. To its credit, FAS has identified several of the opportunities above and is working to address them. The current inflation challenge, however, has highlighted the need for speed in addressing these opportunities to enhance the MAS program. In particular, enhancing the current chain of command and communication approach will be a multiplier in supporting the care and feeding of the acquisition workforce. The Coalition looks forward to working with FAS as it continues to address these opportunities.
To Address The Impact of Inflation, GSA Issues Acquisition Letter to Reduce Restrictions on EPA Price Increases on GSA Contracts 
On Thursday, March 17, 2022, GSA issued an Acquisition Letter (the Letter)—effective immediately—to allow for greater flexibility to increase prices on GSA contracts that include certain Economic Price Adjustment (EPA) clauses, and to establish a temporary moratorium on a number of limitations imposed by those clauses.  The clauses at issue are: (1) GSAR 552.216,70, Economic Price Adjustment—FSS Multiple Award Schedule Contracts; Alternate I; and Deviation II; (2) I-FSS-969, Economic Price Adjustment-FSS Multiple Award Schedule; and Alternate II; and (3) GSAR 552.216-71, Economic Price Adjustment—Special Order Program Contracts; Alternate I; and Alternate II. The Letter is mandatory for GSA but discretionary for VA Federal Supply Schedule contracts.   
For contracts including the covered clauses, the Letter: 
Lowers the approval for price increases above the EPA clause ceiling in 552.216-70 (including Alternate I and Deviation II) from the contracting director to one level above the contracting officer;
Removes the limitation on the number of price increases allowed during the contract period;
Allows contractors to request increases as soon as the contract period begins, up through the end of the contract period;
Allows contractors to submit price increase requests without waiting 30 days from the last request;
Allows contractors to submit price increase requests that will be effective prior to the end of the first 12 months of the contract period;
Clarifies that if a contractor has removed an item from its Schedule contract, GSA will not enforce the limitation on adding the same item back at a higher price.
The Coalition commends GSA for recognizing the impact of inflation on contractors and for taking these critical steps to address the issue.  We are continuing to analyze the Letter and will follow up with any further analysis in the coming days.
President Biden Signs $1.5 Trillion Omnibus Bill
The Hill reported that on March 15, President Biden signed the $1.5 trillion omnibus spending bill into law that funds the Government through the end of the fiscal year. After months of negotiations, the bill's final text was introduced last week and passed through both the House and Senate with bipartisan support. Notably, the legislation includes $13.6 billion in humanitarian and security assistance for the Ukraine crisis. In his remarks, President Biden highlighted the Ukraine aid as well as funding for domestic programs. Other key takeaways from the bill include $730 billion in non-defense spending, $782 billion in defense spending, and funding for all 12 fiscal year 2022 appropriation bills. However, continued funding for the Government's response to COVID-19 had to be removed and will be pursued in a separate bill.
TMF Does Not Receive Additional Funding in FY22 Spending Package
According to FedScoop, the fiscal year (FY) 2022 spending package does not include as much funding for IT modernization as it did in FY 2021. The Technology Modernization Fund (TMF) did not receive any funding in the legislation despite the Biden Administration requesting $500 million. In FY21, TMF received $25 million and another $1 billion from the American Rescue Plan Act, so Federal agencies will continue to be awarded funds from the TMF board.  
While TMF did not receive any additional funding in the FY22 spending package, the Department of Veterans Affairs (VA) received $2.5 billion for its Electronic Health Record Modernization (EHRM) initiative. This is $127 million less than the program received in FY21, and the VA Secretary must provide quarterly reports to receive more funding. Congress is supportive of the VA's EHRM initiative, but they would like to see these strategic reports due to the size of the EHRM acquisition. 
GSA Seeking Feedback on Services MAC Evaluation Strategy 
On March 16, GSA provided a draft overview of the Services MAC Program's evaluation strategy, which includes a sample qualifications matrix for the Technical & Engineering Domain. The draft document states that in order to receive a domain award, the offer must meet or exceed a specified qualification threshold. The offeror can use any combination of qualifications that are in the matrix to achieve the threshold. The matrix includes project experience and other relevant criteria such as corporate level qualifications. The relative weighting of the criteria was determined based on customer feedback about its benefit to the Government. To the extent possible, qualifying criteria will be standardized across domains in order to reduce burden on industry. domain specific factors focus on mission critical requirements for that domain's scope.  
GSA is seeking industry feedback on the following areas of the qualifications matrix: 
Surge Capability: Agency customers have expressed the importance of having contractors with the capability to provide surge support. This relates to the ability to fulfill additional urgent requirements not identified at the time of award (in terms of specific schedule and/or quantities) with minimal advance notice through reach back support. GSA is seeking feedback from industry on objective, verifiable, and non-burdensome methods for vendors to demonstrate this capability. To provide feedback on this issue, please click

here

.

 

Retention: Agency customers have overwhelmingly indicated that high personnel turnover negatively impacts successful performance and achievement of mission objectives. High turnover, particularly for key personnel, causes performance delays and places a significant burden on Government resources needed to onboard new personnel (e.g., through security clearances, in IT systems, badging offices, etc.). Because an ability to retain personnel throughout performance is a priority qualification for customers, GSA is seeking feedback from industry on objective, verifiable, and non-burdensome methods for vendors to demonstrate this capability. To provide feedback on this issue, please click

here

.

 

Emerging Technology: Agency customers have expressed the importance of ensuring cutting-edge service providers are available on the contract to ensure that the IDIQ is at the forefront of innovation. The definition of what constitutes "emerging technology" would be tailored to each domain and detailed in the solicitation, although many of the emerging technologies considered will cross domains. GSA is seeking feedback from industry on specific emerging technologies employed for each of the

Phase 1 Domains

, as well as objective, verifiable, and non-burdensome methods for vendors to demonstrate this capability. To provide feedback on this issue, please click

here.

 

 
GSA is seeking feedback on these sections by April 8. General feedback and questions related to the program update can be sent to PSHC-dev@gsa.gov. 
White House Details Made in America Final Rule
Federal Computer Week reported that the White House announced further details about a final rule that will update the Buy American Act and build on President Biden's Made in America efforts in Federal procurement. According to a White House fact sheet, the rule will require that 60 percent of the value of component parts for products be manufactured in the United States in order for that product to qualify as Made in America. Currently, this threshold is 55 percent. The required percentages would then increase to 65 percent in 2024 and 75 percent in 2029. These changes are intended to create more opportunities for small, medium, and disadvantaged businesses in the United States.  
Additionally, the rule establishes a framework for the Government to "apply enhanced price preferences to select critical products and components identified in subsequent rulemaking." These preferences will help the development and expansion of the domestic supply chain for critical products. The final rule, which was published on March 7, takes effect on October 25, 2022 and builds on a July proposed rule. The effective date was delayed to the next fiscal year in order to allow for industry to prepare for the new domestic content threshold and to ensure that the acquisition workforce has time to be trained on the new rule. 
GSA Ready to Transition to UEI
On April 4, GSA will transition from the DUNS number to the Unique Entity Identifier (UEI), according to Federal Computer Week. All firms that do business with the Federal Government will be affected by the transition. Around 2.5 million UEIs have already been issued. In the first week of April, the SAM.gov and GSA systems will be down for maintenance In the first week of April, the SAM.gov and GSA systems will be down for maintenance from 8:00PM ET on April 1 to no later than April 4 at 9:00AM EST.  Before April 1, GSA suggests that all firms update their saved searches and ad hoc reports in SAM.gov. Prime contractors are also suggested to provide its sub-awardees with UEIs before April 1. GSA is managing the transition to UEI on the Governmentwide contracting systems, but individual Federal agencies must prepare their own system for the change. 
Biden Administration to Improve Pay Equity and Transparency in Federal Contracting
On March 15, President Biden released an Executive Order (EO) on Advancing Economy, Efficiency, and Effectiveness in Federal Contracting by Promoting Pay Equity and Transparency. The EO supports the improvement of pay equity and transparency in the Federal hiring and pay setting process. 
To help achieve this goal, the Federal Acquisition Regulatory (FAR) Council in partnership with the Secretary of Labor and other appropriate heads of departments will issue a proposed rule that creates pay equity and transparency for job applicants and employees of Federal contractors and subcontractors. When drafting the proposed rule, the FAR Council must take into consideration if Federal contractors and subcontractors should have any limitations on the use of job applicants' and employees' existing or past compensation when making employment decisions.
Consistent with the EO on Diversity, Equity, Inclusion, and Accessibility in the Federal Workforce, the Department of Labor will issue a proposed rule that addresses Federal Government use of salary history in the "hiring and pay-setting process for Federal employees.
VA Suggests Facility Changes for Younger Generation of Vets
On March 14, the VA released its recommendations to the Asset and Infrastructure Review (AIR) Commission. The 2018 MISSION Act requires the VA to assess the market every four years and provide recommendations to the AIR Commission to realign and modernize its medical facilities. The VA has 171 medical facilities and over 1,000 outpatient facilities.  
The VA's market research found that 50 percent of all veterans live in ten states and that the largest age group of veterans has shifted from 65-84 to 45-64. They also found that many of the VA's current medical facilities are not fit to best serve the changing veteran population. The recommendations will bring primary healthcare closer to almost 150,000 veterans and outpatient specialty care closer to almost 375,000 veterans. To achieve this, the VA will close, modernize, or build facilities.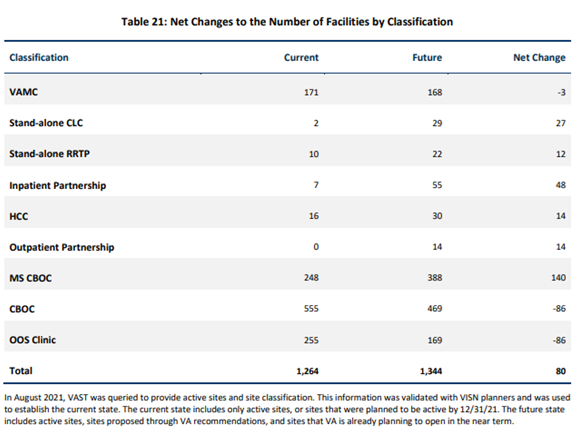 For more details about the recommendations, visit the VA's Recommendations to the AIR Commission website here.  
DoD Looks to Build Joint Warfighting Cloud Capability Team 
Federal News Network reported that the Department of Defense (DoD) is putting together the team that will be responsible for the Joint Warfighting Cloud Capability (JWCC) Program. JWCC will replace the cancelled Joint Enterprise Defense Initiative (JEDI) contract. In February, Ryan McArthur transitioned to the Defense Information Systems Agency (DISA), where he was named the JWCC Program Manager. McArthur formerly served as the Senior Technical Advisor in the Office of the DoD Chief Information Officer where he supported enterprise/tactical cloud strategy. DISA has not yet specified McArthur's responsibilities as JWCC Program Manager, but his duties will most likely include helping agencies through the cloud acquisition process using the Account Tracking and Automation Tool which will keep track of contractors' service offerings and prices. Sources have stated that DoD also plans to add a Deputy Program Manager to the JWCC office.  
In November, DoD issued formal solicitations to Microsoft, Amazon Web Services, Oracle, and Google to bid on the JWCC acquisition. DoD still needs to negotiate separate indefinite-delivery/indefinite quantity contracts with each company, which the department hopes to finalize by the quarter of fiscal year 2022. 
GSA Posts "Commercial Platforms Initiative" Follow-on RFI
On March 9, GSA posted a Request for Information (RFI) seeking feedback from providers of commercial online platforms as the agency plans for its follow-on Commercial Platforms contract. The RFI will play an important role in helping GSA understand the commercial practices available across several important areas of interest to Government buyers. The RFI is divided into two primary sections: 
3.1 – This section outlines areas that GSA may include in future Commercial Platforms contracts. For this section,

GSA is seeking high-level feedback on the listed requirements, particularly if any would be difficult to meet based on existing commercial practices

.

 
3.2 – This section focuses on user experience feedback that was collected over the last 18 months from the implementation of the program's proof of concept. This feedback highlights key features and functionalities that agency buyers and management found to be beneficial. For this section,

GSA is seeking detailed feedback on the commercial practices for each of the identified areas, as well as information on the prevalence and availability of those features on today's commercial online platforms

.

 
All responses are due April 15 by 10 am EST. The full RFI, which includes the link to the form in which responses are being collected, can be found on SAM.gov here. 
In the Interact post for the Commercial Platforms RFI, GSA also mentioned some of the highlights from the first 18 months of the commercial platforms program that were covered in a recent Great Government Through Technology blog post.  According to Assistant Commissioner for the Office of Information Technology Category, Laura Stanton, the program has grown from 350 Government purchase card holders and four initial agencies in August 2020 to now more than 40,000 purchase card holders and over 20 participating agencies.  The leadership of the program has also changed.  The new Executive Sponsor of the Commercial Platform Initiative is Jeff Lau, GSA's Northeast and Caribbean Regional Commissioner. GSA posted a graphic which shows some of the highlights of the program from the past year. 
Legal Corner: The Final Buy American Act Regulations Are Here: What Contractors Need to Know
Authored by Alex Hastings, Anna Menzel, Jennifer Plitsch and Mike Wagner; Covington
The Legal Corner provides the legal community with an opportunity to share insights and comments on legal issues of the day. The comments herein do not necessarily reflect the views of The Coalition for Government Procurement.
On Monday, March 7, 2022, the Federal Acquisition Regulatory Council published a final rule aimed at strengthening Buy American Act domestic preferences in federal procurements. In particular, the final rule increases the numerical domestic content threshold for end products and construction materials and establishes a framework for providing further price preferences for items designated as "critical" products, materials, and components. The final rule will be effective October 25, 2022, so contractors have a short grace period to ensure compliance with the new requirements.
Read the full article here.
Healthcare Spotlight: MTF Level Data Survey Results
In February, the Coalition conducted a survey of its Pharmaceutical member companies on the value of Military Treatment Facility (MTF) level data in the Defense Health Agency's (DHA's) quarterly Uniform Formulary Drug Utilization Report (UFDUR).  The survey was created in response to a request for the information from DHA's Pharmacy Operations Division. The survey covered the value of the MTF level data and other types of data that were previously published in the UFDUR.  According to the survey's results, member companies that participate in the TRICARE Pharmacy program highly value the MTF level data and primarily use it to 1) justify greater partnership, research and investment, supporting the healthcare and wellbeing of active military and their dependents (90%) and 2) to justify additional discounts for DoD Uniform Formulary items (90%).  Members also provided DHA with information about how the availability of MTF level data supports DHA's goals of "cost avoidance" and military readiness.  
In addition, the survey asked members for their opinions about other types of data previously provided in the UFDUR, like State Level Tricare Mail Order Pharmacy (TMOP) and State Level Retail data. Members also ranked these data points as highly valuable with 70% of respondents ranking State Level TMOP data as extremely valuable ("10" on a scale of 1 to 10) and 65% of respondents saying the same for State Level Retail data. 
Chief of the Pharmacy Operations Division, Col Markus Gmehlin and Dr. Julia Trang, Strategic Sourcing Pharmacist and Industry Technical Liaison, thanked members for taking the time to provide the feedback and information.  DHA has also announced a "new extended pilot" which will provide the MTF level data in the version of the UFDUR to be released in April or May and then quarterly thereafter. As Col Gmehlin detailed in a previous announcement to industry on February 27, the new UFDUR will: 
Be for a quarter at a time based on the fiscal calendar year, due to bandwidth

 

Reports will lag about 3-4 months behind to ensure more accuracy from refund data

 

Drugs with 3 or less prescriptions will not be accounted/displayed on this report due to OPSEC requirements

 

This will be the same data detail as before except the MTF data is broken down to location; NDC level data will still not be provided

 

DHA will monitor FOIA requests and hope that this eliminates any unnecessary requests; if this generates additional FOIA reports, then it defeats the purpose of posting publicly, to which we may go back to the current version

 
DHA is asking industry to provide any comments or feedback on the new UFDUR version to the industry technical liaison at dha.san-antonio-tx.healthcare-ops.mbx.pharmacy-opsmbxpod-industr@mail.mil.  Feel free to share your thoughts and comments with Aubrey Woolley at awoolley@thecgp.org the Coalition as well.  We will be sharing industry's feedback with Col. Gmehlin and Dr. Trang following the new UFDUR's release. 
Law and Policy Perspectives: Use Profit to Incentivize Information Technology Modernization and Cyber Security Throughout the Industrial Base
Authored by Moshe Schwartz, President, Etherton and Associates and Aaron Wasserman, Senior Director, U.S Government Affairs, SAP
The comments in this article do not necessarily reflect the views of The Coalition for Government Procurement.
The ability to earn a fair and reasonable profit is important to the success of the industrial base and our national security. It is the promise of profit that motivates companies to invest, develop new capabilities, and compete in the marketplace. Profit is the down payment for the next generation of solutions to satisfy the requirements of tomorrow. The United States federal government does not fully utilize profit to incentivize its contractors to make investments in information technology modernization and cyber security resulting in lost opportunities.
Profit is normally determined by free-market competition and is not negotiated directly under most federally awarded contracts. When contacts are negotiated, federal policy is to "offer contractors opportunities for financial rewards sufficient to stimulate efficient contract performance, attract the best capabilities…, and maintain a viable industrial base." Agencies use a structured approach, which for the Department of Defense (DoD) specifically allows contracting officers the ability to establish a profit position based on several factors including performance risk, facilities capital employed, and cost efficiency.
The existing method to calculate the DoD's profit position on negotiated contracts requiring submission of certified cost or pricing data does not reflect today's policy priorities. The last time the DoD's profit methodology was updated to incentivize the adoption of innovative technology was in 2000. While beneficial, the creation of the Technology Incentive is restricted for the "development, production, or application of innovative new technologies" and is only available for use for "the most innovative contract efforts."
A lot has changed since 2000. To succeed in driving innovation and maintaining military superiority over potential adversaries, the United States must approach profit in a way that reflects today's realties, today's priorities, and today's economy. It must adopt a method to calculate profit that incentivizes contractor investments throughout the supply chain and adapts to the fluid nature of policy priorities. This would not be a radical divergence from previous practices. DoD's methodology for establishing a profit position has evolved. Beginning in 1976, investments in facilities were prioritized under the facilities capital employed factor. In 2002, the cost efficiency factor was added to support the ever-present goal of reducing the cost of doing business.
We propose that the DoD must update its regulations to provide profit for the implementation of critical information technology investments and expanding cyber security information sharing. Specifically, remove one sentence that limits the technology incentive for "…only the most innovative contract efforts" and open it up for technology and cyber security investments across the board and throughout the supply chain. Supporting information technology modernization and cyber security in this way aligns with the current administration's policies and Congress' priorities as expressed in the FY22 National Defense Authorization Act.
There are many benefits to this proposed solution, which can be implemented without new authorizations or appropriations. Agencies and contracting officers can utilize their existing authority to make informed business decisions and reach a deal that incentivizes information technology and cyber investments (including CMMC) at a fair and reasonable price. Additionally, once codified, contracting officers and contractors would be able to quickly leverage the available dollars and implement existing commercial solutions to yield greater efficiency and security. Such an approach provides flexibility for each program and acquisition, not a specific information technology or cyber solution. All that would be needed to implement this approach is a minor update to regulations and some training for contracting professionals.
Profit seems like a four-letter word. But it is a powerful tool that DoD could use to its advantage to achieve information technology modernization and cyber security advancements.
Discounted Training Offerings for Coalition Members
To complement the Coalition's current education and training offerings, we have partnered with Federal Publications Seminars (FPS) to provide even more online training courses to our members at an affordable price.
FPS will provide Coalition members access to an annual training subscription to both the FPSOnline Professional and FPSOnline Premium curriculum for $395 and $1,795 per person/year, respectively. These fees represent nearly a 50% discount off the FPS retail price of each online curriculum.
The FPSOnline Professional subscription, regularly priced at $795, includes unlimited access to all live and on-demand webinars and webinar series. There are more than 550+ webinars in the on-demand library, and 100+ live webinars and series produced each year. The discounted subscription can be purchased here FOR $395 using this promotional code 395THECGP2022.
The FPSOnline Premium subscription, regularly priced at $2,495, includes the Professional subscription benefits listed above plus unlimited access to 150+ live and on-demand 1-5-day virtual training courses which are offered annually. The discounted subscription can be purchased here for $1,795 using this promotional code  1795PREMCGP2022.
Other highlights include:
8-12 NEW live webinars offered each month; most of which are CLE/CPE approved;

Live virtual 1-5 day training courses offered annually and in the classroom;

Live webinars and on-demand courses are usually 60-90 minutes in length and cover everything from emerging hot topics to more substantive compliance and regulatory issues like CMMC – What this Means for Industry, Cost Accounting Standards, Effective Ethics Programs for Suppliers, and FAR Part 37 – Service Contracting; 

A wide collection of government contracting related resources, white papers and job briefs; and 

Downloadable course completion certificates.  
(Please note, FPS Classroom Courses, Certificate Programs, and FPSCustom training are not included in the FPSOnline Professional or Premium subscriptions and may be subject to additional charges from FPS.) 
For more information about this member benefit, please contact Matt Cahill at mattcahill@thecgp.org.
NIST Provides Guidance to Support Protecting CUI
The National Institute of Standards and Technology (NIST) released a special publication that informs contractors and Federal agencies of procedures on how to evaluate that they are properly protecting controlled unclassified information (CUI). The special publication provides auditors with an assessment method that will ensure contractors are meeting the security requirements. The guidance can be adjusted for government-sponsored, third-party, or self-assessments.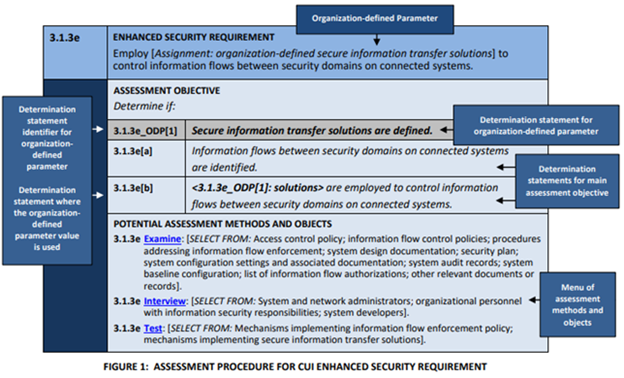 According to Nextgov, CUI is also one of the focuses of the Cybersecurity Maturity Model Certification (CMMC) Program. Under CMMC, contractor compliance will be verified by independent third-party auditors. CMMC has similar security controls to the NIST Cybersecurity Framework.  
Currently, NIST is updating its Cybersecurity Framework and requests industry feedback. Comments are due by April 25, 2022. 
DoD Not Properly Complying with Small Business Subcontracting Requirements
On March 9, the DoD Office of Inspector General (OIG) released an Audit of Department of Defense Small Business Subcontracting Requirements. The OIG conducted this audit to review DoD's oversight of contactor compliance with small business subcontracting limitations. In FY20, DoD awarded $30.4 billion to small, disadvantaged businesses. According to the Federal Acquisition Regulation (FAR), contracting officers can set aside solicitations only for small business competition. 
OIG reviewed 31 contracts that were subject to small business subcontracting constraints and found DoD in compliance with 21 of those contracts.  
After the review of 49 small business contracts, OIG found that DoD did not properly collect documentation from contractors to show compliance with small business subcontracting limitations for 10 contracts. DoD also did not track or monitor payments to small business subcontractors from prime contractors.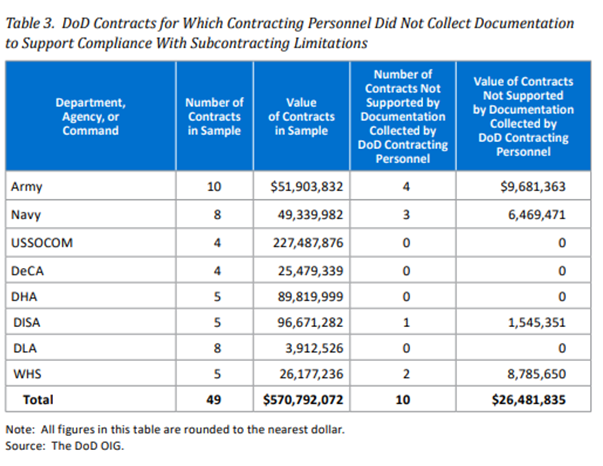 As a result, OIG found that DoD set asides for small businesses may not have supported small businesses in the intended manner. The OIG provided multiple recommendations. The first recommendation is to issue supplemental guidance to contract officers about the FAR requirements related to "determining small business prime contractor compliance with subcontracting limitations and compliance with first-tier subcontract award reporting requirements." The OIG also recommends that DoD contracting leadership review contracts for sufficient documentation related to subcontracting amounts and limitations.  
See the full report here.  
WOSB Matchmaking Event, March 22
On March 22 at 1 pm EST, GSA and the U.S. Women's Chamber of Commerce will host a virtual matchmaking event for women-owned small businesses (WOSBs). WOSBs will be able to connect with Federal agencies and GSA prime contractors through 20-minute roundtable matchmaking sessions. During these sessions, there will be discussions about subcontracting opportunities.  
Space is limited. Register for the event here.  
Final Webinar on SAM.gov UEI Transition, March 23
On March 23 at 1 pm EST, GSA is hosting its final webinar on the transition from the DUNS Number to the Unique Entity Identifier (UEI) as the entity identifier for Federal awards. The transition will be taking place on April 4, 2022. During the webinar, GSA will cover how searching in SAM.gov will look using the UEI. GSA will also demonstrate upcoming changes to the registration and renewal processes for entity administrators.   
To register for the webinar, click here. In addition, the webinar will be recorded and posted on the IAE Interact space at a later date.   
DHA Will Host an Industry Day on March 30 
On March 30 at 9 am EST, Defense Health Agency (DHA) will host a virtual Industry Day Requirement Exchange (IDRE) to inform Industry of upcoming requirements and business opportunities. Attendees will have the opportunity to submit questions throughout the event. If you have any questions you would like to address, submit them to dha.ncr.acquis-procure.mbx.industry@mail.mil. DHA requests that you include "IDRE Vendor Question – [Insert Company Name] – [Insert Detail Here]" in the subject line.   
Registration is available here and will close on March 26. All IDRE materials, including a detailed agenda and speaker presentations, will be posted to the SAM.gov (https://sam.gov/) and Health.mil (https://www.health.mil/) pages accordingly.   
Webinar: Foreign Sourcing and Supply Chain Issues, April 12 
The Coalition is pleased to host an upcoming webinar on Foreign Sourcing and Supply Chain Issues. This webinar will take place on April 12 from 12 -1 pm EST and will feature speakers from Covington, including Susan Cassidy, Partner; Mike Wagner, Partner; and Anna Menzel, Associate.   
The recent stress on worldwide supply chains is causing contractors to look for new sources of supply. This webinar considers the implications of U.S. Government sourcing obligations when making supply chain adjustments, including the requirements of the Trade Agreements Act, Buy American Act, limitations on using certain foreign telecommunications equipment (even if such equipment is not sold to the U.S. Government), and other emerging sourcing requirements and restrictions in this time of intensifying U.S.-China tension. The three presenters will review the sourcing limitations imposed by the U.S. Government and address the need to update certifications and contract documents when making changes to the supply chain.   
Click here to register.  
Upcoming Coalition Meetings   
The Coalition is pleased to announce a full schedule of upcoming meetings in March and April for members. Please join us for the following meetings:
*To RSVP for any of these virtual meetings (excluding the April 6 Furniture Committee meeting), please contact Michael Hanafin at mhanafin@thecgp.org.
All-Member Meeting with GSA's Senior Procurement Executive Jeff Koses, March 22       
The Coalition is pleased to announce a virtual all-member meeting on March 22 from 1 – 2 pm EST with Jeff Koses, GSA Senior Procurement Executive. During the meeting, Mr. Koses will discuss GSA's new Strategic Goal for Acquisition and the agency's work towards an acquisition system which is modern, accessible, streamlined, and aligned with the priorities of the Biden Administration. Please submit any feedback to Michael Hanafin mhanafin@thecgp.org.   
Medical/Surgical Subcommittee Meeting with VHA Procurement and Logistics, March 24     
Join the Medical/Surgical Subcommittee for a virtual meeting with Ricky Lemmon, Executive Deputy Chief Procurement Officer for the Veterans Health Administration, on Thursday, March 24 at 1:30pm EST.  Mr. Lemmon will discuss the ECAT order process at the VA as well as the latest on the MSPV Supply BPAs. To attend, please RSVP to Michael Hanafin at mhanafin@thecgp.org.     
IT/Services Committee Meeting with NASA SEWP, April 5
On April 5 from 10 – 11 am EST, the IT/Services committee will be hosting a meeting with Joanne Woytek, Program Director, NASA SEWP to provide an update on SEWP, including customer base, growth profile, trends in IT across Government, and key features/enhancements driving customer use. 
Furniture Committee Meeting with GSA's IWAC Director, April 6
On April 6 from 10 – 11 am EST, the Furniture Committee is hosting a virtual meeting with GSA's Ryan Schrank, Director of the Integrated Workplace Acquisition Center (IWAC), and the IWAC Branch Chiefs. During the meeting, they will discuss Packaged Office Program implementation/next steps and provide an update on the Workplace 2030 initiative.
To RSVP for this meeting, please register here.
IT/Services Committee Meeting with GSA's IT Category Part 2, April 26
The Coalition will be hosting our second virtual IT/Services Committee meeting with GSA's Office of Information Technology Category team on March 8 from 11 am – 12 pm EST. Guest speakers for this meeting include Cheryl Thornton-Cameron, Executive Director, Office of Acquisition Operations, and Larry Hale, Acting Director, Office of IT Services. During the meeting, they will provide an update from GSA's Office of IT Cateogry. Please submit any questions or topics for the meeting to Michael Hanafin at mhanafin@thecgp.org.