FAR & Beyond: GSA's Temporary EPA Moratorium Sputters Out of the Gate
Last week, this blog highlighted GSA's March 17 release of Acquisition Letter MV-22-02, Temporary Moratorium on Enforcement of Certain Limitations Contained in Certain GSA Economic Price (EPA) Contract Clauses (the Acquisition Letter). The letter provides pricing flexibility for Multiple Awards Schedule (MAS) contractors to address the impact of inflation across their business operations. It specifically reduces management approvals and gives contracting officers the ability to raise prices in contracts that include Economic Price Adjustment (EPA) clauses by freezing limitations on EPAs. This letter is mandatory for GSA, and the Coalition's full discussion appears here.
Regular readers of this blog will recall that the Coalition commended GSA for its proactive efforts to recognize the impact that the current historic rise in inflation has on the government's industrial base, as well as the need to address that impact to assure stability in that base. We specifically stated that,
…communication and training steps remain if GSA's efforts are to be successful in supporting the industrial base in mitigating the impact of inflation. This communication plan and training falls on the Federal Acquisition Service (FAS).
…[T]he Acquisition Letter provides, in part, that "[t]o support the implementation of this Letter, FAS should take actions as deemed necessary, including developing a communication approach, training the acquisition workforce, and tracking usage of this temporary moratorium." Swift, efficient, and effective rollout of training and operational guidance to FAS's contracting officers is critical to promoting positive business outcomes for MAS contractors and, ultimately, MAS customer agencies.
Fast forward to this week, and reports are surfacing that, with respect to implementation of the Acquisition Letter by GSA's contracting organization, something has been lost in translation. Members are reporting that contracting officers are overlaying arbitrary (as in nowhere to be found in the Acquisition Letter) information requirements on contractor EPA submissions, effectively capping prices at certain levels without any nexus to contractor experiences in the market. In addition, the scope of these information requirements is broad, indeed, broader than would exist otherwise and seeking information that is beyond the right of contracting officers to request. All told, even if contractors were to comply with such information requests, the administrative delay associated with them would be onerous.
One would assume that, in the face of an Acquisition Letter issued specifically to address exigent circumstances and assure stability in the government's industrial base during challenging and dynamic economic times, GSA's very own contracting organization, by unilateral action, would not elect to impose administrative requirements that operate to undermine the purposes of that letter. Given the potential for agency buyers and vendors to engage in transactions via other contracting channels, in other words, to destabilize the MAS channel as the vehicle of choice, it is imperative that FAS immediately take the actions necessary to assure licit and consistent implementation of the Acquisition Letter, especially training the acquisition workforce and rolling out consistent guidance across the agency to contracting staff.
As the Coalition noted in its prior blog,
Transparency also is critically important. MAS contractors should be made aware of any new guidance included in the training. Likewise, providing an understanding of the changes in the process and how contracting officers will be handling EPAs will help MAS contractors prepare responsive pricing submissions for EPAs.
To this end, Coalition members are sharing their experiences as the Acquisition Letter continues to be implemented. We will provide feedback to GSA/FAS to assist them in assuring a successful implementation of the letter. Now, in this time of economic difficulty, it is important for all stakeholders to share a common understanding of the processes in place that will maintain stability in the government's supplier base. The Coalition remains committed to doing its part.
President's Budget Request Includes Increased IT Funding
Federal Computer Week reported that the White House is seeking $65 billion in IT spending across civilian agencies, which is an 11 percent increase from the figure reported for 2022. The Administration is also seeking $10.9 billion for federal civilian cybersecurity capabilities, which is also an 11 percent increase from the previous year. These investments are meant to align with last year's cybersecurity executive order and will support the transition to Zero Trust architecture as well as the funding of the new Office of the National Cyber Director. The Administration is also seeking a $300 million boost for the Technology Modernization Fund (TMF). TMF did not receive any additional funding in the recently passed appropriations package, but did receive a $1 billion boost through the 2021 American Rescue Plan Act. GSA noted that this boost resulted in more than 120 TMF funding proposals totaling $2.5 billion in requests. The budget also requests $115 million for the Federal Citizen Services Fund. 
The Departments of Homeland Security (DHS) and Veterans Affairs (VA) had the highest IT request figures, with $10 billion and $8.6 billion respectively. This represents a 17 percent increase for DHS and a two percent increase for the VA. GSA is requesting $977 million, nearly a 40 percent increase. The Small Business Administration is asking for a 170 percent increase from $109 million in 2022 to $295 million in 2023. The Office of Personnel and Management is seeking a 200 percent increase, expanding the 2022 request from $141 million to $423 million. 
GSA Releases Five-Year Strategic Plan
On March 31, GSA released its five-year strategic plan. The plan consists of four major goals:
Real Estate Solutions: Financially and environmentally sustainable, accessible, and responsive workspace solutions that enable a productive Federal workforce.
Acquisition: A modern, accessible, and streamlined acquisition ecosystem and a robust marketplace connecting buyers to the suppliers and businesses that meet their missions.
Digital Government: A digital government that delivers for the public through trusted, accessible, and user-centered technologies.
Government Operations: A government that capitalizes on interagency collaboration and shared services to make informed management decisions and improve operations, delivering value for the American people.
According to the strategic plan, GSA intends to increase the use of GSA's acquisition solutions throughout the Federal government and increase overall MAS sales. GSA plans to achieve this by modifying services and product contracts to improve customer experience. There will also be improvements in transparency and data access. GSA will continue to work on its Enterprise Infrastructure Solutions (EIS), which will provide the next generation of telecommunications.
Another acquisition objective is streamlining customer and supplier experience to increase supplier satisfaction. To achieve this, GSA plans to improve the Industry onboarding process for the MAS program. GSA intends to provide training to new MAS suppliers and streamline the process by removing inconsistencies in the onboarding process. GSA also plans to update its acquisition technology to ensure that the acquisition process is efficient and improve contract administration.
GSA plans to strengthen the supply chain by creating processes to access and manage supply chain risks. To support the Biden Administration's cybersecurity goal, GSA will provide acquisition solutions for customer agencies that prevent, identify and respond to cyber threats. GSA will also strengthen its supply chain is by purchasing American products.
Finally, GSA intends to reduce barriers to entry for small and/or disadvantaged businesses. GSA will continue its work with the AbilityOne Program to maximize employment opportunities for people with disabilities. There will also be increased opportunities for Small Disadvantaged Businesses. GSA will create a diversity plan to ensure that they stay on track.
To access GSA's strategic plan, visit www.gsa.gov/cdnstatic/GSA_Strategic_Plan_FY_2022_-_2026_FINAL_Optimized.pdf.
DoD Delays JWCC Contract Awards
Federal Computer Week reported that the Department of Defense (DoD) is delaying award for its $9 billion Joint Warfighting Cloud Capability (JWCC) contract to the end of the year. This means that certain solutions will likely not be deployed until the middle of 2023. Original award for the contract was scheduled for April 2022, with Amazon Web Services, Google, Microsoft, and Oracle named as the bidders. John Sherman, DoD Chief Information Officer, said that "conducting the due diligence with four vendors" has contributed to the delay. He added that while there were no issues with the JWCC program, DoD realized that its original timeline was too far ahead. DoD now plans to award the contract in December.
Currently, JWCC is structured as potentially four separate indefinite-delivery, indefinite-quantity contracts with a total ceiling of $9 billion. Only the four vendors will compete, but none are guaranteed an award. The contracts will have a three-year base period with two one-year options, and at the conclusion of JWCC, DoD plans to launch a full and open competition for a future multi-cloud acquisition. The JWCC procurement replaces the Joint Enterprise Defense Infrastructure (JEDI) contract which was cancelled after years of protests and litigation. 
White House Requests More Funds for VA EHR
Fedscoop reported that the White House's budget includes a $1.8 billion boost for the VA's Electronic Health Records Modernization (EHRM) program. The requested increase would be provided in addition to $5.8 billion in proposed funding for the VA's Office of Information Technology. This figure is intended to support the department's cybersecurity, financial management business transformation, and the infrastructure readiness program. The EHR funding comes as the VA addresses issues with the program's rollout efforts. The program has faced several delays to date. Earlier this month, the system at the VA's Mann-Grandstaff medical center in Spokane, Washington was affected by a software bug that is causing the VA to perform a "a full root cause analysis" to determine the cause of the error. This outage came after three reports from the VA's Office of Inspector General expressing concerns about certain aspects of the program. 
DoD Requests More Cyber Funding for FY23
DoD has requested $11.2 billion in cyber funding from Congress for FY23, according to Federal Computer Week. This is nearly a $1 billion increase in cyber funding from FY22. DoD plans to use this funding to continue building its Zero Trust architecture. The funds would also be used to enhance cybersecurity support for the defense industrial base by including more pilot programs and services, information sharing, and cybersecurity certifications. The U.S. Cyber Command would receive an addition of five new teams with new funding. These teams will support improving cyber trainings and exercises. The U.S. Cyber Command will also have an increased role in cyberspace programs and capabilities acquisitions. DoD also requested that Congress increase funding for defense research, development, testing and evaluation.  
Major Increase in SDB Contract Opportunity Goals at GSA
Federal Computer Week reported that GSA announced the increase of Small Disadvantaged Business (SDB) contracting opportunities goals by 21 percent, which is a "four-fold increase" from last year's goal. GSA's announcement aligns with the Administration's commitment to investing $100 billion in contract opportunities for historically marginalized businesses by 2025. In FY21, GSA obligated about 20% of its overall spend to SDBs and over 46% of overall spend to small businesses. According to GSA, the increase will support the Administration's equity goals and boost SDB participation in the federal market.  
DoD Increases Use of Sole-Source 8(a) Contracts
On March 28, the Government Accountability Office (GAO) submitted a report on DoD's use of sole-source 8(a) contracts valued over $22 million. According to the 2020 National Defense Authorization Act, DoD is required to provide written justification and approval for sole-source 8(a) contracts valued from over $22 million to over $100 million. DoD implemented this rule on March 17, 2020.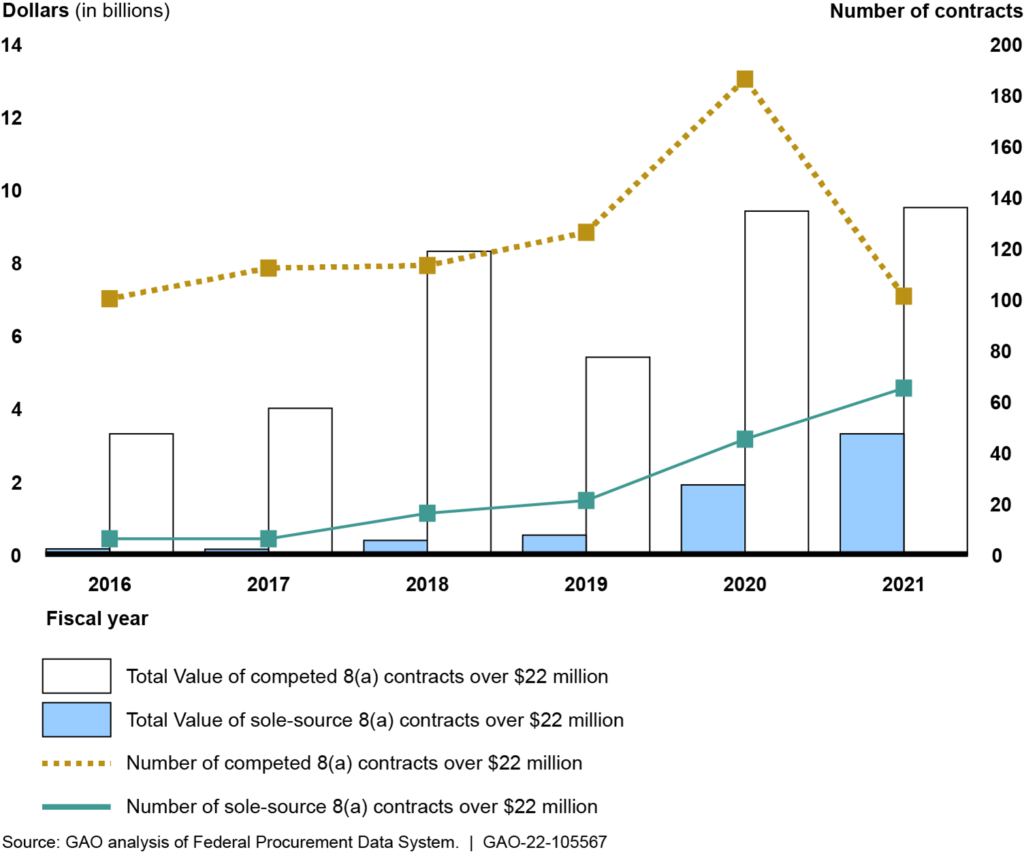 Since GAO's last report on sole-source 8(a) contracts in 2016, DoD has increased its use of sole-source 8(a) contracts over $22 million. However, the Department did not issue any sole-source 8(a) contracts valued over $100 million. From FY16 to FY21, sole-source 8(a) contracts increased from 6 to 65. DoD awarded 159 sole-source 8(a) contracts valued over $22 million from FY16 to FY21. 
Labor Department Looking to Revise Non-Discrimination Policy
GovExec reported that the Department of Labor (DoL) wants to revise a rule from the previous Administration that it says "undermines" how the department handles and resolves claims of discrimination by federal contractors. On March 22, the DOL's Office of Federal Contract Compliance Programs (OFCCP), which works to ensure federal contractors comply with non-discrimination obligations, proposed a rule that would modify a previous policy that took effect in December 2020.  The proposed rule would eliminate requirements that OFCCP issue pre-determination notices and notices of violation to contractors. Additionally, the rule would eliminate the requirement that pre-determination notices be approved by the compliance office director before issuance. It would also allow OFCCP to issue notices of violations for infractions not included in pre-determination notices, and cut in half the amount of time contractors have to respond to pre-determination notices.  
In a blog post, OFCCP Director Jenny Yang stated that the proposed changes would "restore flexibility to the office's procedures, promote efficiency in resolving cases, strengthen enforcement, and promote alignment of the standards governing the office's procedures with Title VII of the Civil Rights Act." Some industry experts have been critical of the proposed rule, stating that the previous rule has resulted in huge improvements for OFCCP. In October 2020, DoL reported that its fiscal year 2020 recoveries totaled $35.6 million, which is the second highest year in the contract compliance office's history. Comments on DoL's proposed rule are due on April 21, 2022. 
GSA Implements "RAFT" Strategy to Aid EIS Transition
Federal News Network reported that as of January 31, only half of agencies met the deadline to transition at least 90 percent of their telecommunications inventory to the Enterprise Infrastructure Solutions (EIS) contract. GSA is responsible for overseeing the EIS program. Of the 17 large agencies, nine met this goal, which was set to be complete by March 31, 2021.  
Agencies are expected to transition 100 percent of their inventory to EIS by September 30, 2022. As the deadline approaches, GSA is offering agencies access to new tools to accelerate EIS implementation. Amy Haseltine, Deputy Commissioner for Acquisitions in GSA's Office of the IT Category (OITC), said that her office is bringing agencies through a "risk assessment for transition (RAFT)" analysis. RAFT helps agencies to determine their progress and to identify what actually needs to get done. GSA consulted and ran pilot tests with industry partners that helped shape the data analysis processes being used by agencies. Haseltine said that agencies can schedule a free RAFT consultation with GSA and assess their current EIS transition activities. The analysis includes an estimate of how long GSA believes it will take the agency to complete the transition. GSA has conducted more than a dozen RAFT consultations since last year.  
In January, GSA reported that agencies, mostly within DHS, still have to award 18 solicitations under EIS, including three that must still be released for industry to bid. Allen Hill, GSA OITC's Deputy Assistant Commissioner for Category Management, said that despite slow EIS transition progress, there are other important trends emerging. Notably, wireless capabilities, broadband, and software-defined wide area network (SD-WAN) are among the most popular technologies for the EIS contracts. These technologies are critical for agencies to take advantage of artificial intelligence and machine learning. 
Legal Corner: HUBZone Principal Office Flexibility Ends April 1
Authored by John Williams, PilieroMazza
The Legal Corner provides the legal community with an opportunity to share insights and comments on legal issues of the day. The comments herein do not necessarily reflect the views of The Coalition for Government Procurement.
The Small Business Administration's HUBZone office will soon end the principal office flexibility it introduced during the COVID-19 pandemic. Starting April 1, 2022, firms will no longer be able to count employees who spend most of their time working at home as a principal office employee. HUBZone firms need to be mindful of this as they prepare for their 2022 recertification and manage their HUBZone eligibility going forward. Below, we review the changes announced by SBA and offer our recommendations for dealing with them.
Early in the COVID-19 pandemic, the HUBZone office implemented very helpful measures to assist firms in satisfying the principal office requirement at a time when teleworking was mandatory. PilieroMazza wrote about them here. These flexibilities permitted HUBZone firms to consider teleworkers as principal office employees as long as they met specific requirements. The flexibilities also allowed HUBZone firms to count new hires as principal office employees as long as those employees would have worked from the principal office if teleworking hadn't been imposed due to COVID-19. We saw firsthand how these measures assisted numerous HUBZone firms in maintaining their HUBZone eligibility during the pandemic.
With life steadily returning to normal (knock on wood), SBA decided to end the COVID-19 flexibilities for the principal office requirement as of the end of  this month. This means that, whether it's a new hire or an existing employee, the employee will need to spend most of their time physically working from the principal office location to count as a principal office employee.
While the pandemic may be receding, the pandemic's impacts on how we work—and where we work—seem likely to stay with us much longer. In this regard, SBA's decision to end the flexibilities for the principal office requirement is disappointing. The reduced overhead expenditures and increased productivity often associated with teleworking have greatly benefited many small businesses. Given the HUBZone program's goal of focusing on businesses located in underutilized areas, we would argue that maintaining a business location in a HUBZone area serves the spirit and intent of the program even if the people working from that location spend most of their time working at home. Ideally, the principal office requirement would be sufficiently flexible to allow HUBZone firms to count an employee as a principal office employee if the employee considers the principal office as their main office location, and the company has a workspace dedicated to that employee, regardless of how much time the employee decides to spend working from home versus in the office.
We hope that over time the principal office requirement will evolve to better account for the new realities of teleworking in a post-COVID world. Until then, HUBZone firms will need to make sure they have enough people coming physically into the principal office location to satisfy the principal office requirement.
If you have questions about this client alert or would like assistance preparing for your HUBZone recertification, please contact Jon Williams in PilieroMazza's Government Contracts Group.
Certain Hospitals to Reenter 340B Program per FY22 Appropriations
The Health Resources & Services Administration (HRSA) posted a notice on their 340B Drug Pricing Program webpage about the implementation of Section 121 of the Consolidated Appropriations Act, signed into law on March 15, 2022.  According to HRSA's notice, Section 121 allows certain hospitals to be reinstated into the 340B program if the hospital is classified as:
A disproportionate share hospital,
Sole community hospital,
Rural referral center,
Children's hospital, or
Free standing cancer hospital
In addition, the hospital must have been terminated from the program for failure to meet the "statutorily-required disproportionate share adjustment (DSH percentage) during Medicare cost reporting periods" between October 1, 2019 and December 31, 2022.  Further, the hospital's removal must be related to the COVID-19 pandemic and the hospital must have been a covered entity on January 26, 2020.  To access HRSA's notice, visit https://www.hrsa.gov/opa/index.html.
Discounted Training Offerings for Coalition Members
To complement the Coalition's current education and training offerings, we have partnered with Federal Publications Seminars (FPS) to provide even more online training courses to our members at an affordable price.
FPS will provide Coalition members access to an annual training subscription to both the FPSOnline Professional and FPSOnline Premium curriculum for $395 and $1,795 per person/year, respectively. These fees represent nearly a 50% discount off the FPS retail price of each online curriculum.
The FPSOnline Professional subscription, regularly priced at $795, includes unlimited access to all live and on-demand webinars and webinar series. There are more than 550+ webinars in the on-demand library, and 100+ live webinars and series produced each year. The discounted subscription can be purchased here FOR $395 using this promotional code 395THECGP2022.
The FPSOnline Premium subscription, regularly priced at $2,495, includes the Professional subscription benefits listed above plus unlimited access to 150+ live and on-demand 1-5-day virtual training courses which are offered annually. The discounted subscription can be purchased here for $1,795 using this promotional code  1795PREMCGP2022.
Other highlights include:
8-12 NEW live webinars offered each month; most of which are CLE/CPE approved;

Live virtual 1-5 day training courses offered annually and in the classroom;

Live webinars and on-demand courses are usually 60-90 minutes in length and cover everything from emerging hot topics to more substantive compliance and regulatory issues like CMMC – What this Means for Industry, Cost Accounting Standards, Effective Ethics Programs for Suppliers, and FAR Part 37 – Service Contracting; 

A wide collection of government contracting related resources, white papers and job briefs; and 

Downloadable course completion certificates.  
(Please note, FPS Classroom Courses, Certificate Programs, and FPSCustom training are not included in the FPSOnline Professional or Premium subscriptions and may be subject to additional charges from FPS.) 
For more information about this member benefit, please contact Matt Cahill at mattcahill@thecgp.org.
RFPs for Polaris Small Business and WOSB Pools Released
On March 25, GSA announced the release of the Request for Proposals (RFPs) for the Polaris Small Business and Women-Owned Small Business (WOSB) Pools. Due to the scheduled SAM.gov downtime for the Unique Entity ID transition from April 1 – 4, the Polaris Submission Portal (PSP) will not open until April 5. Industry is encouraged to review the solicitation requirements and view the pre-proposal conference. After registering in the PSP and viewing the pre-proposal conference, Industry can submit RFP questions in the PSP. Proposals for the Small Business and WOSB Pools are due by May 13, 2022. 
Off the Shelf: The Pulse of Small Business Contracting 
This week on Off the Shelf, Ken Dodds, Vice President and Industry Expert at Live Oak Bank, joined host Roger Waldron for a review of 2021's key small business policy changes, program developments, and market trends.
As a former executive in the Small Business Administration's Office of Policy, Planning and Liaison, Dodds brought policy expertise and unique insights to the show. He provided his analysis of the key policy changes made in 2021 that will shape the future of the federal small business market.
Dodds examined the Federal Government's performance against the overall small business goals highlighting the government's efforts in exceeding the governmentwide goal of 23% of procurement dollars going to small business. He also outlined the key regulatory and policy changes regarding limitations on subcontracting, changes in the size standards, and the recertification rules for multiple award IDIQ contracts.
Finally, Dodds analyzed the key GAO and Court of Federal Claims' bid protest decisions impacting small business contracting governmentwide.
Listen to the full episode here.
Webinar: Foreign Sourcing and Supply Chain Issues, April 12 
The Coalition is pleased to host an upcoming webinar on Foreign Sourcing and Supply Chain Issues. This webinar will take place on April 12 from 12 -1 pm EST and will feature speakers from Covington, including Susan Cassidy, Partner; Mike Wagner, Partner; and Anna Menzel, Associate.     
The recent stress on worldwide supply chains is causing contractors to look for new sources of supply. This webinar considers the implications of U.S. Government sourcing obligations when making supply chain adjustments, including the requirements of the Trade Agreements Act, Buy American Act, limitations on using certain foreign telecommunications equipment (even if such equipment is not sold to the U.S. Government), and other emerging sourcing requirements and restrictions in this time of intensifying U.S.-China tension. The three presenters will review the sourcing limitations imposed by the U.S. Government and address the need to update certifications and contract documents when making changes to the supply chain.     
Click here to register.    
Upcoming Coalition Meetings 
The Coalition is pleased to announce a full schedule of upcoming meetings in April for members. Please join us for the following meetings: 
*To RSVP for any of these virtual meetings (excluding the April 6 Furniture Committee meeting), please contact Michael Hanafin at mhanafin@thecgp.org. 
IT/Services Committee Meeting with NASA SEWP, April 5
On April 5 from 10 – 11 am EST, the IT/Services Committee will be hosting a meeting with Darlene Coen, NASA SEWP Deputy Director/Director of Strategy and Acquisition, to provide an update on SEWP, including customer base, growth profile, trends in IT across Government, and key features/enhancements driving customer use.   
Furniture Committee Meeting with GSA's IWAC Director, April 6  
On April 6 from 10 – 11 am EST, the Furniture Committee is hosting a virtual meeting with GSA's Ryan Schrank, Director of the Integrated Workplace Acquisition Center (IWAC), and the IWAC Branch Chiefs. During the meeting, they will discuss the Packaged Office Program implementation/next steps and provide an update on the Workplace 2030 initiative.  
To RSVP for this meeting, please register here.  
Healthcare Committee Meeting with VA OIG on FSS Preaward Reviews, April 12  
On April 12 at 10am EST, the Healthcare Committee will host a virtual meeting with the VA Inspector General's Office on its recently published Summary of Preaward Reviews of VA FSS Nonpharmaceutical Proposals. Our guest speaker will be Michael Grivnovics, Director of the Federal Supply System Division, Office of Contract Review in the VA Office of Inspector General (OIG).  Mr. Grivnovics will discuss the OIG's findings, and most importantly, lessons learned for contractors— e.g., how to ensure that commercial disclosures are more accurate, complete and current from the OIG's perspective. 
Green Committee Meeting on Sustainability Requirements and Trends, April 19
Please join the Coalition for its next Green Committee meeting on April 19 at 10 am EST for an update on Sustainability requirements and trends for Federal contractors. Our guest speaker will be Paul Freeman, Partner, with Crowell & Moring. The discussion will include potential greenhouse gas (GHG) reporting requirements for major suppliers.
IT/Services Committee Meeting with GSA's IT Category Part 2, April 26  
The Coalition will be hosting its second virtual IT/Services Committee Meeting with GSA's Office of Information Technology Category team on April 26 from 11 am – 12 pm EST. Guest speakers for this meeting will be Cheryl Thornton-Cameron, Executive Director, Office of Acquisition Operations, and Larry Hale, Acting Director, Office of IT Services. During the meeting, they will provide an update from GSA's Office of IT Category. Please submit any questions or topics for the meeting to Michael Hanafin at mhanafin@thecgp.org.