Join GSA's "MAS Office Hours" to Learn More about the EPA Moratorium Flexibilities
The Coalition for Government Procurement appreciates GSA for providing price flexibility for Multiple Award Schedule (MAS) contractors to address the impact of inflation through its recent Acquisition letter on the Economic Price Adjustment (EPA) clause. Specifically, Acquisition Letter MV-22-02, Temporary Moratorium on Enforcement of Certain Limitations Contained in Certain GSA EPA Contract Clauses, reduces management approvals and gives contracting officers the ability to raise prices in contracts that include EPA clauses by freezing limitations on EPAs.
In last week's blog, we addressed the rollout of the new EPA flexibilities and the opportunity for continued training of the acquisition workforce and GSA's industry partners as both parties work together to ensure that customer agencies retain the ability to access the commercial products and services they rely upon to meet their critical missions during this unprecedented time.
In support of these efforts, we would like to share the following GSA training on the EPA moratorium with Coalition members scheduled for next Thursday. As noted in GSA's announcement below, the majority of the hour will be open for contractor questions:
Upcoming MAS Contractor Event Regarding EPA Moratorium AL
GSA's Economic Price Adjustment (EPA) moratorium Acquisition Letter (AL) MV-22-02 will be the covered topic at the next "MAS Office Hours" event scheduled for Thursday, April 21, 2022, at 2:00pm ET.  AL MV-22-02 establishes a temporary moratorium on the enforcement of a number of limitations contained in GSA EPA contract clauses, in recognition of the impact of inflation on GSA contractors and their ability to support federal agencies.  The FAS Office of Policy and Compliance will be providing a short presentation on these increased EPA flexibilities, with a goal of leaving the majority of the hour open for contractor questions.  
Contractors can register for this webinar here.  For contractors unable to attend, these monthly webinars are recorded, and this session will be posted to the MAS Office Hours Playlist on YouTube
We hope that members will take advantage of this training opportunity and we will continue to engage on behalf of industry on this important issue.
Oral Arguments Heard on Federal Contractor Vaccine Mandate
Federal News Network reported from the U.S Court of Appeals that the Federal Government has a high bar to clear to restore the Federal contractor vaccine mandate. Judge William Pryor of the 11th District said that it was "doubtful" that the Federal Government has a strong enough case to overturn the lower court's injunction preventing the implementation of the mandate. Judge Pryor also predicted that the matter would be escalated to the Supreme Court and that there the decision could go either way.  
The argument for the Administration is that the mandate is a fair use of authority vested within the Procurement Act to set policies for an "economic and efficient contracting system." This argument is derived from the impact that an unvaccinated workforce has on costs and quality of work due to the higher risk of infection. The opposition's argument is that the power in the Procurement Act is to create an administrative framework and the Administration is using the act to implement social and health policy. This is only one of four Federal appeals courts that is reviewing the Biden Administration's vaccine mandate for Federal contractors. 
GSA to Include Sustainability Requirements in IT Contracts 
Federal Computer Week reported that the General Services Administration (GSA) is implementing new environmental requirements into some of its major IT contracts. GSA's Enterprise Infrastructure Solutions (EIS) contract will include green initiative requirements for climate change. Laura Stanton, Assistant Commissioner for the Information Technology Category, said that the agency's work to implement sustainability requirements in its contract vehicles helps support the Administration's environmental efforts by promoting energy efficient, virtual, and streamlined technology. GSA plans to include sustainability criteria in its new Ascend Blanket Purchase Agreement (BPA) which focuses on cloud technologies. Stanton said that the agency is "looking at geothermal, hydroelectric, hydrokinetic, nuclear, solar, wind and the like, as well as looking at how to get to carbon pollution-free energy in the data centers provided through this vehicle." 
In addition to the new environmental contracting language, GSA has introduced other initiatives in recent years focused on sustainability. For example, a feature has been added to GSA Advantage that allows agency customers to more easily identify whether an electronic product has earned an ecolabel,  like the Electronic Product Environmental Assessment Tool (EPEAT). In December 2021, President Biden signed an executive order that called on agencies to achieve net-zero emissions from Federal procurement by 2050. The executive order also instructed GSA to require contractors to disclose the amount of produced carbon dioxide emissions from their manufacturing, processing, and maintenance of materials. As a result, additional sustainability requirements for contractors are anticipated in the near future. 
Briefing on Upcoming Sustainability Requirements with Crowell & Moring, April 19
The Green Committee will host a virtual meeting on April 19 at 10 am EST that is open to all members on Sustainability requirements and trends for Federal contractors. Our guest speaker will be Paul Freeman, Partner, with Crowell & Moring. The discussion will include potential greenhouse gas (GHG) reporting for major suppliers and other requirements that the Administration is planning to implement in Federal contracts.  To attend, please RSVP to Michael Hanafin at mhanafin@thecgp.org.   
GSA Previews Federal Marketplace Strategy – Spring 2022 Release
On April 13, GSA previewed key parts of its Federal Marketplace Strategy (FMP) Spring 2022 release. GSA has been working to improve the Federal Marketplace Strategy in order to improve the digital experience for buyers, suppliers, and the Federal acquisition workforce. GSA plans to launch a new buyer experience solution based on human centered design principles aimed at reducing pain points that the acquisition community provided in feedback to GSA. The updated solution will give buyers access to acquisition and market research tools, as well as documents, templates, and pricing resources to aid with planning acquisitions. The FMP Spring 2022 release will contain additional details on the updated buyer experience.  
In addition, GSA plans to offer new tools to suppliers in order to reduce burdens and simplify their experience by clarifying government procurement options, qualification requirements, and the preparation process to submit an offer. GSA is also working to update its Multiple Award Schedule (MAS) Roadmap to help simplify suppliers' onboarding processes. GSA's new Vendor Support Center provides a place for all prospective and current MAS contract holders to find information and resources on doing business with the Federal Government.  
Federal Acquisition Service Commissioner Sonny Hashmi said the following on the FMP Spring 2022 release: "With the launch of our new buyer experience, we highlight GSA's commitment to our customers, suppliers, and workforce while improving the buying process. I am excited for our users to see what they helped develop and look forward to watching it grow and expand in the years to come." 
OMB Releases Guidance to Reduce Customer Experience Barriers
On April 13, Office of Management and Budget (OMB) released a memo that instructs Federal agencies to find and mitigate burdens related to applying for and retaining eligibility for public benefits programs. The memo implores agencies to focus especially on barriers that affect underserved communities. The OMB memo also suggests that agencies meet with the individuals the programs serve to discuss barriers and potential solutions. Federal agencies must lessen the burden on individuals pursuing services that they are eligible for by law. Improvements made to reduce the burdens that citizens experience while applying for certain public benefits will be tracked by OMB. 
VA Investigating Cause of EHR System Outage
Federal News Network reported that on April 6 a system outage took down all Federal Cerner systems across the Department of Defense, the Department of Veterans Affairs (VA), and the Coast Guard. The VA reported that the cause of the outage appears to be from a glitch in an Oracle server, but further investigations to identify the root cause continues. At the same time, the VA is still responding to a technical glitch at the Electronic Health Record (EHR) center in Spokane. These outages are a continuation of the difficulties that the VA has experienced with their EHR system rollout. The VA began a review in March 2021 which delayed the implementation of the EHR project. The review identified a myriad of patient safety concerns, technical difficulties, and training shortfalls in addition to a variety of financial and administrative concerns. The VA plans to take the lessons learned from the difficulties so far to improve on their next EHR launch in Columbus, Ohio on April 30. 
Polaris RFPs Paused as GSA Considers Potential Changes
On April 6, GSA announced that they will be temporarily pausing Polaris RFPs as they consider whether changes are needed for the evaluation of joint ventures (JVs) under Polaris. The consideration of changes comes after GSA received significant feedback from industry on this issue. Currently, small businesses involved in JVs or mentor-protégé JVs do not have to include relevant experience or past performance in their proposals. According to Federal Computer Week, a protest was filed challenging that provision as it may violate the SBA's mentor-protégé JV regulations. There are also concerns that it may disadvantage small business proposals compared to other submissions. 
The Polaris Submission Portal is also paused during this time. The original solicitation deadline was May 13, and GSA has not announced the updated deadline nor when the portal will reopen. GSA has not changed the deadline for questions, which is April 18, 2022. Questions can be submitted to polaris@gsa.gov.   
IT/Services Committee Meeting with GSA's IT Category Part 2, April 26
The Coalition will be hosting its second virtual IT/Services Committee Meeting with GSA's Office of Information Technology Category team on April 26 from 11 am – 12 pm EST. Guest speakers for this meeting will be Cheryl Thornton-Cameron, Executive Director, Office of Acquisition Operations, and Larry Hale, Acting Director, Office of IT Services. During the meeting, they will provide an update from GSA's Office of IT Category. Please submit any questions or topics for the meeting to Michael Hanafin at mhanafin@thecgp.org.  To RSVP to attend, please email Michael at mhanafin@thecgp.org.  
Legal Corner:
Buckle Up, Federal Contractors – It's a Bumpy Road Ahead 
Authored by Timothy Taylor and David Santeusanio, Partners at Holland & Knight
The Legal Corner provides the legal community with an opportunity to share insights and comments on legal issues of the day. The comments herein do not necessarily reflect the views of The Coalition for Government Procurement.
The U.S. Department of Labor's Office of Federal Contract Compliance Programs (OFCCP) had a relatively unsurprising 2021. Not so for 2022. The agency has been hard at work issuing new and extremely ambitious policies. Together, the changes are once again reorienting OFCCP toward more aggressive tactics and more pervasive monitoring of federal contractors and subcontractors.
What is less clear is the effect of these changes on OFCCP's stakeholders. Under the Trump Administration, OFCCP had record-breaking recoveries, with its two highest-ever years in 2019 and 2020, and from 2017 to 2020, the agency exceeded the monetary recoveries of the previous nine years combined. The agency also made strides in transparency and predictability, and it worked down a substantial backlog of aged investigations. OFCCP's recent changes indicate a new regime of more flexibility for the agency but more rigidity toward contractors. Only time will tell whether these changes will inure to good or ill for contractors and their employees.
Below is an analysis of OFCCP's top five developments so far in 2022.
1. The "Pay Equity" Directive
OFCCP directives are issued by OFCCP to provide guidance to OFCCP staff and contractors on enforcement and compliance. Directives do not change the laws or affirmative action regulations, and they do not have the force and effect of law. Because directives formalize OFCCP policy and practice, contractors should look carefully to these directives to understand what lies ahead with respect to OFCCP policy and the practical aspects of developing plans and defending OFCCP compliance evaluations.
OFCCP Director Jenny Yang issued Directive 2022-01, "Pay Equity Audits," on March 15, 2022. OFCCP's stated purpose for the directive is to "provide guidance on how OFCCP will evaluate federal contractors' compliance with pay equity audit obligations and clarify OFCCP's authority to access and review pay equity audits" under federal contractor regulations. The directive also addresses how OFCCP will address a federal contractor's claims of attorney-client privilege with respect to compensation analyses conducted through counsel.
Contractors have long been required to conduct reviews of their compensation practices. Affirmative action regulations (41 C.F.R. § 60-2.17(b)(2)) require that federal contractors "evaluate compensation system(s) to determine whether there are any gender-, race-, or ethnicity-based disparities." In connection with OFCCP compliance evaluations, OFCCP sends to contactors a standard scheduling letter and itemized listing of support data to submit to OFCCP. Item 19 of that itemized listing directs contractors to provide detailed employee compensation data. OFCCP will then analyze compensation pursuant to Directive 2018-05, "Analysis of Contractor Compensation Practices During a Compliance Evaluation." If OFCCP's review identifies disparities in pay, it frequently seeks additional information from contractors, including the results of a contractor's internal pay analysis. Contractors that conduct such analyses under attorney-client privilege have typically objected on grounds that the analysis is privileged.
In Directive 2022-01, OFCCP explains that it has the "authority to review the contractor's pay equity audit conducted" pursuant to 41 C.F.R. § 60-2.17(b)(2), and that it "will request that the contractor provide a complete copy of the pay equity audit(s) conducted … that shows all pay groupings that were evaluated, any variables used, and the results of the analyses, including any disparities found." OFCCP further explains that while it "recognizes that federal contractors often retain counsel to assist with the preparation of the pay audit," federal contractors "must maintain and make available to OFCCP documentation of their compliance." OFCCP further states that "contractors cannot withhold these documents by invoking attorney-client privilege of the attorney work-product doctrine."
Contractors are now faced with balancing the goal of maintaining certain aspects of a compensation analysis as privileged, while at the same time being prepared to show compliance with 41 C.F.R. § 60-2.17(b)(2) by responding to OFCCP's request to review the pay equity audit and related documentation. The strategy for achieving these objectives should be set by the contractor and its counsel when developing affirmative action plans and responding to OFCCP compliance evaluations. The strategy will depend on, among other factors, the contractor's existing compensation system, the statistical methodology used by the contractor and the feasibility of conducting two compensation reviews – one privileged, one not privileged – or some other hybrid approach. The strategy may also depend on the size and structure of the organization, as a contractor has the obligation under affirmative action regulations to conduct a compensation review for each individual establishment, as opposed to a single pay equity audit that covers the entire workforce across multiple establishments. In compliance evaluations or in litigation, contractors should confer with counsel on a strategy for challenging OFCCP's stated position on the attorney-client privilege, given that this position is set forth in a directive that does not have the force and effect of law. Eventually, legal challenges to OFCCP's position will likely provide further guidance to contractors on how to address this complex issue.
2. The "Effective Compliance Evaluations and Enforcement" Directive
OFCCP issued Directive 2022-02, "Effective Compliance Evaluations and Enforcement," on March 31, 2022. The directive repeals four Trump-era directives that, together, gave contractors more notice of OFCCP investigations and more transparency into how the agency conducts and closes out audits. These were known together as the "four pillars" of the agency's Certainty, Efficiency, Recognition, and Transparency (CERT) initiative. The new directive replaces those directives with a new regime that may cause contractors more difficulty than before.
Directive 2022-02 rescinds the 45-day delay between OFCCP publishing its scheduling list for contractors (known as the Corporate Scheduling Announcement List, or CSAL) and auditing those contractors. It similarly repeals the automatic 30-day extension for audited contractors to produce whatever data is initially requested by the agency – except in "extraordinary circumstances" such as medical absences of key personnel, disaster, deaths, unexpected turnover or military service. While OFCCP was once faulted by a government watchdog for allowing delays in the production of a contractor's affirmative action program (a regulatory requirement), the directive's stringent timelines for production of data goes far beyond that item and does not account for any difficulties companies may have in pulling the information together from disparate sources in a short time.
Directive 2022-02 also rescinds the helpful framework laid out in Directive 2018-08 for OFCCP audits. The old directive laid out simple and clear steps for agency personnel to follow before requesting additional information from contractors, the requirement to share essential source data so that contractors can assess OFCCP's statistical findings and instruction to collaborate constructively during conciliation. Directive 2022-02 leaves these things more to investigators' discretion.
Directive 2022-02 also contains several new and aggressive provisions:
The directive states that OFCCP can request data post-dating the audit scheduling letter. OFCCP does not have subpoena authority, and this provision may prove contentious.
The directive promises a new scheduling methodology "to reach a broader universe of contractors and subcontractors and to identify those with greater risk factors for noncompliance with nondiscrimination and affirmative action requirements." A common complaint from contractors is that OFCCP audits the same limited pool over and over again, so some contractors may welcome this change. Others may not, especially subcontractors, who traditionally have received little attention from OFCCP.
The directive states that OFCCP may request personal contact information for former employees, including Social Security numbers. Employers and employees may both bristle at this provision.
The directive asserts, by reference to an American Law Reports entry and a model legal ethics rule, that the employer has no right to be present for interviews of former employees.
Altogether, in both its tone and its specific repeals and new provisions, Directive 2022-02 suggests that OFCCP plans to both wields its own discretion more broadly and to be more rigid with employers. Contractors should be ready for tighter timelines, more demands and a more aggressive stance from OFCCP during audits.
3. The Pending Revision of the Predetermination Notice Rule
Late in 2020, OFCCP issued the Predetermination Notice (PDN Rule) that codified its review processes and established legal standards for how it would adjudge discrimination for purposes of conciliation and, if need be, litigation.1 The regulation has three key features: 1) codifying when and how OFCCP escalates an audit to the next stage,2 2) requiring OFCCP to disclose to the contractor its statistical methods for arriving at its conclusions3 and 3) requiring OFCCP in most instances to not rely on statistical evidence alone in findings of potential discrimination.4
OFCCP issued a proposed rule on March 22, 2022, that would largely rescind the PDN Rule.5 In general, the proposed rule would rescind the second and third features – the requirements that OFCCP disclose its statistical data and rely on more than statistics when finding potential discrimination. It also makes smaller adjustments to the audit process such as giving contractors only 15 days instead of 30 to respond to a predetermination notice.
Similar to other changes in the works by OFCCP, the proposed revisions of the PDN Rule appear calculated to grant the agency more flexibility, both legally and procedurally.
4. The Affirmative Action Verification Initiative (AAVI)
OFCCP has implemented the long-awaited Affirmative Action Verification Initiative (AAVI) and has established its online portal for contractors to verify that they have an affirmative action program in place. Under this program, a federal contractor must certify on an annual basis that it is meeting its obligations to develop and maintain affirmative action programs. From March 31, 2022, through June 30, 2022, federal contractors must access this portal and certify the status of their affirmative action programs. The certification process does not require that the contractor submit its affirmative action plans to OFCCP – that obligation arises only in connection with compliance evaluations. The portal includes additional information such as OFCCP answers to frequently asked questions and "how to" videos.
In connection with this certification process, a contractor must certify as to one of the following three categories: 1) the entity has developed and maintained affirmative action programs at each establishment, as applicable, and/or for each functional or business unit, 2) the entity has been party to a qualifying federal contract or subcontract for 120 days or more and has not developed and maintained affirmative action programs at each establishment, as applicable or 3) the entity became a covered federal contractor or subcontractor within the past 120 days and therefore has not yet developed applicable affirmative action programs. By certifying that it has developed and maintained affirmative action programs, the contractor is stating that it has developed affirmative action programs under Executive Order 11246, the Vietnam Era Veterans Readjustment Assistance Act (VEVRAA) and Section 503 of the Rehabilitation Act.
5. A Potential Rule on Subcontractor Coverage
As both Directive 2022-02 and AAVI indicate, OFCCP is looking to expand its enforcement footprint against subcontractors. This expansion of enforcement may be enlarged further still by a potential rule in the near future. For the first time in the Fall 2021 Regulatory Agenda, OFCCP listed a proposed rule that "would add provisions[] to the regulations implementing Executive Order 11246 requiring contractors to provide notice when they award supply and service subcontracts." The listing further states that "the notice would include information currently unavailable to OFCCP, enabling it to schedule supply and service subcontractors for compliance evaluations."
Executive Order 11246 has always covered subcontractors, but OFCCP traditionally has done little to audit them. This potential rule, along with AAVI, would provide a way for OFCCP to begin doing so in a systematic way. This would be a dramatic expansion of OFCCP's jurisdiction in practice. Further, it could catch many subcontractors unawares, as many depend on contractors flowing down clauses to them to be aware of their potential federal obligations.
Conclusion
As anticipated, OFCCP under Director Yang will be more aggressive, with a focus on compensation issues and overall contractor compliance. With these new directives and initiatives (and a June 30, 2022, deadline for certifications under AAVI), contractor should take steps now – including conferring with counsel on strategic approaches to OFCCP's requirements – to ensure compliance and to prepare for potential compliance evaluations.
If you have any questions about OFCCP and these requirements, please contact the authors.
Healthcare Spotlight: Ineligible Healthcare Providers Found in VA Community Care Program
Last week, the Government Accountability Office (GAO) testified before members of the House Veterans' Affairs Committee on their findings from a recent report on the Veterans Community Care Program (VCCP). GAO found that VCCP controls were often inadequate in ensuring that only eligible healthcare providers were able to participate in the program. In its review, GAO identified approximately 1,600 healthcare providers who were ineligible to work with the Federal Government (of 800,000 providers assessed). These healthcare providers were ineligible because they had revoked or suspended medical licenses, appeared in SAM.gov's exclusions file, or failed to meet other VCCP criteria. While the number of ineligible providers represented a small percentage of the total number of healthcare providers that may receive referrals through the VCCP, GAO and the House Veterans Affairs Committee members are concerned about the potential risks to veterans. In addition, veterans seeking care from community providers has grown in recent years. GAO reports that, "[a]ccording to the VA, the number of veterans who received community care from non-VHA providers increased from approximately 1.1 million in 2014 to 1.8 million in 2020."
VHA and the two Third Party Administrators (TPAs), that are contracted to develop and manage the VCCPs network of providers, are responsible for managing the networks of healthcare community providers. While VHA and the TPAs have controls in place to identify eligible healthcare providers, the existing controls proved to be inadequate in some instances. For example, GAO found that VHA did not conduct some automated checks on a monthly basis as expected.
The following chart shows the eligibility requirements for the VCCP: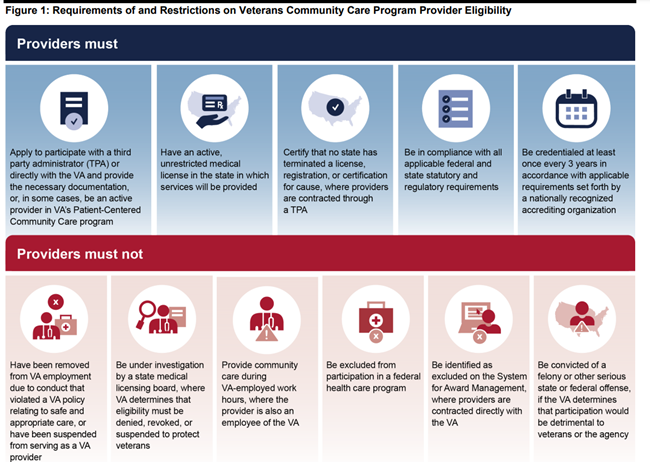 The primary resources that VHA and TPA contractors use to screen for ineligible providers are: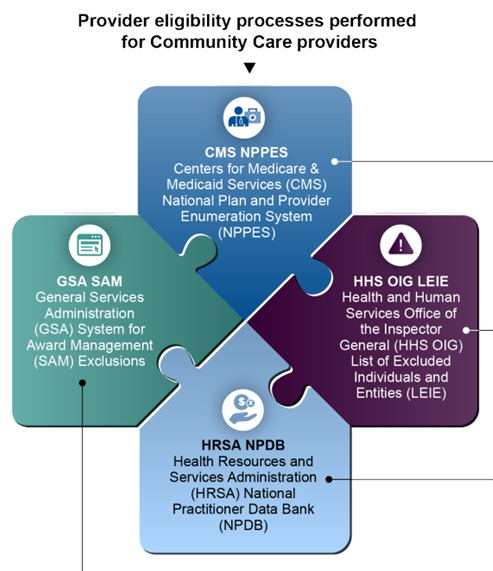 See page 4 of the GAO's March 30th testimony for more details.
The 1,800 ineligible healthcare providers that GAO identified in its report included:
27 providers who appeared on the Department of Health and Human Services (HHS) Office of Inspector General (OIG) List of Excluded Individuals and Entities (LEIE) exclusions list;
16 providers who appeared on the U.S. General Services Administration (GSA) System for Award Management (SAM) exclusions file;
601 deceased providers listed on the HHS National Plan and Provider Enumeration System (NPPES) monthly NPI deactivation file;
216 providers with revoked licenses;
796 providers who surrendered their licenses in response to investigation; and
37 providers who had a fraud-related judgement or conviction.
In December 2021, GAO made 10 recommendations designed to strengthen existing controls and ensure that they are consistently enforced. The House Veterans Affairs Committee is also considering the Improving Oversight of VA Community Care Providers Act of 2022 (HR 7277) to address weaknesses in the VCCP program.
Discounted Training Offerings for Coalition Members
To complement the Coalition's current education and training offerings, we have partnered with Federal Publications Seminars (FPS) to provide even more online training courses to our members at an affordable price.
FPS will provide Coalition members access to an annual training subscription to both the FPSOnline Professional and FPSOnline Premium curriculum for $395 and $1,795 per person/year, respectively. These fees represent nearly a 50% discount off the FPS retail price of each online curriculum.
The FPSOnline Professional subscription, regularly priced at $795, includes unlimited access to all live and on-demand webinars and webinar series. There are more than 550+ webinars in the on-demand library, and 100+ live webinars and series produced each year. The discounted subscription can be purchased here FOR $395 using this promotional code 395THECGP2022.
The FPSOnline Premium subscription, regularly priced at $2,495, includes the Professional subscription benefits listed above plus unlimited access to 150+ live and on-demand 1-5-day virtual training courses which are offered annually. The discounted subscription can be purchased here for $1,795 using this promotional code  1795PREMCGP2022.
Other highlights include:
8-12 NEW live webinars offered each month; most of which are CLE/CPE approved;

Live virtual 1-5 day training courses offered annually and in the classroom;

Live webinars and on-demand courses are usually 60-90 minutes in length and cover everything from emerging hot topics to more substantive compliance and regulatory issues like CMMC – What this Means for Industry, Cost Accounting Standards, Effective Ethics Programs for Suppliers, and FAR Part 37 – Service Contracting; 

A wide collection of government contracting related resources, white papers and job briefs; and 

Downloadable course completion certificates.  
(Please note, FPS Classroom Courses, Certificate Programs, and FPSCustom training are not included in the FPSOnline Professional or Premium subscriptions and may be subject to additional charges from FPS.) 
For more information about this member benefit, please contact Matt Cahill at mattcahill@thecgp.org.
GSA Requests Vendor Support on VPP Updates
On April 6, GSA announced that they would like vendors' support in keeping the Vendor Products Portal (VPP) updated. The VPP was launched in 2021 to enhance the GSA marketplace. As of February 2022, the VPP includes around 350,000 products from about 740 authorized suppliers. The VPP holds authoritative product content, such as standardized manufacturer names, part numbers, and specifications. The VPP also captures authorized supplier information supplied by the OEM or their authorized distributor, allowing GSA to automate supplier authorization enforcement. Some of the benefits to having an updated VPP are: 
Buyers have accurate product descriptions, 

 

Only authorized distributors and resellers are listed, and

 

Products are marketed in the most efficient manner.

 
You can submit a request to book an on-boarding session here. Any questions can be submitted to vpp@gsa.gov.  
Off the Shelf: An Update on NASA SEWP
This week's Off the Shelf focuses the spotlight on the most successful IT GWAC since 2014, NASA SEWP.
Joanne Woytek, Program Manager for NASA SEWP, provides an update on NASA SEWP's performance over the last fiscal year, highlighting key contract features enhancing value and flexibility for customer agencies. 
She shares the latest on how NASA SEWP is performing in supporting small business while meeting customer agency mission needs. 
Woytek also provides an update on the FY23 operational and strategic goals for NASA SEWP, including implementing new internal training for the acquisition workforce. She also provides an update on NASA SEWP's approach to SCRM and how the program plays a unique role in bringing the government perspective to international standards bodies. 
Finally, Woytek touches on the initial thinking/planning for NASA SEWP VI, the follow-on to the current contract, which ends in 2025. 
Listen to episode here.  
Registration Open for GSA's QPC Meeting, May 12
The following announcement about the upcoming Quality Partnership Council (QPC) meeting is provided compliments of GSA: 
GSA's Quality Partnership Council (QPC) will be hosting a VIRTUAL Furniture & Furnishings Industry Meeting on Thursday, May 12 from 1:00 – 4:30 PM PM EST. All furniture, furnishings, flooring, and office relocation suppliers are invited to join us. There is no cost to attend.
REGISTER HERE  
AGENDA Highlights 
Multiple Award Schedule (MAS) Program & Policy Updates 

 

GSA Catalog Management Briefing 

 

Insights on the Future of Federal Real Estate Footprint 

 

Small U.S. Manufacturer Spotlights (see below on how to apply) 

 

Interactive Breakout Discussions




and more… 

 
Upon registration, you will receive a confirmation email with a meeting link. All registrants will receive final agenda closer to the meeting date.
Attention Small Furniture Manufacturers in the USA:
During this MAY 12 virtual QPC meeting, there will be two short small manufacturer spotlights. To be considered for a 2-5 minute pre-recorded video spotlight opportunity, please note your interest on the registration form or send an email to qpc@gsa.gov by April 25. Please DO NOT reply to this email with your submission. Use the subject line, Small Manufacturer Spotlight and include the following in your email:
Company name
GSA contract number
The type of furniture your small business manufacturers in the US
In 250 words or less, how your video spotlight might help those in attendance, including customers, large suppliers and dealers.
Thank you for your partnership. We hope you can join us!
Quality Partnership Council (QPC)
GSA Integrated Workplace Acquisition Center (IWAC)
qpc@gsa.gov 
Register for GSA's April 20 FAST2022 event: "Professional Services: Technical & Engineering Requirements"
On Wednesday, April 20 at 1 pm EST, GSA will host its Federal Acquisition Service Training (FAST) monthly conference, "Professional Services: Technical & Engineering Requirements." 
Don't miss GSA category experts discussing topics such as: 
Technical and Engineering Services Requirements Development

: Learn best practices for developing requirements for technical and engineering services and tools you can use to make your acquisition a success.

 

Crypto Currency and the Future

: Explore the changing crypto-currency landscape within the Federal Government space and hear some real-life examples of what agencies are doing to address their evolving crypto needs. 

 

GSA's Market Research as a Service Tool (MRAS)

: Discover how to access GSA's free Market Research as a Service (MRAS) tool to aid with market research for your professional service acquisitions.

 

Sustainable Acquisitions for Professional Services Requirements

: Hear how to create federal contracts for professional services that are sustainable towards both environmental and societal needs is part of our president's current management agenda and what agencies are doing to meet these new goals today. 

 
Register and attend this no-cost training. 
See the full lineup of the FAST2022 monthly conference series at www.gsa.gov/fast. 
If you have questions about this event, contact fast.event@gsa.gov.