Register Now: 2021 Spring Training Conference – The Biden Administration's Priorities and the Role of Acquisition
The Coalition is pleased to announce that registration is officially open for our 2021 Spring Training Conference – The Biden Administration's Priorities and the Role of Acquisition. The virtual training conference will be held on May 19-20, 2021. Similar to our 2020 virtual Fall Training Conference, the Spring event will combine sessions from our general conference and our healthcare forum with only one registration necessary to attend.
As indicated by the title, this year's conference offers multiple sessions that cover four of the Biden Administration's top priorities, including the COVID-19 response, Sustainability, Made in America and Domestic Sourcing, and increased opportunities for Small Businesses to stimulate the economy. Popular sessions from past conferences will also make a return, including both the Legal and the "Healthcare Legal" panels. We are excited to confirm that the conference will feature a "one-on-one" discussion with the General Services Administration (GSA) Federal Acquisition Service (FAS) Commissioner Sonny Hashmi, moderated by Federal News Network's Executive Editor Jason Miller.
We have invited speakers from GSA, the Department of Defense (DoD), the Department of Human and Health Services (HHS), the Department of Veterans Affairs (VA), the Government Accountability Office (GAO), the National Aeronautics and Space Administration (NASA), the Office of Management and Budget (OMB), and the Small Business Administration (SBA) to participate in the conference.  Procurement programs and initiatives like GSA's BIC MAC, the partnership between the VA and the Defense Logistics Agency, IT Modernization and Cybersecurity requirements for all contractors will also be on the agenda.
We urge members to review the full draft agenda here. The registration link can be found here. If you are interested in sponsorship opportunities, please contact Matt Cahill at mattcahill@thecgp.org.
Day One
To kick off the Spring Conference, we have invited Michael Parrish, Principal Executive Director and Chief Acquisition Officer of the Department of Veterans Affairs (VA) Office of Acquisition, Logistics, and Construction (OALC) to discuss his vision for the VA's acquisition operations and contracting programs during the Keynote Address for day one.
The Keynote Address will be followed by the Legal Panel, which will feature the team of Jonathan Aronie, Partner, Sheppard Mullin (invited); Lorraine Campos, Partner, Crowell & Moring (confirmed); David Dowd, Partner, Mayer Brown (confirmed); and Jason Workmaster, Member, Miller & Chevalier (confirmed) to discuss the latest Federal procurement related legal developments.
After a lunch break, we will be holding our first two concurrent afternoon sessions: The Cyber and Supply Chain Panel, and the VA and DLA Partnership Panel. The Cyber and Supply Chain Panel, moderated by Bob Metzger, Shareholder, Rogers Joseph O'Donnell (confirmed), includes John Tenaglia, Principal Director, DPC (confirmed); Katie Arrington, Chief Information Security Officer for Acquisition and Sustainment, DoD (confirmed); and Bob Kolasky, Director of the National Risk Management Center, DHS (confirmed).
Next on the agenda, we have invited Phil Christy, OALC Deputy Executive Director, VA; and Bill Kenny, Executive Director, Contracting and Acquisition Management, DLA to join the VA and DLA Partnership session.  This panel will be followed by the concurrent VA Modernization Panel and the Systems and Consolidated MAS Panel. Phil Christy has also been invited to participate in the VA Modernization Panel, and he will be joined by Andrew Centineo, Executive Director, Procurement and Logistics, VHA (confirmed) to discuss VA's plans to modernize its supply chain. At the same time, we have invited the GSA team of Judith Zawatsky, Assistant Commissioner, Office of Systems Management; Stephanie Shutt, Director, MAS PMO; and Steve Sizemore, Project Manager, MAS PMO to provide updates on GSA e-systems and Schedules consolidation during the Systems and Consolidated MAS Panel.
The final two concurrent afternoon panels for day one are the Sustainable Procurement Panel and the Services Marketplace Panel. For the Sustainable Procurement Panel, we have invited Sonal Larsen, Senior Advisor to the Administrator, Climate, GSA (confirmed); Holly Elwood, Senior Advisor, Environmentally Preferable Purchasing Program, EPA; and Porter Glock, Procurement Analyst, Office of Management and Budget, Office of Federal Procurement Policy. This session will be moderated by Steve Schooner, Nash & Cibinic Professor of Government Procurement Law, George Washington University College of Law (confirmed). The Services Marketplace Panel features Tiffany Hixson, Assistant Commissioner, Office of Professional Services & Human Capital Categories, GSA (invited); Laura Stanton, Assistant Commissioner, Information Technology Category, GSA (invited); and Crystal Philcox, Assistant Commissioner, Enterprise Strategy Management, GSA (invited).
At the conclusion of day one, we will be holding eight breakout sessions. These breakouts include Office Products; Industrial Products/Update from the SSAC; Services; IT; VA Pharmaceuticals; VA FSS; DLA MSPV; and Small Business Opportunities. Be sure to check the agenda to see which government speakers we have invited to participate.
Day Two
Day 2 will be another day of informative sessions, where we will begin with Katy Kale, GSA's Deputy Administrator, whom we have invited to deliver the second Keynote Address. At this time, we hope to hear her vision for how GSA's governmentwide acquisition programs are working to support the Administration's priorities.
After the Keynote Address, members will have the option to choose between attending the COVID Logistics and Acquisition Panel and the FAS Panel. The COVID Logistics and Acquisition Panel will be joined by Jeff Koses, Senior Procurement Executive, GSA (invited); Brig. Gen. David Sanford, Director, Supply Chain Advisory Group, United States Air Force (confirmed); and Joe Hamel, Strategic Innovation and Emerging Technology Manager, HHS (confirmed). For the FAS panel, we have invited a number of GSA executives, including Tom Howder, Deputy Commissioner; Charlotte Phelan, Assistant Commissioner, Office of Travel, Transportation, and Logistics; Erv Koehler, Assistant Commissioner, Customer Accounts and Stakeholder Engagement, GSA; and Mark Lee, Assistant Commissioner, Office of Policy and Compliance.
Members will then choose to attend either the View from the Senate Panel or the Oversight Panel. Tim Cook, Executive Director of the Center for Procurement Advocacy, will moderate the View from the Senate Panel, where we have invited David Weinberg, Staff Director, Senate Committee on Homeland Security and Governmental Affairs; and Arun Seraphin, Professional Staff Member, Senate Committee on Armed Services to participate. Oversight experts Michael Missal, Inspector General, VA (confirmed); and Shelby Oakley, Director, GAO (invited) will speak during the Oversight Panel.
After a lunch break, we will resume with the Healthcare Legal Panel, and the previously mentioned Discussion with FAS Commissioner Sonny Hashmi. The Healthcare Legal Panel consists of James Kim, Partner, McDermott Will & Emery (confirmed); Joy Sturm, Partner, Hogan Lovells (confirmed); Stephen Ruscus, Partner, Morgan Lewis (confirmed); and Jonathan Aronie, Partner, Sheppard Mullin (invited), who will discuss recent healthcare-related policies and legal developments. The confirmed Discussion with FAS Commissioner Sonny Hashmi, moderated by Jason Miller with Federal News Network, will cover the Commissioner's vision for FAS operations in delivering best value mission support to customer agencies, as well as how FAS is supporting the Administration's priorities.
Our final two panels are the IT Modernization Panel and the Buy American and Domestic Sourcing Panel. We have invited Dave Zvenyach, Director, Technology Transformation Services, GSA; Keith Nakasone, Deputy Assistant Commissioner, Acquisition, Office of IT Category, GSA; and Nick West, Deputy Director, Office of Policy, Integrity & Workforce, GSA to provide their expertise during the IT Modernization Panel. The Buy American and Domestic Sourcing Panel consists of the diverse team of Kim Herrington, Principal Director/Acting Deputy Assistant Secretary of Defense, Industrial Policy, DoD (confirmed); Dr. Gary Disbow, Director, Biomedical Advanced Research and Development Authority, HHS (invited); Jean Heilman Grier, Principal and Manager, Trade Practice, Djaghe LLC (confirmed); and Scott Calisti, Director, Contract Policy, DPC (invited). The session will be moderated by Moshe Schwartz, President, Etherton and Associates (confirmed).
Six more breakout sessions will be offered during the second day. These breakouts include VA MSPV Program; DLA/DHA Pharmaceuticals; GWAC/MAC; Global Supply/4PL; BIC MAC; and Furniture. Once again, the invited speakers for these sessions can be found in the agenda.
The Coalition is thrilled to be hosting this comprehensive two-day conference featuring experts across Government and industry. If you have any questions about the agenda, please contact Michael Hanafin at mhanafin@thecgp.org. In the meantime, we sincerely hope you will plan to attend this important event.
President Releases 2022 Budget Request
President Biden submitted the discretionary budget request for fiscal year (FY) 2022. The budget request includes $769 billion for civilian agencies (a 16 percent increase from 2021) and $753 billion for defense spending (a 1.7 percent increase from 2021).  
The budget includes an increased focus on public health and defeating the COVID-19 pandemic, including $8.7 billion for the Centers for Disease Control and Prevention (CDC). The budget also focuses on fighting climate change, and includes $2 billion for the General Services Administration (GSA) to improve Federal buildings and reduce the Government's carbon footprint. A summary of the budget prepared by GovExec is provided below.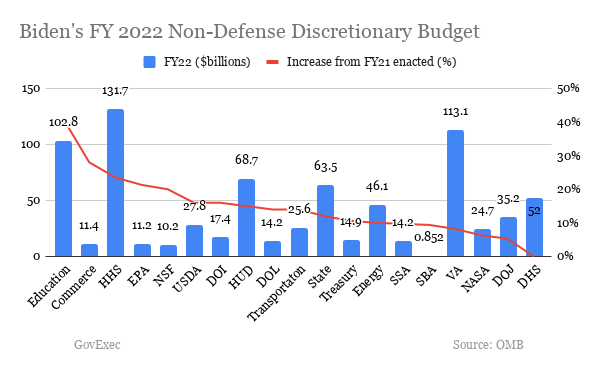 White House Announces DoD and Cybersecurity Nominations 
On April 12, Biden announced his intent to nominate Christine Wormuth for Secretary of the Army. During
the Obama Administration, Wormuth served as Under Secretary of Defense (Policy). Wormuth joined the Obama Administration as the Principal Deputy Assistant Secretary of Defense for Homeland Defense and Civil Support. Currently, she is the Director of the International Security and Defense Policy Center at the RAND Corporation. If Wormuth is confirmed by the Senate, she will be the first woman to serve in the role.  
President Biden also announced his intent to nominate Jen Easterly as the Director of Cybersecurity and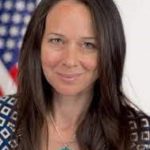 Infrastructure Security Agency (CISA). Easterly served on the Biden-Harris Transition Team as the CyberPolicy Lead. Previously, Easterly served as the Special Assistant to the President and Senior Director for Counterterrorism, and as the Deputy for Counterterrorism at the National Security Agency (NSA). Currently, Easterly is the head of Firm Resilience and the Fusion Resilience Center at Morgan Stanley.  
The nominee for National Cyber Director, Executive Office of the President will be Chris Inglis. Inglis retired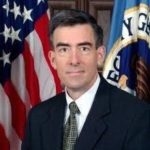 from the Department of Defense (DoD) in 2014. During his service at DoD, Inglis spent seven and a half years as Deputy Director at the National Security Agency (NSA). Currently, he serves as a U.S. Naval Academy Looker Distinguished Visiting Professor for Cyber Studies, a Commissioner on the U.S Cyberspace Solarium Commission, a Managing Director at Paladin Capitol, and a member of the boards of several public and private corporations.  
GSA Support
 for
 TMF 
and Agency Modernization
Fedscoop reported that the General Services Administration (GSA) plans to lend tech and acquisition expertise to Federal agencies to support the expansion of the Technology Modernization Fund (TMF). The TMF received $1 billion to support Federal IT modernization efforts through the American Rescue Plan. GSA may use expertise from the Centers of Excellence (CoE) and the Presidential Innovation Fellows programs to support agency modernization goals.  
Federal Acquisition Service (FAS) Commissioner Sonny Hashmi has also announced that the Government is reviewing how TMF investments are made and is reconsidering the repayment process for TMF funds.  Dave Zvenyach, Technology Transformation Service Director and Deputy Commissioner for the FAS, noted that "There are a range of specific initiatives we're looking at. Everything from [the Federal Risk and Authorization Management Program] to improving forms and digitizing paper-based services." 
$500 Million in Additional Funding in Budget Request
On April 9, the White House requested an additional $500 million for the Technology Modernization Fund (TMF) in the latest budget, reported FedScoop. In the last COVID-19 relief bill, the American Rescue Plan Act, the TMF received $1 billion. The General Services Administration (GSA) will play a key role in managing TMF.  
There is also a request to increase funding to the Cybersecurity and Infrastructure Security Agency (CISA) to $2.1 billion. The increase for CISA will be for enhanced cyber tools, hiring, and support services. There will also be $20 million used for a Cyber Response and Recovery Fund. The White House wants a reserve of $750 million for agencies' IT enhancements.  
The Department of Veterans Affairs' (VA) Office of Information Technology may see, if the budget is approved by Congress, $4.8 billion to support cloud modernization and $2.7 billion for the Electronic Health Record (EHR) modernization.  
Finally, the National Science Foundation (NSF) may receive an increase in funding of $10.2 billion for cybersecurity research, advanced communication, establishing a new directorate for prioritizing practical applications of AI, and high-performance computing. 
CMMC Final Rule Expected Next Month
According to Fedscoop, the Cybersecurity Maturity Model Certification (CMMC) final rule is expected to be finished within the next 30-40 days. CMMC is a standard for cybersecurity implementation across the Defense industrial base. The interim final rule, issued in September, received feedback from industry that the Department of Defense (DoD) is currently examining. The interim final rule made CMMC effective in December 2020, but included a comment period for industry feedback. One of the main questions surrounding CMMC is about reciprocity between the rule and other Federal cyber compliance programs. DoD will be posting directions addressing this question in its CMMC Assessment Guides that the Department is also working on. 
Now Available: The MAS Contractor Survey on CCP and SIP Replacement
The General Service Administration's (GSA) Catalog Management Office (CMO) is in the process of developing requirements for its Common Catalog Platform (CCP) interface, and is seeking industry's feedback on processes and policy changes to help complement the system modernization. The CCP will integrate with contracting systems, introduce new features and functionalities, and replace the Schedule Input Program (SIP) for Multiple Award Schedule (MAS) contractors. The survey is intended for MAS contract holders, and should be completed by employees familiar with managing contract/catalog modifications. Responses are due by Tuesday, April 20. 
Legal Corner: Finding the Weak Links – President Biden Executive Order Demands Review of Critical U.S. Supply Chains
By Nikole Snyder, Townsend Bourne & David Gallacher; Sheppard Mullin
The Legal Corner provides the legal community with an opportunity to share insights and comments on legal issues of the day. The comments herein do not necessarily reflect the views of The Coalition for Government Procurement. 
On February 24, 2021, President Biden signed Executive Order 14017, "Executive Order on America's Supply Chains," requiring a review of global supply chains that support key U.S. industries in an attempt to improve supply chain security for the U.S. government and U.S. companies. The new Executive Order appears to be an initial step focused on information gathering. Comprehensive reforms and supply chain strategies are likely to follow once the White House has collected key information.
The Order outlines two types of assessments by government agencies: (1) an initial 100-Day Supply Chain Review focusing on key supply chain risks relating to semiconductors, batteries, strategic minerals, and pharmaceuticals; and (2) Sectoral Supply Chain Assessments in certain critical business sectors (e.g., national defense, public health, information and communication technology, energy, transportation, and agriculture), which will determine the extent to which these critical sectors are reliant on products from so-called "competitor nations." Both categories of assessments require coordination among various executive agency heads, the Assistant to the President for National Security Affairs ("APNSA"), and the Assistant to the President for Economic Policy ("APEP").
The initial "100-Day Supply Chain Review" requires, over the next 100-days, various agencies to assess vulnerabilities and consider potential improvements in four areas:
| | |
| --- | --- |
| Supply Chain Area | Responsible Agency |
| Semiconductor manufacturing | Department of Commerce |
| High-capacity batteries (including those for electric vehicles) | Department of Energy |
| Rare earth elements | Department of Defense |
| Pharmaceuticals | Department of Health and Human Services |
The broader "Sectoral Supply Chain Assessments" must be completed within the next year. For these assessments, the Order requires similar reports, but covering a broader range of supply chains, not focused as much on specific products or technologies:
| | |
| --- | --- |
| Supply Chain Area | Responsible Agency |
| Defense | Department of Defense |
| Public health and biological preparedness | Department of Health and Human Services |
| Information and communications technology | Department of Commerce / Department of Homeland Security |
| Energy | Department of Energy |
| Transportation | Department of Transportation |
| Agriculture and food production | Department of Agriculture |
The review called for in the Executive Order was prompted, at least in part, by a global shortage of semiconductors (a key component in card and electronic devices), which began shortly after the Coronavirus pandemic began in 2020. The shortage highlighted the need for the U.S. to refocus on its supply chain security for critical items by reducing its dependency on foreign countries.  But, as noted in the Order, the government is looking at other issues more broadly beyond semiconductors, attempting to ensure that the U.S. (and other friendly nations) continue to have access to cutting-edge technologies while reducing reliance on supply chains that are vulnerable to disruptions and to interference by foreign powers.
The Administration has noted this Order is intended to be a successor to the "Ensuring the Future is Made in All of America by All of America's Workers" Order that President Biden signed on January 25, 2021. (You can read our previous blog about that Order here). This Order, along with the 2021 National Defense Authorization Act, Pub. L. No. 116-283 (you can read about the key provisions, including those on supply chain security, here), continue to indicate supply chain security likely will be a primary focus for the Biden Administration.
Industry partners may find themselves asked by agencies for input on these reports. To ensure that the government has the latest information, especially regarding supply chain risks, companies may find it useful to cooperate with these reviews. Where the end-result will inevitably be tightened restrictions requiring more U.S.-sourced products (including, potentially, products sourced from U.S. allies), and where the heightened restrictions will almost invariably mean higher costs, industry should be prepared to help government agencies conduct a proper cost-benefit analysis when making supply chain recommendations to the White House.
Healthcare Spotlight: VA 
Reviews
 EHR 
Progra
m Amid Congressional Concerns with Rollout
Federal News Network reported that the initial rollout of the Department of Veterans Affairs (VA) Electronic Health Record (EHR) system at VA Mann-Grandstaff Medical Center in Spokane was not as successful as previously reported. Six leaders from the House and Senate VA Committees wrote a letter to the VA expressing their concerns about the system in late February following a visit to Spokane by VHA leadership to investigate some of the reported issues with the EHR deployment resulting in "prolonged loss of productivity" at Mann-Grandstaff. In response, VA Secretary Dennis McDonough launched a strategic review of EHR in late March. VA employees and Congressional stakeholders both support the review, seeing it as a crucial step to set EHR on the right path.  
The House Veterans Affairs Technology Modernization Subcommittee held a hearing on April 14 regarding the rollout. Congressional stakeholders are seeking a highly specific account from the VA about the system's challenges, as well as a concrete action plan on how to resolve them.  
Some of the issues the system faced included patients' addresses being migrated incorrectly, data migrating incorrectly when being transferred across EHR modules, and an increase in time for community care referrals. Some VA employees have referred to the system as tedious and the rollout has reportedly negatively impacted employee morale. 
Congressional stakeholders see the review as a pivotal moment for EHR modernization efforts. Secretary McDonough said that he will inform Congress if the review shows that the VA needs to reconsider the project. The review could take up to 12 weeks. The Congressional stakeholders do not want the VA to try to stick to a strict timeline for the review, but would rather see the department conduct a highly detailed review with concrete goals and metrics, even if that means delaying future EHR deployments. The GAO also recently released a report on this subject in February, urging the VA to postpone deployment of the EHR system beyond Spokane until certain critical issues were resolved. 
Coalition Member Meeting with the MAS PMO, April 22
The Coalition will hold a member meeting with Stephanie Shutt, the Director of the MAS PMO on Thursday, April 22 at 10:00 am EDT. The meeting will focus on the GSA Schedules, including Sch
edule pricing policies. If you have any questions about the meeting, please contact Sean Nulty at snulty@thecgp.org.
Virtual Coalition Meeting with MAS PMO
Thursday, April 22 at 10:00 am EDT
Please RSVP to Michael Hanafin at MHanafin@thecgp.org to receive the dial-in .
 
GSA Seeking 
Users 
to
Test SAM.gov
The General Services Administration (GSA) posted a notice that the agency is allowing users to participate in testing functions of the new SAM.gov. Categories for testing include entity registration, entity search and view, role management, and entity reporting. GSA is looking for both Federal and non-Federal users to test the system. There are six different areas to test, each with its own sign-up link. The number of testing slots is limited. After registering, an email will be sent that contains the date, time, and link for the testing. See the links below: 
Open for All Users 
Open for Non-Federal Users Only 
Open for Federal Users Only 
DHS and GSA Aim to Improve Contractor Assessments
Federal News Network reported that the General Services Administration (GSA) and the Department of Homeland Security (DHS) are offering initiatives to address shortcomings in contractor assessments. DHS is implementing artificial intelligence tools into its Contractor Performance Assessment Reporting System (CPARS) process. The pilot program to develop these tools is currently in phase two, with five companies working to develop the software. DHS, along with nine other agency partners, are reviewing the pilot. Phase three will begin in July, and DHS aims to have the tool launch in January 2022. DHS may offer the tool as a shared service.  
GSA is promoting the use of vendor self-assessments to improve its CPARS process. GSA issued a memo in February that spoke about self-assessments. In the memo, Jeff Koses, GSA Senior Procurement Executive, wrote that the self-assessments will help contractors save time while allowing them to also speak about their performance. Having contractors track their own performance may also lead to fewer performance issues. GSA would like to see the Office of Federal Procurement Policy (OFPP) issue a memo that would encourage the use of self-assessments on a Governmentwide scale. 
Off the Shelf: 
The Evolving Federal Market for Small Businesses 
This week on Off the Shelf,  David Black, Partner at Holland & Knight and Ken Dodds, Government Contracting Industry Expert at Live Oak Bank, discussed the latest policy, program, and legal developments impacting small businesses in the federal market. 
Black and Dodds shared their analysis of two recent and divergent bid protest decisions, one at GAO and one at the Court of Claims, that address the application of  the "rule of two"  to competitive task orders issued under multi-award IDIQs. 
They also provided an update on key changes in Mentor-Protégé Joint Ventures that provide greater competitive opportunities for such ventures in the federal market, and, by extension, the small businesses participating in such ventures. 
Among other topics, Black and Dodds tackled Small Business Innovation Research (SBIR) innovations and Phase III award eligibility, Paycheck Protection Program (PPP) loans and refunds to agencies under cost reimbursement contracts, and the pending issuance of a final FAR rule addressing limitations on subcontracting.  It's a can't-miss show for those wishing to get the latest insights on the evolving federal market for small businesses. 
Click here to listen to the full show.  
GSA 
Resources on 
the Recent
 Temporary Waivers 
for
 COVID-19
On April 14, General Services Administration (GSA) posted an announcement on GSA Interact with additional details about a Temporary Waiver of certain Multiple Award Schedule (MAS) solicitation requirements in response to COVID-19. GSA explained that the waiver applies to new offerors proposing products, services, and/or solutions in direct support of COVID-19 response efforts and existing MAS contractors adding service SINs in direct support of COVID-19 response efforts. The waiver does not apply to Veteran Affairs Multiple Award Schedules for medical equipment, supply, pharmaceutical and services nor any offers or modifications that include products, services and/or solutions that do not directly support COVID-19 response efforts. GSA also answered some frequently asked questions about the waiver from industry. In addition to the recent waiver, there are other policies that GSA has issued to support the COVID-19 response, such as: 
Deferring MAS contract cancellations

 

for contractors that haven't met the minimum sales criteria outlined in I-FSS-639 Contract Sales Criteria;

Issuing

 

a non-availability determination for Trade Agreement, Buy American Statute Class

Determination which allows FAS CO's to temporarily award non-TAA compliant products to support COVID-19 requirements;

Purchase Exceptions

 

from the 

AbilityOne Program;

I

mplementation of Emergency Acquisition Flexibilities (increases to micro-purchase threshold and SAT).
To access GSA's Interact post and the FAQs for industry, click here. 
DoD 
Request for
Comments on America's Supply Chains EO
On April 13, the Department of Defense (DoD) released a notice of request for public comments on the Executive Order (EO) America's Supply Chains. The EO was released on February 24 and requires Government actions to secure and strengthen America's supply chain. The EO focuses on four specific industries: semiconductors, electric-vehicle batteries, rare earth elements, and pharmaceuticals. As required by the EO, the Secretary of Defense, who leads the National Defense Stockpile, will submit, within 100 days, a report identifying risks in the supply chain for strategic and critical materials, including rare earth elements, as well as policy recommendations to address the risks.
 DoD is requesting comments and information about the policy objectives in the EO. There are fifteen elements that DoD would like comments to specifically address, including how to diversify production sources for critical supplies, and how to reduce exposure to supply shocks. Comments on the EO are due by April 28, 2021. 
GSA FAST Monthly Conference Series
On April 22 at 1:00 pm EDT, the General Services Administration (GSA) will host its Federal Acquisition Service Training (FAST) monthly conference webinar on Electronic Record Management. This is the second webinar in the series, and you can see the full list of webinars here. This webinar will explore buying practices and market trends related to Electronic Record Management. There will be overviews and demonstrations of GSA's e-tools, and attendees will have access to tailored acquisition planning resources. See the full webinar announcement here. Click here to RSVP. 
April 22 Webinar: Procurement Collusion Strike Force (PCSF): How You Can Reduce Your Antitrust Risk
The Coalition is pleased to host an upcoming webinar on April 22 titled, Procurement Collusion Strike Force (PCSF): How You Can Reduce Your Antitrust Risk. Our presenter will be recent DOJ Antitrust Division prosecutor and original member of the PCSF, Justin P. Murphy, who is currently a Partner at McDermott Will & Emery LLP.
With a 10% budget increase for FY2021 and proposed legislation that would increase the Antitrust Division's budget by $300 million, antitrust criminal enforcement is poised to accelerate. Historically, cartel enforcement has increased following economic downturns and substantial federal stimulus packages. For example, after the 2008 financial crash and the 2009 Recovery Act, DOJ filed 60% more criminal cases than in prior years. We expect this trend to continue in the wake of the unprecedented government stimulus packages passed in 2020 and 2021. Beyond the increased resources, the Antitrust Division has stepped up their criminal enforcement program with the creation of the Procurement Collusion Strike Force (PCSF), the expansion of criminal prosecutions into labor markets, and new potential benefits for corporate entities with compliance programs addressing antitrust violations.
In this webinar, Justin will be addressing the following topics:
Criminal antitrust violations, including case examples of price fixing, bid rigging, market/customer allocation, and recent investigations and prosecutions into labor markets;

The expected industry focus of the Biden Administration;

The PCSF and "red flags of collusion";

The Antitrust Division's new Corporate Compliance Guidance which for the first time permits credit for compliance programs at the charging recommendation stage and could result in a non-prosecution or deferred prosecution agreement; and

What companies can do to reduce their antitrust risk.
Click here to register.