Healthcare Products and Pharmaceuticals:  Addressing Resiliency in a Challenging Global Economy
The COVID-19 pandemic and associated domestic shortages of certain healthcare supplies and pharmaceuticals during the initial response have given rise to new perspectives on the status of global supply chains.  As a nation, we have lived for years with an increasing sense of limitless abundance.  For instance, our shelves were stocked with produce from around the globe, making the supply limits of growing seasons seemingly disappear.  Likewise, with the production lines of manufactured items distributed in different countries, we have reaped the rewards of innovation at optimized pricing.  Although the benefits achieved are a testament to the great breadth of our supply chains, the vulnerabilities uncovered during the pandemic demonstrate a critical underlying national risk associated with that great breadth.
That risk became most evident in the supply chain for healthcare supplies and pharmaceuticals.  In the early days of the pandemic, the world faced a shortage of personal protective equipment (PPE).
Nowhere to be found were hospital gowns and gloves, surgical masks and respirators, goggles, and face shields. …
By early April [2020], the Strategic National Stockpile for PPE … was essentially depleted. …  The decrease in US imports from China was not accompanied by a comparable increase in imports from elsewhere. …
China was the source of most of the increase in US import volumes in the second through fourth quarters of 2020 for most products. Imports of masks and respirators, as well as hospital gloves, also began arriving in significantly increased quantities from Vietnam and Malaysia, respectively.
(Brown, Chad P., "How COVID‐19 Medical Supply Shortages Led to Extraordinary Trade and Industrial Policy," https://www.ncbi.nlm.nih.gov/pmc/articles/PMC8441910/ (citations omitted)).
Increasingly, Federal policymakers have become aware that our public health supply chain is challenged.  In the last Congress, representatives of both sides of the aisle introduced legislation recognizing this challenge and our nation's vulnerability.  By way of example, one bill, the "Bring Entrepreneurial Advancements to Consumers Here in North America Act," contained findings highlighting the fact that the U.S. depends on foreign sources, notably China, for its medical devices and an overwhelming amount of its medicine.  The bill called for incentives to be put in place to bring the manufacture of those devices and medicine back to the U.S.
The foregoing suggests the reality that, when we consider the important role of these products to the economy and our survival, the integrity and resiliency of the supply chains for healthcare products and pharmaceuticals, fundamentally, is a national security issue.  For instance, notwithstanding the nation's significant dependence (and spending) on foreign sources for healthcare products and pharmaceuticals, according to CMS, in 2020, healthcare spending represented 19.7 percent of the U.S. Gross Domestic Product (GDP).  Thus, disruption in the supply of these products would have a significant, cascading negative economic impact, but that negative impact would represent only the "tip of the iceberg" of harm to our nation.  Without access to these medical countermeasures, sustaining the very health of the nation, from therapies for common maladies to the treatment of complex diseases, future pandemics, and chemical and biological threats, would be put at risk.  Finally, from the standpoint of maintaining an active military to prosecute the defense of the nation, disruption in the supply of the healthcare products and pharmaceuticals critical to the medical readiness of the warfighter would present existential challenges.  Plain and simple, a military debilitated by illness cannot project the force necessary to defend the nation's interests.
This discussion is reflected in the figure below.  Also depicted are the foundational elements that sustain a strong and reliable public health supply chain for the nation.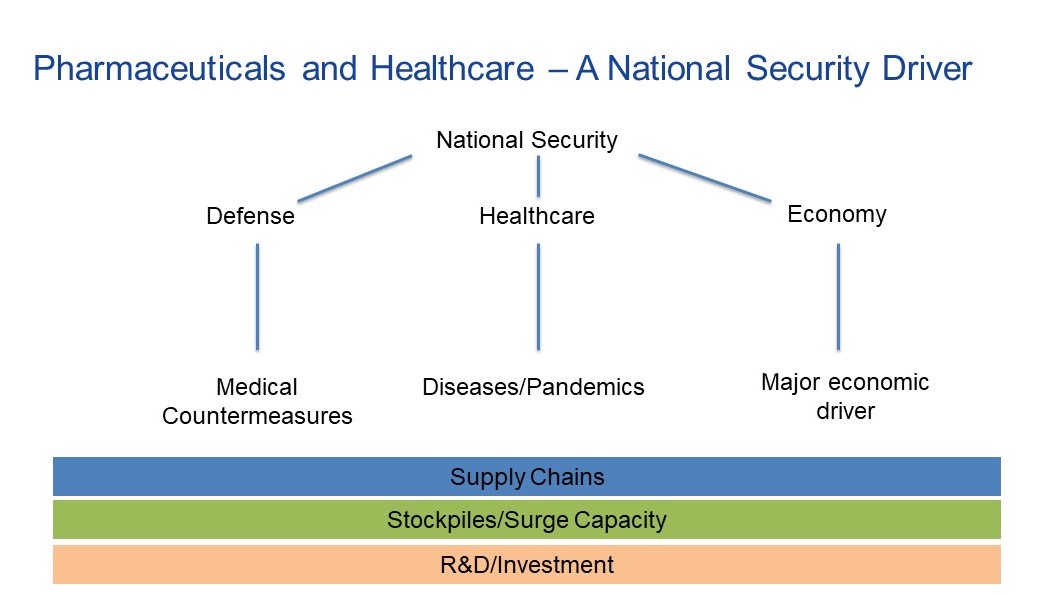 (*Special thanks to Moshe Schwartz, President, Etherton and Associates, Inc., for capturing these concepts in the above figure)
Recently, the Department of Health and Human Services (HHS) issued, "Public Health Supply Chain and Industrial Base – One-Year Report," in which the agency details its efforts in response to Executive Order (EO) 14017, "On America's Supply Chains," specifically, "to help make our public health supply chain and industrial base more resilient, diverse, and secure," and to identify "the successes and practical strategies that HHS is implementing to further the U.S. Government's goals for America's public health supply chain and industrial base."  Among the proposals to address the supply chain here, the report identifies the following:
Standing up a Public Health Industrial Base and Supply Chain Management Program to support domestic manufacturing
Leveraging the Defense Production Act (DPA) to increase support of public health supply and domestic production activity
Identifying the means for sustainable funding for supplies
Executing measures to stockpile medical countermeasures
Improving end-to-end supply chain visibility
Using advanced technologies to assist in competitive manufacturing of supplies
Establishing a virtual innovation center to promote collaboration and speed innovation
Promoting "on-shoring" and "near-shoring" efforts to efforts to establish reliable, resilient supply sources domestically and with allies
We intend to explore these efforts in future blogs, but suffice it to say that the approaches, like those identified by HHS, make sense and promise to go a long way toward preparing the nation for the future healthcare challenges that inevitably will come.  That these proposals wisely seek to enhance collaboration between government and its suppliers is a welcome sign and a harbinger for success.  To that end, the Coalition supports these initiatives to promote not only common-sense acquisition, but also the common defense of our nation.
DoD to Issue CMMC Interim Rule in May 
Federal Computer Week reported that the Department of Defense (DoD) plans to release another interim rule in the coming months for its Cybersecurity Maturity Model Certification (CMMC) program. According to Stacy Bostjanick, Director for CMMC Policy for the Office of the Undersecretary of Defense for Acquisition and Sustainment, the interim rule is expected to be issued in May. Bostjanick added that once the rulemaking process is complete, the last issue to address will be international partners.  
DoD had revamped the CMMC program in 2021, rebranding it as CMMC 2.0. CMMC 2.0 includes "fewer certification levels and the re-introduction of a self-assessment component." In addition, oversight of the CMMC program shifted from the Undersecretary of Defense for Acquisition and Sustainment to DoD's Chief Information Officer earlier this year. A final rule is expected to be issued within the next two years. 
Spring Training Conference: The Federal Customer Experience: June 15-16
After two years of virtual meetings and conferences, we are thrilled to announce our 2022 Spring Training Conference: The Federal Customer Experience, taking place at the Fairview Park Marriott in Falls Church, VA on June 15-16 (Summer isn't technically until June 21!).  The first day will be dedicated to healthcare topics and issues, while the second day will have a governmentwide focus. We encourage you to dust off your dress shoes and join us in-person for this two-day conference where we will hear from a multitude of government speakers and enjoy the comradery we have so deeply missed over the years.  That being said, we recognize and appreciate everyone's unique personal perspectives as we navigate the return of in-person events and are happy to share that we will offer a hybrid attendance option for those who still wish to participate virtually! 
Day one (Healthcare Focus) will kick off with a keynote address, where we have invited Guy Kiyokawa, Assistant Secretary for Enterprise Integration, U.S. Department of Veterans Affairs (VA), to provide opening remarks.  We will then move to several panel discussions, including Customer Experience: VA Procurement & Logistics; Cybersecurity Certifications and How They're Evolving to Meet Future Threats; and Medical Supply Chain Resiliency.  We have invited Dawn O'Connell, Assistant Secretary for Preparedness and Response (ASPR), HHS, to provide a lunch time keynote, and the day will conclude with Customer Experience Breakout Sessions, including DLA Medical/Surgical Prime Vendor (MSPV) Program and ECAT; VA Pharmaceuticals; VA Medical/Surgical Prime Vendor; VA Medical/Surgical Supply BPAs; Update on Drug Pricing Oversight; and VA Non-expendable (NX) Equipment. 
Day two (Governmentwide Focus) will follow a similar format as we have invited Robin Carnahan, GSA Administrator, to serve as our opening keynote.  Panel discussions will include FAS's Role in Meeting Agency Mission Requirements; Cyber Security Requirements; Buy American and Supply Chain Resilience; and OTA's.  We have invited John Tenaglia, Director, Defense Pricing and Contracting, as our lunch time keynote, and will wrap up the day with Customer Experience Breakout Sessions, including E-Commerce Platforms and FEDMALL; Cloud Marketplace; Furniture; Professional Services Category – GSA (Services MAC and Schedules); GWAC/MAC/IT Schedules; Assisted Acquisition Services; GSA Systems; and Global Supply and Services Breakout Session. 
We are equally excited to end day two with a networking reception as there is a lot of catching up to do!  Please help us gain a firm understanding of interest and participation in our 2022 Spring Training Conference: The Federal Customer Experience by registering today!  For food and beverage purposes, it's vital you indicate on your registration whether you plan to attend in-person or virtually (and which days if attending in-person).  Please note, after answering the registration questions, you will need to click the "Save Responses" button before clicking "Complete Registration."  The registration fee includes access to both days, and all sessions will be recorded and available to all registrants to listen to at their convenience if there are any conflicts.  
Lastly, calling all sponsors!  Review exciting sponsorship opportunities and benefits for each day HERE!  Please contact Matt Cahill at 202-315-1054 or mcahill@thecgp.org for commitments or questions.  We truly appreciate your support and can't wait to see you in June! 
DOJ Announces False Claims Act Settlement with Contractor due to Cybersecurity Noncompliance
This week, the Department of Justice (DOJ)  announced the first Civil Cyber Fraud Initiative settlement since the agency  launched the program  in October 2021. Specifically, DOJ concluded a $930,000 settlement with Comprehensive Health Services (CHS) to resolve proceedings regarding the False Claims Act. The purpose of DOJ's initiative is to combat a lack of disclosure and reporting by government contractors when faced with cyber security breaches. The initiative targets companies that knowingly fail to comply with certain cybersecurity requirements. The measure further employs the False Claims Act as an avenue to pursue cybersecurity-related fraud by government contractors and grant recipients. Historically, the False Claims Act has operated as the government's primary civil tool to redress false claims for Federal funds and property involving government programs and operations.  
CHS, a provider of global medical services, was contracted through the Department of Defense to provide medical support services at government facilities in Iraq and Afghanistan. Under one of those contracts, CHS submitted claims to the State Department for the cost of a secure electronic medical record (EMR) system to store all patient medical records, including the confidential identifying information of U.S. service members, diplomats, officials and contractors working and receiving medical care in Iraq. The United States asserted that between 2012 and 2019, CHS failed to disclose that it had not consistently stored patients' medical records on a secure EMR system as required by its contract. Even after staff raised concerns about the privacy of this information CHS did not exclusively store the records on a secure EMR system. Despite being paid to store these records on a secure system, DOJ alleged that CHS did not actually provide that service. This case shows DOJ's renewed focus on combatting cyber fraud as well as a willingness to utilize legal force to pursue these cases. DOJ will target companies that knowingly provide products and services that are noncompliant with the contractually obligated requirements. 
GSA Releases New Order-Level Materials Ordering Guide
On April 14, GSA released its new Order-Level Materials (OLMs) Ordering Guide. OLMs are supplies and/or services acquired in direct support of an individual task or delivery order placed against a GSA Schedule contract or Multiple Award Schedule Blanket Purchase Agreement (BPA). OLMs are purchased under the authority of the GSA Schedules program. The guide is intended for all Federal contracting personnel who use OLM procedures to acquire Other Direct Costs (ODCs) under GSA Schedule contract orders and BPAs. ODCs are costs that were not previously identified as direct material costs, direct labor costs, or indirect costs. According to GSA, the "Guidance for MAS Contractors" will benefit contractors as well as Federal-agency procurement officials. This section includes information on OLM procedures' benefit to industry, order-level pricing requirements, the order-level materials SIN and the ancillary supplies and services SIN, OLMs and transactional data reporting, and more.  Other sections in the guide include OLM's benefit to Federal agencies and acquiring OLMs.  
In addition to the new guide, GSA has a webpage with general information about OLMs at http://www.gsa.gov/olm. 
GSA "Acquisition Policy" Federal Advisory Committee to Focus on Sustainability
GSA published a notice in the Federal Register on April 22 announcing plans to establish an Acquisition Policy Federal Advisory Committee (FAC) to advise the Administrator on how GSA's acquisition tools and authorities can be used to address high-priority challenges. The committee will begin its focus on driving regulatory and process changes to increase climate and sustainability considerations and reduce the carbon footprint of the Federal Government. As an example of GSA's goals related to sustainability, GSA plans to achieve net-zero greenhouse gas (GHG) emissions by 2045. GSA will seek nominations for the committee and plans to have members from both Government and industry. GSA Administrator Robin Carnahan gave the following comment on the importance of the committee: 
"We have a responsibility as the world's largest buyer to solicit ideas from top experts in both the public and private sector about how we approach acquisition, particularly in regards to priorities like advancing sustainability and tackling climate change. I look forward to seeing how this committee can help uncover new strategies and approaches to help us buy cleaner." 
For more information about the FAC, please see the Federal register notice here. 
VA Lacks Reliable Schedule for Electronic Health Records Modernization
On April 25, the Department of Veterans Affairs' (VA) Office of Inspector General (OIG) released a report that found the Electronic Health Records Modernization program (EHRM) does not have an integrated master schedule (IMS) that meets the high-quality standard recommended by the Government Accountability Office (GAO). The OIG expressed concerns that having a weak IMS may increase the chances that the EHRM rollout will miss certain milestones, experience cost overruns, and possibly undermine important functions that provide quality care to veterans.  
In addition, the OIG found that the VA did not adhere to the Federal Acquisition Regulation (FAR) when paying contractors for deliverables. The FAR requires all invoice payments to be backed by a report showing approval for the supplies and services. This does not exclude deliverables. The OIG reported that this occurred because VA staff lacked guidance on when price deliverables must be priced, reviewed, and accepted separately. The OIG recommended that VA issues guidance on proper acceptance of deliverables prior to invoice payments. 
GAO Assesses VA Financial Management System Transformation 
This week, GAO released its report on the VA's transition from its 30-year-old financial management system to a new 3.24-billion-dollar system. For now, the new system is being implemented at the National Cemetery Administration and the Veterans Benefits Administration (VBA). The GAO found the VA's implementation was consistent with leading practices in developing a vision for change. The GAO also found that the VA followed leading practices in identifying and working with stakeholders.
The primary concerns GAO found with the rollout of the new system is that in three areas they found the Financial Program only partially consistent with leading practices in organizational change management. These three areas are increasing workforce skills and competencies, assessing the readiness for change, and assessing the results of change. GAO identified concerns that the rollout of the program in the middle of the year will cause conversion timing risk and user issues. Additionally, GAO has concerns about the new system's impact on productivity and the need for lengthy workarounds. Lastly, GAO is concerned that there is a lack of targets to measure success which could cause difficulties in assessing the program's progress. GAO has issued six recommendations for executive action to ensure the VA is able to implement leading practices, and the VA has agreed to take action to meet the recommendations.
Legal Corner: Let the Writing Begin: FAR Council Agrees to Draft Proposed Climate Disclosure FAR Amendments
 In another significant development for federal contractors watching as the Federal Government seeks to broaden its effort to leverage procurement policy to address climate change, the FAR Council, on April 13, 2022, agreed to move forward with drafting a proposed FAR amendment that could mandate public disclosure of greenhouse gas (GHG) emissions and climate related financial risks for major federal contractors. 
This action is in accordance with Executive Order 14030, Climate-Related Financial Risk, which directed the FAR Council to consider mandating disclosures of GHG emissions and climate related financial risks for major federal contractors, and follows the Department of Defense (DoD), General Services Administration (GSA), and National Aeronautics and Space Administration (NASA) October 2021 Advance Notice of Proposed Rulemaking seeking public comment on a variety of GHG emissions and climate related financial risks topics (discussed here). This development is notable given that EO 14030 only instructed the FAR Council to "consider" amending the FAR but did not otherwise mandate the drafting of climate disclosure amendments. 
This development is also consistent with and builds upon other recent activity from a number of federal agencies, including the SEC, which in March proposed a sweeping climate-related disclosure rule for regulated entities covering not only financial risks posed to the entities by climate change but also the GHG emissions of the entity itself. Similarly, on April 4, 2022, the FDIC released a draft statement of principles regarding how large financial institutions can manage climate-related risk. 
DoD Launches "Innovations Pathways" Website
Fedscoop reported that DoD has launched a new "Innovation Pathways" website to help industry find opportunities to work with the department on technology projects. The site provides a one-stop-shop for companies to access DoD's innovation "ecosystem." The site includes three pathways, with one focused on students and faculty being able to search for internship and scholarship opportunities, another for military personnel, and the final path intended for companies seeking business opportunities with DoD. Users will be able to apply filters based on their interests to find relevant opportunities. DoD will periodically update the site. The website was the result of work from the department's Innovation Steering Group, which was created by Deputy Secretary of Defense Kathleen Hicks and is currently chaired by Heidi Shyu, Undersecretary of Defense for Research and Engineering. Shyu said that one of the main reasons for creating the website was to help small businesses navigate opportunities with DoD. 
VA to Adopt Login.gov Single Sign-on in Partnership with GSA
This week Federal Computer Week reported that the Technology Modernization Fund (TMF) is continuing its efforts to enhance America's digital identity infrastructure with a new investment for the VA to help the agency transition to GSA's single sign-on shared service, Login.gov. The TMF board and GSA announced a $10.5 million investment in the initiative on Tuesday, marking the first award the VA received from the fund since it was established in 2017. "We want veterans to easily and securely access the care and benefits they've earned and implementing Login.gov creates a trusted government credential to do that," VA Secretary Denis McDonough said in a press release announcing the investment. "The Technology Modernization Fund's support continues our digital transformation and allows us to enhance and accelerate the development and seamless delivery of services to Veterans."  
The VA project will seek to implement three steps towards achieving a modern and inclusive sign-in service for veterans attempting to access benefits online, according to the press release, including in-person identity verification options, transitioning to Login.gov, and launching a pilot program to test physical security keys in aiding security, equity, and accessibility efforts. Login.gov is currently accessed by over 30 million users and 27 participating agencies, providing the public with a single sign-in service for more than 200 citizen services. GSA said its investment in the VA will continue its expansion of the program. 
Briefing on Federal Sustainability Requirements and What's Ahead 
Last week, Crowell & Moring briefed Coalition members on the latest Federal Sustainable Acquisition developments and potential requirements that may be ahead for contractors. The update was provided by Paul Freeman, Partner, Environment & Natural Resources and Government Contracts and Issac Schabes, Associate in Government Contracts. Their presentation covered recent Executive Orders, potential Federal mandatory disclosures on greenhouse gas emissions, and examples of sustainability requirements in recent solicitations. One important development for members to be aware of is the FAR Council's announcement on April 22nd about plans to draft a proposed FAR rule "to require major Federal suppliers to publicly disclose greenhouse gas emissions and climate-related financial risk and to set science-based reduction targets." The Coalition plans to submit comments on the proposed rule when it is released.  
The slide deck from Crowell & Moring's briefing is posted here. If you would like to join the Green Committee or would like to know more about our priorities, please contact Aubrey Woolley at awoolley@thecgp.org.    
Upcoming Coalition Committee Meetings
The following Committee meetings are scheduled for the month of May and are open to all members. Please note that the Coalition has a new process to attend member meetings.  Rather than sending an RSVP, please register using the link provided in each meeting announcement. All registered members will receive the login information via email a few days in advance of the meeting. If you need any assistance, please contact Joseph Snyderwine at jsnyderwine@thecgp.org. 
VA Medical/Surgical Subcommittee Meeting MSPV-Z Dialogue on May 16
Please join the Medical/Surgical Subcommittee for a dialogue on the acquisition strategy for the VA's MSPV-Z on May 16 at 2:30pm EST. The guest speakers for the virtual meeting will be: 
Andrew Centineo
Executive Director
Office of Acquisition, Technology, and Logistics
Veterans Health Administration (VHA) 
Christopher Parker
Associate Executive Director
Strategic Acquisition Center
U.S. Department of Veterans Affairs (VA) 
Request for Questions
Mr. Centineo and Mr. Parker will brief members on the VA's plans for the MSPV program moving forward.  They are very interested in what topics and/or questions members would like them to cover.  Please send your suggestions to Aubrey at awoolley@thecgp.org.  A list of questions that we've received thus far is posted here.   
Register to Attend
To register to attend the meeting, click here.
 
Small Business Committee Meeting on the Non-Manufacturer Rule, May 25
Please join the Small Business Committee on May 25 from 10 – 11 am, as they host Carol Hulme, Attorney Advisor, SBA Office of Government Contracting and Business Development. Carol Hulme will discuss the non-manufacturer rule. Please send your questions or comments to Samantha Holt at sholt@thecgp.org by May 16. To RSVP to attend, click here.  
Showing the Way: OMB Issues Initial Guidance on New Buy America Requirements for Federally Funded Infrastructure Projects
Authored by Jason Workmaster, Alex Sarria, Elizabeth Cappiello and Alexandra Prime, Attorneys at Miller & Chevalier
The Legal Corner provides the legal community with an opportunity to share insights and comments on legal issues of the day. The comments herein do not necessarily reflect the views of The Coalition for Government Procurement.
On April 18, 2022, the Office of Management and Budget (OMB) issued preliminary guidance (the Guidance) to federal agencies on the implementation of new "Buy America" domestic preference requirements enacted recently in the $1.2 trillion Infrastructure Investment and Jobs Act (IIJA), Pub. L. No. 117-58, §§ 70901-52 (Nov. 15, 2021) (the Act). The Guidance is a must-read for any company looking to compete for federally funded infrastructure projects that are subject to Buy America requirements.Background: President Biden's Made in America Initiative
In January 2021, President Biden signed Executive Order 14005, Ensuring the Future is Made in All of America by All of America's Workers (the Order, discussed here), which aimed "to maximize the use of goods, products, and materials produced in, and services offered in, the United States." The Order launched a government-wide initiative that soon produced significant changes to the Federal Acquisition Regulation (FAR) provisions implementing the Buy American Act in connection with federal procurement contracts (discussed here and here). The Order also was the blueprint for new IIJA Buy America provisions applicable to non-procurement, federally funded infrastructure projects administered, for example, by the Department of Transportation (DOT). The IIJA's Buy America provisions (1) require all iron or steel products, manufactured products, and construction materials used in a federally funded infrastructure project to be "produced in the United States," and (2) establish the Made in America Office (MIAO) within OMB to manage Buy America waiver requests and enforce Made in America laws (discussed here).Summary of OMB's Initial Buy America Guidance
The Guidance provides preliminary instruction on two subjects that are critical for any company looking to compete for federal infrastructure opportunities subject to the current panoply of Buy America requirements enforced by federal agencies:
It describes the Buy America manufacturing and domestic content standards that will apply to iron, steel, manufactured products, and construction materials used in federal infrastructure projects
It identifies the bases for obtaining Buy America waivers in connection with such projects
Buy America Requirements in Federal Financial Assistance Programs
Scope of the Act's Buy America Requirements
The Guidance reiterates that the new Buy America requirements stated in the IIJA will apply to all federal financial assistance programs (as defined in 2 CFR § 200.1) — whether or not funded through IIJA — when funds are appropriated or otherwise made available and used for an infrastructure project. This approach is broader than those adopted in previous infrastructure laws and makes the IIJA's Buy America requirements applicable to a far wider range of federally funded infrastructure projects.Specifically, the Act's definition of "infrastructure" encompasses all public infrastructure projects including at a minimum: the structures, facilities, and equipment for U.S. roads, highways, and bridges; public transportation; dams, ports, harbors, and other maritime facilities; intercity passenger and freight railroads; freight and intermodal facilities; airports; water systems, including drinking water and wastewater systems; electrical transmission facilities and systems; utilities; broadband infrastructure; and buildings and real property. The Guidance notes that agencies should also treat "structures, facilities, and equipment that generate, transport, and distribute energy – including electric vehicle (EV) charging – as infrastructure." According to the Guidance, when determining if a particular project fits the definition of "infrastructure," agencies should consider whether the project will "serve a public function, including whether the project is publicly owned and operated, privately operated on behalf of the public, or is a place of public accommodation, as opposed to a project that is privately owned and not open to the public." Projects with these characteristics are more likely to qualify as an "infrastructure" project under the Act. In the Guidance, OMB clarifies that if no funds from a particular award will be used for infrastructure, the Act's Buy America requirements do not apply to the award. Similarly, under a covered program, the Buy America requirements do not apply to a non-infrastructure project, even if the award also includes a covered project. However, "a Buy America preference applies to an entire infrastructure project even if it is funded by both Federal and non-Federal funds under one or more awards." The Guidance also explains that the Act's Buy America requirements only apply to materials that are "consumed in, incorporated into, or affixed to" the infrastructure project, not to tools, equipment, or supplies used for the completion of the infrastructure project. Similarly, the requirements do not apply to "equipment and furnishings, such as movable chairs, desks, and portable computer equipment, that are used at or within the finished infrastructure project but are not an integral part of or permanently affixed to the structure."  OMB explains that an article, material, or supply should only be classified into one of the Buy America categories: (1) iron or steel, (2) manufactured products, or (3) construction material. On covered infrastructure projects, the Act requires each such item to be "produced in the United States." The phrase "produced in the United States" is defined as follows in each category:
Iron and Steel: All iron and steel manufacturing processes, from the initial melting stage through the application of coatings, must occur in the U.S. Agencies are to apply this standard only to goods that "are predominantly iron or steel, unless another standard applies under law or regulation."
Manufactured Products: The product must be: (1) manufactured in the U.S., and (2) the cost of the components of the manufactured product that are mined, produced, or manufactured in the U.S. must be greater than 55 percent of the total cost of all components in the manufactured product, unless another standard for determining the minimum amount of domestic content has been established under applicable law or regulation.
Construction Materials: All manufacturing processes for the construction material must occur in the U.S.
The foregoing Buy America requirements go into effect on May 14, 2022, which means that no later than that day, all applicable programs must comply with the Act (subject to agency-specific determinations to impose more restrictive requirements, as discussed below). Agencies can comply with the Act by incorporating the Buy America preference in the terms and conditions of each award of a covered infrastructure project. This applies to new awards as well as renewal awards obligating additional funds to existing funds that are executed on or after May 14, 2022. Agencies are therefore required to include a Buy America preference in awards issued on or after May 14, 2022, "even if Notices of Funding Opportunities for those awards did not include a Buy America preference." However, agencies may consider a waiver to avoid undue increases in the time and cost of a project when the Notice of Funding Opportunities did not include the Buy America preference or if the budget for purchase of covered materials has already been agreed upon.Consistent with the IIJA, and to avoid unnecessary disruptions to programs that already meet or exceed the Act's requirements, OMB advises agencies to consider whether their current domestic content requirements meet the standards of the Act and keep in place all policies and provisions that meet or exceed the standards required by the Act. For those programs that do not fully comply with the Act, however, the Guidance directs agencies to make necessary changes to come into compliance with all parts of the Buy America requirements of the Act. For example, if a program has standards in place that meet the requirements for iron and steel, it is required only to adopt new standards for manufactured products and construction materials.Issuing Buy America Waivers
Most of the Guidance focuses on the Buy America waiver process. Pursuant to the Act, the head of a federal agency may waive the application of a Buy America requirement, if they find that:
Applying the domestic content procurement preference would be inconsistent with the public interest (a "public interest waiver")
Types of iron, steel, manufactured products, or construction materials are not produced in the U.S. in sufficient and reasonably available quantities or of a satisfactory quality (a "nonavailability waiver")
The inclusion of iron, steel, manufactured products, or construction materials produced in the U.S. will increase the cost of the overall project by more than 25 percent (an "unreasonable cost waiver")
Prior to issuing a waiver, agencies must publicize on their website any proposed waivers they intend to grant and allow time for public comment. Such waivers also must be posted to a "centralized waiver transparency website" managed by the General Services Administration (GSA) no later than November 15, 2022. According to the Guidance, agencies "should" notify the MIAO in advance of posting any proposed award or project-level waiver and "must" consult with the MIAO for proposed waivers "with broader applicability (such as a general applicability waiver) before posting them for public comment." To avoid duplicative waiver requests from entities that receive funding from multiple federal agencies for a single infrastructure project, the agency contributing the greatest amount of funds to the project "should be considered the 'Cognizant Agency for Made in America' and should take responsibility for coordinating with other Federal agencies." Waiver Principles and Criteria Under the Guidance, agencies must apply standard criteria in determining whether to grant a waiver. Agencies should review existing criteria to ensure that it is consistent with the requirements of the Act and update or establish criteria as necessary. OMB advises that federal agencies should consider the following minimum requirements in issuing Buy America waivers.
Is the waiver time-limited? This type of waiver may be appropriate when an item is "non-available" but is widely used in projects funded by a particular program's awards. When issuing a time-limited waiver, the agency should identify a short, definite time frame designed to ensure that when domestic supply becomes available, domestic producers will have prompt access to the market created by the program.
Is the waiver targeted? Waivers that are not limited to a particular project should apply only to the item, product, or material necessary. Broader waivers will receive greater scrutiny from MIAO.
Is the waiver conditional? Federal agencies are encouraged to issue waivers with specific conditions that support the policies of the Act and the Order.
OMB provides guidance to agencies on the review and acceptance of waiver requests for each of the three categories of waivers listed in the Act:
Nonavailability Waiver: Agencies will consider whether the recipient has performed thorough market research and considered qualifying alternate items, products, or materials. Waivers must describe the market research activities and methods to identify domestically manufactured items capable of satisfying the requirement, including the timing of the research and conclusions reached on the availability of sources. Agencies may assist recipients in conducting the required market research.
Unreasonable Cost Waiver: Agencies will ensure that the recipient has provided adequate documentation that no domestic alternatives are available within the cost parameter. Agencies may assist recipients in gathering this documentation. The waiver justification must include a comparison of the cost of the domestic product to the cost of the foreign product or a comparison of the overall cost of the project with domestic products to the over cost of the project with foreign-origin products.
Public Interest Waiver: OMB advises that these waivers will be used judiciously and construed to ensure maximum utilization of goods, products, and materials produced in the U.S. The Guidance provides examples of types of public interest waivers, agencies should consider issuing, including: de minimis, small grants, minor components, adjustment period, and international trade obligation.
General Applicability Waivers The Guidance provides information about the use of "general applicability waivers." A "general applicability waiver" applies broadly across multiple awards. The waiver can be "product-specific," applying only to a product or category of products, or "non-product-specific," meaning it will apply to all "manufactured products." General waivers should be issued only when necessary to advance an agency's missions and goals, consistent with the IIJA, the Order, and the Guidance. For example, a general applicability waiver may be used when there are well-established domestic sourcing challenges in a particular industry or for a particular requirement. When reviewing a proposed general applicability waiver, the head of a federal agency must publish in the Federal Register (1) a notice that describes the justification for the waiver and requests public comments on the continued need for the general applicability waiver at least 30 days, and (2) a determination on whether to continue or discontinue the waiver considering the comments received. This publishing requirement will not apply for a period of five years to product-specific waivers that were issued more than 180 days before the Act was passed. For non-product-specific waivers, agencies must publish the notice in the Federal Register no later than November 15, 2022. General applicability waivers, including public interest waivers, will be re-reviewed every five years by the awarding agency.Preliminary Guidance for Construction Materials
OMB also issued preliminary and non-binding guidance on the standards that define the term "all manufacturing processes" for construction materials. Pending issuance of OMB final standards, agencies are directed to consider "all manufacturing processes" for construction materials to include at least the final manufacturing process and the immediately preceding manufacturing stage for the construction material. OMB is seeking additional input from industry before issuing further guidance on this subject.Takeaways
OMB's initial Guidance provides a solid roadmap for how the new Buy America requirements will be applied to federally funded infrastructure projects. Still, several questions remain. First, it is still unclear how individual agencies may change (or not change) their existing domestic content requirements to align with the standards of the Act. The IIJA only requires agencies to meet the minimum Buy America standards stated in the Act and thus individual agencies can maintain or create new policies and provisions that require covered products or materials to exceed those IIJA standards. Second, the Guidance does not mention an escalation of the domestic content threshold from 55 percent for manufactured products, like the scheduled escalation provision contained in the recently finalized Buy American Act FAR provisions. Still, it seems likely OMB will provide additional guidance on this subject in the future given the similarities between the Buy American provisions in the FAR and the Buy America test for manufactured products in the IIJA. Also, even if OMB does not issue general guidance in this regard, it appears individual agencies are free to adopt their own scheduled increases, provided those increases meet or exceed the IIJA minimum standards.Third, the impact of the IIJA on the frequency and terms of Buy America waivers remains to be seen. Details and trends surely will emerge over time, however, and contractors will soon have access to agency and GSA websites that will allow them to track how Buy America waivers are being processed.
---
We will continue to monitor and report on the continued implementation of the IIJA's Buy America requirements. In the meantime, if you have any questions about the IIJA provisions or Buy America in general, please contact one of the Miller & Chevalier attorneys listed below:Alex L. Sarria, asarria@milchev.com, 202-626-5822Jason N. Workmaster, jworkmaster@milchev.com, 202-626-5893Elizabeth J. Cappiello, ecappiello@milchev.com, 202-626-5975Alexandra S. Prime, aprime@milchev.com, 202-626-5940
Registration Open for GSA's Quality Partnership Council Meeting, May 12
The following announcement about the upcoming Quality Partnership Council (QPC) meeting is provided compliments of GSA:   
GSA's Quality Partnership Council (QPC) will be hosting a VIRTUAL Furniture & Furnishings Industry Meeting on Thursday, May 12 from 1:00 – 4:30 PM PM EST. All furniture, furnishings, flooring, and office relocation suppliers are invited to join us. There is no cost to attend.
 
AGENDA Highlights   
Multiple Award Schedule (MAS) Program & Policy Updates 

  

GSA Catalog Management Briefing 

  

Insights on the Future of Federal Real Estate Footprint 

  

Small U.S. Manufacturer Spotlights (see below on how to apply) 

  

Interactive Breakout Discussions


and more… 

  

 
Upon registration, you will receive a confirmation email with a meeting link. All registrants will receive final agenda closer to the meeting date.  
Attention Small Furniture Manufacturers in the USA:
During this MAY 12 virtual QPC meeting, there will be two short small manufacturer spotlights. To be considered for a 2-5 minute pre-recorded video spotlight opportunity, please note your interest on the registration form or send an email to qpc@gsa.gov by April 25. Please DO NOT reply to this email with your submission. Use the subject line, Small Manufacturer Spotlight and include the following in your email:
Company name
GSA contract number
The type of furniture your small business manufacturers in the US
In 250 words or less, how your video spotlight might help those in attendance, including customers, large suppliers and dealers.  
Thank you for your partnership. We hope you can join us!  
Quality Partnership Council (QPC)
GSA Integrated Workplace Acquisition Center (IWAC)
qpc@gsa.gov