Exciting Events From The Coalition This Spring
Even though the Coalition is currently focused on our May 16th Spring Training Conference: The Future of Acquisition Shared Services and Interagency Contracting, where Emily Murphy will serve as our keynote speaker, we have numerous exciting events and trainings over the span of the next couple months you should know about and attend.  The first of these events will be exclusively for Premier Members and above (Executive Member, Strategic Partner, and Keystone) where we will hold a Legislative and Budget Analysis Breakfast Forum on May 23rd from 8:30 – 11:30AM EST at a still to be determined location.  We will have Jon Etherton of Etherton and Associates, Inc. provide an update on acquisition related legislation and Ray Bjorklund of Birch Grove Consulting present a deep dive into the budget.  Joining them to discuss the upcoming mid-term elections as well as answer other legislative questions, is the Honorable Thomas M. Davis III, Former Member of Congress (VA), Former Chair of the House Committee on Oversight & Government Reform, and currently with Deloitte Services.
On Wednesday, May 30th from 12:00-1:00 PM EST, the Coalition will host Part II of our webinar series with Baker Tilly, Federal Market Access – the Value Proposition, which will focus on the current patient access environment in the federal market and highlight its importance to successful overall market access strategy for manufacturers.  Participants will learn how these systems differ from other payers, discuss spillover opportunities, explore outcomes based contracting opportunities, and understand the unique value of this segment from a patient access and revenue perspective. Topics to be addressed will include: VA/DoD Health System Overview; Federal Segment Value Proposition; The Importance of Establishing a Strategic Plan; Supplemental Contracting Best Practices; and Government Portfolio Management (SPAP, non-FSS contract administration, etc.).
Wrapping up an event-packed May, we turn to June and kick things up another notch starting on June 6th with our Cyber Forum: Q4 Pipeline and Requirements Update.  This event is being hosted by immixGroup in Tysons from 8:30AM – 12:30PM and will include cyber expert Bob Metzger from Rogers Joseph O'Donnell discussing What Contractors Need to Know About the Latest Cyber Guidelines.  Additionally, Michael Wright from Baker Tilly will be presenting Leveraging DFAR Requirements: Safeguarding Your Ability to Win.  To conclude the day, we expect to hear a Federal Market Update: Q4 Cyber Pipeline from GSA.
On June 11th and June 12th, both at Baker Tilly in Tysons, the Coalition will be hosting our two most highly recommended training courses, MAS Basic Training – The Nuts & Bolts (June 11) and General Services Administration (GSA) and Veterans Affairs (VA) Schedule Contracting for In-House Counsel (June 12).  Do you need to better understand management and compliance of the Price Reduction Clause or need help navigating the Price Negotiation Process?  Are you leveraging the GSA Electronic Tools and have all the keys to understanding the Task Order Competition?  Need advice on the GSA Audit Process?  You should attend our MAS Basic Training, an intensive, one-day training workshop that teaches the basics of utilizing the General Services Administration (GSA) Multiple Award Schedules (MAS) program.  The in-house counsel course is a "must attend" for lawyers and corporate officials with significant contract management and compliance responsibilities in companies that have GSA and/or VA Schedule contracts.  After successfully completing this course, you will be able to understand GSA/VA's most favored customer pricing policy and major requirements of the government solicitation, current audit/oversight procedures, current GSA Schedule Price Negotiation Priorities, how the GSA Schedule can impact your company's bottom line, plus, be able to advise your in-house clients regarding topics such as disclosure of company records; establishing management and compliance processes; establishing ethics programs and mandatory disclosure; avoiding penalties; and identifying resources to assist with continuing legal support of your internal GSA/VA Schedule programs.
On June 19th at the CGI Innovation Center in Ballston, the Coalition will be hosting an Assisted Acquisition Services Forum that will feature speakers from the GSA Office of Assisted Acquisitions. Tom Howder, the GSA Assistant Commissioner for Assisted Acquisition Services, has been invited to speak at the event along with representatives from AAS Regional Offices, AAS FEDSIM, and Government customers.
Finally, I'll leave you with happy summer thoughts: mark your calendars for August 22nd for the 6th Annual Joe Caggiano Memorial Golf Tournament out at Whiskey Creek in Ijamsville, MD!  As you may recall from previous years, the tournament proceeds will support the Coalition's endowment for a qualified veteran concentrating their studies in the field of US Government procurement and pursuing the JD/LLM degree or the interdisciplinary Masters degree at The George Washington University.  We hope to see you very soon at one of our upcoming events or trainings! Registration will be opening soon.
JEDI Strategy Justification To Be Released on May 7
On Friday, April 27, Federal Computer Week reported that the Department of Defense's (DoD) justification for making its $10 Billion Joint Enterprise Defense Initiative (JEDI) cloud contract a single award is expected to be submitted to Congress on Monday, May 7. Pursuant to the Fiscal Year (FY) 2018 National Defense Authorization Act, DoD is required to provide Congress with a report that explains the JEDI strategy, including why it believes a single-award approach to be in the government's best interest.
To date, DoD has issued two draft Request for Proposals (RFPs), which can be accessed here: March 2018 RFP, April 2018 RFP. The Coalition has continued to raise questions and concerns regarding the potential impact of the Department's single award approach to the JEDI contract on its long-term access to competition and innovation from the commercial marketplace.
This Week on "Off-the-Shelf": FAS – Easy, Efficient & Modern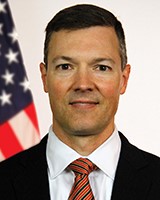 This week on Off the Shelf, Alan Thomas, commissioner of the General Service Administration's Federal Acquisition Service (FAS) shares what's next for the Section 846 Implementation plan, IT Modernization, and the GSA Schedules program.
Thomas provides an overview of FAS operations supporting customer agencies and the key priorities for delivering best value mission support to customer agencies and the American people.
He shares his vision for FAS operations for customer agencies:  Easy, Efficient, and Modern.  Thomas also gives his thoughts on leadership, the FAS workforce, and the characteristics of successful organizations.
To listen to the show, click here.
Plans to Decrease Contract Duplication by 13%
Earlier this week, Federal News Radio reported that the Office of Federal Procurement Policy (OFPP) plans to reduce unnecessary duplicative contracts by 13-percent by 2020. Notably, OFPP included goals for reducing contract duplication within each of its categories in its latest version of the Category Management Strategic Plans.
The central focus of OFPP's efforts are the 425,000 contracts that it considers as, "unaligned spend," as these contracts do not conform to the category management principles. In addition, the administration expects to save $18 billion and increase the usage of best in class contracts to 40 percent. The Category Management Strategic plans are available on the Acquisition Gateway, and can be accessed here.
GAO Recommends VA Improve Supply Chain Management
The Government Accountability Office (GAO) has published its eighth annual report focused on how the Federal government can better address fragmentation, overlap, and duplication government-wide to achieve cost savings and enhance efficiency.
Notably, the report includes several findings and recommendations for the Department of Veterans Affairs related to the procurement of medical supplies (See: pages 79 and 80 of the report). In particular, although the VA's Medical Surgical Prime Vendor-Next Generation (MSPV-NG) program represents a significant transformation in the VA's purchasing methods, GAO determined that deficiencies in strategy, leadership, and workforce have hamstrung implementation efforts. Consequently, GAO determined that the VA is not meeting medical centers' needs and has not achieved its intended performance targets. To address these concerns, GAO provided the following four recommended actions for the VA:
Develop, document, and communicate to stakeholders an overarching strategy for MSPV-NG;
Provide complete guidance to medical centers for matching equivalent supply items;
Use input from national clinical program offices to prioritize its requirements development and standardization efforts to focus on supply categories that offer the best opportunity for standardization and cost avoidance; and
Analyze data on items that are frequently purchased on an emergency basis, determine whether such items are suitable to be added to the MSPV-NG's medical supply list, and work to make any suitable items available via MSPV-NG.
DoD Regulatory Reform Task Force Could Cut DFARS in Half
This week, Federal News Radio reported that a Department of Defense (DoD) task force responsible for reviewing and streamlining the Defense Acquisition Regulation Supplement (DFARS) could potentially trim the Department's rulebook by nearly half. Although the task force, which was established in accordance with the February 2017 Regulatory Reform Executive Order (EO) has a similar focus to the Section 809 Panel, its efforts to date have emphasized the identification of changes that would require lawmakers to alter Federal statute. Indeed, the task force believes that many of its final modification recommendations will require congressional approval. Currently, the task force is about mid-way through its review and remains hopeful that its final recommendations could be included in the Fiscal Year 2019 National Defense Authorization Act.
GAO Seeking Input on Additional Ownership Reporting

The Government Accountability Office (GAO) has reached out to the Coalition for input regarding a study that it is conducting for the House and Senate Armed Services Committees. Specifically, the study focuses on the risks posed to the Department of Defense (DoD) by contractors with corporate ownership structures that lack transparency. As part of its efforts, GAO is examining how a requirement to report additional ownership information could affect contractors, as well as the benefits and burdens of such a reporting requirement.
GAO is particularly interested in feedback from contractors regarding the following:
What burdens, if any, would additional requirements** to report the beneficial owner(s) when doing business with the Department of Defense pose to your company?
Is your company publicly-held or privately-owned?
What is your company's approximate average number of employees?
In the past 5 years, have you done business with the Department of Defense?
For more background information about the GAO's request, click here. The deadline to respond to the GAO directly is May 31, 2018.  Responses to the GAO may be sent to Tracy Abdo at AbdoT@gao.gov.  Members who would like to submit their response anonymously through the Coalition, please contact Aubrey Woolley at AWoolley@thecgp.org by May 30, 2018.
** NOTE: Additional requirements refers to information beyond what is currently required by the FAR (e.g. immediate-level and highest-level entity owner). For the purposes of GAO's review, the beneficial owner is defined as the natural person(s) who directly or indirectly own or control a company, or receive substantial economic benefits.

Legal Corner:
Alleged TAA Non-Compliance Is Not "Material" Under The False Claims Act, Federal Court Holds
Contractors that must comply with the government's domestic preference laws should take note of United States ex rel. Folliard v. Comstor Corp., __ F. Supp. 3d __, 2018 WL 1567620 (D.D.C. 2018) — a recent decision dismissing a country-of-origin fraud lawsuit initiated by serial relator Brady Folliard.
In Comstor, the relator alleged that two contractors violated the False Claims Act ("FCA") by selling end products on the General Services Administration ("GSA") Federal Supply Schedule ("FSS" or the "Schedule") that failed to comply with the Trade Agreements Act ("TAA"), as implemented by the Federal Acquisition Regulation ("FAR") and as incorporated into the contract through FAR 52.225-5 and -6.  Under the FAR, a contractor subject to the TAA must deliver U.S.-made end products (i.e., end products "manufactured" or "substantially transformed" in the U.S.) or "designated country end products" (e.g., end products "wholly manufacture[d]" or "substantially transformed" in certain foreign countries with which the U.S. has negotiated a trade agreement).  Notably, China, India, and Malaysia are not designated countries.
The court found that that the relator had failed to adequately plead that the alleged TAA non-compliance was "material" — a necessary element of an FCA case that requires a showing that an alleged non-compliance had an effect on the government's payment decisions.  In this regard, the relator argued that the bare language of the statutes, regulations, and contract provisions at issue demonstrated that the non-compliance was material.  The court, relying on the Supreme Court's landmark decision in Universal Health Servs., Inc. v. United States ex rel. Escobar, 136 S. Ct. 1989 (2016), rejected this legalistic argument and found that the relator had "not alleged sufficient facts to show that any sales of non-TAA compliant products by the defendants were material to the government's decision to pay" for those products.  (Emphasis added).
This is a significant victory for contractors subject to domestic preference requirements because it demonstrates that the materiality analysis under the FCA requires a consideration of whether the government in fact has treated these provisions as material, and not just whether there has been a technical violation.  The Comstor decision also provides further guidance on what is necessary to establish "falsity" and "scienter" — two other required elements of an FCA case.
The "Materiality" Analysis Requires Actual Facts Showing that the Alleged Non-Compliance Would Have Affected the Decision to Pay
Comstor is one of the first federal court decisions to discuss how the Supreme Court's Escobar decision impacts claims of fraud relating to domestic preference rules, although other recent decisions have discussed similar issues.  In Escobar, the Supreme Court held that a mere violation of law or contract does not necessarily give rise to a "material" issue unless the violation would have "a natural tendency to influence, or be capable of influencing, the payment or receipt of money or property."  Accordingly, if the government would continue to pay claims even with full knowledge of a legal violation, the issue is not material and thus cannot serve as the basis of a false claim.
In Comstor, the relator attempted to demonstrate materiality by citing to the regulatory regime that implements the TAA.  Although the court agreed that the defendant was required to comply with this regulatory regime, the court held that the relator's simplistic view did not satisfy the FCA's materiality threshold for two critical reasons:
First, the court held that the mere presence of FAR 52.225-5 and -6 in the defendants' contracts did not, without more, demonstrate materiality.  The court's conclusion here is consistent with Escobar's instruction that "statutory, regulatory, and contractual requirements are not automatically material, even if they are labeled conditions of payment."  Escobar, 136 S. Ct. at 2001.
Second, the court found that "GSA's expressed willingness [in a 2006 GSA newsletter] to 'work with' vendors in order to address [TAA] compliance issues instead of outright rejecting claims" showed that GSA "may continue to make payments even when TAA violations are known," and therefore further supported the notion that an alleged TAA non-compliance may not be material to a condition of payment.  The court's rationale again is consistent with Escobar, which held that the government's continued payment of claims after disclosure of a violation is strong evidence that the violation is immaterial.  Escobar, 136 S. Ct. at 2003.  In other words, if the government not only continues to pay, but also helps the contractor resolve its non-compliance issues, these actions strongly suggest that the materiality threshold under the FCA has not been satisfied.
The court also acknowledged that the "requirement of demonstrating materiality would seem especially crucial here where the government declined to intervene after almost five years of investigation[.]"
In summary, Comstor confirms that alleging a mere technical violation of the TAA will not satisfy the materiality requirement under the FCA.  Rather, the unique factual circumstances of each case must be considered, including whether the government has expressed a willingness to work with contractors to resolve compliance issues instead of simply rejecting claims, as GSA did in Comstor.
The Comstor Court Refused to Infer that "Open Market" Sales and Sales of "Configurable Option" Items Were Non-Compliant and Therefore "False" Within the Meaning of the FCA
In addition to dismissing the case for lack of materiality, the court also found that the relator had failed to properly allege "falsity" with respect to "open market" and "configurable option" items sold by the defendant (notably, the court concluded that the relator did sufficiently allege "falsity" for other sales, although it dismissed those claims for lack of materiality as described above).
Regarding open market items (i.e., end products not listed in a Schedule contract, but sold through a Schedule order), the relator alleged that the defendant sold open market items that were not TAA-compliant.  The court flatly rejected that allegation, holding that FAR 8.402(f) did not require TAA compliance for open market items, because it did not cross-reference the TAA.  Further, the court found that the defendant's sales were all below the TAA's dollar-value thresholds in FAR 25.402(b), which meant that the TAA would not apply in any event.
Regarding configurable option items (i.e., items generally incorporated into an end product sold through the Schedule), the relator alleged that certain option items originated from non-designated countries and that these items were listed in purchase orders.  As a result, the relator argued that these items must be TAA non-compliant and must have been sold to government "on an a la carte basis . . . before being incorporated into end products" — thereby demonstrating "falsity."  The court rejected this argument because the relator failed to provide any "additional information" supporting these general allegations, and simply "ignore[d] the possibility" that the government ordered the option items "solely for incorporation . . . into . . . end products prior to delivery to the government."  Under that scenario, the option item would be incorporated into the end product by the contractor, and TAA compliance would hinge on whether the end product was substantially transformed by the contractor in a designated country.
Merely Selling a Large Volume of Products Is Insufficient to Show "Scienter"
Finally, the court found that the relator failed to adequately allege that the defendant had knowledge of the relevant facts, and therefore had not properly pled the "scienter" element of an FCA case.  On this point, the relator argued merely that because the defendant sold a large volume of products, it must have known about potential non-compliance with the TAA.  The court disagreed, finding that "merely alleging a time period, the volume of items sold and total sales value involved" was "not enough to show" that the defendant in fact knew about any non-compliance with law.
Key Takeaways for Contractors
Consider a Proactive Approach — Comstor reveals that an agency's willingness to "work with" a contractor to resolve a TAA compliance problem after a claim for payment is submitted may help demonstrate that the non-compliance was not material.  With that in mind, contractors who discover a potential TAA issue (or any domestic preference issue for that matter) may want to consider raising the matter promptly with the agency and documenting how the parties are working together to resolve the potential issue.  A proactive approach may pay dividends down the road, even if mandatory disclosure under FAR 52.203-13 is not required.
Work to Reduce the Chance that the Government Will Intervene — Comstor demonstrates why it is important to encourage the government not to intervene in a qui tam matter.  As discussed above, the government's decision not to intervene may affect the way the court views the relator's case.
Be on the Lookout for Enhanced Enforcement and Scrutiny of Domestic Preferences and Its Impact on the "Materiality" Analysis Going Forward — Since the time period at issue in the Comstor case, there have been significant developments regarding domestic preference laws.  First, in May 2016, GSA issued a letter in response to FOIA requests and congressional inquiries, asking myriad contractors on the FSS to "[s]ubmit a spreadsheet that verifies the COO for each product approved on your GSA contract," and noting that "GSA Schedule contract holders have a fiduciary duty to determine compliance with the TAA and to ensure that all COO representations in GSAdvantage are accurate regardless of any information provided by your suppliers or manufacturers if you are a distributor or reseller."  Second, since taking office in January 2017, President Trump has revealed a "Buy American" policy and action plan that reflects increased scrutiny of domestic preference laws, and there has been recent bipartisan congressional action related to strengthening "Buy American" laws like the Buy American Act and the Berry Amendment.  As a result, executive agencies and the Department of Justice may be more likely to take an aggressive stance when faced with a potential non-compliance related to domestic preferences, which could affect the determination of materiality in future cases.
Authors: Jason Workmaster, Of Counsel, Covington & Burling LLP; Justin Ganderson, Special Counsel, Covington & Burling LLP; and Evan R. Sherwood, Associate, Covington & Burling LLP

Healthcare Spotlight:
VA Streamlines MSPV-NG Acquisition through Distribution and Supply Agreements
The Department of Veterans Affairs issued a Justification and Approval (J&A) for Other than Full and Open Competition on April 12, 2018, to allow prime vendors currently performing "distribution" contracts under the Medical/Surgical Prime Vendor Next Generation program (MPSV-NG) to choose potential suppliers. Currently, the VA conducts a more traditional procurement process to identify supply sources and awards BPAs to suppliers who can meet the VA's price requirements. The VA does not place orders under the BPAs; rather the BPAs serve as authorization for prime vendors under the program to enter distribution agreements with those suppliers, and the prime vendors distribute those products to VA facilities. Under the J&A, which converts these existing contracts to "distribution and supply" contracts, prime vendors now will identify potential sources for clinical products and submit them, along with pricing information, to the VA Strategic Acquisition Center and the MSPV Program Office for approval. Once both entities approve, the VA will add those items to the Government's master product list, and prime vendors may execute distribution agreements with those suppliers and distribute the items to VA facilities as they do currently.
Products selected and supplied through this process will be available on the master product list for 24 months before they must be awarded through normal competition. The current master product list contains only 7,800 items, and the VA estimates it needs more like 80,000 items to supply its medical centers adequately. This J&A temporarily will shift some of the burden of identifying reliable and economical sources of medical and surgical supplies to prime vendors, who have established supply chains and are familiar with the products hospitals need most and the best sources for those products. The J&A acknowledges that the current MSPV-NG program has left VA health centers undersupplied, encouraging inefficiencies such as the VA supplementing the MSPV supply with government purchase card transactions and local/regional contracts. The VA warned of "significant adverse consequences" affecting patient care and treatment if the J&A were not implemented.
Recently, the VA has foreshadowed a complete overhaul of the current MSPV-NG model, with the stated goal of achieving a clinically driven supply model that provides VA medical centers with medical and surgical supplies with the best clinical outcomes. Rather than standardizing products across all facilities, the VA will seek to supply a breadth of items to accommodate regional preferences, nuanced needs for particular treatments, and other clinical considerations. This J&A comes following months of meetings between VA and VHA officials and interested vendors in which vendors have provided their critiques of the current MSPV-NG program and their ideas for improvement.
How the VA will accomplish this overhaul, and how it will impact contractors, is yet to be seen. The VA has stated it anticipates awarding contracts under the new "MSPV 2.0" Program before April 2020. It seems the next two years may serve as a research phase for the VA to identify the most essential products and suppliers to incorporate in its formulary going forward. This may be an opportune time for medical and surgical item suppliers not previously in the government contract space to gain access to the VA supply chain through the J&A's streamlined acquisition process.
Author: Keeley McCarty, Associate, Sheppard Mullin LLP
New Hosting Environment for FBO.gov
On Monday, April 30, the General Services Administration (GSA) posted a notice on GSA Interact alerting the procurement community of potential complications that could arise from the recent changes to the Federal Business Opportunities (fbo.gov) website. Specifically, the contractor responsible for managing fbo.gov recently changed the website's hosting environment and associated IP addresses. Consequently, for some users, particularly those with strict IT security requirements, these changes may interfere with tools, such as the File Transfer Protocol (FTP), that interface with fbo.gov. Although GSA does not anticipate widespread difficulties, the notice does ask that users check their local security requirements, and to report any difficulties to John Corro, the Program Manager of FBO.
GAO Guide for Bid Protests
Earlier this week, the Government Accountability Office (GAO) released Bid Protests at GAO: A Descriptive Guide. The guide, which is now in its tenth edition, incorporates several changes, including, but not limited to:
New information about the GAO electronic filing and document dissemination system
GAO's authority to receive a fee from filers to support the system
Congressional updates to the thresholds on protests of task- and delivery-order contracts for the Department of Defense (DoD), the National Aeronautics and Space Administration (NASA), and the Coast Guard
An updated sample Notice of Protective Order based on GAO's updated protective order procedures
GAO's guide provides a practical guide to filing bid protests with GAO and information about the protest process.
GSA Updates SIN 712-3 on Schedule 71 II K and Closes SIN 653-8 on Schedule 48
The General Services Administration (GSA) announced on GSA Interact that it will be updating Special Item Number (SIN) 712-3, "Reconfiguration/Relocation Management (Furniture and Furniture Related)." Specifically, GSA plans to update the description of the SIN, as well as rename it as, "Office Relocation/Reconfiguration Management Solutions." These changes will be effective as of May 15, 2018. To view the updated SIN description, please click here.
In July, GSA plans to transfer select contractors to the updated SIN 712-3. Specifically, beginning on July 1, 2018, GSA will be transferring contractors who only hold SIN 653-8, "Office Relocation," – which is on Schedule 48 – to the newly updated SIN 712-3 – which is on Schedule 71 II K. Affected contractors will be required to individually submit a modification to add SIN 712-3 and delete 653-8. GSA is describing the change as a "lift and shift" for contractors who only hold SIN 653-8. Effective October 1, 2018, SIN 653-8 will no longer be available. Contractors who hold SIN 653-8 and other SINs on Schedule 48 must apply for a Schedule 71 II K contract in order to continue to offer office relocation services.
FAR Council Releases Final Rules on Bid Protest Thresholds
On May 1st, the Federal Acquisition Regulation (FAR) Council released Federal Acquisition Circular 2005-98, which implements four final rules described below.
Task- and Delivery-Order Protests
This final rule implements section 835 of the Fiscal Year (FY) 2017 National Defense Authorization Act (NDAA) by raising the threshold for protests for the Department of Defense (DoD), the National Aeronautics and Space Administration (NASA), and the Coast Guard to $25 million. In addition, this rule implements the GAO Civilian Task and Delivery Order Protest Authority Act of 2016 by repealing the sunset date for civilian task- and delivery-order protests. The protests threshold for civilian agencies remains at $10 million.
Duties for OSDBU's
This final rule implements sections 1812 and 1813 of the FY 2017 NDAA by creating additional responsibilities for agencies' Offices of Small and Disadvantaged Business Utilization (OSDBU), as well as for DoD's Office of Small Business Programs (OSBP). Notably, the NDAA requires OSDBUs to review purchase card data for purchases above the micro-purchase threshold, but below the simplified acquisition threshold, to ensure that acquisitions are compliant with the Small Business Act and have been recorded in the Federal Procurement Data System (FPDS). OSDBUs must also provide assistance to small business by finding resources for education and training on FAR compliance, as well as review all required small business subcontracting plans to ensure that they provide maximum practicable opportunity for small business concerns.
Liquidated Damages Rate Adjustment
This final rule adjusts the Department of Labor's (DOL) regulatory penalties, specifically the rate of liquidated damages assessed or enforced by the Department, for violations of the Contract Work Hours and Safety Standards Act. The DOL is implementing the increase to account for inflation.
Audit of Settlement Proposals
This final rule raises the dollar threshold requirement for the audit of contract settlement proposals from $100,000 to $750,000 to align with the thresholds for obtaining certified costs or pricing data.
Small Business Size Standards: Revised Size Standards Methodology
The Small Business Administration (SBA) posted a notice in the Federal Register announcing that it is now accepting public comments in response to its revised White Paper on SBA's Size Standards Methodology.  The report describes how the agency creates, reviews, and modifies small business size standards. Currently, the SBA's size standards primarily utilize two measures – Average Annual Receipts and the Number of Employees – to assess the size of a business. Comments on the White Paper must be submitted by June 26, 2018. SBA is particularly interested in feedback on:
Should SBA establish size standards that are higher than industry's entry-level business size?
Should size standards vary from program to program? In other words, should SBA establish one set of standards for SBA loan programs, another for Federal procurement, or yet another for other Federal programs?
Should size standards apply nationally or should they vary geographically?
Should there be a single basis for size standards—i.e., should SBA apply the number of employees, receipts, or some other basis to establish its size standards for all industries?
Should there be a ceiling beyond which a business concern cannot be considered as small?
Should there be a fixed number of size standard ranges or "bands" as SBA applied for the recently completed comprehensive size standards review?
Should SBA consider lowering its size standards?
Upcoming Coalition Meetings
2018 Spring Training Conference, The Future of Acquisition Shared Services and Interagency Contracting, May 16
The Coalition for Government Procurement will be hosting its annual Spring Training Conference, The Future of Acquisition Shared Services and Interagency Contracting, on Wednesday, May 16, from 8:00 AM to 5:00 PM Eastern. We are especially pleased that Emily Murphy, GSA Administrator, will be providing our morning Keynote Address, "Expanding on GSA's Four Priorities."
Prior to the keynote address, Ray Bjorklund, President of BirchGrove Consulting, and Roger Waldron, President of the Coalition, will be providing a thorough market update and shared services snapshot to get the morning kicked off.  After, we will be holding two panel discussions focused on:
Mission Imperative to Meet the FAS Vision, featuring:
Dave Zvenyach, Assistant Commissioner for Systems Management, GSA (invited)
Stephanie Shutt, Director, MAS Program Management Office, GSA (invited)
Alex Rouse, Professional Services Program Executive, GSA (invited)
Joanne Collins-Smee, Deputy Commissioner and Director, Technology Transformation Service, GSA (invited)
Mark Lee, Assistant Commissioner, Policy & Compliance, GSA (invited)
4th Quarter Spending Strategies, featuring:
Dwayne Weaver, Senior Services Manager, Department of Navy (confirmed)
Jose Arietta, Senior Procurement Executive, HHS (invited)
Soraya Correa, Chief Procurement Officer, DHS (invited)
Eldred Jackson, Associate Director, Office of Procurement Operations, VA (confirmed)
Phil Christy, Acting Executive Director/Chief Acquisition Officer of the Office of Acquisition, Logistics, and Construction, VA (confirmed)
As you start to get hungry heading into the afternoon you will enjoy attending "Save Your Appetite: Lawyers for Lunch", which will feature Jonathan Aronie, Partner, Sheppard Mullin; Jason Workmaster, Of Counsel, Covington and Burling; David Dowd, Partner, Mayer Brown; and Lorraine Campos, Partner, Crowell & Moring.
After lunch, there will be a panel discussing, "Feedback from Conversations with the Customer Agencies," and have invited Erv Koehler, Assistant Commissioner for Customer Accounts and Stakeholder Engagement, GSA (invited); Tiffany Hixson, Assistant Commissioner for the Professional Services and Human Capital Categories, GSA (invited); Kay Ely, Assistant Commissioner for the IT Category (invited); and Pete Burr, Deputy Director of FEDSIM, GSA (confirmed).
In the afternoon, attendees will have the opportunity to engage in Business Intelligence Sessions, which extend beyond the traditional breakout sessions to provide an interactive, collaborative, and informative dialogue with Federal experts and leaders in procurement. We have invited over 20 such leaders to discuss the following eight sessions that you can choose from:
Business Intelligence Session #1
Information Technology
Professional Services
General Products
Healthcare (VA Federal Supply Schedules)
Business Intelligence Session #2
IT Modernization
FedMall
Healthcare (VA Prosthetics and Non-Expendable Equipment)
DHS
As always, the Conference will conclude with a networking reception to allow you to further engage your peers and the day's speakers.
Lastly, the Coalition would like to thank all of our sponsors, especially our Title Sponsor, Johnson & Johnson Health Care Systems Inc., as well as a big thank you to all our Keystone Members, Executive Members, and Strategic Partners who make events like this possible in the first place.
We are less than two weeks away from this important event and encourage you to register today!
Two Part Webinar Series – Life Sciences Government Contracting: Federal Contracting & Federal Market Access, May 30
In February, the Coalition for Government Procurement, in coordination with Baker Tilly, hosted a webinar titled, Selling Pharmaceuticals to the Government: the 65IB Federal Supply Schedule, which provided participants with an understanding of the intricacies of establishing, maintaining, and renewing a 65IB FSS contract. The webinar was the first in a two-part series that focuses on the challenges faced by pharmaceutical manufacturers selling in the Federal marketplace. Part II of the series will take place on Wednesday, May 30, from 12:00-1:00 PM.
Part II of the webinar series, titled, Federal Market Access – the Value Proposition, will take place on Wednesday, May 30, at 12:00-1:00 PM and will focus on the challenges faced by pharmaceutical manufacturers selling in the Federal marketplace. In particular, Part II will focus on the current patient access environment in the federal market, highlighting its importance to successful overall market access strategy for manufacturer. Participants will learn how these systems differ from other payers, discuss spillover opportunities, explore outcomes based contracting opportunities, and understand the unique value of this segment from a patient access and revenue perspective. The presentation will cover the following topics and more:
VA/DoD Health System Overview
Federal Segment Value Proposition
The Importance of Establishing a Strategic Plan
Supplemental Contracting Best Practices
Government Portfolio Management (SPAP, non-FSS contract administration, etc.)
To register for Part II of the series, click here.