Hot Topics for the Coalition's 2021 Spring Training Conference
These are just some of the critical topics and contracting programs to be discussed at the Coalition's 2021 Spring Training Conference on the Biden Administration's Priorities and the Role of Acquisition on May 19- 20. We look forward to seeing you at the virtual training next week.  For those who have not registered yet, click here. If you have any questions, please contact Michael Hanafin at mhanafin@thecgp.org.
More on the Spring Conference Agenda Next Week
The Spring Training Conference is next week! The Coalition is excited to bring our members this two-day virtual experience on May 19-20 that includes a diverse assembly of speakers from multiple agencies, such as the General Services Administration (GSA), the Department of Defense (DoD), and the Department of Veterans Affairs (VA). We would like to thank and recognize our current sponsors for this event, including Title Sponsors: AvKARE and First Nation Group; Gold Sponsors: AvMEDICAL, CACI, General Dynamics Information Technology, The Gormley Group, and SheppardMullin; and Silver Sponsors: Concordance Healthcare Solutions, GSMS, and PilieroMazza.
We are thrilled to confirm that the event will commence with a keynote address delivered by Michael Parrish, the VA's Chief Acquisition Officer and Principal Executive Director of the Office of Acquisition, Logistics, and Construction. We are also pleased to announce that the second day will feature a keynote address from Sonny Hashmi, Commissioner of GSA's Federal Acquisition Service. The conference is titled The Biden Administration's Priorities and the Role of Acquisition, and we have formed an agenda of panels that will discuss the impact that these priorities have on agency operations as well as Government contractors.  A few of these sessions are highlighted below:
COVID Logistics and Acquisition. This panel will address the Federal Government's COVID-19 response and how agencies have worked to deliver care to the American people during the pandemic, and at the same time, continue critical agency missions like national security. 
Sustainable Procurement. The Sustainable Procurement panel, moderated by George Washington University Law Professor Steve Schooner, includes environmental leaders from across the Government who will address the Biden Administration's approach to sustainability as a top priority, as well as how agencies are supporting these efforts. Speakers include Mark Lee, GSA's Assistant Commissioner for the Office of Policy and Compliance, Holly Elwood, the Environmental Protection Agency's Senior Advisor for the Environmentally Preferable Purchasing Program and Porter Glock, Procurement Analyst for the Office of Management and Budget's Office of Federal Procurement Policy.
Buy American and Domestic Sourcing. Comprised of speakers from both Government and industry, this panel will cover domestic sourcing topics, including the factors needed to develop a secure and resilient supply chain, lessons learned from recent supply chain vulnerabilities, and the reshoring approach. We have confirmed that Kim Herrington, DoD's Principal Director/Acting Deputy Assistant Secretary of Defense for Industrial Policy, Scott Calisti, Defense Price and Contracting's Director of Contract Policy, and Jean Heilman Grier, Principal and Manager of Trade Practice at Djaghe LLC, will be participating. The discussion will be moderated by Moshe Schwartz, President of Etherton and Associates.
Small Business Opportunities. Another important session that we will be holding in the afternoon of May 19 is a discussion of small business opportunities under the Biden Administration. Representatives from GSA's and the VA's Offices of Small and Disadvantaged Business Utilization, as well as the Small Business Administration's Office of Government Contracting & Business Development, have been invited to share insights and updates from their respective agencies on programs assisting small businesses. Coalition Small Business Committee Chairs Ken Dodds, Government Contracting Industry Expert at Live Oak Bank, and David Black, Partner at Holland & Knight will serve as the moderators.
Numerous other must-attend panels are on the agenda, as well, covering critical issue areas, like:
Cyber and the supply chain,

Priorities from the Federal Acquisition Service,

GSA systems and the Multiple Award Schedule,

IT modernization, the "VA Modernization Initiative,"

Oversight from the VA's Inspector General and the Government Accountability Office, and

Insights from the Senate.
All sessions will provide valuable information to those who attend.
We encourage members to please review the full agenda here. The registration page for the 2021 Spring Training Conference can be found here. For sponsorship opportunities, please contact Matt Cahill at mattcahill@thecgp.org. We look forward to the conference, and hope that you will join us in May.
A Reminder for Spring
Training
Conference Registrants
If you have already registered for the 2021 virtual Spring Training Conference, you will soon receive an email from "events@thecgp.org" about your conference registration. Registrants are encouraged to log-in to the conference website, create log-in credentials, and sign up in advance for the sessions that you would like to attend. Additional instructions will be provided in the email. If you have any questions, please contact Michael Hanafin at mhanafin@thecgp.org. For more details about the conference and to register, click here.  
President 
Signs
 Cybersecurity Executive Order
On May 12, President Biden signed an Executive Order (EO) that focuses on protection from future cyberattacks. The EO makes the prevention, detection, assessment, and remediation of cyber incidents a top priority. Removing barriers to sharing threat information, modernizing cybersecurity, establishing a cyber-safety review board, and standardizing the Government's response to vulnerabilities and incidents are steps that the EO lays out.  
The EO includes additional requirements for Government contractors. Service providers must share data related to cyber incidents and collaborate with Federal cybersecurity or investigative agencies in their response to incidents. Providers must also collect and maintain information from network and system logs on Federal Information Systems. It also lays out standards for software development and initiatives to expand investigations that look into cyber events. The Administration believes that changes in the Federal contracting process will "trickle down" reforms to the remainder of the private sector. Last week, the Administration launched a 100-day plan aimed at protecting the country's power grid against attacks. 
GSA Re
leases RFI
 on 
Enterprise-wide Cloud Acquisition Strategy
The General Services Administration (GSA) is asking for feedback from industry through a Request for Information (RFI) on the development of a cloud services contract for Federal, state and local governments. The RFI details GSA's acquisition strategy to deliver a multiple-award blanket purchase agreement (BPA) for commercial Software-As-A-Service (SaaS), Platform-As-A-Service (PaaS), and Infrastructure-As-A-Service (IaaS) on a pay-as-you-go basis. Anything-As-A-Service (XaaS) offerings might be considered as new innovations are developed in future procurement offerings. GSA is requesting that cloud service providers and industry partners respond to the RFI.  
The multiple-award BPA will allow agencies to acquire and implement secure and integrated cloud service offerings as a replacement for legacy enterprise IT services and products. Market research shows that these cloud services are available from industry, and can be delivered through a governmentwide acquisition solution.  
Responses to the RFI are due by May 24, 2021. The RFI is posted at GSA Enterprise-wide Cloud RFI. 
SAM.gov Integration Updates
On May 10, GSA announced some changes to SAM.gov for non-Federal users. After the migration of beta.SAM.gov and SAM.gov, the role names for non-Federal users will be simplified in SAM.gov. There are three roles for non-Federal users:.  
Viewer: replaces entity registration viewer. 

Data entry: previously the entity registration representative or reporter. 

Administrator: replaces entity administrator. Administrators will be able to invite users to a role via email. In addition, users will be able to obtain a role in the following three ways:

An existing entity administrator may invite either SAM registered or non-registered individuals to sign up or sign in to accept and complete the role association information; 

An existing entity administrator can assign a role if the individual holds another role in SAM.gov for that entity; and  

Individuals can sign in and request a role. An entity administrator can either approve or reject the request. 
Administrators are the only non-Federal users that will have access to the User Directory. They will utilize the Directory User Directory to manage users in their organization and any child entities. GSA made these improvements based on feedback from industry. To watch and download the slides from the most recent Stakeholder Forum, click here. The beta.SAM.gov and SAM.gov integration will occur on May 24, 2021. 
GSA IG to Release 
Report on 
TDR
 Pilot
This week Federal News Network reported on GSA's Transactional Data Reporting (TDR) Pilot. GSA had previously announced the results of the pilot and their next steps for possibly expanding the program to other GSA Schedule contractors. According to Federal News Network, the GSA Office of Inspector General is expected to release a report on the TDR Pilot in the coming weeks. Additionally, GSA continues to move forward to implement "unpriced" services on the GSA Schedules. The impact on the TDR Pilot is unclear.  
8(a) STARS III Initial Awards Set for June
GSA announced that the agency intends to move forward with the 8(a) STARS III phased awards to different cohorts as outlined in the solicitation. Awards to an initial cohort are planned for June 2021, and awards to another cohort are planned for later in the year. The 8(a) STARS III contract is designed to provide Federal agencies with innovative IT services-based solutions from 8(a) small businesses.  
DLA Releases Strategic Plan for 2021-2026
In April, the Defense Logistics Agency (DLA) released their Strategic Plan for 2021-2026. The plan highlights the mission to "deliver readiness and lethality to the Warfighter Always and support our Nation through quality, proactive global logistics. DLA has the vision to be innovative, adaptable, agile, and accountable, while focusing on the Warfighter Always." The plan includes five lines of effort: 
Warfighter Always; 

Support to the Nation; 

Trusted Mission Partner; 

Modernize Acquisition and Supply Chain Management; and 

Future of Work. 
Under the line of effort to Modernize Acquisition and Supply Chain Management, DLA wants to work closely with its industry partners to increase readiness and continue their competitive advantage through streamlining and modernizing acquisition and the supply chain. In order to achieve this  objective, DLA plans to grow industry engagement to foster innovation and maximize value for the customer. DLA also plans on creating a market intelligence capability to manage supply chain risk and drive best value. This line of effort will allow DLA to utilize and analyze business performance data to make informed, risk-based decisions and create actionable solutions to improve customer outcomes for operations. 
DLA included three different critical capabilities in the plan. These capabilities cross all five lines of effort. The first capability is people and culture, in which DLA will support and align with its workforce, DLA's most important asset. The next capability is fiscal stewardship, where DLA will assess and manage its resources to improve cost and cash management for the DLA Working Capital Fund. The last capability is business transformation. In this capability, DLA will focus on IT and digital capability investments, which will improve performance, decrease costs, and create more predictive and data-driven decisions. 
GSA
's Verified Products Portal to 
Reduce Supply Chain Risks
On May 12, GSA announced the implementation of the Verified Products Portal (VPP). The VPP is a new manufacturer and wholesaler facing portal for authoritative product content. It will collect standardized manufacturer names, part numbers, product specifications, and supplier authorization information. The VPP is a part of the Federal Marketplace Strategy (FMP) to simplify and modernize the buying and selling process. 
On Monday, May 17, GSA will release a refresh to the MAS Solicitation that will make data in the VPP authoritative for determining supplier authorization status. According to GSA, the VPP will protect against supply chain risks and reduce buyer's risk of buying counterfeit or non-compliant products through the use of supplier authorization information. If an industry partner offers a COTS product, which comes from a manufacturer who provides supplier authorization data in the VPP, then the industry partner will no longer need to submit Letters of Supply (LoS) for those products. GSA is having an industry forum about the VPP on June 9 at 3pm EST. Register for the forum here. If you have any questions about the VPP send them to VPP@gsa.gov.   
Legal Corner: "Buy American" Update: Essential Medicines May Continue to Come From Abroad (For Now)
Authors: By David Gallacher & Keeley A. McCarty, Sheppard Mullin
The Biden Administration has taken (at least temporarily) the teeth out of a Trump-era Executive Order that directed the government to "Buy American" for essential drugs and medical devices. President Trump's August 2020 Executive Order on Ensuring Essential Medicines, Medical Countermeasures, and Critical Inputs Are Made in the United States (Executive Order 13944) aimed to reduce dependence on foreign drugs and devices critical to the U.S. public health sector, in part by requiring that the U.S. Trade Representative remove those essential items from the coverage of any international free trade agreement. On April 20, 2021, the Biden Administration withdrew just such a proposal to remove essential drugs and medical devices from coverage under the World Trade Organization Government Procurement Agreement ("WTO GPA"). With the proposal withdrawn, the U.S. government remains free to buy U.S.-made or foreign-made drugs and medical devices, as permitted under the Trade Agreements Act.
As we previously explained here and here, the Trump Executive Order required various federal agencies to facilitate the domestic production of medicines and medical devices that the U.S. Food and Drug Administration ("FDA") deemed "essential" to the public health. These "essential" medicines and devices were included on "The List" (discussed here). The principal command of the Executive Order required government agencies to buy drugs and medical supplies on The List that are "produced in the United States," generally prohibiting purchases of essential products made outside the United States. What made this new requirement exceptional was that to be "produced in the United States," the items' critical inputs – like active pharmaceutical ingredients – also needed to be domestically manufactured. Conversely, current Buy American requirements require only that: (a) the end product be manufactured in the U.S.; and (b) the majority of the content (e.g., components or materials) come from domestic sources.
The Executive Order also required the U.S. Trade Representative to remove items on The List from any international trade agreement. This is a key element of the Order because, under the United States' current free trade agreements, covered drugs produced in a trade partner country are treated the same as domestic products under the Trade Agreements Act. If items on The List remain subject to the free trade agreements, then the Trump directive to "Buy American," largely will be rendered meaningless and inconsistent with other U.S. trade promises. That is, with the essential drugs and medical devices covered by the free trade agreements, contracting officers are free to purchase items on The List that are produced in any of the United States' trade ally countries — more than 120 countries in all.
The U.S. Trade Representative, Robert Lighthizer, originally submitted the proposal to remove items on The List from coverage under the WTO GPA on November 27, 2020. Under WTO procedure, member countries had an opportunity to respond to the proposal. Apparently many members — including the European Union, Canada, Japan, South Korea, Australia, and Switzerland — objected or complained that the proposal did not include enough information on potential impacts of the change. The United States first responded by submitting additional data to the WTO. When that did not satisfy the objectors, the new U.S. Trade Representative, Katherine Tai, ultimately withdrew the proposal last week.
The official proposal and withdrawal notice are not yet public, and what the withdrawal means for the Executive Order as a whole is not yet clear. For now, the Executive Order remains in effect, albeit with the trade measures it requires yet to be realized.  Given the Biden Administration's own "Buy American" agenda and its apparent initial support for the Executive Order (as discussed here, President Biden has withdrawn some, but not all of President Trump's "Buy American" Executive Orders), it is possible that the Biden Administration will retool the WTO GPA proposal and resubmit at some future date. But, if not, maintaining the status quo under the WTO GPA would seem practically to gut the Trump Executive Order of any meaningful impact. With government agencies free to purchase essential medicines and devices from any of the United States' trade partners, there would be little incentive for pharmaceutical and device companies to on-shore their supply chains and manufacturing. Such a move is an expensive proposal – one companies are not likely to make without a guaranteed payoff.
There is still some incentive under the Executive Order to source critical inputs, like active pharmaceutical ingredients, domestically because the Executive Order directs agencies to purchase drugs and devices "produced in the United States." Although it certainly is possible that the Executive Order may continue to affect lower value procurements (currently, the Trade Agreements Act typically displaces most "Buy American" priorities for contracts valued at $182,000 or more), for now it seems unlikely that the Executive Order will have much impact on government purchasing without further changes to the trade agreements themselves. We will have to wait to see President Biden's long-term strategy on essential medicines and devices.
Pharmaceutical and device companies with questions on navigating the Executive Order and existing Buy American procurement requirements should contact the authors of this blog.
Healthcare Spotlight: DHA Looking to Create More Collaboration Between Military and Civilian Health Care Partners
On April 12, the American Hospital Association (AHA) held a roundtable, where Federal health leaders talked about areas for synergy and partnership between military and civilian health care partners, according to the Military Health System's (MHS) official website. During the discussion, Defense Health Agency (DHA) Director, Lt. Gen. Dr. Ronald Place, highlighted the significance of smarter data and information sharing in support of the healthcare mission. Place stated that creating one MHS database will facilitate continuum of care for service members, veterans, and their families throughout different duty locations and after retirement. He noted that DHA is identifying ways to incorporate data sharing from the MHS and outpatient physicians' offices, and that creating partnerships will contribute to the readiness, strengthening, and deepening of community relationships of DHA. 
During the same roundtable, Dr. Terry Adirim, Acting Assistant Secretary of Defense Health Affairs, discussed the MHS transformation during the COVID-19 pandemic. DHA established a joint COVID-19 registry, which has been a resource for collecting and assessing clinical information for COVID-19 patients. They have been able to share that information with the civilian community as well, according to Adirim. She also believes there will be many improvements under MHS GENESIS in the ability to standardize care, facilitate care, use best practices, and provide clinicians with support in decision making. 
House
Holds 
Hearing on HHS Budget 
Earlier this week, the House Committee on Energy and Commerce held a hearing to review the 2022 budget for the Department of Health and Human Services (HHS). Secretary Becerra testified to the Committee on HHS priorities for the coming year, including how the Department plans to respond to COVID-19. The Administration's budget request includes $131.7 billion for HHS, an increase of $25 billion from 2021. The budget request also includes a $200 million increase for the Strategic National Stockpile and a $1.6 billion increase for the Centers for Disease Control and Prevention (CDC). 
Secretary Becerra also established HHS priorities for the coming year, including efforts to reduce the maternal mortality rate, improve access to care for rural communities, and increase funding for early care and education programs.  
The full hearing can be viewed here.  
DLA 
Reports 
on its Supplier Survey Results
The Defense Logistics Agency (DLA) released the results from their most recent supplier survey. The following article from DLA summarizes the results.  
Industry association leaders get 2020 Supplier Survey results, new DLA Strategic Plan details 
By Beth Reece 
FORT BELVOIR, Va.,  –  The Defense Logistics Agency is upping its game in how it understands industry and leverages data to improve processes, the DLA vice director told leaders of 13 industry associations in a May 5 webinar that also focused on 2020 Supplier Survey results and demand projections.   
"We're gearing ourselves toward a point where we're a much better partner and customer of the people you represent as we make our best attempt at transforming global logistics," Brad Bunn said while summarizing the agency's newly released 2021-2026 Strategic Plan.  
He highlighted the plan's five lines of effort and detailed objectives in the fourth, which focuses on modernizing acquisition and supply chain management. The agency expects to develop better market intelligence capabilities while identifying and managing supply chains risks. It will also focus on improving post-award processes that some businesses find challenging.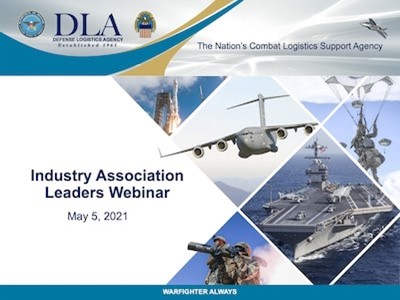 Bunn added that industry representatives can help DLA efforts to adopt new innovations as it meets increasing threats and evolving needs of warfighters and federal agencies.  
"Speed and scale matter, especially in an institution like the U.S. Department of Defense and with growing requirements from our whole-of-government partners. And we certainly consider you all great partners and enablers in our ability to meet our mission," he said.  
George Atwood, DLA's executive director of logistics, policy and strategic programs, updated industry representatives on service demand patterns for the rest of fiscal 2021. The agency estimates the value of its awards to industry for non-energy supplies to be around $25.7 billion compared to $26.3 in fiscal 2020 and $27.2 in fiscal 2019. 
"DLA awards to industry for the hardware supply chains are more likely to be on the lower end of the range while awards for DLA Troop Support supply chains like clothing and textiles, construction and equipment, medical and subsistence are likely to be on the higher end of the range," he said.  
DLA Ombudsman Tim Stark added that results of the latest Supplier Survey are encouraging. The survey is in its second iteration and measures suppliers' experience doing business with DLA during contract solicitation and post-award processes. Over 8,100 suppliers were invited to complete the anonymous survey and the response rate was 34%. Participants included small businesses at 81%; large businesses, 16% and non-profits, 3%.  
The survey included 17 factors in four categories: communications, effectiveness, supplier relationships, and growth and profit potential. Respondents rated DLA highest in trustworthiness with the lowest scores being in timely resolution and innovation, both of which still received higher ratings than in the 2018 survey. Growth and profit potential, which measures how suppliers view business opportunities with the agency, is the only category in which DLA saw no improvements. Stark said the slight dip was probably due to funding challenges and the pandemic.  
Similar demographics between the 2018 and 2020 surveys allows for close comparison, Stark added, and the results will be used to drive improvements similar to those following the previous survey. DLA Aviation invested more resources in post-award reporting, for example, and DLA Energy recently debuted an industry newsletter that features upcoming procurement opportunities and demand planning information.  
Industry representatives like retired Army Maj. Gen. Jim Boozer, chief of staff for the National Defense Industrial Association, and retired Navy Vice Adm. William Brown, president of the National Defense Transportation Association, expressed desires to work with DLA in supporting equipment retrogrades in light of the drawdown in Afghanistan. DLA Logistics Operations Deputy Director Kristin French said the agency is still getting clarifications and details of the drawdown from the Office of the Secretary of Defense. 
Boozer also congratulated DLA for what he considered high marks in the Supplier Survey on communications and effectiveness and added that he thinks the agency's new Strategic Plan is "spot on." 
"I think it's exactly what you all should be doing and the direction you should be headed in," he said. 
Bunn stressed that events such as the webinar and reoccurring industry days helps strengthen supplier relationships and ensure a diverse industrial base.  
"We believe it's important to maintain open dialogue and communications with our industry partners, especially new partners that continue to come up as we expand our business," he said.  
Two organizations new to DLA's webinar for industry association leaders include the U.S. Chamber of Commerce and Space Force Association. National Industries for the Blind, Aerospace Industries Association, and the Coalition for Government Procurement are among DLA's more seasoned participants. 
Upcoming industry events include DLA Aviation Suppler Days June 8-9, DLA Distribution Industry Day June 9, a DLA Land and Maritime Industry Roundtable Aug. 24 and a Demand Forecast Webinar for industry association leaders tentatively scheduled for October 2021.  
SBA Extends HUBZone Map Freeze
On May 5, the Small Business Administration (SBA) released a direct final rule, which extends the HUBZone map freeze. The initial freeze was mandated by the 2018 National Defense Authorization Act (NDAA). The map freeze was set to end on December 31, 2021, but SBA has extended the freeze until June 30, 2023. The SBA has extended the freeze because they will not have the necessary census data to update the HUBZone map until December 2022. The new date will allow SBA time to process data, update the HUBZone map, and give notice to the HUBZone community. This extension aims to avoid confusion about when HUBZone designations will be expiring. SBA is accepting comments until June 4, 2021. If there are not any significantly adverse comments then the rule will go into effect on June 21, 2021. 
GSA Issues Acquisition Letter on Rated Orders
GSA published an Acquisition Letter (AL) to provide guidance to contracting officers placing rated orders under the Defense Priorities and Allocations System (DPAS) to respond to COVID-19. The AL authorized GSA Global Supply and GSA Emergency Acquisition management to issue rated orders.  
The Department of Commerce has issued two DPAS authorizations to GSA for telework emergency response equipment and cleaning supplies. GSA expects that the most common supplies that may require rated orders are: 
Hand sanitizer, disinfectants, cleaning gloves, and associated contracts for services

; 

Laptop computers, accessories, and other IT products or services to support increased telework; and 

Critical IT equipment for healthcare. 
GSA's delegated authority for DPAS orders is authorized through March 31, 2022, or until the Presidential Emergency Declaration is rescinded. 
QPC Meeting 
for Furniture Contractors 
on June 10 
GSA Integrated Workplace Acquisition Center (IWAC) will host a meeting of their Quality Partnership Council (QPC) on June 10 from 1 to 4:30 pm EDT. The topics on the agenda include:   
Workplace 2030; 

Navy Enterprise-wide Furniture; 

Air Force Enterprise-wide Furniture; 

GSA Catalog Management; and 

Small Business Compliance and Goaling. 
 Click here to register. 
Officials Push for Space Acquisition Executive
According to Federal Computer Week, lawmakers are urging the Biden Administration to appoint a dedicated Space Acquisition Executive in order to address concerns that the lack of leadership has led to costly programs and delayed scheduling on systems. The Space Acquisition Executive would be in charge of synchronizing space programs, plans, and budgets. The Government Accountability Office (GAO) reports concerning the Air Force's acquisition schedule delays led to the push from lawmakers. The role, which can be assumed by the Assistant Secretary of the Air Force for Space Acquisition and Integration, has remained vacant since its creation under the 2020 Defense Authorization Bill. The Air Force has reorganized the office in preparation of this role. Air Force executives want this position to be filled as soon as possible, but under the bill, the position will not be official until October 1, 2022. It has been suggested that Congress amend the legislation to allow the position to be filled sooner. The Space Force previously announced that it is restructuring the Space and Mission Systems Center, its acquisition organization. It will become the Space Systems Command after nomination and confirmation of a Commander over the summer. 
GSA's Announces FAST2021 Registration
GSA released the Federal Acquisition Service Training 2021 (FAST2021) registration information. FAST2021 will be a three-day virtual conference, June 15 – 17, 2021, where GSA's acquisition and category experts will discuss buying and selling in the federal market. The conference is free for industry and government. GSA has not announced the conference agenda or speaker information. If you have any questions about the FAST2021 conference, email fast.event@gsa.gov.