Memorial Day: No Greater Love than to Lay Down One's Life for One's Friends
Informally considered the start of the summer season, the Memorial Day weekend is upon us. With the ritual gatherings of friends and family, this weekend also includes a day of remembrance, a time set aside to honor our nation's fallen soldiers for their ultimate sacrifice. This Memorial Day, we highlight the sacrifice of an individual, Captain Elwood J. Euart, whose story was reported recently in the local press.
A Rhode Island native and the eldest of seven children, Elwood Euart attended Rhode Island State College (now the University of Rhode Island), where he participated in the Army Reserve Officer Training Corps (ROTC). Upon graduation in 1939, he was commissioned as a Field Artillery Second Lieutenant. Later, he became a member of the National Guard. In 1942, after the U.S. entry into the Second World War, Euart, now a captain, along with elements of the 43rd Infantry Division, was sent on the SS President Coolidge to a military base on the Pacific Island of Espiritu Santo.
Though the island's harbor had mine defenses to stop Japanese submarines from approaching, information regarding a safe passage through the mines had been omitted from the ship's orders, and the ship did not receive radio messages to stop. Upon entering the harbor, the ship struck two mines, and the ship's captain, fearing that the vessel was sinking, ran it aground on a reef and ordered the crew to evacuate.
By all accounts, Euart had evacuated the ship, but, upon learning that soldiers remained on board below deck in the infirmary, notwithstanding the ship's precarious position listing to one side and sinking, he secured a rope to a stanchion, tied it around his waist, entered the sea door of the vessel, and descended to the infirmary. Euart aided his shipmates up the rope where fellow soldiers awaited, assuring that all those in the infirmary made it to safety. Sadly, Euart could not untie himself, and he perished as the ship descended under the surface to a watery grave on the ocean bottom. For his extraordinary heroic sacrifice, Euart was awarded the Distinguished Service Cross, the Purple Heart, and the Rhode Island Cross.
In 1948, Army rescuers sought to reclaim Euart's remains, but with the ship 200 feet below the ocean's surface, they were unrecoverable. There they rested for 70 years until, in 2012, divers exploring the vessel came upon them and alerted the government. In 2015, Army divers joined local divers to recover Euart's dog tags and DNA evidence confirming his identity. At long last, Euart's remains were recovered, and he was buried alongside his parents. One can only imagine the joy on Eternity's Shore that day.
It is said that, as we age, time seems to pass more quickly than it did during our youth. What once seemed like an endless summer now quickly races into fall, with winter holidays in hot pursuit. After a post-New Year's interregnum, spring comes upon us, and, before we know it, we find ourselves on the cusp of summer again. It is a reminder of how fleeting time is, making the gift of life precious, and its sacrifice for others awe-inspiring.
Elwood Euart's heroism is not limited to one war or one age.  His selflessness is emblematic, not only of the highest ideals of human nature, but also of love's spiritual perfection. This weekend, let us pause to remember his sacrifice and the sacrifice of all the other Elwood Euarts who, over the course of our nation's history, willingly offered their lives in our defense.
[N.B. Sister Lucia Treanor FSE, a relative of Elwood Euart and a professor at the Catholic University of America, tells his story in her book, "Elwood: The Story of a Catholic World War II Hero," which is available on amazon.com. The following sources were used in the drafting of this blog:
DoD Aims to Implement CMMC Certification Requirements in Contracts by May 2023
Fedscoop reported that the Department of Defense (DoD) plans to begin implementing its Cybersecurity Maturity Model Certification (CMMC) program requirements in contracts in May 2023. Before doing so, CMMC is going through the DFARS rulemaking process. Stacy Bostjanick, Director of CMMC Policy would like to see a CMMC interim rule by March 2023i which would include a 60-day public comment period and allow for the program's implementation in DoD contracts by May 2023. It is not yet clear whether DoD will be able to issue an interim rule or if a final rule will be required prior to implementation.
DoD plans to incorporate a phased approach to make sure that cybersecurity assessors will be able to adequately handle certifications requested by contractors.
Bostjanick also provided information on the requirements for prioritized and non-prioritized controlled unclassified information (CUI), stating that "for those companies that would handle non-prioritized CUI, the thinking is that they could merely do a self-assessment, an annual affirmation that they meet the requirements of the NIST 801-71 to handle the non-prioritized CUI." She added that contracts will indicate whether the procurement includes prioritized CUI, non-prioritized CUI, or Level 3 CUI. Level 3 CUI will require an assessment from the Defense Industrial Base Cybersecurity Assessment Center. DoD officials are working to make sure that definitions for the three levels are clear and distinct. Also, according to Bostjanick, the department is currently working on an acquisition guide for program managers and contracting officers "to make the decision whether or not CUI is prioritized or non-prioritized as they move into a request for proposals."
Visit the GSA and VA FSS "Ask the PMO" Tables at Spring Conference
The Coalition is excited to bring a new feature to this year's Spring Training Conference, the Ask the PMO Table. The Ask the PMO Table will be present on both days of the conference, giving attendees the opportunity to engage in dialogue with the Department of Veterans Affairs' (VA) Federal Supply Schedule (FSS) leadership on day one, and the General Services Administration's (GSA) Multiple Award Schedule (MAS) Program Management Office (PMO) on day two. Throughout the conference, attendees will be able to drop by the table to ask their burning questions or schedule a time for a one-on-one meeting.
June 15: On the first day of the conference, which features a healthcare focus, FSS Director Dan Shearer and Supervisory Contract Specialist Lydia McKay will be manning the table to answer any questions related to the VA's FSS Program and contracts.
June 16: On the second day, which will have a governmentwide focus, the Ask the PMO Table will include the following representatives from GSA's PMO:
Stephanie Shutt – Director, MAS PMO, will provide overarching MAS knowledge;
Derek Tribble – Senior Project Manager, oversees the Sales Reporting Portal;
Jack Tekus – Senior Project Manager and National IOA Coordinator; and
Xavierra Webb-Spann – Senior Project Manager, oversees the Contract Writing System and eTools for MAS.
We urge our members to take advantage of this new opportunity and engage directly with these program offices where you will have the opportunity to ask questions and have concerns addressed. If you have not yet registered for Spring Training Conference, you can do so  here. We look forward to seeing you!
GAO Finds the DoD Same Cybersecurity Standards Required of Contractors
On May 19, the Government Accountability Office (GAO) released a report on DoD's implementation of certain cybersecurity requirements designed to protect Controlled Unclassified Information (CUI). GAO found that DoD (e.g., Air Force, Defense Health Agency (DHA), Marine Corps, and Navy) have not been consistently adhering to the requirements which are listed in the chart below: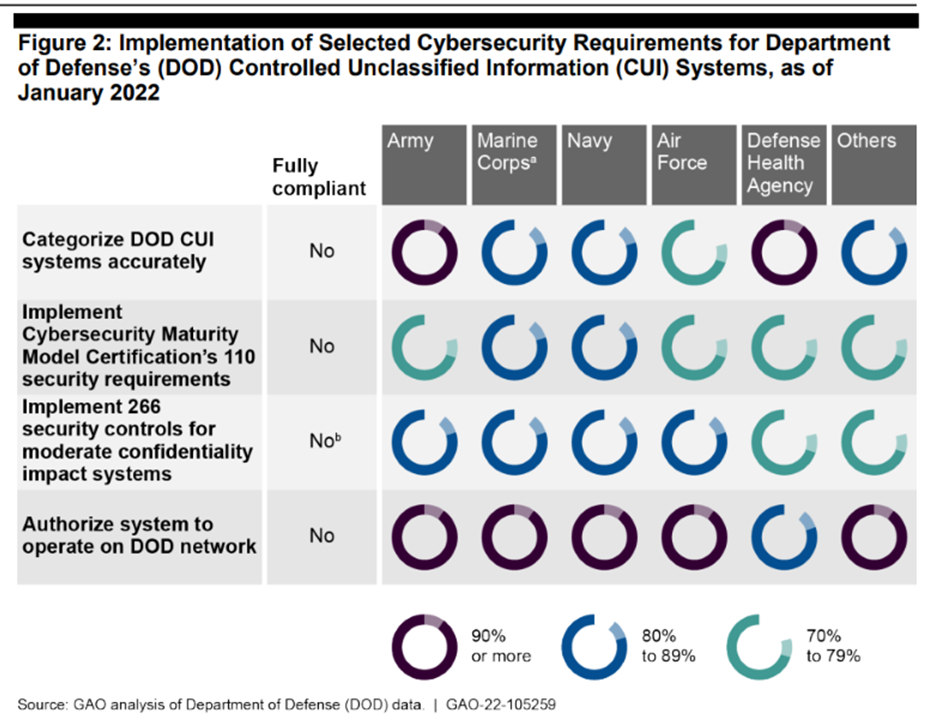 The level of compliance at the select DoD components ranged from 70 to 79 percent for the CMMC program, whereas it was over 90 percent for authorization of systems to operate on the DoD network, with the exception of DHA.
GAO also found that DoD only meets 78 percent of the 110 cybersecurity requirements under the CMMC. While DoD is not required to meet all of the standards, the agency is taking steps to improve their cybersecurity posture.
Additionally, GAO noted that DoD's Office of the Chief Information Officer (CIO) is taking actions to increase the agency's compliance of the cybersecurity requirements assessed in the report. In October 2021, DoD's CIO issued a memo on CUI control implementation. The memo specified cybersecurity requirements for CUI systems, which includes ensuring that all CUI systems have legitimate authorizations to operate and additional supply chain security measures. DoD system owners had a deadline of March 2022 to meet all requirements of the memo. Progress has been monitored by the Office of the CIO.
Register Today! Spring Training Conference: The Federal Customer Experience, June 15-16
After two years of virtual meetings and conferences, the Coalition is planning to have its 2022 Spring Training Conference: The Federal Customer Experience at the Fairview Park Marriott in Falls Church, VA on June 15-16. The first day will be dedicated to healthcare topics and issues, while the second day will have a governmentwide focus. We encourage you to dust off your dress shoes and join us in-person for this two-day conference where we will hear from a multitude of government speakers and enjoy the comradery we have so deeply missed over the years. That being said, we recognize and appreciate everyone's unique personal perspectives as we navigate the return of in-person events and are happy to share that we will offer a hybrid attendance option for those who still wish to participate virtually!
Day one (Healthcare Focus) will kick off with a keynote address, where we have invited Guy Kiyokawa, Assistant Secretary for Enterprise Integration, U.S. Department of Veterans Affairs (VA), to provide opening remarks.  We will then move to several panel discussions, including Customer Experience: VA Procurement & Logistics; Cybersecurity Certifications and How They're Evolving to Meet Future Threats; and Medical Supply Chain Resiliency. We have invited Dawn O'Connell, Assistant Secretary for Preparedness and Response (ASPR), HHS, to provide a lunch time keynote, and the day will conclude with Customer Experience Breakout Sessions, including DLA Medical/Surgical Prime Vendor (MSPV) Program and ECAT; VA Medical/Surgical Prime Vendor; VA Medical/Surgical Supply BPAs; Update on Drug Pricing Oversight; and VA Non-expendable (NX) Equipment.
Day two (Governmentwide Focus) will follow a similar format as we have invited Sonny Hashmi, FAS Commissioner, to serve as our opening keynote. Panel discussions will include FAS's Role in Meeting Agency Mission Requirements; Cyber Security Requirements; Buy American and Supply Chain Resilience; and OTA's. We have invited John Tenaglia, Director, Defense Pricing and Contracting, as our lunch time keynote, and will wrap up the day with Customer Experience Breakout Sessions, including E-Commerce Platforms and FEDMALL; Cloud Marketplace; Furniture; Professional Services Category – GSA (Services MAC and Schedules); GWAC/MAC/IT Schedules; Assisted Acquisition Services; GSA Systems; and Global Supply and Services Breakout Session.
We are equally excited to end day two with a networking reception as there is a lot of catching up to do! Please help us gain a firm understanding of interest and participation in our 2022 Spring Training Conference: The Federal Customer Experience by registering today! For food and beverage purposes, it's vital you indicate on your registration whether you plan to attend in-person or virtually (and which days if attending in-person). Please note, after answering the registration questions, you will need to click the "Save Responses" button before clicking "Complete Registration." The registration fee includes access to both days, and all sessions will be recorded and available to all registrants to listen to at their convenience if there are any conflicts.
Lastly, calling all sponsors! Review exciting sponsorship opportunities and benefits for each day HERE! Please contact Matt Cahill at 202-315-1054 or mcahill@thecgp.org for commitments or questions. We truly appreciate your support and can't wait to see you in June!
GSA Releases Draft PWS for Ascend Cloud BPA
On May 23, GSA released a draft Performance of Work Statement (PWS) for its Ascend Cloud Blanket Purchase Agreement (BPA) on SAM.gov. The Ascend Cloud BPA is a multiple award contract that allows the Government to acquire cloud solutions. Pools for the contract include Infrastructure as a Service (IaaS) and Platform as a Service (PaaS) cloud solutions, Software as a Service (SaaS) cloud solutions, and cloud related IT professional services. The draft PWS includes specifications for IaaS/PaaS (Pool 1), and defines the scope for SaaS (Pool 2) as well as IT Professional Services (Pool 3). GSA is seeking feedback on whether cloud service providers and industry partners are able to meet the requirements that are laid out in the document. GSA is accepting comments on the draft PWS until June 6.
The Coalition will be filing comments on behalf of members. Members wishing to have their responses incorporated should provide them to the Coalition no later than COB Thursday, June 2nd. Please submit comments to Michael Hanafin at MHanafin@thecgp.org.
Additionally, the Coalition has submitted a letter to GSA requesting an extension of the comment period by one month. The Coalition believes that additional time for comments from industry will enhance competition by ensuring potential offerors can submit fulsome, holistic comments for GSA's consideration at it finalizes the PWS.
USDA and NARA Receive TMF Investments
On May 23, FCW reported that two Technology Modernization Fund (TMF) awards were made. The TMF funds were awarded to the National Archives and Records Administration (NARA) and the Department of Agriculture (USDA). NARA received a $9.1 million investment, which the organization will use for cloud-based management platforms and digital paper-based records in order to replace legacy systems. The legacy systems include the Case Management and Reporting System which processes veterans' record requests, and the Archives and Records Information Systems which manages the inner workings of Federal records centers. USDA received $4.4 million in TMF funding, and the department plans to use the funds to improve cybersecurity and transition to a Zero–Trust architecture. This is the fourth TMF investment that USDA has received. Other funds were used for legacy system modernization, cloud, and citizen services.
GSA's Third Round of Employee Pulse Surveys Shows High Employee Satisfaction
Federal News Network reported this week on GSA's third round of employee pulse surveys. As GSA has navigated efforts to increase equity in the workplace and manage a hybrid-based work approach, they have relied on these surveys to gain accurate data on employee management. GSA has one of the highest employee response rates to the survey at 39.8 percent – the second highest response rate in the Federal Government. GSA leadership stated that they have made significant efforts to be transparent while navigating the COVID-19 omicron variant and are pleased that the survey showed that GSA scored the highest of any agency when employees were asked if agency leaders are clearly communicating return to the office timelines and expectations. In addition, GSA was also one of the best scoring agencies when employees were asked if they trusted agency leadership to do what is right to protect employees' health, safety, and well-being. GSA leadership said that despite the positive responses, the survey still showed that there is a lot of work to be done in navigating this new work environment.
Government Accountability Office Releases Report on Opportunities to Improve Veterans and Servicemembers Readjustment Care
GAO released their report last week on steps the Veterans Health Administration (VHA) can take to improve veteran readjustment care. The VHA Readjustment Counseling Services (RCS) provides a variety of counseling through 300 Vet Centers to help eligible veterans, service members, and their families readjust to life after deployment. RCS and Vet Centers provide psychosocial assessments and feedback surveys to assess client needs and whether they are being fulfilled. However, RCS does not use this information to assess which Vet centers are meeting client needs across their client population.
GAO also noted that the RCS is not using available information to assess their ability to meet the needs of subpopulations that may experience different challenges. Vet Centers' employees conduct a variety of outreach activities to inform eligible individuals and their families about what services the Centers can provide. Vet Centers use the gathered information to then assess the effectiveness of their outreach. However, Vet Center officials identified challenges with this approach, especially in areas that do not generate many contacts such as outreach tailored to specific communities that require more time and effort to develop trust in their relationship with the center. Vet Center officials have told GAO that further guidance and metrics would help to ensure that their outreach is effective in increasing awareness.
Officials from the RCS and from the Vet Centers also identified several barriers to care. These barriers include a lack of awareness about Vet Centers, challenges accessing Vet Center services, and obstacles regarding clinical consultations. The Vet Center identified that some veterans and service members may be unaware of the services that exist and their eligibility for them. In addition, some VHA medical facility staff did not understand what services the Vet Centers provide and therefore are unable to recommend them. According to the GAO, some veterans and service members are unable to access Vet Center services due to a lack of transportation or accessibility, with some traveling as long as two hours for rural veterans. Lastly, the Vet Center identified challenges in the clinical consultation process. According to VHA policy, Vet Center counselors must work with an external consultant for at least four hours each month to discuss care or coordinate the support needed. This policy requires the consultant to be a mental health professional assigned by the VHA medical facility. In cases where the facility is unable to provide a consultant, one from the private sector may be contracted. However, several officials identified cases where Vet Center counselors were unable to receive the consultations due to a lack of availability from the VHA facility and challenges associated with seeking care in the private sector due to the time and expense required. GAO issued five open recommendations for executive action to VHA who concurred with the recommendations and identified specific actions to address them.
Labor Department Seeks Increased Budget for Worker Protection Agencies for Fiscal Year 2023
FCW reported this week on testimony from the Secretary of Labor on the need for new hires at worker protection agencies pursuant to the Infrastructure Investment and Jobs Act and to recover from years of declining staff levels. "The budget invests $2.2 billion in the department's worker protection agencies. This work is more essential now than ever as we rebuild the staffing levels," Secretary Marty Walsh told lawmakers on a House Appropriations subcommittee last week. The Labor Department lost 14 percent of its staff between 2016 and 2020, which, according to the department's budget submission, creates difficulties in the department's ability to conduct inspections and investigations. The department hopes to increase staff for its Office of Federal Contract Compliance Programs (OFCCP). The Biden Administration is seeking almost $39 million more for the office in Fiscal year 2023. Walsh testified that the goal is to build OFFCCP so that it can "remove systemic barriers that workers in underrepresented communities face to accessing good jobs in construction and other growth industries that the BIL will bolster."
CISA Issues Emergency Directive About VMware Vulnerabilities.
On May 18, the Cybersecurity and Infrastructure Security Agency (CISA) released an emergency directive,  the tenth emergency directive CISA has issued since January 2019.  The emergency directive identifies VMware vulnerabilities that put Federal networks and systems at immediate risk. The vulnerabilities are in  VMware Workspace ONE Access, VMware Identity Manage, VMware vRealize Automation, VMware Cloud Foundation, and vRealize Suite Lifecycle Manager. T. VMware classified the new vulnerabilities as "critical" and issued patches for the new vulnerabilities on Friday, according to Federal News Network. CISA requested that Federal agencies notify them by May 24 about the status of patching efforts.
EPA Looking to Improve the Water System Cybersecurity
As cyberattacks on America's water and wastewater system grow, Michael Regan, Environmental Protection Agency (EPA) Administrator, says the agency is focused on increasing cybersecurity, according to FCW. EPA has requested over $4 billion to upgrade its cybersecurity infrastructure. The budget includes funds for a grant program that will support America's water systems as "they establish and build necessary cyber capabilities." The funds will provide EPA with the opportunity to supplement the "training, technical expertise and resources" to help with water system cybersecurity modernization.
Pharmaceutical Subcommittee Meeting with VA PBM, June 8
The Coalition will host a Pharmaceutical Subcommittee meeting with Dr. Jennifer Martin, Deputy Chief Consultant, VA Pharmacy Benefits Management (PBM) Services on Wednesday, June 8 from 2 to 3 pm EST. The meeting will be virtual. Dr. Martin will join us to respond to member questions.
Request for Member Questions for Dr. Martin
To submit questions for Dr. Martin, please send them to Aubrey Woolley at awoolley@thecgp.org by May 31.
To register to attend the meeting, click here. The login information will be sent to all registrants a few days in advance.
Office of Personnel Management Releases New Guidance on Skills Based Hiring
On May 19, the Office of Personnel Management (OPM) released new guidance, "The Guide to Better Occupational Questionnaires." The goal of the guidance is to emphasize a skill-based hiring approach, as opposed to an education-based hiring approach, to improve the public sector's ability to compete with the private sector for talent by prioritizing  relevant position skills over traditional academic qualifications. In addition, OPM Director Kiran Ahuja stated in a press release that "skills-based hiring will expand talent pools by making it easier for applicants without a bachelor's degree to demonstrate their skills and will help remove barriers to employment for historically underrepresented groups." Per OPM's guidance, early-stage hiring questions should be based on factors, like job-related work experience, education, and training. OPM also released a nine-step process to help agencies determine the minimum requirements for applicants to be entered into the employment process.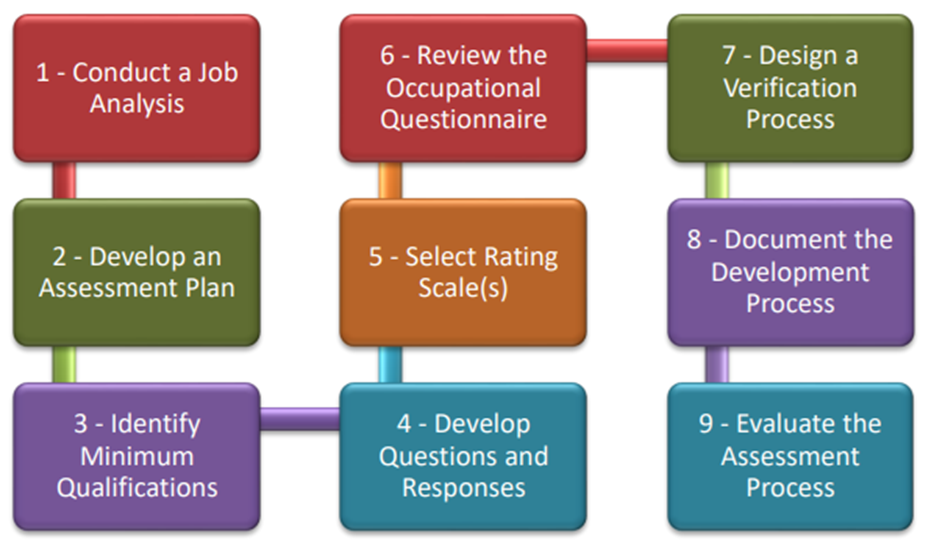 OPM emphasized the need to avoid using specific jargon and to focus on general skills. The goal of this effort is to hire qualified candidates who may lack specific Federal workforce experience, but otherwise, have relevant position  experience. The guidance represents a step toward fulfilling a key element of the President's Management Agenda, namely, strengthening and empowering the Federal workforce. OPM said agencies can attend upcoming sessions to gain more information on efforts to improve the employment process.
GSA Updates its FAQs on Unique Entity ID Transition
On April 4, the Federal Government transitioned from using the DUNS Number to the Unique Entity ID in SAM.gov as the official entity identifier for Federal awards. GSA is continuing to work to improve the entity validation process for organizations registering on SAM.gov. The agency's top priority is addressing validation requests. To assist with the new validation process, GSA has consolidated and updated its FAQs. This document provides general information about the validation process, as well as guidance on creating incidents and submitting correct documentation.
Legal Corner
OFCCP's Growing Activism Portends Stricter Enforcement
By: Sara Nasseri
The Department of Labor (DOL) Office of Federal Contract Compliance Programs (OFCCP) has taken several actions during the past six months that signal it will adopt a more forceful posture in ensuring that federal contractors meet their affirmative action and non-discrimination obligations toward their workforce. To prepare themselves for heightened scrutiny and tighter deadlines, government contractors should take steps now to set up their records for quick retrieval during OFCCP audits and rectify any unjustified pay disparities among their employees.
Below is a brief summary of some actions the agency has taken that signal a heightened enforcement posture:
AAP Certification Portal: In December 2021, the OFCCP launched its Affirmative Action Program Verification Interface, and on February 1, 2022, the agency launched an online portal through which covered contractors and subcontractors must certify by June 30, 2022, that they have an affirmative action program that complies with the regulations. As the deadline is fast-approaching, covered contractors should ensure that they are prepared for certification and have taken all necessary steps to do so.
Pay Equity Directive: On March 15, 2022, OFCCP issued a directive about pay equity audits that makes clear that federal contractors must analyze their compensation practices each year to identify and correct any pay disparities based on gender, race, or ethnicity. The directive also clarified that the OFCCP may request not only a copy of the contractors' pay equity analysis but also additional information related to pay, including employees' education or experience and assignments or promotions. Contractors that conduct internal pay analyses under the direction of their attorneys generally have objected to turning them over to OFCCP, arguing that attorney-client privilege protects them from disclosure. However, the directive notes that the OFCCP can now obtain copies of federal contractors' pay equity audits that are done to comply with the OFCCP regulations. Nevertheless, communications with counsel may remain privileged because of the attorney-client privilege. Therefore, contractors should continue to consider engaging legal counsel to lead the effort and provide legal advice because confidentiality attaches to communications with counsel involving corrective actions taken, the process underlying the analysis, and any strategic decisions. Additionally, nothing prevents a contractor from conducting a proactive, preliminary analysis with legal counsel for the sole purpose of obtaining legal advice, which the directive makes clear may remain privileged.
Proposed Revisions of the 2020 Predetermination Notice Rule: OFCCP continued its activist streak on March 22, 2022, when it issued a proposed rule that would make it easier for the agency to issue predetermination notices. DOL explained that the proposed rule seeks to revise a final rule titled "Nondiscrimination Obligations of Federal Contractors and Subcontractors: Procedures to Resolve Potential Employment Discrimination" that took effect in 2020. DOL said the Trump administration rule imposed rigid evidentiary standards that forced the agency to spend its time arguing with contractors over definitions instead of conducting more compliance evaluations. According to DOL, OFCCP's proposed rule would rescind the rigid evidentiary standards for providing employers with notice of discrimination concerns while retaining the required use of the predetermination notice and the notice of violation, with modified procedures that allow the agency to consider the facts and circumstances of each case. DOL said the proposed rule would promote early resolution of violations by continuing to allow contractors to waive notice procedures and enter directly into a conciliation agreement. The proposed rule also decreases the amount of time that contractors have to respond to a predetermination notice from 30 to 15 days. The proposed rule would generally give the agency more flexibility and allow it more access to contractors' records during an audit, to the contractor's detriment.
Effective Compliance Evaluations and Enforcement Directive: Finally, on March 31, 2022, OFCCP issued its second directive of the year, which clarified its policies for scheduling contractors for compliance evaluations. The directive, titled "Effective Compliance Evaluations and Enforcement," imposes tighter timelines on the audit process. It eliminates the 45-day lag time between OFCCP's publication of its scheduling list and its auditing of the contractors on the list. It also repeals the automatic 30-day extension for contractors to produce requested data even though some contractors may have trouble quickly compiling information that is kept at various places within their company. Furthermore, the directive requires contractors to submit all affirmative action plans and itemized data within 30 days of receiving a scheduling letter. OFCCP may grant extensions, but they will be given on a case-by-case basis and only for extraordinary circumstances. In addition to increasing the time pressure and production burdens on contractors, the directive also could lead to larger investigations. The directive indicates that for employers with multiple establishments, OFCCP will coordinate its evaluations of common policies and patterns across all the contractor's establishments. Such multi-establishment compliance reviews are likely to result in expanded investigations. Moreover, the directive states the agency's goal of reaching a broader group of federal contractors and subcontractors. The directive's explicit mention of subcontractors is noteworthy because OFCCP traditionally has not paid much attention to subcontractors.
Taken together, these developments show that the OFCCP is poised to undertake heightened scrutiny of federal contractors and subcontractors and assume a more aggressive enforcement attitude. Therefore, government contractors should take steps now to better position themselves in the event of an OFCCP audit.
If you have any questions about these requirements or how to prepare for a potential audit, please contact Sara Nasseri, the author of this blog, who is a member of PilieroMazza's Labor & Employment Group. For further guidance, please join Sara for her webinar June 8, 2022, at 2 PM, where she will further discuss these actions and best practices moving forward. To register, click here.
Small Business Programs Outside the United States
Updates and Opinions on Timely Topics Impacting the Government Contracting Industry from GovCon Expert Ken Dodds
On May 26, 2022, the FAR Council will amend Part 19 (Small Business Programs) to provide that procuring agencies "may" apply the small business programs outside the United States. 87 FR 24836. This change is necessary because the current FAR language provides that Part 19 applies only in the United States (except for Subpart 19.6, Certificates of Competency and Determinations of Responsibility). FAR 19.000(b). As noted in the final rule, some procuring agencies have interpreted the current FAR language as prohibiting small and socioeconomic set-asides outside the United States. Under the final rule, procuring agencies will clearly have the discretion to set aside contracts outside of the United States for small, 8(a), WOSB/EDWOSB, SDVO and HUBZone small business concerns.
Of note the small business "rule of two" which provides that a contracting officer "shall" set aside an acquisition for small business if there is expectation that offers will be received from two or more small business concerns at fair market prices (FAR 19.502-2) will not apply to acquisitions outside the United States. The "rule of two" is statutory below the SAT (15 USC 644(j)), but it is regulatory above the SAT. In general, it is more difficult for small businesses to perform acquisitions below 250k overseas, given the potential cost and complexity of performing work in a foreign country. And because the rule of two above the SAT is regulatory, the FAR Council has the authority to create whatever limitations it deems appropriate for the rule of two above the SAT, including providing that it does not apply outside the United States.
The Small Business Act addresses applicability of the contracting provisions outside of the United States in only one area, where procurements performed outside the United States are exempt from the small business subcontracting plan requirements. 15 USC 637(d)(2)(B). In 1990, a small business was denied a contract performed outside of the United States on responsibility grounds. The procuring agency did not refer the small business to SBA for a possible Certificate of Competency, because at the time the FAR provided all of Part 19 did not apply outside of the United States. GAO sustained the protest stating, "Nothing in the Small Business Act imposes any geographical limitation regarding a contracting agency's location which would exempt procurements from the Act's coverage." Discount Machinery & Equipment, Inc., B-240525, Nov. 23, 1990, 90-2 CPD 420. Consequently, the FAR was amended to provide that FAR Part 19.6 (Certificates of Competency and Determinations of Responsibility) applies worldwide. FAR 19.000(b). Under GAO's logic and based on the fact the Small Business Act only exempts contracts outside of the United States from the subcontracting plan requirements, the statutory small business rule of two below the SAT should apply to acquisitions outside the United States. Nevertheless, GAO denied a protest on this very point without sufficiently explaining why the statutory COC procedures apply outside of the United States but the statutory rule of two does not. Latvian Connection General Trading and Construction LLC, B-408633, Sep. 18, 2013, 2013 CPD 225.