Cyber Executive Order: We're All in This Together
In recent days, it has become apparent that our nation is under silent attack.  Whether it be a fuel pipeline, a food processor, a ferry in New England, or a city transit system, it is clear that the United States' adversaries are stepping up their efforts to exploit weaknesses in our IT infrastructure for nefarious purposes. It is for this reason that President Biden's issuance of an Executive Order on Improving the Nation's Cybersecurity takes on special importance.
That order, issued last month, takes some important steps in leveraging federal requirements to assure that "Federal Information Systems … meet or exceed the standards and requirements for cybersecurity" that the order sets forth. Among other things, the Executive Order addresses:
The removal of contract barriers to facilitate information sharing regarding "threats, incidents, and risks" to deter, prevent, and respond to threats and otherwise defend Federal systems.

Requirements for IT and communications contractors to report a "cyber incident involving a software product or service provided to such agencies or involving a support system for a software product or service."

The modernization of the government's cybersecurity approach, including use of a Zero Trust Architecture (process that treats everyone as a threat risk) and the acceleration of "movement to secure cloud services, including Software as a Service (SaaS), Infrastructure as a Service (IaaS), and Platform as a Service (PaaS); centralize and streamline access to cybersecurity data to drive analytics for identifying and managing cybersecurity risks; and invest in both technology and personnel to match these modernization goals."

Prioritization of resources for the "adoption and use of cloud technology." In this regard, DHS, through CISA and in consultation with GSA, "acting through the [FedRAMP]…, shall develop security principles governing Cloud Service Providers (CSPs) for incorporation into agency modernization efforts."

For data in transit and at rest, the adoption of multi-factor authentication and encryption.

For critical software, the identification of practices to enhance the software supply chain and secure development environments, including "auditing trust relationships;" "employing automated tools" in connection with source code supply chains and to identify other vulnerabilities.

"Maintaining accurate and up-to-date data, provenance … of software code or components, and controls on internal and third-party software components, tools, and services present in software development processes, and performing audits and enforcement of these controls on a recurring basis… ."

The provision of "a Software Bill of Materials (SBOM) for each product directly or by publishing it on a public website." The SBOM, among other things, contains the record of "supply chain relationships of various components used in building software," g. open source code.

The establishment of a Cyber Safety Review Board to "review and assess, with respect to significant cyber incidents … affecting FCEB [Federal Civilian Executive Branch] Information Systems or non-Federal systems, threat activity, vulnerabilities, mitigation activities, and agency responses."

The development of standard operations procedures "to be used in planning and conducting a cybersecurity vulnerability and incident response activity respecting FCEB Information Systems."

The use of endpoint detection and response initiative "to identify support proactive detection of cybersecurity incidents within Federal Government infrastructure, active cyber hunting, containment and remediation, and incident response."
The foregoing list, by no means, is exhaustive of the order's requirements, regulatory implementation provisions, or ambitious implementation timeframes. For all stakeholders, however, it signals that significant changes are on the (short) horizon, including the potential for the removal of technology, like software, from government systems. It also provides a sense of the breadth and critical importance of issues covered, as well as the urgent need to address them. By so doing, it represents an opportunity for our community to assist government as it works to implement the solutions implicated here.  Make no mistake, the President's Executive Order signaled needed leadership in this area to address the significant vulnerabilities in our systems. For the order to be brought to fruition, however, it will require concerted efforts by all stakeholders, those working with these matters day-to-day, along with those setting policy.  It is an opportunity for all of us to be part of the solution that helps safeguard our nation from those who have demonstrated the unending intent to do our nation harm.
The Coalition remains ready to do its part. Members should keep an eye out for upcoming sessions discussing these matters.
Thank you to the Moderators of the Spring Training Conference
The Coalition would like to highlight our industry partners who served as moderators at the 2021 Spring Conference on The Biden Administration Priorities and the Role of Acquisition. In addition to the contributions of the speakers, the moderators played a key role in delivering substantive panels and providing subject matter expertise. We would like to recognize the following moderators of the 2021 Spring Training Conference:
Bob Metzger, Shareholder, Rogers Joseph O'Donnell
Bill Gormley, President, The Gormley Group
Steve Schooner, Nash & Cibinic Professor of Government Procurement Law, George Washington University College of Law
Jay Wootten, Contracts Director, Booz Allen Hamilton
Bill Murray, National Account Manager, Federal Sales, Office Depot
Gabrielle Horton, National Government Sales Manager, Grainger
Howard Byrd, Managing Director, Government and Public Services Contracts, Deloitte
Tony Celeste, Executive Director & General Manager, Public Sector, Ingram Micro
Aubrey Woolley, Vice President of Public Policy, The Coalition for Government Procurement
Greg Madden, Managing Member, Orlaithe Consulting
Bill Deeb, Director, Healthcare Systems, Karl Storz
Robert Holman, Group Vice President, Federal Government, BD
David Black, Partner, Holland & Knight
Ken Dodds, Government Contracting Industry Expert, Live Oak Bank
Tom Sisti, Executive Vice President and General Counsel, The Coalition for Government Procurement
Jason Miller, Executive Editor, Federal News Network
Leslie Casson Stevens, Industry Executive Advisor, SAP
Moshe Schwartz, President, Etherton and Associates
Roger Waldron, President, The Coalition for Government Procurement
J'Aime Conrod, Head of Government Accounts, UCB
Mike Pullen, Vice President, CGI Federal
Mark Snead, Vice President, Federal Sales and Government Cooperatives, Grainger
Joe Pastel, GSA Program Manager, Leidos
Kelly McGriff, Director, Compliance, HNI
The Coalition thanks all participants across Government and industry for your contributions to a successful conference, as well as the mission to bring common sense to Government procurement. We look forward to working with members and other experts in the procurement community to deliver more meaningful events in the future.
Coalition's Year In Review is Here!
Each year, the Coalition releases a review of our initiatives and activities from the previous year for our members. The 2020 Year in Review is now available on the Coalition's homepage. Due to the pandemic, we transitioned to the virtual world, while still providing our members with access to the latest acquisition policy and Federal contracting information. We would like to thank all the members for their support in 2020 and your continued support in 2021! See the full 2020 YIR here.
VA and DLA Request Time to Reassess Options for MSPV" title to "VA and DLA Request Time to Reassess MSPV Transfer
This week, the Government submitted a motion for voluntary remand and related relief to the Court of Federal Claims (COFC). The COFC has not yet addressed the motion. Previously, Medline Industries and Concordance Healthcare Solutions had filed a protest of the planned transfer of the Medical/Surgical Prime Vendor (MSPV) program from the Department of Veterans Affairs (VA) to the Defense Logistics Agency (DLA). The Government has requested six months for the VA and DLA to reconsider the planned transfer, "in light of these allegations and the lack of analysis in the record to support the planned transfer to DLA."  
According to the motion, while the transfer is reconsidered, the VA will continue work on its MSPV 2.0 program. Additionally, Veterans Integrated Service Network (VISN) 20, which has already been transferred, will remain with DLA; VISN 6, which is currently undergoing transfer, will be completed with DLA. No additional VISNs will be transferred to DLA during the reconsideration. According to the motion, "the reconsideration may result in any one of innumerable paths, including but not limited to abandoning the planned transfer (permanently or temporarily), affirming intent to proceed on the same or different grounds, or other action." 
Once the six-month remand is complete, the Government will have 30 days to file a joint status report and determine if further litigation is necessary. The COFC is expected to respond to the Government's motion soon. The Coalition will notify members if the motion is granted and be sure to update members on other developments related to the MSPV program.  
President Biden Releases Budget Request
On May 28, President Biden released the Fiscal Year 2022 Budget, which would authorize more than $1.69 trillion in discretionary spending. The Budget includes funding for the American Jobs Plan, which aims to create millions of jobs for the economy and invest in infrastructure and clean energy. The proposal also includes funding for defense priorities and 21st Century security challenges such as bolstering cybersecurity and research and development.  
Department of Veterans Affairs 
The budget for the VA in 2022 is $269 billion, an increase of over $25 billion or 10.4 percent from 2021. The budget also includes a $14 billion increase in funding for medical care and a $54 million increase in funding for the Electronic Health Records (EHR) modernization.  
The VA has identified five priorities in the budget: 
Supporting veterans during the COVID-19 pandemic; 

Helping veterans build opportunity with improved education and job opportunities; 

Strengthening the VA's commitment to diversity, equity, and inclusion; 

Eliminating veteran homelessness and preventing veteran suicide; and 

Increasing support for the caregiver program. 
Technology Modernization and Cybersecurity 
The Budget request includes an additional $500 million in funding for the Technology Modernization Fund (TMF), a revolving fund that allows agencies to update their technology systems and secure their data. The Budget also includes $9.8 billion for civilian cybersecurity programs, an increase of $1.1 billion or 11 percent. The increased funding also includes $750 million in investments to respond to the lessons learned from the SolarWinds incident.  
Agencies to Finalize "Return to the Workplace" Plans by July 19
Government Executive reported that the Biden Administration is requesting that agencies finalize their return to workplace plans by July 19, 2021. The plans must include reentry and post-reentry procedures and policies. Agencies should have draft versions of the plans submitted by June 18, which must include phased reentry schedules and other safety measures informed by current guidance from the Centers for Disease Control and Prevention (CDC), the Occupational Safety and Hazards Administration, and any other relevant guidance. Agencies must provide employees who will have to return to the workplace with ample notice, so that they will have time to work out the logistics of their return. Any agency that wants to deviate from the safety principles outlined in the January 24 Guidance Memo must get permission first. 
Coalition Comments on GSA Cloud Policy
On May 28, the Coalition submitted industry feedback in response to GSA's second Draft Acquisition Letter on the Procurement of Cloud Computing on a Consumption Basis under the Federal Supply Schedules (FSS). Coalition members sincerely appreciate GSA for the continued dialogue with its stakeholders on the implementation of a cloud policy that would allow Federal agencies the flexibility to purchase cloud services on a consumption basis under the FSS. To access the Coalition's comments, click here.
GSA and VA OIG Reports to Congress
Semi-annual reports for the General Services Administration (GSA) Office of Inspector General (OIG) and the VA OIG have been submitted to Congress for the period of October 1, 2020 – March 31, 2021. 
General Services Administration 
During the reporting period, three of the OIG's significant preaward audits were of Schedule contracts with combined projected government sales of about $956 million. Through these audits, the OIG identified potential savings and recoveries of $93 million. The OIG found that the commercial sales practices submissions were not current, accurate, or complete. Additionally, OIG found that contractors' proposed labor rates were overstated, price reduction provisions were ineffective, GSA was not receiving the most favored customer pricing, billed rates exceeded GSA schedule rates, unqualified labor was billed, and prompt payment terms were not shown on GSA schedule invoices.  
Department of Veterans Affairs 
The VA OIG conducted 35 preaward reviews which identified over $286 million in potential cost savings during the reporting period. Preaward reviews included the Federal Supply Schedule (FSS) proposal, the Architect/Engineer Services proposal, and 18 healthcare provider proposals which accounted for about $64 million of the identified potential savings. The OIG assessed the VA's oversight of the Medical/Surgical Prime-Vendor Next Generation (MSPV-NG) program. The OIG found that VA controls were not sufficient in ensuring that medical facility staff accurately reviewed, verified, or certified distribution fee invoices for the program. It was also found that the VA did not ensure that staff at medical sites accurately established and applied the on-site representative rates and paid fees based on annual facility purchases. The MSPV pricing schedule establishes fee rates for on-site representatives based on annual facility purchase amounts. The establishment of a flat fee rate will help to mitigate on-site representative rate disparities. However, the VA must ensure that facilities reconcile prior and ongoing rate disparities presently. The OIG made 10 recommendations to improve oversight of verification and certification of distribution fee invoices, and to ensure accuracy of on-site representative fees.  
JEDI Contract Protest Case Set to Continue
Federal News Network reported that, according to court documents filed last week, the Department of Defense (DoD) is preparing to continue litigation on the Joint Enterprise Defense Infrastructure (JEDI) Cloud contract protest. In earlier statements, DoD had stated that it would reconsider whether to proceed with the JEDI contract if the Court of Federal Claims did not dismiss parts of the lawsuit filed by Amazon Web Services that alleged improper political influence. These allegations were not dismissed in an April 28 ruling, and the judge told the parties to report back on May 28 on whether and how the case should proceed. On May 28, all parties indicated that they would like to proceed, but differed in how they believe the case should be handled moving forward.  
The Government and Microsoft, who won the JEDI award, would like the court to deny Amazon's request to gather additional evidence, including court-ordered depositions from Government officials. Their proposed schedule would push the case decision to October at the earliest. Amazon would like to start litigating in June over what additional evidence it should be allowed to incorporate for the judge. These initial litigations would end in July, but the rest of their proposed timeline for the lawsuit remains uncertain. 
IG Reports that VA Underestimated its Electronic Health Record Costs
On May 25, the VA OIG published a report titled "Deficiencies in Reporting Reliable Physical Infrastructure Cost Estimates for the Electronic Health Record Modernization (EHRM) Program." The EHRM Program manages the VA's transition to a new electronic health record system, which aims to provide healthcare providers with access to more comprehensive medical histories for veterans enrolled in the VA healthcare program. The EHRM will cost about $16 million over the 10-year implementation period of the new system. The VA OIG conducted this report to determine whether the Veterans Health Administration (VHA) developed and reported reliable cost estimates for physical infrastructure upgrades necessary to support the new health record system.  
The audit found that the VHA developed two formal cost estimates as of July 2020 for physical infrastructure upgrades necessary for implementation of the new system. However, the OIG found that these two cost estimates were not reliable. To be reliable, the estimates need to be comprehensive, well documented, accurate, and credible. According to the OIG, neither of the estimates fully met these standards. Statistical projections from the audit team found that the two estimates may be underestimated by as much as $1 billion and $2.6 billion, respectively. The OIG found several factors that contributed to the unreliable estimates, including insufficient planning at the outset of the EHRM Program, and the lack of an independent cost estimate which likely would have revealed many of the issues with the estimates early on.  
The OIG found that the VHA had taken proactive measures to request facilities nationwide to conduct assessments to identify the current physical infrastructure conditions. These assessments, along with site-specific plans based on individual site conditions, will be important in developing a reliable cost estimate. These measures also give VA leaders the information needed to successfully plan, prepare, and execute necessary upgrades to support the EHRM's system deployment schedule. 
CMMC Assessor Training to Start Late Summer
Federal Computer Week reported that the Cybersecurity Maturity Model Certification (CMMC) Accreditation Body (AB) confirmed that CMMC assessor training will begin in late summer. The training will likely not be available until this time since the classes are waiting for authorization. Currently there is only one organization certified to be a third-party assessor, but there are more organizations undergoing the certification process. The AB says that only 40 percent of the applications have been processed. The AB will release a permanent marketplace portal later this year, and also plans to become an International Standards Organization (ISO) accreditation body by the end of fiscal year 2022. 
Legislation Introduced to Create a Cyber Rotational Program 
On May 28, Rep. Ro Khanna (D-CA) and Rep. Nancy Mace (R-SC) introduced the Federal Rotation Cyber Workforce Program Act, reports FedScoop. The legislation would allow senior officials in the technology industry to work for the Federal Government for a specified rotation. The industry officials will be able to return to their position or to a similar position once they finish their time with the Federal Government. Rep. Khanna states that the Program will give cyber professionals the experience needed to defend the U.S. from threats abroad, and Rep. Mace said that the Program will strengthen America's cybersecurity workforce and prepare the U.S. for cyber attacks.  
First Glance: Breakdown of the CIO-SP4 RFP
Authors: Leo Alvarez, Senior Manager and Jeff Clayton, Principal; Baker Tilly
The Accounting Corner provides the community with an opportunity to share insights and comments on issues of the day. The comments herein do not necessarily reflect the views of The Coalition for Government Procurement. 
The highly anticipated and closely watched Chief Information Officer Solutions and Partners 4 (CIO-SP4) solicitation is finally here! After six months of delays, NIH's Information Technology Acquisition and Assessment Center (NITAAC) has released the final RFP for the "best-in-class" Governmentwide Acquisition Contract (GWAC).
A popular choice for complex information technology services, CIO-SP4 promises to be a prominent contract vehicle for federal buyers well into the future – covering a wide breadth of services from cybersecurity and cloud computing to healthcare IT.
There are a number of changes when compared to the previous draft RFP – some of which address technical proposal structure, self-scoring and teaming.
First glance takeaways
Contemplated number of awards
NITAAC anticipates making as many as 165 awards to large businesses, 345 awards to small businesses and 40 awards to 8(a) small businesses. The complete breakdown: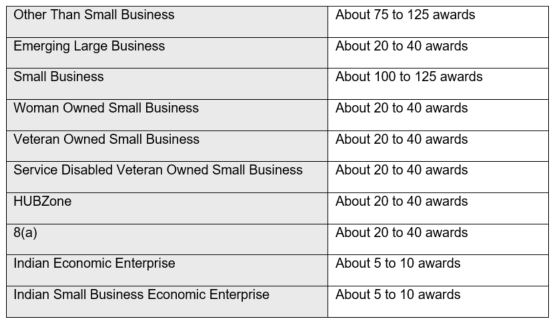 Three phase evaluation approach
While there were no major structural changes from recent NITAAC communications in this area, offerors should keep in mind that they will be notified after each evaluation phase (and at the time of award) whether they are eliminated from the competition, or whether they have been selected for award. The evaluation will follow below three phases:
Phase one: The government will validate the offerors' self-scoring sheet
Phase two: The government will verify the remaining offerors' "go/no-go" requirements
Phase three: The government will evaluate the remaining offerors' written proposal
Scorecard updates
Unfortunately, for some organizations, NITAAC did not remove the CMMI Certification Level 2 and ISO 9001 certifications as mandatory requirements for large businesses to participate – despite fierce advocacy through industry associations in this area. In essence, these are de facto "go/no-go" criteria for large business offerors. If these organizations do not have these certifications in place by the time of proposal submission, they will be eliminated from competition. Even more challenging, NITAAC added an additional certification (ISO 20000) as a requirement for large businesses to participate. This may come as a surprising twist for organizations that have spent months preparing for the release of the RFP. Additionally, while the maximum point total has remained the same (10,000 points), several minor updates were made to the following point scoring items:
ISO 9001 (was 200 points, now 300 points)

ISO 20000 (was 200 points, now 300 points)

ISO 27000 (was 200 points, now 300 points)

Removed points for locations
Emerging Large Businesses (ELB)
NITAAC made clear in the months leading up to the rollout of the solicitation that only businesses within their respective socioeconomic category would be competing against one another. Interestingly, the solicitation includes the mention of the somewhat new category of "Emerging Large Business" – meant to capture mid-size organizations that often feel they are too small to compete on a large business contract vehicle and too large to compete on a small business contract vehicle. The inclusion of the category represents NITAAC's attempt to capture capabilities from this subset of industry. In order to propose as an ELB, offerors must "provide documentation that shows their average yearly revenue for the last five years was between $30M and $500M per year. An example of this documentation is an income statement. Any business with average yearly revenue greater than $500M per year for the last five years is considered an Other Than Small Business."
Project experience validation
Offerors will be challenged to provide contractual evidence to validate point scoring claims in two primary areas as it relates to corporate experience, leading edge technology relevant experience and federal multiple award experience: 1) the dollar value of federal contract/agreement being used and 2) task area applicability. The RFP provides limited examples of what can be provided as support, leaving the matter open to interpretation. Additionally, there does not appear to be guidance around whether offerors can present a collection of task orders under an IDIQ or BPA as a singular "project" for the purposes of preparing a Corporate Experience self-score.
Pricing
The RFP requires offerors to provide contractor site and government site loaded labor rates for all 274 labor categories defined in Attachment J.1. Little direction is given to offerors other than directing them to prepare rates "inclusive of all direct costs, indirect costs, overhead, G&A, profit/fee and any other costs associated with the rates." Proposed labor category rates will be compared to the prices of all other offerors and against an Independent Government Cost Estimate.
Business systems
Each of the key contractor business systems included has varying degrees of detail, trigger words with specific meaning, acceptable forms of documentation and what is ultimately required to meet the solicitation scoring criteria. Be sure to read these sections in detail and do not paint with a broad brush for all contractor business systems.
Adequate Accounting System (SF-1408): Documentation from the government or third party CPA is acceptable for verification.
Acceptable Estimating System: Documentation from the government or third party CPA is acceptable for verification.
Approved Purchasing System: Only documentation from the government is acceptable for verification, such as contractor's purchasing system review report.
Earned Value Management System: Contractor has an EVMS or Cost/Schedule control system that is compliant with EIA-748 Standards.
Upcoming important dates/deadlines 
Written questions can be submitted to NITAAC and must be received from offerors by June 1, 2021 at 12:00 p.m. EDT. All questions must be submitted to CIOSP4.NITAAC@nih.gov 

in the format provided in solicitation Attachment J.4.

The RFP indicates NITAAC will post answers to "some" questions from offerors starting as early as June 11, 2021.
Proposals are currently due June 28, 2021 at 12:00 p.m. EDT. While NITAAC has hinted that there may be an extension due to the number of questions they expect to receive, offerors would be wise to not count on it and proceed with proposal development steps with the current deadline firmly in mind.   
How can Baker Tilly help?
Now that the solicitation has been released, many companies are working diligently to prepare qualified, high-scoring proposals within the allotted timeframe. Timely, accurate and responsive proposals will be critical to moving through the phased evaluation process set forth by NITAAC in the RFP.
Baker Tilly stands ready to assist in the following areas:
Third party review/validation of RFP specified business systems

Scorecard/RFP readiness   

Proposal support and preparation

Proposal compliance assessment
Baker Tilly has a well-established methodology for third party review of business systems. Our reports have been included in client proposals as evidence of client system acceptability for many years. We are business system specialists.
Baker Tilly is familiar with the self-scoring methodology employed for complex GWAC vehicles like Alliant 2, HCaTS, ASTRO and OASIS. These types of acquisitions place maximum burden on the offeror to prove that they have the requisite experience and capabilities to meet government requirements.
Baker Tilly has assisted leading government contractors through the relevant experience review process, facilitating the successful selection of the right combination of projects to achieve an organization's maximum score. Baker Tilly has also advised during the pre-proposal stage on teaming and partnering arrangements should it appear an offeror's ability to achieve a successful award is in doubt. Whether an offeror is seeking support in making a bid/no-bid decision or would like assistance with 'soup-to-nuts' proposal preparation, we offer tailor-made assistance to address your unique needs.
Healthcare Spotlight: VA Issues New Veterans Health Care Act Guidance to Pharmaceutical Manufacturers
The Department of Veterans Affairs (VA) has issued a new "Dear Manufacturer Letter," (DML) providing agency interpretation and guidance relating to compliance with the Veterans Health Care Act of 1992 (VHCA), including how to assess whether products are VHCA "covered drugs" and how to calculate pricing for new and transferred products.  The DML provides the following guidance: 
Streamlined "Covered Drug" Standard.  Providing VA's first official set of general guidelines on the scope of the VHCA "covered drug" definition since inception of the program, VA outlines a simplistic approach that includes: (1) prescription drugs approved under a New Drug Application (NDA) and that are reference listed drugs (RLDs) for at least one active ingredient, and (2) prescription products approved under a Biologics License Application (BLA) for at least one active ingredient.  The guidance explicitly states that VA will consider exceptions on a "case-by-case" basis, but does not provide any detail as to what factors would support granting an exception.  Moreover, the DML does not state whether this new standard applies prospectively or retrospectively or whether it supplements or supersedes VA's April 1993 DML, which addresses the "paper NDA" and "glass to plastic" carve-out. 
New Package Size Guidance.  VA expands the application of its "new package size" Federal Ceiling Price (FCP) calculation methodology to several situations beyond a new NDC-11 package size. As we noted back in 2010 when VA introduced the first iteration of its new package size guidance, it is unclear whether this approach is consistent with the VHCA and Master Agreement.
Non-Federal Average Manufacturer Price (Non-FAMP) Methodology Changes—Prospective Only.  VA documents its position that Non-FAMP methodology changes are prospective only; meaning that it is now VA's policy to prohibit companies from applying new smoothing or factoring methodologies (or other discretionary methodology changes) in the context of a Non-FAMP restatement.  The DML also reminds manufacturers that they must submit a new approval request for every methodology change, even if the change involves application of a methodology that VA previously approved.
Deadline for Transferred Drug Relief.  The DML states that it is the manufacturer's responsibility to ensure that VA properly applies the transferred drug FCP calculation rules and specifies that the agency will not allow application of the transferred drug calculation on a retrospective basis.  
Penny Pricing Clarification.  The DML documents a policy that VA has implemented for the past few years regarding products that have a negative, zero, or false positive annual Non-FAMP following a year in which penny pricing applies.  In such case, rather than carrying forward the $0.01 FCP under VA's standard default FCP calculation, the FCP will be calculated using the most recent non-penny price FCP increased by the applicable CPI-U(s) for the corresponding year(s).
Prohibition Against Offsets Related to Overcharges.  VA reiterated its long-standing position that manufacturers cannot offset VHCA-related Federal Supply Schedule (FSS) contract price undercharges against overcharges on the theory that it is the manufacturer's responsibility to ensure that its Non-FAMP calculations are correct.  VA's continued adherence to this no-offset rule highlights the importance of ensuring that Non-FAMP and FCP calculations are correct and any anomalies are addressed promptly.   
Trade Agreements Act (TAA) Non-Designated Country Products.  VA also reminded manufacturers that all VHCA "covered drugs" are subject to price reporting requirements and must be listed on a manufacturer's FSS contract, even where the product's country of origin is a non-designated country under the TAA. 
As mentioned above, we recommend that manufacturers carefully review the DML and consider the potential impact of its guidance on their products.  If you have any questions regarding how the DML may affect your business, please do not hesitate to contact our Life Sciences Government Contracts Team.
Annual Joseph P. Caggiano Memorial Golf Tournament, August 18
We are excited to announce our Annual Joseph P. Caggiano Memorial Golf Tournament will take place at its normal time again this year – August 18th!  The tournament will once again be taking place at the beautiful Whiskey Creek Golf Club in Ijamsville, MD.
 
The Coalition hosts this charity tournament in honor of our good friend and colleague, Joe Caggiano, whose career in the government marketplace spanned 25 years, including serving seven years as COO of the Washington Management Group/FedSources, eight years of service in the Navy, and he most recently served as a principal at Reznick Government, a business advisory firm now known as CohnReznick.
 
As you may recall from previous years, tournament proceeds will once again support the Coalition's endowment for a qualified veteran concentrating their studies in the field of US Government procurement and pursuing the JD/LLM degree or the interdisciplinary Masters degree at The George Washington University. Additionally, remaining proceeds will be shared with another soon to be announced organization that proudly supports our veterans.
 
Joe would be very proud to know that the Coalition has raised over $125,000 for the scholarship. We cannot thank the procurement community enough for its generosity and support in helping us support veterans and honor our dear friend's legacy. 
Announcing The CGP Cornhole Tournament
Not a golfer? No problem! You can still join the fun by registering for the Veranda Club and participating in a cornhole tournament. Contact Matt Cahill at mcahill@thecgp.org for more info.
CIO-SP4 Webinar Recording Now Available
On May 28, the Coalition hosted a webinar titled "CIO-SP4: Is Your Business Equipped to Compete" with Cy Alba and Meghan Leemon of PilieroMazza's Government Contracts Group. The webinar covered the highlights of the CIO-SP4 solicitation that was released last week for the Government contracting community. Key takeaways included:  
Key requirements and differences from the draft RFP; 

CTAs under CIO-SP4; 

Past performance use for teams, subs, and JVs; 

Off-ramp provisions restricting growth of M&A activity; and 

Moving from a CIO-SP4 small to a large CIO-SP4 and back again. 
If members missed the webinar, the recording is available for purchase here. If you have any questions, please contact Michael Hanafin at mhanafin@thecgp.org. 
Sign up for GSA PSHC Webinars in June 
GSA's Office of Professional Services and Human Capital (PSHC) Categories is hosting several webinars in June for the acquisition workforce. The following webinars will be held throughout the month: 
HCaTS DPA Training – June 3 and 24 
Before issuing task orders under HCaTS, Federal Contracting Officers (COs) must complete training and receive a Delegation of Procurement Authority (DPA). This training covers: basic contract information, scope, ordering process, roles and responsibilities, and resources for HCaTS. Click 

here

 

to register.  

 
Industry Partner Briefing: Agency Procurement Trend:  Learn how Emergent Technology is being used in "Blended" Solutions for Professional Services Acquisitions – June 8  
This webinar covers how the incorporation of technology in the procurement of Professional Services is trending and provides an additional perspective on opportunities in the Professional Services market. Click

here

 

to register.  

 
Attendees will be able to visit virtual booths hosted by BIC Contract Solutions to gain information and learn the advantages of using a BIC solution. Click

 

here

 

to register.

 
Office Hours: Understanding Performance Based Acquisitions (PBAs) – June 10 
This webinar explores the many benefits of using PBAs during your procurement planning. Click

 

here

 

to register. 

 
FAST 2021 Conference – June 15-17 
Join GSA's acquisition and category experts as they explore the buyer/seller journey in the federal marketplace. Click

 

here

 

to register. 

 
OASIS Contract Payment Reporting Module (CPRM) Training – June 21 
OASIS industry partners are invited to join this session to learn more about the CPRM. Click

 

here

 

to register.

 
OASIS DPA Training – June 21 
DPA training gives COs access to the OASIS Unrestricted and OASIS Small Business contract vehicles and teaches best practices for task order issuance. Click

here

 to register. 
Joint IT/Services and GWAC/MAC Committee Meeting, June 8
The Coalition will host a joint IT/Services and GWAC/MAC Committee meeting on Tuesday, June 8 at 11:00 AM EDT. Tiffany Hixson, Assistant Commissioner for the Professional Services
and Human Capital Categories with GSA will speak to the committees and provide an update on the PSHC, including OASIS, HCaTS, and the professional services category on the Schedules.
Coalition Meeting with PSHC
Tuesday, June 8, 11:00 AM EDT
Virtual Meeting
Please RSVP to Michael Hanafin at MHanafin@thecgp.org
Join the IT/Services Committee with GSA's IT Vendor Management Office, June 22  
The IT/Services Committee will host a virtual meeting on Tuesday, June 22 at 10 am EDT with special guests from GSA's IT Government-wide Category and the newly-established Information Technology Vendor Management Office (ITVMO). Members will learn about how the IT Government-wide Category is performing across government and what initiatives the Category has underway for FY21, as well as how the ITVMO supports agencies and industry with more effective and efficient IT acquisition. Additionally, you will also hear about new opportunities to share ideas on ways to improve government/industry collaboration.  
Established in October 2020 by the Office of Management Budget (OMB) under the auspices of the IT Government-wide Category and supported by GSA, NASA SEWP, and NIH/NITAAC, the ITVMO has five areas of focus: Data Analytics, IT Acquisition Subject Matter Expertise, BIC Support, SCRM Support, and Vendor Management.
To attend this virtual meeting on June 22 at 10 am EDT, please RSVP to Michael Hanafin at mhanafin@thecgp.org.
Join the Coalition's "Green Committee"  
During the Spring Training Conference on May 19-20th, GSA, the EPA and the Office of Management and Budget addressed the Administration's plans to advance its Sustainability goals and the likelihood of new green requirements for contractors. To ensure that our members are aware of the coming requirements and to facilitate a dialogue with the Government on this important issue, the Coalition is reestablishing its "Green Committee." 
The purpose of the Green Committee is to inform members about environmental compliance requirements and to provide input to the Government, as appropriate, as new procurement policies are developed. All Coalition members are welcome to join the Green Committee to receive notices about future meetings and updates on environmental developments. To join the committee, please email Aubrey Woolley at awoolley@thecgp.org.
GSA 4PL Industry Day, June 7 
GSA has announced that a Fourth-Party Logistics Supplies and Services (4PL) Program Industry Day will be held on Monday, June 7, 2021 from 2 pm – 3 pm EDT. The Industry Day is open to all vendors, but GSA is limiting attendance two representatives per company. To attend, email GSA4PLInteract@gsa.gov. Your email should include the list of attendees and their emails. 
AFCEA

 Bethesda's 2021 Monthly Breakfast Webinar 
The Coalition is proud to sponsor AFCEA Bethesda's 2021 Monthly Breakfast Webinar Series. Join AFCEA Bethesda on Tuesday, June 15 at 8 AM EDT for the Leveraging Data as a Strategic Asset webinar! Government IT leaders will address the next steps agencies need to take to unlock the power of data and remain proactive and ready for future challenges. Speakers will also examine the processes, technologies, and strategies that should be in place to help agencies not just manage data, but master and leverage it as a strategic asset. Coalition members who are interested in attending can register here.