Small Business GWACs: A History of Success in Promoting Governmentwide Opportunities for Small Businesses 
The Biden Administration's focus on enhancing opportunities for small businesses provides a timely occasion for federal managers to take stock of current acquisition strategies, processes, and requirements that impact business opportunities in the federal marketplace. This blog focuses on the government's long-running success in promoting small business opportunities in federal acquisition. Over the years, GSA, to its credit, developed an acquisition strategy centered on a portfolio of standalone small business GWACs that exist in addition to its other governmentwide contract vehicles that are dedicated to meeting customer agency mission support through the use of small business contracting. It is not an overstatement to say that the success of this strategy in supporting small businesses is unparalleled in federal acquisition. 
As you know, in the last decade, GSA's IT GWAC portfolio included Alliant Unrestricted as the GSA GWAC open to other than small businesses. (Alliant 2 is the current follow-on to the original Alliant Unrestricted.)  GSA built its portfolio of small business GWACs around Alliant Unrestricted, providing streamlined access to small businesses across the socio-economic categories. GSA's small business GWACs, Alliant Small Business (SB), 8(a) STARS II and the follow-on STARS III, VETS, and VETS 2, have given rise to more than $22.2 billion in task orders with small businesses, accounting for 43.8 percent of total GSA GWAC spend over the last nine years. This spending result is well-above the federal government's 23 percent small business contracting goal. 
There has been a decline in small business spending due to the expiration of Alliant SB.  The good news here, however, is that GSA has embarked on Polaris, the new follow-on procurement that will replace Alliant SB.  Still, in 2020, the GSA GWACs saw 40.1 percent of spend going to small businesses, again, well-above the aforementioned government small business contracting goal.  The upcoming award of Polaris should fill this void. 
As with many things in life, in the world of IT GWACs and governmentwide contracting vehicles, imitation is the sincerest form of flattery. The IT GWAC program managed by NIH has included an IT GWAC, NIH CIO SP3, set-aside exclusively for small business concerns. The resulting performance in providing opportunities for small business has been outstanding. Since 2012, there has been more than $7.6 billion spent with small businesses through CIO SP3, accounting for 44.9 percent of total CIO SP3 spending.  
Similarly, in 2014, GSA established its governmentwide professional services IDIQ, OASIS and OASIS SB.  Since 2014 and the awards of OASIS and OASIS SB, there has been more than $12.8 billion for small businesses through OASIS SB accounting for 43.9 percent of total OASIS program spending.
Streamlining is at the heart of the remarkable success of the standalone small business IT GWACs and OASIS SB. The standalone approach removes process-related hurdles associated with set-aside contracts and/or orders. It provides a streamlined, direct model where task orders are issued within a platform (contract vehicle) made up exclusively of small business concerns. In essence, GSA and NIH have done the upfront work for customer agencies in creating the small business eco-system for competition in meeting mission requirements. Moreover, the creation and maintenance of the standalone small business IT GWACs and OASIS SB sends a powerful message about the federal government's strong commitment to procurement opportunities for small businesses.
Significantly, despite its successful track record in supporting small businesses, NIH has chosen to abandon the standalone small business IT GWAC model in its follow-on CIO SP4 procurement. The current structure brings small, medium, and large businesses together on a single contract vehicle. This approach increases complexity at the order level when customer agencies seek to set-aside work. Even more importantly, it lowers the profile of the small business portion of the NIH CIO SP4. No longer will the small business community and the customer agencies have a high-profile, streamlined, and separate contract vehicle dedicated to small business IT procurement opportunities. 
Just as significantly, GSA is considering eliminating OASIS SB as part of its acquisition strategy for the OASIS program follow-on, the "Services MAC."   
Given the outstanding track record of GSA's small business IT GWACs, NIH's CIO SP3 small business GWAC, and OASIS SB, the abandonment of the acquisition approach of these vehicles in their follow-on procurements appears to be inconsistent with increasing opportunities for small businesses. Notwithstanding the fact that these acquisition strategies originated over the last 24 months, it is hard to square these approaches with the Biden Administration's increased commitment to small business opportunities in federal procurement.  
Senate Committee Hearing for GSA Administrator Nominee Robin Carnahan  
On Thursday, the Senate Homeland Security and Government Affairs Committee held a hearing to review the nomination of Robin Carnahan for Administrator of the General Services Administration (GSA). During her testimony, Ms. Carnahan outlined her priorities for GSA including streamlining the Schedules acquisition process and creating an easier on-ramp for small businesses on GSA vehicles. During the hearing, Ms. Carnahan also emphasized her commitment to fully implementing Section 889 of the 2019 National Defense Authorization Act (NDAA), which prohibits the purchase and use of certain telecommunications and video equipment from China.  
Ms. Carnahan served within GSA's 18F organization from 2016 to 2020 as leader of its State and Local Government Practice and served as the Secretary of State of Missouri. Ms. Carnahan will also need confirmation by the Senate to serve as GSA Administrator. 
Administration Releases Pharma Supply Chain Recommendations
On June 8, the White House released a report that outlined the findings of the 100-day review of the supply chain. The review was required by Executive Order (EO) 14017, which was released on February 24, 2021. There are efforts already being taken to address supply chain vulnerabilities, such as the Biden Administration's COVID-19 Response Team expanding the manufacturing of vaccines and other essential supplies. The report included reviews of the Department of Commerce (DOC), Department of Energy (DOE), Department of Defense (DoD), and Department of Health and Human Services (HHS). 
The report found that the U.S. remains gravely dependent on imports for several important pharmaceutical products and active pharmaceutical ingredients (APIs). Approximately 87 percent of API facilities for generic drugs are located overseas, which leaves the U.S. supply chain of essential medicines vulnerable. The report recommended that the DOC create a new Supply Chain Resilience Program, which will monitor and address supply chain challenges of critical products. The report recommends working with allies and partners to create a stronger global supply chain. Another recommendation is to increase funding in the development of new pharmaceutical processes. The report also suggests increasing investment in small, medium and disadvantaged business in critical supply chains.  
In efforts to address vulnerabilities in critical product supply chains, the Biden Administration announced that it will immediately support domestic production of critical medicines. To support this effort, HHS will create a public-private consortium for advanced manufacturing and onshoring of domestic essential medicines productions. The consortium will select between 50 and 100 critical drugs from the Food and Drug Administration's essential medicines list that will be the focus of the enhanced onshoring efforts. Another initiative to support the effort of domestic production of critical medicines is that HHS will make an initial commitment of about $60 million from the Defense Production Act (DPA) appropriation in the American Rescue Plan to create novel platform technologies to increase domestic manufacturing capacity for API.  
The Biden Administration has a series of actions that will take place across the Federal government to support building fair and sustainable industrial bases. These actions include: 
Support of American workers and innovation; 

Investing in sustainable supply chains at home and abroad; and 

Combating unfair trade practices. 
In April, the Coalition submitted comments in response to DoD's request for feedback on the EO "America's Supply Chains" that is posted here. The White House released a Fact Sheet for the report that is available here. 
White House Aims to Double Contracts for Small Disadvantaged Businesses
According to Government Executive, President Biden announced that he plans to double the share of Federal contracts that go to small disadvantaged businesses over the next few years. Small disadvantaged businesses include 8(a) participants, and other small businesses that are at least 51 percent controlled by socially or economically disadvantaged individuals or groups. Under Federal law, Black-owned, Latino-Owned, and other minority-owned small businesses qualify for this category.
According to a White House fact sheet, only about 10 percent of Federal agencies' total eligible contracting dollars typically go to small disadvantaged businesses. The Administration is initiating an all-of-Government effort to expand contracting opportunities for these businesses. The effort aims to increase the share of contracts that go to small disadvantaged businesses by 50 percent before 2026. This would lead to an additional $100 billion for the disadvantaged businesses over this period. 
Since fiscal year 2017, small businesses spending has increased each year overall, but the share going to 8(a) companies decreased from 3.4 percent in 2017 to 3 percent in 2020. The Small Business Administration (SBA) reported that the Government exceeded its overall small businesses contracting goals in fiscal year 2019. President Biden previewed his intentions to support small disadvantaged businesses in his budget proposal. 
OFCCP to Advance Racial Equity as Key Priority
The Office of Federal Contract Compliance Programs (OFCCP) will play a large role in the Biden Administration's work on racial equity, reports Federal Computer Week. OFCCP has oversight over Federal contractors' internal human resources practices. This oversight extends to about 20 percent of the American workforce.
Jenny Yang, Director of OFCCP, wants to rebuild the office's enforcement program and focus on systemic discrimination in pay and hiring. During the Obama Administration, Yang served in the Equal Employment Opportunity Commission and was the Chairperson from 2014-2017.
Biden released Executive Order (EO) on "Advancing Racial Equity and Support for Underserved Communities Through the Federal Government" on his second day in office. In the EO, Biden requested that agencies review their procurement processes for equity issues. OFCCP will be involved in that process. If the OFCCP find systemic discrimination within a Federal contractor's pay and hiring process, there are remedies, such as payment to employees, the agency may suggest. 
Lawmakers Request Audits on Telework Security
Federal Computer Week reported that a group of six House Democrats from the Committee and Subcommittee for Oversight and Reform are asking for multiple Inspector Generals (IGs) to conduct audits for their agencies to assess potential cybersecurity vulnerabilities that may have arose from the increase in telework due to the COVID-19 pandemic. Audits have been requested from the Departments of State, Defense, Homeland Security, Justice, Energy, Health and Human Services, Veterans Affairs, and Education. The lawmakers want the audits to include an examination of the use of remote connections or virtual network controllers, platforms such as Microsoft Teams, Slack, and Zoom, and whether agencies have implemented appropriate security for controlled information. IGs were also asked to look at whether agencies are adhering to the Trusted Internet Connection policies for users accessing networks remotely, as well as the distribution and management of virtual and physical items such as laptops. 
GSA Looks to Improve FedRAMP Processes
Fedscoop reported that GSA's Technology Transformation Services (TTS) is making significant investments in automating security authorization processes for cloud service providers under the Federal Risk and Authorization Management Program (FedRAMP). The investments will focus on automation, process improvements, and additional resources to help plug gaps and make agencies more aware of existing authorities to operate (ATOs).  
FedRAMP approves secure cloud technologies for agencies to reuse through ATOs. These reused ATOs save taxpayer dollars, improve security, and lower vendor overhead costs. TTS is working with the FedRAMP Program Management Office and Joint Authorization Board on process work, and is collaborating with the Federal CIO, CIO Council, and Office of Management and Budget (OMB) to ensure FedRAMP's reciprocity with the Cybersecurity Maturity Model Certification (CMMC) program. 
OIG Finds CDM Has Not Strengthened DHS Cybersecurity Posture
On June 1, the Department of Homeland Security (DHS) Office of Inspector General (OIG) released a report that found that the cybersecurity posture of DHS has not increased despite the implementation of the Continuous Diagnostics and Mitigation (CDM) program. In March 2020, DHS created an internal CDM and spent more than $180 million on the design and build of the program. The goal of the CDM is to reduce threats and improve cybersecurity capabilities while streamlining reporting and increasing visibility into the federal cybersecurity posture. The audit found that DHS needs to upgrade its dashboard to make sure there is a sufficient processing capacity for component data. The CDM servers and databases are vulnerable to cybersecurity attacks, and the data could be at risk. 
The OIG made three recommendations for improving the CDM program, and DHS concurred with all three recommendations. The recommendations are: 
The Chief Information Security Officer (CISO) will update the CDM program plan to transition the agency dashboard to a scalable platform, ensure components use tools that meet requirements, set appropriate deadlines, and integrate component data. 

The CISO will mitigate the vulnerabilities identified on the CDM information technology assets. 

The CISO will define patch management responsibilities for the CDM information technology assets. 
GSA Posts Second RFI for New Services MAC
On June 2, GSA's Office of Professional Service and Human Capital Categories (PSHC) posted the second request for information (RFI) for the new Services Multi-Agency Contract (MAC) on SAM.gov (formerly known as BIC MAC). The second RFI looks to identify capabilities of vendors and the best strategy for representing those capabilities on the new contract. The RFI will remain open through 5 pm EDT on June 21, 2021. A preview of the RFI survey has been provided. GSA recommends that industry review the document fully and has a copy available for reference before responding to the survey. PSHC is planning to host another industry day in late July.  
Common themes of questions identified from an analysis of RFI survey responses, as well as questions gathered during the first industry day can be found here. Any questions related to the RFI can be emailed to PSHC-dev@gsa.gov. 
If you have any feedback on the RFI, please share it with Sean Nulty at SNulty@thecgp.org by Wednesday, June 16. 
FAR Final Rules
Analysis for Equipment Acquisitions
On June 10, a final rule was published which amends the FAR to implement a section of the FAA Reauthorization Act of 2018. The FAA Reauthorization Act of 2018 requires a case-by-case analysis of cost and other factors associated with certain methods of acquisition when acquiring equipment. On August 24, 2020, the FAR Council published a proposed rule to implement section 555 of the FAA Reauthorization Act of 2018. The proposed rule implemented the following: 
Requires an agency to acquire equipment using the method of acquisition that is most advantageous to the Government based on a case-by-case analysis of comparative costs and other factors (to include the factors in FAR section 7.401); 

Identifies methods of acquisition that must be considered, at a minimum, in the analysis; and 

Requires the FAR to implement the requirements of the section and identify the factors agencies should or shall consider to perform the case-by-case analysis. 
No major changes were made to the final rule from the proposed rule, but there were two minor changes made. One change was made to the final rule at FAR 7.403(a) to make sure the terms "rent" and "lease" are used in the same order throughout the rule. There was another minor edit made to the proposed rule at FAR 7.403(b)(2) to replace the outdated weblink for Schedule 51V Hardware Superstore with an updated one. The final rule will be effective on July 12, 2021. 
Application of Micro-Purchase Threshold to Task and Delivery Orders 
The FAR Council released another final rule, on June 10, which implements Section 826 of the 2020 National Defense Authorization Act (NDAA). Section 826 of the 2020 NDAA raises the threshold for opportunity on certain task and delivery orders to the micro-purchase threshold (MPT). On October 22, 2020, the FAR Council released a proposed rule to implement Section 826 of the 2020 NDAA. The proposed rule increased the threshold for requiring fair opportunity on orders made under multiple-award contracts from $2,500 to the MPT. FAR 16.505(b)(1) states that fair opportunity applies to orders over the threshold unless an exception applies at FAR 16.505(b)(2). The threshold, referred to in FAR 16.505, is currently $3,500. The current MPT is $10,000 according to FAR case 2018-004. There were no changes made to the final rule from the proposed rule. The final rule will be in effect on July 12, 2021. 
First Glance: Breakdown of the CIO-SP4 RFP
Authors: Leo Alvarez, Senior Manager and Jeff Clayton, Principal; Baker Tilly
The Accounting Corner provides the community with an opportunity to share insights and comments on issues of the day. The comments herein do not necessarily reflect the views of The Coalition for Government Procurement. 
The highly anticipated and closely watched Chief Information Officer Solutions and Partners 4 (CIO-SP4) solicitation is finally here! After six months of delays, NIH's Information Technology Acquisition and Assessment Center (NITAAC) has released the final RFP for the "best-in-class" Governmentwide Acquisition Contract (GWAC).
A popular choice for complex information technology services, CIO-SP4 promises to be a prominent contract vehicle for federal buyers well into the future – covering a wide breadth of services from cybersecurity and cloud computing to healthcare IT.
There are a number of changes when compared to the previous draft RFP – some of which address technical proposal structure, self-scoring and teaming.
First glance takeaways
Contemplated number of awards
NITAAC anticipates making as many as 165 awards to large businesses, 345 awards to small businesses and 40 awards to 8(a) small businesses. The complete breakdown: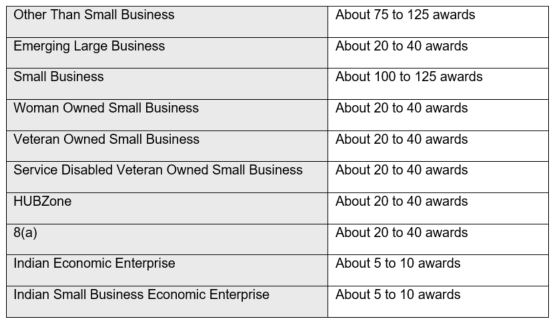 Three phase evaluation approach
While there were no major structural changes from recent NITAAC communications in this area, offerors should keep in mind that they will be notified after each evaluation phase (and at the time of award) whether they are eliminated from the competition, or whether they have been selected for award. The evaluation will follow below three phases:
Phase one: The government will validate the offerors' self-scoring sheet
Phase two: The government will verify the remaining offerors' "go/no-go" requirements
Phase three: The government will evaluate the remaining offerors' written proposal
Scorecard updates
Unfortunately, for some organizations, NITAAC did not remove the CMMI Certification Level 2 and ISO 9001 certifications as mandatory requirements for large businesses to participate – despite fierce advocacy through industry associations in this area. In essence, these are de facto "go/no-go" criteria for large business offerors. If these organizations do not have these certifications in place by the time of proposal submission, they will be eliminated from competition. Even more challenging, NITAAC added an additional certification (ISO 20000) as a requirement for large businesses to participate. This may come as a surprising twist for organizations that have spent months preparing for the release of the RFP. Additionally, while the maximum point total has remained the same (10,000 points), several minor updates were made to the following point scoring items:
ISO 9001 (was 200 points, now 300 points)

ISO 20000 (was 200 points, now 300 points)

ISO 27000 (was 200 points, now 300 points)

Removed points for locations
Emerging Large Businesses (ELB)
NITAAC made clear in the months leading up to the rollout of the solicitation that only businesses within their respective socioeconomic category would be competing against one another. Interestingly, the solicitation includes the mention of the somewhat new category of "Emerging Large Business" – meant to capture mid-size organizations that often feel they are too small to compete on a large business contract vehicle and too large to compete on a small business contract vehicle. The inclusion of the category represents NITAAC's attempt to capture capabilities from this subset of industry. In order to propose as an ELB, offerors must "provide documentation that shows their average yearly revenue for the last five years was between $30M and $500M per year. An example of this documentation is an income statement. Any business with average yearly revenue greater than $500M per year for the last five years is considered an Other Than Small Business."
Project experience validation
Offerors will be challenged to provide contractual evidence to validate point scoring claims in two primary areas as it relates to corporate experience, leading edge technology relevant experience and federal multiple award experience: 1) the dollar value of federal contract/agreement being used and 2) task area applicability. The RFP provides limited examples of what can be provided as support, leaving the matter open to interpretation. Additionally, there does not appear to be guidance around whether offerors can present a collection of task orders under an IDIQ or BPA as a singular "project" for the purposes of preparing a Corporate Experience self-score.
Pricing
The RFP requires offerors to provide contractor site and government site loaded labor rates for all 274 labor categories defined in Attachment J.1. Little direction is given to offerors other than directing them to prepare rates "inclusive of all direct costs, indirect costs, overhead, G&A, profit/fee and any other costs associated with the rates." Proposed labor category rates will be compared to the prices of all other offerors and against an Independent Government Cost Estimate.
Business systems
Each of the key contractor business systems included has varying degrees of detail, trigger words with specific meaning, acceptable forms of documentation and what is ultimately required to meet the solicitation scoring criteria. Be sure to read these sections in detail and do not paint with a broad brush for all contractor business systems.
Adequate Accounting System (SF-1408): Documentation from the government or third party CPA is acceptable for verification.
Acceptable Estimating System: Documentation from the government or third party CPA is acceptable for verification.
Approved Purchasing System: Only documentation from the government is acceptable for verification, such as contractor's purchasing system review report.
Earned Value Management System: Contractor has an EVMS or Cost/Schedule control system that is compliant with EIA-748 Standards.
Upcoming important dates/deadlines 
Written questions can be submitted to NITAAC and must be received from offerors by June 1, 2021 at 12:00 p.m. EDT. All questions must be submitted to CIOSP4.NITAAC@nih.gov 

in the format provided in solicitation Attachment J.4.

The RFP indicates NITAAC will post answers to "some" questions from offerors starting as early as June 11, 2021.
Proposals are currently due June 28, 2021 at 12:00 p.m. EDT. While NITAAC has hinted that there may be an extension due to the number of questions they expect to receive, offerors would be wise to not count on it and proceed with proposal development steps with the current deadline firmly in mind.   
How can Baker Tilly help?
Now that the solicitation has been released, many companies are working diligently to prepare qualified, high-scoring proposals within the allotted timeframe. Timely, accurate and responsive proposals will be critical to moving through the phased evaluation process set forth by NITAAC in the RFP.
Baker Tilly stands ready to assist in the following areas:
Third party review/validation of RFP specified business systems

Scorecard/RFP readiness   

Proposal support and preparation

Proposal compliance assessment
Baker Tilly has a well-established methodology for third party review of business systems. Our reports have been included in client proposals as evidence of client system acceptability for many years. We are business system specialists.
Baker Tilly is familiar with the self-scoring methodology employed for complex GWAC vehicles like Alliant 2, HCaTS, ASTRO and OASIS. These types of acquisitions place maximum burden on the offeror to prove that they have the requisite experience and capabilities to meet government requirements.
Baker Tilly has assisted leading government contractors through the relevant experience review process, facilitating the successful selection of the right combination of projects to achieve an organization's maximum score. Baker Tilly has also advised during the pre-proposal stage on teaming and partnering arrangements should it appear an offeror's ability to achieve a successful award is in doubt. Whether an offeror is seeking support in making a bid/no-bid decision or would like assistance with 'soup-to-nuts' proposal preparation, we offer tailor-made assistance to address your unique needs.
Healthcare Spotlight: VA Issues New Veterans Health Care Act Guidance to Pharmaceutical Manufacturers
The Department of Veterans Affairs (VA) has issued a new "Dear Manufacturer Letter," (DML) providing agency interpretation and guidance relating to compliance with the Veterans Health Care Act of 1992 (VHCA), including how to assess whether products are VHCA "covered drugs" and how to calculate pricing for new and transferred products.  The DML provides the following guidance: 
Streamlined "Covered Drug" Standard.  Providing VA's first official set of general guidelines on the scope of the VHCA "covered drug" definition since inception of the program, VA outlines a simplistic approach that includes: (1) prescription drugs approved under a New Drug Application (NDA) and that are reference listed drugs (RLDs) for at least one active ingredient, and (2) prescription products approved under a Biologics License Application (BLA) for at least one active ingredient.  The guidance explicitly states that VA will consider exceptions on a "case-by-case" basis, but does not provide any detail as to what factors would support granting an exception.  Moreover, the DML does not state whether this new standard applies prospectively or retrospectively or whether it supplements or supersedes VA's April 1993 DML, which addresses the "paper NDA" and "glass to plastic" carve-out. 
New Package Size Guidance.  VA expands the application of its "new package size" Federal Ceiling Price (FCP) calculation methodology to several situations beyond a new NDC-11 package size. As we noted back in 2010 when VA introduced the first iteration of its new package size guidance, it is unclear whether this approach is consistent with the VHCA and Master Agreement.
Non-Federal Average Manufacturer Price (Non-FAMP) Methodology Changes—Prospective Only.  VA documents its position that Non-FAMP methodology changes are prospective only; meaning that it is now VA's policy to prohibit companies from applying new smoothing or factoring methodologies (or other discretionary methodology changes) in the context of a Non-FAMP restatement.  The DML also reminds manufacturers that they must submit a new approval request for every methodology change, even if the change involves application of a methodology that VA previously approved.
Deadline for Transferred Drug Relief.  The DML states that it is the manufacturer's responsibility to ensure that VA properly applies the transferred drug FCP calculation rules and specifies that the agency will not allow application of the transferred drug calculation on a retrospective basis.  
Penny Pricing Clarification.  The DML documents a policy that VA has implemented for the past few years regarding products that have a negative, zero, or false positive annual Non-FAMP following a year in which penny pricing applies.  In such case, rather than carrying forward the $0.01 FCP under VA's standard default FCP calculation, the FCP will be calculated using the most recent non-penny price FCP increased by the applicable CPI-U(s) for the corresponding year(s).
Prohibition Against Offsets Related to Overcharges.  VA reiterated its long-standing position that manufacturers cannot offset VHCA-related Federal Supply Schedule (FSS) contract price undercharges against overcharges on the theory that it is the manufacturer's responsibility to ensure that its Non-FAMP calculations are correct.  VA's continued adherence to this no-offset rule highlights the importance of ensuring that Non-FAMP and FCP calculations are correct and any anomalies are addressed promptly.   
Trade Agreements Act (TAA) Non-Designated Country Products.  VA also reminded manufacturers that all VHCA "covered drugs" are subject to price reporting requirements and must be listed on a manufacturer's FSS contract, even where the product's country of origin is a non-designated country under the TAA. 
As mentioned above, we recommend that manufacturers carefully review the DML and consider the potential impact of its guidance on their products.  If you have any questions regarding how the DML may affect your business, please do not hesitate to contact our Life Sciences Government Contracts Team.
Meet with GSA's IT Vendor Management Office, June 22
The IT/Services Committee will host a virtual meeting on Tuesday, June 22 at 10 am EDT with special guests from GSA's IT Government-wide Category and the newly-established Information Technology Vendor Management Office (ITVMO). Members will learn about how the IT Government-wide Category is performing across government and what initiatives the Category has underway for FY21, as well as how the ITVMO supports agencies and industry with more effective and efficient IT acquisition. Additionally, you will also hear about new opportunities to share ideas on ways to improve government/industry collaboration.  
Established in October 2020 by the Office of Management Budget (OMB) under the auspices of the IT Government-wide Category and supported by GSA, NASA SEWP, and NIH/NITAAC, the ITVMO has five areas of focus: Data Analytics, IT Acquisition Subject Matter Expertise, BIC Support, SCRM Support, and Vendor Management.
To attend this virtual meeting, please RSVP to Michael Hanafin at mhanafin@thecgp.org.
Joint BRIC and Cyber and Supply Chain Meeting, June 23
All Coalition Members are invited to a joint virtual meeting of the Business and Regulatory Issues and Cyber and Supply Chain Committees on Wednesday, June 23 from 12:15 pm – 2:00 pm EDT. The subject of this joint meeting will be Baselining Cybersecurity in the Changing Policy Environment, and we will be utilizing Microsoft Teams for the session.
We have invited a senior official of CISA to provide a keynote opening to the meeting on "CISA's Changed Role and Emerging Responsibilities." Following this presentation, a panel of experts drawn from our community have graciously offered to provide their perspectives on CMMC; Cloud and FedRAMP; and the Cybersecurity Executive Order. They are:
Bob Metzger, Shareholder, Rogers Joseph O'Donnell
Townsend Bourne, Partner, Sheppard Mullin
Cheryl Davis, Senior Director for Strategic Initiatives, Oracle
Recent cyber incidences, along with the President's issuance of his Executive Order on Improving the Nation's Cybersecurity, and the recent release of a White House report on supply chain vulnerabilities, signal a dynamic cybersecurity compliance environment. This joint meeting will provide Coalition Members a solid understanding of the state of play, against which, they may develop an actionable approach to provide value to customer agencies.
This joint committee meeting is only open to Coalition Members. If you are interesting in attending, please contact Michael Hanafin at mhanafin@thecgp.org so that he can send you the login information. We look forward to seeing you at this virtual event on June 23!
Annual Joseph P. Caggiano Memorial Golf Tournament, August 18
We are excited to announce our Annual Joseph P. Caggiano Memorial Golf Tournament will take place at its normal time again this year – August 18th!  The tournament will once again be held at the beautiful Whiskey Creek Golf Club in Ijamsville, MD.
 
The Coalition hosts this charity tournament in honor of our good friend and colleague, Joe Caggiano, whose career in the government marketplace spanned 25 years, including serving seven years as COO of the Washington Management Group/FedSources, eight years of service in the Navy, as a principal at Reznick Government, a business advisory firm now known as CohnReznick.
 
As you may recall from previous years, tournament proceeds will once again support the Coalition's endowment for a qualified veteran concentrating their studies in the field of US Government procurement and pursuing the JD/LLM degree or the interdisciplinary Masters degree at The George Washington University. Additionally, remaining proceeds will be shared with another soon-to-be announced organization that proudly supports our veterans.
 
Joe would be very proud to know that the Coalition has raised over $125,000 for the scholarship. We cannot thank the procurement community enough for its generosity and support in helping us support veterans and honor our dear friend's legacy. 
Announcing The CGP Cornhole Tournament
Not a golfer? No problem! You can still join the fun by registering for the Veranda Club and participating in a cornhole tournament. Contact Matt Cahill at mcahill@thecgp.org for more info.
AFCEA Bethesda's 2021 Monthly Breakfast Webinar
The Coalition is proud to sponsor AFCEA Bethesda's 2021 Monthly Breakfast Webinar Series. Join AFCEA Bethesda on Tuesday, June 15 at 8 AM EDT for the Leveraging Data as a Strategic Asset webinar! Government IT leaders will address the next steps agencies need to take to unlock the power of data and remain proactive and ready for future challenges. Speakers will also examine the processes, technologies, and strategies that should be in place to help agencies not just manage data, but master and leverage it as a strategic asset. Coalition members who are interested in attending can register here.