Somniferous Summer Solstice Shorts
For those living in the Northern Hemisphere, this past Tuesday (at 5:13 AM to be exact) marked the Summer Solstice, the point at which the Earth is at its maximum tilt relative to the Sun, and the commencement of astronomical summer.  It is the longest day of the year for those nations experiencing it, and various nations celebrate the event in accordance with their own customs.  Considering current events and the interesting issues raised at the Coalition's recent Spring Training Conference, this week's blog offers what might be considered "sleeper issues," but issues nonetheless that we believe will resonate in the coming months.
Domestic Sourcing – In 2021, President Biden signed Executive Order (E.O.) 14005, "Ensuring the Future is Made in All of America by All of America's Workers," which lays out a series of Government actions to strengthen the U.S. supplier base and maximize the use of domestically made goods, products, services, and materials.  Subsequently, a proposed rule was issued requiring the Federal Acquisition Regulation (FAR) Council to "strengthen the impact of the Buy American Act" by proposing an increase to the domestic content threshold, a framework for application of an enhanced price preference for certain domestic products, and a post-award domestic content reporting requirement for contractors.
This march toward domestic content continues with legislation, like the pending United States Innovation and Competition Act of 2021, which addresses, among other things, funding to support U.S. semiconductor manufacturing, research and development, supply chain security, and certain domestic preferences.  Recognizing the security challenges of the global environment for the U.S. and its allies, it remains to be seen how U.S. domestic sourcing requirements will evolve to become more "buy allied" than they are now, as the allied relationship between the U.S. and other countries is necessary to address common, evolving national and world threats.  In this context, buy allied would afford the U.S. and its allies a dedicated, stable, and sustainable supply base.
Vertical Contract Duplication – It has been said that the Government is good at starting initiatives, but slow at shutting them down.  Whether that observation is true is for others to address, but for Coalition members the wake of new initiatives leaves the industrial base tossed from program to program chasing requirements to support agency missions.
For instance, in the recent RFI for the Ascend BPA for enterprise-level cloud acquisition, it is not clear why, in the face of existing Federal Supply Schedule (FSS) contracts covering these types of services, the General Services Administration (GSA) is seeking duplicative multiple-award BPAs.  In effect, after FSS contractors negotiate and administer their FSS contracts, they will compete for and manage a generic, government-wide multiple award BPA, and, then compete for and manage task orders issued under BPAs.  Moreover, to secure a BPA, contractors will have to commit to competing for 75 percent of the task order requirements issued under the BPA, even if they do not wish to provide them.  It remains to be seen what, if any, benefits are derived from these administrative redundancies.
The Reality of Compliance – Because the Government faces an onslaught of asymmetric cyber-attacks from international competitors, the nation has been prompted to build what one conference panelist called an enduring advantage.  This advantage recognizes that international competitors understand the various channels where important data reside, and thus, components of platforms must be secured so as not to serve as attack vector.
It is important for our nation's leaders to think this way, but, in the context of other programs, it prompts questions of alignment.  During the conference, members heard from representatives of FedMall, GSA Advantage!, and the GSA Commercial Platforms Program.  One conclusion drawn early on in their respective presentations is the fact that the Government has outstanding individuals working on these programs.  They are mission- and data-focused, driven to maximize efficiency, and committed to enhancing the customer experience of all stakeholders in their programs.
Still, the three programs appear to have significant overlap, and aside from complexity and duplication issues, they beg the question: what is the strategy for compliance?
Equitable Price Adjustments and the Health of the Industrial Base – Finally, we could not end this blog without acknowledging GSA's efforts to assist the stability of the industrial base during the current inflation challenges.  Loosening the Equitable Price Adjustment (EPA) proposal process to allow contractors to address historic supply chain price increases held the promise of maintaining the health of the Government's industrial base.  Unfortunately, although the policy is in place, there are challenges in its implementation.
Specifically, contractors, like our members, are experiencing significant, often months long, delays in EPA proposal implementation.  It appears that in some cases, the unintended consequence is that a streamlined policy intended to speed change and stabilize the Government's industrial base has been implemented in a manner that increases requirements and burdens on the industrial base.
The foregoing is but a sampling of the issues the procurement community faces as we enter summer.  Over the course of the coming weeks, especially as we race toward Congressional recesses and the midterm elections, the Coalition will monitor these issues and apprise you of what unfolds.
DAU Releases New Course on Inflation and Economic Price Adjustments  
John Tenaglia, Principal Director, Defense Pricing and Contracting (DPC), shared the following announcement for members regarding the Defense Acquisition University's (DAU) new course on Inflation and Economic Price Adjustments: 
DAU has published a new course, CON 7470 – Inflation and Economic Price Adjustments, to instruct Acquisition Professionals on the impacts of inflation on existing contracts and proper use of economic price adjustment (EPA) clauses to manage the risk of inflation, when appropriate, in the formation of prospective contracts. This course supplements the DPC memorandum "Guidance on Inflation and Economic Price Adjustments," issued on May 25, 2022.  For more information and to register for the course, see the DAU webpage and memorandum below.  
DAU Course Page: 
https://www.dau.edu/training/career-development/contracting/blog/CON-7470-Inflation-and-Economic-Price-Adjustments 
Memorandum: 
https://www.acq.osd.mil/dpap/policy/policyvault/USA000999-22-DPC.pdf 
DPC Announcements Page:  
https://www.acq.osd.mil/asda/dpc/announcements.html 
GSA Announces Final Round of STARS III Awards 
The General Services Administration (GSA) has awarded the final cohort of its 8(a) STARS III contract vehicle. This contract vehicle increases access to the Federal marketplace for small and disadvantaged businesses. Laura Stanton, GSA Assistant Commissioner for the Office of IT Category, said that there have been 154 task orders issued for an estimated total value of $500 million since the initial award. She added that over 30 of the 8(a) STARS III contractors that already have task orders are new to GSA through the contract. Benefits of STARS III include: 
Expanding capabilities for emerging technologies; 

Supporting both inside and outside of the continental United States (OCONUS) and CONUS requirements; 

Limited protestability up to $10M; and 

Expert guidance from the GSA, including free scope review services and market research. 
The first round of awards was issued in June 2021 and the second cohort of awards was announced in February 2022. 
Now Available – Coalition's  2021 Annual Market Report: The State of the Federal Market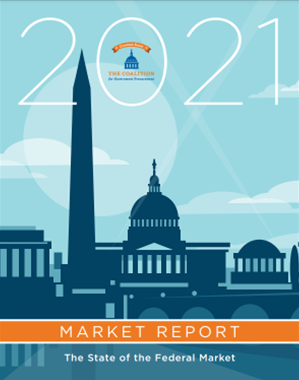 As part of the Coalition's continuing efforts to provide value to our members, we would like to present our 2021 Market Report – The State of the Federal Market. The report provides insights into the Federal market, particularly the performance of the Schedules program, GWACs, and other Government-wide contracts. The report also contains a section focused on Federal contracts supporting the COVID-19 response.  
If you have any questions regarding the report, please contact Michael Hanafin at mhanafin@thecgp.org. We encourage members to share your thoughts on future topics for this report! 
VA Launches New Tools for Vendors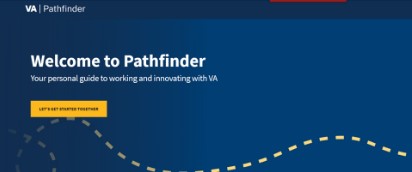 During the Coalition's Spring Training Conference last week, Dr. Angela Billups, Executive Director of the Office of Acquisition and Logistics at the Department of Veterans Affairs (VA) announced the new Pathfinder site which serves as a one-stop-shop for contractors who want to do business with the VA. The site officially went live on June 7. In an article in Federal News Network, Michael Parrish, VA Chief Acquisition Officer, stated that the Pathfinder site will help vendors that are new to working with the VA get certified through SAM.gov. It is also a resource for companies to share their new healthcare innovations with the VA or to partner with the department to bring innovative ideas to market. Additionally, the site filters SAM.gov to show only VA-specific solicitations. Luwanda Jones, VA Deputy Chief Information Officer, added that the site will eventually facilitate vendor engagement scheduling and replace the VA's IT Vendor Management Office scheduling email.  
The VA is also trying to make it easier for vendors to integrate solutions through its Lighthouse Program. The Lighthouse Program is an API platform that gives vendors secure access to data to help build tools for veterans. The program is also being used internally within the VA to help leverage existing system interfaces and capabilities. The VA is working on a design portal that will provide contractors with style and format guidance in order to ensure consistency across communications involving the department. 
See the Photos from the Coalition's Spring Training Conference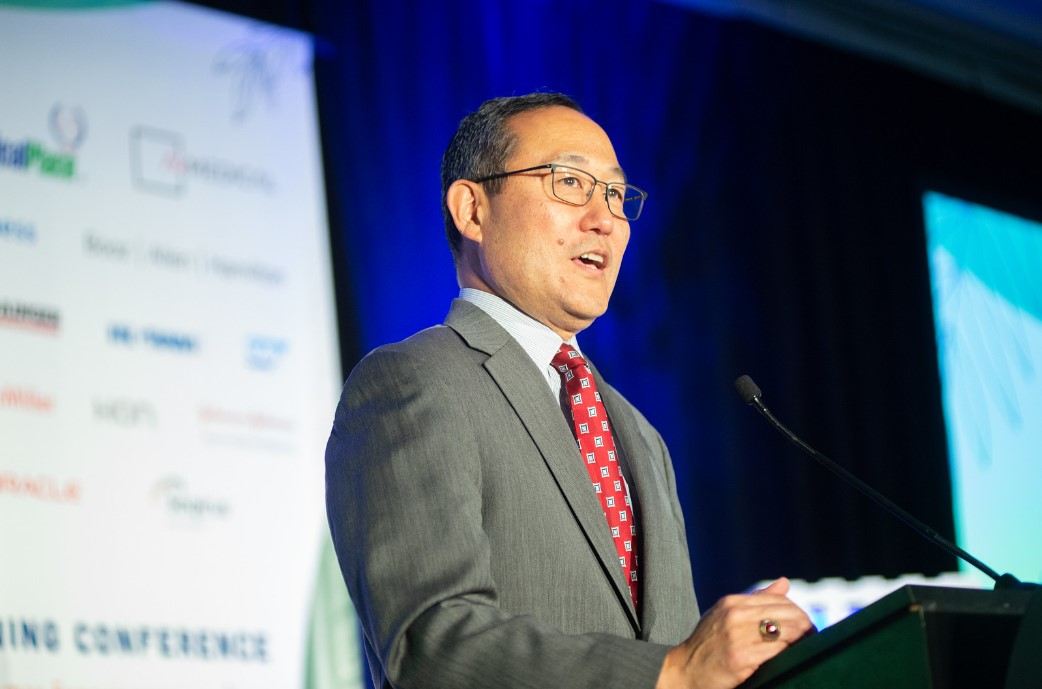 We hope that you enjoyed the Coalition's 2022 Spring Training Conference! The photos from the two-day event can be viewed here. Our sincere appreciation to Susan Hornyak Photography for capturing all the best moments at our conference.  
GSA Details OASIS+ Contract Vehicle 
Last week, Deputy FAS Commissioner Tom Howder announced at the Coalition's Spring Training Conference that GSA has rebranded its OASIS follow-on Governmentwide contract vehicle as OASIS Plus (OASIS+). In a GSA blog post, Tiffany Hixson, Assistant Commissioner of GSA's Office of Professional Services and Human Capital Categories (PSHC), wrote that "the name echoes a successful brand that our customers have come to know and trust, reflects the expanded scope of services that will be available through the new program, and embodies the contract's flexible domain-based structure." Federal News Network reported that agencies have collectively spent over $48 billion on OASIS, OASIS Small Business, and OASIS 8(a) since 2015.  
During the conference, Sheri Meadema, Acting Assistant Commissioner of PSHC, detailed changes for the contract. The first change is that GSA plans to award six separate contracts, five for small business and one unrestricted. Additionally, GSA is changing the scope of the contract. Meadema said that "OASIS+ will cover all of the scope areas in OASIS currently today, plus HCATS and building maintenance and operations as those contracts expire. In addition, in the initial stages of the contract, there are additional scope areas that we're adding on to include environmental intelligence services and a domain we're calling enterprise solutions, which will be unique to the unrestricted vehicle. That domain is for very large, complex, high-dollar value, non-commercial type work." GSA will also add or remove domains to the contract vehicle based on customer needs, giving it increased flexibility. Meadema added that "we are trying to keep the solicitation open continuously after we initially close it to deal with solicitation protests. This is all about our ability to onboard industry partners at any time during the contract's life." OASIS+ will make it easier for companies that no longer fit the small business standard to apply for the unrestricted domain.  
GSA plans to issue updated draft sections for OASIS+ over the summer, followed by the full draft request for proposals in early fiscal year 2023. The agency is planning to release the final solicitation in the second quarter of fiscal year 2023. 
 Fed CIO Highlights Upcoming Cyber Incident Disclosure and Other Requirements 
Fedscoop reported on comments by Federal Chief Information Security Officer Chris DeRusha at the ACT-IAC Cybersecurity Forum about the standardization of cyber incident disclosures for federal contractors. DeRusha stated that these requirements will be implemented within the next two years. These efforts are in response to the May 2021 Executive Order on improving National Cyber Security. DeRusha mentioned three cybersecurity developments that are forthcoming 
Two proposals to be released by the FAR Council "shortly" that would "eliminate specific contract clauses harming information sharing while including others identified as best practices through a data call." 

A draft memo to be released by the Office of Management and Budget implementing the

Secure Software Development Framework

.

 
While the new requirements will not be implemented until at minimum 2023, agency officials recommend contractors begin standardizing their security requirements now.  
These developments follow other efforts from the Administration including the Department of Justice's Cyber-Civil Fraud Initiative to prosecute contractors that fail to disclose cyber incidents to the contracting agencies. According to the Justice Department, the initiative is designed to "hold accountable entities or individuals that put U.S. information or systems at risk by knowingly providing deficient cybersecurity products or services, knowingly misrepresenting their cybersecurity practices or protocols, or knowingly violating obligations to monitor and report cybersecurity incidents and breaches."   
The Coalition will post the two FAR rules on cybersecurity reporting and standardization as soon as they are released. 
Lawmaker to Propose Stronger Buy American Requirements 
Federal Times reported that Rep. Donald Norcross (D-N.J.) plans to propose stronger Buy American requirements through the House's annual defense authorization bill in order to codify the 2021 executive order on Made in America. Norcross is working with Republicans on the House Armed Services Committee on a compromised amendment that would apply only to large defense programs and also recognize allies. He stated that "we are actively working with our allies and partners, and those in the defense committee, to try to work out a win not only for our country but for our allies and partners also." Last year, Norcross drafted Buy American language that would have raised the domestic content requirement to 75 percent in Federal contracts by 2029. However, this measure did not pass both the House and Senate. The Defense Memorandum of Understanding Attaches Group, which consists of 25 countries that have trade agreements with the U.S. such as Canada, France, Germany, and the U.K., urged lawmakers to oppose Norcross' proposal. The group stated that the legislation could increase prices and constrain source materials from members. Norcross has said that countries with reciprocal defense trade agreements would remain exempt, however, the group remains fearful that these exemptions may be removed and wants to see them codified in legislation. 
House Small Business Committee Holds Hearing on Category Management 
FCW reported on a House Small Business Committee hearing that took place last Tuesday on Category Management policies and practices. Small businesses have expressed concern that category management policies have decreased competition and hurt innovation in procurement.  
Since the rollout of the category management policy there has been $27 billion dollars in reported savings by the Federal Government from 2016 to 2019. However, during this period, the percentage of small businesses providing goods and services to the government has decreased by 17 percent. The hearing last Tuesday follows one from last October focused on the 40 percent decline in the federal small business supplier base over the last decade.  
Chairwoman of the Small Business Committee, Rep. Nydia Velazquez (D-N.Y.),  stated that the committee "worked to include provisions to protect set-aside contracts for small businesses and exempt contracts awarded to certain underserved small firms from category management" as part of the recent fiscal year defense bills. In addition, the chairwoman stated that the committee was "closely monitoring the implementation of [Office of Management and Budget] Memorandum M-22-03, titled 'Advancing Equity In Federal Procurement,' which is intended to provide more opportunities for stand-alone contracts for small disadvantaged businesses."  
Several industry figures who testified at the hearing stated that the impact of these reforms on small business was deliberate. "I'm not sure the consequences are actually unintended, I think some of it is in order to reduce competition and reduce the number of proposals and things that have to be reviewed," said Cy Alba, partner of PilieroMazza PLLC. "The entire category management system is structured, I think, to [focus] primarily on reducing administrative burden, as opposed to actually getting the best products." 
GAO Releases Report on Critical Minerals Supply Chain Risks
The Government Accountability Office (GAO) released its report this week on critical minerals such as cobalt and lithium. Disturbances in the global supply chain for these minerals could lead to serious issues for several key industries. In response to these risks, Federal agencies created a national strategy to mitigate supply chain risks. However, new legal requirements have been enacted after the strategy was created. GAO issued several recommendations to address these concerns. GAO analyzed six federal agencies and seven nonfederal stakeholders and found five challenges that inhibit critical mineral recovery. The five challenges are:  
limited data and analytical tools to support decision-making  

limited research and development  

limited domestic infrastructure and capacity  

potential adverse effects on the environment and worker safety  

limited economic viability of recovery and substitution methods 
GAO found several deficiencies in the national strategy where it failed to include characteristics of effective national strategies identified in previous work done by GAO. For example, the strategy does not fully address its goals, cost, how it will be implemented, and what metrics will be used to evaluate the strategy. In addition, it does not convey new legal requirements such as the 2021 White House report on risks to critical mineral supply chains. The Critical Minerals Subcommittee has not decided yet whether to update the strategy based on the new relevant statutes. The following figure shows recent related statutes: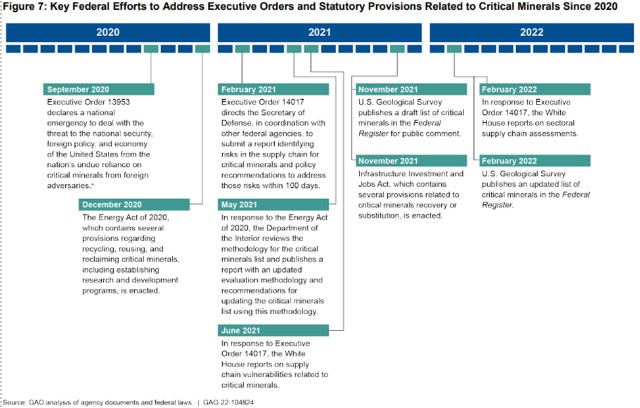 As a result of this report the GAO has issued recommendations to the Department of Energy (DOE), the Department of the Interior (Interior) and the Office of Science and Technology Policy (OSTP) advising that the three agencies work in conjunction with the members of the Critical Minerals Subcommittee to update the 2019 critical minerals national strategy. The update should address recent statutory requirements and federal efforts and incorporate the following: 
goals, subordinate objectives, activities, and performance measures 
resources, investments, and risk management; and 

integration and implementation 
DOE agreed with the recommendation, OSTP took no position and Interior stated that the recommendations should be directed to OSTP. In response GAO maintains their recommendations as stated in the report. 
The Legal Corner provides the legal community with an opportunity to share insights and comments on legal issues of the day. This guest column was provided by Alexander Hastings from Covington and Burling LLP. The comments herein do not necessarily reflect the views of The Coalition for Government Procurement. 
The Department of Justice ("DOJ") recently announced a $5.2 million settlement with Numet Machining Techniques, LLC and affiliated entities (collectively, "Numet") concerning alleged misrepresentations of size and ownership in connection with pursuing U.S. Government contracts.  The Numet settlement is an important reminder to the contractor community that representations and certifications—particularly those concerning small business status—should be made with due caution and that the discovery of incorrect representations during M&A due diligence can be a significant finding.  In this post, we explore the recent Numet settlement, examine the Small Business Administration ("SBA") size and affiliation rules, and offer guidance to companies assessing the significance of incorrect representations.
Numet:  A Warning and Reminder
Numet manufactures and provides aerospace engine machined components for commercial and military purposes.  According to the DOJ, Numet ceased to qualify as a small business in 2011 when it was acquired by another company.  It nonetheless continued to claim small business status, and over the next five years, received 22 contracts that had been set aside for small businesses.  Numet also incorrectly claimed to qualify as a women-owned small business.
In 2019, Numet was up for sale again.  In connection with that sale process, the company voluntarily disclosed its affiliation with other business entities, alerting the government that Numet had been ineligible to receive the aforementioned small business set-aside contracts.  That disclosure led to a government investigation, allegations of False Claims Act liability, and ultimately a civil settlement of over $5.2 million.  The DOJ's press release indicates that Numet received credit in the settlement for voluntarily disclosing the matter and cooperating in the investigation.
Size Status, Affiliation, and M&A
The SBA maintains a table of size standards for assessing whether contractors qualify as a small business.  Most size standards rely on an entity's annual receipts or number of employees.
Determining annual receipts and number of employees requires consideration of the revenue and headcount of the contracting entity.  But the analysis does not end there.  The size calculation also must include a contractor's "affiliates."  In short, entities are affiliated (and thus their revenue and employees counted together) if one entity has the ability to control the other or a third party has the ability to control both.  In assessing whether control is present, the SBA considers usual factors, such as common ownership and common management, as well as less obvious considerations, such as negative rights that could allow an entity certain control over another (e.g., the ability to block a quorum of the Board or to veto matters related to officer compensation).
Although sometimes straightforward, affiliation issues can often become complicated and turn on nuanced considerations of ownership and control.  Further, as the Numet settlement illustrates, application of these affiliation rules becomes particularly important in the context of an M&A transaction.  For example, when a contractor undergoes an ownership change, it must consider not only the revenue and employees of its immediate owner, but also whether that immediate owner has affiliates and the size of those affiliates.  This analysis can be particularly complicated for members of a private equity portfolio, which may have little familiarity with the other companies in which their private equity sponsor has invested.
Practical Considerations for Assessing Incorrect Small Business Representations
In the context of M&A due diligence, it is not uncommon to discover that an acquisition target has made, or continues to make, an incorrect size status representation.  The SBA's affiliation rules are confusing, and many contractors update their SAM.gov profile without a complete understanding of their affiliates.  This problem is further complicated by the fact that the responsibility for maintaining a SAM.gov profile—and in turn making a slew of representations and certifications about the registering entity—is often decentralized, without sufficient oversight within a company.
If an incorrect size status representation is discovered during due diligence, a potential acquirer and its legal counsel must use their judgment and experience to assess the likelihood and amount of potential liability, the advisability of disclosing the incorrect representations to the government, and whether it is appropriate (and possible) to allocate some of the potential liability to the seller.  It is important to consider, among other things:
The scope of the incorrect representations (e.g., how long the representations have been incorrect; whether the representations are confined to SAM.gov or whether they extend to other settings, such as higher-tier contractor registration portals);
What, if any, benefits the target has received from its incorrect representations (e.g., total or partial set-aside awards, accelerated payment terms, advantages in soliciting business from higher-tier contractors);
The extent to which the target has fully investigated the circumstances surrounding the incorrect representations (e.g., whether there is a reasonable explanation that would withstand scrutiny from the government); and
The ability of the target to sustain itself going forward without any further claim to small business status.
Conclusion
As Numet illustrates, incorrect representations as to size and ownership can have significant consequences.  Numet had to pay millions of dollars to resolve allegations of procurement fraud, risk reputational harm, and most certainly expend considerable time and resources defending against a government investigation.  The SBA's affiliation rules can be complicated, and misrepresentations may persist for years before being brought to light through M&A due diligence.  The assessment of liability, proper remediation, and appropriate contractual protections is a fact-intensive inquiry that depends upon the specifics of each target company and transaction.  Ultimately, we advise both buyers and sellers in this space to carefully measure risks presented by an incorrect size status representation.
Healthcare Corner 
VA to Delay Further EHR Rollout Until 2023 
Federal Times reported this week on the latest update on the implementation of the new U.S. Department of Veterans Affairs (VA) electronic health record (EHR) system. Following previous challenges at the Mann-Grandstaff location in Spokane, the VA has made the decisions to delay the Puget Sound VA Health Care System rollout from August to March 2023. The VA is also delaying the rollout in Portland from November to April 2023. "In evaluating [the sites'] readiness for deployment, VA determined the system hadn't shown adequate reliability to support the current schedule," VA officials said in a statement. "The date was changed to allow Oracle Cerner to put important system enhancements in place and make the necessary improvements to ensure system stability … as well as fix outstanding issues to address research workflow challenges." While further deployments in the Northwest will be pushed back to 2023, the rollout that has already begun in Idaho will continue as planned. 
Since the go-live of the system at the Mann-Grandstaff location there have been reports issued involving concerns about the negative impacts on workflows, training, and patient safety. In addition, the inability of the new EHR to provide quality patient safety metrics has left the Mann-Grandstaff Medical Center in a position where it is failing to meet data reporting requirements needed to support accreditation. These challenges were detailed in a recent VA Office of Inspector General report. The VA has agreed with the recommendations of the report and is expected to finish implementing the recommendations by October 2022. 
This week's A View From Main Street features guest author Ken Dodds of Live Oak Bank. The comments herein do not necessarily reflect the views of The Coalition for Government Procurement.
Effective July 6, 2022, a business concern competing for set-aside contracts classified under NAICS codes with employee-based size standards will calculate its size based upon the average number of employees of the concern using the numbers of employees for each of the pay periods for the preceding completed 24 calendar months. 13 CFR 121.106(b)(1). This calculation includes all affiliates (foreign, domestic, non-profit, etc.). Id. For a business concern that has not been in business for 24 months, the firm will use the average number of employees for each of the pay periods during which the firm has been in business. 13 CFR 121.106(b)(3). Employee includes all individuals employed on a full-time, part-time or temporary basis, including employees obtained from a temporary employee agency, professional employee organization or leasing concern. 13 CFR 121.106(a). Volunteers are not considered employees if they do not receive compensation of any kind (including in-kind compensation). 13 CFR 121.106(a).
In a size determination SBA will consider the totality of the circumstances, including criteria used by the IRS for Federal income tax purposes, in determining whether individuals are employees of a firm. 13 CFR 121.106(a). This enables SBA to prevent firms from converting existing employees to 1099 independent contractors to avoid exceeding an employee-based size standard. Further, this rule enables SBA to find that individuals really are employees, not independent contractors, even where the firm reports the individuals as independent contractors to the IRS for tax purposes. In an interesting case, SBA accepted a protested concern's assertion that security guards in Iraq were independent contractors and thus did not count towards the employee size standard, based on the protested concern's affiliate reporting the individuals as such to the IRS for employment tax purposes. The disappointed bidders appealed, but not on these grounds and OHA dismissed the appeal and denied a subsequent petition for reconsideration. Geo-Seis Helicopters, Inc. and GCH Services, LLC. d/b/a Gold Coast Helicopters, SBA No. SIZ-4826 (Dec. 7, 2006); Geo-Seis Helicopters, Inc. and GCH Services, LLC. d/b/a Gold Coast Helicopters, SBA No. SIZ-4833 (Jan. 25, 2007). The SBA Inspector General, Senate Small Business Committee, and House Oversight and Government Reform Committee expressed concern about the SBA decision and the affiliate's classification of the security guards as independent contractors. Robert W. Wood, Independent Contractor vs. Employee and Blackwater, 70 Mont. L. Rev. 95 (Winter 2009). On March 30, 2007, the IRS sent the affiliate a Form SS-8 Determination Letter finding that a security guard was an employee, not an independent contractor. Id.
The average number of employees of a firm with affiliates is calculated by adding the average number of employees of the firm with the average number of employees of each affiliate. 13 CFR 121.106(b)(4)(i). If a firm is acquired, the average number of employees of the acquired concern must be included for the entire period of measurement. 13 CFR 121.106(b)(4)(i). On the other hand, the employees of a former affiliate entity are not counted at all if the affiliation ceased prior to the relevant date for determining size (e.g., date of offer, date recertification is required). However, if only a division is sold, not an entity (e.g., corporation, limited liability company), the firm must include the employees from the division in determining its size for the period that they were employees of the concern. 13 CFR 121.106(b)(4)(ii).
GSA Releases a RFI for MAS Offer Submission Process 
The GSA released a Request for Information (RFI) on a new supplier portal to replace eOffer that will streamline the offer process. GSA requests all industry partners to respond to the RFI to provide feedback for the development of the portal. GSA's current plans for the portal include:  
Aligning the process to the solicitation provision SCP-FSS-001, Instructions Applicable to All Offerors. 

Streamlining the offer submission process to identify requirements that are applicable to products only, services only, or both. 

Identifying all possible data inputs to become part of the contract master file. 
In addition to streamlining the process, GSA is planning on proposing offer paths for the following groups:
Existing contractors submitting a streamlined offer.  

Offerors submitting under Startup Springboard.  

Offerors submitting a Transactional Data Reporting (TDR) offer. 

Joint Ventures. 
There will be a session to speak with the GSA MAS Program Management Office about this RFI on June 28 at 12 pm ET. The link to register is here.  
The RFI can be accessed here. The deadline to respond is June 30, 2022.  
Off the Shelf: Key Procurement Developments in 2022 
This week on the Off the Shelf podcast, Jason Miller, Executive Editor of Federal News Network, provided insights and analysis on the spring's key procurement developments and the implications for government-wide contracting. 
Miller highlighted the recent decision by GSA's Federal Acquisition Service (FAS) not to apply the Section 876 authority to the Multiple Award Schedules (MAS) program. Section 876 authorizes GSA to award MAS contracts without having to negotiate fair and reasonable pricing, thereby leaving pricing to agency specific competitions at the task order level. The decision not to extend the authority to the MAS program is a missed opportunity that will especially impact small businesses and non-traditional commercial firms seeking to enter the federal market. 
Miller also tackled GSA's management of Economic Price Adjustments (EPAs) in response to current inflationary pressures and the impact on contractors. 
Finally, Miller shared his thoughts on a host of issues, including the OFPP Administrator vacancy, new e-tools at GSA, suspension and debarment trends, and the shrinking industrial base. 
To listen to the podcast, click here. 
VA Supply Chain Modernization RFI due June 29 
On June 15, the VA released a Supply Chain Modernization RFI. The VA's intent is to award a single multi-year IDIQ supply chain services contract in Fiscal Year 2023. As such, the VA is seeking industry feedback on the draft Statement of Objectives (SOO) and draft evaluation strategy to provide a Supply Chain Modernization and Management solution. The RFI is posted on SAM.gov at: https://sam.gov/opp/4cf45dc59f994da091734fe2ded137fb/view.
Comments are due by 12 noon EST on June 29, 2022.  The Coalition is considering submitting comments in response. Members who have feedback on the RFI that they would like included in the Coalition's response, please contact Aubrey Woolley at awoolley@thecgp.org by COB Friday, June 24. 
VA Supply Chain Modernization Meeting, July 25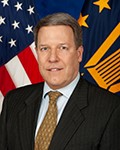 The Coalition is pleased to announce that we will host a member meeting with Michael Parrish, Principal Executive Director and Chief Acquisition Officer and Phil Christy, Deputy Executive Director of the Office of Acquisition Logistics and Construction of the U.S. Department of Veterans Affairs (VA) on Monday, July 25 from 1:00 – 2:00 pm ET. The topic of discussion will be the VA's Supply Chain Modernization initiative. An RFI has been published on this issue and is posted here on SAM.gov. The RFI describes the VA's intent to award an IDIQ for a Supply Chain Modernization and Management solution that covers IT, pharmaceuticals, medical/surgical supplies, prosthetics, facilities maintenance, high tech medical equipment, and benefits and burial supplies. 
The Coalition is currently identifying a location for the meeting in downtown Washington, DC and will provide a virtual/dial-in option as well.  We will let you know once the location has been identified. To register to attend, please click here.
General/Office Products Committee Meeting on GSA's Common Catalog Platform, July 26 
Join the General/Office Products Committee on July 26 at 10 am EST for an update on the new Common Catalog Platform (CCP). Mike Shepherd, Project Manager of Office of the Regional Commissioner Mid-Atlantic Region Federal Acquisition Service, will discuss the upcoming pilot, transitioning to the new CCP and more. 
To register to attend, click here