The Role of Healthcare in the Pillars of National Security
In a previous blog, we discussed the integrity and resiliency of the supply chains for healthcare products and pharmaceuticals, focusing on how these issues are a matter of national security. During our Spring Training Conference, we were fortunate to have Moshe Schwartz, President of Etherton and Associates, dig deeper into the three pillars that make up national security and how recent events, including the COVID-19 pandemic and inflation, have reshaped our nation's thinking about them. These three pillars include defense, healthcare, and economy. During his remarks, Schwartz emphasized that healthcare underpins each of the three the pillars. The chart below outlines the components of national security and how healthcare plays a crucial role in each. Additionally, the figure demonstrates that supply chains, stockpiles and surge capacity, and research and development cut across all three elements of national security.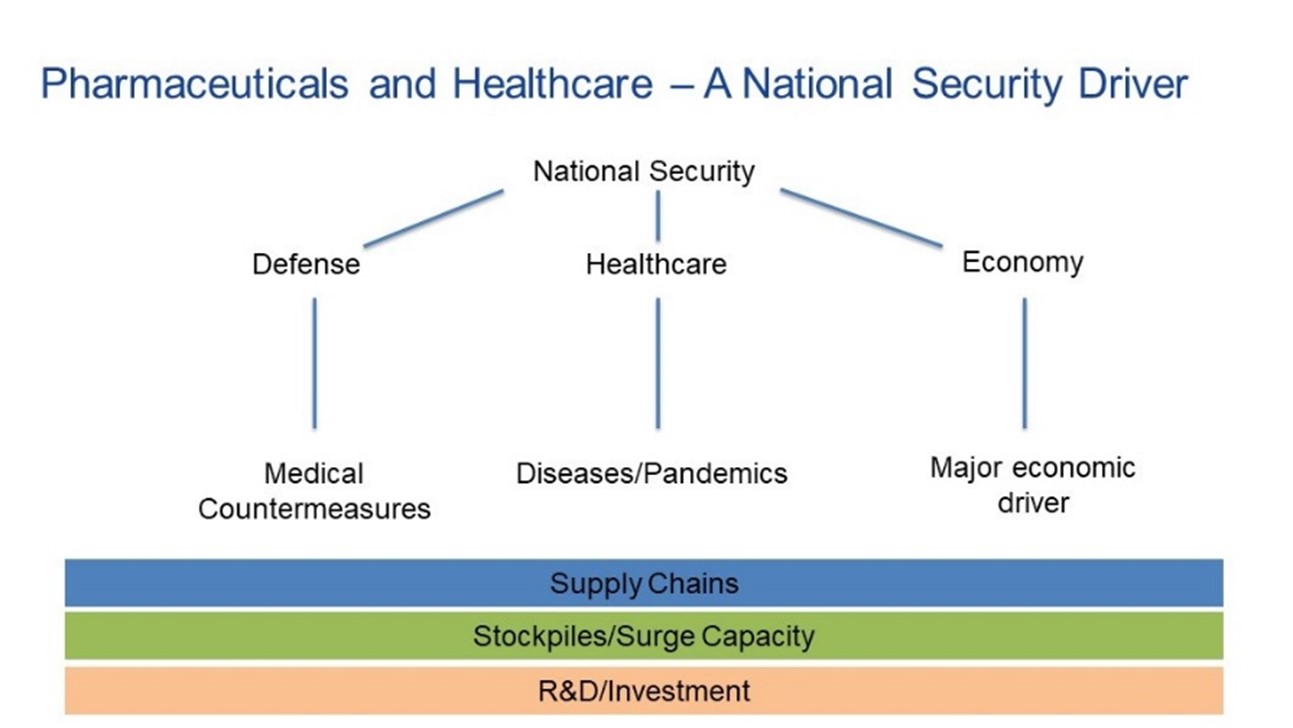 The first key component of national security highlighted above is military defense. The defense pillar encapsulates the protection of our nation against foreign adversaries and the threat of terrorism. In order to ensure that the warfighter can effectively protect the nation, it is vital that the armed services have access to the latest healthcare supplies and pharmaceuticals. Without a healthy active military, the ability to defend against the risk of attacks from outside threats would be greatly hindered. It is equally important to provide the best healthcare for our veterans post service. Additionally, the healthcare and pharmaceutical industries are essential to the defense against biological and chemical weapons. In a technologically evolving world, the military must have access to the appropriate medical countermeasures to eliminate these potential hazards. Finally, the relationship between defense and healthcare is shown through several advancements in medicine and medical technologies as the result of military investment.
The second pillar shaping national security is healthcare, which includes the health and wellness of the American people. The effect of the COVID-19 pandemic is particularly crucial to this component of security. According to the Centers for Disease Control (CDC), "COVID-19 was associated with approximately 460,000 deaths in the U.S. during January-December 2021." Also notably, in 2021 COVID-19 remained the third leading cause of death in the country behind heart disease and cancer. CDC statistics show that from 2019 to 2020, life expectancy dropped from 78.8 years to 77.3 years, citing the pandemic as the primary cause of the decrease. Response to the pandemic was critical to preserving national security. Operation Warp Speed (OWS), an effort led by multiple government agencies, including the Department of Defense and the Department of Health and Human Services, accelerated the delivery of hundreds of millions of vaccines, therapeutics, and diagnostics to Americans. While ultimately successful, OWS was impeded by a lack of stockpiles and a lack of infrastructure capable of more quickly surging resources to develop and distribute the vaccine. A shortage in personal protective equipment was also a result of sparce stockpiles and surge capacity limits. COVID-19 provided insights into the importance of medical readiness, and offered lessons learned to address future pandemics. Effective pharmaceuticals and healthcare products are always fundamental to combatting diseases and ensuring the health of our nation as a whole.
The third and final pillar of national security is economy. Economic security is important for promoting growth, innovation, and development within a nation. Healthcare plays a major role in the U.S. economy. As mentioned in the last blog, healthcare spending represented 19.7 percent of the U.S. Gross Domestic Product in 2020 (Centers for Medicare & Medicaid Services). Additionally, according to the Brookings Institution, healthcare spending accounted for 17.7 percent of the U.S. economy and 24 percent of government spending in 2018. Also, as of 2019, the healthcare sector employed 11 percent of Americans. Consequently, disruptions to the pharmaceutical and healthcare product supply chains would have grave impacts on the country's economy. Currently, the U.S. relies heavily on foreign sources for raw ingredients for pharmaceuticals, personal protective equipment, and medical equipment. These supply chains also remain vulnerable to cyber threats. More resilient American supply chains will strengthen domestic manufacturing capabilities, and sturdy supply chains with allies will greatly benefit national security.  
In order to maintain a resilient healthcare capability, the U.S. must take steps to strengthen supply chains, build stockpiles and surge capacity, and invest in research and development. These areas directly impact the three pillars of national security. Strengthening these components will help us be better prepared to respond to the next health national security threat, whether it comes in the form of a pandemic or a foreign adversary. The meaning of national security has evolved with these unique current events, and as Schwartz said in his speech, "the decisions that get made over the next couple of years are going to influence how we do things going forward."
SBA Highlights Efforts to Reform Category Management to Support Small Business Contracting 
Federal News Network reported on a hearing of the House Committee on Small Business on June 23 titled "Small Business Administration (SBA) Management Review: Office of Government Contracting and Business Development." The hearing was dedicated to beginning the process of Category Management reform. The Administration's plans to reform Category Management were first announced in December 2021 as one of a number of new policies to increase opportunities for underserved small business owners.  During the hearing, Bibi Hidalgo, Associate Administrator of SBA's Office of Government Contracting & Business Development, testified on some of the reforms made thus far including moving traditionally disadvantaged groups up to tier 2 in Category Management which has expanded the opportunities for 33,000 firms. Hidalgo cited recent data showing encouraging results from this reform as increasing numbers of new businesses are entering the program. Hidalgo also emphasized the success of growing accountability with the reform plan emphasizing small business contracting targets in the performance plans for all Senior Executive Service managers. "This is part of essentially their [key performance indicators]," Hidalgo said. "So, we are seeing a difference. They are now reaching out more and more. My staff was just telling me this yesterday: Across the board agencies are reaching out to identify more businesses across all the socioeconomic categories." 
OMB Memorandum M-22-03 titled 'Advancing Equity in Federal Procurement' released in early December 2021 outlines the specific reforms to Category Management that the Administration is pursuing to increase opportunities for small disadvantaged businesses and other socioeconomic businesses.  A summary of the changes made to the Federal Government's previous Category Management guidance is provided below: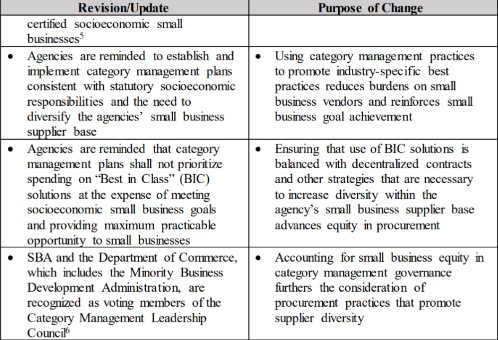 GSA Highlights its Response to Inflation and EPA Flexibility Guidance in Spring MAS Quarterly Newsletter 
On June 22, the General Services Administration (GSA) released its 2022 Spring Multiple Award Schedule (MAS) Quarterly Newsletter for its industry partners. The spring newsletter includes a section on how the MAS Program Office is addressing the impacts of inflation and is working with suppliers to address this issue by adding multiple flexibilities through the Economic Price Adjustments (EPA) clause. More details related to this approach can be found in GSA's Acquisition Letter. Contractors have an opportunity to submit comments and questions on the EPA clause flexibilities and inflation on GSA Interact here. 
Other highlights include: 
Startup Springboard; 

Refurbished/Remanufactured Robomod Support Update; 

FAS to Keep Pricing on MAS Services Contracts; 

New eBuy Enhancements Make the RFQ Pricing Submission Process Easier; 

Greenhouse Gas Emissions Webinar for FAS Contractors is Now Available; 

2022 FAST Conference; and 

MAS Roadmap Streamlined. 
The newsletter also provides updates on MAS Consolidation Phase 3, catalog management, and MAS Office Hours. An archive of all past newsletters can be found on the Vendor Support Center Education page. 
VA AIR Commission Faces Opposition in Senate 
This week, a bipartisan group of twelve senators stated they will not proceed with nominating senators to serve on the Department of Veterans Affairs (VA) Asset and Infrastructure Review (AIR) Commission per Federal News Network. The Commission was created with the purpose of reviewing the VA's recommendations on how to manage the real-estate holdings of the agency after reviewing market information about the veteran population nationwide. Senators expressed concerns with the Review's recommendations to close approximately three dozen VA medical centers. "As senators, we share a commitment to expanding and strengthening modern VA infrastructure in a way that upholds our obligations to America's veterans. We believe the recommendations put forth to the AIR Commission are not reflective of that goal and would put veterans in both rural and urban areas at a disadvantage, which is why we are announcing that this process does not have our support and will not move forward," the senators said. The VA has expressed that the purpose of the Commission is to modernize facilities and make sure that the geographical footprint of health care facilities matches a changing veteran population. The VA's Acting Assistant Secretary for Public and Intergovernmental Affairs Melissa Bryant stated "President Biden has insisted that our Veterans in the 21st century should not be forced to receive care in early 20th century buildings. The median age of VA's hospitals is nearly 60 years old, and that's why the President requested nearly $20 billion in new VA infrastructure spending last year and it is why he has requested the largest ever investment in VA infrastructure in his FY23 budget." Regardless of what occurs with the AIR Commission the Mission Act still requires the VA to conduct a quadrennial review of the regional needs regarding its real-estate portfolio with the next review due in 2024. 
VA FSS Releases Quarterly Newsletter Highlighting Continued Increase in Sales 
On June 29 the Department of Veterans Affairs Federal Supply Schedule Service (VA FSS) released their quarterly newsletter The newsletter emphasized the increase in recent sales with Schedule 65 V II Invitro Diagnostics, Reagents, Test Kits, and Test Sets driving a substantial portion of the activity with a 229% increase from Fiscal Year 2021. In addition, state and local government (SLG) spending has increased by 358% as SLGs utilize their access to FSS during national emergencies. Overall, the FSS has seen a 10% increase in sales from the prior year 
Features of the newsletter include:  
Inside FSS: News from the Director

FSS Working for You: VA Assists Ordering Activities with FSS Procurements

Reminder! Attention New Offerors

Web Wisdom: Solicitation Packages

Around the VA: Puppies Assisting Wounded Servicemembers

Pharm Facts:  Upcoming Public Law Annual Pricing Updates

Training Center: Understanding Solicitation Amendments & Mass Modifications

Important: CCST Customer Support Issue – Contract POCs

Did You Know…  VA Releases FY22 Subcontracting Goals

FSS FAQ: How do I resolve sales portal issues?

IFF/ROS Reminder
The newsletter also includes information on how to register for the upcoming National Contract Management Association World Congress. The event will take place from July 17 to the 20 in Chicago and you can register here. To subscribe to the VA FSS newsletter, you can email your request to mammhinFSSPMRS@va.gov. 
Contracting Experts Recommend Customer Experience Leaders and Scorecard 
Several contracting experts testified to the Senate Committee on Homeland Security and Governmental Affairs on the need for a Federal Chief Customer Officer and customer experience scorecard to track progress on improving the customer experience across the Federal Government as reported by Federal News Network. Former GSA executive Martha Dorris, the founder of Dorris Consulting International, expressed the need for a customer experience scorecard to track consistent improvement. "The government has unique challenges when implementing customer experience, due to the large and diverse population we serve, quantifying the benefits of customer experience, including increased efficiency, employee engagement, voluntary compliance with government mandates, simplifying the lives of Americans and building trust in government," Dorris said. Several experts have also suggested that the Federal Information Technology Acquisition Reform Act (FITARA) scorecard could be modified to add a customer experience category. These experts cited the success of FITARA in standardizing metrics for tracking IT modernization and those lessons learned could apply to the standardization and tracking of customer experience improvements. Dorris also called for a federal chief customer officer "responsible for establishing the vision and strategy for improving the end-to-end customer experience." In addition, Dorris testified on the need for the agencies and programs categorized as High-Impact Service Providers to create an executive who focuses on customer experiences issues. The purpose of this role would be to have one leader whose sole focus is to improve the customer experience without having competing responsibilities. 
Annual Joseph P. Caggiano Memorial Golf Tournament
We are excited to announce our Annual Joseph P. Caggiano Memorial Golf Tournament will take place this year on August 17! The tournament will once again be held at the beautiful Whiskey Creek Golf Club in Ijamsville, MD.
The Coalition hosts this charity tournament in honor of our good friend and colleague, Joe Caggiano, whose career in the government marketplace spanned 25 years, including serving seven years as COO of the Washington Management Group/FedSources, eight years of service in the Navy, and he most recently served as a principal at Reznick Government, a business advisory firm now known as CohnReznick.
As you may recall from previous years, tournament proceeds will once again support the Coalition's endowment for a qualified veteran concentrating their studies in the field of US Government procurement and pursuing the JD/LLM/MSL degree at The George Washington University Law School. Additionally, remaining proceeds will be shared with another soon to be announced organization that proudly supports our veterans.
Joe would be very proud to know that the Coalition has raised nearly $150,000 for the scholarship. We cannot thank the procurement community enough for its generosity and support in helping us support veterans and honor our dear friend's legacy. We have many sponsorships available to support this year's tournament, from Title Sponsor opportunities, to Lunch, Reception and Beverage Carts, to Holes and Foursomes. Contact Matt Cahill at mcahill@thecgp.org for more information or assistance, or simply select your sponsorship during the registration process.
To register click here.
Agency Officials Discuss Digital Identity Challenges for the Customer Experience 
Federal Computer Week hosted their Customer Experience Summit last Wednesday where officials discussed efforts to provide customers with a digital identity that improves the customer experience while maintaining privacy and security. To that end, one suggestion was to provide logins that balance usability with security. There are plans for GSA's Login.gov to become a shared service for other agencies but many government bodies are still searching for better verification solutions. One emphasis of the discussion was on creating systems with multiple options to ensure user information is protected while ensuring broad accessibility to services. Officials see the cross-agency interactions on digital identity as a gateway to testing out concepts of providing cross-agency services. The National Institute of Standards and Technology is currently working on remaking their digital identity guidelines with a draft planned for release this year. Final guidelines are expected to come in fiscal year 2023. 
DHS Continues to Grow Procurement Innovation Lab  
FCW reported that the Department of Homeland Security's (DHS) Procurement Innovation Lab is expanding its services for both government and industry. The Procurement Innovation Lab was founded in 2015 by former DHS Chief Procurement Officer Soraya Correa "to help lower entry barriers for non-traditional contractors, shorten the time-to-award, and increase successful outcomes with improved acquisition techniques." Correa used the Innovation Lab to encourage DHS to create projects that would streamline procurement processes and aimed for it to serve as a model for other agencies and industry. The lab is currently coaching eight external acquisition teams with a total procurement value of $3.3 billion, as well as 35 DHS teams. Current DHS Chief Procurement Officer Paul Courtney said that the department is seeking a new director for the lab. Additionally, the lab is launching a new boot camp training program, titled "Next Level," that includes nine new procurement techniques. The director will be responsible for overseeing the lab's boot camp training programs. 
The lab will be subject to congressional oversight following the passage of the Promoting Rigorous and Innovative Cost Efficiencies for Federal Procurement and Acquisitions Act of 2021 (PRICE Act),. The PRICE Act requires DHS to form guidance based on projects from the Innovation Lab, as well as to produce annual reports on the agency's procurement techniques. Courtney sees the new oversight as a positive, as it shows Congress' interest in the lab and its achievements. The lab plans to continue testing and rolling out new projects while also developing procurement guidelines. One of the projects is the Idea Competition, which is described as "a crowd-sourcing platform" that "the agency is using to empower the acquisition workforce to improve procurement processes that may be inhibiting innovation." 
GAO Reports on Agency Use of Flexibilities During COVID-19 Pandemic 
On June 23, the Government Accountability Office (GAO) published a report on Federal agencies' use of regulatory flexibilities to address the COVID-19 pandemic. Regulatory flexibilities are "actions taken, at least in part, to temporarily reduce regulatory burdens or constraints imposed on regulated entities." As part of the Coronavirus Aid, Relief, and Economic Security (CARES) Act, GAO was asked to look into regulatory flexibilities that were available to agencies while responding to COVID-19. GAO surveyed 24 major agencies on their use of COVID-19 regulatory flexibilities. Additionally, GAO interviewed officials at five agencies who used more types of flexibilities during the pandemic compared to before. 
GAO found that 23 out of 24 major agencies reported implementing COVID-19 regulatory flexibilities. These flexibilities included "actions that modify regulatory standards, as well as activities that modify their applicability (e.g., through waivers or exemptions) or enforcement." Most agencies reported using more types of flexibilities in response to COVID-19 compared to before the pandemic. Officials were interviewed by the Department of Energy, the Department of Homeland Security, the Department of Transportation, the Environmental Protection Agency, and the Small Business Administration. All five agencies noted that the government officials implemented flexibilities in response to COVID-19 based on their experiences with past events such as constrained funding situations and natural disasters. However, they did not rely on specific response plans from these events due to the unique nature of the COVID-19 pandemic.  
15 out of 24 agencies reported having already completed an assessment of at least one regulatory flexibility to understand the benefits and challenges of them. Ten agencies reported using these assessments to guide their decision making on using new or existing flexibilities. For agencies that did not conduct assessments, GAO found that a reason they were not completed was because some flexibilities were intended to be temporary, and that "their focus remained on responding to and recovering from the ongoing pandemic" instead. 
 President Signs VA Electronic Health Record Transparency Act  
On June 23, the President signed the VA Electronic Health Record Transparency Act of 2021 into law. This law requires the VA to report costs of its Electronic Health Record Modernization (EHRM) Program to Congress on a quarterly basis, starting 90 days from now. In its reports, the VA will also be required to provide a breakdown of funding sources for the EHRM Program. According to Fedscoop, Senator Jerry Moran (R-Kan.), who co-introduced the bill, said that "the potential benefits of this program are important, and it is vital to get it right. Now that this legislation has been signed into law, we can make certain the VA is providing the proper transparency throughout the EHRM implementation." Senator Jon Tester (D-Mont.), who also introduced the bill, added that he is "proud to have worked with Senator Moran and our colleagues to get our bipartisan bill across the finish line, allowing us to increase oversight and transparency on behalf of the VA medical staff using this program, so we can better provide our nation's veterans the quality care they have earned." Last week, the VA confirmed delays in the rollout of the program at four locations from 2022 to 2023. These four sites include the American Lake, Seattle, Portland, and Portland-Vancouver VA medical centers. Additionally, the rollout at Idaho's Boise VA Medical Center has been pushed back to July 23.
The Legal Corner provides the legal community with an opportunity to share insights and comments on legal issues of the day. This guest column was provided by Alexander Hastings from Covington and Burling LLP. The comments herein do not necessarily reflect the views of The Coalition for Government Procurement. 
The Department of Justice ("DOJ") recently announced a $5.2 million settlement with Numet Machining Techniques, LLC and affiliated entities (collectively, "Numet") concerning alleged misrepresentations of size and ownership in connection with pursuing U.S. Government contracts.  The Numet settlement is an important reminder to the contractor community that representations and certifications—particularly those concerning small business status—should be made with due caution and that the discovery of incorrect representations during M&A due diligence can be a significant finding.  In this post, we explore the recent Numet settlement, examine the Small Business Administration ("SBA") size and affiliation rules, and offer guidance to companies assessing the significance of incorrect representations.
Numet:  A Warning and Reminder
Numet manufactures and provides aerospace engine machined components for commercial and military purposes.  According to the DOJ, Numet ceased to qualify as a small business in 2011 when it was acquired by another company.  It nonetheless continued to claim small business status, and over the next five years, received 22 contracts that had been set aside for small businesses.  Numet also incorrectly claimed to qualify as a women-owned small business.
In 2019, Numet was up for sale again.  In connection with that sale process, the company voluntarily disclosed its affiliation with other business entities, alerting the government that Numet had been ineligible to receive the aforementioned small business set-aside contracts.  That disclosure led to a government investigation, allegations of False Claims Act liability, and ultimately a civil settlement of over $5.2 million.  The DOJ's press release indicates that Numet received credit in the settlement for voluntarily disclosing the matter and cooperating in the investigation.
Size Status, Affiliation, and M&A
The SBA maintains a table of size standards for assessing whether contractors qualify as a small business.  Most size standards rely on an entity's annual receipts or number of employees.
Determining annual receipts and number of employees requires consideration of the revenue and headcount of the contracting entity.  But the analysis does not end there.  The size calculation also must include a contractor's "affiliates."  In short, entities are affiliated (and thus their revenue and employees counted together) if one entity has the ability to control the other or a third party has the ability to control both.  In assessing whether control is present, the SBA considers usual factors, such as common ownership and common management, as well as less obvious considerations, such as negative rights that could allow an entity certain control over another (e.g., the ability to block a quorum of the Board or to veto matters related to officer compensation).
Although sometimes straightforward, affiliation issues can often become complicated and turn on nuanced considerations of ownership and control.  Further, as the Numet settlement illustrates, application of these affiliation rules becomes particularly important in the context of an M&A transaction.  For example, when a contractor undergoes an ownership change, it must consider not only the revenue and employees of its immediate owner, but also whether that immediate owner has affiliates and the size of those affiliates.  This analysis can be particularly complicated for members of a private equity portfolio, which may have little familiarity with the other companies in which their private equity sponsor has invested.
Practical Considerations for Assessing Incorrect Small Business Representations
In the context of M&A due diligence, it is not uncommon to discover that an acquisition target has made, or continues to make, an incorrect size status representation.  The SBA's affiliation rules are confusing, and many contractors update their SAM.gov profile without a complete understanding of their affiliates.  This problem is further complicated by the fact that the responsibility for maintaining a SAM.gov profile—and in turn making a slew of representations and certifications about the registering entity—is often decentralized, without sufficient oversight within a company.
If an incorrect size status representation is discovered during due diligence, a potential acquirer and its legal counsel must use their judgment and experience to assess the likelihood and amount of potential liability, the advisability of disclosing the incorrect representations to the government, and whether it is appropriate (and possible) to allocate some of the potential liability to the seller.  It is important to consider, among other things:
The scope of the incorrect representations (e.g., how long the representations have been incorrect; whether the representations are confined to SAM.gov or whether they extend to other settings, such as higher-tier contractor registration portals);
What, if any, benefits the target has received from its incorrect representations (e.g., total or partial set-aside awards, accelerated payment terms, advantages in soliciting business from higher-tier contractors);
The extent to which the target has fully investigated the circumstances surrounding the incorrect representations (e.g., whether there is a reasonable explanation that would withstand scrutiny from the government); and
The ability of the target to sustain itself going forward without any further claim to small business status.
Conclusion
As Numet illustrates, incorrect representations as to size and ownership can have significant consequences.  Numet had to pay millions of dollars to resolve allegations of procurement fraud, risk reputational harm, and most certainly expend considerable time and resources defending against a government investigation.  The SBA's affiliation rules can be complicated, and misrepresentations may persist for years before being brought to light through M&A due diligence.  The assessment of liability, proper remediation, and appropriate contractual protections is a fact-intensive inquiry that depends upon the specifics of each target company and transaction.  Ultimately, we advise both buyers and sellers in this space to carefully measure risks presented by an incorrect size status representation.
View from Main Street: Service-Disabled Veteran-Owned Small Business Concerns
The Federal Government has a statutory goal of awarding 3% of total prime contract dollars to Service-Disabled Veteran-Owned (SDVO) small business concerns (SBCs) every fiscal year. In fiscal year 2020, the Federal Government awarded 4.2% of total prime contract dollars to SDVO SBCs, totaling over $23.7 Billion. Federal agencies can set aside acquisitions for competition among SDVO SBCs, or in limited circumstances agencies can award sole source contracts to SDVO SBCs if there is not an expectation that at least two SDVO SBCs will submit offers. FAR 19.1406. Agencies should consider SDVO, WOSB, HUBZone and 8(a) before conducting a small business set-aside. FAR 19.203(c). The Department of Veterans Affairs (VA) must consider SDVO SBCs first, and firms must be certified by the VA to be eligible for award of VA SDVO contracts. 38 USC 8127. On January 1, 2023, SBA will take over certification from the VA and will begin government-wide certification of firms for SDVO set-aside or sole source contracts. There will be a one-year grace period for non-VA procurements for self-certified SDVO SBCs that apply for certification. Jan. 1, 2021, P.L. 116-283, Div. A, Title VIII, Subtitle E, §§ 862(d)(1), 864(3), 134 Stat. 3779, 3785.
To qualify as an SDVO SBC the firm must be owned and controlled by SDVs. Service-disabled veteran (SDV) status is based on an official disability determination by the VA or Department of Defense. 13 CFR 125.11. Ownership must be direct and SDVs must own at least 51% of each class of voting stock or membership interest and 51% of the aggregate of all stock. 13 CFR 125.12. SBA has specific rules around dividends and distributions to ensure that SDVs are receiving the benefits of the program. 13 CFR 125.12(g). There are special ownership rules around surviving spouses and publicly owned companies involving Employee Stock Ownership Plans. 13 CFR 125.12(d), 125.12(i).     
SDVs must also control the long-term decision-making and day-to-day management of the business. 13 CFR 125.13. An SDV must be the highest officer and the LLC management or corporate Board must be controlled by SDVs. 13 CFR 125.13. There are specific rules concerning the SDV manager's proximity to the office and availability during normal business hours. 13 CFR 125.13(k), (l). There are also special rules for spouses or permanent caregivers of SDVs with permanent and severe disabilities. A provision for minority non-SDV owner consent is allowed in extraordinary circumstances: adding new equity stakeholders or dissolution, sale, merger, or bankruptcy of the company. 13 CFR 125.11, 125.13(m). There are special rules around deployment situations. 13 CFR 125.13(n). Non-SDVs may be found to control if they provide critical financing, a non-SDV manager or owner is a former employer of the SDV, a non-SDV receives higher compensation, the SDVO SBC shares space, employees, resources, or equipment with a concern owned by a non-SDV owner, the non-SDV possesses a critical license, or business relationships exist with non-SDVs or non-SDV owned concerns that cause such dependence that the SDVO SBC cannot exercise independent judgment without great economic risk. 13 CFR 125.13(i), (j).      
To be eligible for an SDVO contract a firm must not exceed the applicable size standard. The size or SDVO status of an SDVO SBC can be protested by unsuccessful offerors by filing a protest with the contracting officer, and the contracting officer should forward the protest to the appropriate SBA offices that process size or status protests. SDVO SBCs can joint venture on SDVO contracts with other small businesses or large businesses under an approved mentor protégé agreement. 13 CFR 125.18(b). The joint venture must be set up in compliance with SBA's rules. For example, the SDVO SBC must be the majority owner of the joint venture and the project manager of the joint venture must an employee of the SDVO SBC or have an agreement to be an employee of the SDVO SBC (and cannot be an employee of the mentor). 13 CFR 125.18(b)(2).    
GAO Releases Report on the use of Excess Property
GAO released a report on the need for GSA and other agencies to better maximize the use of excess property, like furniture and other items purchased, but not used, by the Federal Government. Executive agencies are required by the Federal Management Regulation (FMR) to consider whether excess property can meet their needs for certain personal property such as office chairs or other overhead expenses. This excess property can be purchased for the cost of relocating the property. Despite an abundance of excess property available to agencies, the GAO found that only a minimal amount was purchased by other agencies. Over a four-year period, agency officials spent 206 billion on acquiring property, of this 206 billion only about 2% was acquired as excess property.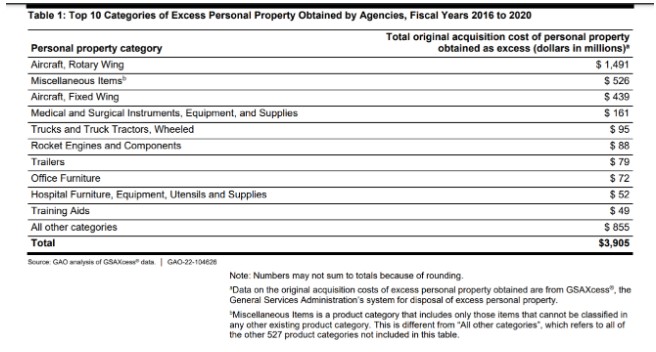 According to the GAO, agencies are to develop their own internal guidance about when they should procure excess property in lieu of new procurements. Per the FMR, there are four elements that should be included:  
Considering Excess: The FMR states that all executive agencies must, to the maximum extent practicable, fill requirements for personal property by obtaining excess property from other agencies in lieu of new procurements. 
Defining roles and responsibilities: The FMR encourages agencies to designate property management officials with roles relevant to considering excess property. 
Determining when it is practicable to check for and obtain excess property: The FMR requires agencies to obtain and use excess property when "practicable 
Evaluating the suitability of excess to meet personal property needs: The FMR provides some factors agencies should consider when obtaining excess property. These factors include (1) that the cost of acquiring and maintaining the excess property should not exceed the cost of purchasing and maintaining new property and (2) that sources of spare parts or repair services for the acquired item should be readily accessible 
The GAO found that the five agencies it assessed, the Bureau of Indian Affairs; Customs and Border Protection; Federal Aviation Administration; Securities and Exchange Commission; and U.S. Agency for International Development, failed to address all four elements in their guidance. In addition, the GAO found that the efforts made by GSA to promote the maximum use of excess property were insufficient. GAO recommended that these five agencies make efforts to incorporate all four elements recommended by FMR in their internal guidance. In addition, GAO recommends that GSA assess its current efforts to promote the use of excess personal property and take action to increase these practices by promoting best practice guidance and polices for other agencies. The five agencies agreed with these recommendations and GSA agreed as well. 
Biden Administration Expected to Release National Biodefense Strategy 
Bloomberg reported on the Biden administration's plan to prepare a new strategy to use information gathered from the Covid-19 pandemic to be better prepared for a national pandemic response. The need for this strategy is driven by research on the risk of another pandemic greater or equal in magnitude to Covid-19 occurring over the next quarter of a century. Per anonymous sources, within the next month the Administration is expected to release a plan regarding biological threats to humans, animals, environments, and crops. The goal of the plan is to better organize the government to ensure a clear structure for agency responsibilities to minimize friction during future responses. This strategy builds on the request for $88.2 billion in mandatory funding for biodefense purposes in the 2023 budget along with the American Pandemic Preparedness Plan. 
Department of Defense Requests Feedback for Contract Finance Study 
The Department of Defense (DoD) has published a notice on the DoD Contract Finance Study. This will be the first comprehensive finance study in over three decades. The study is split into two phases, the first phase is about gathering information on the financial health of the Defense Industrial Base, commercial financing trends, the effectiveness of current methods of DoD contract financing, and other aspects of contract financing. Following the conclusion of the first phase, there will be a second phase including an analysis of the data gathered in the first phase and then policy recommendations may be driven from the conclusions of the analysis. DoD is seeking perspective from companies and individuals on a range of topics including the Financial Health of the Defense Industrial Base, financing as a process within the DoD structure, the experiences of prime and subcontractors under a defense contract and the experiences of small businesses performing on contracts. The Coalition is considering submitting comments, so if you have any specific feedback, please reach out to Coalition Vice President Aubrey Woolley here. 
Coalition President Discusses Polaris on Daily Scoop Podcast 
On June 30, Coalition President Roger Waldron appeared on The Daily Scoop Podcast to discuss GSA's plans to restart its Polaris contract. In the episode, Waldron touches on the difficulties that GSA is facing during solicitations and issues that contractors face when doing business with the government. The episode also includes a discussion with Sean Kennedy, Vice President and General Manager of Health and Life Sciences at Salesforce, on how organizations are using internal customer experience methods to improve their workforce, as well as an interview with the VA's Executive Director of Insurance Service Dan Keenaghan on the use of automation to improve insurance claim processes for veterans and their beneficiaries.  
Listen to the full episode here.
VA Supply Chain Modernization Meeting, July 25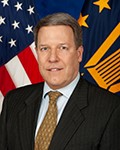 The Coalition is pleased to announce that we will host a member meeting with Michael Parrish, Principal Executive Director and Chief Acquisition Officer and Phil Christy, Deputy Executive Director of the Office of Acquisition Logistics and Construction of the U.S. Department of Veterans Affairs (VA) on Monday, July 25 from 1:00 – 2:00 pm ET. The topic of discussion will be the VA's Supply Chain Modernization initiative. An RFI has been published on this issue and is posted here on SAM.gov. The RFI describes the VA's intent to award an IDIQ for a Supply Chain Modernization and Management solution that covers IT, pharmaceuticals, medical/surgical supplies, prosthetics, facilities maintenance, high tech medical equipment, and benefits and burial supplies.
The Coalition is currently identifying a location for the meeting in downtown Washington, DC and will provide a virtual/dial-in option as well.  We will let you know once the location has been identified. To register for the meeting, click here. For assistance, please contact Joseph Snyderwine at jsnyderwine@thecgp.org.
General/Office Products Committe Meeting, July 26
Join the General/Office Products Committee on July 26 at 10 am EST for an update on the new Common Catalog Platform (CCP). Mike Shepherd, Project Manager of the Office of the Regional Commissioner Mid-Atlantic Region Federal Acquisition Service, will discuss the upcoming pilot, transitioning to the new CCP and more. 
To register for the meeting, click here. For assistance, please contact Joseph Snyderwine at jsnyderwine@thecgp.org.
Small Business Committee Meeting, August 24 
The Small Business Committee will host a meeting focused on the Mentor Protégé Program and surrounding regulations on Wednesday, August 24 at 10 am EST. Our guest speakers from the Small Business Administration (SBA) will be John Klein, Associate General Counsel for Procurement Law, Office of General Counsel and Stanley Jones Jr., Director, Management and Technical Assistance Division, Office of Business Development. This member-only meeting will be at Holland & Knight at 800 17th St NW, Washington, DC.  There will also be a virtual option for members to attend. To register, click here.
GSA July Professional Services Webinars
GSA's Office of Professional Services and Human Capital Categories is hosting several webinars throughout July covering a variety of different topics related to its contract solutions, resources, and acquisition tools. 
HCaTS DPA Training, July 5 and July 19 
The Human Capital and Training Solutions (HCaTS) Program consists of three indefinite-delivery/indefinite-quantity (IDIQ) governmentwide contract vehicles: HCaTS Unrestricted (HCaTS U), HCaTS Small Business (HCaTS SB), and HCaTS 8(a). These vehicles provide reliable, flexible, fast and efficient ways to obtain best-value, customized solutions for human capital management and training requirements. 
Before issuing task orders under HCaTS, Federal Contracting Officers (COs) must complete training and receive a Delegation of Procurement Authority (DPA). This training covers: basic contract information, scope, ordering process, roles and responsibilities, and resources for HCaTS. 
July 5, 2022 Registration link 
July 19, 2022 Registration link 
Industry Partner Briefing: Making Market Research Easy- Enhancing Industry Partnerships using GSA's Market Research as a Service (MRAS), July 12  
This webinar will bring innovative insights on how to respond to GSA's RFIs by providing tips and tricks from the experts on how to fill out these important surveys. Participants in this session will walk away with a better understanding of why GSA collects industry responses and how the data collected shapes future purchasing decisions. 
Office Hours: Diversity, Equity, Inclusion, Accessibility (DEIA), July 14 
Executive Order (EO) 14035, Diversity, Equity, Inclusion, and Accessibility (DEIA) in the Federal Workforce, establishes policies to cultivate a federal workforce that draws from the full diversity of the Nation. Agencies are called to promote diversity and inclusion in the federal workforce and expand its scope to include equity and accessibility. Join this session to learn about the resources and methodologies available to help guide your agency on the execution of this EO. Earn 1 CLP.    
Annual Professional Services Forecasting Event 2022, July 19 
The governmentwide Professional Services Category is hosting its annual Professional Services Forecasting event. During this virtual forecasting, Federal agencies will share information about upcoming professional services opportunities to increase participation of qualified industry partners. This webinar will provide industry insight on trends in spending and upcoming procurements occurring in the professional services sector and strengthen the industry and government partnership.  
Multiple Award Schedule (MAS) Sales Reporting Portal (SRP) Training, July 19 
Multiple Award Schedule (MAS) holders are invited to join this session to learn more about the Sales Reporting Portal (SRP). The Federal Acquisition Service (FAS) SRP supports the collection of data required by FAS procurement programs including MAS, non-MAS programs such as the Government-Wide Acquisition Contracts (GWACS) and others. The FAS SRP provides a safe, secure, and user-friendly portal for GSA' industry partners to report both transactional and aggregate level data required by FAS contracts. During this session you will learn about the importance of reporting in SRP and get an overview of using the system. 
OASIS Contract Payment Reporting Module (CPRM) Training, July 27 
OASIS industry partners are invited to join this session to learn more about the Contract Payment Reporting Module (CPRM). CPRM is a module of the Assisted Shared Services Systems (ASSIST) used to manage contract registration, task order reporting, and quarterly invoice reporting and Contract Access Fee (CAF) remittance. CPRM is designed to meet the reporting requirements for the Office of Management and Budget and federal agencies to track obligations and revenue. During this session you will learn about the importance of reporting in CPRM and get an overview of using the system. 
OASIS DPA Training 
Remember, you can sign up for OASIS DPA training at any time through DAU's Virtual Campus by searching FAC 152. 
Delegation of Procurement (DPA) training gives Contracting Officers access to the OASIS Unrestricted and OASIS Small Business contract vehicles and teaches best practices for task order issuance. A single DPA will be issued for both OASIS and OASIS SB. Warranted contracting officers (a contracting officer appointed pursuant to FAR 1.603) can request a DPA, which allows direct access to our Governmentwide Acquisition Contracts (GWACs). The DPA clearly delineates the roles and responsibilities between the GSA contracting officer and the ordering contracting officer and complies with the Office of Management and Budget's (OMB) executive agent designation to GSA. 
DPA requestors must have a .gov or .mil email address. Requestors who do not have a .gov or .mil email address must submit a copy of their warrant as a federal contracting officer to oasisdpa@gsa.gov for consideration.