One of the Coalition's favorite events of the year is fast approaching! The annual Joseph P. Caggiano Memorial Golf Tournament will take place on August 17, and there is still plenty of time to get your team organized for a day of friendly competition while supporting a worthwhile charity. We are excited to be returning to the beautiful Whiskey Creek Golf Club in Ijamsville, MD to host this charity tournament in honor of our good friend and colleague, Joe Caggiano, whose career in the government marketplace spanned 25 years, including serving seven years as Chief Operating Officer of the Washington Management Group/FedSources and eight years of service in the Navy. Prior to his passing, Joe served as a principal at Reznick Government, a business advisory firm now known as CohnReznick.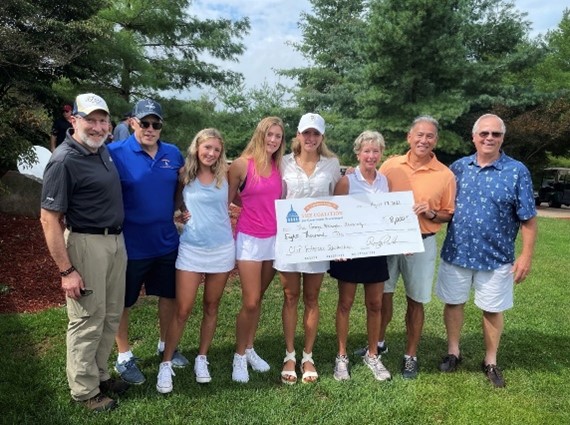 Not only is the tournament an excellent opportunity to enjoy a round of golf with your friends and colleagues, but it also provides a source of funds for some wonderful veterans causes. Tournament proceeds once again will support the Coalition's endowment for a qualified veteran concentrating their studies in the field of US Government procurement and pursuing the JD/LLM/MSL degree at The George Washington University Law School.
This year's recipient is Maxie Lawton, a seven-year Army veteran who possesses extensive experience in human resource management. He served as an Army Ranger and Human Resources Specialist (Staff Sergeant) where he was responsible for the health, welfare, and training of over 35 soldiers. Maxie is currently the President of both the Veteran Law Students Association and the Black Law Students Association at George Washington University.
We are happy to announce that, to date, with this award to Maxie, five scholarships have been awarded as a result of this tournament. They include: 2018: Tom Roltsch -Tom served four deployments in Afghanistan and Iraq with the Army Reserve. Tom studied procurement policy in the Masters program at The George Washington University and currently works for ManTech International Corporation as Principal Reliability Engineer.
2019: Craig Barrett – Craig is currently a Senior Counsel in the Government Contracts Group at Crowell & Moring. Prior to joining Crowell & Moring, Craig spent nearly 18 years in government service both as an active-duty service member and as a civilian. Craig served as an active-duty Marine Judge Advocate immediately after the attacks on 9/11. His service with the military continued as a civilian executing the role of Acquisitions Operations Manager for the Marine Corps Systems Command, the acquisition arm of the Marine Corps.
2020: Jennifer Sandusky – Jennifer joined the United States Civilian Board of Civil Contracts as a full-time Attorney Adviser in February of 2020 and completed the L.L.M. program in Government Procurement Law at The George Washington University Law School.
2021: Connor Smith – Connor is a third-year law student at The George Washington University completing his Government Procurement Concentration. In 2012, Conner graduated from Clark University before enlisting in the Army, where he served for five years. During his time with the Army, Connor served as a Cryptological Linguist, responsible for identifying foreign communications.
Joe would be very proud to know that the Coalition has raised nearly $150,000 for this scholarship. We cannot thank you, our colleagues in the procurement community, enough for your generosity in helping us support veterans and honor our dear friend's legacy.
Not a golfer? No problem! Whiskey Creek offers not only a beautiful golf course for players, but also incredible scenic views for those who register for the Veranda Club, where they can relax on the club house deck and cheer on teams as they compete on the 18th hole. We especially look forward to the reception, where everyone will have the opportunity to catch up with friends and colleagues while enjoying BBQ, burgers, grilled chicken, sides, and drinks.
On the day of the tournament, registration/check in will begin at 9:30 am, at which point players can hit the driving range and putting green, prepare their boxed lunches, get their carts situated, network with friends, and enjoy the sounds of the bagpiper! At around 10:30 am, we will make our endowment presentation, review the tournament rules (scramble/best ball), and, following the National Anthem, commence with a shotgun start at 11:00 am.
We can't have a successful tournament without your participation and support, and we encourage you to register your foursome today! We would like to thank our current Lunch Sponsor, The Center for Procurement Advocacy; Beverage Cart Sponsor, ManTech International Corporation; and Hole Sponsors, Etherton and Associates, Miller & Chevalier, and The George Washington University Law School. We are seeking numerous sponsors, including a Title Sponsor, Reception Sponsor, and additional Beverage Cart and Hole Sponsors. A sincere thank you to those who have already signed up. For everyone else, please click here to register. Please contact Matt Cahill at mcahill@thecgp.org or Heather Tarpley at htarpley@thecgp.org for more information on sponsorship opportunities.
We hope to see you in August!
CISA Moves Towards Procurement Authority
Federal News Network reported that the Cybersecurity and Infrastructure Security Agency (CISA) will be receiving procurement authority and its own contract officers in early July. Since being established as an independent agency in 2018, CISA has been developing its own management and support operations, and this latest action is a major milestone in the development of its staff. Along with the creation of the Office of the Chief Acquisition Executive, the agency has requested $6.2 million to add fifty positions to its procurement team. The procurement team will support CISA's mission by managing emergency communications, risk management, stakeholder management, and other concerns.
Federal Sustainability Forum Highlights Administration's Environmental Goals
Federal Chief Sustainability Officer Andrew Mayock spoke at the Federal Sustainability Forum on June 28, per a report from Federal News Network. Mayock emphasized the Administration's Federal Sustainability Plan and its role in setting standards for the private sector. Under last year's executive order, the goal for agencies is to achieve net-zero greenhouse gas emissions across all federal operations by 2050. As a part of reaching this goal, the White House Council on Environmental Quality launched an interagency task with the General Services Administration, the Department of Energy, and the Environmental Protection Agency to create the Federal Building Performance Standards. These standards will set carbon emission goals that will apply to over 300,000 federal buildings. Mayock also emphasized the role of the private sector as a critical partner in meeting these goals. He noted that to meet emission standards, technology will need to continue to improve, and challenges in the supply chain for items, such as semiconductors, will need to be resolved.
New Cybersecurity Standards Incoming for Government Partners
Requirements for cybersecurity standards continue to be developed for contractors, according to reports by FCW. In addition to the Defense Department's work in the creation of a unified cybersecurity standard, there is a continued regulatory push to ensure that the private sector secures consumer data and privacy. Kelly Fletcher, the Defense Department's Principal Deputy Chief Information Officer, emphasized that, to do business with the Pentagon, all organizations should emphasize cybersecurity-as-a-service to ensure companies are able to maintain their adaptability while meeting regulatory requirements. Fletcher also emphasized the competitive advantage to companies that meet the requirements early. "When these [requirements] first hit contracts, which is summer of next year, I think in the end, we're gonna get everybody over the line. I think everybody who wants to pursue CMMC certification is going to get there," Fletcher said. "But I do think there might be a little bit of time where not everyone is there. And so those companies that do have that certification done, I think they're going to be in a little bit less competition." Administration officials also cited the CISA's reporting requirements as driving cybersecurity enhancements as prevention reduces the financial costs and risks of breach reporting.
For non-Pentagon partners, other regulatory efforts will also drive cybersecurity investment. The California Privacy Rights Act and the pending American Data Privacy and Protection Act are two examples of laws protecting consumer data that will advance cybersecurity requirements. The version of the latter bill that passed the subcommittee requires covered companies to "maintain reasonable administrative, technical, and physical data security practices and procedures to protect and secure covered data against unauthorized access and acquisition." This law builds on recent developments, such as the recent Federal Trade Commission (FTC) notice where the FTC noted its intent to "use its full legal authority to pursue companies that fail to take reasonable steps to protect consumer data from exposure as a result of Log4j, or similar known vulnerabilities in the future".
GSA Polaris Contract has Been Reopened for Bids
The General Services Administration (GSA) has resumed the bid process for its Polaris governmentwide IT solutions contract vehicle and reopened the portal for submitting proposals. GSA has posted two solicitations, one for general small business and one for woman-owned small businesses. This resumption of the process comes after a three-month interruption after feedback was received regarding the initial Request for Proposal's treatment of mentor-protégé relationships and the lack of a requirement that the small business in a venture must include relevant experience. The new requirement for the protege or offering a joint venture is to include at least one primary relevant experience project or emerging technology relevant experience project in the proposal. GSA has established August 10 as the new deadline for all bids.
NASA to Link Sensitive Data to Interoperable Platform
Fedscoop reported that the National Aeronautics and Space Administration's (NASA's) Enterprise Data Platform, an integral part of the agency's Digital Transformation Initiative, is set to receive authorization that will allow the agency to link its most sensitive data to the integrated platform. Through the platform, cloud services are interoperable, and NASA can use multiple technologies and vendors. Additionally, it will include thousands of data sets across NASA's aerospace, human exploration, and scientific research domains. NASA is also looking to add administrative, human resources, financial, facility maintenance, and IT asset data to the platform. The effort is being led by NASA's Chief Data Officer Ron Thompson, who is set to depart from the agency later this year. In an interview with Fedscoop, Thompson said that the Enterprise Data Platform is NASA's "way to capture, analyze, and disseminate data from the agency," adding that it is foundational to a holistic approach. The initial focus of Thompson's team is to add a search capability to the platform to allow civilian scientists to find data. The team is also working to add a visualization layer that will help with NASA's missions, such as the Artemis Program which includes multiple voyages to eventually land astronauts on Mars.
DOJ Releases New Strategic Plan Aimed at Reducing Cyber Attacks
Fedscoop reported that disrupting ransomware attacks and prosecuting cybercriminals are key priorities of the Department of Justice's (DOJ) new strategic plan. DOJ intends to strengthen its ransomware attack response by September 2023. Actions taken by the department will include significantly increasing the percentage of reported cyber incidents in which investigative actions are taken within 72 hours and increasing the number of incidents in which seizures or forfeitures occur by 10 percent. DOJ's four key strategies to enhance cybersecurity include:
deterring, disrupting, and prosecuting cyber threats;

strengthening intergovernmental, international, and private-sector partnerships to fight cybercrime;

safeguarding DOJ data and information; and

enhancing cyber resilience within the private sector and other government agencies.
The strategic plan also states that DOJ will use other available authorities, such as the False Claims Act, "to hold accountable anyone who puts U.S. government information or assets at risk by knowingly providing deficient cybersecurity products or services, misrepresenting their cybersecurity practices or protocols, or violating obligations to monitor and report cybersecurity incidents and breaches."
The Legal Corner provides the legal community with an opportunity to share insights and comments on legal issues of the day. This guest column was provided by Alexander Hastings from Covington and Burling LLP. The comments herein do not necessarily reflect the views of The Coalition for Government Procurement. 
The Department of Justice ("DOJ") recently announced a $5.2 million settlement with Numet Machining Techniques, LLC and affiliated entities (collectively, "Numet") concerning alleged misrepresentations of size and ownership in connection with pursuing U.S. Government contracts.  The Numet settlement is an important reminder to the contractor community that representations and certifications—particularly those concerning small business status—should be made with due caution and that the discovery of incorrect representations during M&A due diligence can be a significant finding.  In this post, we explore the recent Numet settlement, examine the Small Business Administration ("SBA") size and affiliation rules, and offer guidance to companies assessing the significance of incorrect representations.
Numet:  A Warning and Reminder
Numet manufactures and provides aerospace engine machined components for commercial and military purposes.  According to the DOJ, Numet ceased to qualify as a small business in 2011 when it was acquired by another company.  It nonetheless continued to claim small business status, and over the next five years, received 22 contracts that had been set aside for small businesses.  Numet also incorrectly claimed to qualify as a women-owned small business.
In 2019, Numet was up for sale again.  In connection with that sale process, the company voluntarily disclosed its affiliation with other business entities, alerting the government that Numet had been ineligible to receive the aforementioned small business set-aside contracts.  That disclosure led to a government investigation, allegations of False Claims Act liability, and ultimately a civil settlement of over $5.2 million.  The DOJ's press release indicates that Numet received credit in the settlement for voluntarily disclosing the matter and cooperating in the investigation.
Size Status, Affiliation, and M&A
The SBA maintains a table of size standards for assessing whether contractors qualify as a small business.  Most size standards rely on an entity's annual receipts or number of employees.
Determining annual receipts and number of employees requires consideration of the revenue and headcount of the contracting entity.  But the analysis does not end there.  The size calculation also must include a contractor's "affiliates."  In short, entities are affiliated (and thus their revenue and employees counted together) if one entity has the ability to control the other or a third party has the ability to control both.  In assessing whether control is present, the SBA considers usual factors, such as common ownership and common management, as well as less obvious considerations, such as negative rights that could allow an entity certain control over another (e.g., the ability to block a quorum of the Board or to veto matters related to officer compensation).
Although sometimes straightforward, affiliation issues can often become complicated and turn on nuanced considerations of ownership and control.  Further, as the Numet settlement illustrates, application of these affiliation rules becomes particularly important in the context of an M&A transaction.  For example, when a contractor undergoes an ownership change, it must consider not only the revenue and employees of its immediate owner, but also whether that immediate owner has affiliates and the size of those affiliates.  This analysis can be particularly complicated for members of a private equity portfolio, which may have little familiarity with the other companies in which their private equity sponsor has invested.
Practical Considerations for Assessing Incorrect Small Business Representations
In the context of M&A due diligence, it is not uncommon to discover that an acquisition target has made, or continues to make, an incorrect size status representation.  The SBA's affiliation rules are confusing, and many contractors update their SAM.gov profile without a complete understanding of their affiliates.  This problem is further complicated by the fact that the responsibility for maintaining a SAM.gov profile—and in turn making a slew of representations and certifications about the registering entity—is often decentralized, without sufficient oversight within a company.
If an incorrect size status representation is discovered during due diligence, a potential acquirer and its legal counsel must use their judgment and experience to assess the likelihood and amount of potential liability, the advisability of disclosing the incorrect representations to the government, and whether it is appropriate (and possible) to allocate some of the potential liability to the seller.  It is important to consider, among other things:
The scope of the incorrect representations (e.g., how long the representations have been incorrect; whether the representations are confined to SAM.gov or whether they extend to other settings, such as higher-tier contractor registration portals);
What, if any, benefits the target has received from its incorrect representations (e.g., total or partial set-aside awards, accelerated payment terms, advantages in soliciting business from higher-tier contractors);
The extent to which the target has fully investigated the circumstances surrounding the incorrect representations (e.g., whether there is a reasonable explanation that would withstand scrutiny from the government); and
The ability of the target to sustain itself going forward without any further claim to small business status.
Conclusion
As Numet illustrates, incorrect representations as to size and ownership can have significant consequences.  Numet had to pay millions of dollars to resolve allegations of procurement fraud, risk reputational harm, and most certainly expend considerable time and resources defending against a government investigation.  The SBA's affiliation rules can be complicated, and misrepresentations may persist for years before being brought to light through M&A due diligence.  The assessment of liability, proper remediation, and appropriate contractual protections is a fact-intensive inquiry that depends upon the specifics of each target company and transaction.  Ultimately, we advise both buyers and sellers in this space to carefully measure risks presented by an incorrect size status representation.
View from Main Street: Service-Disabled Veteran-Owned Small Business Concerns
The Federal Government has a statutory goal of awarding 3% of total prime contract dollars to Service-Disabled Veteran-Owned (SDVO) small business concerns (SBCs) every fiscal year. In fiscal year 2020, the Federal Government awarded 4.2% of total prime contract dollars to SDVO SBCs, totaling over $23.7 Billion. Federal agencies can set aside acquisitions for competition among SDVO SBCs, or in limited circumstances agencies can award sole source contracts to SDVO SBCs if there is not an expectation that at least two SDVO SBCs will submit offers. FAR 19.1406. Agencies should consider SDVO, WOSB, HUBZone and 8(a) before conducting a small business set-aside. FAR 19.203(c). The Department of Veterans Affairs (VA) must consider SDVO SBCs first, and firms must be certified by the VA to be eligible for award of VA SDVO contracts. 38 USC 8127. On January 1, 2023, SBA will take over certification from the VA and will begin government-wide certification of firms for SDVO set-aside or sole source contracts. There will be a one-year grace period for non-VA procurements for self-certified SDVO SBCs that apply for certification. Jan. 1, 2021, P.L. 116-283, Div. A, Title VIII, Subtitle E, §§ 862(d)(1), 864(3), 134 Stat. 3779, 3785.
To qualify as an SDVO SBC the firm must be owned and controlled by SDVs. Service-disabled veteran (SDV) status is based on an official disability determination by the VA or Department of Defense. 13 CFR 125.11. Ownership must be direct and SDVs must own at least 51% of each class of voting stock or membership interest and 51% of the aggregate of all stock. 13 CFR 125.12. SBA has specific rules around dividends and distributions to ensure that SDVs are receiving the benefits of the program. 13 CFR 125.12(g). There are special ownership rules around surviving spouses and publicly owned companies involving Employee Stock Ownership Plans. 13 CFR 125.12(d), 125.12(i).     
SDVs must also control the long-term decision-making and day-to-day management of the business. 13 CFR 125.13. An SDV must be the highest officer and the LLC management or corporate Board must be controlled by SDVs. 13 CFR 125.13. There are specific rules concerning the SDV manager's proximity to the office and availability during normal business hours. 13 CFR 125.13(k), (l). There are also special rules for spouses or permanent caregivers of SDVs with permanent and severe disabilities. A provision for minority non-SDV owner consent is allowed in extraordinary circumstances: adding new equity stakeholders or dissolution, sale, merger, or bankruptcy of the company. 13 CFR 125.11, 125.13(m). There are special rules around deployment situations. 13 CFR 125.13(n). Non-SDVs may be found to control if they provide critical financing, a non-SDV manager or owner is a former employer of the SDV, a non-SDV receives higher compensation, the SDVO SBC shares space, employees, resources, or equipment with a concern owned by a non-SDV owner, the non-SDV possesses a critical license, or business relationships exist with non-SDVs or non-SDV owned concerns that cause such dependence that the SDVO SBC cannot exercise independent judgment without great economic risk. 13 CFR 125.13(i), (j).      
To be eligible for an SDVO contract a firm must not exceed the applicable size standard. The size or SDVO status of an SDVO SBC can be protested by unsuccessful offerors by filing a protest with the contracting officer, and the contracting officer should forward the protest to the appropriate SBA offices that process size or status protests. SDVO SBCs can joint venture on SDVO contracts with other small businesses or large businesses under an approved mentor protégé agreement. 13 CFR 125.18(b). The joint venture must be set up in compliance with SBA's rules. For example, the SDVO SBC must be the majority owner of the joint venture and the project manager of the joint venture must an employee of the SDVO SBC or have an agreement to be an employee of the SDVO SBC (and cannot be an employee of the mentor). 13 CFR 125.18(b)(2).    
Pentagon Officials Warn of Acquisition Gap with China
Deputy Assistant Secretary of the Air Force for Acquisition Major General Cameron Holt addressed the gap between the United States and China in weapons acquisition at the Government Contracting Pricing Summit according to a report by TheDrive. Holt warned that China's military acquisition process is "five to six times" faster than that of the United States. In addition, Holt expressed there is also a significant gap in spending efficiency, stating, "In purchasing power parity, they spend about one dollar to our 20 dollars to get to the same capability. We are going to lose if we can't figure out how to drop the cost and increase the speed in our defense supply chains." Though acknowledging administrative challenges in the budgetary framework, Holt noted that the primary concern for the acquisition process is the resourcing system.
Holt is not the first military officer to contend that the defense acquisition process lacks the necessary speed to keep up with technological innovation. For instance, General John Hyten, then-head of the Strategic Command, acknowledged this issue at the 2019 Air Force Association Convention, stating, "We have adversaries now, and we see proof in those adversaries that they're going faster than we are. …Slow, expensive, that's the way [our process] is. … I'm criticizing the entire process." Other officials, such as the first Air Force Chief Software Officer, Nicolas Chaillan, cited the inability of the Pentagon to keep up with China in areas, like Cybersecurity citing the need for rapid change in order to match Chinese innovation in this area. 
GSA Administrator Carnahan Highlights Login.gov Goals
Federal News Network reported on a recent interview, during which, GSA Administrator Robin Carnahan said that the agency is looking to increase the number of Login.gov users to 100 million by the end of the year. The platform is a shared service for online verification across the Federal Government, and currently, it has 40 million users across 27 different agencies. Administrator Carnahan stated that "I think we need to equally let people have access to a digital identity from the government that is secure, that protects their privacy, and that is accessible to everyone." Under the December 2021 Customer Experience Executive Order, GSA is tasked to work with the Department of Veteran Affairs (VA) to make Login.gov the identify-verification tool across all VA online services. Currently, about 60,000 veterans use Login.gov, but Carnahan stated that this number will increase. Along these lines, last week, the VA announced that veterans can use their Login.gov username and password to access VA.gov, My HealtheVet, and VA's Health and Benefits mobile app.
In a statement, VA Chief Technology Officer Charles Worthington said that, "The rollout of Login.gov at the agency will streamline how users access government benefits and services." GSA Director of Technology Transformation Services Dave Zvenyach added that Login.gov will provide a "secure and seamless digital experience for veterans and those supporting them." Login.gov will allow veterans to use their credentials to access services across multiple agencies such as the Office of Personnel Management and the Small Business Administration. Carnahan said that GSA is also having conversations with the Internal Revenue Service as the agency plans to adopt Login.gov.
Department of Defense Requests Feedback for Contract Finance Study
The Department of Defense (DoD) has published a notice on the DoD Contract Finance Study. The study is split into two phases, the first phase is about gathering information on the financial health of the Defense Industrial Base, commercial financing trends, the effectiveness of current methods of DoD contract financing, and other aspects of contract financing. Following the conclusion of the first phase, there will be a second phase including an analysis of the data gathered in the first phase and then policy recommendations may be driven from the conclusions of the analysis. DoD is seeking perspective from companies and individuals on a range of topics including the Financial Health of the Defense Industrial Base, financing as a process within the DoD structure, the experiences of prime and subcontractors under a defense contract and the experiences of small businesses performing on contracts. The deadline to respond is July 18. The Coalition is considering submitting comments, so if you have any specific feedback, please reach out to Aubrey Woolley here by COB July11.
Off the Shelf: Moshe Schwartz, Etherton and Associates President, Discusses Report on Defense Industrial Base
This week Moshe Schwartz, President of Etherton and Associates, joins host Roger Waldron on this week's Off the Shelf to discuss The Slow Destruction of the Defense Industrial Base, a report Schwartz co-authored with Michelle Johnson from the Naval Postgraduate School (NPS).
The report was prepared for the NPS and was presented at the Nineteenth Annual Acquisition Research Symposium. The report describes the immense decline of the defense industrial base and the negative consequences for the Department of Defense's ability to gain technological advantages from the private sector. The defense industrial base has shrunk over the last decade in contrast to the overall growth in the U.S. economy over the same period.
Listen to the full episode here.
VA Supply Chain Modernization Meeting, July 25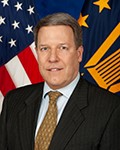 The Coalition is pleased to announce that it will host a member meeting with Michael Parrish, Principal Executive Director and Chief Acquisition Officer and Phil Christy, Deputy Executive Director of the Office of Acquisition Logistics and Construction of the U.S. Department of Veterans Affairs (VA) on Monday, July 25 from 1:00 – 2:00 pm ET. The topic of discussion will be the VA's Supply Chain Modernization initiative. An RFI has been published on this issue and is posted here on SAM.gov. The RFI describes the VA's intent to award an IDIQ for a Supply Chain Modernization and Management solution that covers IT, pharmaceuticals, medical/surgical supplies, prosthetics, facilities maintenance, high tech medical equipment, and benefits and burial supplies.
The Coalition is currently identifying a location for the meeting in downtown Washington, DC and will provide a virtual/dial-in option as well.  We will let you know once the location has been identified. To register for the meeting, click here. For assistance, please contact Joseph Snyderwine at jsnyderwine@thecgp.org.
General/Office Products Committe Meeting, July 26
Join the General/Office Products Committee on July 26 at 10 am EST for an update on the new Common Catalog Platform (CCP). Mike Shepherd, Project Manager of the Office of the Regional Commissioner Mid-Atlantic Region Federal Acquisition Service, will discuss the upcoming pilot, transitioning to the new CCP and more. 
To register for the meeting, click here. For assistance, please contact Joseph Snyderwine at jsnyderwine@thecgp.org.
Small Business Committee Meeting, August 24 
The Small Business Committee will host a meeting focused on the Mentor Protégé Program and surrounding regulations on Wednesday, August 24 at 10 am EST. Our guest speakers from the Small Business Administration (SBA) will be John Klein, Associate General Counsel for Procurement Law, Office of General Counsel and Stanley Jones Jr., Director, Management and Technical Assistance Division, Office of Business Development. This member-only meeting will be at Holland & Knight at 800 17th St., NW, Washington, DC.  There will also be a virtual option for members to attend. To register, click here. For assistance, please contact Joseph Snyderwine at jsnyderwine@thecgp.org.
GSA July Professional Services Webinars
GSA's Office of Professional Services and Human Capital Categories is hosting several webinars throughout July covering a variety of different topics related to its contract solutions, resources, and acquisition tools. 
HCaTS DPA Training, July 5 and July 19 
The Human Capital and Training Solutions (HCaTS) Program consists of three indefinite-delivery/indefinite-quantity (IDIQ) governmentwide contract vehicles: HCaTS Unrestricted (HCaTS U), HCaTS Small Business (HCaTS SB), and HCaTS 8(a). These vehicles provide reliable, flexible, fast and efficient ways to obtain best-value, customized solutions for human capital management and training requirements. 
Before issuing task orders under HCaTS, Federal Contracting Officers (COs) must complete training and receive a Delegation of Procurement Authority (DPA). This training covers: basic contract information, scope, ordering process, roles and responsibilities, and resources for HCaTS. 
July 5, 2022 Registration link 
July 19, 2022 Registration link 
Industry Partner Briefing: Making Market Research Easy- Enhancing Industry Partnerships using GSA's Market Research as a Service (MRAS), July 12  
This webinar will bring innovative insights on how to respond to GSA's RFIs by providing tips and tricks from the experts on how to fill out these important surveys. Participants in this session will walk away with a better understanding of why GSA collects industry responses and how the data collected shapes future purchasing decisions. 
Office Hours: Diversity, Equity, Inclusion, Accessibility (DEIA), July 14 
Executive Order (EO) 14035, Diversity, Equity, Inclusion, and Accessibility (DEIA) in the Federal Workforce, establishes policies to cultivate a federal workforce that draws from the full diversity of the Nation. Agencies are called to promote diversity and inclusion in the federal workforce and expand its scope to include equity and accessibility. Join this session to learn about the resources and methodologies available to help guide your agency on the execution of this EO. Earn 1 CLP.    
Annual Professional Services Forecasting Event 2022, July 19 
The governmentwide Professional Services Category is hosting its annual Professional Services Forecasting event. During this virtual forecasting, Federal agencies will share information about upcoming professional services opportunities to increase participation of qualified industry partners. This webinar will provide industry insight on trends in spending and upcoming procurements occurring in the professional services sector and strengthen the industry and government partnership.  
Multiple Award Schedule (MAS) Sales Reporting Portal (SRP) Training, July 19 
Multiple Award Schedule (MAS) holders are invited to join this session to learn more about the Sales Reporting Portal (SRP). The Federal Acquisition Service (FAS) SRP supports the collection of data required by FAS procurement programs including MAS, non-MAS programs such as the Government-Wide Acquisition Contracts (GWACS) and others. The FAS SRP provides a safe, secure, and user-friendly portal for GSA' industry partners to report both transactional and aggregate level data required by FAS contracts. During this session you will learn about the importance of reporting in SRP and get an overview of using the system. 
OASIS Contract Payment Reporting Module (CPRM) Training, July 27 
OASIS industry partners are invited to join this session to learn more about the Contract Payment Reporting Module (CPRM). CPRM is a module of the Assisted Shared Services Systems (ASSIST) used to manage contract registration, task order reporting, and quarterly invoice reporting and Contract Access Fee (CAF) remittance. CPRM is designed to meet the reporting requirements for the Office of Management and Budget and federal agencies to track obligations and revenue. During this session you will learn about the importance of reporting in CPRM and get an overview of using the system. 
OASIS DPA Training 
Remember, you can sign up for OASIS DPA training at any time through DAU's Virtual Campus by searching FAC 152. 
Delegation of Procurement (DPA) training gives Contracting Officers access to the OASIS Unrestricted and OASIS Small Business contract vehicles and teaches best practices for task order issuance. A single DPA will be issued for both OASIS and OASIS SB. Warranted contracting officers (a contracting officer appointed pursuant to FAR 1.603) can request a DPA, which allows direct access to our Governmentwide Acquisition Contracts (GWACs). The DPA clearly delineates the roles and responsibilities between the GSA contracting officer and the ordering contracting officer and complies with the Office of Management and Budget's (OMB) executive agent designation to GSA. 
DPA requestors must have a .gov or .mil email address. Requestors who do not have a .gov or .mil email address must submit a copy of their warrant as a federal contracting officer to oasisdpa@gsa.gov for consideration.