Top FORE (!) Reasons to Register TODAY for the Joseph P Caggiano Memorial Golf Tournament
After a one-year hiatus due to the global pandemic, The Coalition for Government Procurement is thrilled to announce we are bringing back our Annual Joseph P. Caggiano Memorial Gol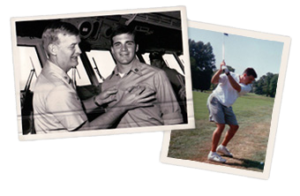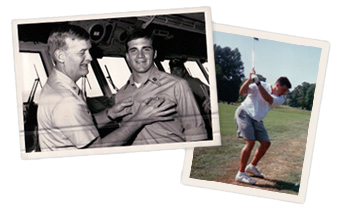 f Tournament on August 18! Here are the top FORE (!) reasons you should register TODAY!
1: Honoring Joe's legacy – Joe was not only a colleague and member of the Coalition Board of Directors, but a true friend to many of us and an overall wonderful person. His career in the government marketplace spanned 25 years, including serving seven years as COO of the Washington Management Group/FedSources. Joe also served eight years in the Navy and inspired the Coalition to support veteran non-profit organizations. The Caggiano family will once again be in attendance to honor his legacy and one of his close friends recently summed it up perfectly by saying, "I have not met anyone better than Joe, yet! I'm still looking…"
2: Supporting our veterans – Tournament proceeds will once again support the Coalition's endowment for a qualified veteran concentrating their studies in the field of U.S. Government procurement and pursuing the JD/LLM degree or the interdisciplinary Masters degree at The George Washington University. We are excited to share that to date, four scholarships have been awarded to deserving veterans:
The first ever recipient in 2017 was Tom Roltsch, who served four deployments in Afghanistan and Iraq with the Army Reserve. Tom studied procurement policy in the Masters program at The George Washington University and currently works for ManTech International Corporation as Principal Reliability Engineer.
The 2018 recipient of the scholarship was Craig Barrett. Craig is currently a Senior Counsel in the Government Contracts Group at Crowell & Moring. Prior to joining Crowell & Moring, Craig spent nearly 18 years in government service both as an active-duty service member and as a civilian. Craig served as an active-duty Marine Judge Advocate immediately after the attacks on 9/11. His service with the military continued as a civilian executing the role of Acquisitions Operations Manager for the Marine Corps Systems Command, the acquisition arm of the Marine Corps.
The 2019 recipient of the scholarship was Jennifer Sandusky. Jennifer joined the United States Civilian Board of Civil Contracts as a full-time Attorney Adviser in February of 2020 and completed the L.L.M. program in Government Procurement Law at The George Washington University Law School.
The 2020 recipient was Connor Smith. Connor is a third-year law student at The George Washington University completing his Government Procurement Concentration. In 2012, Conner graduated from Clark University before enlisting in the Army, where he served for five years. During his time with the Army, Connor served as a Cryptological Linguist, responsible for identifying foreign communications.
3: A Beautiful Venue – Whiskey Creek Golf Club is an amazing golf course in Ijamsville, Maryland with outstanding views on every hole. As their website notes, the course is "bordered by a high ridge of hardwoods and a winding, free-flowing creek, the property contains many different environments and
natural features including springs, streams, stone walls, wetlands, rock outcroppings, broad meadows, pine forests and dramatic views of the Catoctin Mountains. Architect J. Michael Poellot and design consultant Ernie Els, a 2-time United States Open Champion, have designed Whiskey Creek to take full advantage of its spectacular setting."
4: Time to get out of your basement and enjoy some camaraderie and competition – Everyone has been cooped up for a long time, and what better way to get some fresh air and reconnect with colleagues than by hitting the greens!  We know you have a personal pandemic story to share, along with business challenges and successes. Take advantage of this opportunity to catch up with old friends (and make new ones!) during a friendly scramble style golf competition. There will be low scores and there will be (very) high scores – but everyone will be a winner as there will be prizes for both! Not a golfer? No problem! You can come participate in the Veranda Club where you can take in the scenic views from the large club house deck, play in a cornhole tournament, or join us for the reception as golfers filter in from the course to enjoy an awards ceremony, BBQ, and burgers!
Lastly, I want to encourage you to consider one of our sponsorship opportunities as we are still seeking Title Sponsors, a Reception Sponsor, and many hole sponsors. Thank you to our Lunch Sponsor, The Gormley Group; our Beverage Cart Sponsors, CACI and ManTech; and all our hole sponsors! For sponsorship questions or commitments, please contact Matt Cahill at mcahill@thecgp.org or 202-315-1054.
DoD Announces the Cancellation of the JEDI Cloud Contract
Federal News Network reported that on July 6, the Department of Defense (DoD) announced that it has begun procedures to cancel the Joint Enterprise Defense Infrastructure (JEDI) cloud contract solicitation entirely, and to terminate the award to Microsoft. The JEDI procurement has been contested since 2017, and Amazon's most recent lawsuit began in November 2019, causing DoD to reevaluate the contract. In place of JEDI, DoD will be pursuing a new contract known as the Joint Warfighter Cloud Capability (JWCC). This will be an indefinite-delivery/indefinite-quantity award expected to go to multiple vendors, unlike JEDI. However, through market research conducted during the JEDI procurement, DoD believes that the only vendors that will be eligible to bid and meet the department's needs are Microsoft and Amazon Web Services. Officials stated that this is subject to change.  
A new ceiling value has not yet been determined for JWCC. A fact sheet distributed to reporters stated that the new contract would be for up to five years, including a three-year base period and two one-year option periods. JEDI was awarded to Microsoft for up to 10 years with a $10 billion ceiling. DoD expects to release a solicitation for JWCC in October 2021, and awards to be made next April at the earliest. JWCC is intended to serve as a bridge capability until 2025, when DoD plans to launch another enterprise cloud procurement with open and full competition.  
DoD officials said that the JEDI cancellation would be structured as a "termination for the Government's convenience." To date, Microsoft had been paid $1 billion under the contract. DoD will need to enter negotiations with Microsoft so that the company can recover any costs it incurred from preparing to deliver cloud services under JEDI.  
GSA Names Commissioner of Public Buildings Service
On July 6, the General Services Administration (GSA) announced the appointment of Nina Albert as Commissioner of the Public Buildings Service (PBS). As PBS Commissioner, Ms. Albert will oversee the construction and maintenance of Federal properties across the country. Currently, GSA owns or leases over 8,800 assets, maintains workspace for more than 1.1 million Federal employees, and preserves more than 500 historic properties. Ms. Albert joins GSA with 20 years of experience in public real estate disposition, public/private partnership negotiations, economic revitalization, and sustainable development. Most recently, she served as the Vice President of Real Estate and Parking at the Washington Metropolitan Area Transit Authority. Prior to that role, she served as a First Lieutenant and Company Executive Officer of the U.S. Army Signal Corps. 
VA Modernization Efforts Need to Address Cybersecurity and IT Management Issues
On July 1, VA House Committee held a hearing on the review of the FY22 VA IT budget. There were five people on the witness list. Four of the witnesses were from the VA. The VA witnesses are Jon Rychalski, CFO; Dominic Cussatt, Acting Assistant Secretary of IT and Acting CIO; Michael Parrish, Executive Director for Acquisitions, Logistics, and Construction, and Chief Acquisition Officer; and Larry Davis, Executive Director for IT Budget and Finance. 
There was one witness from the Government Accountability Office (GAO), Carol Harris, Director of IT and Cybersecurity. GAO released the testimony to the VA House Committee hearing on the VA's efforts to modernize its health information and financial IT systems. GAO's testimony was based on previous reports. The testimony discussed the strides the VA made modernizing the health information and financial IT systems, then discussed the changes that are needed. VA needs to strengthen cybersecurity, IT systems, and IT management. GAO's testimony was based on previous reports.  
Written testimony from the other witnesses hasn't been released. You can watch the full hearing here.
GAO Issues AI Accountability Framework for Agencies
On July 2, FedScoop reported on GAO's artificial intelligence accountability framework, which consists of key practices within four parts of the AI development lifecycle. Agencies' compliance professionals will use this framework to conduct their own credible assessments of AI notwithstanding audit requests from Congress. The key practices include governance, data, performance, and monitoring. In part due to the broad range of potential AI use cases, the framework evaluates the rationale for an agency's accountability method rather than providing a specific method itself. Transparency and "explainability" will be explored in future frameworks as GAO aims to stay on top of the rapidly advancing technology. Taka Ariga, Chief Data Scientist at GAO, noted in comments to FedScoop that data scientists will likely need AI ethics training in upcoming years. This poses its own challenges, as the field of AI ethics is still in its infancy. 
CMMC Training to be Delayed to Fall 2021
Federal Computer Week reported that the training timeline for DoD's Cybersecurity Maturity Model Certification (CMMC) program may be pushed to the fall of 2021. Previously, the CMMC Accreditation Body (CMMC-AB) had anticipated that training would be available by the end of the summer, however, officials have reported that training materials and certification exams for assessors and instructors are still several months away from completion. Melanie Kyle Gingrich, Training Director for the CMMC-AB, said that the objectives for measurement, which will be used as the basis to develop training materials, have not yet been finalized or approved by DoD. Once these objectives are finalized, training content should be available after eight weeks. Four weeks after that, training courses from licensed providers should start to become available. According to the CMMC-AB website, there are currently 16 licensed publishing partners and 39 licensed training providers. Development of CMMC certified professional exams is set for late fall of 2021. 
DOD Envisions
Bots as
The Possible Future of Material Pricing
Federal News Network recently reported on a DoD pilot program run by the Army which aims to use "bots" in price analysis. The bots are currently focused on bills of materials (BOMs) which can span thousands of pages. In minutes, these bots can crawl the web and Defense Logistics Agency (DLA) systems to determine the validity of BOMs. While currently the Army is the only branch testing these bots, it hopes to make data from other DoD components available to better optimize bot performance. In fact, the Air Force is already testing a GE Aviation-sponsored initiative called Brilliant Pricing which similarly uses machines to comb through past prices. 
While security and data safety concerns arise, particularly competitors' sensitive pricing data, the technology promises to slash lead times. Maj. Gen. Cameron Holt, Deputy Assistant Secretary of the Air Force for Contracting, believes this technology could disruptively change contracting timelines by waiving provisions of the Truth in Negotiations Act. If this vision comes to fruition, DoD will likely need to implement new procedural changes to capitalize on the technology and ensure effective utilization. 
SBIR Fraud, Waste, and Abuse Management Requirements Needed
On June 30, GAO released a report on the implementation of the Small Business Innovation Research (SBIR) and Small Business Technology Transfer (STTR) programs.  Eleven agencies are participating in the SBIR and STTR programs. The agencies awarded small businesses almost $4 billion in SBIR and STTR awards in fiscal year 2019. Small business awardees are to perform research and development, as well as commercialize technologies. The Small Business Administration (SBA) oversees the programs. 
SBA created ten minimum requirements for participating agencies to prevent fraud, waste, and abuse in the programs. The participating agencies are required to mitigate fraud risks in the programs, as stated in the Small Business Act. The Act also requires that GAO study and report on fraud, waste, and abuse in the programs every four years. GAO made 21 recommendations that instruct ten of the participating agencies to fully implement all ten of the minimum requirements created by the SBA. Eight agencies agreed with all recommendations for their agency. DoD agreed with four recommendations, partially with one, and did not concur with two. The Department of Agriculture (USDA) has not indicated whether it concurs with the recommendations.  
DHS Increases Cybersecurity Workforce Through Sprint Initiative 
According to Fedscoop, the Department of Homeland Security (DHS) has hired about 300 new cybersecurity professionals after the agency's 60-day cyber workforce "sprint" initiative launched in May. Additionally, 500 more cybersecurity professionals currently have tentative job offers with the agency. Half of the new hires are working at the Cybersecurity and Infrastructure Security Agency (CISA), with the other half joining additional DHS component agencies. DHS' goal was to add 200 professionals to its cybersecurity workforce by July 1 through the sprint initiative. The initiative also aimed to increase diversity in the agency's ranks, and followed best practices for diversity, equity, and inclusion. This included targeted outreach to underserved communities and communities of color. At the onset of the sprint, cybersecurity vacancies totaled about 2,000. Agency officials are also working on a Cybersecurity Talent Management System, a personnel system with a focus on cybersecurity. Rollout of the system is scheduled for September 2021.   
CIO-SP4 Pre-Award Protests Filed
Federal News Network reported that five companies have filed pre-award protests with GAO because National Institutes of Health Acquisition and Assessment Center (NITAAC) has failed to clarify numerous questions about its request for proposals (RFPs). While NITAAC extended the due date to July 23 and changed some of the requirements around past performance, there are still many problems with the GWAC vehicle. 
For many of the protestors the issue centers around the SBA Mentor-Protégé program. NITAAC changed the requirements for past performance that does not follow the SBA Mentor-Protégé program regulations. Even with the extension of the due date for proposals, companies do not have enough time to meet the new requirements and submit a proposal. While GAO has 100 days to decide on the objections, many of the companies felt that protesting was the only option. If they did not submit a pre-award protest about the discrepancy before the proposals are due, then they would have waived their rights later. 
GSA Announces TDR Pilot Program is on Track and Eligible for Expansion: GSA OIG Says Not So Fast
Authored by Leo Alvarez, Julia Smith and Jeff Clayton; Baker Tilly
On June 24, 2021 the General Services Administration Office of Inspector General (GSA OIG) released an  audit report of the current status and implementation of the Transactional Data Reporting (TDR) pilot just two months after the General Services Administration (GSA) announced that the pilot was "on track" to meet its objectives and would be eligible for expansion.
The TDR final rule was established by GSA on June 23, 2016 and requires participating vendors to report transaction data from orders placed against GSA's Federal Supply Schedule (FSS) program. With the issuance of the final rule, GSA commented that the purpose of TDR is to reshape how FSS contract pricing is established, with the intent of centralizing purchasing decisions, reducing contract duplication and lowering acquisition costs.
The results of the audit offer a stark contrast to GSA's FY 2020 evaluation of the TDR pilot, which found the program to be "meeting or exceeding targets." GSA OIG concluded that the TDR pilot is "not meeting its intended purpose of improving taxpayer value."
The following article summarizes GSA OIG's findings:
TDR pilot audit report summary
GSA OIG has monitored the TDR pilot program since GSA's Federal Acquisition Service (FAS) released the proposed rule in 2014 and included this audit in their Fiscal Year 2019 Audit Plan. The intent of this audit was to assess the TDR pilot's current status and determine if FAS has achieved its objective of improving taxpayer value. GSA OIG performed the audit between February 2019 and June 2020. The Office of Government-wide Policy's (OGP's) positive FY 2020 evaluation was published after GSA OIG conducted the exit conference associated with their audit of the TDR program, but they still included their assessment of the evaluation findings within their audit report. Ultimately, GSA OIG determined that the TDR pilot was not meeting the stated objectives of the program.  A summary of OIG's findings are as follows:
TDR data is inaccurate and unreliable
GSA FAS has been collecting data from TDR pilot participants for over four years and as directed by GSA's TDR Data Management Plan they are required to maintain data integrity and ensure the collected data is reliable, accurate and complete. Since inception, the TDR program has been plagued with data issues. While FAS has made improvements related to data completeness, GSA OIG found that they do not have adequate procedures to ensure the data input is accurate and reliable.
GSA FAS indicated that verifying the accuracy of TDR data is done during Contract Assessments (CAs) conducted by Industrial Operations Analysts (IOAs). Through interviews with IOA's, GSA OIG found that the only inquiry regarding TDR was a simple yes or no question of whether the contractor is participating in the TDR pilot. This led GSA OIG to conclude that IOAs are unaware of their responsibility to validate the accuracy of TDR data.
FAS contracting personnel are not using TDR data
Since the TDR final rule was released in 2016, FAS has collected almost seven million lines of transactional data; however, GSA OIG concluded that FAS contracting personnel not only lacked understanding and access to the TDR data, but also that the data was not being used to affect pricing because of data quality issues. GSA OIG discovered that the required training course for FAS contracting personnel to gain access to TDR data included instruction to not utilize transaction data for any type of price analysis or market research due to the validity of the data. FAS's current policy notes that contracting personnel should consider TDR data during price negotiations, which is a direct contradiction to GSA's July 2018 TDR Data Management Plan training. GSA OIG notes that after their audit exit conference they were provided a September 2020 TDR Data Management Plan in which the above mentioned training is no longer necessary to access TDR data.
GSA OIG found that the vast majority of contracting personnel who administered TDR contracts not only lacked an understanding of TDR data, but either did not have access to the data, or for those that did have access, they had never actually accessed the data. Additionally, GSA did not train contracting personnel on how to use TDR data, and indicated that they expected FAS employees would know how to "apply it to their jobs." Overall GSA OIG is "concerned that, given the data integrity issues, the TDR data could lead to erroneous conclusions and flawed decision making if it is used for pricing or buying decisions."
Use of other FAS pricing tools
Through their interviews with contracting personnel, GSA OIG found that pricings tools such as Contract-Awarded Labor Category (CALC), GSA Advantage! and Price Point Plus Portal (4P) were used for pricing analysis and market research. This finding is concerning to GSA OIG as they have previously reported that the use of the above mentioned pricing tools has led to flawed methodologies and practices when performing pricing analysis. GSA OIG's December 2019 report notes that "FAS contracting officers relied either solely or primarily on pricing tools to establish price reasonableness, inappropriately based pricing comparisons on labor categories that were not the "same or similar," used inconsistent sampling methods and used an inappropriate basis to establish acceptable price ranges."
The above findings led GSA OIG to conclude that the TDR pilot has not met its intended purpose to improve value to the taxpayers. This determination is due to unreliable and inaccurate data, lack of access to TDR data and use by contracting personnel and the use of flawed pricing tools. Throughout the audit report, GSA OIG addresses GSA's recent FY 20 evaluation results and directly contradicts their assessment that the TDR pilot is meeting or exceeding targets.
GSA OIG recommendations and GSA response
GSA OIG is clear that they want to see the TDR program come to an end. Their recommendations to the FAS Commissioner include taking immediate action to restrict new or existing contractors from joining the TDR pilot and restrict access and use of TDR data. GSA OIG's second recommendation goes a step further and suggests the development and implementation of an exit strategy to transition TDR contractors out of the pilot program.
The final report includes the FAS Commissioner's response, and notes that the commissioner indicated that GSA agreed with many of the findings and that action has been or will be taken to address these issues. While the FAS Commissioner generally agreed with the findings, he disagreed with the recommendations and conclusion that the TDR pilot was not meeting its purpose. GSA OIG is clearly concerned that despite all the apparent deficiencies with the TDR pilot program, GSA FAS is determined to continue and expand the program without truly addressing the issues.
Drastically different conclusions between GSA FAS and GSA OIG
Since the inception of TDR, GSA OIG has voiced its concerns about the program. In 2015, GSA OIG provided comments to the proposed GSAR rule and has continued to provide regular assessments of the program. In addition to this current audit report, GSA OIG issued an audit report in 2018. A theme that runs through the assessments and audits is GSA OIG's concern that TDR eliminates critical price protections for FSS contracts through the elimination of the Price Reductions Clause and Commercial Sales Practices disclosure. GSA OIG continues to criticize all aspects of the TDR pilot while GSA FAS is optimistic that the program can lead to better informed contracting personnel and reduced contractor burden. The two often agree on findings but then come to drastically different conclusions. 
What should GSA Schedule contractors be thinking about following the release of the report?
Pricing pressure on the horizon? The audit report is critical of GSA's apparent inability to leverage the collected data in GSA Schedule contract negotiations. As GSA continues to improve its use of the information, it is possible that TDR vendors will begin seeing more aggressive pricing negotiations as GSA pushes to achieve positive value metrics and to strengthen its case for the program's expansion. 
Work closely with contracting officers: One of the more surprising details from the audit report was the lack of understanding from contracting officers of the information collected. As TDR vendors begin encountering the use of transactional data in contract negotiations, they should be prepared to help educate these individuals on how to interpret the information so that they are not making flawed determinations. Within the context of the Schedules consolidation, where contracting officers are working more frequently with disparate market offerings, this is likely to be more important than ever..
Increased competition: Category management defines Tier 3, Best-in-Class vehicles as contracts that feature data reporting as a key requirement. In effect, a CSP does not allow GSA to claim the schedules as Best-in-Class. Data reporting is a choice by GSA to achieve BIC status.  As GSA commits to this model further in the future, the barrier to entry is lower. Contractors may find increased competition on the schedules program, which could force their attention to other more specialized vehicles. Paying close attention to the acquisition landscape, and how it changes, will be as important as ever.  
GSA OIG may shift compliance focus: The GSA Schedules may not be as fertile a noncompliance territory for the enforcement community in the future. According to the GSA OIG, Consolidation of Schedules led to the expansion of TDR without actually expanding the program.  Where does the OIG go as audit matters if pricing related noncompliance matters begin to dwindle in the future? GSA contractors should be aware that other areas of GSA compliance may receive more focus (labor qualifications, Trade Agreements Act, information security, supply chain assurance, etc.).
For more information on TDR, or to learn how Baker Tilly specialists can help – please contact us:
Healthcare Spotlight: VA to Move Forward with Electronic Health Records Program
Nextgov reported that the Department of Veterans Affairs (VA) is moving forward with the rollout of its Electronic Health Record (EHR) Modernization Program after a 12-week strategic review initiated by the VA Secretary Denis McDonough who had halted the system's implementation. The VA has been working with Cerner to develop a single records management system across the agency that would also be interoperable with DoD's electronic health records system. The review, which concluded at the end of June, came after the VA found systematic failures in the rollout at the Mann-Grandstaff VA Medical Center in Spokane, Washington.
During a press conference last week, VA Secretary Denis McDonough said that the review would result in significant changes to the program, however he did not share specific details on the advancements. He also noted that Congress has not yet confirmed a Deputy Secretary to lead the EHR Program. President Biden nominated Donald Remy for the position in April.  Mr. Remy currently serves as the Chief Operating Officer and Chief Legal Officer for the National Collegiate Athletic Association (NCAA). Remy has had a confirmation hearing and is awaiting a Senate vote for his appointment. 
Legal Corner: GSA Federal Acquisition Service Commissioner Rejects IG Recommendation to End Transactional Data Reporting (TDR) Program
The Legal Corner provides the legal community with an opportunity to share insights and comments on issues of the day. The comments herein do not necessarily reflect the views of The Coalition for Government Procurement.
Authored by Jason Workmaster and Alex Sarria, Miller & Chevalier
Last month, as detailed in our prior advisory, the General Services Administration (GSA) announced that the Transactional Data Reporting (TDR) pilot program had exceeded target goals and that expansion of the program—which establishes an alternative to the traditional Commercial Sales Practices/Price Reductions Clause GSA Schedule pricing regime—would continue. Now, however, the GSA Inspector General (IG) has released a report on TDR, sharply criticizing the program and calling for its termination. In particular, the IG contends that TDR data are inaccurate and unreliable, and that GSA Federal Acquisition Service (FAS) contracting personnel are not utilizing the data. Indeed, in the report, the IG goes so far as to recommend that FAS:
Take immediate action to mitigate risks associated with the TDR pilot by: 

Restricting additional contractors from opting into the TDR pilot; and

Restricting access to, and use of, the TDR pilot data. 

Develop and implement an exit strategy for the TDR pilot and transition participating contractors out of the TDR pilot.
The FAS Commissioner, however, has rejected these recommendations. While agreeing with the IG that there are issues regarding FAS contracting personnel's ability to access and understand the data, as well as deficiencies with certain pricing tools, the Commissioner rejected the IG's contentions that TDR data are "inaccurate and unreliable", and that the TDR pilot is not improving value to taxpayers. In this regard, the Commissioner pointed to various improved metrics under the program such as stronger sales growth for small businesses participating in TDR and reduced contractor reporting burdens. 
The IG has requested that the FAS Commissioner reconsider his rejection of the IG's recommendations, and it remains to be seen how this dispute will ultimately play out. Miller & Chevalier will continue to monitor any developments.
---
For more information, please contact:
Jason N. Workmaster, jworkmaster@milchev.com, 202-626-5893
Alex L. Sarria, asarria@milchev.com, 202-626-5822
DARS Sustainability RFI
On July 8, DoD's Defense Acquisition Regulations System released a request for information (RFI) for interested parties to submit feedback on sustainability initiatives including climate-related disclosures. DoD is seeking input specifically on: 
Disclosure of Greenhouse Gas (GHG) Emissions 

Environmental, Social, and Governance (ESG) – General  

Supply Chain CHC and Risk Management 
Under each topic, DoD has listed in the notice specific questions that they are seeking industry input on.
DoD is seeking comments on standard commercial practices as it works to implement recent sustainability initiatives like Executive Order (EO) 14030, Climate-Related Financial Risk, dated May 20, 2021. EO 14030 requires the FAR Council to consider amending the Federal Acquisition Regulations to: 
require major Federal suppliers to publicly disclose greenhouse gas emissions and climate-related financial risk and to set science-based reduction targets
The deadline to submit comments is September 7, 2021. For more details, see the notice here. 
July 15 & 22 – Summer of Compliance Webinars: Government Contracts Compliance Update Parts I & II
On July 15 and July 22 from 12:00 – 1:00 pm EDT, the Coalition will host a two-part webinar series, Government Contracts Compliance Update: Do Your Internal Controls Address Recent Changes and Key Risks? Our presenters will be David Black and Eric Crusius, both Partners at Holland & Knight LLP.  FAR 52.203-13 advises Federal contractors and subcontractors to conduct periodic review of company business practices and internal controls for compliance with the "special requirements of Government contracting." Each year, several new Government contracts-related statutes, regulations, and case law developments create new obligations and compliance risk and 2020/2021 have been no different. 
David and Eric will help Federal contractors spot and identify key risk areas arising from Government contracting that might warrant updates to their compliance programs by focusing on revised policies and procedures, tailored employee training, internal reporting and response, employee discipline, and mandatory disclosure. They will also provide a checklist of issues to consider according to business function, including:  
1) operations, contract performance and subcontracting/purchasing;  
2) business development;  
3) enterprise-wide information technology;  
4) intellectual property management;  
5) human resources and employment; and  
6) compliance program and internal controls.  
Specific changes and risks that will be addressed include the Section 889 (Chinese telecommunications products and services) prohibition; cybersecurity requirements; small business program requirements; proposal preparation; Contractor Performance Assessment Reporting System (CPARS); changes and requests for equitable adjustment (REAs); Federal Supply Schedules; gifts and gratuities; teaming agreements; subcontract flow downs; and intellectual property management.  
You can register for this two-part webinar (only one registration required) HERE.
GSA Professional Services Webinars Coming Up This Month
GSA's Office of Professional Services and Human Capital (PSHC) Categories has shared the upcoming July Webinars on GSA Interact. Upcoming Webinars are as follows: 
July 13, 1:00 – 2:00 p.m. EDT
Industry Partner Briefing: Understanding the most recent MAS-PS Solicitation Refresh 
Will overview the May 17 Multiple Award Schedule- Professional Services (MAS-PS) solicitation along with Order Level Materials (OLMs) and the new Special Item Numbers (SINS) coming soon. Registration Link  
July 19, 11:00 a.m. – 12:00 p.m. EDT
OASIS Contract Payment Reporting Module (CPRM) Training 
OASIS partners are invited to learn about the Contract Payment Reporting Module (CPRM). "CPRM is a module of the Assisted Shared Services Systems (ASSIST) used to manage contract registration, task order reporting, and quarterly invoice reporting and Contract Access Fee (CAF) remittance." Registration Link 
July 20, 1:00 – 3:00 p.m. EDT
Professional Services Category Forecasting Webinar
Aims to increase industry participation by sharing upcoming trends in Professional Services contracting. Participating Agencies include the Department of Transportation, Environmental Protection Agency and General Services Administration. Open to industry partners with a Professional Services contract. Registration Link
July 21, 1:00 – 2:00 p.m. EDT
OASIS Delegation of Procurement (DPA) Training 
Delegation of Procurement (DPA) training teaches best practices and grants access to OASIS Unrestricted and OASIS Small Business contract vehicles (a single DPA will be issued for both vehicles). Registration Link 
July 22, 11:00 a.m. – 12:30 p.m. EDT
Services Multi-Agency Contract Industry Day 
A second industry day to discuss the new services multi-agency contract (MAC) currently under development, including strategy updates, feedback on the recent RFI, and answers to industry questions. Registration Link