FAR & Beyond: The Section 846 Draft RFP – Limiting Competition for the $6-30B e-Pilot
Last week, the General Services Administration (GSA) issued a draft Request for Proposal (RFP) for its initial Proof of Concept (POC) to implement Section 846 of the Fiscal Year (FY) 2018 National Defense Authorization Act (NDAA).[1] The draft RFP seeks to "pilot" only one of the three e-Commerce portal models GSA devised, omitting from consideration the e-commerce and e-procurement models. Ironically, at the platform level, the e-marketplace portal model, is, arguably, the least competitive of the three models.[2] The draft RFP contemplates a 5-year POC contract (one-year base with four one-year options), and it identifies, at a minimum, an annual, "addressable market of $6 [billion]."[3],[4] In other words, according to the RFP, this pilot potentially represents upwards of $30 billion over five years.
This $30 billion figure does not account for the potential impact of the draft RFP's duplicative effort on existing programs, such as the GSA Schedules, NASA SEWP, and FedMall; nor does it account for the ability of platform providers to receive additional revenues through vendor participation fees. Coalition members report that commercial platform providers typically charge a participation fee of 15-percent per transaction, which would equate to approximately $900 million annually in revenue for the platform provider based on the addressable market of $6 billion.
As currently constructed, the draft RFP also allows providers both to manage the platform and to compete and sell their own products on the platform, providing, through an unmitigated organizational conflict of interest, yet another revenue stream for a marketplace portal provider, for which, the government receives no consideration. Left unaddressed, this organizational conflict of interest creates a significant risk of market distortion that will impact full, fair, and open competition. Under this model, the platform provider sets business rules for the marketplace, including, but not limited to, the terms of entry, participation fees and/or commissions, and the allocation of risks and rights. At the same time, the platform provider is competing directly with third-party suppliers on the platform.
Under these circumstances, the POC misses the opportunity to enhance competition and increase access to the e-Commerce market by limiting the pilot to one technological solution. By focusing on only the e-Marketplace model, the draft solicitation misses an opportunity to take advantage of the cross-cutting forces of the competitive, commercial market. Moreover, limiting the competition in this manner undermines the ability of the government to understand how the e-Marketplace model interacts with other equally market-accepted e-Commerce solutions. Without this understanding, any effort to identify sound policy guidance from the pilot will be incomplete. In essence, the "pilot," especially one of this size and duration, will likely amount to a pre-selection of a technological solution, rather than a market-driven, best value solution derived from competition. Also, it appears that there will be limited opportunity for the consideration of feedback on the draft RFP, as the draft suggests that the final RFP is expected within days of the receipt of comments. Indeed, this observation is reinforced by the fact that the "draft" RFP is dated August 9, and it includes a full communication plan with a Q&A turn-around date of August 26.
Stakeholders across the procurement community are paying close attention to this draft RFP and what unfolds. Commercial e-Commerce portals offer a potentially promising tool for the acquisition of commercial items. In the coming weeks, Coalition members will continue to review GSA's draft solicitation to identify opportunities to increase competition and assure the integrity of the market, while simultaneously meeting the needs of Federal customers. As a first step, GSA should expand the scope of the pilot to include all types of e-Commerce platforms. Coalition members would welcome the government's efforts in this regard, and they offer any assistance needed to embrace competition that delivers best value for customer agencies.
[1] Pursuant to of Section 846 of the FY 2018 NDAA, GSA is responsible for establishing and managing an e-Commerce portal program described under the statute. In March 2018, GSA, in consultation with the Office of Management and Budget (OMB), issued the Section 846 implementation plan, "Procurement Through Commercial E-Commerce Portals." The implementation plan is the end-product of Phase I of GSA's Section 846 implementation efforts which focused on information gathering and analysis. In May 2019, GSA issued its Phase II report, "Procurement Through Commercial E-Commerce Portals Phase II Report: Market Research & Consultation," which details the agency's market research that will support its Phase III efforts to develop and implement e-Commerce procurement guidance.
[2] The other models GSA developed are the e-Commerce Model where a vendor offers its own products, and the e-Procurement Model, where Software-as-a-Service solutions identify multiple sources.
[3] See: https://www.fbo.gov/utils/view?id=6ea35b1b2b7d8299a4de85e117e5457a
[4] See: https://www.fbo.gov/utils/view?id=0678fddd84e4eaf2fb78486492081815
GSA Issues Draft e-Commerce Platform Solicitation
Last week, the General Services Administration (GSA) released a draft solicitation for the Commercial Platform Initiative (CPI). The draft solicitation proposes an initial Proof of Concept (POC) that would invite a subset of agencies to participate in the pilot program. Notably, GSA intends to narrow the award the POC to only e-Marketplace providers, which is one of the three e-commerce models GSA identified in their market research. GSA provided that the POC will have a period of performance of one-year, with an additional four one-year options, and an estimated addressable market of $6 billion per year.
Feedback on the draft solicitation is due by August 1. The Coalition's comments will be submitted through our Section 846 Working Group.  If you'd like to join the group or to send us your comments directly, please email Aubrey Woolley at AWoolley@thecgp.org.
GSA Reflects on "GSA at Seventy"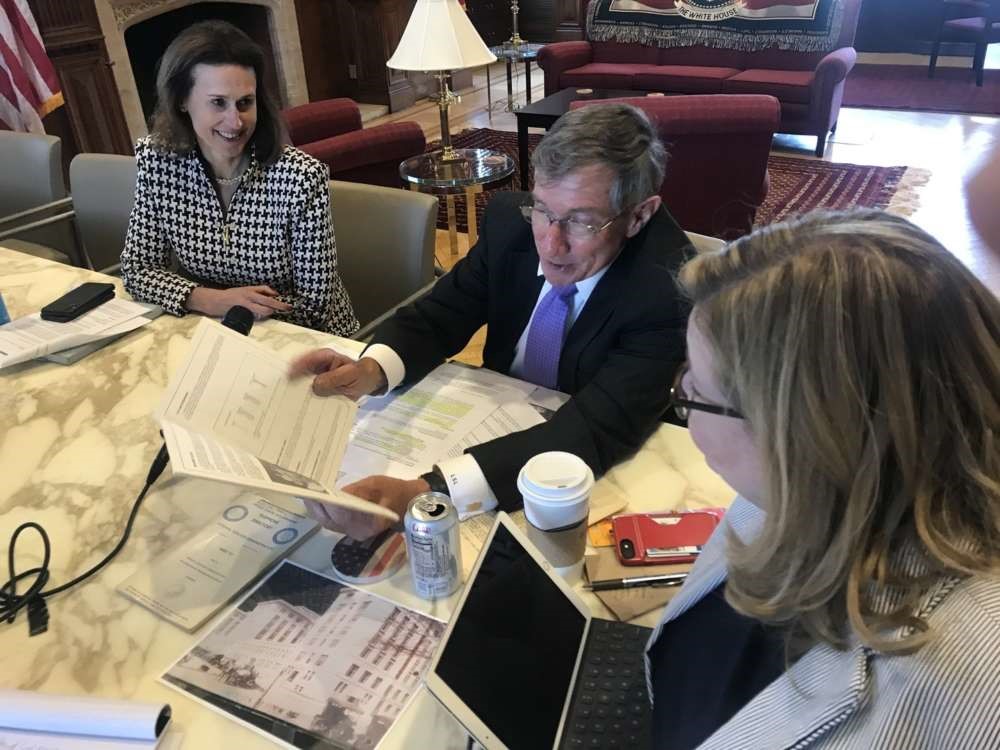 To celebrate the General Services Administration's (GSA) seventieth anniversary the Federal Drive Podcast from Federal News Network is doing an ongoing series titled, GSA @ 70: Mission evolved. In the first installment Federal News Network reporter, Jason Miller, interviews two of the longest serving GSA employees, Lenny Loewentritt, Deputy General Counsel, and Mary Davie, Director of the New Pay Quality Service Management Office.
Davie remarks that when she started at GSA they "weren't paying attention to what other agencies were doing or what requirements look like across government," and views the strategic sourcing memo that came from the Office of Management and Budget (OMB) in 2004 as a turning point. She says that the memo led to collaboration across different agencies, and in return GSA has become more attractive for customers to do business with.
Loewentritt has spent forty-seven years at GSA and says that, although GSA has changed over the years, that the structure has remained largely the same. He also says, "there's more pressure now as the taxpayer dollars are being utilized in the most effective manner on behalf of the taxpayers," so GSA has become more efficient over time. He praises GSA's breadth of expertise beyond traditional acquisition and maintenance of federal space which is what he thinks "folks should know about" GSA.
In the second installment, Miller discusses GSA's successes and changes with GSA Administrator Emily Murphy. GSA Administrator Murphy, like Davie, cites GSA's present status as an interagency collaborator as one of the agency's greatest, recent accomplishments– "GSA is at a point now where we're being embraced by other agencies, by the Office of Management and Budget and by others that can bring solutions and expertise to the table and the agencies are seeking us out with ideas on how to collaborate." GSA Administrator Murphy says that last year interagency collaboration saved taxpayers and customer agencies $6.8 billion.
GSA Administrator Murphy also states that her three main priorities for her time at GSA are the federal marketplace, strategic leasing, and shared services. She says that the four key capacities that GSA needs to improve upon are IT modernization, customer experience, data and analytics, and change management. She says that she is also looking towards robotics process automation as a means of increasing efficiency, so that employees spend more time doing high-value work rather than data entry.
If you would like to read and/or listen to the first installment click, here.
If you would like to read and/or listen to the second installment click, here.
What can the Government's "Industry Liaisons" do for Industry?
The Office of Federal Procurement Policy (OFPP) is reaching out to industry stakeholders for recommendations on the role of newly established industry liaisons in the Federal government.  These liaisons are being designated within each agency as a result of OFPP's recent Myth-Busting #4 memorandum which outlines some basic responsibilities for this position.  OFPP is now asking industry for feedback on the "top 5 functions" the liaisons should be responsible for to help make it easier for contractors to do business with the government.
Background
In April, OFPP published a memorandum, titled, "Myth-Busting #4 – Strengthening Engagement with Industry Partners through Innovative Business Practices." The memo instructs each Chief Financial Officers Act (CFO Act) agency to ensure that it has publicly identified an industry liaison that supports open dialogue among all relevant stakeholders. Specifically, at a minimum, the memo sets forth the following responsibilities of these liaisons:
– Promote timely responses to general requests
– Assist program and acquisition personnel in developing engagement strategies to communicate with potential vendors
– Review and update, as appropriate, their agency's vendor communication plan
– Coordinate with their agency's Acquisition Innovation Advocate (AIA), as well as the Office of Small and Disadvantaged Business Utilization (OSDBU), to increase the adoption of practices that enhance communication with vendors
– Encourage vendor feedback on agency acquisitions
– Share stories on the Innovation Hub to promote adoption of good communication practices
How to Make Recommendations for the Industry Liaison Role
As a follow-up to its April 2019 memo, OFPP has reached out to industry stakeholders seeking feedback regarding the industry liaison position. Specifically, OFPP is asking for industry to provide their "top-five" functions for these liaisons that would help enhance communication. In addition, OFPP is interested in feedback regarding how these liaisons could assist industry in doing business with the government. OFPP is requesting that industry feedback by next Friday, July 19. If members have any suggestions about the "top 5 functions" for industry liaisons, please contact Aubrey Woolley at awoolley@thecgp.org.
FedMall Update from DoD
On Wednesday, July 10, the General/Office Products Committee heard from Jim Mette, Program Manager of FedMall at the Defense Logistics Agency (DLA), and Kathleen Lemming, Senior Procurement Analyst at Defense, Pricing, & Contracting (DPC). Attendees were provided with an update on DLA's FedMall platform, including recent systems modifications and new developments related to the management of Products Service Codes (PSCs). They also discussed the FedMall Marketplace, providing additional background information, as well as anticipated plans for the future. The Coalition would like to thank Jim and Kathleen for speaking with members, and we look forward to their participation in future events. Materials from the meeting, including the slide presentation and members' questions that were submitted in advance of the meeting, can be accessed via the Coalition's Member Portal on the General/Office Products Committee page.
7th Annual Joseph P. Caggiano Golf Tournament, Aug. 21
The Coalition will be hosting the 7th Annual Joseph P. Caggiano Memorial Golf Tournament at the beautiful Whiskey Creek Golf Club in Ijamsville, Maryland on August 21.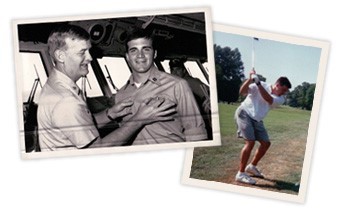 In January 2013, the Coalition lost far more than just a Board Member when our good friend and college, Joe Caggiano, passed away suddenly at the young age of 48. Joe's career in the government marketplace spanned 25 years, including serving seven years as COO of the Washington Management Group/FedSources, eight years of service in the Navy, and he most recently served as a principal at Reznick Government, a business advisory firm now known as CohnReznick Government. To honor Joe, the Coalition hosts this annual charity tournament to support our nation's veterans, a cause that was of great concern to Joe.
As you may recall, in recent years, the tournament proceeds have supported the Coalition's endowment for a qualified veteran concentrating their studies in the field of US Government procurement and pursuing the JD/LLM degree or the interdisciplinary Master's degree at The George Washington University. Joe would be very proud to know that, through the generosity and kindness of the Federal procurement community, we have raised more than $125,000 in a little more than 3 years. As anyone that knew Joe can attest, he was the consummate coach and cheerleader and would be delighted that we are encouraging and supporting the professional development of the next generation of skilled professionals in Federal procurement.
To register, please click here and select at least one of the following:
– Single Golfer
– Foursome
– Hole Sponsor
– Foursome & Hole Sponsor
– Veranda Club (for non-golfers)
Sponsor Request:
We have several exciting sponsorships available including title sponsors, beverage cart sponsors, hole sponsors, and many more with all budgets in mind. Please click here to review sponsorship opportunities and contact Matt Cahill at mcahill@thecgp.org or 202-315-1054 with any questions or commitments.
Coalition Comments on Schedules Consolidation RFI #1
On Wednesday, July 3, the Coalition submitted comments in response to the Request for Information (RFI) for the General Services Administration's (GSA) draft terms and conditions for the consolidated Multiple Awards Schedules (MAS) solicitation. The Coalition would like to thank everyone who submitted comments in response to the RFI.
To read the Coalition's comments, click here.
The Latest on GSA's Federal Market Strategy
The General Services Administration (GSA) has released an update on its Federal Marketplace (FMP) Strategy that provides additional information regarding the agency's efforts to create an easy, efficient, and modern acquisition system. Although the FMP strategy focuses on GSA's four cornerstone initiatives – i.e. consolidation of the Schedules program, Commercial e-Commerce Platforms Initiative, Contract Writing System, and Catalog Management – it also includes information regarding more than 20 additional on-going GSA projects that are intended to modernize and enhance the Federal buying experience.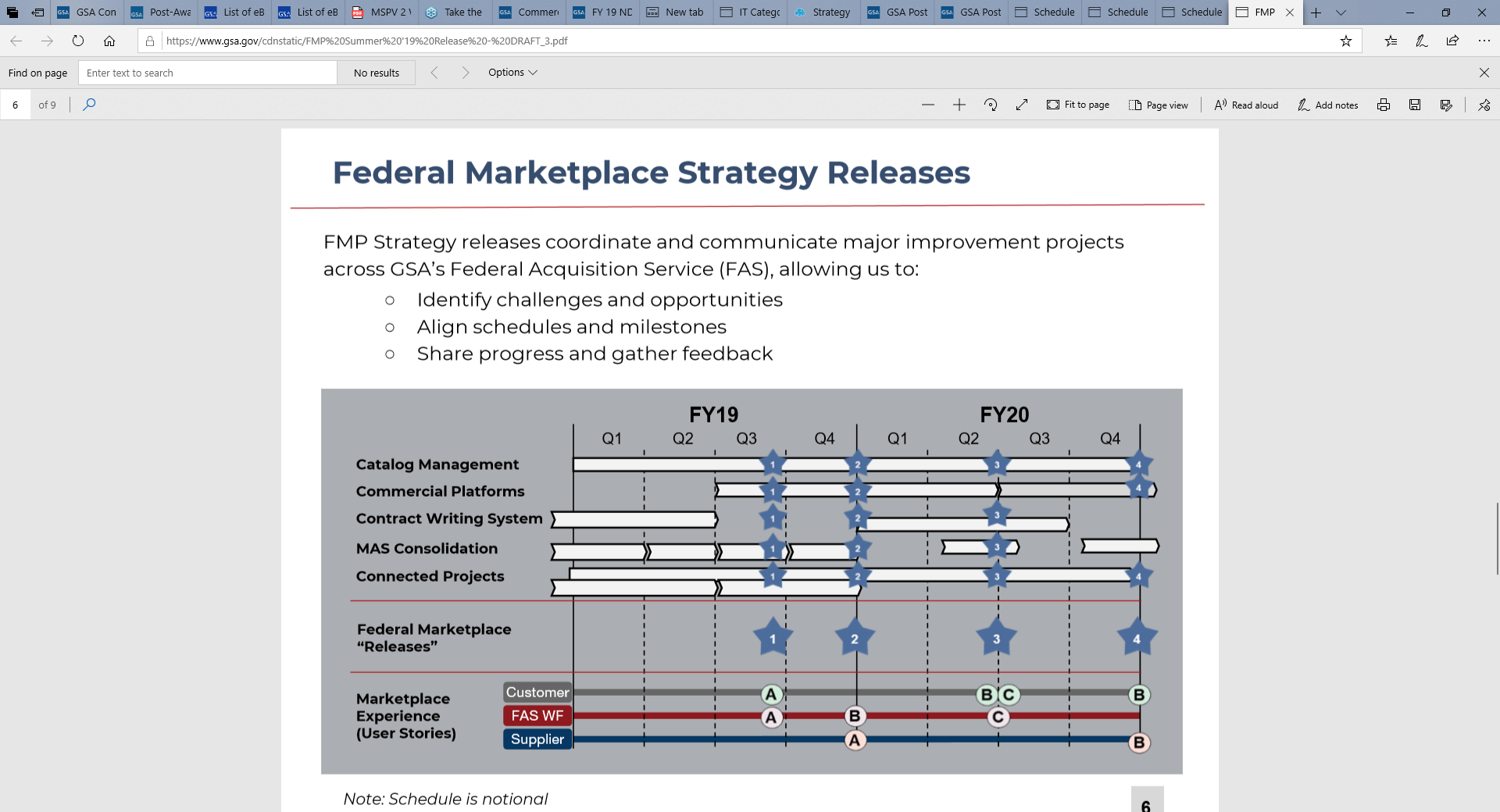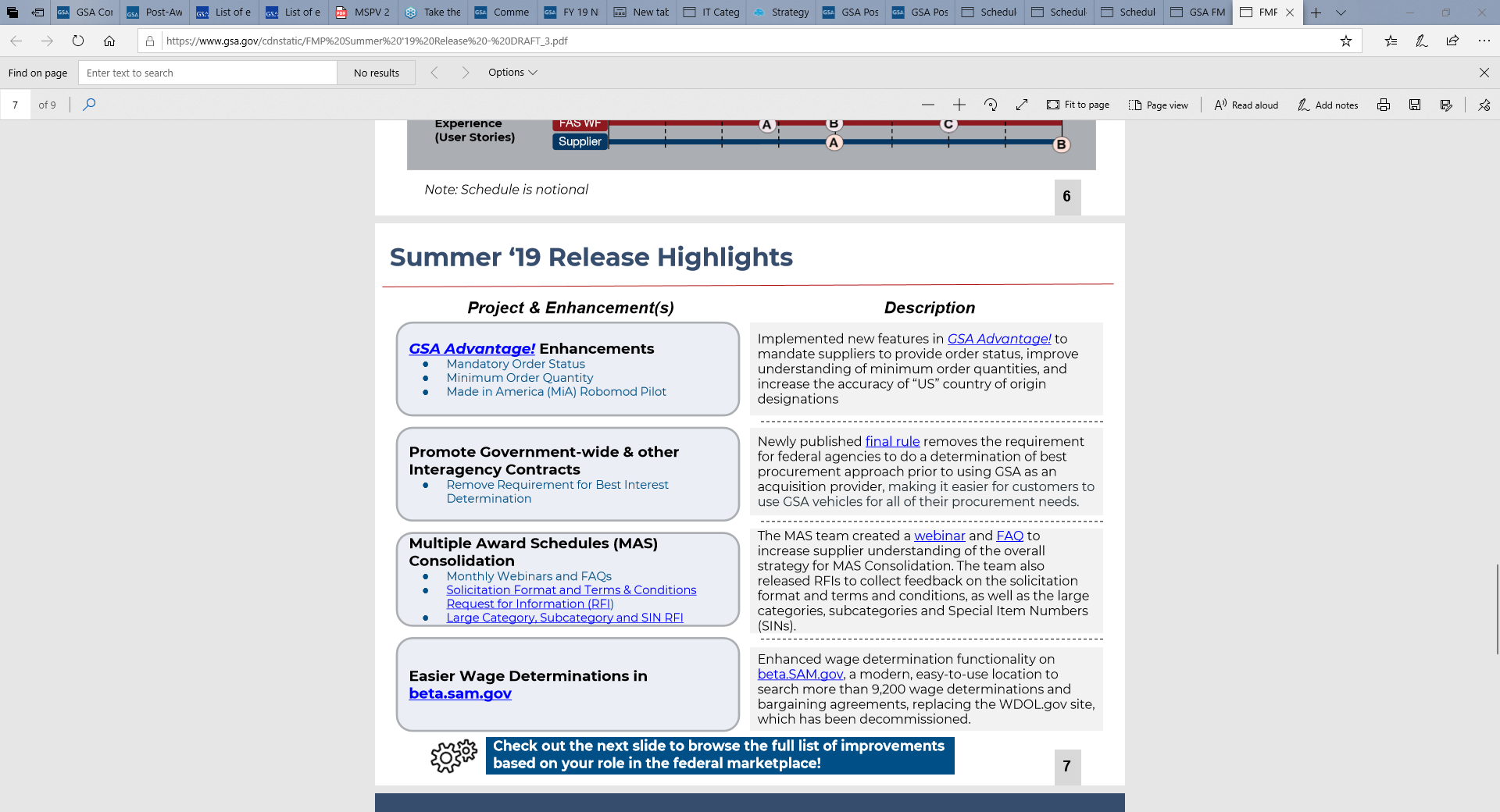 For the latest developments under this initiative specific to contractors, visit https://www.gsa.gov/cdnstatic/GSA%20FMP%20Summer%2019%20Release%20Suppliers.pdf.
GSA Seeking Feedback on Contract Writing System Draft RFQ
The General Services Administration (GSA) is seeking feedback from industry on a draft Request for Quotations (RFQ) for its contract writing system (CWS) project. Specifically, to simplify the procurement process, for both government and industry stakeholders, GSA intends to develop an enterprise-wide contract acquisition life-cycle management system. A final RFQ is anticipated for release in August 2019, with awards expected by the end of the Fiscal Year.
The draft RFQ documents can be accessed below:
– Requirements Traceability Matrix
– 2.0 Acquisition Planning and Market Research
– 3.0 Synopsis and Solicitation
GSA is particularly interested in feedback related to the clarity of its requirements, pricing structure, SOO, instructions to offerors, downselect approach, demo approach, evaluation criteria, and acquisition strategy. Feedback and questions should be sent to GSA at FASCWS@gsa.gov by Tuesday, July 16.
Seeking Member Feedback on PRC, CSP and TDR Reporting Burdens
The General Services Administration (GSA) posted a notice in the Federal Register soliciting feedback on an upcoming extension request for an existing information collection requirement. Specifically, GSA is asking for industry's input regarding the extension of General Services Administration Acquisition Regulation (GSA) clauses 552.216-75, "Transactional Data Reporting," and 552.238-80, "Industrial Funding Fee and Sales Reporting, Alternate I." Comments must be submitted by Monday, July 29.
The Coalition will be submitting comments in response to the notice. Member input will be crucial to this process, and we ask to members please provide their feedback these questions to Sean Nulty at SNulty@thecgp.org by Wednesday, July 17.
Legal Corner: NIST Announces and Seeks Public Comment on 800-171 Update and Related Documents
The Legal Corner provides the legal community with an opportunity to share insights and comments on legal issues of the day. The comments herein do not necessarily reflect the views of the Coalition for Government Procurement. 
By: Susan B. Cassidy, Ashden Fein, Moriah Daugherty and Melinda Lewis on June 20, 2019 Posted in Cybersecurity
On June 19, 2019, the National Institute of Standards and Technology ("NIST") announced the long-awaited update to Special Publication ("SP") 800-171 Rev. 1, Protecting Controlled Unclassified Information in Nonfederal Systems and Organizations, which includes three separate but related documents.
First, NIST has announced an update to SP 800-171 Rev. 1, which is referred to as SP 800-171 Rev. 2. NIST characterizes the changes in SP 800-171 Rev. 2 as only "minor editorial changes," including reordering the document and updating the contents of the Appendices. NIST emphasized that there are no changes to the basic or derived security requirements in Rev. 2; in other words, the same 110 total security requirements to ensure the confidentiality of CUI under SP 800-171 Rev. 1 remain unchanged in SP 800-171 Rev. 2. NIST notes, however, that a "comprehensive update" to SP 800-171—including updates to the basic and derived security requirements—"will be forthcoming" in Revision 3; the publication of Revision 3 will follow NIST's upcoming final draft of SP 800-53, Security and Privacy Controls for Information Systems and Organizations "which will include modified control families, privacy integration, and make other conforming edits that are necessary."
Second, NIST has announced the publication of an entirely new document, SP 800-171B, Protecting Controlled Unclassified Information in Nonfederal Systems and Organizations: Enhanced Security Requirements for Critical Programs and High Value Assets, which was drafted in response to what has been characterized by NIST as "an ongoing barrage of serious cyber attacks," resulting in the loss and/or exposure of controlled unclassified information ("CUI") that, in turn, prompted the Department of Defense ("DoD") to request additional guidance from NIST. NIST describes SP 800-171B as a supplement to SP 800-171 Rev. 2 that contains recommended enhanced security requirements designed to protect designated "high value assets" or "critical programs" that contain CUI that are of interest to advanced persistent threats ("APTs").
NIST characterizes the enhanced security requirements in SP 800-171B as providing the foundation for a "new multidimensional, defense-in-depth protection strategy that includes three, mutually supportive and reinforcing components: (1) penetration resistant architecture; (2) damage limiting operations; and (3) designing for cyber resiliency and survivability." Indeed, NIST specifically recognizes that these requirements are necessary because the basic and derived requirements in SP 800-171 Rev 2, which are currently required by the Defense Federal Acquisition Regulation Supplement ("DFARS") 252.204-7012, "are not designed to address the [advanced persistent threat ("APT")]." NIST also recognizes that many contractors may require the assistance of third parties to implement these enhanced requirements and that "despite the best protection measures implemented by organizations, the APT may find ways to breach or compromise those primary boundary defenses and deploy malicious code within a defender's system."
The enhanced security requirements of SP 800-171B are organized into the same 14 security requirement families as SP 800-171 Rev. 2, although there are no enhanced security requirements associated with four of the 14 families: Audit and Accountability, Maintenance, Media Protection and Physical Protection. There are enhanced security requirements associated with the remaining ten families, with more than a third of the total enhanced security requirements associated with the System and Information Integrity and Risk Assessment families. Each requirement is followed by a "discussion section" that is intended to provide additional information to facilitate the implementation and assessment of the enhanced security requirements.
Third, NIST has announced the publication of a DoD cost estimate, Request for Comments on Draft NIST Special Publication (SP) 800-171B, Protecting Controlled Unclassified Information in Nonfederal Systems and Organizations – Enhanced Security Requirements for Critical Programs and High Value Assets (the "Cost Estimate"). The Cost Estimate makes clear that the enhanced security requirements under SP 800-171B are focused on designated high value assets or critical programs that contain CUI (i.e., are, at least in theory, intended to apply to a more narrow subset of contractors than those subject to the requirements of SP 800-171 under DFARS 252.204-7012), which will be designated on a contract-by-contract basis. In total, DoD has estimated these requirements "will affect less than [0.05%] of an overall contractor base" that currently processes DoD CUI.
The Cost Estimate also analyzes the costs associated with the implementation and maintenance of the SP 800-171B requirements, which it characterizes as "typically being an allowable contract cost to the government." The Cost Estimate identifies Systems and Communication Protection requirement 3.13.4e ("employ physical and logical isolation techniques in the system and security architecture") as the "primary factor" impacting the cost of implementation. The Cost Estimate further explains that this requirement "generally means isolating the IT environment where critical program capabilities are developed from the IT environment processing other CUI, or developing commercial products."
Impact on Contractors
Although the ultimate impact of the publication of SP 800-171B is not entirely certain, it is clear that the government intends to impose the enhanced security requirements of SP 800-171B on a contract-by-contract basis when, in the government's assessment, a contract involves designated high value assets or critical programs that contain CUI of interest to APTs.
Although DoD has stated the requirements will only apply to a very small subset of government contractors, how broadly these requirements will apply remains uncertain. Given the government's increased focus on protecting its information from cyber threats, it is conceivable that DoD may ultimately impose the enhanced security requirements of SP 800-171B on more than just the 0.05% of contractors that DoD currently projects. In the short term, contractors should assess whether they need outside expertise to meet these requirements and ensure that they are ready to respond to an incident should one occur—for example, not only by ensuring incident response plans are updated, but also by periodically testing the plans with scenarios involving APTs. As NIST notes in SP 800-171B, the Government recognizes that an APT may get through even the best protection measures; nevertheless, in the event of an incident, the Government will judge contractors on how they respond to the incident.
In addition to commenting on the requirements and attempting to shape the final draft appropriately, contractors should now consider their ability to comply with the enhanced security requirements of SP 800-171B because successful implementation of these requirements may take time and require the investment of additional resources. Further, a thorough review of future contracts for inclusion of the enhanced security requirements of SP 800-171B must be added to every contractor's solicitation review, even where contractors do not believe their contracts are likely to involve designated high value assets or critical programs of interest to APTs.
Finally, although DoD has stated that costs of compliance are "allowable costs," this does not account for commercial item contractors that do not work on a cost reimbursable basis. Those contractors will need to recover these costs in the prices of their goods and services provided to the government.
Public Comment
NIST is seeking public comment on the initial drafts of SP 800-171 Rev. 2, SP 800-171B, and the Cost Estimate, and the public comment period will be open until August 2, 2019 (deadline extended on July 10, 2019). Comments on SP 800-171 Rev. 2 and SP 800-171B can be submitted to NIST via email to sec-cert@nist.gov, while comments on the Cost Estimate can be submitted to the DoD via Regulations.gov Docket ID DOD-2019-OS-0072. NIST has cautioned that comments on SP 800-171B will be posted without change or redaction to both the Protecting CUI Project and the Regulations.gov Docket ID NIST-2019-0002 and thus, should not include personal or business information commenters do not wish to make public.
Healthcare Spotlight: Landmark Supreme Court Ruling Favors Business – Allowing FOIA Protection of Confidential Information Without Showing Competitive Harm
The Healthcare Spotlight provides the healthcare community with an opportunity to share insights and comments on leading issues of the day. The comments herein do not necessarily reflect the views of the Coalition for Government Procurement. 
By: Joy Sturm, Partner, Hogan Lovells; and Allison Pugsley, Partner, Hogan Lovells
On Monday, June 24, 2019, the Supreme Court issued a landmark decision, Food Mktg. Inst. v. Argus Leader Media, 139 S. Ct. 915 (2019), that overturns a half-century of precedent and significantly expands the ability of businesses to block Federal agencies from releasing their confidential information to the public under the Freedom of Information Act (FOIA).  The decision eliminates a requirement established in National Parks & Conservation Assn. v. Morton, 498 F.2d 765 (D.C. Cir. 1974) and generally followed by the Federal courts that the party objecting to disclosure show "substantial competitive harm" to support withholding of information under FOIA Exemption 4.  This is a significant change for Federal contractors who share confidential and proprietary information with the government to compete for government awards, and for other reasons.
Background 
FOIA generally gives the public, including reporters and competitors, the right to access Federal agency records except to the extent the records are protected from disclosure by specific exemptions.  These records may include documents received from businesses or documents created by civil servants that contain information received from businesses.  FOIA Exemption 4 allows Federal officials to withhold "confidential" "commercial or financial information" in the government's possession that has been obtained from third parties, such as businesses.  Since the National Parks decision, lower courts have interpreted this exemption as allowing the withholding of confidential business records under FOIA only in cases where the private entity was required to provide the information to the government and disclosure would result in "substantial competitive harm."
Decision
Writing for a six-member majority, Justice Gorsuch opined that National Parks relied too heavily on the legislative history of FOIA, rather than focusing on the plain text of the law.  Gorsuch explained that "the Court cannot arbitrarily constrict Exemption 4 by adding limitations found nowhere in its terms", and concluded that "at least where commercial or financial information is both customarily and actually treated as private by its owner and provided to the government under an assurance of privacy, the information is 'confidential' within the meaning of Exemption 4."  In so doing, the Court overturned longstanding precedent, and ruled in favor of retailers seeking to prevent a South Dakota newspaper from obtaining store-level data on the redemption of food stamp benefits under the Supplemental Nutrition Assistance Program.  There may be debate in subsequent cases as to what constitutes an "assurance of privacy."  It is unclear whether the agency must make an affirmative statement that it will treat the data as confidential or whether it will be sufficient that the submitter claims confidentiality and the agency does not object.
This decision is important to Federal contractors, as it increases the scope of exempt records and reduces the uncertainty as to whether particular withholdings would be upheld if challenged.  Should you have any questions about this ruling or how it specifically impacts your business, please do not hesitate to contact our Federal contracts team.
Joy Sturm & Allison Pugsley
+1 (202) 637 5990
+1 (202) 637 6817
allison.pugsley@hoganlovells.com
Joy and Allison are partners in the Hogan Lovells Life Sciences Procurement Practice.
This article has been reprinted with permission from Hogan Lovells US LLP.
GSA's July MAS Consolidation Training Webinar, Jul. 17
The General Services Administration (GSA) has announced that it will be hosting a training webinar focusing on the upcoming Multiple Award Schedules (MAS) Consolidation effort next Friday, July 17, at 2:00 PM Eastern. The webinar, which is the third installment in GSA's training series, titled, "Schedules Consolidation Overview: Reviewing Upcoming Changes to the MAS Program," is intended to provide industry stakeholders with opportunities to learn more about GSA's plans to modernize and simplify the MAS program. During the webinar, participants will hear from Stephanie Shutt, Director of the MAS Program Management Office, who will be providing an update on GSA's overarching strategy for the MAS Consolidation effort, including details on how the effort could impact prospective and current offerors.
To register for the webinar, click here.
GAO: Improvements Needed for Data on Contract Changes
On July 2, 2019 the Government Accountability Office (GAO) published a report on data recording for construction contract changes. Specifically, the report focuses on how the General Services Administration's (GSA) Public Building Service (PBS) and the U.S. Army Corps of Engineers (USACE) approach construction contract changes.
The report was conducted in response to concerns that the slow finalization and implementation of changes to construction contracts are negatively effecting contractors. Changes to contracts, when not implemented promptly, may lead to contractors doing unauthorized work or receiving late payments. This can be very disruptive for small businesses, which are awarded approximately 45% of construction contracts through these agencies.
While there was some USACE data on the time taken to finalize contract changes, the GAO found that their data consolidation had to be completed manually, and that this process is not completed regularly. The GAO also found that at the headquarters level, GSA does not record any data on time taken to finalize contract changes. The GAO recommended both GSA's Public Buildings Service and USACE develop systems to regularly collect and analyze data on these time frames. Both agencies concurred with the reports' findings and suggestions.
DoD Issues Waiver Allowing HHS to Continue Performing Procurements on its Behalf
Last week, Defense, Pricing, and Contracting (DPC) issued a waiver enabling several components within the Department of Defense (DoD) to continue receiving contract administration support from the Department of Health and Human Services (HHS) for Fiscal Year (FY) 2019. Specifically, the waiver addresses the requirement set forth under Section 801 of the FY 2008 National Defense Authorization Act (NDAA).
Pursuant to Section 801, DoD may utilize a non-defense agency to procure products and services whose value exceeds the Simplified Acquisition Threshold if the agency certifies that it will comply with all defense procurement requirements for a given FY. In June, HHS sent a letter to DoD stating that it could no longer certify that its Program Support Center (PSC) would be able to comply with the Department's requirements, and thus, rescinded its FY 2019 certification. As a result, DoD issued the waiver last week to assure continuity of operations for approximately 500 contracts and/or modifications that had already been awarded for FY 2019. The waiver remains in effect until the end of FY 2019, or until DoD is able to transition the contracting activities to its internal workforce.
Hot Topics in Schedule Contracting Webinar
In case you missed it, Thursday's webinar, titled, Hot Topics in Schedule Contracting, is now available through the Coalition's Member Portal. The webinar, which featured procurement experts Sajeev Malaveetil, EY, Sheila Armstrong, Morgan Lewis, Michael Tomaselli, EY, and Mustafa Zuwawa, EY, provided participants with an overview of the Schedules Consolidation effort, including its impact on the Transactional Data Rule pilot, as well as the latest guidance regarding Order Level Materials, the status of GSA and FAR cybersecurity rules, and an overview of a recent False Claims Act settlement that focused on sales through GSA Schedules channel partners.
The webinar originally took place on July 11, 2019. To access the webinar recording, click here.
Materials from GSA's PSHC Forum
The General Services Administration (GSA) posted the slides from their Office of Professional Services and Human Capital Industry Forum which took place in June 2019. The forum provided GSA's industry partners with information regarding the current state of acquisition in the professional services and human capital categories at GSA. The slides cover marketing strategies, compliance, contracting basics, and a range of other related topics. The slides are available here.
An Update on the DUNS Replacement
This week, the General Services Administration (GSA) announced changes to the unique entity identifier (UEI), which is required for firms to do business with the Federal government, Currently, GSA uses the proprietary Data Universal Number System (DUNS) to identify a single business entity. The agency, however, is in the process of transition from the DUNS numbering system to the new non-proprietary UEI identifier. GSA provided that firms will request, and be assigned, the new UEI through the System for Award Management (SAM).
GSA has released the final technical specification for the UEI and is hosting a virtual public meeting to provide more information on Thursday, July 25, at 1:00 PM. To register for the meeting, please email entityvalidation@gsa.gov.
Upcoming Committee Meetings
Joint IT/Services and GWAC Committee Meeting, Jul. 16
The Coalition will be hosting a joint IT/Services and GWAC/MAC Committee meeting next Tuesday, July 16, at 10:00 AM Eastern. The meeting will take place at CGI Federal in Fairfax, Virginia. During the meeting, attendees will hear from Chiara McDowell, Director of Acquisition for the General Services Administration's (GSA) Office of Assisted Acquisition Services (AAS), who will be providing a program update, including a discussion of AAS' acquisition processes across the regions.
GWAC/MAC and IT/Services Committees Meeting
Date: July 16, 2019
Time: 10:00 AM Eastern
Location: CGI Federal (12601 Fair Lakes Circle Fairfax, VA 22033)
If you would like to attend the meeting in-person, please RSVP to Sean Nulty at SNulty@thecgp.org. RSVPs are required for security purposes.
Meeting with GSA to Discuss MAS 75, Jul. 17
The Coalition's General/Office Products Committee will be hosting an in-person meeting next Wednesday, July 17, at 11:00 AM Eastern at its Washington, D.C. office. Attendees will hear from guest speakers, Jeff Lau, the Federal Acquisition Service (FAS) Commissioner for Region 2, and Stephanie Shutt, the Director of the Multiple Award Schedule (MAS) Program Management Office, who will be discussing MAS 75 and the Office Supply Fourth Generation (OS4) vehicle.
General/Office Products Committee Meeting
Date: July 17, 2019
Time: 11:00 AM Eastern
Location: Global Furniture Group's Washington D.C. Showroom (1130 Connecticut Avenue NW Suite 1000, D.C. 20036)
In-person attendance for the meeting will be limited, and it will be filled on a first-come basis. If you would like to attend the meeting, either in-person or virtually, please RSVP to Andrew Sisti at ASisti@thecgp.org.
Public Meeting on Further Contracting Prohibitions Related to Huawei and ZTE
The Department of Defense (DoD), the General Services Administration (GSA), and the National Aeronautics and Space Administration (NASA) announced that there will be an in-person meeting on Friday, July 19, from 9:00 AM to 3:00 PM Eastern to discuss potential contracting prohibitions with entities that use certain telecommunications and surveillance or video equipment. Specifically, the meeting will focus on the implementation of the requirements prescribed under Section 889 of the Fiscal Year (FY) 2019 National Defense Authorization Act (NDAA). Pursuant to the section, agencies are prohibited from entering into a contract, as well as extending or renewing a contract, with any entity that utilizes "covered telecommunications equipment or services" (e.g. equipment of services produced by Huawei Technologies Company or ZTE Corporation) as an essential component of their systems.
The meeting will be held in the Department of Interior (DOI) Auditorium (1849 C St., NW, Washington, D.C. 20240). There is no charge for in-person attendance, and registration will be based on space availability. In addition, in-person attendees will have the opportunity to provide prepared comments and presentations, time permitting, during the meeting. To register for in-person attendance, click here.
In addition, for those who are interested, virtual attendance of the meeting will be available via GSA's virtual meeting platform. Additional information regarding the virtual meeting access will be provided a few days ahead of the meeting.