Small Business Set-Asides: Closing the FAR Loophole to China Made and Non-TAA Products
Last week, this blog highlighted the need for systemic change in our procurement system to meet the growing challenge facing our nation.  In particular, we identified several critical, self-inflicted obstacles arising from that system that hinder the acquisition and delivery of best value mission support across government, including:
Bureaucratic process delays that inject time and cost into the acquisition cycle
Uncertainty surrounding the program funding process
Compliance checklist of activities associated with meeting the regulatory burden layered into the procurement process
Consistent with the effort to identify needed change in the procurement system, in this blog, the Coalition offers another striking example of a self-imposed challenge that should be addressed immediately by the FAR Council.
The government supports the innovation and entrepreneurial spirit of our nation's small businesses through laws that establish certain preferences for federal small business contracting.  Rules implementing those laws seek to harmonize them with other laws governing federal procurement.  In an article appearing in this week's Friday Flash (below), however, Ken Dodds, Vice President at Live Oak Bank, points to a strange regulatory anomaly that, despite continuing efforts to address supply chain resiliency, provides back door access to the federal market for goods that are made in China.  In so doing, it disadvantages the government's domestic supply chain and undermines our allies' supply chain capabilities, the very supply chains on which the government relies to address existential threats.
When the government sets aside a procurement, the product of a domestic small business manufacturer must be provided.  Correspondingly, under the "non-manufacturer" rule, a small business reseller/dealer must certify that it will supply the product of a small business manufacturer.  When, however, the SBA provides a non-manufacturer waiver (NMR) for a set-aside procurement, a small business reseller/dealer is permitted to supply the product of any size business without regard to place of manufacture.
Under FAR Part 25, the Buy American Act (BAA) applies to set-asides, and in particular, set-asides where the SBA has issued a NMR.  The BAA and its implementing regulations apply the preference for the purchase of domestic products through a price evaluation differential.  The regulatory price differential adds, for evaluation and award purposes only, a percentage price premium to the price of the foreign end products if no domestic end-product offer represents the lowest-priced offer.  Simply put, the BAA only provides a preference for domestic products, but it does not preclude the supply of foreign products, including products from China.
In contrast, for procurements where the Trade Agreements Act (TAA) applies, offerors must certify that each end product is a US-made or designated country end product.  The TAA generally applies to procurements exceeding $183,000.  Under the TAA, products other than US-made or designated country end products are not eligible for award, including products from China.
Unfortunately, the application of the FAR Part 19 small business rules and FAR 25 sourcing rules creates a "supply chain" loophole.  This loophole raises the potential for small businesses under a NMR waiver to provide a product from China (because the BAA applies), while, in contrast, under a similar, "full and open" procurement, a product from China would be unacceptable (because the TAA applies).  It is clear that TAA provides a much more effective policy framework for ensuring that the federal government is not purchasing products made in China.
Dodds correctly points out that the interplay between the small business contracting rules, the BAA, and the TAA has potential negative effects for the government and its suppliers, especially in critical industries like information technology and healthcare.  In addition to providing a channel through which products from China or another non-designated country could enter the government market, by designating the procurement a small business set-aside, the government forecloses market access to domestic manufacturers that otherwise could meet its needs with domestic products.
These rules are a self-inflicted challenge to our domestic supply chains and the supply chains of our allies.  On the bright side, the fact that we created them means that we can remove them and remove them we should (quickly!).  The time is now to apply the TAA, consistent with the regulatory thresholds, to small business set-aside procurements where there is a waiver of the NMR.
From the Coalition President: Support the Joseph P. Caggiano Golf Tournament
Members,
I would like to first thank you for your incredible support of the Coalition's events and operations throughout the COVID-19 pandemic. In order to deliver a safe event for our members and guests, we made the cautious decision to hold the Spring Training Conference in mid-June. While we enjoyed a successful event, it left us with little time to highlight our upcoming annual Joseph P. Caggiano Memorial Golf Tournament on August 17. Therefore, I would like to take this opportunity to share how this wonderful charity tournament has proven over the years to be a valuable experience for the Coalition and its members.

About the Joseph P. Caggiano Memorial Golf Tournament, Aug 17
The annual Joseph P. Caggiano Memorial Golf Tournament, which will take place at the Whiskey Creek Golf Course in Ijamsville, MD, celebrates the legacy of our good friend and colleague, Joe Caggiano. While the tournament allows for us to enjoy a round of golf with friends and colleagues, it also provides the chance to support a veteran through the Coalition's Endowed Scholarship Fund at The George Washington University. This fund is awarded to a veteran who is focusing their studies on the field of U.S. Government procurement and pursuing the JD/LLM/MSL degree at George Washington's Law School. This year, we are excited to present that award to Maxie Lawton, a seven-year Army veteran who now heads the university's Veteran Law Students Association and Black Law Students Association. Since the creation of the fund, we have proudly raised over $150,000 for veterans thanks to the outstanding support of our members. In addition, through the tournament, we have been able to raise tens of thousands of dollars for other veteran-based charities such as Hope for the Warriors and Operation Second Chance.

Thank you to Our Growing List of Sponsors
I would like to sincerely thank our rapidly growing list of sponsors for their generosity in supporting this very important cause. Since last Friday, we are fortunate to have added over five new sponsors. Our sponsors include:
Lunch Sponsor, the Center for Procurement Advocacy;
Beverage Cart Sponsor, ManTech International Corporation; and
Hole Sponsors, GDIT, Nobles, Mayer Brown, Allen Federal Business Partners, CGI, Etherton and Associates, Grainger, Miller & Chevalier, The George Washington University Law School, and the Sisti Family
How to Participate as a Corporate Sponsor or Golfer
We still have plenty of sponsorship opportunities available that I highly encourage you to consider, including several Title, Reception, Beverage Cart, and Hole Sponsorships. Information on these opportunities can be found here. If you have any questions, please reach out to Heather Tarpley at htarpley@thecgp.org or Matt Cahill at mattcahill@thecgp.org. You can also register a foursome or as a single golfer through the link below.
To register for the Joseph P. Caggiano Memorial Golf Tournament, please click here. For any assistance with registration, please contact Joseph Snyderwine at jsnyderwine@thecgp.org. As always, I truly appreciate your continued support and look forward to seeing you in August.
Sincerely,
Roger Waldron
President
GSA OIG Releases Alert on Planned Expansion of TDR
On July 18, the General Services Administration (GSA) Office of Inspector General (OIG) released an alert expressing concern about the Federal Acquisition Service's (FAS) plan to expand the Transactional Data Reporting (TDR) rule to the entire Multiple Award Schedules (MAS) program. According to the alert, GSA's Office of Governmentwide Policy and the Office of Management and Budget conducted an assessment of the TDR pilot in FY2020, and based on the results, "GSA plans to advance the TDR Rule out of the pilot phase and expand it to the entire MAS Program by November 1, 2022." The TDR expansion would be voluntary across the MAS program, with the option available to all Schedule contractors to opt into TDR. The OIG is concerned that this TDR expansion would put government agencies at risk of overpaying for products and services offered under MAS contracts because Schedule contractors that report transactional data are no longer required to provide commercial pricing information or price reductions based on their identified basis of award customer(s).
On June 23, 2016, GSA published a final rule in the Federal Register establishing TDR with the goal of streamlining the procurement process by having contractors provide transactional data rather than having to comply with the price reductions clause. OIG's concern is that previous audits have shown that the TDR data is unreliable and that FAS contracting personnel are not using the information. According to the OIG's alert, "In an evaluation of Fiscal Year 2022 TDR data focused on part number information, FAS found that 64 percent, or approximately $1.6 billion, of all reported TDR product sales list part numbers and product information did not match the contractors' price lists." In short according to the OIG, the inconsistencies between the part numbers in the TDR reports and contractor price lists made the TDR unreliable.
House NDAA Includes Key Cyber and IT Amendments
Last Friday, the House passed the National Defense Authorization Act (NDAA) for Fiscal Year 2023. According to FCW, over 1,200 amendments to the NDAA were filed which touched on Information Technology (IT) and cybersecurity issues. These amendments, which bring multiple IT and cybersecurity improvements, include:
The establishment of the National Digital Reserve Corps by GSA. The Corps will feature experts across the cybersecurity, AI, and digital technology fields who will work in the Federal Government to address cyber challenges that agencies face.

A five-year term requirement for the Director of the Cybersecurity and Infrastructure Security Agency (CISA). This amendment also requires the President to appoint the CISA Director with the advice and consent of the Senate.

A requirement for the CISA Director to investigate the impacts of the SolarWinds cyber-attack in 2020 and report security gaps and recommendations to Congress.

The Identification of Systematically Important Entities Act, which establishes an interagency council that will be responsible for coordinating critical infrastructure cybersecurity. This amendment designates entities that are considered systematically important to the nation's critical infrastructure and grants them new requirements and benefits.

An amendment instructing the Department of Homeland Security to establish at least two Critical Technology Security Centers that will test critical technology software and software that supports government missions.

An amendment requiring the Small Business Administration to establish a cyber counseling certification program to help small businesses receive cyber planning training.

An amendment tasking the VA with establishing a pilot course for veterans and their spouses around cybersecurity training. This program will contain coursework that would count towards credits for an associate or bachelor's degree, as well as opportunities and assessments that would lead to Federal work-based opportunities.
Lawmakers are hopeful that these amendments will make their way into the House and Senate's compromised NDAA.
GSA Addresses Challenges Related to UEI Transition
Federal News Network reported that GSA is facing challenges regarding the transition to the Unique Entity Identifier (UEI). The transition from the DUNS Number to the UEI took place on April 4, 2022. The UEIidentifies vendors for Federal contracts and grant awards. On July 15, Rep. Gerry Connolly (D-Va.), Chairman of the Oversight and Reform Subcommittee on Government Operations, sent a letter to GSA with questions on the transition. The letter from Rep. Connolly reads, "I have heard from constituents who have struggled to transition to the new unique identifier — and in some cases were removed entirely from the GSA online system. Moreover, when seeking help and assistance from GSA, these government partners were often provided links to unhelpful online frequently asked question pages or stuck on telephone calls for hours with customer service representatives who were unable to help troubleshoot the problems." The majority of issues are related to either the registration process or troubleshoot ticket response time.
GSA has acknowledged the issues and is working to address them in a timely manner. Dave Zvenyach, Deputy Commissioner of GSA's Federal Acquisition Service, said that fixing the UEI is a top priority for the agency. In an email to Federal News Network, he stated that "although we are making progress, we know there are entities who are waiting for their case to be resolved. Resolving their specific, individual cases is paramount for us. And we will not let up until entities can register in SAM in a predictable, timely basis." An official from the agency said that UEI issues are impacting about 20 percent of vendors. Overall, about 200,000 companies have been able to complete the validation process.
For urgent requests, GSA recommends that entities reach out to the Ombudsman at gsaombudsman@gsa.gov. When reaching out, they should follow these steps: "Please include: (1) the legal name of the entity; (2) the UEI number; (3) the FSD ticket #(s); and (4) a summary of the issue(s), which may include any urgencies (e.g., not getting paid, not being able to bid). Please do not submit documentation with personal identifiable information (PII), financial, or other confidential information to the Ombudsman's office."
Coalition President Roger Waldron said the following on the issues related to the UEI transition:
"The transition hiccups are real, and the potential impact on contractors can be catastrophic, as it can prevent them from competing for new requirements or even getting paid for work they have performed. Regardless of whether it involves a relatively small percentage of contractors, the fact that the impact can be so severe should prompt an all-hands-on deck response from GSA. In response to UEI challenges, effective communication from GSA is vital. The agency needs to increase the pace and tempo of messaging to the procurement community on the steps being taken to address the current situation."
Zvenyach added that the agency will make the timeline on fixes more transparent to industry partners. As of July, GSA has resolved 81 percent of tickets related to the transition, and the agency continues to shorten the time it takes companies to get registered in SAM.gov.
Despite Slow Growth, GSA Expects Continued Cloud Spending to Increase
Over the last five years, cloud spending has increased by $600 million through the GSA with especially rapid growth from 2020 to 2021. Allen Hill, the Deputy Assistant Commissioner for Category Management in the FAS at GSA, told Federal News Network that in addition to the benefits of enterprise services offered by the cloud, the transition to remote work accelerated the need for cloud services. The need for enterprise services to maintain agency functions can be seen in the Government-wide Acquisition Contracts (GWACs) with $4.2 billion spent as of July with the vast majority coming through Alliant 2. This builds on the incredible growth seen in 2021. GSA continues the development of its GWACs with work beginning on Alliant 3 and the preparation of solicitations for its cloud blanket purchase agreement, Ascend.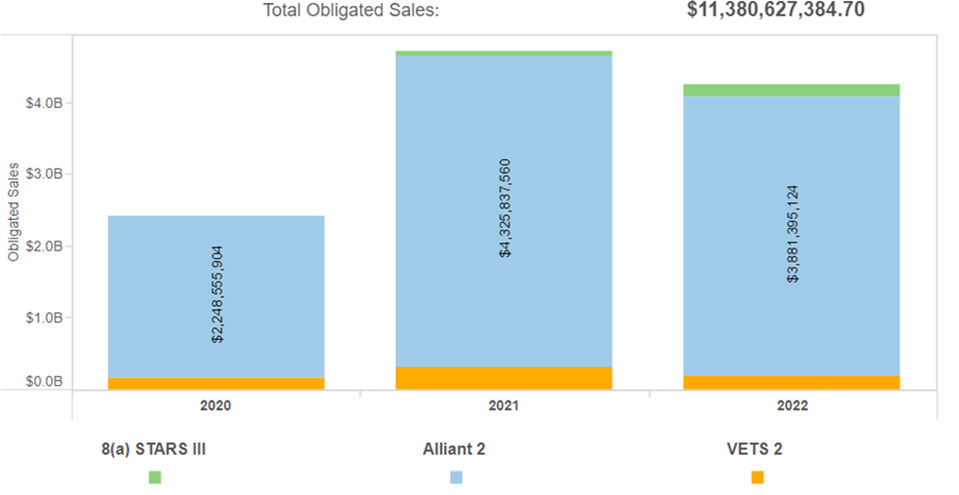 Hill sees the transition to cloud services slowing with agencies now moving their focus to managed services to take advantage of the cloud's benefits in scalability and enhanced security. The benefit of purchasing managed services is that it limits the need for agencies to develop the skillset in their staffing to implement cloud adoption due to the "as-a-service" model which includes the support needed to implement and manage the cloud platform. Hill sees as-a-service models increasing in importance as agencies continue their technological modernization and improve their IT capabilities.
Congress Investigating Potential Profiteering from Veterans Record Backlog
Congressional leaders are investigating claims that third-party record companies are profiting from a pandemic-induced backlog of veteran disability claims, as reported by Federal News Network. Several companies are selling veterans the right to request documents that they are entitled to for free, at a faster rate, by filing the claim as an emergency request. According to congressional leaders, "emergency requests skyrocketed from the pre-pandemic level of 5,000 per year to more than 50,000 emergency requests in 2021, more than 70 percent of which came from records-retrieval companies." These emergency requests create a problem when a veteran will submit a request, become frustrated by the wait, pay a company for the record and then that emergency request is prioritized resulting in an additional duplicate request contributing to the backlog, which then lengthens the wait time for Veterans filing their normal requests. Only 10 percent of the records needed to fulfill these requests are available electronically and this backlog has impeded veterans' access to essential benefits for healthcare and housing. As a part of the investigation, the House Committee on Oversight and Reform asked the companies to answer a set of questions about their processes, marketing and revenues by July 29.
MHS GENESIS Goes Live in El Paso Facilities
DVIDS reported that MHS GENESIS, the Military Heath System's new electronic health record system, was launched at the William Beaumont Army Medical Center (WBAMC) and El Paso Market in Texas on June 11. MHS GENESIS is an integrated system for active-duty military personnel, veterans, and their families that provides secure technology to manage health information. The MHS GENESIS Patient Portal replaced TRICARE Online at the WBAMC facility. Through the portal, customers can access their health information, submit prescription renewals, request appointments, and email their healthcare team. Col. Brett Venable, El Paso Market Director and Commander of WBAMC, said that "our providers and nurses have worked diligently to provide safe, high-quality, patient-centered care to over a hundred thousand beneficiaries throughout our MHS GENESIS installation."
MHS GENESIS was first rolled out in 2017 in the Pacific Northwest. As of May 2022, the system was operational across 16 states with more than 600 locations and 40,000 users. The Department of Defense plans to have MHS GENESIS fully operational by the end of 2023.
The Legal Corner provides the legal community with an opportunity to share insights and comments on legal issues of the day. This guest column was provided by Paul Freemand and Issac D. Schabes of Crowell & Moring
GSA Exploring New Regulations to Reduce Single-Use Plastic in Federal Procurement
On July 7, 2022, the General Services Administration ("GSA") published an Advance Notice of Proposed Rulemaking ("ANPR")
seeking public comment on revising GSA policies and procedures to reduce single-use plastics in purchased products and their
packing and shipping materials. GSA is acting in furtherance of the directives set forth in Executive Order 14057, Catalyzing
Clean Energy Industries and Jobs Through Federal Sustainability (discussed here), which, among other things, directed GSA to
use federal procurement policy as a way to support a recycled content market. Thus, for purchases under the Federal Supply
Schedule program, as well as GSA's construction, concession, and facility maintenance contracts, GSA seeks to reduce reliance
on single-use plastics and move toward what the Administration considers to be "environmentally preferable" materials.
GSA seeks public input on the potential regulations and requests feedback on a range of questions, including:
What are the differences (performance and cost) between a paper based, aluminum based, or compostable packaging
and a single-use plastic-based packaging?
Does your company have experience using environmentally preferable packaging?
What is the best way for GSA to aid its contractors in moving to environmentally preferable packing and packaging and
how quickly should it move?
Are there any market, regulatory, statutory or cost barriers to selecting environmentally preferable packaging such as
paper based or biodegradable packaging?
Which, if any, single use plastic items should GSA choose not to contract for through its federal supply schedules? Are
there exceptions GSA should make to ensure no harm to customer agency missions?
How could compliance with reduced or eliminated plastic content be verified?
This follows similar action by the Department of Interior, which announced on June 8, 2022 that, pursuant to Secretary Order
No. 3407, the agency intends to issue guidance to "identify single-use plastic product reduction opportunities" and "develop
sustainable procurement plans to support . . . phasing out single-use plastic products by the end of 2032."
This ANPR is firmly in line with other GSA actions to leverage federal procurement power and require federal contractors to
provide more environmentally friendly materials, including concrete and asphalt (discussed here and here). These actions are
particularly important because the FAR Council is still investigating ways to implement the White House's larger objectives of
requiring all major agency procurements to minimize the risk of climate change and requiring all major federal contractors to
publicly disclose GHG emissions and climate-related financial risk (discussed here and here). Furthermore, those larger
objectives undoubtedly became much more complicated with the Supreme Court's recent landmark decision in West Virginia v.
EPA, in which the Court constrained the ability of federal agencies to affect significant economic changes by way of
environmental regulations in the absence of specific congressional direction.
For more information, please contact the professional(s) listed below, or your regular Crowell & Moring contact.
VA OIG Finds that Flaws in the EHR Rollout Led to 149 Cases of Patient Harm
The Department of Veteran Affairs (VA) Office of Inspector General (VA OIG) published a review of the new Electronic Health Record (EHR) system to assess concerns over patient safety. In the report, the VA OIG detailed the mystery queue, an unknown location that approximately 10,000 records were mistakenly sent to. According to the OIG report, "[u]nbeknownst to facility healthcare providers who placed the orders, the new EHR did not deliver orders to a range of requested services (e.g., specialty care, laboratory, diagnostic imaging) and stored the orders in a list referred to as the unknown queue." In addition, healthcare providers were not alerted by the EHR system when their orders were sent to the unknown queue.
Once the VA was aware of the queue, mitigating controls were put into place to review the record but the flaws in the system led to 149 cases of patient harm due to the misplacement of records. Despite mitigating controls further launches of the system will require hospital staff to monitor and resolve the unknown queue taking up significant resources. In response to this Secretary Denis McDonough announced at a press conference on Wednesday that the July 23rd go-live in Boise Idaho will be postponed per Federal News Network. This delay is an addition to the previously announced decision to delay the rollout of the platform at four different centers.
View from Main Street: Can small businesses supply products made in China on set-aside contracts?
Yes, due to a loophole in the FAR a small business can supply products made in China under a set-aside contract. Here's why: 
Waivers of the Non-Manufacturer Rule
When a contract is set aside for small businesses (above the SAT) or other socioeconomic categories (8(a), HUBZone, SDVO, EDWOSB/WOSB), there is an expectation that the small business will perform a certain portion of the work with its own employees, otherwise known as the limitations on subcontracting (LOS). For a set-aside contract for supplies, the contractor (other than a non-manufacturer) agrees that it will not pay more than 50 percent of the amount paid by the Government for contract performance, excluding the cost of materials, to subcontractors that are not similarly situated entities.[1] The non-manufacturer rule (NMR) is an addendum to the LOS and allows non-manufacturers to bid on supply set-aside contracts. A non-manufacturer may bid on a supply set-aside contract, but it must not exceed 500 employees (or 150 employees under the information technology value-added reseller exception), must supply a product made by a small business in the United States, must be primarily engaged in the retail or wholesale trade and normally sell the type of item being supplied, and must and take ownership or possession of the item(s) with its personnel, equipment, or facilities in a manner consistent with industry practice.[2]
SBA can issue a waiver of the requirement to supply the product of a small business on a set-aside contract if no small business manufacturers exist. Generally, the manufacturer for NMR purposes is the concern which, with its own facilities, performs the primary activities in transforming substances, or assembling parts and components, into the end item.[3] If SBA has issued a waiver of the NMR because no small business manufacturers exist, the Small Business Act is silent with respect to the place of manufacture of the supply. However, SBA's waiver of the NMR does not impact other statutory requirements that might apply to the contract, such as the Buy American Act (BAA) or Trade Agreements Act (TAA).[4]
The Buy American Act
The BAA restricts the federal government's ability to purchase supplies for use in the United States that are not domestic end products.[5] In general, the cost of domestic components in a manufactured domestic end product must exceed 55 percent.[6] The BAA for supplies is implemented by applying a premium on foreign end products for price evaluation purposes if the lowest offer is not a domestic offer (20 percent  if the lowest domestic offer is from a large businesses and 30 percent if the lowest domestic offer is from a s small business).[7] There are exceptions to the BAA based on public interest, nonavailability, unreasonable cost, resale in a commissary and information technology that is a commercial product.[8] There are separate but similar BAA rules for construction materials.[9] The BAA applies to acquisitions above the micro-purchase threshold.[10]
Trade Agreements Act
The TAA provides the President with the authority to waiver the BAA for products from countries with a trade agreement with the United States.[11] If the TAA applies, the government must buy supplies from either domestic sources or supplies produced in trade partner countries.[12] The TAA provides that the President is not authorized to waive any small business or minority preference in government procurement.[13] The FAR provides the TAA does not apply if the acquisition is set aside for small business.[14] The TAA applies to supply contracts depending on the value, ranging from $25,000 to $183,000.[15]
Practical Impact
If a contracting officer is acquiring supplies under a set-aside contract and SBA has waived the NMR, a small business offeror supplying a domestic end product could lose to a small business offeror supplying products made in China or non-trade partner countries, because the BAA price premium applies but the TAA does not.[16] If the same contracting officer issued the solicitation on a full and open basis, all offerors would have to supply eligible products from domestic sources or trade partner countries. Clearly the TAA should not apply if SBA has not waived the NMR because in that case an offeror on a set-aside contract must supply the product of a small business made in the United States. However, if SBA has issued a waiver of the NMR because no small business manufacturers exist, then the TAA should apply, just like it would if the acquisition were full and open. Applying the TAA to set-asides where SBA has waived the NMR does not waive any small business or minority preference and strengthens the country's supply chain because of the preference for domestic or trade partner countries. Thus, FAR 25.401(a)(1) needs to be amended to provide FAR Subpart 25.4 does not apply to acquisitions set aside for small business or socioeconomic categories unless SBA has issued a waiver of the NMR.
[1] 13 CFR 125.6; FAR 52.219-14.
[2] 13 CFR 121.406; FAR 52.219-33. 
[3] 13 CFR 121.406(b)(2).
[4] 13 CFR 121.406(b)(7).
[5] FAR 25.001(a).
[6] FAR 25.003. Gradually rising to 75 percent in 2029 based on 87 FR 12780 effective October 25, 2022.
[7] FAR 25.105(b). Effective October 25, 2022, there will be higher premiums for critical products and components. 87 FR 12780.
[8] FAR 25.103.
[9] FAR Subpart 25.2.
[10] FAR 25.100(b).
[11] FAR 25.402.
[12] FAR 52.225-5.
[13] 19 USC 2511(f).
[14] FAR 25.401(a)(1).
[15] FAR 25.402.
[16] There are limitations on acquisitions involving Cuba, Iran, Sudan, North Korea, and Burma FAR 52.225-13.
NIST Selects Companies for the Migration to Post-Quantum Cybersecurity Standards
The National Institute of Standards and Technology (NIST) has selected twelve companies to collaborate with the National Cybersecurity Center of Excellence on the migration of the Post-Quantum Cryptography project. This follows news earlier in the month from NIST on the identification of four algorithms that will provide the basis for quantum computer proof encryption. Matthew Scholl, Chief of the Computer Security Division of NIST's Information Technology Laboratory, stated (per FCW) that over the coming months NIST will work in conjunction with industry and the CISA to create standards for the implementation of the newly discovered algorithms. "We will work with the submission team and openly with the public community to define the specifics of those implementations, so that they meet the requirements that NIST laid out in our initial Federal Register [notice] back in 2016 about the security strengths of those implementations," Scholl said. "We will also decide on the implementation parameters … which will allow it to be built into commercial products with enough specificity that it can be interoperable, and that also we can ensure its correctness." These developments support the goals outlined in National Security Memorandum 10 to minimize the risk of quantum threats by 2035.
Departments of Labor and Commerce Begin Cybersecurity Apprenticeship Sprint
The Department of Labor (DOL) and Commerce have announced the Cybersecurity Apprenticeship Sprint that for the next 120 days will work to provide training and professional development. The campaign focuses on providing resources for those seeking training and employment in the cybersecurity workforce and creating a space for employers to list apprenticeship jobs and find new talent.
The goals of the sprint are as follows:
To increase awareness of current successful cybersecurity-related Registered Apprenticeship programs, partnerships, and initiatives and how they are helping industry educate and train a skilled cybersecurity workforce to reduce cybersecurity risk.

To advance diversity, equity, inclusion, and accessibility (DEIA) across cybersecurity occupations through Registered Apprenticeship, especially for historically underrepresented populations such as women and communities of color.

To educate the public on the efforts the DOLs Office of Apprenticeship is taking to accelerate the process by helping employers to launch programs in as little as 48 hours by using existing industry vetted and DOL- approved standards.

To recruit employers to explore Registered Apprenticeship and partner with DOL and the Department of Commerce's National Initiative for Cybersecurity Education (NICE) to help meet critical cybersecurity workforce needs of the Nation; and

To connect career seekers to cybersecurity apprenticeship opportunities.
For those who are interested in connecting with the apprenticeship program, you can sign up for the newsletter here.
GSA Publishes GSAR ANPR on Reducing Single-Use Plastics
On July 7, GSA issued an advance notice of proposed rulemaking (ANPR) seeking public feedback on the agency's use of single-use plastics, including those used in packaging and shipping of products under GSA contracts as well as items included on the contracts. GSA will use the feedback to establish requirements and reporting mechanisms that will reduce the use of unnecessary single-use plastics. Single-use plastics are defined as plastic materials that are used and immediately disposed of once the product is delivered. The ANPR includes a total of 15 questions in which the agency is seeking feedback, with six related to the economic impact of single-use plastics. Executive Order 14057, Catalyzing Clean Energy Industries and Jobs Through Federal Sustainability, which was issued in December, instructed each agency to "reduce waste to include supporting a recycled content market and circular economy approaches." In addition to the Federal Supply Schedule, GSA is looking to address single-use plastics in its construction, concession, and facility maintenance contracts. According to the notice, GSA "looks for the most advantageous solutions, remaining ahead of problems before they culminate, and making the best decisions on behalf of the American taxpayer." The agency is looking to address sustainability in contracts in order to achieve this.
The Coalition is considering submitting comments in response to the ANPR, which are due to GSA on September 6, 2022. We are interested in hearing members input on single-use plastics and packaging in products offered under the Schedules and other GSA contracts. Please contact Aubrey Woolley at awoolley@thecgp.org with any feedback or questions that you may have on this topic.
VA Supply Chain Modernization Meeting, July 25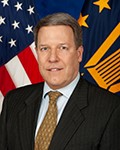 The Coalition is pleased to announce that it will host a member meeting with Michael Parrish, Principal Executive Director and Chief Acquisition Officer and Phil Christy, Deputy Executive Director of the Office of Acquisition Logistics and Construction of the U.S. Department of Veterans Affairs (VA) on Monday, July 25 from 1:00 – 2:00 pm ET. The topic of discussion will be the VA's Supply Chain Modernization initiative. An RFI has been published on this issue and is posted here on SAM.gov. The RFI describes the VA's intent to award an IDIQ for a Supply Chain Modernization and Management solution that covers IT, pharmaceuticals, medical/surgical supplies, prosthetics, facilities maintenance, high tech medical equipment, and benefits and burial supplies.
The meeting will be at the office of Arnold & Porter at 601 Massachusetts Ave, NW, Washington, DC and there will be an virtual/dial-in option as well. To register for the meeting, click here. For assistance, please contact Joseph Snyderwine at jsnyderwine@thecgp.org.
General/Office Products Committe Meeting, July 26
Join the General/Office Products Committee on July 26 at 10 am EST for an update on the new Common Catalog Platform (CCP). Mike Shepherd, Project Manager of the Office of the Regional Commissioner Mid-Atlantic Region Federal Acquisition Service, will discuss the upcoming pilot, transitioning to the new CCP and more.
To register for the meeting, click here. For assistance, please contact Joseph Snyderwine at jsnyderwine@thecgp.org.
GSA OSBDU Hosting Free National Small Business Event, July 26-27
On July 26-27, GSA's Office of Small and Disadvantaged Business Utilization (OSDBU) is hosting its national event titled, "Small Business Works 2022: Navigating Equity and Procurement." The event will be complimentary to attendees.
On July 26, small businesses will be provided with information on how to navigate the Federal Government marketplace. In the afternoon, there will be matchmaking sessions to connect large and small businesses from all socioeconomic categories. Sessions planned for this day include:
Multiple Award Schedule (MAS) Pre-Award/Offer Preparation

What is SBA's 8(a) Business Development Program and 7(j) Assistance Program?

NASA Scientific and Engineering Workstation Procurement (SEWP) and How Do They Buy?

Success Leaves Clues: Learn Best Practices from Successful Socioeconomic Small Businesses: A Panel Discussion
On July 27, training on small business programs that highlights how acquisition professionals bring equity to procurement within their own Federal agency will be the focus of the day. Continuous Learning Points (CLPs) will be offered to acquisition professionals. Sessions planned for the acquisition workforce include:
Advancing Contracting Opportunities for Small Businesses

Historically Black Colleges & Universities (HBCU) Initiative on Advancing Educational Equity and Economic Opportunity

Successful Partnering with the SBA 8(a) Business Development Program

Evaluating Small Business in Source Selection
Learn more about the event and register here.
Small Business Committee Meeting, August 24
The Small Business Committee will host a meeting focused on the Mentor Protégé Program and surrounding regulations on Wednesday, August 24 at 10 am EST. Our guest speakers from the Small Business Administration (SBA) will be John Klein, Associate General Counsel for Procurement Law, Office of General Counsel and Stanley Jones Jr., Director, Management and Technical Assistance Division, Office of Business Development. The panel will also be joined by GSA's Greg Rollins, Deputy Assistant Commissioner, Office of Policy and Compliance. This member-only meeting will be at Holland & Knight at 800 17th St., NW, Washington, DC.  There will also be a virtual option for members to attend. To register, click here. For assistance, please contact Joseph Snyderwine at jsnyderwine@thecgp.org.