The Power of Many: Leveraging DoD Consortia
This week, the FAR & Beyond blog features guest bloggers on a topic of interest to our members. The comments herein do not necessarily reflect the views of The Coalition for Government Procurement.
Authors:
Moshe Schwartz, President of Etherton and Associates
Stephanie Halcrow, former House Armed Services Committee staffer and currently a Senior Fellow with the Center for Government Contracting within the School of Business at George Mason University
Other Transaction authority, or OTs, have been a hot topic in acquisition in recent years, with multiple reports and articles debating the pros and cons of the authorities, how they can be used, and the growth in obligation dollars being applied to such transactions. Unfortunately, there has been little discussion of the consortia that are often the catalyst for DoD's use of OTs—until now.
Last month, George Mason University Center for Government Contracting released our report, The Power of Many: Leveraging Consortia to Promote Innovation, Expand the Defense Industrial Base, and Accelerate Acquisition. The report traces the origins of consortia, describes the consortia model, analyzes the value proposition of the consortia model to the government and to industry, and offers several recommendations for a way forward to further enable DoD to leverage the power of consortia. Most importantly, based on our research, the interviews we held, and the data we analyzed from 12 consortia doing business with the government, we found that when done right, consortia expand the industrial base, promote collaboration, and often more efficiently deliver the innovative technologies our armed forces require to maintain their edge. In cases where there is an immediate, unanticipated critical need, consortia can provide critical surge capacity in support of government acquisition, offering a ready, pre-established network of potential suppliers who have expertise in specific areas, and helping government program offices that do not have the requisite skill and experience in executing OTs. We believe General Perna, Chief Operating Officer of Operation Warp Speed, said it best when he told us "Warp Speed would not have gone at Warp Speed if it was not for the Consortium."
The foundation of the consortia model is built on collaboration between government and industry. The government benefits by gaining feedback and awareness of industry and academia's capabilities and this in turn shapes the requirements. Industry benefits by being able to better understand the requirements and tailor their proposals. Consortia members also benefit from the collaboration with other industry and academic entities which provides partnering and supplier relationship opportunities.
Most consortia use Other Transaction authority as a contract vehicle and this authority relies on participation of nontraditional defense contractors. Skeptics are often suspicious of the actual participation of nontraditional contractors. Of the 12 consortia we examined, 78% of the consortia members are nontraditional defense contractors and 67% of the awards are made to nontraditional defense contractors as lead.
But. The consortia model is not a silver bullet for all acquisition; it is one tool among many that when used properly, can provide real benefits to the government. And consortia are not self-governing. It is incumbent upon the government acquisition workforce to know when and how to use, and how to best manage, consortia. As reliance on consortia grows, and more money is obligated on OT agreements, DoD needs to tap into and use the wealth of data that is available at the consortia level to gain insight into and more effectively manage consortia. DoD has not yet taken the necessary steps to fully benefit from this data.
Concomitant with the increasing use of OTs and consortia, oversight organizations are calling for more rules and regulations, mirroring a longstanding belief that rules and regulations are the answer to improving acquisition. Policy makers will be tempted to impose an ever more robust statutory, regulatory, and policy regime to guard against workforce errors, waste, or even fraud. In so doing, there is a real risk of undermining the flexibilities that provide the value proposition of the consortia model and OTs. It is important to find the right balance between effective management controls and providing flexibility and freedom to operate. The recipe for effective management and acquisition outcomes is not ever-more regulation, it is capable people given the authority to make good decisions.  
Based on our experience writing this report, we would like to issue three challenges:
DoD – Gather the right data (but not too much data) to inform policy, incorporate training on consortia at Defense Acquisition University, and manage consortia;

Congress – Ensure that DoD uses OTs effectively, but don't add too many regulations that will result in undermining the value of consortia; and

Consortia – Help foster increased collaboration among members to promote harnessing the expertise and technologies of multiple bidders, who can pool resources and expertise to develop the next generation of capabilities.
GSA Releases RFI for Ascend Cloud BPA
The General Services Administration (GSA) released a request for information (RFI) on the upcoming Ascend Blanket Purchase Agreement (BPA) which is being developed by GSA to provide secure, integrated commercial cloud solutions to serve all federal agencies. The RFI asks for feedback on the draft performance work statement which covers the scope of vendor responsibilities and associated requirements for the platform. Feedback can be submitted here and all responses are due by 5:00 pm EST on August 8.  All correspondence can be directed to cloudenterprisewide@gsa.gov.
Take the GMU Survey on DoD Alternatives to Certified Cost or Pricing Data
The Coalition for Government Procurement is providing its members with a chance to submit their input via a survey on alternatives to certified cost and pricing data by the Department of Defense (DoD). The survey is anonymous (your name and company are not required). We appreciate our members for having an individual  who is knowledgeable about this topic complete the survey. The feedback may help inform decisions and shape potential alternatives for this important set of requirements.
George Mason University (GMU) Center for Government Contracting Survey
The purpose of this survey is to explore alternatives to cost or pricing data as requested by Senate Report 116-48, accompanying S. 1790, the National Defense Authorization Act for Fiscal Year 2020. DoD was asked to use university researchers in conjunction with the Defense Acquisition University and other DoD organizations to research, develop, prototype, and test alternative practices to certified cost or pricing data before such practices can be employed across the Department.
The Center for Government Contracting at George Mason University was selected to perform a portion of this study. Our team has developed a survey to collect industry feedback. The survey length is approximately 15 minutes. You will not need to submit your company's name. Additional confidentiality and consent information is provided in the survey link below.
Take the survey here: Survey Link
A high response rate to this survey may help shape potential alternatives to certified cost or pricing data under the Truth in Negotiations Act. Please make sure that this survey is filled out by an individual in your company who is knowledgeable about the subject. Thank you. 
Senate Confirms VA Undersecretary for Health Dr. Elnahal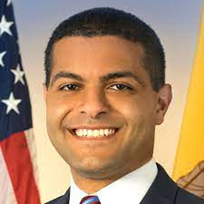 Federal Times reported that the Senate confirmed Dr. Shereef Elnahal as the Department of Veterans Affairs (VA) Undersecretary for Health on July 21. This position has not been filled in a confirmed capacity since 2017 when Dr. David Shulkin left to serve as VA Secretary. From 2016 to 2018, Dr. Elnahal served as the VA's Assistant Deputy Undersecretary for Health for Quality, Safety, and Value. In this role, he was responsible for co-founding the Veteran Health Administration (VHA) Innovation Ecosystem, which focuses on sharing best practices to improve care for veterans. Most recently, he served as the Chief Executive Officer of University Hospital in Newark, New Jersey. During his confirmation hearing, Dr. Elnahal said that his top priorities include "improving recruiting and retention for clinical care positions" at VHA. He will also support the VA's Electronic Health Record modernization efforts and the department's review of medical facility infrastructure. With Dr. Elnahal's confirmation, the VA has filled four of five major leadership roles confirmed by Senate. The remaining position is the VA Undersecretary for Benefits.
Legislation Introduced to Improve Resiliency of Federal Data Centers
FCW reports on the introduction of the Federal Data Center Enhancement Act of 2022, a bipartisan bill that would establish cybersecurity requirements and safeguards against natural disasters for Federal data centers. The legislation would mandate that the Office of Management and Budget (OMB) establish requirements to protect Federal data centers from cybersecurity threats and other types of threats like natural disasters and power outages. The bill would also mandate that OMB work in tandem to protect Federal data centers with the Cybersecurity and Infrastructure Security Agency (CISA) and the National Cyber Director's Office with input from the General Services Administration and the Federal Chief Information Officers Council. In addition, the bill tasks agency leaders with regularly affirming the need to continue to operate certain data centers while ensuring that the systems are up to date and following modern security requirements. According to bill sponsor Senator John Cornyn (R-TX), "The sensitive information stored on federal systems cannot be left open to vulnerabilities like cyberattacks or natural disasters."  In a statement, Senator Cornyn went on to say that "This legislation would help secure federal data and encourage optimization, which will save taxpayer dollars and protect Americans who entrust their information to the federal government."
Senate Passes Bill Addressing Conflicts of Interest Determinations for Federal Contractors
The Senate passed the Preventing Organizational Conflicts of Interest in Federal Acquisition Act, a bill designed to eliminate conflicts of interest in Federal contracts by updating disclosure requirements and the conflict of interest determination process, reports FCW. The bill requires Federal contractors to disclose any business relationships in opposition to the contracting agencies' work. Included in the bill are proposed revisions to the Federal Acquisition Regulation to include new clauses and provisions. It also grants authority to contracting officers to "take into consideration professional standards and procedures to prevent organizational conflicts of interest to which an offeror or contractor is subject."
GAO Examines the Effect of Continuing Resolutions on Agency Programs
The Government Accountability Office (GAO) issued a report on how continuing resolutions (CRs) affect Federal agencies and programs. Since fiscal year 2010, Congress has enacted 47 CRs. GAO selected to review programs from the Department of Agriculture (USDA), the Department of Education, and the Department of Health and Human Services (HHS). These agencies were chosen based on the programs and services they provide to low-income individuals. These agencies reported that they experienced "administrative inefficiencies and limited management options in areas like hiring" while funded by CRs. USDA officials noted that hiring activities were delayed during these periods. The agencies also reported that CRs have resulted in administrative burdens as well as funding uncertainty about when they will receive final appropriations and what level of funding they will ultimately be given. Specifically, the Department of Education reported that financial uncertainty affected planning for the department's Predominately Black Institutions grant initiatives.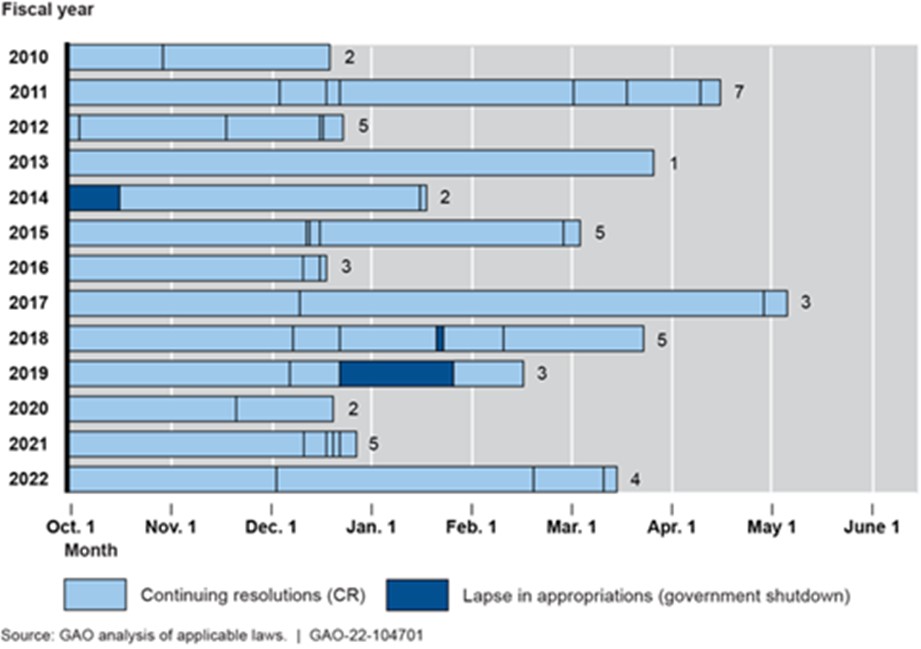 GAO found that the agencies implemented mitigation strategies during CRs to allow for operation of certain programs to continue. For HHS' Low Income Home Energy Assistance Program (LIHEAP), the agency found that they can request exception apportionments that give program recipients 90 percent of last year's funding at the beginning of the next fiscal year. This differs from the standard apportionment provided during a CR. Some LIHEAP grantees also have access to additional funding from state utility funds or the state budget that can assist with disruptions that occurred in the beginning of the fiscal year.
Off the Shelf: Bill Gormley Discusses the State of Governmentwide Contracting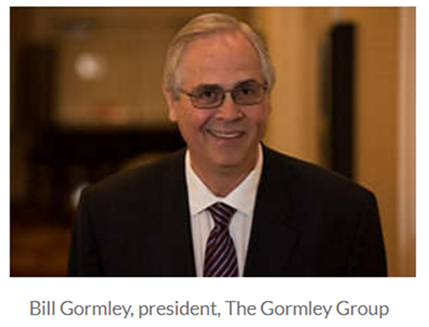 Bill Gormley, President of the Gormley Group, joins host Roger Waldron on this week's Off the Shelf to discuss the state of governmentwide contracting with an emphasis on GSA's Multiple Award Schedule program. Bill and Roger also discussed inflation, GSA's response, and the agency's streamlined Economic Price Adjustment policy. Lastly, Gormley discussed the shrinking industrial base and the growing challenges in doing business with the Federal Government.
 Listen to the full episode here.
The Legal Corner provides the legal community with an opportunity to share insights and comments on legal issues of the day. This guest column was provided by Paul Freemand and Issac D. Schabes of Crowell & Moring
GSA Exploring New Regulations to Reduce Single-Use Plastic in Federal Procurement
On July 7, 2022, the General Services Administration ("GSA") published an Advance Notice of Proposed Rulemaking ("ANPR") seeking public comment on revising GSA policies and procedures to reduce single-use plastics in purchased products and their packing and shipping materials. GSA is acting in furtherance of the directives set forth in Executive Order 14057, Catalyzing Clean Energy Industries and Jobs Through Federal Sustainability (discussed here), which, among other things, directed GSA to use federal procurement policy as a way to support a recycled content market. Thus, for purchases under the Federal Supply Schedule program, as well as GSA's construction, concession, and facility maintenance contracts, GSA seeks to reduce reliance on single-use plastics and move toward what the Administration considers to be "environmentally preferable" materials.
GSA seeks public input on the potential regulations and requests feedback on a range of questions, including:
What are the differences (performance and cost) between a paper based, aluminum based, or compostable packaging




and a single-use plastic-based packaging?

Does your company have experience using environmentally preferable packaging?

What is the best way for GSA to aid its contractors in moving to environmentally preferable packing and packaging and




how quickly should it move?

Are there any market, regulatory, statutory or cost barriers to selecting environmentally preferable packaging such as




paper based or biodegradable packaging?

Which, if any, single use plastic items should GSA choose not to contract for through its federal supply schedules? Are




there exceptions GSA should make to ensure no harm to customer agency missions?

How could compliance with reduced or eliminated plastic content be verified?
This follows similar action by the Department of Interior, which announced on June 8, 2022 that, pursuant to Secretary Order No. 3407, the agency intends to issue guidance to "identify single-use plastic product reduction opportunities" and "develop sustainable procurement plans to support . . . phasing out single-use plastic products by the end of 2032."
This ANPR is firmly in line with other GSA actions to leverage federal procurement power and require federal contractors to provide more environmentally friendly materials, including concrete and asphalt (discussed here and here). These actions are particularly important because the FAR Council is still investigating ways to implement the White House's larger objectives of requiring all major agency procurements to minimize the risk of climate change and requiring all major federal contractors to publicly disclose GHG emissions and climate-related financial risk (discussed here and here). Furthermore, those larger objectives undoubtedly became much more complicated with the Supreme Court's recent landmark decision in West Virginia v.
EPA, in which the Court constrained the ability of federal agencies to affect significant economic changes by way of environmental regulations in the absence of specific congressional direction.
For more information, please contact the professional(s) listed below, or your regular Crowell & Moring contact.
View from Main Street: Can small businesses supply products made in China on set-aside contracts?
Yes, due to a loophole in the FAR a small business can supply products made in China under a set-aside contract. Here's why:
Waivers of the Non-Manufacturer Rule
When a contract is set aside for small businesses (above the SAT) or other socioeconomic categories (8(a), HUBZone, SDVO, EDWOSB/WOSB), there is an expectation that the small business will perform a certain portion of the work with its own employees, otherwise known as the limitations on subcontracting (LOS). For a set-aside contract for supplies, the contractor (other than a non-manufacturer) agrees that it will not pay more than 50 percent of the amount paid by the Government for contract performance, excluding the cost of materials, to subcontractors that are not similarly situated entities.[1] The non-manufacturer rule (NMR) is an addendum to the LOS and allows non-manufacturers to bid on supply set-aside contracts. A non-manufacturer may bid on a supply set-aside contract, but it must not exceed 500 employees (or 150 employees under the information technology value-added reseller exception), must supply a product made by a small business in the United States, must be primarily engaged in the retail or wholesale trade and normally sell the type of item being supplied, and must and take ownership or possession of the item(s) with its personnel, equipment, or facilities in a manner consistent with industry practice.[2]
SBA can issue a waiver of the requirement to supply the product of a small business on a set-aside contract if no small business manufacturers exist. Generally, the manufacturer for NMR purposes is the concern which, with its own facilities, performs the primary activities in transforming substances, or assembling parts and components, into the end item.[3] If SBA has issued a waiver of the NMR because no small business manufacturers exist, the Small Business Act is silent with respect to the place of manufacture of the supply. However, SBA's waiver of the NMR does not impact other statutory requirements that might apply to the contract, such as the Buy American Act (BAA) or Trade Agreements Act (TAA).[4]
The Buy American Act
The BAA restricts the federal government's ability to purchase supplies for use in the United States that are not domestic end products.[5] In general, the cost of domestic components in a manufactured domestic end product must exceed 55 percent.[6] The BAA for supplies is implemented by applying a premium on foreign end products for price evaluation purposes if the lowest offer is not a domestic offer (20 percent  if the lowest domestic offer is from a large businesses and 30 percent if the lowest domestic offer is from a s small business).[7] There are exceptions to the BAA based on public interest, nonavailability, unreasonable cost, resale in a commissary and information technology that is a commercial product.[8] There are separate but similar BAA rules for construction materials.[9] The BAA applies to acquisitions above the micro-purchase threshold.[10]
Trade Agreements Act
The TAA provides the President with the authority to waiver the BAA for products from countries with a trade agreement with the United States.[11] If the TAA applies, the government must buy supplies from either domestic sources or supplies produced in trade partner countries.[12] The TAA provides that the President is not authorized to waive any small business or minority preference in government procurement.[13] The FAR provides the TAA does not apply if the acquisition is set aside for small business.[14] The TAA applies to supply contracts depending on the value, ranging from $25,000 to $183,000.[15]
Practical Impact
If a contracting officer is acquiring supplies under a set-aside contract and SBA has waived the NMR, a small business offeror supplying a domestic end product could lose to a small business offeror supplying products made in China or non-trade partner countries, because the BAA price premium applies but the TAA does not.[16] If the same contracting officer issued the solicitation on a full and open basis, all offerors would have to supply eligible products from domestic sources or trade partner countries. Clearly the TAA should not apply if SBA has not waived the NMR because in that case an offeror on a set-aside contract must supply the product of a small business made in the United States. However, if SBA has issued a waiver of the NMR because no small business manufacturers exist, then the TAA should apply, just like it would if the acquisition were full and open. Applying the TAA to set-asides where SBA has waived the NMR does not waive any small business or minority preference and strengthens the country's supply chain because of the preference for domestic or trade partner countries. Thus, FAR 25.401(a)(1) needs to be amended to provide FAR Subpart 25.4 does not apply to acquisitions set aside for small business or socioeconomic categories unless SBA has issued a waiver of the NMR.
[1] 13 CFR 125.6; FAR 52.219-14.
[2] 13 CFR 121.406; FAR 52.219-33.
[3] 13 CFR 121.406(b)(2).
[4] 13 CFR 121.406(b)(7).
[5] FAR 25.001(a).
[6] FAR 25.003. Gradually rising to 75 percent in 2029 based on 87 FR 12780 effective October 25, 2022.
[7] FAR 25.105(b). Effective October 25, 2022, there will be higher premiums for critical products and components. 87 FR 12780.
[8] FAR 25.103.
[9] FAR Subpart 25.2.
[10] FAR 25.100(b).
[11] FAR 25.402.
[12] FAR 52.225-5.
[13] 19 USC 2511(f).
[14] FAR 25.401(a)(1).
[15] FAR 25.402.
[16] There are limitations on acquisitions involving Cuba, Iran, Sudan, North Korea, and Burma FAR 52.225-13.
VA "Supply Chain Modernization Solution" Matchmaking in August
The Coalition for Government Procurement has been notified by acquisition leadership at the U.S. Department of Veterans Affairs (VA) that the VA is hosting virtual matchmaking engagements during August so that small and large business contractors can identify potential partners for an upcoming Supply Chain Modernization and Management solution. (See RFI with draft SOO here: https://sam.gov/opp/4cf45dc59f994da091734fe2ded137fb/view).
The following are brief descriptions of the two types of virtual matchmaking events scheduled during the month of August. The first provides potential prime contractors the opportunity to network with small businesses. The second "B2B" virtual networking sessions are designed to help small businesses connect with each other for potential teaming opportunities.
VA Supply Chain Modernization Virtual Engagements for Large Businesses
The VA is hosting a series of virtual business engagements events in August 2022. The virtual events are designed to provide Large Companies and entities that may submit an offer as a prime the opportunity to network with small businesses. The focus of the interactions is in regard to Supply Chain Modernization RFI 36C10B22Q0379 previously issued. For more information, visit https://www.vetbiz.va.gov/events/event-detail/?id=9d7e8290-33fe-ec11-bb3b-001dd803d1a7.
VA Supply Chain Modernization Virtual "B2B" Networking for Small Businesses
The VA OSDBU has activated a networking tool to help small businesses connect with each other for potential teaming opportunities under the upcoming VA Supply Chain Modernization contract. If you are a small business interested in connecting with another small company, the "Business-to-Business Lets Connect!" feature may be useful. By combining your expertise and skills, you may further increase your attractiveness to firms that have conveyed interest in being a prime vendor for VA Supply Chain Modernization effort. For more information, visit https://www.vetbiz.va.gov/events/event-detail/?id=41734ec3-b406-ed11-bb3a-001dd80353f8.
GSA Publishes GSAR ANPR on Reducing Single-Use Plastics and Packaging
On July 7, GSA issued an advance notice of proposed rulemaking (ANPR) seeking public feedback on the agency's use of single-use plastics, including those used in packaging and shipping of products under GSA contracts as well as items included on the contracts. GSA will use the feedback to establish requirements and reporting mechanisms that will reduce the use of unnecessary single-use plastics. Single-use plastics are defined as plastic materials that are used and immediately disposed of once the product is delivered. The ANPR includes a total of 15 questions in which the agency is seeking feedback, with six related to the economic impact of single-use plastics. Executive Order 14057, Catalyzing Clean Energy Industries and Jobs Through Federal Sustainability, which was issued in December, instructed each agency to "reduce waste to include supporting a recycled content market and circular economy approaches." In addition to the Federal Supply Schedule, GSA is looking to address single-use plastics in its construction, concession, and facility maintenance contracts. According to the notice, GSA "looks for the most advantageous solutions, remaining ahead of problems before they culminate, and making the best decisions on behalf of the American taxpayer." The agency is looking to address sustainability in contracts in order to achieve this.
The Coalition is considering submitting comments in response to the ANPR, which are due to GSA on September 6, 2022. We are interested in hearing members' input on single-use plastics and packaging in products offered under the Schedules and other GSA contracts. Please contact Aubrey Woolley at awoolley@thecgp.org with any feedback or questions that you may have on this topic.
DHA Meeting on ATO Process, August 10 
The AMSUS-SM Technology WG and The Coalition for Government Procurement will be hosting another meeting on the Authority to Operate (ATO) process with DHA Chief Information Officer, Mr. Pat Flanders, and his team on Wedn., Aug 10 from 12:30 pm – 2 pm EST. The purpose is to discuss how the ATO process can be improved for both Government and industry. This is the second meeting in a series with the DHA CIO. It will be virtual.
Thank you to everyone who submitted questions for DHA CIO, Pat Flanders, and his team to cover during the meeting. The questions are posted here.
Slides from the last meeting with the DHA CIO on the ATO process are posted here.
Register to attend the virtual meeting here.
GWAC/MAC Commitee Meeting, August 23
The GWAC/MAC Committee will be hosting Darlene Coen, NASA SEWP Deputy Program Director and Director of Strategy and Acquisition of NASA on August 23 at 10 am EST. The topic of discussion will be the plans for NASA SEWP VI. Members may attend the meeting in person or virtually.
A day or two prior, all registered members will receive a confirmation with the meeting location and dial-in information (for those attending virtually).
If you have any questions, please contact Joseph Snyderwine at JSnyderwine@thecgp.org.
To register click here.
Small Business Commitee Meeting, August 24
The Small Business Committee will host a meeting focused on the Mentor Protégé Program and surrounding regulations on Wednesday, August 24 at 10 am EST. Our guest speakers from the Small Business Administration (SBA) will be John Klein, Associate General Counsel for Procurement Law, Office of General Counsel and Stanley Jones Jr., Director, Management and Technical Assistance Division, Office of Business Development. GSA's Greg Rollins, Deputy Assistant Commisioner, Office of Policy and Compliance. This member-only meeting will be at Holland & Knight at 800 17th St., NW, Washington, DC.  
There will also be a virtual option for members to attend.
To register, click here.
For assistance, please contact Joseph Snyderwine at jsnyderwine@thecgp.org.