Ten Tantalizing Topics Testing Procurement in the New Fiscal Year
This week marked the Autumnal Equinox, and change is in the air. The leaves are beginning to fall to the ground; the morning air is turning crisp; the days are getting shorter, all signaling that we are approaching the end of the government fiscal year. The beginning of a new fiscal year provides an opportunity for reflection, during which, we can look ahead at the issues and questions that likely will shape procurement over the coming year. With that in mind, here are 10 topics that surely will be of interest across the procurement stakeholder community:
Schedules Consolidation and commercial item contracting: to be or not to be? GSA has made significant progress in updating the framework for schedule contracting to promote commercial item acquisition. Schedules consolidation will enhance competition, increase access to commercial solutions, and reduce administrative costs over the long run. At the same time, increasingly, GSA's industry partners are perplexed by the treatment of services. GSA is limiting services under the MAS program to those priced on an hourly rate basis. This approach limits customer agency access to innovative, best value commercial solutions. Moreover, the use of cost-build negotiations for services serves as a non-commercial "double whammy," further undermining customer agency access to best value commercial solutions. The combination of limiting services to hourly rates, combined with cost-build negotiations, is low price technically acceptable by other means. (Here we go again.)
E-commerce and Section 889: a bridge too far? As GSA begins implementation of the e-commerce pilots, a foundational policy issue to be addressed will be implementation of Section 889.  Section 889 applies to the platform providers as well as the suppliers selling through the platforms.  Will suppliers certify to Section 889 for each transaction? Will the platform providers also have to certify for each transaction given that the products themselves are a substantial and essential component to such platforms? In addition, customer agencies and suppliers will be keenly interested in GSA's efforts to ensure the platform providers comply with the President's Executive Order on counterfeits, along with the Department of Homeland Security's Combating Trafficking in Counterfeit and Pirated Goods.
The NIH CIO-SP4: if you build it, will they come? The current acquisition strategy for NIH's CIO-SP4 seeks to establish a single contract vehicle, specifically, a multiple award IDIQ that will include small, medium and large businesses. This approach is a fundamental change from the current CIO-SP3 program, which consists of two contract vehicles, one set-aside for small businesses, and the other open to other than small businesses. A combined contract vehicle that includes both small and other than small businesses will raise contracting challenges that likely will increase operational complexity and administrative costs, ultimately undermining small business opportunities and utility for the customer.
MSPV, DMLSS, and a dashboard: enhancing transparency? The Department of Veterans Affairs (VA) is in the midst of supply chain modernization as it seeks to implement MSPV 2.0 while, over the long term, it transitions to DLA's DMLSS logistics platform. The VA's industry partners have appreciated the transparency and engagement around these efforts. In support of these efforts, however, a VA dashboard to track progress would serve as a key management tool with the added bonus of providing additional transparency on the details of the transition so all stakeholders can track progress and respond to the VA's efforts. This transparency is especially critical for the VA's industry partners as they seek to optimize business operations to evolving logistics and procurement systems.
Domestic sourcing: what are the lessons learned from COVID-19? COVID-19 clearly has sharpened the focus on domestic sourcing for critical items. The challenge is complex and will require a holistic approach. Gone are the days when government demand alone would drive market behaviors and the development of key capabilities. Today, the commercial market is driving innovation.  As we look to address the issue of domestic production capability for critical items, stakeholders will be looking to a myriad of tools to address shortcomings. Procurement and government demand will be one aspect. Addressing structural issues and incentives on the supply side, however, likely will be a key focus over the long term.
Other Transactions Authority (OTA): becoming a critical component of modernization? The flexibility and streamlined process associated with OTAs is driving innovation. Industry reports the increasing use of OTAs for programs of record. Our near-peer adversaries' developmental cycle time increasingly is working to their advantage. OTAs will continue to be a vital modernization tool in the toolbox for the Department of Defense.
What is the value/impact of the best-in-class process? The best-in-class designation process continues, rooted in compliance with procedural metrics rather than substantive performance outcomes. This approach risks undermining competition and hinders access to the commercial market. Outcomes matter for customer agencies and industry partners. Thus, our focus should be on the improvement of outcomes.
GSA's small business GWAC program: what are the next steps? As GSA continues planning and outreach around the acquisition strategy for its small business GWAC program, it is imperative that the agency look to streamlining the acquisition process. Streamlining the process will save GSA, customer agencies, and small businesses time and money. The small business GWAC program provides a wonderful opportunity to utilize the Section 876, Increasing Competition at the Task Order, authority to eliminate the evaluation of price at the contract award level. This approach will save time and money for all interested parties, while rightly focusing on competition at the task order level, to drive value for customer agencies.
Section 876: implementation that increases competition? Speaking of Section 876, it is striking how long it has taken to implement this provision, especially considering that implementation would be a great multiplier to contracting. It would bring competition, innovation, and small business capability from the commercial market to customer agencies. Some would like to see the language applied in a restrictive manner, specifically, to arrangements expressed on a per-hour basis. Such a reading would be in error. Section 876 was written with the goal of "Increasing Competition at the Task Order Level." It is clear, from the section language and the limited legislative history, that the section was not intended to be read in a restrictive manner, g., requiring pricing only on a "per hour" basis. In fact, doing so would wind up reducing the number of market participants under this authority to those who, in their commercial practice, fashion the pricing in a particular, limited way. Time will tell whether the government will follow the law and permit the use of commercial pricing solutions as authorized by Section 876.
The post-pandemic world: what awaits us? Oftentimes, after a tragedy or cataclysmic event, people conclude, "The world will never be the same." In the context of the pandemic, that sentiment is not mere hyperbole. As we have been distant from one-another, we have faced challenges: how to adjust our processes to meet the needs of our customers; how to mentor those in the line of succession; how to stay connected and collaborative? At the same time, we have experienced the power of the collaborative tools at our disposal and the unleashing of creativity necessitated by this challenge. This pandemic will end, and when it does, how we return to work likely will not be as it was before.
Set forth above are some thoughts to consider as the temperature drops, and you sit by the fire in the evening. We will be considering some of them and others in November, at our virtual fall conference, and we look forward to seeing you there. In the meantime, stay safe; stay healthy; and rest assured that the Coalition team remains vigilant on your behalf.
Fall Training Conference Sneak Peek
The Coalition's virtual Fall Training Conference will be held on November 17 -18, where we will combine the traditional conference with our normally separated Healthcare Procurement Training Conference, to form a two day event that requires only one registration.  We plan to release our draft agenda next week, but wanted to provide you a sneak peek today!
We are happy to confirm that Tom Davis, current Partner at Holland & Knight and former 14 year Member of Congress (VA), will be our Keynote Speaker both days!  Mr. Davis will be providing a lively discussion on "What happened this election and what does it mean?"  For any of you fortunate enough to hear his analysis after the 2016 and 2018 elections, you know you're in for a treat!
One of the highlights of nearly every Spring Training Conference is the legal panel that presents "The Rogers" – a parody of the Oscars.  2019's awardees included the Section 809 Report (Best Opportunity for Additional Storylines); FY18 NDAA Section 846 (Best Picture – Drama); Consolidation of the GSA Schedules (Best Consolidation of a Very Long Multi-Faceted Program); OTAs (Best Unique and Artistic Production); and JEDI (Best Sequel in an Ongoing Saga), among others.  With this year's Spring Conference being cancelled, we are pleased to announce this exciting panel will be reprised this November!  Your hosts for this year's Rogers will be Jonathan Aronie, Partner, Sheppard Mullin; Lorraine Campos, Partner, Crowell & Moring; David Dowd, Partner, Mayer Brown; and Jason Workmaster, Member, Miller & Chevalier.
More information to come next week, including the full draft agenda, registration information, and sponsorship opportunities!
2020 EIP Award Nominations Now Open
The Coalition is pleased to announce that nominations are now open for the 2020 Excellence in Partnership (EIP) Awards. The EIP Awards honor individuals and organizations in the acquisition community who have made significant contributions to the procurement system by delivering best value and meeting agency missions. Historically, these awards have recognized individuals, organizations, and contractors involved in procurement with GSA, VA, DOD, DHS, and other government agencies.  
Lifetime Acquisition Excellence Award  
Presented to an individual in the contracting community (government or industry) for demonstrating a life-long commitment to advancing "common sense in government procurement."  
Acquisition Excellence Award  
Presented to an organization or individual (government or contractor) for outstanding performance in meeting the mission-critical needs of a Federal agency through a government contract.   
Excellence in Innovation Award  
Presented to an organization or individual (government or contractor) for creating innovative solutions and/or an innovative process for a Federal agency that improves and facilitates mission performance.   
Advocating for Veterans Award  
Presented to an organization or individual (government or contractor) for promoting and executing a successful program that supports veterans.  
Click here to submit your nomination for a 2020 EIP Award. If you have any questions, please contact Michael Hanafin at mhanafin@thecgp.org. 
House Passes CR to Fund Government Through Dec. 11 
On Tuesday, the House of Representatives passed a continuing resolution (CR), which if passed by the Senate, would keep the government funded until December 11, 2020. Significantly, the CR also extends Section 3610 of the CARES Act until December 11. As a reminder, Section 3610 authorizes federal agencies to reimburse contractors for paid leave related to the COVID-19 pandemic. 
GSA Requests Input on Future Small Business GWAC
The General Services Administration (GSA) posted a request for small business feedback on GSA Interact. The request for industry feedback pertains specifically to GSA's goal of providing additional emphasis on HUBZone and woman-owned small business (WOSB) firms, as they prepare to launch the next generation of small business governmentwide acquisition contract (GWAC). GSA wants to hear feedback on two strategies being considered: 
The first strategy is a similar structure to Alliant Small Business with the award of a total small business set-aside that enables all socio-economic categories represented on the GWAC to reside on a single platform. This would enable all small businesses on the GWAC to compete for task order opportunities. Additionally, customer agencies would have the ability to set aside task orders for any of the socio-economic categories, e.g., HUBZone, WOSB, etc., at their discretion. 
The second strategy is slightly different and would involve the award of three separate areas/platforms. One being a total small business set-aside, a second being a WOSB set-aside, and another would be set-aside for HUBZone small businesses. Customers would then be able to choose the platform that best meets their task order objectives. 
Email your feedback on the proposed strategies to SBGWAC@gsa.gov. 
Court Dismisses MSPV Protest 
Last week, the Court of Federal Claims (COFC) dismissed the protest in Electra-Med Corporation, et al,. v. the U.S. According to the decision, the Department of Veterans Affairs (VA) intends to award new Medical/Surgical Prime Vendors as soon as protests are resolved in October 2020. The COFC decided to dismiss the case because the previous MSPV contracts have expired and the current bridge contracts are separate vehicles beyond the scope of the bid protest. 
By way of background, the plaintiffs filed their protest in June 2018 in response to the VA MSPV program's decision to modify its four prime vendor contracts. Specifically, the protest challenged the VA's decision on the following five bases: 
Lack of competition 

Failure to consider the VA's preference for service-disabled veteran-owned small business (SDVOSB) 

Improper bundling of distribution and supply requirements 

Conflict of interest with the prime vendors 

Outsourcing of inherently governmental functions. 
In response to the protest, the VA provided that its decision was motivated by a need to avoid further delay in populating its MSPV Formulary, which it believes would have resulted in significant harm to the quality of healthcare available to veterans. 
Although the COFC did agree with the plaintiffs on the merits of their protest, the Court did not grant an injunction, as it determined that the harm to the VA of granting an injunction, outweighed the harm to the plaintiffs of not granting the injunction. The COFC also made the following determinations: 
The VA's Justification and Approval (J&A) violated the Competition in Contracting Act (CICA) 

The VA did not consider preferences for SDVOSBs as required by law 
Despite these findings, the COFC denied the protest, reasoning that public interest favors avoiding harm to the VA. 
CBO on 
the 
Economic Impact of C
OVID-19 Relief 
Efforts
The Congressional Budget Office (CBO) published a report analyzing the impact of COVID-19 pandemic relief legislation and its impact on the economy. According to the report, "by providing financial support to households, businesses, and state and local governments, the legislation will offset part of the deterioration in economic conditions brought about by the pandemic."  In addition, the CBO reports that the legislation has increased U.S. Gross Domestic Product (GDP) by 4.7 percent in 2020 and added more than $2 trillion to the deficit. The report focuses on the impact of provisions like the Paycheck Protection Program (PPP) and enhanced unemployment compensation. 
GSA Publishes Section 889 
FAQs and More
GSA has updated its resource page on Section 889 of the FY2019 National Defense Authorization Act (NDAA) to include five new documents. These resources are educational and informal for industry partners. 
For a full list of Section 889 resources from the Federal government and experts in industry, visit the Coalition's Section 889 Resources page here.  
Global Supply Implementation of NDAA Section 889 Part B
On September 24, General Services Administration (GSA) announced that the implementation of  the interim Federal Acquisition Regulation (FAR) rule on Section 889(a)(1)(B) (Section 889 Part B) of the National Defense Authorization Act (NDAA) Fiscal Year 2019 for all contracts supporting the GSA Global Supply program. GSA Global Supply customers are not responsible for validating GSA Global Supply compliance with 889 Part B. According to GSA Acquisition Letter MV-20-10, all GSA Global Supply contracts are currently compliant under existing terms and conditions and policy implementation instructions. Contracting officers will follow the guidance to make sure all contracts are current with the FAR representation provision 52.204-24 (to be replaced by FAR 52.204-26 System for Award Management (SAM) representation provision effective October 26, 2020) and the FAR reporting clause 52.204-25 requirements before exercising Global Supply contract option or awarding a new contract vehicle. For updates and addition resources GSA's Section 889 Part B implementation, go to GSA's acquisition.gov page. 
Legal Corner: The FAR Council Issues Proposed Rule to Implement Executive Order on Significant Buy American Changes
Authors: Franklin Turner & Cara Wulf, McCarter & English
The Legal Corner provides the legal community with an opportunity to share insights and comments on legal issues of the day. The comments herein do not necessarily reflect the views of The Coalition for Government Procurement. 
Halloween is coming up and, right on cue, the FAR Council has released a proposed rule that has potentially frightening implications for contractors. Last year, on July 15, 2019, the president signed Executive Order 13881 (the E.O.), Maximizing Use of American-Made Goods, Products, and Materials (84 FR 34257, July 18, 2019). As we noted in our previous post on this topic, the E.O. mandated significant changes to Federal Acquisition Regulation (FAR) clauses implementing the Buy American statute by substantially increasing both domestic content requirements and price preferences for domestic products. As we also pointed out, the E.O. contained several ambiguities as to how the desired changes would be implemented. At long last, we have (proposed) answers. On September 14, 2020, the FAR Council issued a proposed rule designed to implement the requirements of the E.O. (85 FR 56558, Sept. 14, 2020). While this proposed rule incorporates the overarching objectives of the E.O., it also adds a fairly unsettling spin in that it expands on the E.O.'s mandate by reintroducing the domestic content test for commercially available off-the-shelf (COTS) items as it pertains to iron and steel products.
As an initial matter, the proposed rule would amend the FAR's existing domestic component cost threshold to effect a massive increase – from 50% to 95% – for end products or construction materials that consist wholly or predominantly of iron or steel or a combination of both. The new threshold for "domestic construction material" or a "domestic end product" that does not consist wholly or predominantly of iron or steel or a combination of both would rise from 50% to 55%.
In addition, the proposed rule would expand domestic pricing preferences for acquisitions of foreign end products or construction material. If the potential awardee is a large business offering domestic end products, the price of an offer consisting of non-domestic end products would be increased by 20% (up from the 6% factor currently in the FAR) for evaluation purposes. Small businesses offering domestic end products receive even greater preferential treatment, such that offers including foreign end products would be comparatively increased by 30% (up from 12%). This brings the price preference provision closer to the current Defense Federal Acquisition Regulation Supplement requirements, which apply a 50% increase to the price of foreign end products.
But that's not all. In a harrowing expansion of the E.O., the proposed rule would reconstitute a seismic compliance burden on contractors by restoring the domestic content test for all iron and steel COTS items with the exception of fasteners. Since 2009, the domestic content test of the Buy American statute has been waived for COTS items. The proposed rule notes that the waiver was "in part due to the complexity and cost of keeping track of components in a world of global sourcing where the Government is not a market driver." Although the "complexity and cost" of such an effort have not changed, the proposed rule nonetheless eliminates the waiver for most iron and steel COTS items, opining that "the domestic content test for the iron and steel items does not require tracking of all components, only a good faith assurance that not more than 5 percent of the iron and steel content is foreign." The proposed rule also notes that the "bulk of iron and steel products acquired by the Government are primarily COTS items, used as construction material" and that preserving the waiver of the domestic content test for these items would mean that "the E.O. 13881 requirement with regard to iron and steel construction material would have very little effect." We appreciate the conundrum faced by the FAR Council in attempting to reconcile the intent of the E.O. with the reality of the Government supply chain, but the proposed solution offers cold comfort to contractors who will be facing future Government demands regarding compliance with the ominously vague "good-faith assurance" standard introduced by the proposed rule.
While these requirements alone may strike fear in the hearts of contractors, the fear of the unknown is perhaps the greatest fear of all. The proposed rule acknowledges that the Government does "not have any data on how many currently domestic products would [now be evaluated as foreign]," and further makes clear that Uncle Sam "lack[s] data" regarding the expected economic impacts on contractors. Thus, it will be incumbent on the contractor community to educate the FAR Council as to how to implement a rule that both complies with the E.O. and which does not cause catastrophic disruptions of Government supply chains at the punishing expense of industry.
Comments on the proposed rule are due on or before November 13, 2020, and we expect that a final rule will be published in the ensuing months. While the proposed rule may be amended around the margins as a result of input from industry, the policy intent of the E.O. is clear, and we do not expect to see many tricks or treats in the form of substantive changes. Thus, contractors of every variety should carefully examine their existing supply chains now to ensure that they are prepared to meet the impending requirements. Without question, this is the best way to keep the noncompliance goblins at bay.
Healthcare Spotlight: President Releases Anticipated Executive Order on "Most Favored Nations" Drug Pricing
On September 13, 2020, President Trump signed an Executive Order (EO) on "Lowering Drug Prices by Putting America First."  The EO applies "most favored nations" pricing to both Part B and Part D prescription drugs and biologics under the Medicare program.  "Most-favored-nation-pricing" in the EO is defined as the lowest price, after adjusting for volume and differences in national gross domestic product (GDP), for a pharmaceutical product that the manufacturer sells in an OECD member country that has a comparable per-capita GDP.  It is expansive in that it covers not only Medicare Part B drugs and biologics that are administered in a clinical setting, but also Medicare Part D drugs and biologics from outpatient sources, including pharmacies. 
The publication of the EO rescinds a previous EO by the same name that the Administration announced on July 24, 2020, which was expected to cover only Medicare Part B drugs.  The EO was never officially published based on the White House's offer to accept an alternative proposal from the pharmaceutical industry by August 24, 2020.  However, an agreement is reported to not have materialized resulting in the White House publishing the EO on September 13, 2020, which expands the most favored nations pricing approach considerably to not only Part B drugs under Medicare, but also Part D drugs and biologics. 
The EO requires the Health and Human Services Secretary to implement a rulemaking that would test a payment model whereby Medicare would pay, for certain Medicare Part B and Part D drugs and biologics, no more than the most-favored-nation price.  The government would then assess whether paying no more than the most-favored-nation price had mitigated poor clinical outcomes and "increased expenditures associated with high drug costs" for patients requiring pharmaceutical treatment. 
The EO does not provide specific timelines or due dates concerning the implementation of the EO or the associated rulemakings by the Department of Health and Human Services. 
Legal Corner: Executive Order on Combating Race and Sex Stereotyping Bans Some Diversity Training, Raises Significant Constitutional and Other Questions for Contractors
Authors: Trina Fairley Barlow, Adelicia R. Cliffe, Kris D. Meade, Preston L. Pugh, Rebecca L. Springer, Jillian Ambrose, Crowell & Moring
The Legal Corner provides the legal community with an opportunity to share insights and comments on legal issues of the day. The comments herein do not necessarily reflect the views of The Coalition for Government Procurement. 
With just six weeks remaining before the presidential election, President Donald Trump has issued an "Executive Order on Combating Race and Sex Stereotyping," which bans federal contractors from utilizing training that "inculcates in its employees any form of race or sex stereotyping," which is defined as "ascribing character traits, values, moral and ethical codes, privileges, status, or beliefs to a race or sex, or to an individual because of his or her race or sex."  The September 22, 2020 Executive Order ("EO") similarly prohibits "race or sex scapegoating," meaning – according to the EO – "assigning fault, blame, or bias to a race or sex, or to members of a race or sex because of their race or sex," and "encompasses any claim that, consciously or unconsciously, and by virtue of his or her race or sex, members of any race are inherently racist or are inherently inclined to oppress others, or that members of a sex are inherently sexist or inclined to oppress others."  The key clauses, described below, are to be included in new federal contracts entered into 60 days after the date of the EO, or November 21, 2020.   
The EO follows a letter sent to Federal Agencies earlier this month that bans training of government workers on "critical race theory," "white privilege," or other undefined "divisive, un-American propaganda training sessions."
Banned Trainings
The EO includes the following examples of the concepts it aims to ban from trainings:
one race or sex is inherently superior to another race or sex;

an individual, by virtue of his or her race or sex, is inherently racist, sexist, or oppressive, whether consciously or unconsciously;

an individual should be discriminated against or receive adverse treatment solely or partly because of his or her race or sex;

members of one race or sex cannot and should not attempt to treat others without respect to race or sex;

an individual's moral character is necessarily determined by his or her race or sex;

an individual, by virtue of his or her race or sex, bears responsibility for actions committed in the past by other members of the same race or sex;

any individual should feel discomfort, guilt, anguish, or any other form of psychological distress on account of his or her race or sex; or

meritocracy or traits such as a hard work ethic are racist or sexist, or were created by a particular race to oppress another race.
The EO also lists several anecdotal examples of training materials that the administration believes are objectionable and would fall within the scope of banned trainings:
Training materials from a Federal entity "stated that racism 'is interwoven into every fabric of America' and described statements like 'color blindness' and the 'meritocracy' as 'actions of bias.'"

Materials from another Federal entity,, "for non-minority males stated that an emphasis on 'rationality over emotionality' was a characteristic of 'white male[s],' and asked those present to 'acknowledge' their 'privilege' to each other."

A federal museum graphic "recently claimed that concepts like '[o]bjective, rational linear thinking,' '[h]ard work' being 'the key to success,' the 'nuclear family,\' and belief in a single god are not values that unite Americans of all races but are instead 'aspects and assumptions of whiteness.' The museum also stated that '[f]acing your whiteness is hard and can result in feelings of guilt, sadness, confusion, defensiveness, or fear.'"
Enactment and Enforcement
The EO requires the Office of Federal Contract Compliance Programs ("OFCCP") to publish, within 30 days, in the Federal Register a Request for Information "seeking information from Federal contractors, Federal subcontractors, and employees of Federal contractors and subcontractors regarding the training, workshops, or similar programming provided to employees" that includes copies of the trainings.

The EO requires OFCCP "to establish a hotline and investigate complaints received under both this order as well as Executive Order 11246 alleging that a Federal contractor is utilizing such training programs in violation of the contractor's obligations under those orders."

The provisions of the EO must be flowed down to all subcontracts and undefined "purchase orders" entered into beginning 60 days after the date of the EO – November 21, 2020.

All federal agencies that issue grants must submit a report, also within 60 days of the EO, identifying "programs for which the agency may, as a condition of receiving such a grant, require the recipient to certify that it will not use Federal funds to promote the concepts that" run afoul of the EO.

By a date uncertain, the Director of the Office of Personnel Management shall propose regulations giving agency officials authority to "pursue a performance-based adverse action proceeding" against employees who authorize or approve "training that promotes the divisive concepts" banned by the EO.

The Attorney General is charged with determining the extent to which workplace training "that teaches the divisive concepts" banned by the EO, may contribute to a hostile work environment and give rise to claims under Title VII of the Civil Rights Act, and, if appropriate, will issue guidance to assist employers "in better promoting diversity and inclusive workplaces consistent with Title VII."

Penalties for non-compliance may include contract suspension or cancellation, or debarment, as well as investigation by the Attorney General for Title VII violations. 
Takeaways for Federal Contractors
The EO is sure to face legal challenge in the near term, likely on Constitutional grounds and based on possible conflicts with existing civil rights laws.  Federal contractors and subcontractors should closely monitor legal developments regarding the EO.  The parameters of the prohibitions are not clear, and some in the federal contracting community are concerned that implementation of the EO may compromise existing Diversity and Inclusion programs or enhance the legal risk of discrimination and harassment complaints brought by employees.  Federal contractors, subcontractors, and their vendors should stay tuned for future legal developments.
Community Care Providers Affected by VA Data Breach 
T
oo
Federal News Network reported that the Department of Veteran Affairs (VA) data breach that affected 46,000 veterans has also affected 17,000 community care providers.  This breach has exposed bank account information of the affected community care providers. These community care providers were affected by this breach because they used the application that was affected by the breach.  As the investigation has found so far, there were only thirteen community care providers impacted by the breach. There have also only been six payments diverted as a caused of this breach. The VA stated that the customer engagement portal was where the breach occurred.  
The Government Accountability Office (GAO) recommended that the VA establish a requirement and process for conducting organization-wide cybersecurity risk assessment, which the VA said would be in place by June of this year.  
GAO on
TRICARE
 Value-Based Initiatives
The Government Accountability Office (GAO) reported on the implementation of the Value-Based initiatives that Department of Defense (DoD) was required to implement per the National Defense Authorization Act (NDAA) for Fiscal Year 2017.  Specifically, the FY2017 NDAA required DoD to implement value-based initiatives for the TRICARE program that linked payments to healthcare providers to "improved performance with respect to quality, cost, and reducing the provision of inappropriate care." 
GAO found that DoD has implemented five of the twenty value-based initiatives that i developed for purchase care component of the TRICARE program. Of the five initiatives, two initiatives, Network Requirements and Standards for Urgent Care Centers; and Bundled Payments for Lower Extremity Joint Replacement, have been completed and three initiatives, Medication Adherence Pilot; Performance-Based Maternity Payments Pilot; and Accountable Care Organization Demonstration, are ongoing.  
There are still eight initiatives that are under review and the DoD is working to decide whether they will be implemented:
Alternative Payment Models 

Behavioral Health Initiative  

Emergency Triage, Treat, and Transport  

Episode-Based Bundled Payments  

Low Value Care  

Physician-Administered Drug Reform  

Primary Care First 

Results-Oriented Reimbursements for High-Cost Orphan Drugs 
DoD has decided that it will not implement the following four initiatives:
Diabetes Prevention Program 

High-Value Primary Care Provider 

Obesity/Weight Management Program (Pediatric Obesity Model Pilot) 

Pre-Surgical Decision Support Pilot 
Three initiatives will be implemented in the future: 
Low Back Pain and Physical Therapy 

Home Health Value-Based Purchasing 

Hospital Value-Based Purchasing  
Two are currently expected to start in 2020 but are currently on hold due to response to the Coronavirus pandemic.  
GAO Publishes Report on Government COVID-19 Response
On September 21, the Government Accountability Office (GAO) released an additional report on the Government's response to the COVID-19 pandemic. The CARES Act included a provision for GAO to report bimonthly on its oversight efforts related to COVID-19. GAO identified lessons learned and issues in need of continued attention by the Government, including the need to collect reliable data that can facilitate decision-making, establishing mechanisms for transparency, and protecting against cyber threats to patient information, intellectual property, public health data, and intelligence. GAO identified multiple opportunities to help the Government prepare for the coming months and provided recommendations related to the following areas: 
Medical supply chain 

Vaccines and therapeutics  

COVID-19 data  

Economic impact payments 

Coronavirus relief fund 

Guidance for K-12 schools 

Tracking contract obligations 

Addressing cybersecurity weaknesses 
Regarding the medical supply chain, GAO found that shortages for certain types of personal protective equipment and testing supplies remain due to limited domestic production and a high global command. Shortages have been identified by both the Food and Drug Administration (FDA) and the Federal Emergency Management Agency (FEMA). These shortages have contributed to delays in turnaround times for testing results, which has major consequences like delays in isolating those who test positive and tracing their contacts in a timely manner. This can aid in the outbreak of the virus due to the spread going undetected. GAO also found that states and other nonfederal entities have experienced challenges in tracking supply requests made through the federal government and planning for future needs.  
GSA's New Payroll Modernization Program 
Near Launch
Federal News Network reported that the General Services Administration (GSA) expects to launch its first set of capabilities under the NewPay program this fall. GSA started the process for NewPay in September 2018. This payroll modernization is a government-wide initiative, which is being led by NewPay and the cybersecurity quality service management offices. NewPay will incorporate a minimally viable product (MVP) that will calculate payroll in a consistent, complete, and holistic manner.  
The rollout of the MVP for payroll is only one focus area of the NewPay program. Another focus is on time and attendance. The NewPay program is expected to create a consistent time and attendance system across all the government agencies. Starting October 1, the NewPay program will move from GSA's Office of Governmentwide Policy to the Federal Acquisition Service (FAS). The move to FAS may allow for extra funds to be found and accelerate the program's capabilities. The last payroll modernization was in 2003, when the Office of Management and Budget made it mandatory for each agency to have payroll services. 
Off the Shelf – 
Booz Allen 
R
esponds to Covid-19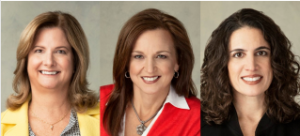 This week on Off the Shelf, Booz Allen's Jen Wagner, Aimee George Leary, and Andrea Inserra discuss Booz Allen's Covid-19 response and how the company has supported its workforce while meeting the ongoing, diverse needs of its government clients. 
Jen, Aimee, and Andrea describe how Booz Allen's principles and culture supported its seamless pivot to virtual operations and how its focus on workforce continuity and rapid adoption of technology tools has allowed the firm to continue providing critical mission support to the federal government. 
They also share their insights into how Booz Allen has continued to deliver best value mission support to their federal clients during Covid-19 and position for continued success. 
Click here to listen to the full show. 
GSA Posts FPDS Reports Transition Resources
This week, the General Services Administration (GSA) posted multiple resources on Interact related to the Federal Procurement Data System (FPDS) reports function transition to beta.SAM.gov. The transition is set to take place on October 17. At that time, beta.SAM.gov will be the only place to create and run reports on Federal contract data.  
GSA discussed the differences between and features of standard contract data reports and ad hoc contract data reports in beta.SAM.gov. The agency posted its video on standard, static, and administrative reports to get oriented with the beta.SAM.gov Data Bank and finding reports on the site. The notice lists some of the most popular standard reports. The FPDS Reports Before and After Guide helps orient users familiar with FPDS reporting tools find the same functionalities on beta.SAM.gov. The notice also provides an introductory video on ad hoc reporting, as well as a first tutorial video which walks users through the essential features and functions of the new ad hoc reporting tool.  
On September 15, GSA hosted an online Stakeholder Forum webinar. The program focused on the end of the transition period for FPDS reports moving to beta.SAM.gov and training resources to help prepare users for the transition. A copy of the slide deck can be found here, and the audio recording can be found here. 
New
 DoD
 Directive 
to
 Simplify Acquisition Policy
FedScoop reported that the Department of Defense (DoD) released an updated directive, Directive 5000.01, the Defense Acquisition System, on September 9. Directive 5000.01 describes the acquisition process that supports the National Defense Strategy and the six overarching principles upon which the Defense Department's acquisition system is based.  The purpose of the rewrite of this directive is to speed up acquisition, while DoD wants to quickly modernize into a digital force.  
The directive implements the Adaptive Acquisition Framework. The Adaptive Acquisition Framework includes new software purchasing pathways. These software pathways have new tools and timelines for program managers to use when it comes to buying code and opens the door for more collaboration between internal software factories. Program managers also receive more decision-making power and the new directive allows them to make more decisions based on data. This directive cancels the previous version of DoD Directive 5000.01 published in May 2003. 
Upcoming Events and Webinars 
Joint Cyber Committee and BRIC Meeting 
Please join the Coalition as we host our next joint Cyber Committee and Business Regulatory Issues Committee (BRIC) via webinar on October 1st from 10:00am – 11:30am EST.  This webinar is for Coalition members only! 
Guest speakers will be Jon Etherton (President, Etherton & Associates), Moshe Schwartz (Associate, Etherton & Associates), and Tim Cook (Executive Director, Center for Procurement Advocacy), and the areas of focus of the webinar will be the pending NDAAs, including outstanding issues in the bills, as well as pending regulatory issues and trends that are unfolding.  We look forward to your participation! 
Click here to register. 
POSTPONED – Webinar: Trillions in Taxpayer Funds: The Next Phase – Fraud, Investigations, and False Claims 
Over the past months, statutes representing massive efforts to support the economy and business have been enacted. Agencies have been provided new authorities, existing authorities have been relaxed, and government has distributed vast sums to companies through various methods, including procurements, loans, loan guarantees, and grants. This webinar will explore the risks associated with these actions and the inevitable investigations and claims of fraud that are likely to arise from participation in these programs. 
We hope that you will join us for our Lunch and Learn series webinars throughout the month of September.  If you have any questions about registration, please contact Michael Hanafin at mhanafin@thecgp.org.