Schedules Consolidation: Congratulations! (
Phase I and 
t
he End of the Beginning!) 
Next Tuesday, October 1st, marks the beginning of a new era for GSA's Multiple Award Schedule (MAS) program.  On that date, Phase I of MAS Consolidation will end with the issuance of a new, consolidated solicitation for the single schedule.   
Phase I included a host of interrelated tasks necessary to develop a single solicitation covering the entire scope of the MAS program.  Among the tasks to be accomplished were: (1) reviewing every term and condition in each of the 24 solicitations; (2) mapping duplicate Special Item Numbers (SINs) across current solicitations; and (3) using NAICS codes to reduce the current 900 SINs on 24 schedules down to approximately 300 SINs on a single solicitation.  In addition, GSA's Federal Acquisition Service (FAS) was tasked to use Category Management to reorganize offerings across the single solicitation.   
The completion of these activities represents a significant step forward in shaping the 21st century MAS program.  They also represent just a part of the effort.  For example, FAS has evolved systems updates to accommodate the issuance of the single solicitation.  Likewise, GSA has recognized the importance of training and outreach to GSA acquisition staff, customer agencies, and industry partners in terms of promoting a successful consolidation.  In this regard, just this week Stephanie Shutt, Director of the MAS Program Management Office, once again briefed Coalition members on the consolidation and answered a host of questions from GSA's industry partners.  As Coalition members know, Stephanie and the MAS Program Management team have been stalwart in their outreach and training efforts, bringing the latest updates and clear, concise, and responsive information to GSA's industry partners.  Indeed, the collective efforts across all of FAS (Program Management, Policy, and Systems) to implement the MAS consolidation reflect a team effort and an open process that has included and considered perspectives from across the procurement community.    
MAS consolidation provides a framework for increasing access to the commercial market, reducing unnecessary operational and contractual stovepipes, promoting solutions-based buying, and enhancing competition.  Most significantly, MAS consolidation provides a foundation for continuing program enhancements, including reform of the pricing policies, adoption of the unpriced services SINs for hourly rate services, implementing an e-invoice capability, implementing data management tools and expansion of Order Level Materials.  Building on the momentum of MAS consolidation, these enhancements will benefit GSA, customer agencies, and mission support.             
Of course, as the tag line for this blog notes, completion of Phase I marks the "end of the beginning" for MAS consolidation.  There remains much to accomplish, including addressing the Mass Modifications and consolidating multiple schedule contracts into a single contract, as appropriate, for contractors.  Further, additional upgrades and enhancements to GSA inward and outward facing systems will be vital to success of the program.  As we look to the next phases and the future of the MAS program, Coalition members, as always, stand ready to work with FAS in ensuring an efficient and effective transition to the "consolidated" program.   
Coalition Seeks Views of FTC, DoJ, and USTR on Government e-Commerce Initiative
The Coalition wrote to the Department of Justice and the Federal Trade Commission to inquire whether they are able to provide their views on the planning and draft contracting materials associated with GSA's Commercial Platform Initiative (CPI).  As members will recall, the Coalition has sought clarification of the effort, especially its impact on market access, competition, and cyber and supply chain assurance.  Having not received a response to inquiries, most recently, in connection with the CPI draft solicitation and associated documents, and recognizing that the planning for the effort continues, the Coalition thought the informed views of those charged with promoting market competition would be helpful.  Copies of the letters can be found here and here.
The Coalition also submitted a letter to the United States Trade Representative to seek their thoughts about GSA's implementing and contracting materials to assess their impact on domestic firms seeking to do business in the U.S. Government. A copy of the letter can be found here.
Submit a 2019 EIP Awards Nomination Today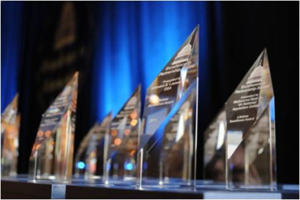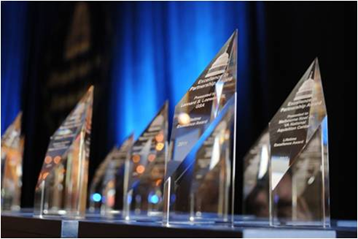 The Coalition for Government Procurement is pleased to announce that nominations are now open for the 2019 Excellence in Partnership (EIP) Awards. 
The EIP Awards honor individuals and organizations in the acquisition community who have made significant contributions to the procurement system that deliver best value and meet agency missions. Historically, these awards have recognized individuals, organizations, and contractors involved in procurement with GSA, VA, DOD, DHS, and other government agencies. 
We are seeking nominations from qualified candidates in the award categories from the Department of Defense, Federal Civilian agencies, and industry. 
Lifetime Acquisition Excellence Award 
Presented to an individual in the contracting community (government or industry) for demonstrating a life-long commitment to advancing "common sense in government procurement." 
Acquisition Excellence Award 
Presented to an organization or individual (government or contractor) for outstanding performance over the year in meeting the mission-critical needs of a Federal agency through a government contract.  
Excellence in Innovation Award 
Presented to an organization or individual (government or contractor) for creating innovative solutions and/or an innovative process for a Federal agency that improves and facilitates mission performance.  
Advocating for Veterans Award 
Presented to an organization or individual (government or contractor) for promoting and executing a successful program that supports veterans. 
Click here to submit your nomination for the 2019 EIP Awards before the October 23, 2019 deadline.  If you have any questions, please contact Michael Hanafin at mhanafin@thecgp.org. 
Congress Passes CR Funding Agencies through Nov 21
On Thursday, the Senate passed a continuing resolution (CR), which will keep the Government open until November 21. The House also passed the CR last week. Without a continuing resolution or spending bill, funding will expire, and the Government will shut down at the end of the Fiscal Year on September 30. According to Roll Call, President Trump plans to sign the continuing resolution.
GAO Explores Options to Increase Opportunities for Mid-sized Businesses
On September 20, the Government Accountability Office (GAO) published a report on mid-sized businesses, their performance in the Federal market and options to increase opportunities for new mid-sized businesses that have outgrown their small business size status.  The report was provided to the House Small Business Committee following concerns expressed to the Committee that small businesses that outgrew their status often experienced fewer Federal contract opportunities as a result.
GAO found that of 5,339 small businesses awarded set-aside contracts in Fiscal Year 2008, 104 became mid-sized businesses (and were awarded at least one contract from the federal government) in Fiscal Year 2013. Of the 104 businesses which became mid-sized, 23 remained mid-size and only 3 became large businesses by the end of Fiscal Year 2017. They also had a total of 81 contract awards.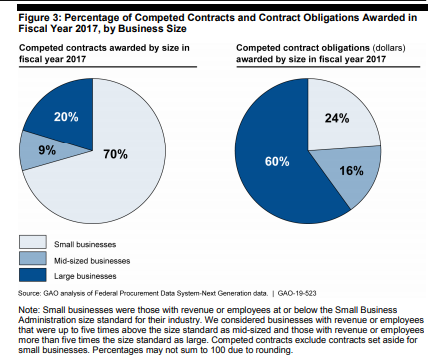 This study reviews concerns about medium-size businesses' ability to compete for federal contracts and found low participation by medium-sized businesses. As a result, GAO analyzed three possible solutions:  Creating a medium-business category, a requirement that agencies look at businesses past participation as a subcontractor or team member, and raising size standards. GAO did not establish a preference for any of the solutions and noted the drawbacks for each of them, including a possibility of harming existing small business set-aside programs.
GSA Reorganizes the Technology Transformation Services
The GSA Technology Transformation Services (TTS) has been reorganized within the GSA structure to be more client-focused and agency-focused. TTS is changing the four existing offices and programs of tech-focused group and arranging them into two pillars. The two pillars will be 'clients and markets,' which includes 18F, the Centers of Excellence, and Presidential Innovation Fellows and 'solutions and products,' which includes the Office of Products and Programs and other digital tools like login.gov. Each new pillar will be led by an assistant commissioner. This restructure is intended to create a more collaborative environment.
House SB Committee Explores Effectiveness of 8(a) Program
The House Committee on Small Business held a hearing on Wednesday, September 18 titled "The Role of the SBA's 8(a) program in Enhancing Economic Opportunities." During this hearing, the Committee discussed, with four industry representatives, the challenges of the 8(a) program and suggestions on how to improve the program. The Committee has concerns about the effectiveness of the 8(a) program because despite an increase in the amount of funding allocated to 8(a) contractors and subcontractors there has been a decrease in participation in the program. To view the hearing, click here.
VA OIG Report on Pharmaceutical FSS Pre-Award Audits
Last week, the Office of Inspector General (OIG) of the Department of Veterans Affairs (VA) released a synopsis of pre-award reviews of VA pharmaceutical proposals in Fiscal Year 2018. The OIG performs pre-award reviews of Federal Supply Schedule (FSS) pharmaceutical proposals valued over $5 million. These reviews determine if a proposal is current, accurate, and complete while providing recommendations for negotiations. The OIG does not release specific reviews, which contain sensitive information, and instead publishes a yearly synopsis.
In Fiscal Year 2018, the OIG performed 22 reviews and estimates that they saved  $386.5 million over the life of the contracts. The OIG determined that five of the 22 reviewed commercial sales practices disclosures were deemed "accurate, complete, and current." The OIG also found that 16 proposals were priced above most favored customer pricing. The OIG further found that "1,389 of the 2,040 offered items among 21 proposals included tracking customers that were not adequate for purposes of the GSA price reductions clause." Finally, one review suggested awards not be made to "virtual" resellers with no commercial sales.
VA To Use GSA Smart Card Services, Doubling Program's Customers
The VA is moving its smart card identity management program to GSA's USAccess shared service. This shift doubles the number of customers using the GSA program. Historically, GSA has provided this service for mostly small agencies. A VA spokeswoman said that the move was made to ensure IT resources are more focused on serving veterans and their families. OMB's new identity management policy also makes it easier for agencies, like the VA, to adopt new technologies for authentication and verification of users. The move, which starts in October, is expected to be complete by January 2020.
SBA Lacks Sufficient Controls to Prevent Suspended or Debarred Entities from Contract Award
Last week, the Small Business Administration (SBA) Office of Inspector General (OIG) released an audit of SBA's suspension and debarment process. The purpose of this audit was to see if SBA had sufficient controls to prevent suspended or debarred entities from receiving federal contracts through small business loans and SBA's preference programs. The report found that SBA did not have sufficient controls in place and found multiple entities had been awarded loans or contracts when they had been convicted or referred for debarment. The OIG made six recommendations to improve the program.
HHS Promotes Recurrent Neural Network for Acquisition as a Government First
The Department of Health and Human Services (HHS) has the federal government's first functioning, recurrent neural network to assist with its acquisition plans. The network will assist contracting officers, so they don't have to look through statements of work for information such as price points before drafting acquisition plans. HHS will apply the network for its new blockchain-based acquisition portal, HHS Accelerate, which has 42,000 statements of work. Read more on the neural network here.
Accounting 
Corner: Section 889 Ban on Select China-Based Products: Solutions for Overcoming Regulatory Disruption
By Baker Tilly:  Jeff Clayton, Principal and Leo Alvarez, CFCM, Senior Manager
The Accounting Corner provides the community with an opportunity to share insights and comments on accounting issues of the day. The comments herein do not necessarily reflect the views of the Coalition for Government Procurement.
Snapshot
In the face of rising uncertainty over data security and surveillance by foreign adversaries, DOD, GSA, and NASA (collectively, the FAR Council) released an interim final rule last month banning Federal agencies from purchasing telecommunications and video surveillance equipment or services from certain Chinese entities.
To read the full report, click here.
Healthcare Spotlight: VA Must Address Impact Of State Excise Taxes On Opioid Products
The Healthcare Spotlight provides the healthcare community with an opportunity to share insights and comments on leading issues of the day. The comments herein do not necessarily reflect the views of the Coalition for Government Procurement.  
The opioid crisis has been costly for the states and they have been grappling with ways to deal with the costs, in addition to policies aimed at prescribing practices and prevention of illegal diversion.  However, measures that impose excise taxes on sales of opioid products could have unintended adverse consequences for the Department of Veterans Affairs (VA) and the Department of Defense (DoD), which need opioid products to treat patients with war-related injuries.  To raise revenue, New York State passed a law, the Opioid Stewardship Act, which imposed an assessment on initial transactions in the chain of distribution of opioid medications in the state.  In June 2018, the New York Department of Health issued guidance on implementation of the law, which stated, with respect to sales to Federal customers, including VA Hospital Pharmacies and DoD military treatment facilities, a "transaction with this receiver is always exempt from the assessment."  After a legal challenge unrelated to this guidance, the law was invalidated and superseded by a new tax law that went into effect July 1st of this year.  New York has not yet issued new guidance applicable to the superseding law; however, officials have stated that the excise tax does not exempt sales to the Federal government because the tax is imposed on the seller, regardless of whether its customer is a Federal government entity.  The New York law would have to exempt Federal purchases, because Constitutional immunity only applies to direct taxation by the States on the Federal government.  Delaware passed a similar law and it is possible more state initiatives will follow suit.
As is done with other excise taxes, sellers can pass on such a tax on opioid products to their customers by adding it on or embedding it in higher prices, or, in the case of distributors, by passing on the tax to their suppliers through higher distribution fees.  Indeed, a provision in the original New York law prohibiting a pass-through was invalidated.   Likewise, the Federal government could agree to add the tax to its contract price, as it currently does with the excise tax on vaccines.  The problem for manufacturers and distributors of opioids is that these state taxes were unforeseen, and current Federal pharmaceutical contract terms do not include them.  Worse, the tax can be greater than the profit margin on low cost generic drugs, which puts their sellers underwater if they cannot pass the tax on.  The New York law imposes its excise tax on the first sale of an opioid in the state.  Computation of the tax is based on weight of morphine equivalents multiplied by the volume of sales, not the sales price.  It apportions a fixed levy on all units sold, the amount depending on whether the WAC for a morphine milligram equivalent is more or less than fifty cents.   This means the tax rate is the same for the brand and generic if the list price of both – not the average sales price – is over fifty cents for a milligram and, regardless of which rate applies, the overall tax burden is greater for the lower priced generic version if it has a larger share of the market.  Moreover, it is highly regressive in that the tax is a larger percentage of the price of a lower cost product.  Additionally, manufacturers of innovator drugs and authorized generics are subject to a statute, the Veterans Health Care Act, 38 U.S.C. 8126, which caps the price they charge the VA and DoD and imposes an inflation penalty if prices are increased beyond the rate of inflation, including a price increase intended solely to pass on the opioid tax.
The vast majority of opioids are purchased by the VA and DoD indirectly from contractors through prime vendors – wholesalers that distribute to Federal treatment facilities at the contractor's price.  Thus, the prime vendor's invoice to a Federal customer is often the first sale subject to the tax.  However, these large wholesalers charge contractors a fee to distribute their products to the government, and smaller companies have little bargaining power to prevent the wholesalers from passing on the opioid tax to them through a higher fee.  Moreover, even if these contractors had the ability to ship directly, the VA requires they ship through its prime vendor and pay whatever fee the prime vendor charges them.  If suppliers of generic opioids cannot pass on the tax to their Federal customers, many would lose money on the sales and may cease selling their products to these customers, which will create shortages and higher prices for products badly needed to treat VA and DoD patients. For branded opioids and authorized generics sold to the VA and DoD through the Federal Supply Schedule, their contracts do not allow price increases during the term of the multi-year contract, even if commercial prices are increasing.  Additionally, as noted, if their commercial prices increase to cover the tax, they risk an inflation penalty.  Thus, if contracts are not modified to add the opioid tax and exclude it from the price calculation, these manufacturers would be unfairly prevented from recouping the cost of a tax beyond their control that is passed on to commercial customers.  Some could cease manufacturing the products.
Although there may be creative short-term solutions to deal with the current opioid tax problem – limited to a few state laws – for contractors selling generic products to the VA and DoD, these solutions do not address the larger, long-term problem that could have adverse consequences for the care for our nation's soldiers and veterans.  To avoid potential shortages and higher prices on opioid products needed by the VA and DoD, the Federal government should agree to pay the opioid tax separately as it does the vaccine excise tax and the Industrial Funding Fee (the FSS administrative service fee).  Alternatively, the VA should terminate contracts that would force contractors to absorb the tax and sell to the government at a loss.  In the future, if Federal law cannot insulate VA and DoD purchases from state excise taxes, states considering such a tax should exempt sales to the Federal government.
Join the Inaugural BRIC Meeting, Oct 3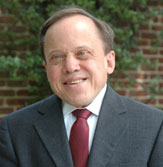 Please join the newly created Business and Regulatory Issues Committee for its first meeting with Jon Etherton, President of Etherton and Associates. The kick-off meeting for the BRIC will be on October 3 at 10:00 AM at the CGI Innovation Center (1000 N Glebe Road 9th floor, Arlington, VA 22201). Jon will provide a briefing on the status of the NDAA, along with budget and policy challenges pending on the Hill. For the dial-in information or to attend in person, please RSVP to Michael Hanafin at mhanafin@thecgp.org.
GSA's Erv Koehler to Address IT/Services Committee, Oct 8
The Coalition is pleased to announce that Erv Koehler, Assistant Commissioner for Customer and Stakeholder Engagement (CASE) at GSA, will be the guest speaker at our next meeting on October 8th at Northrop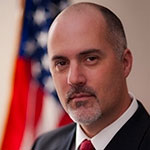 Grumman IT.
Erv Koehler will brief members on CASE's plans for FY2020 (including a list of opportunities CASE will be pursuing) and results from GSA's customer satisfaction and supplier satisfaction surveys to show the connections. We will also discuss some ideas on how FAS and industry might use the results for decision-making in the future.
RSVPs are required to attend for security purposes. Please RSVP to Michael Hanafin at mhanafin@thecgp.org.
Join the Small Business Committee Meeting on OTAs, Oct 16 
Event: Coalition Small Business Committee – Quarterly Meeting
When: Wednesday, October 16, 2019 from 10:00 AM – 11:00 AM
Where: Holland & Knight LLP, 800 17th Street NW, Washington DC 20006
Topic: Other Transaction Authorities – What Are They and Why Am I Hearing So Much About Them?
Description: Join Ben McMartin, one of the Army's foremost experts on OTAs, for a discussion about trends and challenges in the use of OTAs. Mr. McMartin will review the scope of Other Transaction Authorities and what's triggering the focus on them now. He will discuss the relevance OTAs have for traditional government contractors and how those contractors can get involved in this acquisition trend. He'll give his thoughts on what the increased use of OTAs means for "regular" government contracting now and in the coming years and answer your questions.
More About the Speaker: Ben McMartin is the Chief of the Acquisition Management Office for the US Army Combat Capabilities Development Command (CCDC) Ground Vehicle Systems Center (GVSC) in Warren, Michigan. McMartin is a nationally recognized expert in Other Transaction Authorities and is a frequent speaker on topics related to Science, Technology, and Engineering procurement methods. Mr. McMartin is the founder of the Acquisition Innovation Road Show, (#FUTAIRS), an organic defense consultancy providing acquisition strategy, planning, and training support to DOD activities.
RSVPs are required to attend.  For the dial-in information or to attend in person, please RSVP to Michael Hanafin at mhanafin@thecgp.org
Cybersecurity Summit for Government Contractors, October 8 
The Coalition is very excited to announce that it will be a Silver Sponsor for the 4th Annual Cybersecurity Summit for Government Contractors – DC: Hot Topics, Trends and Emerging Issues, taking place on October 8 at Valo Park in McLean, VA.  The Cybersecurity Summit is a 1-day, high level, broad sweep of how cybersecurity impacts the latest regulatory requirements, business risks, and technology challenges in today's government and commercial landscape. There will be several opportunities to interact with presenters and attendees. Keynote speakers include Chris Roberts, who gained global attention in 2015 for hacking into an aviation system while on a United Airlines flight.  If you are in a leadership position and the threat of cyber event keeps you up at night, you should not miss this event.  Coalition members who would like more details and to attend the event can sign up here.  Coalition members can get 20% off by referencing promo code 20CGP2019 at checkout. 
GSA Webinar on FBO Decommissioning, Oct 17
Earlier this week, the General Services Administration (GSA) announced an upcoming webinar about the decommissioning of FBO.gov. The webinar, which is scheduled for Thursday, October 17 at 1:00 PM EDT, will focus on the decommissioning of the site and the transition of opportunities into the new beta.SAM.gov. GSA plans to cover the following topics in the webinar:
– What will happen to legacy FBO.gov (and when)
– How to find and utilize federal business opportunities in beta.SAM.gov
– How to manage administrative roles for federal users
– The date and time of the transition
– What to expect after the transition
Please click here to register for the webinar.
Proposed FAR Rule – Tax on Certain Foreign Procurements
Last week, the FAR Council released a proposed rule, which would withhold a 2 percent tax on contract payments made by the United States Government to foreign persons pursuant to certain contracts. The term "foreign persons" used in this proposed rule includes any entity that is not a citizen or resident of the United States, a domestic partnership, domestic corporation, estate, or trust administered within the United States.
The proposed rule implements section 5000C of the Internal Revenue Code, which was published by the Department of the Treasury in 2016. The FAR Council notes that substantive issues regarding Section 5000C are matters under the jurisdiction of the IRS. Comments on the proposed rule are due by November 19.