2021 EIP Awards to Include Coalition's Highest Honor
Last month, the Coalition announced that nominations for the Excellence in Partnership (EIP) Awards for 2021 are now open. The purpose of the EIP Awards is to recognize individuals and organizations from the acquisition community who have made significant contributions to the procurement system to meet the needs of agency missions. Awardees are selected from the Department of Defense, civilian agencies, and industry. Nominations for the 2021 EIP Awards can be submitted here before the January 31, 2022 deadline. Awardees will be named in March and recognized at our Spring Training Conference in May 2022.
We are pleased to announce that, in addition to four award categories, the 2021 EIPs will also include at least one recipient of the Coalition's highest honor: The Common Sense in Government Procurement Award. The Common Sense in Government Procurement Award is presented to dedicated individuals who have demonstrated a professional lifetime of leading exceptional "common sense" contributions to improving the operation and management of the Federal acquisition process to ensure that it delivers best value for agencies and citizens. These individuals display great levels of integrity, transparency, and commitment. This honor was last given at the 2016 EIP Awards Dinner to Dr. Steve Kelman, former OFPP Administrator and Weatherhead Professor of Public Management at Harvard University's John F. Kennedy School of Government. Other previous honorees include former GSA Assistant Commissioner for Acquisition Carolyn Alston, Senator Susan Collins, former Senator Joe Lieberman, and Former Congressman Tom Davis.
Each year, we look forward to recognizing a number of well-deserving professionals with the prestigious Lifetime Acquisition Excellence Award, an accolade presented to those in the contracting community who have shown a life-long commitment to advancing "common sense in Government procurement." In 2020, we selected Darlene Coen, Deputy Program Manager of NASA SEWP, and Joe Pastel, GSA IDIQ Program Manager of Leidos to receive the Lifetime Acquisition Excellence Award for their contributions and impact on the procurement community.
We also look forward to receiving nominations and honoring individuals for their outstanding work in the following categories:
Acquisition Excellence Award – Presented to an organization or individual for outstanding performance over the year in meeting the mission-critical needs of a Federal agency through a Government contract.
Sustainability/Green Excellence Award – Presented to a Government agency or contractor that has made outstanding sustainability contributions to protect the environment.
Advocating for Veterans Award – Presented to an organization or individual for promoting and executing a successful program that supports veterans.
The Coalition would like to thank our members who make the EIP Awards possible through continued support and thorough nominations. We eagerly anticipate recognizing and congratulating all of the 2021 awardees in May for their important contributions to Government procurement.
Supreme Court Issues Decisions in Two Vaccine Mandate Cases
On Thursday, in a 6-3 vote, the Supreme Court blocked enforcement of the Occupational Safety and Health Administration's (OSHA) rule that requires companies with over 100 employees to establish a vaccine requirement or test regularly. The court determined that the rule, which would have impacted over 80 million employees, exceeded OSHA's authority. However, in a 5-4 vote, the court upheld the Center for Medicare and Medicaid Services' (CMS) mandate that instructs healthcare facilities that accept Medicare and Medicaid payments to require a vaccine for employees. The court said that the CMS rule was justified by the Constitution's spending clause which permits the Federal Government to include conditions when it provides funding for programs such as Medicare and Medicaid. The court added that the rule also protects patients from being exposed to greater risk while in a medical facility. 
On January 7, the Supreme Court held a hearing on these two rules. During the hearing, the Federal contractor vaccine mandate was invoked by Chief Justice John Roberts. The mandate is currently blocked from being enforced due to an injunction by the US District Court for the Southern District of Georgia. Currently, the Government is seeking clarification to see if masking and social distancing portions of the Federal contractor rule can be enforced, and whether companies can voluntarily accept the vaccination clause.
GSA Launches New Vendor Support Center
On January 12, the General Services Administration (GSA) announced the launch of its newly updated Vendor Support Center (VSC). The new VSC is a one-stop-shop for key resources for current and prospective Multiple Award Schedule (MAS) contractors. The new support center's improvements focus on the overall experience for contractors and is now searchable so that content is much easier to find. According to a GSA press release, "The VSC redesign also makes it easier to get help right from the home page. Users can now easily find help desk information, plus three types of locators for their individual Procurement Contracting Officer (PCO), Administrative Contracting Officer (ACO), and Industrial Operations Analyst (IOA)." To navigate the site, the contractor journey is now organized into three categories: "I Want a Contract," "Managing my Contract," and "Contract Sales." And finally, in addition to all the new updates that come with the new VSC, there is also a new page, "MAS Project Center," which houses resources for all MAS special projects, such as Consolidation.  GSA sincerely appreciates its industry partners who contributed to the design of the new VSC by responding to GSA's RFI in November 2020 and by participating in user testing of the new site.  
VA Delays Release of its "Modernization and Realignment" Recommendations
GovExec reported that the Department of Veteran Affairs (VA) is delaying its recommendations to "modernize and realign" the department. These recommendations, which could widely reshape the VA's overall footprint and workforce, are ready, according to VA officials at the Department, but VA Secretary McDonough is holding off on its publication until he and his leadership team are better prepared to spell out the details to the VA's workforce. Once the Department is better prepared, it will send its proposals for where expanded health care options for veterans will occur and the potential for closing existing facilities to the Asset and Infrastructure Review (AIR) commission. Then, over the next year, the AIR will review the plan, conduct public hearings, and then send their own proposals to the White House. In making their recommendations, the VA and the commission will consider if a site is meeting VA standards, any potential savings from a site's closure, where those savings might be realized, and what, if any, harm would be done to the VA in its ability to carry out its mission with the closure of certain sites. 
Overview of the NDAA for FY 2022 Webinar, Jan. 20
The Coalition is pleased to announce its first webinar of 2022 – Overview of the National Defense Authorization Act (NDAA) for Fiscal Year 2022 (Public Law 117-81). Our presenter will be Moshe Schwartz, President, Etherton and Associates, Inc. and this webinar will take place on January 20 from 12:00 – 1:00 pm EST.  
The NDAA was signed into law on December 27, 2021 and Moshe will highlight trends and focus areas of the NDAA; acquisition, industrial base, and cybersecurity provisions; and how the NDAA may impact the administration's policy goals. Additionally, Moshe will identify potential future areas of focus and change in acquisition and industrial base policy. We look forward to your participation!  
Click here to register.  
Federal Agencies to Establish Chief Diversity Officers
Federal Computer Week reported on a January 5 memo from the Office of Personnel Management (OPM) that urges Federal agencies to establish Chief Diversity Officers (CDO). The push stems from an executive order and strategic plan on diversity, equity, inclusion, and accessibility (DEIA) in the Federal workforce. The order requires agencies to finalize their specific equity and diversity plans by March 23. While the EO does not require the establishment of CDOs, it encourages agencies to seek opportunities to create such positions. According to OPM's memo, the individuals selected for the CDO positions will be tasked with playing "critical roles in closing opportunity gaps in agencies, and they may also be charged with enhancing existing program effectiveness, driving accountability, and communicating the value of DEIA." The CDOs will be distinct from any existing equal employment opportunity officers. OPM plans to create a new forum to "engage" the CDOs and will also provide agencies with technical assistance and learning events. 
DHS Chief Procurement Officer Releases 2022-2025 Strategic Plan
The Department of Homeland Security (DHS) Office of Chief Procurement Officer (OCPO) released its  strategic plan for fiscal years 2022-2025. The plan includes four priorities: 
Empower: Prepare and empower our people to excel.

 

Collaborate: Energize partnerships through collaboration.

 

Innovate: Inspire innovation to enhance mission capability.

 

Procure: Enrich the DHS procurement experience.

 
Under the empower priority, DHS plans to use career entry and development programs to strengthen the acquisition workforce. They will improve communication with the acquisition community to produce better procurement outcomes, which DHS plans to accomplish under the collaborate priority. Under the innovate priority, DHS wants to boost early acquisition planning. DHS has four main goals associated with the procure priority: 
Fortify trust in the DHS procurement brand;

 

Serve as flexible business advisors;

 

Challenge perceived boundaries of our traditional role; and 

 

Measure the quality of the procurement experience. 

 
DoD on the Transition from DUNS to UEI by April 4
On January 7, DoD released a memo about the Federal Government's transition from using the Data Universal Numbering System (DUNS) number to the Unique Entity Identifier (UEI). Beginning April 4, 2022, contractors will be solely identified by their UEI. Contractors may receive their UEI from GSA in SAM.gov. GSA has begun issuing UEI for existing contractors. Currently, the DUNS number is no longer being used in Federal procurement or financial assistance pre- and post-award processes.  
DoD has worked with the Procure-to-Pay (P2P) Process Advocates Working Group and Procurement Business Operations Requirements Group to prepare for the transition to UEI in pre-and post-award processes and in Sam.gov and Federal Procurement Data System (FPDS). DoD contract writing system owners may initiate use of UEI for required reporting to FPDS. Owners are encouraged to start using UEI as soon as possible so any problems can be reported to GSA before the retirement of the DUNS number. For additional support and information, the following resources are available: 
Please contact Jessica Williams at jessica.m.williams126.civ@mail.mil or 703-693-4845 with any questions or concerns. 
DoD Confirms COVID-19 Contractor Mandate to Not be Enforced in OTAs
The Department of Defense (DoD) released a memo that revises the implementation of Executive Order 14042, Ensuring Adequate COVID-19 Safety Protocols for Federal Contractors, to include the requirements of the injunctions issued by the courts of the Southern District of Georgia and the Eastern District of Kentucky. OSHA emergency temporary standard (ETS) is under a stay due to the injunction. The OSHA ETS mandated that businesses with more than 99 employees need to make sure that all employees are vaccinated or tested once a week. The update only applies to Other Transaction Agreements (OTAs). This memo is effective immediately and replaces the October 8, 2021 memo, which is an attachment to the new memo.  If you have any comments or questions about the updated implementation, contact osd.pentagon.ousd-a-s.mbx.asda-dp-c-contractpolicy@mail.mil.  
SBA Improving Procedures to Verify Tribal Recognition in 8(a) Program
On January 3, 2022, the Government Accountability Office (GAO) released a report on the Small Business Administration (SBA) approval process for the 8(a) program, specifically the part of the program for federally or state-recognized Indian tribes. The 8(a) program was created to provide small businesses led by socially and economically disadvantaged parties with business development opportunities. In FY20, the overall contract obligations for the 8(a) program were $19.7 billion and 3,364 8(a) participants were awarded contracts. GAO completed this report to ensure that the firms being accepted into and benefiting from the program are those that were intended to be in the program. The Office of Inspector General released a report in March of 2021, which found that SBA had no official procedure to verify a business's association with federally or state-recognized tribes. The SBA responded to the report with plans to address this issue by December 2021.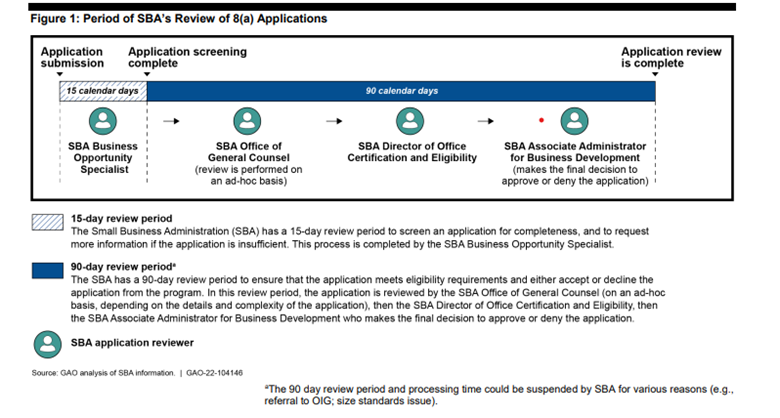 GAO reviewed 133 applications from fiscal years 2018 to 2020. While 11 firms were rejected based on other requirements outside of being associated with a federally or state-recognized Indian tribe, GAO found one approved firm was not associated with an Indian tribe that was federally recognized. SBA has committed to removing the firm from the 8(a) program.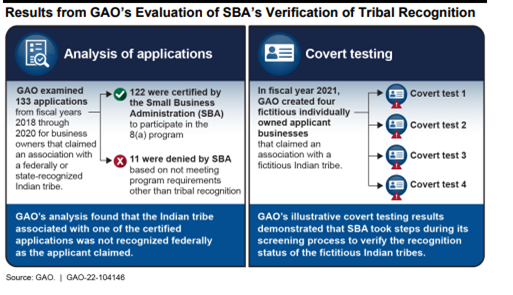 GAO also completed a "covert test" in 2021 by submitting applications for four fake firms claiming to be associated with federally or state recognized tribes. All four of the applications were denied after the SBA took the necessary steps to verify if the firms were associated with federally or state recognized tribes.  
Legal Corner: Government Contractors to Register for Affirmative Action Program Compliance Certification Beginning February 1, 2022
Authored by Sara Nasseri
Piliero Mazza
The Legal Corner provides the legal community with an opportunity to share insights and comments on legal issues of the day. The comments herein do not necessarily reflect the views of The Coalition for Government Procurement.
In December 2021, the Office of Federal Contract Compliance Programs (OFCCP) launched its Affirmative Action Program Verification Interface through a new online portal (Portal).  Beginning on February 1, 2022, registration opens on the Portal, and covered prime and subcontractors are required to certify compliance of their Affirmative Action Program (AAP) by no later than June 30, 2022. Covered contractors are then required to annually certify.  The Portal also provides a secure platform for scheduled contractors to submit their AAP to OFCCP during compliance evaluations.  In this Client Alert, PilieroMazza's Labor & Employment Group gives an overview of the Portal, the AAP compliance requirements, and important deadlines.
Who Is Required to Use the Portal?
Supply and service contractors and subcontractors who meet certain jurisdiction thresholds (see the OFCCP Jurisdiction Thresholds Infographic) are required to use the Portal to register and certify their AAP compliance.  Additionally, contractors holding a contract of $50,000 or more and employing 50 or more employees must develop and maintain AAPs pursuant to Executive Order 11246 and Section 503 of the Rehabilitation Act of 1973.  If a contractor has at least 50 employees and a contract of $150,000 or more, then it must also develop an AAP pursuant to the Vietnam Era Veterans' Readjustment Assistance Act of 1974. Construction contractors, who are not also supply or service contractors, are not currently required to register with the Portal or provide an annual certification.
OFCCP published Frequently Asked Questions (FAQs) to help contractors determine whether they are required to use the Portal.
Important Dates
On February 1, 2022, registration opens on the Portal.  Covered federal contractors need to register their companies and validate that their information is correct.  OFCCP will also email covered federal contractors in its jurisdiction whose email information is available in its system inviting them to register.
Beginning on March 31, 2022, contractors may begin certifying the status of their AAP compliance. Contractors need to certify the status of their AAPs by no later than June 30, 2022, or fact still penalties for non-compliance.
Key Takeaways
It is expected that OFCCP will use the Portal to determine whether contractors are maintaining their AAP obligations and to justify penalties for non-compliance.  Penalties could include placing contractors under burdensome reconciliation agreements, seeking back pay and interest awards, and initiating debarment proceedings.
Properly developing and implementing an AAP involves compiling substantial data concerning a contractor's employment practices and performing analyses that can be time consuming.  First, contractors should immediately determine whether they are required to prepare an AAP and/or whether their AAP is current.  Second, if you are required to register and certify your AAP compliance on the Portal, start now to develop and implement your AAP to meet OFCCP's requirements and get ahead of the upcoming deadline.
____________________
For contractors who are unsure whether they are required to register on the Portal and who need assistance developing and implementing an AAP, please contact Sara Nasseri, the author of this Client Alert, or a member of PilieroMazza's Labor & Employment for Government Contractors practice group.
Rescheduled: DHA Cybersecurity Summit for Medical Devices, Jan. 28
The Coalition for Government Procurement and the AMSUS-SM Technology Working Group have partnered to host a summit with the Defense Health Agency's (DHA) Office of the Chief Information Officer. The topic will be DHA's Risk Management Framework (RMF) and how to achieve an Authority To Operate (ATO), which is a cybersecurity requirement for Military Treatment Facilities to purchase certain medical equipment. Members will be briefed by DHA technology experts on the cybersecurity requirements and how vendors can effectively achieve ATO certification.
The virtual meeting has been rescheduled for Friday, January 28 from 11:00am- 1:30 pm EST. The meeting was rescheduled as a result of technical difficulties accessing the virtual meeting on the DHA platform. The meeting on Jan. 28 will be hosted on the Coalition's meeting platform which should resolve the access issues.
If you RSVP'd for the original meeting on Jan. 13, no need to RSVP again. We will send everyone the login information a few days in advance of the meeting on Jan. 28. In addition, the session will be recorded and posted for both Coalition and AMSUS-SM members. If you have any questions, please contact Aubrey Woolley at awoolley@thecgp.org or (703) 999-6372.
GSA Publishes Cloud Consumption Letter
On December 16, GSA published Letter MV-21-06. This policy letter establishes special ordering procedures for buying commercial cloud computing services on a consumption basis under the Federal Supply Schedule (FSS) Program. These procedures provide a method to pay for cloud services based on actual consumption without having to obligate all available funds at the beginning of a contract. This policy applies to only GSA MAS Special Item Number (SIN) 518210C, Cloud and Cloud-Related IT Professional Services. When buying on a consumption basis, contracting officers will compete and issue a requirements task order. This task order differs from the requirements contract in FAR 16.503. Consumption-based task orders may be incrementally funded based on usage patterns in order to maximize agency flexibility. The FSS Price Reductions clause is not applicable to buying cloud on a consumption basis. Procedures will be available to agencies once GSA adds a new clause to all Multiple Award Schedule contracts in the spring. The mass modification will need to be accepted by contract holders. GSA also plans to post a Cloud Ordering Guide in the spring.
GSA Advantage to Indicate if Products are "In Stock"
Starting January 13, 2022, GSA Advantage! will include stock disruption indicators on products that have reported stock issues in the Verified Products Portal (VPP). Currently, there is stock disruption information available for approximately 5,000 products. The indicators will include "limited stock," "out of stock," "end of life," and "discontinued." GSA is encouraging customers to reach out to contractors to confirm product availability before ordering, since the indicators show manufacturer/wholesaler stock status and not contractors' status. See GSA's full announcement here. 
HHS Launches AI Website
Fedscoop reported on the Department of Health and Human Services' (HHS) recent launch of its Artificial Intelligence (AI) website. HHS will look to increase employee skills and understanding of AI through its newly established AI community of Practice (CoP) and will be issuing any associated guidance from its recently established AI Council. The CoP will look to share solutions and scale its resources and the AI Council will be focused on setting priorities for legal, fair and ethical algorithms. Also featured on the new site are the HHS AI strategy, relevant statutes and authorities, and a response provided by HHS on an OMB memo which discusses regulation of AI applications. The new site also highlights HHS's priorities for 2022, which includes the development of an AI use case inventory, allowing staff the ability to track where and how AI applications are being deployed, and hosting AI learning sessions to inform staff about newly emerging innovations across the health sector. 
Results Released from First Federal Pulse Survey
Federal News Network reported that the data from the first Federal Pulse Survey has been released. The Pulse Survey pilot project was launched by the President's Management Council, the Office of Management and Budget (OMB), the Office of Personnel Management (OPM), and GSA in October 2021 and went out to about 2 million civilian Federal employees who work in the 24 largest agencies. The purpose of the Pulse Survey is to provide a real-time snapshot of data on Federal employees' thoughts about their workplaces. The survey consisted of 10 questions covering topics like employee engagement and burnout, the pandemic, and return to the workplace plans. Response rates among the surveyed agencies varied.  
Results showed that on average, Federal employees across the Government "somewhat agree" that they trust their supervisors to help them navigate conversations about the transition to returning to the office. Most survey questions received ratings between "neutral" and "somewhat agree." The highest ratings apart from return to work plans came in the categories of having someone to talk to about day-to-day problems and leadership valuing diversity and inclusion goals. The most variation in responses among agencies came from questions on whether leadership was doing well in protecting employees' health, safety, and wellbeing. 
DHS to Host a Virtual PIL Boot Camp for Industry, Feb. 16
Since 2018, the Virtual Procurement Innovation Lab (PIL) Boot Camp for Industry has been offered to the DHS-wide and government-wide acquisition communities, and a few times a year, this training is offered to industry.  
During this highly interactive half-day virtual workshop, the PIL team will share the innovative procurement techniques that are most often used by the DHS acquisition community and in their procurements. These innovations all fall within the "four-corners" of the Federal Acquisition Regulation (FAR) and are used to lower entry barriers for innovative non-traditional contractors, shorten the time to award, encourage competition, and improve mission outcomes. Industry participants will hear examples of how DHS procurement teams have used these FAR flexibilities, GAO protest findings, and how the PIL fosters a culture of procurement excellence where smart risk-taking and innovation ensure DHS mission success.  
When: February 16, 2022 from 8:00 am to 12:30 pm EST  
Who Can Attend: The workshop will be reserved only for Industry. While content has been updated, the February workshop remains similar to prior offerings.  
How to Register: Please use the link below no later than February 9, 2022: Registration Link for DHS Virtual PIL Boot Camp for Industry – Feb. 16, 2022 Upon registration, you will receive an email confirmation from PIL@hq.dhs.gov. *Check spam and junk mail folders* 
Format: This is a virtual training. The Zoom platform will be used.    
Should you have any questions or concerns, please do not hesitate to reach out to the PIL team directly at PIL@hq.dhs.gov. 
Register Today – AFCEA Bethesda's 2022 Health IT | Advancing the Mission!
The Coalition is proud to sponsor AFCEA Bethesda's 14th Annual Health IT Advancing the Mission program, three weeks of agency focused panels that will be held virtually every Tuesday & Thursday from February 1 – 15! Every day is a unique opportunity to learn, engage, and connect with key government agencies including HHS, CMS, DHA, VA, NIH, CDC, and FDA on the most important healthcare IT challenges facing government and industry today.
The series will kick off on February 1 with the CXO Panel, where federal Health IT leaders will provide a high-level overview of the acquisition, technology, policy, and workforce strategies that make transformation possible. Next, leaders from Health and Human Services (HHS) will share how the President's Management Agenda is enhancing and securing government information technology as a vital support function and critical catalyst for mission delivery. Attendees will have the chance to ask questions of the panelists in small group breakouts during the Post-Panel Discussion. Coalition members can save 40% when you register for a Series Event Pass with access to all five events! Register here.