2020 All Member Fall Training Conference: Focusing On The Business Of Government
Temperatures are dropping, leaves are changing colors, and registration is officially open for The Coalition's 2020 All Member Fall Training Conference: Focusing On The Business Of Government.  This virtual training event will take place on November 17 -18, where we will combine our traditional conference with our normally separate Healthcare Procurement Training Conference for a two-day all member event that requires only one registration.  Please take a minute to review our DRAFT agenda as we are proud of the wide variety of topics available and speakers participating.  Click HERE to register, and contact Matt Cahill at mcahill@thecgp.org if you are interested in sponsorship opportunities.
Day One
We are happy to confirm that Tom Davis, current Partner at Holland & Knight and former 14 year Member of Congress (VA), will be our Keynote Speaker both days!  While his overall discussions will be about What Happened This Election And What Does It Mean? – his remarks on the second day will dive deeper into what the election results mean for the healthcare industry.
One of the highlights of any Coalition Training Conference is the legal panel that presents "The Rogers" – a parody of the Oscars focused on Legal developments in government contracting.  Your hosts for this year's Rogers will once again be Jonathan Aronie, Partner, Sheppard Mullin; Lorraine Campos, Partner, Crowell & Moring; David Dowd, Partner, Mayer Brown; and Jason Workmaster, Member, Miller & Chevalier.  Look for an equally educational and entertaining Healthcare Legal Panel on day two that includes Jonathan, along with James Kim, Partner, McDermott Will & Emery; Joy Sturm, Partner, Hogan Lovells; and Stephen Ruscus, Partner, Morgan Lewis.
After a break for lunch, day one will continue in the afternoon with a panel on Section 889, Cyber and Supply Chain Issues, which will feature confirmed panelist Samantha Clark, Special Counsel, Covington & Burling and Kim Herrington, Principal Director, Defense Pricing and Contracting.  Jeff Koses, Senior Procurement Executive, GSA, and Kelley Artz, Senior Leader for Supply Chain Risk Management, GSA, have also been invited.
We will then shift to our Policy Panel to get a better understanding of the perspective from the Hill.  Tim Cooke, Executive Director, Center for Procurement Advocacy will serve as moderator and confirmed panelists include Tom Sisti, Executive Vice President and General Counsel, Coalition for Government Procurement and Jon Etherton, President, Etherton & Associates.  Andrew Hunter, Senior Fellow, Center for Strategic and International Studies, and Karen Thornton, Acquisition Counsel, House Armed Services Committee, have also been invited.
On day one, we are pleased to offer a panel on GSA Systems and Consolidation Update before we head into individual Business Intelligence Sessions (breakouts).  Our invited speakers for this session will be Judith Zawatsky, Assistant Commissioner for Systems Management, GSA, and Stephanie Shutt, Director MAS PMO, GSA.
We will closeout day one with a wide variety of Business Intelligence Sessions to choose from, including
Office Products; Industrial Products; Furniture, Services; IT; DLA MSPV and ECAT Programs; VA Research; VA Pharmaceuticals; and the Non-Expendable Equipment Program.  Choose your favorite session to attend "live" so you can take advantage of the Q&A time, and then listen to the other recorded sessions at your leisure.
Day Two
As noted above, day two will kick off with a compelling keynote by Tom Davis, current Partner at Holland & Knight and former Member of Congress (VA), who will be discussing What Happened This Election And What Does It Mean?  Tom's remarks on this day will dive deeper into what the election results mean for the healthcare industry.  The keynote will be followed by the DoD and VA Partnership Panel, where Matthew Beebe, Acquisition Director, DLA, and Dr. Barclay Butler, Assistant Director for Management and the Component Acquisition Executive, DHA have been invited; and Phil Christy, OALC Deputy Executive Director, VA, has confirmed.
Next, you'll have the power to choose between two options as we leverage our virtual event environment to offer mo­­re content choices than ever before.  The first option is a VA Logistics and Procurement Panel where Deborah Kramer, Acting Assistant Under Secretary for Health for Support Services, VHA, has been invited, and Andrew Centineo, Executive Director, Procurement and Logistics, VHA, and Phil Christy, OALC Deputy Executive Director, VA, have been confirmed.  Your other option is to listen in to the GSA Leadership Panel where Tom Howder, Deputy Commissioner, FAS; Laura Stanton, Assistant Commissioner for the IT Category, FAS; and Bob Noonan, Assistant Commissioner for General Supplies and Services, are all invited.  Tiffany Hixson, Assistant Commissioner for the Professional Services and Human Capital Categories, FAS, and Erv Koehler, Assistant Commissioner for Customer and Stakeholder Engagement, have also been invited to attend.
After a brief lunch period, we will pick up again with a short session on the VA Mission Act and Community Care Network, where we have invited Dr. Mark Upton, Assistant Acting Under Secretary for Health for Community Care, VHA, to share his thoughts.
As noted above, we will hold a Healthcare Legal Panel before diving into numerous Business Intelligence Session options, including VA MSPV Program; VA Federal Supply Schedules; Prosthetics and Biologics; DoD and DLA Pharmaceuticals; GAO Healthcare; National Contract Service; Update from the SSAC; GWAC/MAC; and Global Supply/4PL.  Once again, we recommend you choose your most interesting session to attend "live" so you are able to take advantage of the Q&A time, and then listen to the other recorded sessions at your leisure.
Excellence in Partnership Awards
We are pleased to announce the Excellence in Partnership (EIP) Awards will continue in 2020­­ and the awardees will be announced and recognized during the two day virtual event.  The EIP Awards honor individuals and organizations in the acquisition community who have made significant contributions to the procurement system by delivering best value and meeting agency missions. Historically, these awards have recognized individuals, organizations, and contractors involved in procurement with GSA, VA, DOD, DHS, and other government agencies.  
This year's category awards include:
Lifetime Acquisition Excellence Award  

Presented to an individual in the contracting community (government or industry) for demonstrating a life-long commitment to advancing "common sense in government procurement."  

Acquisition Excellence Award  

Presented to an organization or individual (government or contractor) for outstanding performance in meeting the mission-critical needs of a Federal agency through a government contract.   

Excellence in Innovation Award  

Presented to an organization or individual (government or contractor) for creating innovative solutions and/or an innovative process for a Federal agency that improves and facilitates mission performance.   

Advocating for Veterans Award  

Presented to an organization or individual (government or contractor) for promoting and executing a successful program that supports veterans.  
Click here to submit your nomination for a 2020 EIP Award. If you have questions or need assistance regarding the EIP Awards, please contact Michael Hanafin at mhanafin@thecgp.org.
We hope that you will join us for our 2020 Virtual All Member Fall Training Conference: Focusing On The Business Of Government – don't forget to register today!
Remembering
 Our 
Dear 
Friend
 Steve Robinson
It is with great sadness that we share with members that Steve Robinson, a Coalition member with Knoll and former chair of the Furniture Committee, died on September 30 due to complications from cancer. Steve was admired by his friends and colleagues across the Furniture industry and in Government for his expertise, kindness, and optimism, and he will be deeply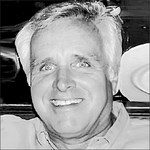 missed.  Coalition President, Roger Waldron, said that he first met Steve at a Coalition event when he was at GSA and that "he was always a gentleman, a huge supporter of our association, and a true advocate for the positive partnership between industry and the Government."  
The following statement was provided by Knoll. 
Steve Robinson, Popular Knoll Government and GSA Leader, Dies at 66 
Steve Robinson, 66, who led the Knoll Government and GSA sales team for several decades, died on September 30 of complications from cancer. Well known in the contract furniture industry as the government contracts expert, Steve provided guidance and advice to many over his long career.  
"Without Steve, we are missing a strong compass for the Knoll values of integrity and accountability, a powerful Knoll voice in Washington D.C. as well as a kind person who always had a warm smile," said Paige Roberts, Knoll Senior Vice President, Sales, Customer Service and Distribution.  
Commenting on Robinson's career, David Noel, President, MOI, a Washington D.C.-based Knoll Dealer, said, "Steve's keen sense of the market – where opportunities were, how to engage a team to pursue the opportunity and hold a team accountable to the necessary action – was unmatched.  He was the consummate professional and elevated everyone around him. Steve was uniquely qualified for the work he did and he excelled at it." 
"He always demonstrated a sense of humanity. Steve was a good listener and had a keen sense of humor. He was a born optimist. He will be missed by all us," Roberts added. 
According to his obituary in the Washington Post, contributions to the National Brain Tumor Society would be appreciated. (www.braintumor.org) 
Fiscal Year 2020 Expected to Reach Record Spending
According to Nextgov, federal spending surpassed $6 trillion for fiscal year 2020, a record number for federal spending. According to data from the Treasury Department, total government spending reached $6.1 trillion by the end of August for fiscal year 2020. The 2020 budget deficit is $3 trillion through August, which is also a record high that is nearly twice as large as the previous highest deficit in fiscal year 2009. Fiscal 2020 spending has been dominated by healthcare, entitlements, and the military. The top three spending agencies were the Department of Health and Human Services (HHS), Social Security Administration (SSA), and the Department of Defense (DoD). It is estimated that the government has spent $2.2 trillion on COVID-19 relief. These totals are expected to grow as agencies obligate the rest of the funding appropriated by Congress through contracts. 
GSA Announces Polaris, New Small Business GWAC
On October 1, the General Services Administration (GSA) announced the next generation for the small business Governmentwide Acquisition Contract (GWAC), Polaris. Polaris will be the follow-up to GSA's small business GWACs like Alliant Small Business. GSA wants to collaborate with industry, customers, and stakeholders on the acquisition strategy for the next generation small business GWAC through events like the GSA hosted "Your Voice Matters: Help Shape GSA's Next Small Business GWAC Industry Forum" on August 27.  
GSA has launched the Small Business GWAC Community of Interest (COI), which will continue this collaboration by allowing discussion of topics related to the small business GWAC. There are several areas in the small business GWAC where GSA will make adjustments, including using Section 876 of National Defense Authorization Act (NDAA) fiscal year 2019 that gives GSA the authority to award contracts without considering prices for an hourly rate at the contract award level. GSA will offer open season on-ramps for the small business GWAC. Small business GWAC has the possibility to include lifecycle opportunities on GSA contract vehicles for small businesses as they grow. While Polaris is still in the very early stages of the process, GSA is looking forward to releasing a request for information this month and planning to have draft requests for proposals in the next few months. 
GSA 
Announces 
Important Dates
 for Schedule Contractors
The General Services Administration (GSA) announced upcoming deadlines for contractors: 
The new GSA FAS ID is launching on Saturday, October 10. The FAS ID is a new way for contractors to access GSA applications (including eBuy) using multi-factor authentication.

 More information on the FAS ID can be found

 

here

. 

 

The deadline for contractors to submit updated catalog information to GSA Advantage has been extended to March 31, 2021. Contractors are required to update their catalogs after accepted the consolidation mass modification.

 More information on the catalog updates can be found

 

here

.

 

The MAS Program Management Office is hosting virtual office hours on October 15 and will be discussing their priorities for FY2021.  

Members can click

 

here

 

to register for the virtual office hours. 

 
NASA SEWP 
Lowering Fee
NASA's Solutions for Enterprise-Wide Procurement (SEWP) announced that funding for new orders and modifications exceeded $9 billion in Fiscal Year 2020, an increase of almost 40 percent. SEWP also processed more than 46,000 orders. As a result of increased use of the program, SEWP is lowering their SEWP V GWAC usage fee from 0.36 percent to 0.34 percent. More information on the SEWP program and its accomplishments in 2020 can be found in their press release.  
SBA's Quick Processing of PPP May Have Contributed to Potential Fraud
On October 1, Government Accountability Office (GAO) released a report on the Small Business Administration's (SBA) Paycheck Protection Program (PPP). In this report, GAO finds that the SBA's quick processing of PPP made them more susceptible to fraud. The SBA relied on self-certification to process the PPP loans. SBA stated that it will review all loans of more than two million dollars and selected loans of less than two million dollars.  
There were not any requirements given by SBA to determine which loans under two million dollars they will be reviewing. The Treasury Department and SBA are working together to finalize the plans for PPP loan reviewal. The Department of Justice publicly announced the charges of more than 50 PPP fraud-related cases. GAO completed this report to review SBA's response to the COVID-19 pandemic. Given the fraud risk associated with the PPP loans, GAO recommended that SBA develop and implement plans to identify and respond to risks in PPP to ensure program integrity, achieve program effectiveness, and address potential fraud. 
Contractor 
Past Performance Survey 
Earlier this week, Federal News Network reported that the Office of Federal Procurement Policy published a survey on contractor performance assessment ratings. The survey found contractor assessments are not always timely and that ratings do not always match contract outcomes. The survey raised the possibility of a "CPARS Lite" approach for fixed priced and commercial contracts to expediate and improve the ratings process. 
Agencies Need to Do More to Reduce IT Contract Duplication
On September 30, the Government Accountability Office (GAO) published a report on actions that federal agencies need to take to reduce contract duplication. According to the GAO, contract duplication occurs when an agency awards two or more contracts to the same vendor for the same services or to different vendors for similar products or services. Contract duplication also occurs when agencies establish contracts for products and services already available on government-wide contracts. The Government has been utilizing Category Management and implementing spend analyses to identify and reduce contract duplication. GAO reviewed what steps agencies are taking to reduce information technology (IT) contract duplication by determining the extent to which their efforts were consistent with Office of Management and Budget (OMB) guidance.  
GAO found that the agencies varied in their efforts of implementing OMB category management activities identified to reduce contract duplication. These activities, along with a breakdown of the number of agencies following each, can be found in the figure below: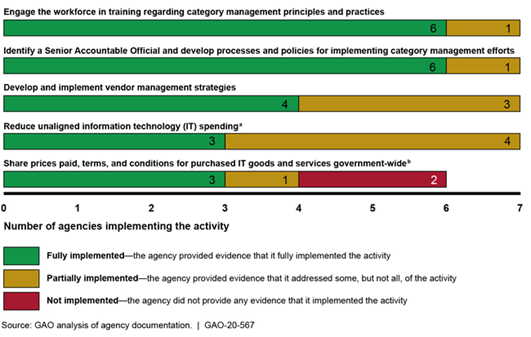 The 7 agencies reviewed in the report were the Departments of Agriculture (USDA), Defense (DOD), Health and Human Services (HHS), Homeland Security (DHS), Justice (DOJ), State (State), and Veterans Affairs (VA).  These agencies cited multiple reasons for their varied implementation, including that they were still defining how to best integrate category management into their agency. Four of seven selected agencies had fully or partially implemented the activity of using a spend analysis to identify potential contract duplication. Each of these four agencies had fully implemented the activity to develop and implement strategies to address identified duplication, which has resulted in millions of dollars in savings. The other three agencies have not implemented either of the two spend analyses activities, putting them at risk for wasteful spending. 
Legal Corner: DoD's Cybersecurity Rule Will Expand Assessments of Defense Industry to Safeguard Unclassified Information, Raising New Implementation Issues
Authors: Alexander Canizares and Richard Oehler, Perkins Coie
The Legal Corner provides the legal community with an opportunity to share insights and comments on legal issues of the day. The comments herein do not necessarily reflect the views of The Coalition for Government Procurement. 
The U.S. Department of Defense (DoD) has issued a long-awaited interim rule to safeguard unclassified information in the possession of defense contractors by making periodic assessments of a company's cybersecurity compliance a condition of eligibility for a contract award.
DoD's interim rule was published in the Federal Register on September 29, 2020, and will take effect November 30, 2020, subject to becoming final later after receipt of comments. DoD's decision to implement the rule before it becomes final—citing the need for urgency—unfortunately limits the opportunity for DoD to receive input.
DoD's rule provides a regulatory framework for its Cybersecurity Maturity Model Certification (CMMC) program, which will be introduced into new contracts over the next five years. The rule also provides for a separate track of assessments that will apply to contractors that possess government information that requires safeguarding using controls set forth in National Institute of Standards and Technology (NIST) Special Publication (SP) 800-171.
The interim rule has significant compliance and cost implications for the Defense Industrial Base (DIB). This update provides an overview of DoD's interim rule and several key open issues.
DoD's Revised Contract Clauses
According to the interim rule, defense contractors "must begin viewing cybersecurity as a part of doing business" in order to protect themselves and to "protect national security."
The interim rule sets forth a two-pronged approach to implementing cybersecurity requirements.
First, the interim rule puts previously announced details related to CMMC into a regulatory and contractual framework to be rolled out over the next five years.

Second, it adopts a new, parallel track of assessments to verify that contractors are complying with NIST SP 800-171 and government assessors will assume a role in that process.
The interim rule proposes three new standard contract clauses under Part 252 of the DFARS and amends other DFARS subparts as part of a broad overhaul of existing cybersecurity requirements.
CMMC and Third-Party Verification
Released in January 2020, CMMC is a risk-based model designed to measure a contractor's protection of information that supplements the requirements in NIST SP 800-171 with additional practices and processes that vary according to the CMMC level.
The interim rule outlines DoD's plan to insert CMMC requirements into new contracts as follows.
Between now and October 2025, DoD's Office of the Undersecretary of Defense for Acquisition and Sustainment will determine which contracts will include CMMC as a requirement. DoD anticipates that nearly 130,000 entities will pursue CMMC certification during this five-year period.

Once fully implemented, CMMC will be required for all DoD solicitations and contracts above the micro-purchase threshold, except for commercial off-the-shelf contracts.

As of October 1, 2025, to be eligible for a contract subject to CMMC, a contractor must be certified at one of five CMMC levels as of the time of award, based on an assessment performed by a Third-Party Assessment Organization (C3PAO) overseen by the CMMC Accreditation Body (CMMC-AB). Contractors must maintain a certificate for the duration of the contract.

A contractor can achieve a CMMC level for its entire enterprise network or particular segments or enclaves, depending on where the information is located.

A new clause, DFARS 252.204-7021, must be flowed down in subcontracts, except for commercial off-the-shelf item subcontracts. Primes must "ensure" that, prior to awarding a subcontract, the subcontractor has a current CMMC certificate at the "appropriate" CMMC level based on the information to be made available.

DoD's interim rule anticipates assessment-related disputes but offers few details. Contractors may bring challenges before the CMMC-AB "related to claimed errors, malfeasance, or ethical lapses" by a C3PAO and then seek further review before the CMMC-AB. The standards that will be applied to resolve disputes remain unclear.
According to the rule, more than 163,000 small entities will need CMMC certification. The rule states that the average annual costs for small businesses to obtain CMMC certification will range from $1,000 for CMMC Level 1 to more than $60,000 for Level 3. Obtaining CMMC Level 5 certification is projected to cost more than $480,000 annually.
NIST SP 800-171 Assessments
The interim rule adopts important changes applicable to companies whose contracts include the existing cybersecurity clause at DFARS 252.204-7012. That clause requires contractors that store, process, or transmit Covered Defense Information (CDI) to maintain "adequate security" on their information systems by, at a minimum, adopting controls set forth in NIST SP 800-171. The clause also requires contractors to report cyber incidents.
Noting that to date, contractors have been permitted to stop short of implementing all of the 110 security requirements in NIST SP 800-171, the rule calls for "correcting" implementation gaps "immediately."
Under the rule, companies subject to NIST SP 800-171 will undergo one of three types of assessments using a "NIST SP 800-171 DoD Assessment Methodology."
Basic Assessments will be self-assessments performed by contractors that indicate how many NIST SP 800-171 requirements the contractor has yet to implement. For example, a company that implemented all 110 NIST SP 800-171 controls will have a score of 110.

To be considered for award of a DoD contract, a company that has a "covered" contractor information system under DFARS 252.204-7012 must have, at a minimum, a Basic Assessment that is current, i.e., not more than three years old.

The requirement to have a Basic Assessment will be phased in over a three-year period, incorporated into new solicitations and contract clauses in new contracts and orders.

Medium and High Assessments may be performed by the government at its discretion after contract award based on the "criticality" of the program or the nature of the information at issue. DoD expects that Medium and High Assessments will be conducted on a "finite number" of awardees each year.

The results of a NIST SP 800-171 assessment will be documented in DoD's Supplier Performance Risk System (SPRS). Prior to contract award, contracting officers will verify in SPRS that offerors have a current NIST SP 800-171 DoD assessment on record.

The DoD assessments will be valid for three years and then must be renewed.
According to DoD, its methodology will enable assessments at the "entity level," avoiding duplicative or repetitive assessments on a contract-by-contract basis. Also, according to the rule, CMMC assessments "shall not duplicate" efforts from any comparable DoD assessment, except in rare circumstances. The manner in which CMMC will coexist with these assessments remains unclear.
Next Steps and Implementation Issues
DoD's interim rule represents a significant step with vast consequences for defense contractors. Significant implementation challenges, however, remain.
DoD's decision to forego traditional notice-and-comment rulemaking, citing urgent and compelling circumstances, is unfortunate because it limits industry feedback on a major program. Nevertheless, the final rule can change based on comments received by November 30, 2020, and this introduces a degree of uncertainty.

The rule encourages companies subject to NIST SP 800-171's requirements "to immediately conduct and submit" a self-assessment to facilitate later review by DoD. Companies subject to DFARS 252.204-7012 that process CDI should consider performing such an assessment if they have not already done so.

DoD's two-track approach to assessments—with some performed by third parties and others performed by the government and contractors—raises questions about the roles to be played by third parties (i.e., the CMMC-AB and C3PAOs) and the government and the relationships between the various participating oversight entities.

A prime contractor's flow-down obligations to subcontractors will present challenges. There will be interpretive questions such as what it means for a prime contractor to "ensure" that a subcontractor has a CMMC certificate that is "appropriate" for the information that is to be flowed down to the subcontractor and who will decide the meaning of "appropriate."

The rule provides DoD with discretion to use a Medium or High Assessment after a contract is awarded, depending on the nature of the program or the sensitivity of the information, but this also creates uncertainty for companies trying to prepare their systems for assessment.

Questions remain regarding the applicable standards and the information that needs to be protected (e.g., the definition of Controlled Unclassified Information (COI)), as well as the cost impact for small businesses.

Issues remain unanswered about dispute resolution procedures under CMMC, including the extent to which DoD will be involved in resolving disagreements and the implications of CMMC's "Go/No Go" requirements for bid protests challenging procurements.
Companies should continue to monitor developments in this area as they prepare for CMMC and the interim rule's effective date.
Legal Corner: DFARS: Assessing Contractor Implementation of Cybersecurity Requirements
Authors: Robert Metzger, Alexandria Webb, Deborah Rodin, & Eleanor Ross, Rogers Joseph O'Donnell
The Legal Corner provides the legal community with an opportunity to share insights and comments on legal issues of the day. The comments herein do not necessarily reflect the views of The Coalition for Government Procurement. 
On September 29, 2020, the Defense Acquisition Regulations System, Department of Defense ("DoD") issued an interim rule to implement two distinct but related assessments of cybersecurity requirements: first, the National Institute of Standards and Technology ("NIST") Special Publication ("SP") 800–171 DoD Assessment Methodology and, second, the Cybersecurity Maturity Model Certification ("CMMC") Framework, "in order to assess contractor implementation of cybersecurity requirements and enhance the protection of unclassified information within the DoD supply chain" (the "Interim Rule"). DFARS: Assessing
Contractor Implementation of Cybersecurity Requirements (DFARS Case 2019-D041), 85 Fed. Reg. 61,505 (Sept. 29, 2020).
Click here to read the full publication. 
Healthcare Spotlight: GAO Reports on VA's MSPV Program
The Government Accountability Office (GAO) published a report on the Department of Veterans Affairs' (VA) Medical-Surgical Prime Vendor-Next Generation (MSPV-NG) program. The report assesses VA medical centers' use of the MSPV-NG program and whether the MSPV 2.0 will mitigate the challenges with the current program. GAO also reviewed whether the VA has developed metrics for measuring the Defense Logistics Agency's (DLA) MSPV pilot success and scalability.
The MSPV program is intended to provide efficient, cost effective way for VA's 170 medical centers to order supplies. However, GAO found that only 11 percent of medical centers met VA's target of using the MSPV formulary for 90 percent of medical supply purchases. After meeting with 12 medical centers, GAO discovered contributing factors that resulted in ordering errors and delivery delays. The planned MSPV 2.0 is designed to fix some, but not all, of these issues. GAO also found that supplies shipped directly from manufacturers instead of local warehouses often resulted in late deliveries.
The following GAO chart provides a summary of the issues identified with the MSPV-NG program and the VA's plans to mitigate them through MSPV 2.0:
Click here to read the full article.
VA is Close to Launching New EHR but 
VA Executives
Have Concerns
Federal Computer Week reported that the Department of Veterans Affairs (VA) will have its initial rollout, scheduled for October 24, using the Cerner Millennium electronic health record (EHR). The new EHR and the MyHealtheVet will run tandem, which will give 88,000 patients at the Mann-Grandstaff facility the option to use the new EHR or MyHealtheVet. VA executives have raised concerns with the parallel operation of the two portals. John Windom, executive director of the VA's Office of Electronic Health Records Modernization (OEHRM), said that the new EHR program is not funded to replace MyHealtheVet. Chief medical officer of OEHRM, Dr. Laura Kroupa, stated that the two systems are not meant to run in tandem and veterans receiving care in Spokane will be defaulted to the new EHR. 
GAO Finds that Army OTA Use has Tripled
The Government Accountability Office (GAO) published a report on the Army's alternative agreements and approaches for modernization. GAO found that the Army increasingly uses alternative agreements instead of Federal Acquisition Regulation-based contracts in an effort to modernize its weapon systems. Notably, GAO found that in the last three years, the Army has more than tripled its use of other transaction authorities (OTAs). OTAs help to evaluate the feasibility or utility of a technology and have driven the recent expansion in the overall use of alternative agreements to support Army modernization. Obligations from OTAs rose from $1.59 billion in 2017 to $4.80 billion in 2019. Most of these OTAS were issued for technology prototypes. OTAs have been prioritized by the Army while it stands up Army Futures Command, which is the lead for requirements and technology development.  
GAO found that Army Futures Command has not regularly analyzed the use of alternative agreements like OTAs to gain insight on distribution and trends, which could aid in decision making for the Army and stakeholders in contracting and acquisition. Currently, the Army lacks consistent practices to identify and share learned lessons from entering into alternative agreements. The implementation of consistent and coordinated practices can help support the Army's modernization goals. Army leadership said the use of OTAs is a priority for the service and will continue to grow in the future. 
GSA Seeking Tester
s
 for beta.SAM.gov
The General Services Administration is seeking testers for beta.SAM.gov and asked the Coalition to share the following letter with members. Anyone interested in being tester should email GSA at iaeoutreach@gsa.gov by next Friday, October 16. 
Greetings, 
As you know, the Integrated Award Environment (IAE) integrated the legacy FBO.gov into beta.SAM.gov in November of 2019. Soon, the IAE will be integrating the legacy SAM.gov system into the same environment. As part of our continual efforts to improve our systems, we are in search of a small number of industry users like you, who use contract opportunities on beta.SAM.gov on a routine basis, to help test improved searching functions for contract opportunities in the new system before its official launch. 
The integration of SAM.gov will come alongside a significant user experience upgrade that will change the look and feel, but not the functionality or the basic organization of the site. We are asking for your help and expertise to test complex searches and other functionalities that you use in your routine work in a prototype of the new SAM.gov environment. 
What IAE will provide to you: 
An online prototype of the new SAM.gov for you to try out 
Sample use cases on search or other functions we would like you to try to complete with little to no specific guidance (in other words, you will try to complete the task without step-by-step instructions) 
What we need from you, the testers: 
Examples of complex searches you might typically perform in your routine work 
No more than 2 hours per month from now through April 2021 to test    
Your feedback on usability, ease, intuitiveness, etc. of the new search functionality 
We know change can be challenging and we appreciate the insights you can provide! Please let us know if you are able to support our user testing efforts by emailing iaeoutreach@gsa.gov.  
These changes are driven, in part, by new federal user experience standards, and from the feedback we've received from the CFDA, WDOL, and FBO transitions. Your experience and input will help ensure you and all of our end users have an effective tool to perform work in the government award lifecycle. 
Thank you, 
Division of Outreach and Stakeholder Engagement, IAE 
Congressmen 
Question HHS on Assisted Acquisitions
On October 7, Congressmen Greg Walden (R-OR) and Brett Guthrie (R-KY) wrote a letter to the Department of Health and Human Services (HHS) regarding recent events with the agency's Program Support Center (PSC) and recent course of conduct related to contracting. The letter addresses the decision to terminate its $1.4 billion assisted acquisition program for non-HHS agencies, stating that PSC does not have "the policies, procedures, and internal controls in place to support the transfer of PSC contracts to non-HHS agencies." Additionally, the letter cites a Federal News Network article that reported that at the cost of more than $600,000, HHS has kept four top PSC officials on administrative leave suspension for nearly a year. HHS has also paid tens of thousands of dollars in prompt payment penalties, affecting contracting companies and other federal agencies.  
A 2017 report by the HHS Office of Inspector General (OIG) raised concerns about PSC's acquisition process. Out of 30 contracts that were sampled, 13 were found to be non-compliant with laws and requirements, resulting in unreported violations totaling millions of dollars. The Congressmen provided a list of questions for HHS to address regarding PSC and have asked for a response by November 6, 2020. 
DoD Release
s
 Interim Rule 
Implementing
 CMMC
On September 29, the Department of Defense (DoD) issued an interim rule amending the Defense Federal Acquisition Regulation Supplement (DFARS) to implement the Cybersecurity Maturity Model Certification (CMMC) framework in order to assess contractor implementation of cybersecurity requirements. According to the interim rule, CMMC will apply to all DoD contracts and solicitations, including those for the acquisition of commercial items (except exclusively COTS items) valued at or greater than the micro-purchase threshold, starting on or after October 1, 2025. If the offeror does not have the required CMMC certification, then contracting officers will not make an award or exercise an option on a contract. In addition, CMMC certification requirements must be flowed down to subcontractors at all tiers based on the sensitivity of the unclassified information flowed down to each subcontractor.   
DoD is implementing a phased rollout of CMMC. Inclusion of a CMMC requirement in a solicitation prior to October 1, 2025 will need to be approved by the Office of the Under Secretary of Defense for Acquisition and Sustainment.   
The interim rule is effective November 30, 2020. The Coalition plans to submit comments in response to the interim rule.  The deadline to submit comments to the Government is November 30, 2020.  If you would like to send any comments or questions to the Coalition, please contact Sean Nulty at snulty@thecgp.org.  
Upcoming Meetings
Webinar: Assessing Contractor Implementation of Cybersecurity: The Strategy, Structure and Operation of the Cybersecurity Interim Rule
The Coalition is pleased to host Bob Metzger of Rogers Joseph O'Donnell, PC to discuss Assessing Contractor Implementation of Cybersecurity Requirements: The Strategy, Structure and Operation of the Cybersecurity Interim Rule.  This webinar will take place on October 15 from 12:00pm – 1:00pm EST.
The new Interim Rule will broadly affect all DoD companies – and there are indications that other federal agencies, including GSA, will apply cyber requirements including application of CMMC.  This program will review the strategy, structure and operation of the cybersecurity Interim Rule. It will distinguish and explain the difference between the DoD Assessment and CMMC prongs of the rule. Also addressed will be key issues to consider for possible Comments to the Interim Rule. (These are due on or before November 30, 2020.)
Click here to register.
GWAC/MAC Meeting on SeaPort 
The Coalition will be hosting a virtual GWAC/MAC Committee meeting on Thursday, October 22 at 2PM. Kristine Boyles, the Navy's SeaPort program manager, will speak to the committee and provide a program update on the SeaPort program. Additionally, Jeff Guarnero, Chief of the Contracting Office for Naval Air Warfare Center Aircraft Division at NAS Patuxent River, will also speak to the committee and provide a buyer's perspective on SeaPort. 
To RSVP to the meeting please email Michael Hanafin at MHanafin@thecgp.org. Please let us know if you have any questions. 
IT/Services Meeting on Polaris GWAC 
The next IT/Services Committee meeting focused on GSA Small Business GWACs has been rescheduled for Wed., Nov. 4 at 10:30am ET.  Therefore, we will NOT have our regularly scheduled committee meeting next Tues., October 13 at 10am. 
Our guest speakers on Nov 4 will be Keith Nakasone, Deputy Assistant Commissioner of Acquisition, and Carlton Shufflebarger, Executive Director of IT Services for the IT Category.  The objective of the meeting will be to provide GSA with industry input on the next-generation Small Business GWAC. 
If you would like to join the virtual meeting, please RSVP to Michael Hanafin at mhanafin@thecgp.org.