FAR & Beyond: Multiple-Award, Generic, Government-wide Blanket Purchase Agreements = Vertical Contract Duplication
As GSA continues to engage stakeholders regarding its strategy for the cloud marketplace, avoiding vertical contract duplication will be critical to creating a competitive, efficient, and effective cloud marketplace for customer agencies and industry partners.  Unfortunately, GSA appears to be focusing on a strategy employing multiple-award, generic, government-wide Blanket Purchases Agreements (BPAs) for cloud services.  The strategy creates vertical contract duplication, unnecessarily increasing bid and proposal, contract administration, and program management costs.  It is also inconsistent with FAR 8.4 guidance on the use of multi-agency BPAs.
In May of this year, this blog focused on the continuing acquisition management challenge of vertical contract duplication.  In addition, the Coalition provided a set of Best Practices for BPAs under the MAS program.  As a follow up, the flow chart below illustrates the redundancy and increased costs of vertical contract duplication.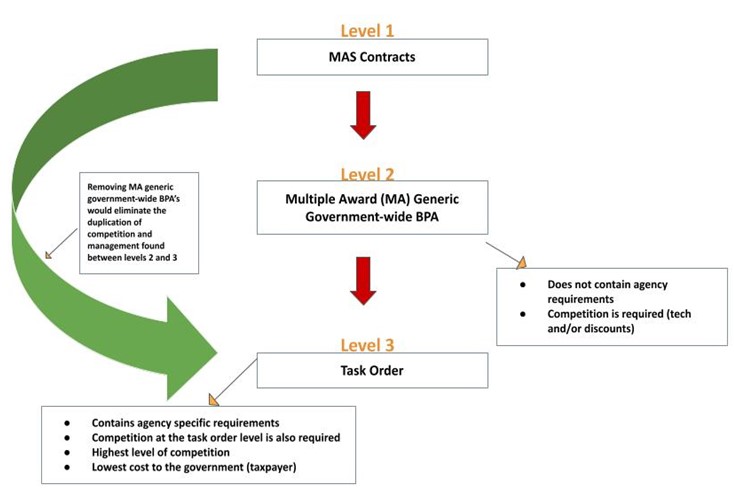 Just last week, the Coalition submitted member comments in response to GSA's Request for Information (RFI) for its (GSA) Multiple Award Blanket Purchase Agreement (BPA) for commercial Software-As-A-Service (SaaS), Platform-As-A-Service (PaaS), and Infrastructure-As-A-Service (IaaS).   The comments reflect industry's continued concerns regarding the unnecessary duplication and increased costs associated with generic, government-wide BPAs.
As the above chart demonstrates, Coalition members believe task order competition directly against the underlying MAS contracts for agency-specific cloud requirements is a more efficient and effective approach than through generic, government-wide BPAs for cloud services.  GSA already has the cloud marketplace.  It also has the MAS program's contracts for cloud services.  Generic, government-wide BPAs do not leverage the cloud marketplace; task order competitions for agency requirements do.
Join the 2021 Fall Training Conference on "What's Next for the Business of Government?" Nov. 17-18
The 2021 Fall Training Conference's theme will continue the Coalition's focus on the Biden Administration's priorities for the Federal acquisition system and what it means for Government and industry. We have invited a host of speakers from across the federal acquisition community for a dialogue on key policy, operational, and management initiatives shaping the business of government. This two-day virtual conference, taking place November 17-18, will utilize the same technology as our previous two conferences. Thank you to our Gold Sponsors: CACI, Medical Place, and Sheppard Mullin; and to our Silver Sponsor: Concordance Healthcare Solutions!  
Please click HERE to see the full DRAFT agenda.  
Please click HERE to register!    
Calling all SPONSORS! Please contact Matt Cahill at mcahill@thecgp.org or 202-315-1054 for sponsorship opportunities!  
DoD Implements COVID-19 Safety Protocols Clause in OTAs
On October 8, the Department of Defense (DoD) released a memo that applies the requirements of Executive Order 14042, Ensuring Adequate COVID Safety Protocols for Federal Contractors, in Other Transaction Agreements (OTAs). DoD is requiring that the COVID-19 safety requirements are added to the following OTAs and modifications: 
Solicitations issued on or after October 15, 2021, and agreements awarded pursuant to those solicitations, that are expected to exceed $250,000; 

 

Agreements awarded on or after November 14, 2021, from solicitations issued before October 15, 2021, that exceed $250,000; 

 

All extensions or renewals exceeding $250,000 issued on or after October 15, 2021;

 

Award of new work executed on or after November 14, 2021, exceeding $250,000, and within the existing ceiling and period of performance of an agreement irrespective of when the agreement was awarded; and 

 

All options exercised, on or after October 15, 2021, on agreements that exceed $250,000.

 
DoD is allowing, but not requiring, their contract officers to insert the clause into: 
Solicitations issued prior to October 15, 2021; 

 

Agreements awarded before November 14, 2021, resulting from solicitations issued before October 15, 2021; 

 

Extensions or renewals, or award of new work within the existing ceiling and period of performance of the agreement, that are valued at or below $250,000; and 

 

Agreements for the manufacturing of products.

 
This memo is effective immediately. DoD has not given a timeline on when contracting officers will issue bilateral modifications to modify existing agreements to incorporate the COVID-19 safety FAR clause.  
Visit the Coalition's website here for more COVID-19 resources for contractors. 
Check out the Coalition's COVID-19 Resources Webpage 
Federal agencies are in the process of implementing Executive Order 14042, Ensuring Adequate COVID Safety Protocols for Federal Contractors and the new COVID-19 FAR clause in covered contracts. The Coalition has a webpage that provides contractors with COVID-19 resources published by the Federal government and our member law firms. As Federal agencies release new guidance, the Coalition's resource page will be updated with the most up-to-date information. Visit the COVID-19 Resources for Contractors page here. If you have any questions about the page, please contact Samantha Holt at sholt@thecgp.org.   
White House Strategy to Reduce Climate Impacts through Federal Procurement
The White House released a report last Friday titled, "A Roadmap to Build a Climate Resilient Economy" which outlines the Administration's strategy for "measuring, disclosing, managing, and mitigating climate-related financial risk across the economy." The Administration is focusing on Federal procurement as one approach to achieving its objectives related to climate change. Specifically, according to the report, the FAR Council is exploring two substantial amendments to the Federal Acquisition Regulations (FAR) to better disclose and mitigate the risks that climate change poses in Federal contracting. 
First, the FAR Council is considering requiring that companies with substantial Federal contract activities disclose their climate risks and greenhouse gas emissions and establish science-based emissions reduction targets. Second, the Council is considering requiring Federal agencies to review climate risks and greenhouse gas emissions in their own procurement decisions, including by giving preference to proposals from suppliers with a lower social cost of greenhouse gas emissions.  
The FAR Council opened two cases on these proposed amendments in May 2021. The objective of these changes is to reduce greenhouse gas emissions throughout the Federal Supply Chain and the entire U.S. economy, increase the resilience of the Federal Supply Chain, and support the competitiveness of U.S. companies in a global clean economy. Additionally, the Administration is asking all Federal agencies to develop ambitious climate action plans, detailing how each agency will bolster its climate adaptation plans and increase the resilience of their facilities and operations to the impacts of climate change. 
Green Committee Meeting with GSA's Chief Sustainability Officer, Nov. 9
Join the Green Committee for a meeting on Tuesday, November 9 at 1 pm EDT. Our special guest speaker will be Kevin Kampschroer, GSA's Chief Sustainability Office and Director of the Office of Federal High-Performance Buildings. As members know, Sustainability is one of the current Administration's top priorities. This meeting will be a good opportunity for members to have dialogue with the General Services Administration (GSA) in advance of the Fall Training Conference, Nov. 17-18, on this important issue. Mr. Kampschroer will address GSA's recently released Climate Change Risk Mitigation Plan, GSA's current sustainability objectives and how suppliers can best support these initiatives.   
To attend this virtual meeting, please RSVP to Michael Hanafin at mhanafin@thecgp.org. If you would like to be added to the Green Committee distribution list, please contact Aubrey Woolley at awoolley@thecgp.org. We welcome members from all industries to participate.     
GWAC Usage Remains Strong
Federal Computer Week published an update on the usage of Governmentwide Acquisition Contracts (GWACs) by Government agencies. GWACs are known for their focus on cost savings, efficiency, competitive rates on fees, and simplified processes for industry. Recently, there has been an emphasis on category management and Best-in-Class designation for some contract vehicles. Despite the expanding popularity and usage of GWACs, some experts believe that the vehicles do present challenges. Specifically, GWACs can require large resource investments that small businesses may not be able to afford. This can leave small businesses concerned that they may be excluded from larger GWACs.  
GSA officials see GWACs as a major factor in working to achieve the Biden Administration's priorities, including the increase in investments for woman-owned and veteran-owned small businesses, as well as those that are located in disadvantaged communities. For example, GSA's Polaris vehicle that supplies IT services and solutions focuses on emerging technologies and woman-owned small businesses or small businesses located in Historically Underutilized Business Zones (HUBZones). Some GWACs are on pace to set new records this year. NASA projects that there will be roughly a 10 percent increase compared to last year in funding for new orders and for modifications to existing orders under its SEWP contract, which would result in over $10 billion in such funding for NASA SEWP in FY 2021. 
DOJ Expects Whistleblowers to Play Key Role in Cyber Breach Cases
Fedscoop reported that the Department of Justice (DOJ) expects whistleblowers to play a large part in cases that are brought up against contractors that failed to disclose cyber breaches. According to Fedscoop, "Assistant Attorney General for the DOJ's civil division Brian Boynton on Wednesday said the department would work closely with insiders at Federal contractors –including technology companies – whose concerns lead them to file qui tam lawsuits." The comments are significant in light of the launch of a new program at DOJ, the Civil Cyber Fraud Initiative, which will "hold accountable entities or individuals that put U.S. information or systems at risk by knowingly providing deficient cybersecurity products or services, knowingly misrepresenting their cybersecurity practices or protocols, or knowingly violating obligations to monitor and report cybersecurity incidents and breaches." 
Assisted Acquisition Services Forum: Delivering Best Value Mission IT and Professional Services Support to Customer Agencies, Oct. 27
On October 27, the Coalition will be hosting senior leaders from the Federal Acquisition Service's Office of Assisted Acquisition Services (AAS) for a virtual forum focusing on the AAS mission and the outlook for Fiscal Year 2022. The forum will provide an opportunity for AAS leadership to share updates on vehicle utilization strategies and current customer mission support opportunities and will include an update on ASTRO. AAS uses the IT GWACs, OASIS and the FSS to support customer agency needs and ASTRO joins this pool of contract vehicles.  
The forum will also address procurement and management best practices and priorities from the regional offices and FEDSIM. AAS has seen unprecedented growth in its portfolio of customer agency support projects and will share insights on where things are headed over the next year from a business and organizational perspective. The forum will feature the two following panel discussions:   
   
9:00 am – 10:00 am EDT – Vehicle Utilization and Customer Mission Support—the Picture for AAS   
10:00 am - 11:00 am EDT – Best Practices and Priorities   
This event is complimentary for all Coalition Members, but registration is required.  There will be a $250 registration fee for Non-Members. 
Legal Corner: Heightened Cyber False Claims Risk: New DOJ Approach to US Government Contractor and Federal Grantee Cybersecurity Enforcement
On October 6, 2021, the US Department of Justice (DOJ) announced a new initiative to address cyber-fraud and that focuses on government contractors. Specifically, DOJ has launched a "Civil Cyber-Fraud Initiative" (Initiative), which will combine DOJ's "expertise in civil fraud enforcement, government procurement and cybersecurity to combat new and emerging cyber threats to the security of sensitive information and critical systems." The Initiative will impact US government contractors and participants in similar agreements, e.g., Other Transactions, as well as grant recipients across the country.
What Happened and Why
DOJ formed the Civil Cyber-Fraud Initiative to address a concern that contractors may be failing to give required notice of cyber breaches. Based on its press release announcing the Initiative, DOJ appears to be of the view that some companies are electing to remain silent regarding known breaches even though the incidents should be reported according to the contract terms.
The Civil Cyber-Fraud Initiative will utilize the civil False Claims Act (FCA) to pursue cybersecurity-related fraud by government contractors and grant recipients. The FCA is the government's primary civil tool to redress false claims for federal funds and property involving government programs and operations. The FCA permits the government to obtain treble damages and penalties for "knowingly" submitting false claims for payment. The statutory definition of "knowingly" includes deliberate ignorance and reckless disregard. The FCA also includes a whistleblower provision that allows private parties (known as "relators") to pursue fraudulent conduct and to share in any recovery.
DOJ stated that the Initiative "will hold accountable entities or individuals that put U.S. information or systems at risk by knowingly providing deficient cybersecurity products or services, knowingly misrepresenting their cybersecurity practices or protocols, or knowingly violating obligations to monitor and report cybersecurity incidents and breaches."
What to Expect
Many government contracts include clauses that require contractors to provide prompt notice of any cybersecurity breach. For example, DoD contracts that require contractors or subcontractors to safeguard covered defense information contain DFARS 252.204-7012. That clause requires a contractor (or subcontractor) to report a cyber incident within 72 hours of discovery. This timing may require the company to report an incident before the full extent of the breach has been determined.
DOJ emphasized that it expects the Initiative to, among other things, "hold[] contractors and grantees to their commitments to protect government information and infrastructure"; "ensure[] that companies that follow the rules and invest in meeting cybersecurity requirements are not at a competitive disadvantage"; and "support[] government experts' efforts to timely identify, create and publicize patches for vulnerabilities in commonly-used information technology products and services." The heightened scrutiny of US government contractor cybersecurity indicates that DOJ will allocate greater resources to identifying and pursuing FCA actions with regard to cybersecurity products and practices. The increased attention also may draw additional interest from the counsel who represent relators.
For additional information or to discuss what the Initiative means for you, please contact Marcia G. Madsen, David F. Dowd or David A. Simon.
Healthcare Corner:  Announcing Two MSPV Dialogue Opportunities in November
The Coalition for Government Procurement is pleased to announce that there will be two opportunities in November for members to engage in dialogue with the U.S. Department of Veterans Affairs (VA) about the Medical/Surgical Prime Vendor (MSPV) program.   
MSPV Dialogue with VA CAO, Michael Parrish, Nov. 10 
On November 10 at 1 pm EST, VA Chief Acquisition Officer, Michael Parrish, has offered to meet with members of the Medical/Surgical Subcommittee for a strategic dialogue about the MSPV program. Phil Christy, Deputy Executive Director of the VA's Office of Acquisition, Logistics and Construction will also participate in the discussion.  The MSPV dialogue with Mr. Parrish on November 10 at 1 pm EST will be a virtual meeting. Please RSVP to Michael Hanafin at mhanafin@thecgp.org to attend. 
MSPV Breakout Session at Fall Conference, Nov. 18 
As a follow-up, members will have an opportunity to meet with MSPV supply program and contracting professionals with the VA during a breakout session at the virtual 2021 Coalition Fall Training Conference on November 18 at 3:55pm EST. The VA speakers for the MSPV breakout session will be: 
Mark Probus, Director, VHA Medical Supply Program Office, VHA 

 

Katie Hulse, Director, Acquisition Services 3 (Medical/Surgical Prime Vendor), VA SAC 

 

Craig Hilliard, Lead Contracting Officer, MSPV Supply BPAs, VHA 

 

Kim Hupp, Contracting Officer, MSPV DAPAs, VA 

 

Gina Napier, Contracting Officer, MSPV-NG Bridge, VA 

 
To attend the MSPV breakout session, please register for the Fall Training Conference here.   
Request for Member Questions on MSPV 
The Coalition and the VA want to make both of these opportunities as productive and informative as possible for industry. We would sincerely appreciate it if members would send their questions about the MSPV program to Aubrey Woolley at awoolley@thecgp.org by Thurs., October 28. Aubrey will be sharing members' questions with the VA to address prior to both meetings. Thank you in advance for taking the time. 
TRICARE Copayment Increases in 2022
TRICARE Communications reported that beneficiaries who are receiving their prescription drugs through TRICARE Pharmacy Home Delivery or at a TRICARE retail network pharmacy, will pay anywhere from $1 to $8 more in copayments starting January 1. The changes in cost will not affect everyone, such as active-duty service members (ADSM), who will "still pay nothing for their covered drugs at military pharmacies, retail network pharmacies, and through home delivery." In addition to ADSM, copayments for survivors of ADSM, medically retired service members and their family members will also see no changes to their copayments next year. 
The new copayment changes are as follows:  
TRICARE Pharmacy Home Delivery (Up to a 90-day supply) 
Generic formulary drugs will increase from $10 to $12

 

Brand-name formulary drugs will increase from $29 to $34

 

Non-formulary drugs will increase from $60 to $68

 
 TRICARE retail network pharmacies (Up to a 30-day supply) 
Generic formulary drugs will increase from $13 to $14

 

Brand-name formulary drugs will increase from $33 to $38

 

Non-formulary drugs will increase from $60 to $68

 
Beneficiaries may only fill some brand-name maintenance drugs that are prescribed for long-term conditions twice at retail network pharmacies. After the second refill for these medications, patients must use home delivery or a military pharmacy.    
Non-network pharmacies (Up to a 30-day supply) 
Non-network pharmacy costs remain the same for beneficiaries who use a TRICARE Prime plan. With a TRICARE Prime plan, a 50% cost-share payment applies after a point-of-service deductible for covered drugs is met. For all other health plans, non-network pharmacy costs are as follows:  
Generic formulary drugs and brand-name formulary drugs will cost $38 (up from $33) or 20% of the total cost, whichever is more, after the annual deductible is met

 

Non-formulary drugs will cost $68 (up from $60) or 20% of the total cost, whichever is more, after the annual deductible

 
Improvements Made to SAM.Gov
GSA posted an update on recent changes that have been made to SAM.gov over the past few months. The following improvements have been made to the site: 
Request controlled attachments on notices

: GSA has made it easier for users to request controlled attachment access at the notice level. When requesting access, users can now submit one request for all controlled attachments for the entire notice. Users may still request access to a specific attachment only as well.

 

Shorter wait when searching by CAGE code:

 Response time for CAGE code searches has been improved. 

 

Expanded permissions now available for Federal roles

: As of August, Federal users can request permission to view Taxpayer Identification Number (TIN), "For Official Use Only" (FOUO) data, and entity reports as part of multiple roles. Federal users can still request the stand alone "FOUO Entity Management Data Viewer" and "Sensitive Entity Management Data Viewer" roles to access this data. Users with these new permissions for any role can access the search filters and fields on the entity display pages. Users will maintain all previous role permissions. 

 

DUNS Number to Unique Entity ID (UEI) transition

: As GSA prepares for the transition from the DUNS number to the new SAM.gov generated UEI on April 4, 2022, users will notice that there are several instances in SAM.gov where the UEI is listed near the DUNS number. The attribute label is now "Unique Entity ID (SAM)" for the entity ID and "Ultimate Parent Unique Entity ID (SAM)" for the entity ID of a parent company of an entity. These labels will be added to static, standard, and administrative contract reports over the next few months. GSA has posted an 

FAQ

 on how UEIs will appear in contract data reports.

 
GSA to Improve Login.gov Functions with TMF Award 
Federal Computer Week reported that on September 30, the Technology Modernization Fund (TMF) Board awarded nearly $187 million to GSA to scale the agency's shared service, login.gov. This solution is used by 27 agencies for over 200 citizen services and currently has over 30 million users. However, many major Government programs have yet to implement login.gov. The TMF award will help GSA make operational enhancements to login.gov around cybersecurity and fraud detection and prevention. GSA plans to create expanded customer support and partner-facing tools that make it easier for large agencies to adopt the program.  
Currently, analysts have said that login.gov does not address issues surrounding digital identification, including the lack of identity verification tools and resources. The program also lacks in-person verification methods that would be beneficial to vulnerable populations. GSA plans to address these issues with the initial funding the agency receives from the TMF Board. A GSA spokesperson said that the agency recognizes "the need for alternatives for remote identity verification to make the program equitable to the entire public, and said that GSA was "actively pursuing multiple avenues for in-person identity verification alternatives to the fully online experience provided today, including looking to the latest technology from the private sector." The TMF award will initially give GSA $27 million for login.gov, and then more funds will become available after benchmarks for the program have been reached. 
GAO Finds Agencies Need to Improve Timeliness of Awards in the SBIR and STTR Programs
On October 14, the Government Accountability Office (GAO) released a report finding that the majority of agencies that participate in the Small Business Innovation Research (SBIR) and Small Business Technology Transfer (STTR) programs did not regularly issue timely awards to small businesses in FY 2020. All participating agencies, except for the National Institute of Health (NIH) and National Science Foundation (NSF), must issue award notifications to small businesses no more than 90 calendar days after the solicitation closed. NIH and NSF are required to issue award notifications within 180 calendar days after the solicitation closed. According to the Small Business Administration, it is important that agencies award contracts in a timely matter so that small businesses receive needed funds and can begin contract performance. 
During FY 2020, approximately 50 percent of participating agencies notified small business awardees in a timely manner. Agencies notified 89 percent of small business awardees in the required time, which is an improvement from 78 percent in FY 2017. In FY 2020, only nine of the 29 participating agencies issued awards to small businesses consistently in a timely manner. GAO considers consistent timeliness to be when an agency issues at least 90 percent of their awards within 180 calendar days. Most of the agencies that are consistently late are taking steps to increase timeliness of award notification. Some of the steps being taken include streamlining proposal reviews and  the award contract process. 
DoD is one of the agencies that lacks consistent timeliness of awards to small businesses. GAO found that the department is taking steps to improve timeliness, but there have been challenges creating standard procedures to ensure timely awards throughout DoD. DoD is required by the National Defense Authorization Act (NDAA) FY 2019 to create a pilot program to help improve timeliness of SBIR and STTR awards, but the department has not yet created it . Of the 13 participating agencies within DoD, only one issued consistent timely awards in FY 2020.  
How the Indian Health Service Has Met the Demand for Medical Supplies during COVID-19
On October 14, GAO released a report on the way the Indian Health Service (IHS) handled the medical supplies demand in 2020 during the COVID-19 pandemic. The IHS provides health care for more than two million American Indians and Alaska Natives. During 2020, IHS was able to meet the medical supply demand through new noncompetitive contracts, purchasing medical supplies in bulk, and streamlining procedures to receive medical supplies more quickly. As of June 30, 2021, there was over $206 million of products contracts obligations to respond to the pandemic. New contracts received that majority of contract obligations, about $169 million. 74% of contracts were awarded noncompetitively to support the immediate medical supply needs of IHS. 74% of contracts were awarded noncompetitively to support the medical supply needs of IHS.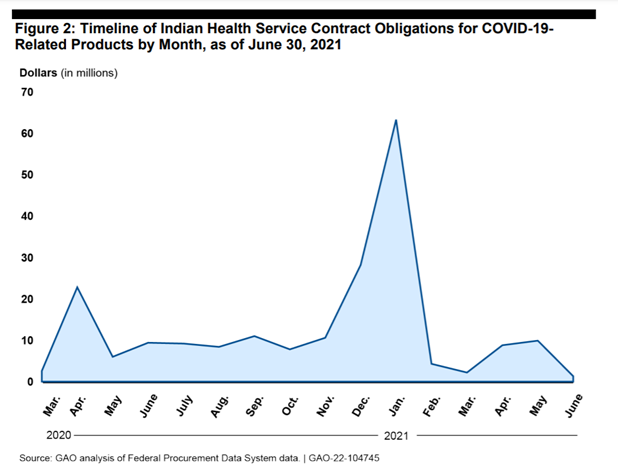 IHS saw contract obligations spike in April 2020 and in January 2021. During the first peak, IHS purchased a large amount of masks and gloves. In the second peak, IHS purchased "lab analyzers, tests kits, and reagents to test COVID-19 samples." 
GAO found that some COVID-related products were delivered late, but IHS contracting officers (COs) did not notice the delay. IHS stated that lack of awareness of the delayed deliveries was due to the large increase in the demand for supplies. Currently IHS is working to obtain new software to improve CO oversight. 
VA Releases New AI Strategy
The Department of Veterans Affairs (VA) posted a press release announcing the release of a new AI strategy which will act as a guidance for the ethical use of the technology throughout the department. The strategy is designed to ensure that the VA is abiding by its legal and ethical requirements in its use of AI, while at the same time, delivering on four major objectives:  
To help improve outcomes and veteran experiences through the use of already existing AI;

 

To increase VA AI capacity and capabilities;

 

To increase Veteran and stakeholder trust in AI; and 

 

To build on the VA's existing partnerships across its agencies and industries.

 
To access the VA's new AI strategy, click here. 
DoD Encouraged to Implement its Small Business Strategy
On October 14, GAO released a report finding that DoD has not begun implementing its 2019 Small Business Strategy. DoD's small business contract obligations were larger in 2020 than any year in the previous decade, however, there has been a reduction in the number of small businesses contracting with DoD over the same time period. DoD was required to publish a Small (a lot of white space here) Business Strategy by the 2019 NDAA. However, GAO found that DoD lacks "key mechanisms to implement the strategy and better monitor and coordinate its small business contracting efforts."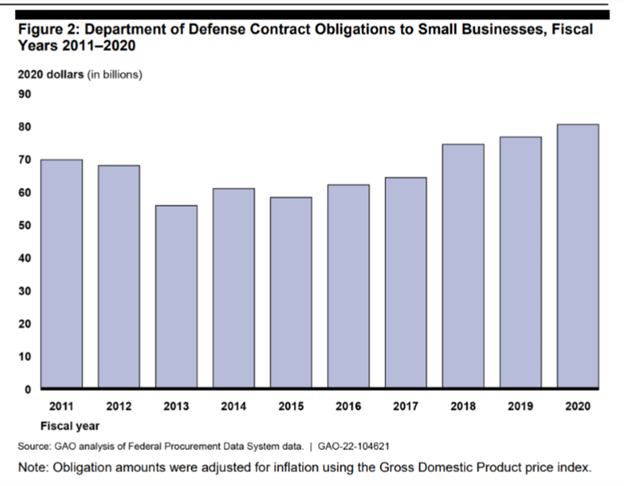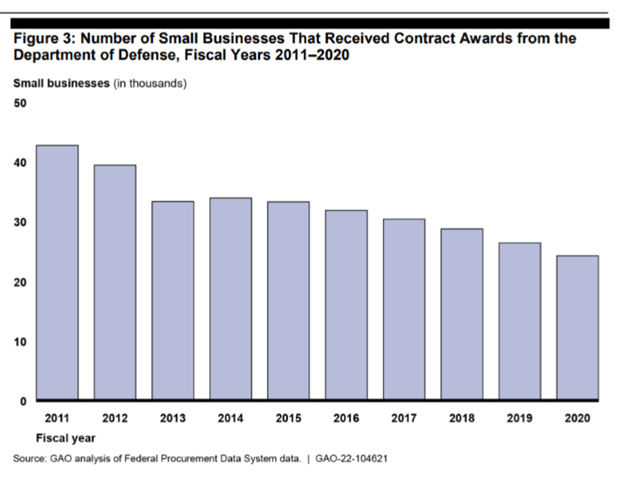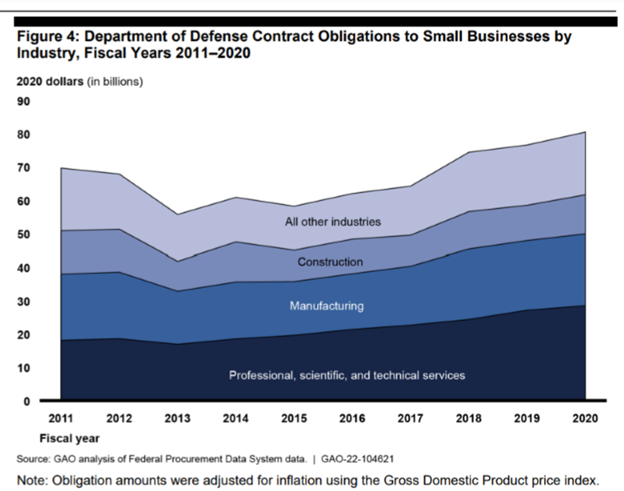 According to the DoD, the following factors have contributed to the lack of implementation of the Small Business Strategy since its publication in October 2019: 
Staffing and resources:

DoD officials said that a decrease in the DoD Office of Small Business Program (OSBP) staff, as well as budget reductions have hindered the office's ability to monitor the implementation of the Small Business Strategy. DoD officials noted that in 2016, DoD OSBP had 13 full-time equivalent employees. According to officials, the office had four full-time employees as of March 2021. 

 

Leadership changes:

 DoD OSBP experienced significant turnover at the director level from 2019 through January 2021, with five permanent or acting directors, resulting in a lack of continuity in leadership, according to officials. 

 

COVID-19:

 Only months after the Small Business Strategy was published, the COVID-19 pandemic started, which forced DoD to shift priorities department-wide.

 
GAO recommends that DoD create and submit an implementation plan for the 2019 Small Business Strategy as required by Section 861 of the 2021 NDAA. It was also recommended that as part of the 2019 Small Business Strategy, that DoD create an implementation guide for a unified management structure for its various small business programs. The last recommendation is that DoD creates a formal monitoring and reporting process for its Small Business Strategy implementation.  
Navy Looks to Adopt Enterprise IT Services Model 
Fedscoop reported that the Navy is looking to transition its IT infrastructure to an enterprise services operational model which would help eliminate systems duplication. This type of model applies a service-oriented business model across all operational functions. In an October 7 memo, Navy Chief Information Officer Aaron Weis and Acting Assistant Secretary of the Navy for Research, Development, and Acquisition Frederick Stefany outlined the service's new strategy. This strategy forms part of the Navy's IT Superiority Vision which was signed in 2020. The new strategy will improve how the Navy acquires and uses IT, and will increase the volume of commercial technology within the Navy.  
Since 2019, following an internal review, the Navy has sought to reduce inefficiencies in its IT systems and strengthen cybersecurity. According to the memo, the new approach will reduce waste and duplication, increase data availability, maintain pace with modern industry practices, and accelerate productivity. The strategy will first focus on core IT systems including cloud-based platforms and credential management. The memo also requires the Navy's Chief Technology Officer to lead a new forum to recommend policy on adopting the enterprise IT services model. 
Off the Shelf: Improving the Nation's Cybersecurity
 This week on Off the Shelf, Cheryl Davis, Senior Director for Strategic Initiatives at Oracle, provided her insight and analysis of the "Executive Order on Improving the Nation's Cyber Security." 
Davis gave her assessment of the current cybersecurity challenges we face as a nation and the imperative for action. 
She also highlighted the themes of the executive order and shared her thoughts on some of the key approaches to IT security for the Federal Government, including strategies for moving to the cloud and harnessing artificial intelligence or machine learning (AI/ML). 
Davis also focused on the software supply chain and the security action contemplated by the executive order, including a "software bill of materials." 
Finally, looking forward, Davis discussed the role of current cyber certification regimes as well as the move to 5G. 
Listen to this episode here.  
GSA Announces New Common Catalog Platform
In a recent Interact post, GSA announced the development of a new Common Catalog Platform (CCP). The CCP will replace the Schedule Input Program (SIP) with a "modern, Application Programming Interface (API)-accessible, web-based application for managing catalog data." The CCP will integrate with GSA's contracting systems to streamline offer and modification processes and will also reduce administrative burdens associated with working in GSA's currently disjointed systems. In addition, the CCP will introduce new functionalities that will make it easier for GSA to manage catalogs and improve the quality of data collected for GSA Advantage! Looking forward, GSA's Catalog Management Office will make data from GSA's new Verified Products Portal (VPP) available in the CCP which "will also enable GSA to standardize COTS product details such as manufacturer name, part number, item name, and technical description to ensure customers see consistent, reliable information." 
Recap: Polaris Industry Forum
On October 20, GSA hosted a Polaris industry forum. Through Polaris, GSA is working to advance EO 13985, Advancing Racial Equity and Support for Underserved Communities Through the Federal Government. According to GSA, there will be regular on-ramps meaning that solicitations will open for each specific pool as openings become available. GSA is targeting a late fall release date of December 21 for the Polaris solicitation. This date is tentative and GSA is still considering a January 2022 release date, which would not require vendors to respond to the solicitation over the holidays. Since GSA plans to host a pre-proposal webinar within seven days from the solicitation release, the rest of the tentative timeline is as follows: 
Solicitation Q&A – 20 – 30 calendar days from solicitation release

 

Proposal submission – 40 – 60 calendar days from solicitation release

 

Award – 2022 

 

Best-in-Class designation – 2022 

 
During the industry forum, GSA reiterated that vendors are allowed to be a prime contractor and subcontractor or to be a subcontractor to more than one prime contractor in the same pool. However, a vendor is only allowed to use relevant experience once in each pool. GSA will provide updates on Polaris at their Small Business GWAC Community of Interest on Interact which can be accessed here. GSA is welcoming questions and feedback on Polaris at polaris@gsa.gov.  
 

DoD Proposed Rule: Updating Required Data for Other than Certified Cost or Pricing Data

 On August 30, DoD released a proposed rule to amend the DFARS to implement Section 803 of the National Defense Authorization Act (NDAA) for FY20. Section 803 prohibits Contracting Officers (COs) from determining if the price of a contract or subcontract is fair and reasonable if the determination is only based on historical prices paid by the Federal Government. Under Section 803, offerors are required to make a good faith effort to submit data if a CO submits a reasonable request that the data is needed to determine if the prices are reasonable, unless it is determined that it is in the best interest of the Federal Government to make the award to that offeror by the head of the contracting activity.   

The proposed rule will amend DFARS 215.403-3(a) to prohibit COs from determining fair and reasonable prices solely based on historical prices paid by the Federal Government. Another proposed change is amending DFARS 215.403-3(a)(4), which states that COs must verify that analysis was performed to determine that prior prices paid by the Federal Government were fair and reasonable before relying on prior prices paid. DoD is proposing that DFARS 215.403-3(a)(4) be replaced with  10 U.S.C. 2306a(d)(2), which states that an offeror must submit cost or pricing data and certify that the data submitted is accurate, complete, and current. A final proposed change is that COs will need to note in the Contractor Performance Assessment Reporting System, regardless of award status, if the offeror has denied multiple requests to submit data other than certified cost or pricing data over the prior three years. Comments are due on October 29 and should be submitted here. The Coalition is considering submitting comments, if you would like for the Coalition to respond to the proposed rule, please notify Aubrey Woolley at awoolley@thecgp.org.