GSA and VA Keynote Speakers Confirmed for Fall Training Conference, November 17-18
We are less than three weeks away from our Fall Training Conference and are excited to confirm our two Keynote speakers: Robin Carnahan, Administrator of the U.S. General Services Administration (GSA) on November 17, and Michael Parrish, Chief Acquisition Officer and Principal Executive Director for the Office of Acquisition, Logistics, and Construction (OALC) at the Department of Veterans Affairs (VA) on November 18.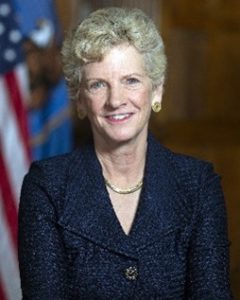 Administrator Carnahan was nominated for her role by President Biden on April 6, 2021, confirmed by the US Senate on June 23, 2021, and was sworn into office on July 2, 2021. She will be discussing her initial impressions as Administrator, GSA's role in supporting Biden Administration priorities, and her vision for government-wide contracting programs moving forward. Prior to joining GSA, Administrator Carnahan served in executive and leadership roles in business, academia, and government, including as the Secretary of State of Missouri (2005-2013).  She founded and led the State and Local Government Practice at 18F, a tech consultancy inside GSA (2016–2020). She is a nationally recognized government technology leader and in 2017 was named one of the federal government's "Top Women in Tech."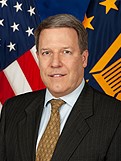 Mr. Parrish was appointed Principal Executive Director for the Office of Acquisition, Logistics, and Construction (OALC) on March 1, 2021. OALC provides policy and oversight for the Department's $36B acquisition needs and manages VA's major construction and leasing program to support the largest integrated health care system in the United States, providing care at 1,255 health care facilities to over 9 million Veterans enrolled in the VA health care program. He also serves as Chief Acquisition Officer and senior most advisor to the Secretary, managing and overseeing all acquisition activities for the Department.
I will have the privilege of interviewing Mr. Parrish during his keynote remarks, and we will cover numerous topics such as technology and VA systems, requirements development, supply chain modernization, and much more. Mr. Parrish has over 35 years of senior leadership experience in military, government, corporate, and non-profit organizations and has been Chairman & CEO of several publicly traded companies as well as founder and CEO for multiple Service-Disabled Veteran-Owned Businesses.
Following the keynote on day one, we will have an assortment of speakers and panels from across the federal acquisition community to discuss key policy, operational, and management initiatives shaping the business of government, including:
Legal and Compliance Panel presenting "The Rogers"
Cyber and Supply Chain Compliance Panel
VA Procurement and Contracting Panel
DoD Cybersecurity Initiatives and CMMC Panel
Schedules Workshop Panel
View from the Hill Panel
GSA Interagency Contracting Portfolio Panel (GWACs, OASIS, and more)
Panels on day two will consist of the following:
Procurement Executive Panel
Future of VA Medical Logistics
Dialogue with Made in America Director Celeste Drake
Medical Supply Chain Panel
Observations from FAS Commissioners – Present and Past
Priorities for IT Modernization Fund Panel
Buy American and Domestic Sourcing Panel
As always, both days will conclude with smaller breakout sessions where you will be able to choose your session based on your particular interest.  There are 16 sessions over the two days, including GSA Systems; Office Products; Industrial Products/Update from the SSAC; Services on GSA Schedules; IT; VA Public Law Pricing Update; DLA MSPV and ECAT; Small Business Opportunities; VA MSPV – Operational Update; E-Commerce – Update on Commercial Platforms Initiative; Cloud Marketplace; DHA Pharmaceuticals; GWAC/MAC; Global Supply/4PL; Services MAC; and Furniture.
We encourage you to view the complete draft agenda and register today!
Finally, we want to thank our current sponsors who help make this event possible – Gold Sponsors: CACI, GDIT, Medical Place, Sheppard Mullin, The Gormley Group; and Silver Sponsor: Concordance Healthcare Solutions.  For sponsorship inquiries or commitments, please contact Matt Cahill at mcahill@thecgp.org.
The Latest on GSA's Commercial Platforms Initiative Pilot
Federal News Network reported this week on GSA's observations about its Commercial Platforms Initiative pilot thus far and their request to Congress to extend the program. While GSA initially estimated the potential market for Federal online purchases below the micro purchase threshold (and the pilot) to be $6 billion, GSA now estimates the market to be $500 million. According to Laura Stanton, Assistant Commissioner for the Office of Information Technology Category at GSA, the $6 billion market encompasses Federal customers who may be walking into a brick-and-mortar store and placing orders there, or some combination of in person and online purchasing. However, the "online channel [of that broader market] is really about $500 million."
To date, 13 Federal agencies are participating in the pilot, including the Departments of Justice, Labor, Veterans Affairs and Health and Human Services. According to Fed News, "GSA expects to add another five agencies this fall, including the Government Accountability Office, the Office of Government Ethics and the Small Business Administration." Keil Todd, the program manager for the Commercial Platforms Initiative at GSA, has indicated that participating agencies have had positive experiences with the pilot thus far. According to Todd, GSA has seen a "satisfaction of 9.2 out of 10, for instance, from a customer satisfaction standpoint." Further, the three platforms participating in the pilot, Amazon Business, Overstock, and Fisher Scientific have seen about "$6 million in sales through July… 75% of which came over the last six months."
In a recent report, GSA told Congress that they would like to extend the current pilot initiative. However, GSA also said that they planned to continue to only assess the e-marketplace platform model and to not invest in testing the other two business models it initially identified, the e-procurement and e-commerce models. In the report, GSA explains that they prefer "not losing the focus through the testing of other models that would require shifting resources (and increasing the investment significantly) to support a much larger and costlier rollout that would yield little benefit to agencies."
GAO Finds Federal Task Force Improved Agencies' Return to Workplace Planning
On October 25, the Government Accountability Office (GAO) released a report on Federal agencies' return to workplace safety plans. GAO found that many of the initial reentry safety plans, created in April 2020, varied amongst Federal agencies. In phase one of the reentry safety plans, there were capacity limits that ranged from 10 percent to 40 percent. Then for phase two, capacity limits varied from 25 percent to 80 percent. Each agency moved through the phases at different speeds, which meant some agencies made it as far as phase two of their reentry plans, and some agencies never lifted their maximum telework stance. There was also huge variation in mask requirements, with some agencies not requiring masks at all and others leaving the mask requirement decisions up to the individual leaders at the facility.  
After the establishment of the Safer Federal Workforce Task Force (The Task Force) in January 2021, GAO found less variation and inconsistencies throughout the reentry safety plans. The Task Force released safety principles which asked agencies to create new pandemic coordination teams. After the creation of the Task Force, "most agencies reported either sustained or improved coordination." In the new reentry safety plans, all agencies included guidance for masking and physical distancing. However, there were still agencies who did not include how supervisors or leaders would deal with a suspected or positive COVID-19 case in the workplace. As agencies continue to navigate the COVID-19 pandemic, the Task Force will continue to oversee and support agencies' coordination efforts to further develop their reentry safety plans.  
VA FSS Implements COVID-19 FAR Clause
The VA Federal Supply Schedules (FSS) program posted a notice on their webpage this week about their plans to implement the COVID-19 FAR Clause within VA Schedule contracts.  The clause requires COVID vaccinations by December 8, 2021 and other safety measures. The VA FSS is incorporating clause 52.223-99 Ensuring Adequate COVID-19 Safety Protocols for Federal Contractors into 621 I Professional and Allied Healthcare Staffing Services and 621 II Medical Laboratory Testing and Analysis Services Schedules. 
The clause is not being implemented under any other VA/FSS Schedules or contracts at this time. 
According to the VA, affected contractors will receive contract modification instructions this week beginning October 25, 2021. Signed modifications are due November 14. The VA has requested that contractors direct their questions to their Contract Specialist for Schedules 621I and 621II or to William.Satterfield@va.gov and Aretha.Spurlock@va.gov. Questions should NOT be directed to the FSS Helpdesk.   
 For more information about the COVID-19 FAR Clause, see-
-  VA COVID-19 Safety Protocols for Contractors Class Deviation: https://www.va.gov/oal/business/pps/flash22-02.asp
-  FAR Council Memorandum: https://www.whitehouse.gov/wp-content/uploads/2021/09/FAR-Council-Guidance-on-Agency-Issuance-of-Deviations-to-Implement-EO-14042.pdf
-  Safer Federal Workforce Task Force Guidance for Contractors: https://www.saferfederalworkforce.gov/contractors/
The Coalition also has a webpage with additional resources at https://thecgp.org/coronavirus-resources-for-federal-contractors.  
CMMC Recruiting More Assessors to Meet Demand
The Cybersecurity Maturity Model Certification (CMMC) Accreditation Body (AB) wants to be more proactive in recruiting individual assessors, according to FedScoop. Currently, CMMC is still under internal review, but there are several approved assessment companies. The CMMC AB is concerned that there are not enough individual assessors within those approved companies to handle the 300,000 Department of Defense (DoD) contractors who will need to be assessed. While the CMMC AB believes that they have a good recruitment framework, they are concerned that there may not be enough interest in the job given the tight labor market in the U.S. One demographic they will target is assessors who work on other certifications, like the Capability Maturity Model Integration.  
Additional TMF Awards Expected in Coming Weeks
According to Fedscoop, Federal Chief Information Officer Clare Martorona has announced that the next round of TMF awards are likely to occur within the coming weeks. The Office of Management and Budget (OMB) is currently working with agencies to ensure that project applications are completed to the fullest extent. The TMF Board has received more than 100 project proposals, and about three-quarters of these submissions are cybersecurity related projects. According to Martorana, the TMF Board has revamped its assessment processes to ensure that the right projects are chosen. In September, the TMF Board made seven new awards for IT modernization projects that were funded by $1 billion from the American Rescue Plan. Under current Senate appropriation proposals, TMF will not receive additional funds in FY 2022. At the same time, lawmakers are seeking strategic plans from OMB on how current TMF funds will be used.    
VA Requests Additional Funds for Electronic Health Records System
Federal Computer Week reported that the Department of Veterans Affairs (VA) is looking for full funding for its program to switch from its VISTA System to Cerner's Commercial Electronic Health Record (EHR) system in 2022, which is drawing concern from House appropriators because the VA has yet to spend all of the funds it was appropriated in FY 2021. The implementation of the EHR Modernization Program was halted this year so that the VA could conduct a formal review of the program due to concerns about patient safety and training during its initial deployment. Now that the review has been completed, the VA is hoping to continue its deployment of the program within Veterans Integrated Service Network (VISN) 20 and VISN 10. VA Deputy Secretary Donald Remy has explained to Congress that the VA is "seeking the $2.66 billion for the program for FY 2022 included in the Biden Administration's budget submission, even though there is money left over from FY 2021 because the FY 2021 appropriation for the program is good for three fiscal years."  
This is drawing skepticism from some lawmakers who are concerned that the "VA's initial cost estimate of $16 billion for the 10-year program has proved to be unreliable, because it didn't take into account physical and IT infrastructure upgrades needed at VA sites before the bandwidth-hungry Cerner application could be deployed. A pair of agency inspector general reports found that the VA underestimated physical infrastructure costs by $2.6 billion, as well as IT infrastructure costs by $2.5 billion, elevating the total program cost to more than $21 billion."  
According to VA Deputy Secretary Donald Remy, the VA will provide an updated cost estimate that "will include all of the components that need to be included" as identified by the VA Inspector General. 
State Department to Award New IT Services Contract in FY22
Fedscoop reported that the Department of State plans to make all of the awards for its largest IT services contract, EVOLVE IT, by the end of the third quarter of FY 2022. The State Department's goal is to award the pool for general IT management services in the second quarter of FY 2022, and then award the four remaining pools by the end of the third quarter. The four remaining pools include network services, cloud and data services, application and development, and customer and end-user support services. Each of these pools will have up to six awards. The ceiling for the EVOLVE IT contract is $8 billion. The State Department's Chief Information Officer, Keith Jones, said that the department will "continuously align, issue, and award task orders on scope covered by EVOLVE as necessary." The department aims to have an adaptive contract due to the evolving nature of technology and emerging cybersecurity threats. The State Department is seeking solutions that include cybersecurity as an integral component. The department issued a request for information (RFI) last week and intends to issue a final solicitation before the end of the calendar.   
Green Committee Meeting with GSA's Chief Sustainability Officer, Nov. 9
Join the Green Committee for a meeting on Tuesday, November 9 at 1 pm EDT. Our special guest speaker will be Kevin Kampschroer, GSA's Chief Sustainability Office and Director of the Office of Federal High-Performance Buildings. As members know, Sustainability is one of the current Administration's top priorities. This meeting will be a good opportunity for members to have dialogue with the General Services Administration (GSA) in advance of the Fall Training Conference, Nov. 17-18, on this important issue. Mr. Kampschroer will address GSA's recently released Climate Change Risk Mitigation Plan, GSA's current sustainability objectives and how suppliers can best support these initiatives.    
To attend this virtual meeting, please RSVP to Michael Hanafin at mhanafin@thecgp.org. If you would like to be added to the Green Committee distribution list, please contact Aubrey Woolley at awoolley@thecgp.org. We welcome members from all industries to participate.      
Proposed Rule on Using the Social Costs of Greenhouse Gas Emissions in Federal Procurement
On October 15, the FAR Council issued a proposed rule providing notice to contractors about plans to amend the FAR to ensure that major Federal procurements minimize the risk of climate change. On May 20, President Biden signed Executive Order (EO) 14030, Climate-Related Financial Risk. The EO states that the Federal Government should manage climate-related financial risk within its procurement activity. This proposed rule looks to ensure that Federal procurements minimize the risk of climate change by requiring the social cost of greenhouse gas emissions to be considered in procurement decisions, and by giving preference to bids and proposals from suppliers with a lower social cost of greenhouse gas emissions. The social cost is an estimate of monetized damage from increases in greenhouse gas emissions.  
The FAR Council is seeking public comments on a list of questions in the proposed rule such as "how can greenhouse gas emissions, including the social cost of greenhouse gases, best be qualitatively and quantitatively considered in Federal procurement decisions?"  
The Coalition will be submitting comments through the Green Committee which are due by December 14, 2021. Please send any comments or questions about the proposed rule to Aubrey Woolley at awoolley@thecgp.org.  
Legal Corner: Heightened Cyber False Claims Risk: New DOJ Approach to US Government Contractor and Federal Grantee Cybersecurity Enforcement
On October 6, 2021, the US Department of Justice (DOJ) announced a new initiative to address cyber-fraud and that focuses on government contractors. Specifically, DOJ has launched a "Civil Cyber-Fraud Initiative" (Initiative), which will combine DOJ's "expertise in civil fraud enforcement, government procurement and cybersecurity to combat new and emerging cyber threats to the security of sensitive information and critical systems." The Initiative will impact US government contractors and participants in similar agreements, e.g., Other Transactions, as well as grant recipients across the country.
What Happened and Why
DOJ formed the Civil Cyber-Fraud Initiative to address a concern that contractors may be failing to give required notice of cyber breaches. Based on its press release announcing the Initiative, DOJ appears to be of the view that some companies are electing to remain silent regarding known breaches even though the incidents should be reported according to the contract terms.
The Civil Cyber-Fraud Initiative will utilize the civil False Claims Act (FCA) to pursue cybersecurity-related fraud by government contractors and grant recipients. The FCA is the government's primary civil tool to redress false claims for federal funds and property involving government programs and operations. The FCA permits the government to obtain treble damages and penalties for "knowingly" submitting false claims for payment. The statutory definition of "knowingly" includes deliberate ignorance and reckless disregard. The FCA also includes a whistleblower provision that allows private parties (known as "relators") to pursue fraudulent conduct and to share in any recovery.
DOJ stated that the Initiative "will hold accountable entities or individuals that put U.S. information or systems at risk by knowingly providing deficient cybersecurity products or services, knowingly misrepresenting their cybersecurity practices or protocols, or knowingly violating obligations to monitor and report cybersecurity incidents and breaches."
What to Expect
Many government contracts include clauses that require contractors to provide prompt notice of any cybersecurity breach. For example, DoD contracts that require contractors or subcontractors to safeguard covered defense information contain DFARS 252.204-7012. That clause requires a contractor (or subcontractor) to report a cyber incident within 72 hours of discovery. This timing may require the company to report an incident before the full extent of the breach has been determined.
DOJ emphasized that it expects the Initiative to, among other things, "hold[] contractors and grantees to their commitments to protect government information and infrastructure"; "ensure[] that companies that follow the rules and invest in meeting cybersecurity requirements are not at a competitive disadvantage"; and "support[] government experts' efforts to timely identify, create and publicize patches for vulnerabilities in commonly-used information technology products and services." The heightened scrutiny of US government contractor cybersecurity indicates that DOJ will allocate greater resources to identifying and pursuing FCA actions with regard to cybersecurity products and practices. The increased attention also may draw additional interest from the counsel who represent relators.
For additional information or to discuss what the Initiative means for you, please contact Marcia G. Madsen, David F. Dowd or David A. Simon.
Healthcare Corner: MSPV Dialogue Opportunities with the VA in November
The Coalition for Government Procurement is pleased to announce that there will be two opportunities in November for members to engage in dialogue with the U.S. Department of Veterans Affairs (VA) about the Medical/Surgical Prime Vendor (MSPV) program.    
MSPV Dialogue with VA CAO, Michael Parrish, Nov. 10  
On November 10 at 1 pm EST, VA Chief Acquisition Officer, Michael Parrish, has offered to meet with members of the Medical/Surgical Subcommittee for a strategic dialogue about the MSPV program. Phil Christy, Deputy Executive Director of the VA's Office of Acquisition, Logistics and Construction will also participate in the discussion. The MSPV dialogue with Mr. Parrish on November 10 at 1 pm EST will be a virtual meeting. Please RSVP to Michael Hanafin at mhanafin@thecgp.org to attend.  
Request for Member Questions
Mr. Parrish has asked if members would provide their questions about the MSPV program in advance of the meeting.  A list of the member questions that we have received thus far is posted here: https://thecgp.org/images/MSPV-Questions_Oct-2021_draft.docx.  If you have any additional questions, please send them to Aubrey Woolley at awoolley@thecgp.org by COB Mon., Nov. 1.  The questions will also be shared with our VA guest speakers in preparation for the MSPV breakout on Nov. 18. 
MSPV Breakout Session at Fall Conference, Nov. 18  
As a follow-up, members will have an opportunity to meet with MSPV supply program and contracting professionals with the VA during a breakout session at the virtual 2021 Coalition Fall Training Conference on November 18 at 3:55 pm EST. The VA speakers for the MSPV breakout session will be:  
Mark Probus, Director, VHA Medical Supply Program Office, VHA  

 

Katie Hulse, Director, Acquisition Services 3 (Medical/Surgical Prime Vendor), VA SAC  

 

Craig Hilliard, Lead Contracting Officer, MSPV Supply BPAs, VHA  

 

Kim Hupp, Contracting Officer, MSPV DAPAs, VA  

 

Gina Napier, Contracting Officer, MSPV-NG Bridge, VA  

 
To attend the MSPV breakout session, please register for the Fall Training Conference here.    
GSA Continues to Expand Verified Products Portal
GSA announced the expansion of the Verified Products Portal (VPP) when?.  
Since November 2020, the VPP has grown to include over 300,000 products and has data from over 1,400 manufacturers. In the expansion, GSA has also connected VPP to GSA Advantage!, so now VPP data – such as product descriptions, images, and PDF attachments – will be displayed in Advantage. This update will help to improve the consistency and quality of the information about Commercial Off the Shelf (COTS) products in Advantage and will provide more reliable and consistent information to customers.  
While the VPP is currently not open to the public, GSA is working to have VPP data available to contractors so they can "populate and standardize their catalogs." This will reduce the burden connected with catalog management.  
GSA is encouraging manufacturers and wholesalers that are not currently participating in the VPP to consider doing so.  To learn more, visit www.GSA.gov/VPP.   
To stay up to date on GSA catalog management, visit the Catalog Management Interact Page.   
Hawaii Market Strengthens Medical Readiness
Health.Mil reported that a new Military Health System Market, known as the Hawaii Market, was introduced on October 20 at Tripler Medical Center. With the introduction of the Hawaii Market, the Defense Health Agency (DHA) is now able to collaborate better across military hospitals and clinics, which will strengthen medical readiness with service members and allow facilities the ability to deliver best care and patient experience. According to health.mil, "The Hawaii Market consists of four military medical treatment facilities (MTFs) to include Tripler Army Medical Center, Naval Health Clinic Hawaii, Desmond T. Doss Health Clinic, and 15th Medical Group. The market serves a population of about 150,000 eligible Military Health System beneficiaries spanning 597 square miles of the third largest Hawaiian island, Oahu". The Hawaii Market includes ten military treatment facilities and will report directly to DHA until DHR-Indo-Pacific is established. 
For more information, the Coalition published a report on the DHA transition for members in September 2021 which is available here. 
FDA to Improve Data Sharing Processes
The Food and Drug Administration (FDA) has initiated a data modernization action plan, according to Federal News Network. During the pandemic, FDA shared data throughout the agency and with other partner agencies, such as the VA and the Centers for Disease Control (CDC), and learned that the data from certain areas of FDA was not easily sharable. Based on this finding, FDA is focusing one area of their data modernization action plan on data practices, as well as creating an agency-wide reusable framework to generate, use, and distribute key data sets. FDA has committed to a "product mindset" centering on the advantages to end-users. To achieve the goals of the action plan, the FDA will also focus on improving the data skills of the existing workforce. The action plan will create processes that are functional in a normal state or in a crisis like the COVID-19 pandemic. 
TMF Board Looks to Add IT Program Managers
Federal Computer Week reported that the Technology Modernization Fund (TMF) Board intends to add three senior level IT Program Managers to advise on new projects and help agencies to deliver on already funded projects. The IT Program Managers will be based at GSA. The TMF Board said that the organization is looking for strategic thinkers, collaborators, and communicators who can "advocate for and explain agile, open source, and user-centered principles" when helping agencies deliver their TMF-funded programs. Federal Chief Information Officer Clare Martorana has previously noted the time-consuming review process that TMF Board members are involved in on top of their full-time positions. The three new openings are expected to help lighten the load on current board members. 
SAM.gov Stakeholder Forum — Unique Entity ID Walkthrough, Nov. 3
In a recent Interact post within the Integrated Award Environment (IAE) industry community, GSA announced that IAE is hosting their second training about the new Unique Entity ID. On April 4, 2022, the Federal Government will be transitioning from DUNS numbers to the Unique Entity ID for entity ID for federal awards government-wide. Register here to join for the November 3 program where they will walk you through how to get your Unique Entity ID. 
Coalition Comments on Small Business Barriers to the DoD Market
On September 8, DoD released a request for comments requesting feedback from industry on the barriers that small businesses are facing when working with DoD. According to DoD's request, the participation of dynamic, resilient, and innovative small businesses in the defense industrial base is critical to the United States' efforts to maintain its technological superiority, military readiness, and warfighting advantage. Industry's input will be used to update the Department's Small Business Strategy led by the DoD Office of Small Business Programs. In addition, DoD is focusing on complying with recent Executive Orders, like EO 14017 "America's Supply Chains," to reduce entry barriers of small businesses. 
The Coalition received many comments from small business members. Many of your comments addressed the nonmanufacturer rules, cybersecurity requirements, and entry into the Defense market and challenges related to the maintenance of DoD contract vehicles. Thank you to all who submitted their input. The Coalition submitted comments on October 25 which are posted here. 
Coalition Submits Buy American NPR Comments
On October 27, the Coalition submitted comments in response to the Buy American Noticed of Proposed Rulemaking published by the FAR Council on July 28. The proposed rule addresses Section 8 of Executive Order (EO) 14005, Ensuring the Future is Made in All of America by All of America's Workers, which requires the FAR Council to "strengthen the impact of the Buy American Act." Specifically, the proposed rule calls for an increase to the domestic content threshold, a framework for application of an enhanced price preference for a domestic product that is considered a critical product or made up of critical components, and a post-award domestic content reporting requirement for contractors. 
To read the Coalition's comments, click here.