GSA Administrator Emily Murphy Confirmed for Fall Training Conference
There are less than three weeks until the Coalition's 2020 Fall Training Conference: Focusing On The Business Of Government. This virtual training event will take place on November 17 – 18, and it is a "must attend" event for all members! I would like to thank our early sponsors whose generous support helps make this event possible, including Title Sponsors – AvKARE and First Nation Group; Gold Sponsors – CACI, SheppardMullin, and The Gormley Group; and Silver Sponsors– 3M, BD and SAIC.
Tom Davis, Partner at Holland & Knight and former 14-year Member of Congress representing Virginia's 11 Congressional District, will be our Keynote Speaker on both days! His discussion both days will be, What Happened this Election and What Does It Mean? Government contractors across all industries will benefit from hearing his insights regarding the impact the election results with have on the federal government's overall policy priorities, with a particular focus on procurement. His remarks on the second day, however, include a  a briefing on what the election results mean for the healthcare industry.
The Coalition also is happy to announce that GSA Administrator Emily Murphy will be interviewed by Jason Miller of Federal News Network on 11/18! Among many topics, Administrator Murphy will be taking a retrospective look at evolution of GSA's leading procurement programs over the last three years and how the agency is positioned for future growth and support in the federal market.
We invite you to review our draft agenda, which reflects our conscious effort to create panels that will have a broad appeal to our members, regardless of their specific industry. A good example is our Section 889, Cyber, and Supply Chain Issues and Update panel, moderated by Amy Childers-Benson of SAIC. This panel will cover important information applicable to all members, including IT, Services, Healthcare, and General Products, among others. In addition, Kim Herrington, Principal Director, Defense Pricing and Contracting, and Samantha Clark, Special Counsel, Covington & Burling, have been confirmed to speak, and Jeff Koses, Senior Procurement Executive, GSA, and Kelley Artz, Senior Leader for Supply Chain Risk Management, GSA, have been invited and are expected to participate. The ubiquitous role of information technology in our business lives, regardless of industry, means we all must be aware of, and comply with, federal government cyber security and supply chain security requirements. This panel will provide attendees with keen insights on the future of these requirements and the expectations the federal government will have for its industry partners.  Simply a must attend session! 
We look forward to your participation at our 2020 Fall Training Conference: Focusing On The Business Of Government – don't forget to register today!
Federal Government Spends Record Amount in FY 2020
According to NextGov, the Federal government spent a record $6.5 trillion in fiscal year 2020. Data released by the Treasury Department shows that this surpasses last year's record of $4.5 trillion. Collectively, agencies spent half a trillion dollars in September, which resulted in the federal government's twelfth straight month operating in a deficit. The budget deficit reached a total of $3.21 trillion in FY 2020, which more than doubles the previous record of $1.7 during fiscal year 2009.  
According to the Committee for Responsible Federal Budget, the national debt grew to $21 trillion due to prolonged deficit spending. Relief spending through the CARES Act significantly added to overall government spending. The government was appropriated $2.2 trillion for COVID-19 response, and the Committee for Responsible Federal Budget estimates that the entirety of it was committed or disbursed. The agencies who spent the most in FY 2020 included the Health and Human Services Department ($1.5 trillion), the Social Security Administration ($1.15 trillion), and the Department of Defense ($690 billion). 
COVID S
timulus Bill 
Reaches Impasse
Earlier this week, House Speaker Nancy Pelosi (D-CA) and Treasury Secretary Steve Mnuchin announced that they had not reached an agreement on a COVID relief package. A deal is unlikely before the elections, but according to Roll Call both sides have expressed interest at negotiating a deal after the elections. Congress will also work on passing another continuing resolution (CR) to keep the Government open past December 11. 
GSA Transitioning to DocSign and GSA FAS ID for eOffer and eMod
On October 28, the General Services Administration (GSA) announced that as of November 30, 2020, contractors will use DocuSign to digitally sign documents in to eOffer and eMod. This change aligns with GSA's overall IT modernization efforts to support security and provide a solution that is legally recognized internationally. GSA is planning for eOffer and eMod systems to join several other FAS systems, such as eBuy, in using GSA's FAS ID multi-factor authentication (MFA) in late Q2 of FY 2021.  
During the DocuSign transition period of November 25 through November 29, contractors and offerors will not be able to submit new offers and requests for modifications in eOffer and eMod. Contractors and offerors will still be able to initiate new, as well as work on, in process offers and modification requests. All documents pending signature must be signed by the contracting officer and contractor/offeror no later than November 23, 2020. Until the transition is fully complete, digital certificates will be required to access eOffer and eMod. 
If you have any questions, the MAS PMO hosts regular monthly office hours in which you have the opportunity to communicate with MAS experts. You can register for an upcoming session here. 
EIP Award Nominations Deadline Extended to Next Friday, Nov 6
We are pleased to announce the Excellence in Partnership (EIP) Awards will continue in 2020 and the awardees will be announced and recognized during the two-day virtual event.  The EIP Awards honor individuals and organizations in the acquisition community who have made significant contributions to the procurement system by delivering best value and meeting agency missions. Historically, these awards have recognized individuals, organizations, and contractors involved in procurement with GSA, VA, DOD, DHS, and other government agencies.    
This year's category awards include:  
Lifetime Acquisition Excellence Award    

Presented to an individual in the contracting community (government or industry) for demonstrating a life-long commitment to advancing "common sense in government procurement."    

Acquisition Excellence Award    

Presented to an organization or individual (government or contractor) for outstanding performance in meeting the mission-critical needs of a Federal agency through a government contract.     

Excellence in Innovation Award    

Presented to an organization or individual (government or contractor) for creating innovative solutions and/or an innovative process for a Federal agency that improves and facilitates mission performance.     

Advocating for Veterans Award    

Presented to an organization or individual (government or contractor) for promoting and executing a successful program that supports veterans.    
Click here to submit your nomination for a 2020 EIP Award. Nominations are due by next Friday, November 6, 2020. If you have questions or need assistance regarding the EIP Awards, please contact Michael Hanafin at mhanafin@thecgp.org.
Join the Dialogue with GSA on the Upcoming Polaris GWAC, Nov 4   
Join us for our next IT/Services Committee meeting focused on GSA Small Business GWACs on Wed., Nov. 4 at 10:30 am ET.     
Our guest speakers will be Keith Nakasone, Deputy Assistant Commissioner of Acquisition, and Carlton Shufflebarger, Executive Director of IT Services for the IT Category.  Keith and Carlton are interested in hearing members' input on the next-generation Small Business GWAC during the meeting.  For reference, GSA posted a RFI on Polaris which is posted at beta.SAM.gov:  https://beta.sam.gov/opp/e5b93ca8fc1544b7ad7c2f3a68d1a791/view  
To RSVP to the meeting please email Michael Hanafin at MHanafin@thecgp.org. Please let us know if you have any questions.   
Section 889 Part B Representation in beta.SAM.gov
In accordance with the Section 889 Part B interim rule, beta.SAM.gov was updated on October 26th so that contractors could make their Section 889 Part B representations to the Government. GSA has notified the Coalition that the FAR clause to look for in the list of representation clauses is FAR 52.204-26.  GSA also provided a screen shot of a registration completed after the Part B Section 889 representation went into effect on October 26, 2020.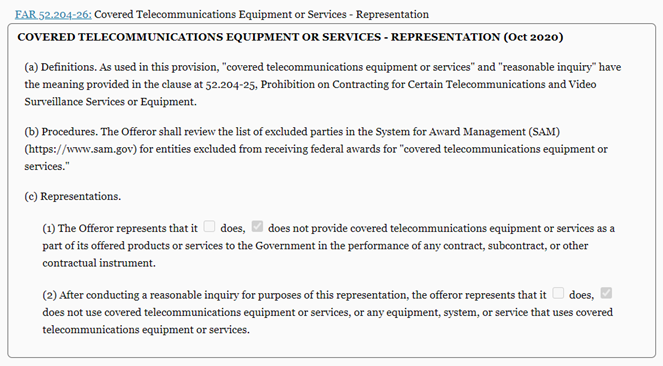 The following is a "text" version in case the screen shot is difficult to read (without the "does not" selection checked as shown above).
FAR 52.204-26 Covered Telecommunications Equipment or Services – Representation
COVERED TELECOMMUNICATIONS EQUIPMENT OR SERVICES- REPRESENTATION (Oct 2020)
As used in this provision, "covered telecommunications equipment or services" and "reasonable inquiry" have the meaning provided in the clause 52.204-25, Prohibition on Contracting for Certain Telecommunications and Video Surveillance Services or Equipment.

The Offeror shall receive the list of excluded parties in the System for Award Management (SAM)

(https://www.sam.gov)

for entities excluded from receiving federal awards for "covered telecommunications equipment or services."

The Offeror represents that it ____ does, ____ does not provide covered telecommunications equipment or services as a part of its offered products or services to the Government in the performance of any contract, subcontract, or other contractual instrument.

After conducting a reasonable inquiry for purposes of this representation, the offeror represents that it ____ does, ____ does not use covered telecommunications equipment or services, or any equipment, system, or service that uses covered telecommunications equipment or services.
VA Announces 
MSPV 2.0 Awards
On October 23, the Department of Veterans Affairs (VA) announced the award of the Medical/Surgical Prime Vendor 2.0 distribution contracts. The MSPV program is the VA's main vehicle for providing distribution and supply management services for the required medical and surgical products at VA Medical Centers.  
The VA awarded MSPV 2.0 contracts to the following firms:  
Cardinal Health 200, LLC 
Primary PV: VISNs 5, 6, 7, 8, 16, 17, and 22 

Alternate PV: VISNs 1, 2, 4, 9, 12, 15, 19, 20, 21, and 23 
Cardinal Health P.R. 220, LLC 
Primary PV: VISN 24 (Puerto Rico) 
Medline Industries, Inc. 
Primary PV: VISNs 1, 2, 4, 9, 10, 12, 15, 19, 20, 21, 23, and 25 (OGAs) 

Alternate PV: VISNs 5, 6, 7, 8, 16, 17, 22, and 24 (Puerto Rico) 
Additionally, the Government Accountability Office upheld the VA's pricing methodology and the award of the MSPV 2.0 solicitation. 
DoD Improving Compliance with Buy American Laws
On October 27, the Department of Defense (DoD) released a memorandum on how they plan to improve their compliance with the Buy American Act (BAA). Since 2014, the DoD Office of Inspector General (IG) has conducted six audits on DoD's compliance with the BAA. The IG found contracts where Buy American Act regulations should have been applied. In the DOD IG report, on DoD compliance with Buy American Act, 130 of the 171 contracts reviewed were in compliance with the BAA. While the audits highlight examples of non-compliance, DoD confirms that it has obligated over 96 percent of its funds to US sources in prime contracts. To continue DoD's commitment to compliance, they are continuing to request training for the acquisition workforce and support through DoD's contract writing systems. 
Legal Corner: Where Are We Going with Section 889 Part B?
The Legal Corner provides the legal community with an opportunity to share insights and comments on legal issues of the day. The comments herein do not necessarily reflect the views of The Coalition for Government Procurement.
Authors: Justin Chiarodo, Merle Delancey, and Robyn Burrows, Blank Rome
About two months have passed since the August 13, 2020, effective date of Part B of Section 889 of the FY 2019 National Defense Authorization Act. Part B, sometimes referred to as the Chinese telecommunications equipment ban, broadly prohibits the federal government from contracting with entities that use certain Chinese telecommunications (including video surveillance) equipment and services.
After the FAR Council published its July 10, 2020, Interim Rule, contractors, large and small, spent countless hours working to be able to certify compliance by August 13. This deadline was critical because the Interim Rule said that absent such a certification, a contractor was ineligible for future contract awards. That is, government agencies were prohibited from renewing or extending existing contracts with contractors unable to certify Part B compliance. Indeed, agencies were prohibited from issuing an order under an existing contract to a contractor that failed to certify compliance.
Yet, despite the Rule's laudable policy goals, the government's piecemeal and inconsistent implementation has placed government contractors in an untenable position.
First, while some agencies, like the Defense Logistics Agency, diligently sought contract modifications with signed certifications, others, including the Department of Veterans Affairs, have not. And yet these agencies have continued to place orders with "non-certifying" contractors. This has created uncertainty among contractors as to when compliance will be expected (and what non-compliance really means).
Second, while the General Services Administration ("GSA") has done yeoman's work in attempting to help the industry, it simply has not been given the necessary guidance to pass on. For example, during a July 2020 GSA-held webinar, GSA could not provide guidance regarding a basic and important question: whether the ban applies to telecommunications equipment used by contractor employees working remotely. GSA also could not answer how the ban would apply to cloud services or applications like "Zoom," or what overseas contractors are to do if no alternatives to prohibited technology exist. And, during GSA's next webinar in September, some GSA offices conceded that their contractors were not in compliance (for instance, the GSA Office of Technology Transformation Services, which oversees the FedRAMP program for approved cloud service providers, conceded that it was still in the process of reviewing the regulation and determining how it would require its contractors to comply).
Third, notwithstanding that most contractors were required to certify compliance with Part B as of August 13, GSA's rulemaking is far from complete. GSA received comments from 71 entities relating to the interim rule—from individual companies to associations representing government contractors to other government agencies. The comments request clarity on the basics of a contractor's compliance obligations. For example, multiple commenters requested that the FAR Council provide guidance on the definition of "use," including whether it would apply to employees' home telework equipment. Other comments raise concerns that the rule is too broad, because it extends to commercial activities unrelated to government contracts. Comments also pointed out that overseas contractors cannot possibly comply with Part B in countries where the entire telecommunications infrastructure is built with Huawei or other banned equipment (with no commercial alternatives available). Industry also sought clarification on the extent of the required "reasonable inquiry," including what it means to "examine relationships" with subcontractors and suppliers and how to construe the requirement to review information in the entity's "possession," which could conceivably include news reports in the public domain. Many commenters objected to the FAR Council's potential expansion of the rule to affiliates and subsidiaries, which could be implemented as early as August 13, 2021.
Fourth, the Office of the Director of National Intelligence ("ODNI") has granted waivers to the Department of Defense ("DoD") and the United States Agency for International Development ("USAID"). At first, DoD was granted a limited, temporary waiver until September 30, 2020, for certain low-risk procurements. On September 29, ODNI extended DoD's waiver two years—until September 2022. This longer waiver is again limited to companies that manufacture "low-risk, high-volume items" like food, clothing, construction materials, and transportation.
Beyond DoD, ODNI also has granted a two-year waiver to USAID. USAID received a telecommunications waiver for internet and phone services, which was originally scheduled to expire on September 30, 2020. The Agency received approval to extend this waiver through September 30, 2022. USAID should be applauded for obtaining the extended waiver. However, if USAID qualifies to receive a waiver for internet and phone services, it would seem that the Department of Veterans Affairs and the Department of Health and Human Services—which contract for critical, life-saving supplies and services—should also qualify for two-year waivers.
Bottom line, the government needs to take a consistent approach to Part B implementation and it needs to do so now. Contractors should not be required to certify compliance and risk defending such certifications in response to an agency or whistleblower's second-guessing. The need for a more consistent approach is clear given that only some contractors have been required to make such certifications and some government agencies are not requiring compliance.
What Should Contractors Do?
Prepare to Reevaluate Compliance after the Final Rule Is Published. When the government eventually publishes the final rule, contractors should promptly review and reevaluate their prior compliance efforts to the extent the rule clarifies or changes the contractor's prior assumptions or scope of review.
For Department of Defense Contracts, Determine Whether the Limited Waiver Applies. For contractors with DoD contracts supplying only food, clothing, materials, etc., confirm with the contracting officer whether the recent waiver extension applies to your procurement (note, however, that you may still be covered through other covered contracts).
If the Contracting Officer Has Not Yet Issued a Modification, Prepare for Compliance Now. If you have not yet received a contract modification adding Part B to an existing contract, do not wait until you receive the modification to begin evaluating your compliance with Part B. Begin your evaluation now, so you are prepared to certify compliance.
Document Compliance Efforts. Given the uncertainty and confusion regarding compliance with Part B, it is paramount for contractors to document what they have done to comply or attempt to comply. You need to be able to demonstrate the efforts your company has taken and that you have not simply ignored compliance. Create and maintain contemporaneous records of the "reasonable inquiry" performed, meetings conducted, compliance materials developed, and employee education provided.
Healthcare Spotlight: VA Begins
Electronic Health Record 
Rollout
According to a press release from the Department of Veterans Affairs (VA), the agency began using its new electronic health record (EHR) system on October 24 at select VA facilities in the Pacific Northwest and Las Vegas. Over 24,000 veterans receiving primary care at the Mann-Grandstaff VA Medical Center (VAMC) in Spokane, Washington will experience the first full implementation of this new system.  
The EHR provides VA health care staff with a system that is interoperable with the Department of Defense (DoD), U.S. Coast Guard, and community care partners. The new system places VA and DoD on a single electronic health record, eliminating the need for paper records detailing care received by the two departments. Care providers from both departments can view, update, and exchange patient data amongst each other. The new system is also being used at the West Consolidated Patient Account Center in Las Vegas that supports billing for the Pacific Northwest. EHR rollout will continue until the software is in place nationwide at all VA facilities by 2028. 
GSA Welcomes Trent Benishek as New General Counsel
General Services Administration (GSA) announced, on October 29, the appointment of Trent J. Benishek as general counsel. Previously, Benishek served as special assistant to the president and associate counsel to the president in the Office of White House Counsel. As GSA general counsel, Benishek will advise in the formulation and promulgation of GSA policies and regulations, and serve as the chief legal advisor to the GSA administrator. Emily Murphy, GSA Administrator, is "thrilled" to have Benishek join GSA, and believes his experience and leadership will bring great value to GSA. 
GSA Releases Return to Workplace Strategy 
The General Services Administration (GSA) released a Return to Workplace Strategy Book for agencies as they plan to safely bring employees back to the office. The book contains strategies including requiring masks, enforcing distancing, and alternating days in which employees come into the office.  
GSA notes that these recommendations are not requirements, and that each agency will have to address their specific conditions. GSA referred to the guidelines as a "compilation of information from across government and industry" which can be applied to government-owned buildings and leased spaces. Some of additional recommendations included in GSA's strategy are: 
Providing masks and other personal protective equipment to employees 

Determining if enough parking spaces are available 

Replacing in-person meetings with virtual ones when possible 

Providing supplies for employees to disinfect personal spaces 
VA Exploring New Authentication Factors
 Due to Expanded Telework
FedScoop reported that the Department of Veterans Affairs (VA) is looking to upgrade its authentication factors for its systems department-wide while a significant portion of its workforce is teleworking. The VA currently uses multifactor authentication but wants more protection as it anticipates the extension of work from home orders. The conversation about changing the authentication systems comes after the VA suffered a breach that compromised information of at least 46,000 veterans. The breach was due to unauthorized access to an application for financial assistance.  
While multi-factor authentication has been used by the Government for many years, the pandemic has caused the VA to adjust its security controls to allow people to be able to login from home. Paul Cunningham, VA CISO, states that transactions involving pharmaceutical requests and medical visits are a top security priority and the VA wants to use multi-factor authentication as much as possible for those types of transactions. Cunningham has also noted how collaborating with the Cybersecurity and Infrastructure Security Agency (CISA) has benefited the VA, as they are able to share best practices, technical advice, and new tech for authenticating users. 
DoD Slows R&D Investments
According to Federal News Network, Department of Defense (DoD) research and development (R&D) spending has not yet recovered from cuts imposed by the 2011 Budget Control Act despite a significant increase in spending on products and services. These findings were part of a recent analysis of DoD contract spending data conducted by the Center for Strategic and International Studies (CSIS). CSIS found that contract spending has risen 35 percent since 2015. However, CSIS also found that the spending on R&D contracts in 2019 was $30 billion, which is significantly lower than spending in 2012. Spending growth in the later stages of the R&D process, including the System Development and Demonstration (SDD) phase after technologies have been prototyped, was found to be the lowest. R&D spending did see growth in the prototyping phase, with spending in the Advanced Component Development and Prototypes portion rising by 73 percent since 2015.  
The report showed that DoD's use of other transaction agreements has skyrocketed, rising 712 percent between 2015 and 2019, totaling $7.7 billion. 82 percent of this spending went towards R&D. According to the report, military services and Defense agencies have increasingly used OTAs to buy products and services, with $9 billion in spending in each of these categories last year. Although there is a lag in R&D spending, the overall increase in budget has been beneficial for contractors. Spending on contracts has grown 31 percent since 2015. Additionally, contracts made up 55 percent of DoD's total budget authority in 2019, which is the third highest in the past 20 years. 
DISA Needs More Time to Issue IT RFP
FedScoop reported that the Defense Information Systems Agency (DISA) is delaying its Defense Enclaves Services IT contract for a few more months. Originally DISA planned to release the Request for Proposal (RFP) by September but DISA has given a new release timeframe of mid-late quarter one of fiscal year 2021. While DISA did not state the reason for the delay, it did state that the Cybersecurity Maturity Model Certification (CMMC) requirements will no longer be included in the RFP.  
DISA, initially, included requirements for levels three and four of CMMC. CMMC has multiple levels of security requirements which need to be assessed by independent inspectors. These levels of CMMC have extensive security controls, which target contracts that have controlled unclassified information. While the CMMC requirements have been removed from this specific contract, all Department of Defense (DoD) contracts are required to include the CMMC requirements by the end of fiscal year 2025. 
GSA Extends 
DUNS Transition
Earlier this week, the General Services Administration (GSA) announced that the transition from DUNS Number to the unique entity identifier had been extended to April 2022. The new unique entity identifier will be generated directly by SAM.gov as part of the standard registration process for entities. Federal Agencies will need to transition their contracts and processes from DUNS to the new identifier by the new deadline.  
Seeking 
Member 
Feedback on CMMC 
Interim 
Rule 
On September 29, the Department of Defense (DoD) issued an interim rule amending the Defense Federal Acquisition Regulation Supplement (DFARS) to implement the Cybersecurity Maturity Model Certification (CMMC) framework in order to assess contractor implementation of cybersecurity requirements. According to the interim rule, CMMC will apply to all DoD contracts and solicitations, including those for the acquisition of commercial items (except exclusively COTS items) valued at or greater than the micro-purchase threshold, starting on or after October 1, 2025. If the offeror does not have the required CMMC certification, then contracting officers will not make an award or exercise an option on a contract. In addition, CMMC certification requirements must be flowed down to subcontractors at all tiers based on the sensitivity of the unclassified information flowed down to each subcontractor.     
DoD is implementing a phased rollout of CMMC. Inclusion of a CMMC requirement in a solicitation prior to October 1, 2025 will need to be approved by the Office of the Under Secretary of Defense for Acquisition and Sustainment.     
The interim rule is effective November 30, 2020. The Coalition plans to submit comments in response to the interim rule.  The deadline to submit comments to the Government is November 30, 2020.  If you would like to send any comments or questions to the Coalition, please send your input to Sean Nulty at   snulty@thecgp.org by Friday, November 13.