Join Us Next Week at our 2021 Fall Training Conference
Next week we are excited to be hosting the Coalition's 2021 Fall Training Conference: What's Next for the Business of Government? If you haven't already done so, please take a few minutes to view the final agenda and register today.  For those members who are already registered, we anticipate sending everyone their unique login instructions for accessing the event site (Pathable) later this afternoon. Thank you, our members, for participating in such a vital semiannual training event, along with our speakers and subject matter experts, and our sponsors who are helping make this event possible – Title Sponsor: AvMEDICAL; Gold Sponsors: CACI, GDIT, Medical Place, Sheppard Mullin, The Gormley Group; and Silver Sponsor: Concordance Healthcare Solutions.
We will be kicking off the conference with Keynote speaker Robin Carnahan, Administrator of the U.S. General Services Administration (GSA). Administrator Carnahan was sworn into office on July 2, 2021. She will be discussing her initial impressions as Administrator, GSA's role in supporting the Administration's priorities, and her vision for government-wide contracting programs moving forward. Prior to joining GSA, Administrator Carnahan served in executive and leadership roles in business, academia, and government, including as the Secretary of State of Missouri (2005-2013).  She founded and led the State and Local Government Practice at 18F, a tech consultancy inside GSA (2016–2020). She is a nationally recognized government technology leader and in 2017 was named one of the federal government's "Top Women in Tech."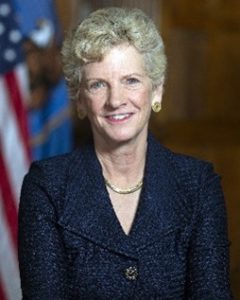 Our second day will begin with keynote remarks from Steven Schooner, Nash & Cibinic Professor of Government Procurement Law at The George Washington University Law School. Before joining the law school faculty in 1998, Professor Schooner was the associate administrator for procurement law and legislation at the Office of Federal Procurement Policy in the Office of Management and Budget. He previously served as a trial and appellate attorney in the Commercial Litigation Branch of the Department of Justice. He also practiced with private law firms and, as an active duty Army judge advocate, served as a commissioner at the Armed Services Board of Contract Appeals. Professor Schooner will be discussing the Biden Administration's priorities and the procurement system.

As with previous conferences, much of the agenda will have concurrent panels on various topics followed by multiple breakout sessions at the end of each day. This will allow you to maximize your time and participation throughout the two days.  For example, our IT and services members may want to attend the GSA Interagency Contracting Portfolio (GWACs, OASIS, and More) panel, the Services on GSA Schedules breakout, the Information Technology breakout, the E-Commerce – Update on Commercial Platforms Initiative breakout, the Cloud Marketplace breakout, and the Services MAC breakout.  Our healthcare members should be interested in attending the VA Procurement and Contracting panel, Future of VA Medical Logistics panel, Medical Supply Chain panel, VA Public Law Pricing Update breakout, DLA MSPV and ECAT breakout, DHA Pharmaceuticals breakout and VA MSPV – Operational Update breakout.  Likewise, our furniture and industrial supply members will be able to participate in the Office Products breakout, Industrial Products/Update from the SSAC breakout, E-Commerce – Update on Commercial Platforms Initiative breakout, Global Supply/4PL breakout, and the Furniture breakout, among others.
Beyond these industry-specific topics, there will be numerous sessions that will be cross-cutting for all our members. These sessions will include our Dialogue with OMB Made in America Director, Celeste Drake, Legal and Compliance panel, IT Modernization and Cyber and Supply Chain Compliance panel, DoD Cybersecurity Initiatives and CMMC panel, Procurement Executive panel, Buy American and Domestic Sourcing panel, and multiple other breakout sessions.
We are confident you and your company will benefit from each of these sessions and we are looking forward to your active participation and dialogue. Thank you again for your support and we'll see you (virtually!) next week!
GSA Launches Tool to Track COVID-19 Safety Compliance
GSA posted an update on a tool the Federal Acquisition Service (FAS) launched to assist customer agencies in complying with Executive Order 14042, Ensuring Adequate COVID Safety Protocols for Federal Contractors. FAS is currently bilaterally modifying all existing contracts and "contract-like instruments" awarded before October 15, 2021 to include FAR Clause 52.223-99. The clause is intended to implement the Safer Federal Workforce Task Force's September 24 guidance for COVID-19 safety protocols for covered contractors and subcontractors. For all Federal Supply Schedule (FSS) contracts, Multi-agency Contracts (MACs), and Governmentwide Acquisition Contracts (GWACs), contractors must sign the modification no later than November 14, 2021 to be eligible for new orders.
FAS has developed the an interactive dashboard, the COVID Safety Protocols for Federal Contractors, which tracks contracts' modification status. If the status of a modification shows as accepted on the dashboard, then the clause shall apply to existing and future orders. If the status shows as pending, then the modification to the contract has not yet been accepted. Users can filter by contractor name, business size, contract vehicle, and DUNS number. GSA encourages contractors to check the Modification Status Tracker before placing orders against FAS-managed IDIQ vehicles.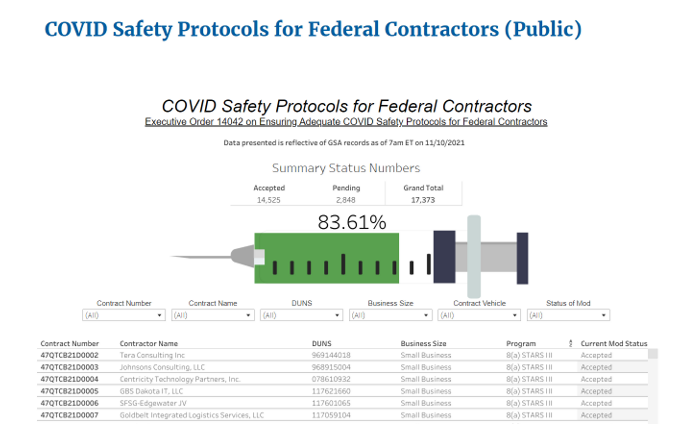 Build Back Better Amendment Includes TMF Funding
Meritalk reported that a proposed amendment to the Build Back Better bill includes $250 million for the Technology Modernization Fund (TMF). Last month, a proposed $1 billion of additional TMF funding was stripped from the House Democrats' Build Back Better proposal. The TMF currently has about $700 million in funds to use towards IT modernization projects. Additional TMF awards are expected to be announced soon. The extra TMF funds are part of a larger $500 million proposal aimed at advancing IT modernization programs. The amendment also provides $200 million in funding to the GSA's Federal Citizen Services Fund, and $50 million to the Office of Management and Budget's (OMB) Information Technology Oversight and Reform Fund. Under the previously proposed Build Back Better amendment, these three funds would have received a total of $3.35 billion. 
CMMC Accreditation Body to Adjust to CMMC 2.0
The Cybersecurity Maturity Model Certification (CMMC) Accreditation Body's (AB) Chief Executive Officer (CEO) Matthew Travis stated that the AB is making adjustments to meet the needs of the new CMMC guidance, according to FedScoop. The AB was created to oversee the CMMC accreditation process for contractors. On November 4, the Department of Defense (DoD) announced updated guidance on CMMC, referred to as CMMC 2.0, which included a consolidation from five levels to three. DoD removed levels two and four and will allow self-attestation for contractors with a level one designation. With the elimination of two levels, the updated guidance includes types of remediation for certain CMMC practices. The AB is preparing to update their accreditation training providers on CMMC 2.0. 
GSA Briefs the Coalition on its Climate Risk Management Plan
This week, Kevin Kampschroer, GSA Sustainability Officer and his team briefed the Coalition's Green Committee on the agency's Climate Change Risk Management Plan and other governmentwide initiatives that look to advance the Administration's sustainability objectives.  To date, 20 Federal agencies, like GSA, the Defense Department and the Department of Veterans Affairs, have published Climate Change Risk Management plans that address their most significant climate risks and vulnerabilities.  In GSA's plan, information and communications technology (ICT) was included in two of its top five areas of vulnerability: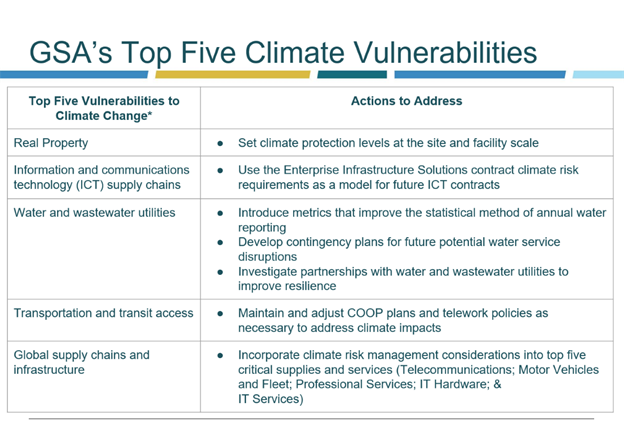 As a result, GSA plans to look at adopting certain climate risk requirements for future ICT contracts (based on the Enterprise Infrastructure Solutions contract).  The Federal Acquisition Service (FAS) will also review "priority acquisitions" valued at $100 million and consider their climate risk in the following product categories:  
Telecommunications

 

Motor Vehicles/Fleet

 

Professional Services

 

IT Hardware

 

IT Services (including software, security) 

 
In addition, the FAR Council released an advanced notice of proposed rulemaking, Minimizing the Risk of Climate Change in Federal Acquisitions, on October 15. For more details, see the Flash article on the GHG proposed rule below.  The FAR Council also has another proposed rule forthcoming, Disclosure of Greenhouse Gas (GHG) Emissions and Climate-Related Financial Risk, which is expected to require "major suppliers" to disclose their GHG emissions and set "science-based targets" for GHG reductions.   
The slides from the Green Committee meeting are posted here.  To learn more about the Green Committee's activities and how to get involved, please contact Aubrey Woolley at awoolley@thecgp.org.
GSA Publishes Acquisition Letter on Sustainability in Procurement
On November 2, GSA published an Acquisition Letter for the agency's workforce that encourages the use of innovative contracting solutions to address environmental issues, beyond looking at certain product attributes.  In addition, the letter encourages GSA acquisition organizations to "test out approaches to both reduce or eliminate our carbon footprint, promote adaptation to climate change, consider full life cycle cost, consider externalities, and demonstrate opportunities to use acquisition in response to E.O. 14008." Specifically, the FAS and the Public Buildings Service (PBS) are to identify at least three acquisitions where they will use some of the innovative climate strategies proposed in the acquisition letter. Some of the innovative ideas that FAS and PBS may consider in the evaluation phase are: 
Requiring contractors to price out all life cycle costs, including disposal, in their offers;

Using Environmental Evaluation Factors like asking contractors to highlight waste reduction, source reduction, or recycled content;

 

Assessing contractors' corporate sustainability policies like a company's greenhouse gas statement, or its overall environmental, social, and governance strategy or plan; and

 

Evaluating the availability of regionally-sourced supplies and services for contract performance, use of local set asides, and consideration of certain "externalities" (i.e. external benefits to what is being purchased).

 
The Acquisition Letter is effective immediately and posted here. 
DHA Shares Plans for Military Health System with Congress
Federal News Network reported that the Defense Health Agency (DHA) has revised its plans to "right size" the Military Health System by moving a smaller number of TRICARE beneficiaries, approximately 200,000, to private medical networks. DHA also estimates that it will close around seven percent of the DoD's military treatment facilities according to a draft report that is currently being reviewed by Congress. According to Brian Lein, DHA's assistant director of healthcare administration, "Congress asked several follow-on questions that we are in the process of answering, and so no decision has been made from that report, either within the Secretary of Defense's office, or within Congress giving us the authority to move in any way." This new strategy comes following DHA being forced to reconsider its plans, which at one point considered moving as many as 1.9 million people from the Military Health System, after the COVID-19 pandemic stressed private healthcare networks, forcing clinics to close. With this new strategy, DHA is taking into consideration a DHA study that acknowledged that those patients who do move away from military hospitals receive worse care than they were receiving at those hospitals. With this study being considered in its plan, the DHA is thinking about downsizing places where robust medical communities exist outside the military healthcare system. 
Next VA CIO to Take On New Cyber Strategy
Federal News Network reported that President Biden announced on November 3 that he intends to nominate Kurt DelBene to be the new Secretary of IT and CIO for the Department of Veterans Affairs (VA). If he is confirmed by the Senate, he will inherit an IT budget of roughly $9 billion, a struggling Electronic Health Record Modernization program, and a newly announced strategy for cybersecurity at the Department. One of the larger challenges that DelBene faces if confirmed by the Senate will be the new cybersecurity strategy. The agency has struggled to fix long-standing issues ranging from patching to centralized management, to governance and risk management, to a lack of documentation and accounting to fix more than 15,000 plans of actions and milestones. The latest Federal Information Security Management Act (FISMA) report from VA's Inspector General found the Enterprise Cybersecurity Strategy Program (ECSP) is making progress to close gaps and fix problems."  
The new strategy will look to "leverage technology for the betterment of VA's service offerings" and "bear the responsibility in protecting the department's critical information resources." "The Veteran experience includes the safeguarding of their information and the protection of the systems that store, process, and transmit data. A data compromise could lead to fraudulent activities, exposure of veteran's personal information, or the corruption of critical data. More importantly, poor cybersecurity practices will erode the veteran's confidence in VA." VA's budget for its cybersecurity strategy is around $450 million for Fiscal Year 2022. 
Legal Corner: New Task Force FAQs Address Contractor Vaccine Mandate Enforcement, Accommodations
Jason N. Workmaster, Alex L. Sarria & Sarah Barney
Miller & Chevalier
The Legal Corner provides the legal community with an opportunity to share insights and comments on legal issues of the day. The comments herein do not necessarily reflect the views of The Coalition for Government Procurement.
On November 1, 2021, the Safer Workplace Task Force (Task Force) released new Frequently Asked Questions (FAQs) on contractor compliance with the workplace safety and vaccination requirements mandated by President Biden's Executive Order on Ensuring Adequate COVID Safety Protocols for Federal Contractors (Executive Order). The Executive Order requires covered contractors, covered contractor employees, and those working at covered contractor workplaces to comply with vaccination, masking, and physical distancing protocols, absent an accommodation for disability or religious reasons. Our previous alerts have covered the Executive Order in more detail and the subsequent Task Force guidance and may be helpful for understanding key definitions and nuances in the new FAQs.
A brief timeline highlights where the new FAQs fit in to the broader picture of the Executive Order:
September 9, 2021: The Biden administration releases the Executive Order, indicating that federal contractors will soon be subject to employee vaccination, masking, physical distancing, and compliance monitoring requirements via a forthcoming Federal Acquisition Regulation (FAR) clause.
September 24, 2021: The Task Force releases guidance for federal contractors and subcontractors (Guidance) setting out key definitions for covered contractors, covered contractor employees and workplaces, and mandating vaccination for any covered contractor employee working on or in connection with a covered contract or working at a covered contractor workplace.
September 30, 2021: The FAR Council issues a class deviation clause requiring compliance — as early as December 8, 2021 — with Task Force Guidance for covered contracts and "strongly encourag[ing]" the inclusion of the clause in non-covered contracts.
November 1, 2021: The Task Force releases new FAQs on contractor compliance, accommodations, and the scope of covered contractor workplaces.
The new FAQs build on previous recommendations about compliance with the vaccination mandate, the process for granting accommodations, and the scope of covered entities. Further, they address the relationship between contractor accommodations and federal workplaces. The key takeaways are as follows:
Good Faith Effort: The new FAQs establish a "good faith" standard for a contractor's efforts to come into compliance with the Guidance. This is a significant development, as it indicates that the government is not taking a bright-line approach to enforcement for contractors who are attempting to become compliant. However, this also means that the approaches or perspectives of contracting officers working with contractors who are facing challenges with compliance may be difficult to predict and may produce varying outcomes. At this point a contractor's most proactive approach is to be working diligently toward compliance and retain an open dialogue with their agency costumers — including keeping contracting officers aware of the status of compliance on an ongoing basis.
Timing of Requests for Accommodations and Accommodation Criteria: Requests for accommodations do not need to be resolved by the time covered contractor employees begin work on a covered contract as long as the employees requesting accommodations comply with workplace safety protocols for unvaccinated individuals. If an accommodation is denied, contractors should establish a timeline for the employee to promptly become fully vaccinated. Furthermore, the FAQs direct covered contractors to the Centers for Disease Control recommendations regarding accommodation requests or vaccination delays based on pre-existing conditions, pregnancy, and participation in clinical trials.
Requirements for Employees with Accommodations in Federal Workplaces: Covered contractor employees who have received accommodations from a covered contractor and are working at a federal workplace should comply with the federal agency's requirements for unvaccinated individuals, including masking, physical distancing, and testing. Notably, agencies may determine that, due to the nature of a project or federal workplace, vaccination is the only appropriate workplace safety protocol. In such circumstances, even employees with accommodations may not work at those federal workplaces. Because of this, contractors should put their respective agency customers on notice when they grant an employee an accommodation.
Employee and Contractor Noncompliance: For covered contractor employees who refuse to be vaccinated and have not been provided an accommodation, contractors should determine the appropriate method of enforcement. Contractors can utilize their traditional processes for enforcing workplace requirements or model their approach after the federal agencies, starting with a period of education and counseling, followed by disciplinary measures and, in the face of noncompliance, removal. For contractors who are noncompliant (as opposed to contractors who are making a good faith effort to become compliant but are not yet compliant), significant actions, including termination of a contract, should be taken by a contracting officer.
Prior Access to Documentation: For the purposes of documenting compliance with vaccination requirements, contractors can consider prior access to an employee's documentation or access via a state's immunization database sufficient.
Affiliates: The employees of a covered contractor's corporate affiliate are considered covered contractor employees if those employees work at a covered contractor workplace. If a covered contractor's employees are working on or in connection with a covered contract at a workplace controlled by a corporate affiliate, the workplace is considered a covered contractor workplace.
While the FAQs address several areas of concern for covered contractors, questions remain about the practical considerations of compliance and enforcement, as well as the live issues pertaining to the relationship between the Executive Order and state bans on vaccination mandates. We will continue to monitor and report on the developments in COVID-19-related requirements for contractors and subcontractors
Healthcare Spotlight: Infrastructure Bill to Advance Domestic Manufacturing of PPE
The Infrastructure Bill that was passed in the House on November 5, and subsequently sent to the President to be signed into law includes important provisions and language relevant to our healthcare members: 
Make PPE in America 
The Bipartisan Infrastructure Framework (BIF) includes a provision designed to encourage the production of personal protective equipment (PPE) in the United States through long term Federal contracts. Section 70953, "Make PPE in America," requires that Federal contracts for PPE with the Department of Veterans Affairs (VA), the Department of Health and Human Services (HHS) and the Department of Homeland Security (DHS), be issued for a "duration of at least 2 years, plus all options as necessary" for PPE "including the materials and components thereof, that is grown, reprocessed, reused, or produced in the United States." There are some alternatives and exceptions that apply. For example, as an alternative to domestic production, the VA, HHS and DHS may award long term contracts for PPE that is assembled outside of the U.S. that contains only domestic materials and components. There are also certain availability exceptions that may apply. In addition, Section 70953 requires the Office of Management and Budget to issue a report to Congress on a national strategy for the procurement of PPE produced in the U.S. that includes incentives to invest in and maintain such supply chains. 
Transfer of PPE During Public Health Emergencies 
Section 70953 would allow the Department of Homeland Security to transfer PPE or medically necessary equipment to HHS during a declared public health emergency. These transfers must be made at the request of HHS and on a reimbursable basis. 
Delay of the Implementation of the HHS Final Rule Amending the Safe Harbor Regulation for Drug Discounts to 2026  
Section 90006 prohibits HHS from implementing or enforcing the November 30, 2020 final rule titled, "Removal of Safe Harbor Protection for Rebates Involving Prescription Pharmaceuticals and Creation of New Safe Harbor Protection for Certain Point-of-Sale Reductions in Price on Prescription Pharmaceuticals and Certain PBM Service Fees," before January 1, 2026. 
To see the entire final bill, click here. 
Save the Date: DHA Summit on ATOs in Partnership with AMSUS-SM, Dec. 7
We are pleased to announce that AMSUS-SM Technology Working Group and The Coalition for Government Procurement are partnering to host a summit with the Defense Health Agency on Tuesday, Dec. 7 at 12:30 pm EST. The virtual meeting with DHA will focus on the agency's Risk Management Framework and how to achieve an Authority To Operate (ATO) which is required for Military Treatment Facilities to purchase certain medical equipment.  The agenda and additional details will be released in the coming weeks. If you have any questions, please contact Aubrey Woolley at awoolley@thecgp.org or 202.315.1053.
Proposed Rule: Using the Social Costs of GHG Emissions in Federal Procurement
On October 15, the FAR Council issued a proposed rule providing notice to contractors about plans to amend the FAR to ensure that major Federal procurements minimize the risk of climate change. On May 20, President Biden signed Executive Order (EO) 14030, Climate-Related Financial Risk. The EO states that the Federal Government should manage climate-related financial risk within its procurement activity. This proposed rule looks to ensure that Federal procurements minimize the risk of climate change by requiring the social cost of greenhouse gas emissions to be considered in procurement decisions, and by giving preference to bids and proposals from suppliers with a lower social cost of greenhouse gas emissions. The social cost is an estimate of monetized damage from increases in greenhouse gas emissions. 
The FAR Council is seeking public comments on a list of questions in the proposed rule such as "how can greenhouse gas emissions, including the social cost of greenhouse gases, best be qualitatively and quantitatively considered in Federal procurement decisions?" 
The Coalition will be submitting comments through the Green Committee which are due by December 14, 2021. Please send any comments or questions about the proposed rule to Aubrey Woolley at awoolley@thecgp.org by Nov. 30. 
FAR Council Revises "Commercial Item" Definition
On November 4, the FAR Council released a final rule that changes the definition of "commercial item" amending the FAR. The amendment to the FAR implements section 836 of 2019 National Defense Authorization Act (NDAA). The commercial item definition is separated into two definitions of "commercial product" and "commercial service."  The two definitions address an issue identified by the Section 809 panel, specifically confusion within the acquisition workforce about how to identify eligible commercial items and services. The update to the "commercial item" definition is meant to "reflect the significant roles services and commercial services play today in the DoD procurement budget." The final rule made the following changes to the FAR: 
Removed from FAR part 2 the definition of "commercial item" and replaced it with the definitions of "commercial product" and "commercial service" in accordance with the NDAA with only minor revisions for clarification to align with that which is currently in the FAR. The clarification in paragraph 3(ii) of the definition of "commercial product" has been in FAR part 2 since the definition of "commercial item" was incorporated by FAR case 94-790, Acquisition of Commercial Items, in 1995. Paragraphs 2(i) and 2(ii) of the definition of "commercial service" are also long standing; they stem from a FAR change published October 22, 2001, which was revised slightly in a FAR change published June 18, 2004.

 

Replaced all instances of "non-commercial" and "noncommercial" with "other than commercial" as it relates to this rule. This editorial change provides consistent language throughout the FAR.

 

Removed FAR 12.102(g), and a corresponding reference at FAR 37.601(c), as obsolete. FAR 12.102(g) only applied to contracts or orders entered into before November 23, 2013.

 

Added the definition of "established price" at FAR 16.001 to be consistent with the term as defined at the FAR clauses at FAR 52.216-2, Economic Price Adjustment—Standard Supplies, and 52.216-3, Economic Price Adjustment—Semistandard Supplies. This is editorial in nature and for consistency to align the definition in both the clause and the corresponding FAR part.

 

Made conforming changes to cross references, and the following Standard Forms (SF): SF 294, Subcontracting Report for Individual Contracts; SF 1443, Contractor's Request for Progress Payment; and SF 1449, Solicitation/Contract/Order for Commercial Products and Commercial Services. Also, minor editorial changes were made as needed throughout the FAR. These revisions do not impact terms and conditions of commercial contracts or how the Government procures commercial products or commercial services.