The Key
PRC 
Issue
: 
Do the Benefits Outweigh the Costs?
At this year's Fall Training Conference, Coalition members had the unique opportunity to hear from Administrator Emily Murphy about GSA's 70th year Anniversary and how the agency is working to modernize its contracting programs, like the GSA Schedules.  Much progress is being made through GSA's Schedules Consolidation, Contract Writing System, and Catalog Management initiatives.  Over the years, the Coalition has been steadfast in its support of new ideas and initiatives that enhance the efficiency and effectiveness of the Schedules program.  To the list of GSA's modernization efforts in 2020, we would like to recommend that GSA enhance the ease of doing business with Federal agencies through the Schedules program by minimizing the burdens associated with FSS pricing disclosures and maximizing best value via the competitive market. 
As FAR & Beyond blog readers well know, the Coalition has made the case that the Price Reductions Clause (PRC) is unnecessary, costly, and outdated in today's competitive market. In fact, GSA recognized, in 2015, that the PRC was only effective in reducing Schedules pricing three percent of the time, and competition in the market drives lower prices for Government customers.  
In September of 2019, GSA changed the regulatory classification of the PRC. As required by the Paperwork Reduction Act, Federal agencies, like GSA, need approval from the Office of Management and Budget (OMB) to impose a paperwork burden and collect information from the public. After that, agencies must renew their approval with OMB every three years and submit an analysis of the cost and burden to collect that information from the public. Generally, OMB's review looks to minimize the burden on the public and ensure that the information collected by the agencies provides utility to the Government. 
GSA and OMB have followed this process since the 1980's for the Price Reductions Clause and the Commercial Sales Practice (and the CSP's predecessor, the DSMD). Over the past decade, however, GSA's requests to renew the PRC and CSP have prompted questions about the accuracy of the Government's estimates of the time and cost burdens on industry. For example, in 2011, GSA estimated that the burden of the PRC for the entire Schedules program was 13,500 hours annually and determined that the PRC had a minimal impact on contractors. To provide some context, the Coalition estimates that the burden of the PRC is between 9 million and 12 million hours per year and costs industry over half a billion dollars annually.  
In response to industry's feedback on the burdens of the PRC, GSA increased their time burden estimate by more than 7,700 percent since 2011. Although differences between GSA's and industry's estimates remain, GSA has further revised its burden estimate for the PRC and CSP to $128 million annually earlier this year. This revised estimate marks the first time that GSA's estimate exceeded $100 million per year. 
This $100 million threshold is significant because, from a regulatory standpoint, it makes the PRC and CSP estimates "significant," "economically significant," and "major" regulations under a set of Executive Orders that govern agency regulatory actions, separate from the Paperwork Reduction Act.1  
So, what does this mean for GSA? Under Executive Order 12866, GSA must calculate the costs and benefits of FSS pricing disclosures, which include the PRC and CSP. Previously, under the Paperwork Reduction Act, GSA only needed to analyze the costs of the PRC and CSP, not their benefits. Although Coalition members do not anticipate that an analysis of the PRC and CSP will demonstrate that their benefits exceed their costs, the only way to know is through their assessment. Therefore, we recommend that GSA explore alternatives, like unpriced services SINs for hourly rate services, to modernize the Schedules pricing policies in alignment with other Federal contracts. 
While GSA's initiatives, like Schedules Consolidation, updated e-Tools, and a new Contract Writing System, will greatly advance the Schedules, the program will not be fully modernized until its pricing policies are reformed. GSA has a great opportunity in 2020 to streamline its program, reduce burdens on industry, and bring consistency to its contracting process. Now more than ever, GSA needs to eliminate the PRC from its Schedules contracts and fundamentally reform the CSP. The Coalition stands ready to support GSA in its efforts, and we look forward to continuing the dialogue. 
Yearlong Continuing Resolution Predicted
Federal News Network reported that avoiding a future shutdown is a top priority, according to Senator James Lankford (R-OK), a member of the Senate Appropriations Committee. Lankford remains concerned about the impact of shutdowns. Last years' 35-day partial shutdown led to more than $3 billion in back wages for furloughed employees, which costed the IRS $2 billion loss of revenue from tax enforcement.  
There are three weeks until the current continuing resolution (CR) expires on December 20th. Lankford believes that lawmakers will need about two weeks to draft appropriations bills for the rest of Fiscal Year 2020, which means that there may not be enough time to complete an appropriations bill by December 20. Considering the small window that lawmakers have to complete the appropriations, some lawmakers have suggested a long-term CR for the remainder of fiscal year. While Lankford believes that a long-term CR is 'terribly likely,' he does not plan to endorse the measure.  
Coalition Files Amicus Brief on the Mandatory Disclosure Rule
On November 15, the Coalition for Government Procurement joined the Chamber of Commerce of the United States of America in filing a brief as amici curiae on an issue of critical importance to federal contractors.  Amici urged the court to reconsider its earlier ruling that a federal government contractor waived the protections of the attorney-client privilege and work product doctrine via a disclosure to the Government under the so-called "Mandatory Disclosure Rule." Amici explained that, for more than a decade, contractors have been making robust disclosures to the Government with the settled understanding and expectation that it will not result in a broad subject matter waiver of privilege or work protections. The case is Anderson v. Flu
See the Photos from the Coalition's Fall Conferences and EIP 
Awards 
Dinner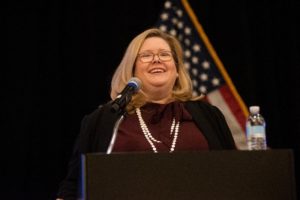 Members have reported that the Coalition's Fall Healthcare Conference, Excellence in Partnership Awards Dinner, and Fall Training Conference were a huge success! The photos from all three events can be accessed below: 
Our sincere appreciation to Susan Hornyak Photography for capturing all the best moments at our Fall events this year.  
HHS Announces Plans for CIO-SP4
Earlier this week, Brian Goodger, Associate Director for the NIH Office of Logistics and Acquisition operations, announced plans to award the CIO-SP4 GWAC. According to Bloomberg, NITAAC plans to release a draft RFP in March and a final RFP in October. NITAAC plans to utilize a self-scoring evaluation criterion and may require FedRamp certification.   
GSA 
Publishes Industry
 Feedback from 889 Public Meeting
On November 6, GSA hosted an industry engagement meeting to build awareness and receive feedback on the prohibitions on certain telecommunications and video surveillance services and equipment under Section 889 of the National Defense Authorization Act. This week, GSA posted a document summarizing the feedback and recommendations they received from the meeting. The following are the key themes from the event: 
– Many businesses with a small proportion of federal business will leave the market, making it less competitive and reducing innovation  
– Increased compliance costs for both the private sector and federal parts of businesses will lead to higher prices to government buyers  
– Section 889 will disproportionately impact small businesses and their ability to provide government services 
– There is a lack of clarity around key definitions in the statutory language.  
–  Analyzing exponentially large supply chains without precise definitions of covered equipment will prove very challenging for many businesses  
– Businesses performing federal work in foreign countries with exclusively noncompliant equipment and/or services have no recourse  
– Industry lacks awareness of the prohibition on covered telecommunications services and equipment 
GSA's report also includes a summary of the recommendations made to GSA during the meeting: 
– Limit the application of Section 889 to the transmission of sensitive information  
– Narrow the point at which businesses become responsible for data transmission  
– Develop a "bill of materials" for software similar to that for a piece of equipment  
– Use the NAICS codes as a basis for defining critical technology and consult regulations used to implement the Foreign Investment Risk Review Modernization Act pilot program as guidance  
– Consider the Cybersecurity Maturity Model Certification as a good example of how to implement allowable costs for compliance  
– Issue the overdue regulations re the Supply Chain Executive Order ASAP  
– Provide a complete list of the affiliates of the named Chinese businesses  
– Develop a list of equipment that potentially contains "substantial" components  
– Provide "safe harbor" requirements  
– Give industry adequate time to comply and adjust their supply chain and systems as necessary to do business with both the federal government and the private sector  
– Consider delaying implementation to allow time for awareness, clarity and communication  
– Exclude sales from the definition of the term "use"  
– Rebrand the name/title "Section 889" to show the relevance of the prohibition to industry 
To read GSA's full summary of findings from the Section 889 public meeting, click here.  
GSA 

Resources on beta.SAM.go

v 

after

 

Transition from FBO

 
The recent shift by the Government Services Administration (GSA) from the FedBizOpps.gov website to beta.SAM.gov has resulted in contractor frustrations according to the Federal News Network. The beta.SAM.gov portal experienced issues during its first few days. Despite these early struggles, the site now appears to be functioning efficiently, according to GSA.  
To further support contractors adjusting to the new system GSA has posted an Information Kit on GSA Interact and made a Learning Center available on the beta.SAM.gov website which was also announced on GSA Interact. The Information Kit includes documents which provide overviews on the differences between SAM.gov and bet.SAM.gov, frequently asked questions, and other information. The Learning Center includes "video tutorials, frequently asked questions (FAQs), quick start guides, and a glossary." The Learning Center will also have a search function available to help users find information and a Resources section with four subdivisions.  
Legal Corner: The Long Reach Of Section 889 (aka the Anti-Huawei Rule)
By Jonathan Aronie, Townsend Bourne, and Scott Maberry
The Legal Corner provides the legal community with an opportunity to share insights and comments on legal issues of the day. The comments herein do not necessarily reflect the views of the Coalition for Government Procurement. 
As you probably know, we have been following closely developments relating to Section 889 of the 2019 National Defense Authorization Act (NDAA), which prohibits executive agencies from purchasing restricted products and services from certain Chinese telecommunications companies (including Huawei and ZTE) and also from working with contractors that use such products.
Jonathan Aronie was one of the featured panelists at the well-attended General Services Administration (GSA) Section 889 industry event on November 6, 2019, during which a lively conversation ensued regarding the likely impact of the provision on government contractors. While contractors already are dealing with Part A of the rule, which prohibits them from selling covered products and services to the government, Part B will go into effect in August 2020 and contains a much broader prohibition relating to the use of covered products and services – even if unrelated to federal business.
We've included a lengthy set of Frequently Asked Questions (and answers) at the end of this article based on our ongoing focus on 889 and its long reach. But first, a little background . . .
Click here to read the full article.
Legal Corner: U.S. Government To Award Billions Of Dollars In Contracts To Open Electronic Marketplaces To Government Customers—Though Serious Questions Remain
By Professor Christopher R. Yukins; The George Washington University Law School
(First published on October 21, 2019)
The Legal Corner provides the legal community with an opportunity to share insights and comments on legal issues of the day. The comments herein do not necessarily reflect the views of the Coalition for Government Procurement. 
Proposals to the U.S. General Services Administration are due soon in a $6 billion procurement under which multiple no-cost contracts will be awarded to vendors that will open electronic marketplaces to federal users making micro-purchases (generally up to $10,000). Although federal purchase card holders have long been able to make micro-purchases with few regulatory constraints regarding competition, transparency or socioeconomic requirements, this new initiative appears likely to normalize and expand those purchases—and so may revolutionize small purchases in the federal market.Click here to read the full article.
Healthcare Spotlight: Evolution of the TRICARE Pharmacy Benefit: A Decade of Change
By Amy M. Lugo, PharmD, BCPS, FAPhA; Angela A. Allerman, PharmD, BCPS; and Shana K. Trice, PharmD
The Healthcare Spotlight provides the healthcare community with an opportunity to share insights and comments on leading issues of the day. The comments herein do not necessarily reflect the views of the Coalition for Government Procurement.  
TRICARE is the military's health plan that provides coverage to 9.4 million active duty and retired uniformed services personnel and their family members. The TRICARE pharmacy benefit has undergone many changes in the last decade. These changes include assigning newly approved drugs to nonformulary status after regulatory approval, the addition of weight loss medications to the benefit, channel management point-of-service requirements for some medications, and copay increases. Several initiatives have resulted in significant cost avoidance to the Department of Defense (DoD). The purpose of this article is to discuss the changes to the TRICARE pharmacy benefit, describe the continual challenges, and estimate cost savings associated with implementation of these changes.
DoD implemented its 3-tier Uniform Formulary in 2005. Since then, many changes have been enacted, including more extensive use of prior authorization, step therapy, and quantity limits; coverage of over-thecounter medications; the retail refund program; coverage of vaccines and smoking cessation agents; mandatory mail/military treatment facility requirements; rapid review and initial nonformulary status for newly approved innovator drugs; revisions to the compounded drug benefit; initial deployment of a new medical record system; coverage of weight loss medications; and the ability to exclude medications from the Uniform Formulary
Click here to read the full article.
Schedules Consolidation Mass Mod Expected in Jan 2020
On November 25, GSA posted a notice on Interact stating that GSA intends to issue current Schedule contractors a Mass Mod in January 2020 to implement a new consolidated Multiple Awards Schedule for existing Schedule contractors. This new consolidated schedule features a simplified format, streamlined terms and conditions, and new categories and special item numbers (SINs). A new consolidated MAS solicitation can be found on beta.SAM.gov and contains the solicitation, an available offerings summary document, an attachment for each large category, and regulations incorporated by reference. GSA plans to use the New Available Offerings and Requirements page on gsa.gov for the solicitation's templates and attachments. The notice also highlights how to prepare for the Mass Mod. 
Upcoming GWAC/MAC and IT/Services Meeting and Small Business Meeting
Joint GWAC/MAC and IT/Services Meeting 
 The Coalition will be hosting a joint IT/Services committee and GWAC/MAC Committee meeting on Tuesday, December 10.  
Zachary Lerner from GSA's Professional Services Category will discuss GSA's new market research tools for suppliers and GSA's Supplier Success Strategies.  
IT/Services and GWAC/MAC Committee  
When: December10 at 10:00AM  
Where: Northrop Grumman , 7575 Colshire Dr.  McLean, VA 22102  
RSVPs are required to attend for security purposes. Please RSVP to Michael Hanafin at mhanafin@thecgp.org.  
Small Business Committee Meeting 
 The Small Business Committee invites all members to attend the next meeting on December 13 at Holland & Knight's Tysons office. John Klein, Associate General Counsel for Procurement Law of the U.S. Small Business Administration will be the guest speaker.  
When: Friday, December 13 at 10:00 AM ET 
 Where: Holland & Knight LLP, 1650 Tysons Boulevard – come to the 16th Floor Tysons, VA 22102 
 John Klein will brief members on SBA's proposed rule issued on November 8, 2019 addressing a range of proposed changes to SBA's Mentor-Protégé programs, 8(a) Program, size certifications for certain task orders, and seeking input regarding security clearances for joint ventures. (SBA's proposed rule is summarized here with the original text available here.) This is a great opportunity to understand SBA's proposed changes and the policy goals behind them. The meeting is timely, as public comments on SBA's proposed rule are due on or before January 17, 2020.  
RSVPs are required to attend for security purposes. For dial-in or to attend in person, please RSVP to Michael Hanafin at mhanafin@thecgp.org. 
GAO Reports Increase in OTA Prototype Use by DOD

 
On November 22nd the Government Accountability Office (GAO) released a report on the Department of Defense's (DoD) use of Other Transactions for prototype projects from Fiscal Year (FY) 2016 through FY 2018. Other transactions, which are exempt from certain federal contract laws and regulations, are meant to attract innovative companies and streamline the procurement process. The report found that the number of "new prototype other transactions, modifications and orders" rose from 214 during FY 2016 to 618 during FY 2018. The report found a corresponding increase in the total obligations from $1.4 billion to $3.7 billion.  

The report states that "companies that typically did not do business with DOD" participated to a significant extent in 88% of prototype other transactions over the three-year time period. The report also examined a non-generalizable sample of the document pertaining to 11 prototype other transactions. In nine of the eleven transactions all review procedures were followed. In two of the transactions, with a total value of $17.8 million, agents failed to obtain appropriate higher-level review. After the GAO brought these situations to agencies attention, officials reviewed them and found no issues with the awarded transactions.  
IG Semi-Annual Reports from GSA, DoD, VA, SBA, and AbilityOne 

 
Office of Inspector General, General Services Administration Semi-Annual Report to Congress 
General Services Administration (GSA) Office of Inspector General (OIG) Semi-Annual report to Congress contains information on the Preaward and Postaward audits; audit of GSA's use of the NASA Solutions for Enterprise-Wide Procurement Contract (SEWP); and FAR Disclosure Program. With the Preawards and Postawards audits, the OIG identified where GSA missed potential savings. Some places where GSA missed potential saving are when contractors overstated proposed labor rates, price reduction provisions were ineffective, and other direct costs were not supported. In the audit of GSA's use of NASA SEWP, OIG found that GSA placed large orders under the SEWP contract but primarily used SEWP for the audited orders because the required items were not available through the GSA Schedules Program, or the items could not be provided within the customer's requested timeframe. There is also a discussion of the audit on GSA's management of a contract, where they identified significant weaknesses in information system security controls. Read the complete semi-annual report here. 
Office of the Inspector General, Department of Defense Semi-Annual Report to Congress 
Department of Defense, OIG Semi-Annual report to Congress contains results of audits on acquisition and contracting. A few of the audits that are in the report are audits of Defense Logistics Agency Troop Support Negotiation of Prices for the Pharmaceutical Prime Vendor – Global Program, and audit of TRICARE Payments for Health Care Services and Equipment that were Paid without Maximum allowable Reimbursement Rates.  Read the report here. 
Office of Inspector General, Department of Veteran Affairs Semi-Annual Report to Congress 
The Department of Veteran Affairs (VA), OIG Semi-Annual report to Congress covers preaward, postaward, and other pricing reviews of Federal Supply Schedule and health care provider contracts. There is also evaluation of pharmaceutical manufacturers' compliance with the pricing provisions contained in Veterans Health Care Act of 1992. Read the full report here. 
Office of Inspector General, Small Business Administration Semi-Annual Report to Congress 
The Small Business Administration (SBA), OIG Semi-Annual report to Congress covers audits of the government contracting programs, including an evaluation of SBA's All Small Mentor-Protégé Program. The evaluation of the Mentor-Protégé Program found that SBA did not provide effective controls to ensure that initial application reviews and annual evaluations were conducted to fully align with program regulations. SBA also did not effectively monitor and evaluate the results of the program performance indicators the agency created. OIG made recommendations to the SBA on how to improve the management and effectiveness of the Mentor-Protégé Program. Read the full report here. 
United States AbilityOne Commision, Office of Inspector General Semi-Annual Report to Congress 
United States AbilityOne Commision (AbilityOne), Office of Inspector General (OIG) Semi-Annual report to Congress includes an assessment of the e-commerce pilot program between AbilityOne and Amazon. According to the OIG, this pilot did not increase AbilityOne sales, but it did allow AbilityOne insight into ecommerce platforms. Though the pilot program between Amazon and AbilityOne has ended other federal agencies are creating other e-commerce pilot programs. These e-commerce pilot programs are occurring to implement the FY2018 NDAA Section 846, Procurement Through Commercial E-Commerce Portals." . The implementation of FY2018 NDAA Section 846 is expected to extend through FY2020.  GSA'se solicitation requires that respondents follow the mandatory source requirements of the AbilityOne Program. OIG will continue using its oversight role and its understanding of the e-commerce platforms and the platforms application to the AbilityOne Program. OIG thinks the shared success of the e-commerce platforms will come from a platform that serves the AbilityOne Program. Read full report here. 
GAO:
 Contractor Ownership should Include Fraud Risk Assessment
The General Accountability Office (GAO) found that the Department of Defense (DoD) is encountering new types of financial and nonfinancial fraud and national security risks posed by contractors with opaque ownership. The report finds that the fraud includes price inflation funneled through multiple companies owned by the same entity, fake competitive bids from ineligible companies, rustling service-disabled veterans' and small business set-aside contracts with false qualifications, and foreign manufacturers wielding sensitive information delivering faulty equipment into DoD supply chains. While DoD has tried to protect the supply chain with changes to the Federal Acquisition Regulation (FAR), GAO does not believe those changes go far enough. GAO recommends that DoD's Office of the Undersecretary of Defense include contractor ownership in its continuing work in the departmentwide fraud risk assessment. See the full report here. 
HCaTS

 8(a) 

On-Ramp

 Released
The General Services Administration (GSA) posted the solicitation for the Human Capital and Training Solutions (HCaTS) 8(a) on-ramp this week. The on-ramp will create a separate, independent HCaTS vehicle exclusively for 8(a) small business and will allow for competitive 8(a) set-asides. GSA plans to on-ramp 20 contractors for pool 1 and 20 contractors for pool 2. Proposals are due by January 28. 
GSA Awards 40 OASIS SB Pool 1 Contracts 
On November 26, GSA awarded contracts for OASIS Small Business Pool 1 to the 40 vendors. OASIS SB Pool 1 includes a wide variety of professional services, such as consulting, engineering, logistics, and project management. Information on the award notice and awardees is available on beta.SAM.gov. GSA is planning to award the remaining 150 OASIS SB Pool 1 contracts in the second quarter of FY2020. 
Off the Shelf: 
Navigating the Government's Contract Compliance
This week on Off the Shelf, Addie Cliffe, partner at Crowell & Moring LLP, provides an update on the Multiple Award Schedule (MAS) program, focusing on the current application of the Commercial Sales Practices (CSP) disclosure requirements, the Price Reduction Clause (PRC) applications and the new Transactional Data Reporting (TDR).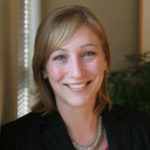 Cliffe also shares insights regarding the MAS audit process and compliance best practices for contractors. 
Shifting gears, Cliffe highlights the evolving supply chain risk compliance regime, shares her thoughts on key supply chain and cyber risk for contractors, and corresponding government compliance requirements. 
In sum, understanding and navigating the government's contract compliance is fundamental to success in the federal market! 
Off the Shelf

: Artificial Intelligence and DoD

 
Earlier on Off the Shelf, Booz Allen Hamilton's Artificial Intelligence (AI) Team, vice president Jeff Kimmons and directors Graham Gilmer, Kathleen Featheringham, and Justin Betof, discuss how to operationalize AI and machine learning (ML) to support the Department of Defense mission. 
The Booz Allen Hamilton (BAH) AI team highlight how the federal government is engaging and evolving with AI and the unique challenges and opportunities that entails.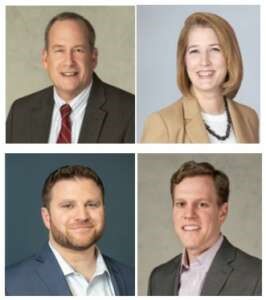 Among the changes is a focused organizational structure and key champions supporting AI development and deployment across the Department of Defense, including the Algorithmic Warfare Cross Functional Tea, (aka Project Maven) and the Joint AI Center (the JAIC). 
The BAH AI team talks about the importance of creating common standards and data integrity/soundness in accelerating AI/ML. The group also highlights and outlines a holistic approach to AI development that delivers mission centric AI services. 
Department of 
Commerce 
Issues 
Rule to 
Secure Supply Chain
On November 26, the Department of Commerce released a proposed rule on the implementation of Executive Order 13873, Securing the Information and Communications Technology and Services (ICTS) Supply Chain. It proposes procedures for the Secretary of Commerce to use in order to evaluate and address potential security risks from foreign companies that could threaten U.S. citizens, the digital economy, or the supply chain. Public comment on the proposed rule closes on December 27. 
Executive Order 13873 was issued on May 15, 2019, in response to an increase in foreign exploitation of the ICTS supply chain. The order gave the Secretary of Commerce, in consultation with other relevant Federal agencies, the authority to prohibit companies from conducting business with foreign entities that could pose a threat to the US. While the executive order gave the Secretary new authorities, the proposed rule will lay out the procedures of evaluation. Under the proposed rule, if the Secretary determines a risk, they will provide notice to the companies involved. These companies will then have the opportunity to submit a position before a final determination is made. Finally, the Secretary will provide an unclassified written determination that explains the final decision and how it is consistent with the terms of the executive order. 
The Coalition is planning to provide feedback on the proposed rule. Please contact Tom Sisti  at TSisti@thecgp.org with any feedback by Wednesday, December 11. 
DoD 
Public Meeting on Technical Data
 Right
s, Dec 
20
The Department of Defense (DoD) will hold a public meeting on DFARS policies and procedures for the acquisition of technical data and computer software licenses. The meeting will be held on December 20 at the Pentagon Library and Conference Center. DoD is seeking feedback from industry on the implementation of statutory requirements including: 
– Continuation of technical data rights which implements Section 866 of the 2018 NDAA 
– Noncommercial computer software which implements Section 871 of the 2018 NDAA 
– Proprietary data restrictions and rights in technical data which implement Section 809 of the 2017 NDAA and Section 815 of the 2012 NDAA 
The meeting will also consider the recommendations proposed in the Final Report of the Government-Industry Advisory Panel on Technical Data Rights, also known as the Section 813 Panel. Attendees must register for the meeting by December 13.  For details about registration, click here. 
SBA 

Issues

 Two New Rules

 on HUBZone Contracting
Small Business Administration (SBA) has published two new final rules, one regarding small business HUBZone program and government contracting programs, and another regarding regulation amendments based on the provisions of the National Defense Authorization Acts (NDAA) of 2016 and 2017. 
National Defense Authorization Acts of 2016 and 2017, Recovery Improvements for Small Entities After Disaster Act of 2015, and Other Small Business Government Contracting 
SBA issued a final rule on November 18, 2019 that changes the regulations to allow state governors to petition the SBA Administrator to designate HUBZone status to certain covered areas. The NDAA 2017 authorized changes to the Small Business Act to include "Governor – designated covered areas" under the HUBZone program. Under this amendment, a governor may submit one petition per year for a covered area or areas. The effective date for this rule is December 30, 2019. Read the final rule here. 
Small Business HUBZone Program and Government Contracting Programs 
SBA issued a final rule on November 26, 2019 that implements changes to the HUBZone program, which are designed to make the program more attractive to small businesses and encourage them to invest in HUBZone communities and hire HUBZone residents. One of the changes will create greater certainty and expanded opportunity regarding geographic eligibility and residency requirements. HUBZones, including HUBZone maps, will be updated every five years, opposed to annually, using data from the Census Bureau, the Department of Housing and Urban Development, and the Department of Labor; and starting January 1, HUBZone certification applications will be processed within 60 days of complete submission.  
Another change is improved contracting provisions, which includes HUBZone status will not be determined at the time of award. If a firm is certified HUBZone small business at the time of contract then it will generally be considered a HUBZone small business throughout that contract. Read the final rule here. 
FAR Final Rule on Nonconforming Item Reporting
On November 22, the FAR Council published a final rule on the reporting of nonconforming items by contractors. This Final Rule implements sections 818(c)(4) and (c)(5) of the National Defense Authorization Act (NDAA) for Fiscal Year (FY) 2012. These sections require contractors and subcontractors to report counterfeit or suspected counterfeit electronic parts purchased by or for DoD on the Government-Industry Data Exchange Program (GIDEP). Counterfeit products have been identified as a significant challenge facing the DoD's supply chain that  threaten the safety, quality and reliability of DoD systems.  
The proposed rule expanded reporting requirements to include "other Government agencies, other types of parts, and other types of nonconformance." However, after receiving public comments and holding a public meeting, the final rule has been descoped: 
– It does not apply to contracts and subcontracts for the acquisition of commercial items, including commercially available off-the-shelf (COTS) items. 
– Section 818(c)(4) of the NDAA for FY 2012 will not apply to contracts and subcontracts at or below the simplified acquisition threshold (SAT). 
– Rather than applying to all supplies, in addition to the requirements for section 818(c)(4) with regard to electronic parts for DoD, the rule focuses on supplies that require higher-level quality standards or are determined to be critical items (definition added). 
– The rule also exempts medical devices that are subject to the Food and Drug Administration reporting requirements at 21 CFR 803; foreign corporations or partnerships that do not have an office, place of business, or paying agent in the United States; counterfeit, suspect counterfeit, or nonconforming items that are the subject of an on-going criminal investigation, unless the report is approved by the cognizant law-enforcement agency; and nonconforming items (other than counterfeit or suspect counterfeit items) for which it can be confirmed that the organization where the defect was generated (e.g., original component manufacturer, original equipment manufacturer, aftermarket manufacturer, or distributor that alters item properties or configuration) has not released the item to more than one customer. 
– Flowdown to subcontracts is similarly descoped. The contractor is prohibited from altering the clause other than to identify the appropriate parties. 
AFCEA Bethesda's 12th Annual Health IT Summit, Jan. 15-16, 2020
The Coalition is proud to sponsor, for a second year, the AFCEA Bethesda 12th Annual Health IT Summit on January 15-16, 2020 at the Bethesda North Marriott Hotel and Conference Center. This year's theme is "The Transformation Agenda: Emerging Strategies for the Next Wave of Health IT." Throughout the program, speakers/panels will focus on distilling actionable intelligence from the current wave of transformation efforts. This summit is a premier federal health IT conference, bringing together more than 1,000 senior executives and IT management professionals from across industry and federal civilian, health, and defense agencies to address healthcare initiatives. Coalition members who are interested in attending can register here.