The Coalition for Government Procurement is the most effective voice for commercial companies selling in the Federal market.
Recommendations to Update GSA Price Evaluation Processes
The Coalition has sent a letter to GSA compiling member feedback on FAS Policy and Procedure (PAP) 2021-05, Evaluation of Federal Supply Schedule Program Pricing.
View the Letter
Government Shutdown Resources for Contractors
Based on reports from Capitol Hill, the Government faces a potential shutdown beginning on October 1st. To that end, the Coalition has provided a list of resources to assist federal contractors in their planning.
View the Resources
GSA Announces FAS Reorganization
GSA announced that beginning in FY24, the Federal Acquisition Service will implement a planned reorganization of several business lines to meet the needs of federal customers and simplify interactions with GSA.
Learn More
Medical Supply Chain Commercial Best Practices Compared to VA
In August, the Coalition performed a review to identify and assess the best procurement practices in the larger commercial health care sector and compare them to current VA medical supply chain practices to identify potential opportunities for alignment.
Read the Paper
Coalition Urges Greater Clarity on TikTok Ban
The Coalition has submitted its final comments on the FAR interim rule banning TikTok from IT used in Federal contracts.
View the Comments
Coalition Submits Comments on CISA's Secure Software Self-Attestation Form
On June 26, The Coalition submitted our comments on CISA's Secure Software Self-Attestation Form for contractors. Our comments concerned centralizing the notification obligation, third party assessment regime, the estimate of reporting burden, and the scope of software impacted. We also included a matrix with more specific concerns about particular Secure Software Development Framework practices and topics.
View the Comments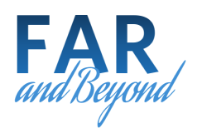 Recent Posts
Join Us at the Fall Training Conference!
The Fall Training Conference is less than two months away! This year's conference, taking place on November 15-16 at the Fairview Park Marriott in Falls Church, Virginia, explores the theme of "What is
Read More
What the FAS Pricing Guidance Says and Doesn't Say About Order Level Competition
Sep 22, 2023
This week, in the spirit of "Fair and Reasonable Transparency," the Coalition submitted to the Federal Acquisition Service (FAS) feedback on its "FAS Policy and Procedure (PAP) 2021-05, Evaluation of FSS Program
Read More
Special Thanks To Our Keystone Members