February 3, 2023
About a decade ago, the General Services Administration (GSA) commenced with the implementation of the One Acquisition Solution for Integrated Services (OASIS) professional services contract vehicle. This program consists of Multiple Award Indefinite-Delivery, Indefinite-Quantity (MAIDIQ) vehicles for the acquisition of complex professional services divided between Unrestricted vehicles (OASIS U) and Small Business (OASIS SB) vehicles for the following services:
Program management
Management consulting
Logistics
Engineering
Scientific services
Financial services
Under the program, awardees are selected based on a technical evaluation of their capabilities, experience, and past performance, using a weighted, point scoring methodology. Cost/price is evaluated only for fairness and reasonability. Task orders are competed in accordance with FAR 16.505 and can be performed on a cost, fixed price, time and material, or labor hour basis.
At the midpoint in the program, this blog provided a review of what, to that point, had been a highly successful, best value contract management program. We pointed out that, since its inception, with an estimated total value of almost $21 billion, growth in OASIS demonstrated that the market embraced the program. We also highlighted the substantial obligations going to small businesses (48 percent or $4.7 billion) at the time. Five years hence, we find that the program continues its great success.
As shown in the charts below, give or take, obligations under both OASIS channels doubled since the midpoint of the program. In fiscal year (FY) 2022, cumulative OASIS obligations exceeded $12 billion, which represents a 12 percent increase from FY 2021. OASIS SB accounted for 40 percent of the total obligations under the program. Specifically, OASIS obligations increased 8.9 percent from FY 2021 to FY 2022, and OASIS SB obligations increased 16.4 percent. Since FY 2015, the program has grown over 1900 percent.
More impressive than this raw data, however, is the story that lies underneath. For instance, regarding small businesses, there is healthy participation across the spectrum of the socio-economic space that comprises the explosion in small business obligations, $394 million to $5.025 billion, over the life of the program. Virtually every segment of the socio-economic business space has participated significantly in OASIS―8A, Service Disabled Veteran Owned Small Businesses, Woman Owned Small Businesses, Veteran Owned Small Businesses, and on.
Equally important is the data surrounding the federal customer's acceptance of OASIS. The breadth of the federal market space, civilian and defense customers, participates significantly in OASIS.  Indeed, the Department of Defense and its constituent agencies make up the single largest source of OASIS expenditures at $5,411,560,957.33. Additional evidence of the acceptance of OASIS in the federal market space is found in the comparison of OASIS obligations to other Professional Services Spending (PSS). In FY 2015, PSS spending was $10,838,703,981, and total OASIS obligations were $616,131,751.  By FY 2022, total OASIS' obligations had grown to $12,614,029,207, and PSS spending was $8,936,898,697.
Overall, OASIS has been a good news story for the government and for GSA as the program's managing agency. GSA should be complimented for its good work here, as it holds the promise of building on demonstrated success to create success in the future. Coalition members are encouraged to see again the identification of an opportunity channel for small business and the reference to OASIS in the planned follow-on program, OASIS+. Coalition members look forward to working with GSA and all stakeholders in ensuring the success of OASIS+.
Figure 1
Figure 2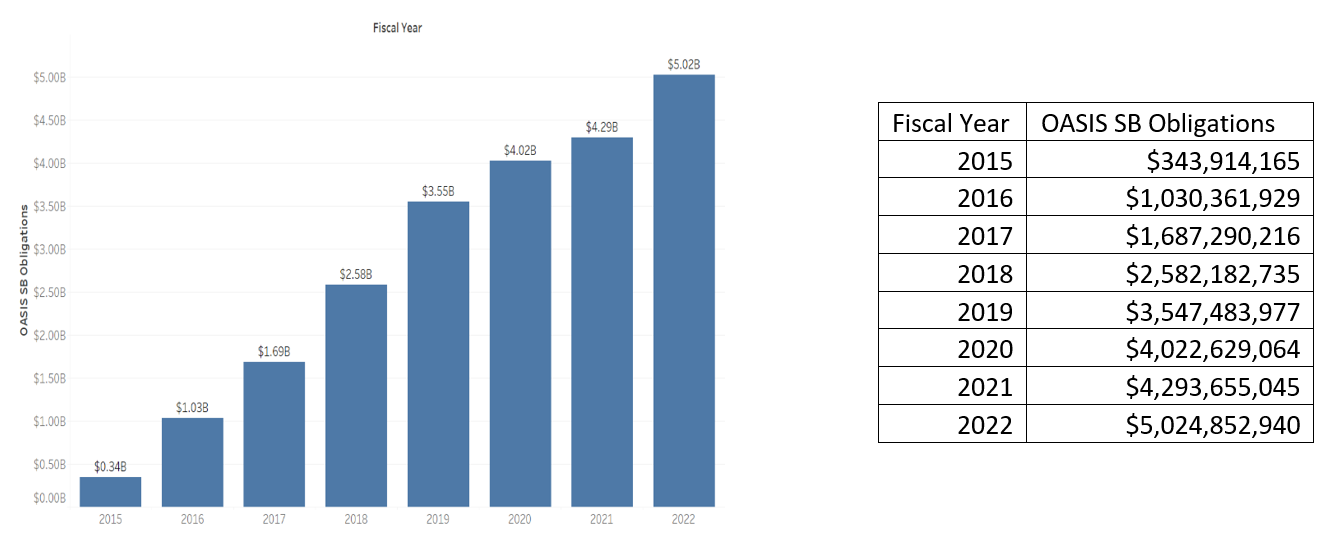 Figure 3

Figure 4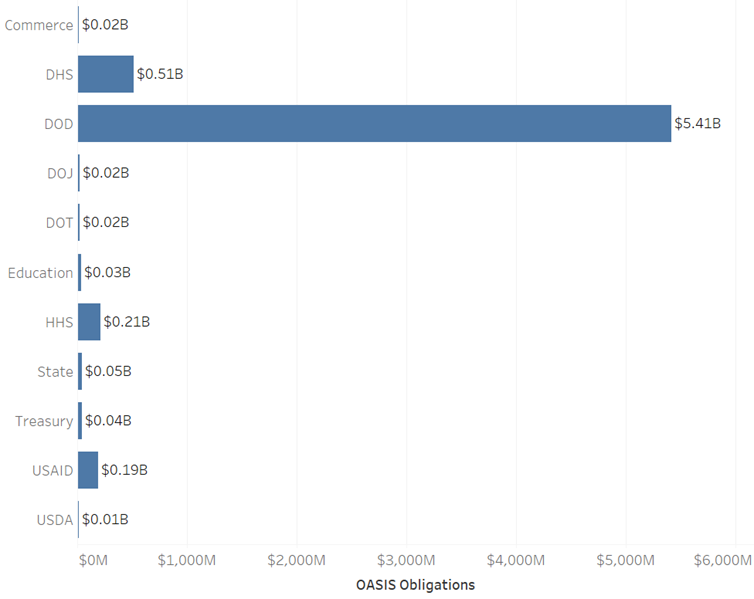 Figure 5