April 28, 2023
There is excitement in the air as we approach next week's Spring Training Conference – Procurement Watchwords for 2023.  The conference will take place on May 2-3 at the Fairview Park Marriott in Falls Church, Virginia.  During this two-day event, attendees will focus on four procurement "watchword" themes, specifically, Market Continuity, Cybersecurity, Supply Chain Security, and Sustainability, and how those themes will continue to serve as driving forces in the procurement system.  As our first in-person-only event since the COVID outbreak, we are especially gratified to see the enthusiastic response of the procurement community.  We are approaching the highest level of attendance ever for an in-person training conference.  The faith our community has vested in this event is humbling, and it places a significant responsibility on us to assure value-based, actionable content is made available in an environment that facilitates collaboration.
In that regard, we assure you that this event will not be disappointing.  We are privileged to be hearing from leaders in the General Services Administration (GSA), the Department of Veterans Affairs (VA), the Department of Defense (DoD), and host of others discussing topics, like a Diverse and Resilient Federal Marketplace; VA Supply Chain Modernization; the nation's Cybersecurity Strategy; GSA's OASIS and Alliant 3; VA's MSPV Gen Z; Supply Chain Risk Management; and Sustainability.  Equally important, during both days, agency leaders are making themselves available for any questions attendees might have at "Ask the PMO" tables for engagement on the GSA MAS and Pricing Tools and the Med/Surg Supply BPAs (Day 1), and VA FSS and VA Pathfinder (Day 2).  At the end of each day, there will be a Networking Reception during which all may discuss and share their learnings from the days.
Now more than ever, as we continue to awaken from the COVID slumber that put much of the world on hold, it is important to provide opportunities for engagement to allow our community to reconnect, dialog, and recommit to promote our collective efforts in service to the agency missions that serve our fellow citizens.  It is our privilege to be a part of this effort, but we hasten to point out that it would not be possible without the support of our sponsors: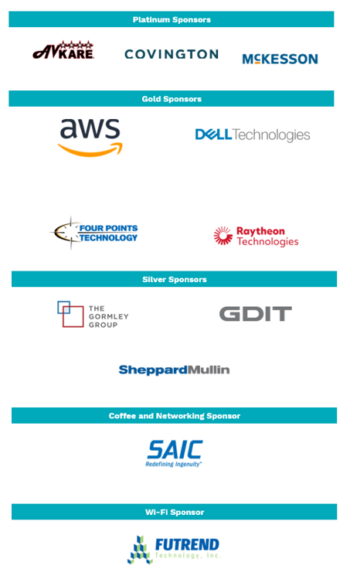 We hope you are as excited as we are about this conference!  We look forward to seeing you next week.