September 3, 2015
 On July 31st, GSA issued a Class Deviation to "mitigate the legal risk of incorporating into GSA contracts common Commercial Supplier Agreement (CSA) terms and conditions that conflict with or are incompatible with Federal law." As I explain below, the impacts of this deviation cannot be understated. The deviation establishes a new GSAR Clause 552.212-4, Contract Terms and Conditions—Commercial Items in lieu of standard FAR Clause 52.212-4. The class deviation is the end result of GSA' s efforts to address the long-standing challenges surrounding the negotiation of "End User License Agreements" (EULAs) (aka Software Licenses and/or CSAs) under IT Schedule 70. As GSA has noted, however, CSAs are often used in other contexts, from travel to telecommunications, to financial services, and to building maintenance systems.
The focus of GSA's efforts to address EULAs under IT Schedule 70 was to ensure that the contract language clearly provided that, in the event of a conflict between federal law and a commercial term, the federal law takes precedence (controls). According to GSA, without such language in the contract, each and every EULA under IT Schedule 70 would have to be reviewed in its entirety to ensure there were no conflicts with federal law. The deviation is intended to streamline the license review and negotiation process by specifically addressing potential areas of conflict.
The Coalition appreciates GSA's open, transparent dialogue regarding the deviation. The Federal Register notice and subsequent open conversations demonstrate GSA's commitment to engaging its industry partners on key procurement issues of common concern. Moreover, the Coalition and its members appreciate that, in cases where a license term conflicts with federal law, the federal law controls, and it welcomes the opportunity to work with GSA on developing terms and conditions that would streamline the process for all. The Coalition, however, is very concerned that the scope of the deviation goes well beyond addressing specific conflicts between federal law and commercial terms.
Specifically, the deviation changes the order of precedence, dropping commercial terms below the other paragraphs of 552.212-4 and solicitation terms, leaving it just above the SF1449. In contrast, under the standard FAR Clause 52.212-4, commercial terms are above the other paragraphs of 52.212-4 and the solicitation provisions. Here is a chart that highlights the change: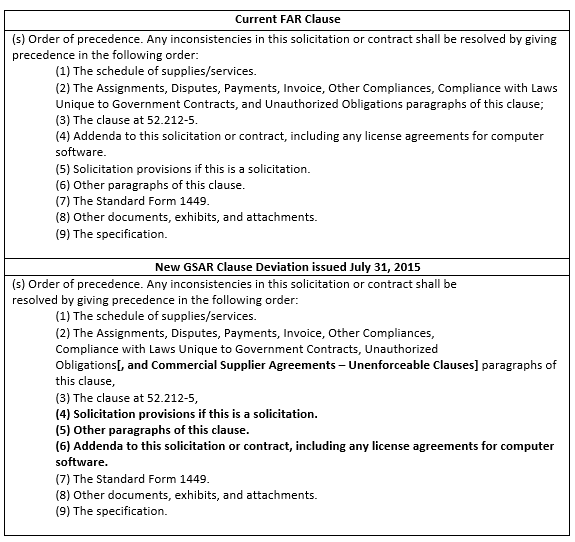 Though it may be minor in appearance, the potential impact of this change could be significant. For instance, as a result of this change, all commercial software terms, like title and ownership, warranties, and remedies, are subordinated to the government's terms and conditions in the solicitation. So, rather than addressing the specific areas of conflict, as GSA intended, the deviation undoes any preference for commercial software license terms and conditions under GSA contracts. As a result, prudent contractors will be compelled to seek negotiations on each and every term in an attempt to ensure its commercial terms apply. At an operational level, this means that, rather than streamlining the negotiation process, the deviation likely will complicate and delay processing times for contracts and modifications for new software products.
More fundamentally, the scope of the deviation raises questions regarding its legality. FAR 1.402 authorizes deviations "[u]nless precluded by law, executive order or regulation… ." The Federal Acquisition Streamlining Act of 1994 (FASA) requires the head of the agency to ensure, to the maximum extent practicable, that commercial items may be procured to fulfill agency requirements, that requirements be modified so they can be met by commercial items, that specifications be stated to enable offerors to supply commercial items, and that policies be revised to reduce the impediments to acquiring commercial items. See 41 U.S.C. 3077.
In a recent Friday Flash discussing a DoD proposed rule seeking to change the definition of "commercial item" for the purpose of gaining access to price and/or cost data, the Coalition pointed out that narrowing the definition of a commercial item
…could have far reaching implications for the procurement system. It risks reducing the government's access to innovative services and solutions by creating a new, significant barrier to entry for firms already offering those services and solutions in the commercial marketplace.
The same is true here. The deviation essentially turns the preference for commercial items on its head, creating a significant impediment to offering and acquiring commercial items with CSAs. As a consequence, it risks foreclosing access to cutting edge technologies needed by GSA and the agencies that rely on its contract vehicles. At a time when the government is seeking greater access to innovative technologies and capabilities from the commercial market, it just does not make sense, and thus, it needs to be changed.