May 25, 2017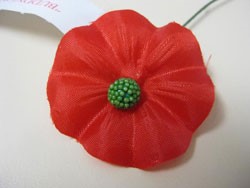 This Memorial Day marks not only the unofficial beginning of summer, but the 100-year anniversary of the United States entering World War I. Fought between 1914 and 1918, the First World War claimed the lives of more than 16 million individuals.  This immense loss has continued to shape the world in which we live, including the tradition of the "Buddy Poppy." Inspired by the poem, In Flanders Fields, on Memorial Day 1915, Moina Michael, an American professor, created this powerful custom when she wore the first Buddy Poppy in honor of those who had perished in World War I. Michael also sold these small red flowers to friends and coworkers, so that they too could honor those who sacrificed their lives in service to this nation, and donated the proceeds to servicemen returning from the War who needed assistance.  In addition, she wrote her own poem, We Shall Keep the Faith, below:
---
Oh! You who sleep in Flanders Fields,
Sleep sweet – to rise anew!
We caught the torch you threw
And holding high, we keep the Faith
With All who died
We cherish, too, the poppy red
That grows on fields where valor led;
It seems to signal to the skies
That blood of heroes never dies,
But lends a lustre to the red
Of the flower that blooms above the dead
In Flanders Fields.
And now the Torch and Poppy Red
We wear in honor of our dead.
Fear not that ye have died for naught;
We'll teach the lesson that ye wrought
In Flanders Fields.
The red poppy became the "Flower of Remembrance" for those who served with the Allies in the First World War. In 1921, the Franco-American Children's League sold artificial poppies in America to support orphans and those left destitute by the war in Belgium and France. Subsequently, the League dissolved, and in the Spring of 1922, the Veterans of Foreign Wars (VFW) began selling poppies made in France to support the orphans and destitute. In 1924, the VFW began selling "Buddy Poppies" made by veterans with disabilities.
Since that time, the VFW's National Buddy Poppy Committee has ensured that the artificial poppies are made by veterans located in VA Hospitals and facilities throughout the country.  The proceeds from the sales of Buddy Poppies primarily go to support local veteran services.  When you "contribute" or buy a Buddy Poppy at your local grocery store, it will support a veteran and a neighbor!  Please, when you write your grocery list for the Memorial Day barbecue, make sure you include a Buddy Poppy.
This Memorial Day, the Coalition asks that you consider taking the time to honor all service men, service women, and contractor personnel who have fallen in the defense of freedom.  We ask God to bless them and their families and to watch over all those who selflessly place themselves in harm's way for our nation.
Roger Waldron
President