April 25, 2019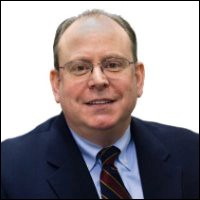 The Coalition for Government Procurement is very excited to welcome Tom Sisti to the team as its Executive Vice President & General Counsel. In this role, Tom will enhance the Coalition's domain expertise, providing law and policy support, as part of our continued commitment to our members.
Tom comes to the Coalition after serving as Chief Legislative Counsel for SAP America. His experience includes working with the Washington Management Group as Vice President for Law and Policy and with AT&T Government Solutions, where, as Senior Counsel, he supported civilian and defense business teams and served as SME on government procurement policy issues.
In addition to this private sector experience, Tom was Counsel to the U.S. Senate Committee on Governmental Affairs (now Homeland Security and Governmental Affairs), chaired by John Glenn (D-OH), where he was lead staff counsel responsible for the Federal Acquisition Streamlining Act of 1994 and oversight counsel on major IT initiatives.  His background includes working as Procurement Counsel detailed to the U.S. House of Representatives Committee on Government Operations (now Oversight and Reform), chaired by Jack Brooks (D-TX), where he supported the committee on IT oversight and legislative initiatives, such as the Procurement Integrity Act. Tom also has served as Chief Counsel to the then-GSA Board of Contract Appeals, and he began his career as Counsel with the Government Accountability Office.
Tom has been recognized for his work in furtherance of sound public policy, receiving, on four separate occasions, the Federal Computer Week Federal 100 award. He is a frequent panelist on matters affecting this community, and he has served in leadership positions in several industry associations, including the Coalition.
A graduate, cum laude, of New York Law School, Tom also earned his M.A. in Economics from the SUNY Center at Stony Brook, N.Y., and his B.S. in Industrial and Labor Relations from Cornell University. He is a member of the bars of New York State and the District of Columbia.