February 26, 2021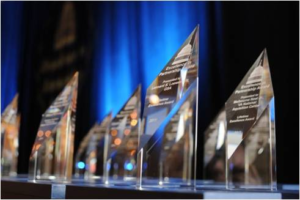 We previously announced that the 2020 Excellence in Partnership (EIP) awardees would be revealed throughout the first quarter of the new year in the Friday Flash. In January, we recognized our Lifetime Acquisition Excellence recipients for their outstanding achievements and demonstration of a career-long commitment to supporting the advancement of "common sense in Government procurement." In this week's FAR & Beyond blog, we would like to highlight the recipients of the Acquisition Excellence Award. This award is presented to both organizations and individuals for exceptional performance over the past year in meeting the mission-critical needs of a Federal agency through a Government contract. This year, we received multiple outstanding nominations from Government and industry in the Acquisition Excellence category. All of these nominees displayed the ability to execute at a high level in order to aid the efforts of Federal agencies, making the award decisions difficult.
We would like to congratulate the following 2020 recipients of the Acquisition Excellence Award.
Government
Defense Logistic Agency's Medical Directorate's Strategic Materiel Sourcing Group, Readiness Division
The Defense Logistic Agency's (DLA) Medical Directorate's Strategic Material Sourcing Group (SMSG), Readiness Division has provided a tremendous amount of support to the Whole of Government during the COVID-19 pandemic. The SMSG Readiness Division used innovative acquisition strategies to allow the Services and Government agencies to immediately access Personal Protective Equipment (PPE), including ventilators, gloves, gowns, and N95 masks through the DLA's Warstopper Program. This program invests directly in industry to ensure that critical items during crises are readily available. The Medical Readiness Division has over 14,000 medical items covered on 76 Warstopper contracts. Because of this, DLA had a supply of over 6 million N95 respirators ready to be shipped to customers immediately. The Medical Readiness Division's contracting model has been praised by Congress and other departments who have contacted DLA to understand the program's methodology and how it can be applied to the Government as a whole.
Meghan Michalski, Fire & Marine Division Chief, Construction & Equipment Supply Chain, DLA
Meghan Michalski works for DLA Troop Support (DLATS) as the Fire & Marine Division Chief within the Construction & Equipment Supply Chain in Philadelphia, Pennsylvania. In her role, she manages the DLATS Tailored Logistics Center for Special Operations Equipment and Fire & Emergency Services. Her team services all branches of the Department of Defense with essential warfighter equipment, annually obligating more than one billion dollars. During the COVID-19 pandemic, her team provided essential support by supplying PPE, as their contracts were in place and had high ceiling values. Meghan and her team worked to orchestrate the appropriate Domestic Non-Availability Determinations (DNADs) to be able to procure critical equipment from overseas, and obligated hundreds of millions of dollars' worth of COVID-19 relief equipment.
Milton Reese and Melina Andino, Naval Surface Warfare Center Indian Head Division
Milton Reese and Melina Andino serve as Team Leaders for the Naval Surface Warfare Center (NSWC) Indian Head Division (IHD) Cartridge Actuated Devices/Propellant Actuated Devices (CAD/PAD) In-Service Engineering (ISE) Branch. CAD/PAD devices are unique and highly specialized technology specifically rated for saving lives. In these roles, Reese and Andino assist the Branch Manager in leading a team of over 33 engineers, technicians, and equipment specialists. After assuming the Team Lead positions, they launched a systematic effort to revise and consolidate every aspect of the ISE process. Through their efforts, hundreds of technical data packages for all of the active CAD/PAD devices were updated, resulting in significant improvements to the procurement process. Efficiency and transparency have increased, while the cost of providing ISE has decreased. Additionally, the work done by these two leaders has improved cohesiveness between the ISE Branch and other CAD/PAD Division Branches.
Dr. Christopher Wilhelm, Customer Advocate for Science and Technology, Naval Surface Warfare Center Indian Head Division
Dr. Christopher Wilhelm of the NSWC IHD Explosive Ordnance Disposal Technology Division led his organization's pursuit of Partnership Intermediary Agreements (PIAs). Dr. Wilhelm engaged in several discussions with regional Technology Transition Offices to gain the best means of funding a PIA with the College of Southern Maryland. Most Technology Transition Offices used a non-procurement instrument to fund PIA activities, however, after an in-depth discussion, Dr. Wilhelm decided to use a grant instead. Dr. Wilhelm drafted the grant and received approval. The grant established a funding mechanism between institutions to support innovation within the NSWC IHD's mission space. The funding was used towards an advancement effort in support of an underwater explosive remediation device. The design team was able to produce a device that was reliable for underwater deployment. The grant has also been used by NSWC IHD's Velocity Laboratory to provide specialized events that bring together NSWC IHD and academia to study, employ, and train on new topics of importance to the Warfighter.
Robert Sorzano, Expeditionary Exploitation Unit One, Naval Surface Warfare Center Indian Head Division
Robert Sorzano provides support to the NSWC IHD's Expeditionary Exploitation Unit One (EXU-1) in a variety of roles. As Government Purchase Card Approving Official, Sorzano screened over 400 Purchase Card Transactions valued at $120,000 in compliance with the Naval Sea Systems Command (NAVSEA) purchase card business rules. These procurements supported four forward-deployed platoons, as well as multiple EXU-1 Headquarter Departments. Sorzano's work ensured that all customers received their requirements in a timely manner. Without Sorzano's efforts, EXU-1 would not be able to sufficiently resource command personnel to perform vital missions. He is involved in many high priority purchases of equipment, materials, and services that are needed to train, equip, and deploy platoons. As the facility manager for Building 900, Sorzano has led a team of uniformed service members, contractor personnel, and government employees in the overhaul and renovation of three major EXU-1 workspace initiatives. During the current phase of construction at the EXU-1 Command Headquarters, he identified two major design flaws, and has worked with the construction manager to find cost effective solutions to these issues.
Industry
Mike Pullen, Vice President, CGI
Mike Pullen is a highly skilled and accomplished executive and information technology professional with over 35 years of experience. Mike serves as the leader of the Indefinite Delivery, Indefinite Quantity (IDIQ) Strategic Solution Center (ISSC) for CGI's contract vehicle portfolio. In this role, Mike manages all aspects of IDIQ contracts as well as CGI's IDIQ contract vehicle portfolio, and develops partner relationships to leverage small businesses to respond to requirements. Mike serves as a trusted industry advisor and leader to small businesses, partner organizations, and Federal Government program offices.
Sellmark Corporation
Sellmark assists Federal agencies by competing as a prime contractor under Special Item Numbers (SINs) 426-1A, 426-4C, and 426-4S, with offerings including riflescopes and thermal equipment. Sellmark offers these products with incentivized programs to Government and law enforcement. Since the award of the General Service Administration's (GSA) Schedule 84, Sellmark has been able to significantly broaden its reach and support of first responders through the implementation of a streamlined and trusted process for agencies to follow.
Once again, the Coalition congratulates these deserving recipients of the 2020 Acquisition Excellence Award. These awardees show the importance of the partnership between Government and industry. In March, we will announce the recipients of the remaining two EIP Award categories: the Excellence in Innovation Award, and the Advocating for Veterans Award.
Thank you to all of our members for your continued support of the EIP Awards!