July 9, 2021
After a one-year hiatus due to the global pandemic, The Coalition for Government Procurement is thrilled to announce we are bringing back our Annual Joseph P. Caggiano Memorial Gol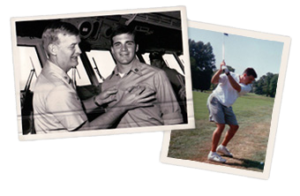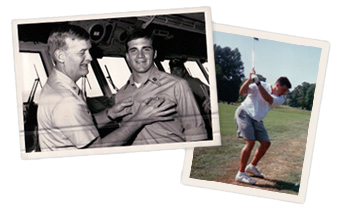 f Tournament on August 18! Here are the top FORE (!) reasons you should register TODAY!
1: Honoring Joe's legacy – Joe was not only a colleague and member of the Coalition Board of Directors, but a true friend to many of us and an overall wonderful person. His career in the government marketplace spanned 25 years, including serving seven years as COO of the Washington Management Group/FedSources. Joe also served eight years in the Navy and inspired the Coalition to support veteran non-profit organizations. The Caggiano family will once again be in attendance to honor his legacy and one of his close friends recently summed it up perfectly by saying, "I have not met anyone better than Joe, yet! I'm still looking…"
2: Supporting our veterans – Tournament proceeds will once again support the Coalition's endowment for a qualified veteran concentrating their studies in the field of U.S. Government procurement and pursuing the JD/LLM degree or the interdisciplinary Masters degree at The George Washington University. We are excited to share that to date, four scholarships have been awarded to deserving veterans:
The first ever recipient in 2017 was Tom Roltsch, who served four deployments in Afghanistan and Iraq with the Army Reserve. Tom studied procurement policy in the Masters program at The George Washington University and currently works for ManTech International Corporation as Principal Reliability Engineer.
The 2018 recipient of the scholarship was Craig Barrett. Craig is currently a Senior Counsel in the Government Contracts Group at Crowell & Moring. Prior to joining Crowell & Moring, Craig spent nearly 18 years in government service both as an active-duty service member and as a civilian. Craig served as an active-duty Marine Judge Advocate immediately after the attacks on 9/11. His service with the military continued as a civilian executing the role of Acquisitions Operations Manager for the Marine Corps Systems Command, the acquisition arm of the Marine Corps.
The 2019 recipient of the scholarship was Jennifer Sandusky. Jennifer joined the United States Civilian Board of Civil Contracts as a full-time Attorney Adviser in February of 2020 and completed the L.L.M. program in Government Procurement Law at The George Washington University Law School.
The 2020 recipient was Connor Smith. Connor is a third-year law student at The George Washington University completing his Government Procurement Concentration. In 2012, Conner graduated from Clark University before enlisting in the Army, where he served for five years. During his time with the Army, Connor served as a Cryptological Linguist, responsible for identifying foreign communications.
3: A Beautiful Venue – Whiskey Creek Golf Club is an amazing golf course in Ijamsville, Maryland with outstanding views on every hole. As their website notes, the course is "bordered by a high ridge of hardwoods and a winding, free-flowing creek, the property contains many different environments and
 natural features including springs, streams, stone walls, wetlands, rock outcroppings, broad meadows, pine forests and dramatic views of the Catoctin Mountains. Architect J. Michael Poellot and design consultant Ernie Els, a 2-time United States Open Champion, have designed Whiskey Creek to take full advantage of its spectacular setting."
4: Time to get out of your basement and enjoy some camaraderie and competition – Everyone has been cooped up for a long time, and what better way to get some fresh air and reconnect with colleagues than by hitting the greens!  We know you have a personal pandemic story to share, along with business challenges and successes. Take advantage of this opportunity to catch up with old friends (and make new ones!) during a friendly scramble style golf competition. There will be low scores and there will be (very) high scores – but everyone will be a winner as there will be prizes for both! Not a golfer? No problem! You can come participate in the Veranda Club where you can take in the scenic views from the large club house deck, play in a cornhole tournament, or join us for the reception as golfers filter in from the course to enjoy an awards ceremony, BBQ, and burgers!
Lastly, I want to encourage you to consider one of our sponsorship opportunities as we are still seeking Title Sponsors, a Reception Sponsor, and many hole sponsors. Thank you to our Lunch Sponsor, The Gormley Group; our Beverage Cart Sponsors, CACI and ManTech; and all our hole sponsors! For sponsorship questions or commitments, please contact Matt Cahill at mcahill@thecgp.org or 202-315-1054.