October 29, 2021
We are less than three weeks away from our Fall Training Conference and are excited to confirm our two Keynote speakers: Robin Carnahan, Administrator of the U.S. General Services Administration (GSA) on November 17, and Michael Parrish, Chief Acquisition Officer and Principal Executive Director for the Office of Acquisition, Logistics, and Construction (OALC) at the Department of Veterans Affairs (VA) on November 18.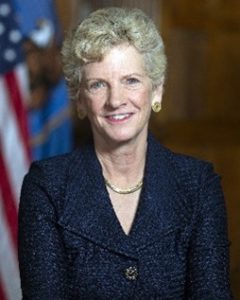 Administrator Carnahan was nominated for her role by President Biden on April 6, 2021, confirmed by the US Senate on June 23, 2021, and was sworn into office on July 2, 2021. She will be discussing her initial impressions as Administrator, GSA's role in supporting Biden Administration priorities, and her vision for government-wide contracting programs moving forward. Prior to joining GSA, Administrator Carnahan served in executive and leadership roles in business, academia, and government, including as the Secretary of State of Missouri (2005-2013).  She founded and led the State and Local Government Practice at 18F, a tech consultancy inside GSA (2016–2020). She is a nationally recognized government technology leader and in 2017 was named one of the federal government's "Top Women in Tech."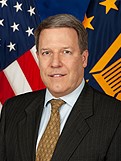 Mr. Parrish was appointed Principal Executive Director for the Office of Acquisition, Logistics, and Construction (OALC) on March 1, 2021. OALC provides policy and oversight for the Department's $36B acquisition needs and manages VA's major construction and leasing program to support the largest integrated health care system in the United States, providing care at 1,255 health care facilities to over 9 million Veterans enrolled in the VA health care program. He also serves as Chief Acquisition Officer and senior most advisor to the Secretary, managing and overseeing all acquisition activities for the Department.
I will have the privilege of interviewing Mr. Parrish during his keynote remarks, and we will cover numerous topics such as technology and VA systems, requirements development, supply chain modernization, and much more. Mr. Parrish has over 35 years of senior leadership experience in military, government, corporate, and non-profit organizations and has been Chairman & CEO of several publicly traded companies as well as founder and CEO for multiple Service-Disabled Veteran-Owned Businesses.
Following the keynote on day one, we will have an assortment of speakers and panels from across the federal acquisition community to discuss key policy, operational, and management initiatives shaping the business of government, including:
Legal and Compliance Panel presenting "The Rogers"
Cyber and Supply Chain Compliance Panel
VA Procurement and Contracting Panel
DoD Cybersecurity Initiatives and CMMC Panel
Schedules Workshop Panel
View from the Hill Panel
GSA Interagency Contracting Portfolio Panel (GWACs, OASIS, and more)
Panels on day two will consist of the following:
Procurement Executive Panel
Future of VA Medical Logistics
Dialogue with Made in America Director Celeste Drake
Medical Supply Chain Panel
Observations from FAS Commissioners – Present and Past
Priorities for IT Modernization Fund Panel
Buy American and Domestic Sourcing Panel
As always, both days will conclude with smaller breakout sessions where you will be able to choose your session based on your particular interest.  There are 16 sessions over the two days, including GSA Systems; Office Products; Industrial Products/Update from the SSAC; Services on GSA Schedules; IT; VA Public Law Pricing Update; DLA MSPV and ECAT; Small Business Opportunities; VA MSPV – Operational Update; E-Commerce – Update on Commercial Platforms Initiative; Cloud Marketplace; DHA Pharmaceuticals; GWAC/MAC; Global Supply/4PL; Services MAC; and Furniture.
We encourage you to view the complete draft agenda and register today!
Finally, we want to thank our current sponsors who help make this event possible – Gold Sponsors: CACI, GDIT, Medical Place, Sheppard Mullin, The Gormley Group; and Silver Sponsor: Concordance Healthcare Solutions.  For sponsorship inquiries or commitments, please contact Matt Cahill at mcahill@thecgp.org.