November 15, 2021
Next week we are excited to be hosting the Coalition's 2021 Fall Training Conference: What's Next for the Business of Government? If you haven't already done so, please take a few minutes to view the final agenda and register today.  For those members who are already registered, we anticipate sending everyone their unique login instructions for accessing the event site (Pathable) later this afternoon. Thank you, our members, for participating in such a vital semiannual training event, along with our speakers and subject matter experts, and our sponsors who are helping make this event possible – Title Sponsor: AvMEDICAL; Gold Sponsors: CACI, GDIT, Medical Place, Sheppard Mullin, The Gormley Group; and Silver Sponsor: Concordance Healthcare Solutions.
We will be kicking off the conference with Keynote speaker Robin Carnahan, Administrator of the U.S. General Services Administration (GSA). Administrator Carnahan was sworn into office on July 2, 2021. She will be discussing her initial impressions as Administrator, GSA's role in supporting the Administration's priorities, and her vision for government-wide contracting programs moving forward. Prior to joining GSA, Administrator Carnahan served in executive and leadership roles in business, academia, and government, including as the Secretary of State of Missouri (2005-2013).  She founded and led the State and Local Government Practice at 18F, a tech consultancy inside GSA (2016–2020). She is a nationally recognized government technology leader and in 2017 was named one of the federal government's "Top Women in Tech."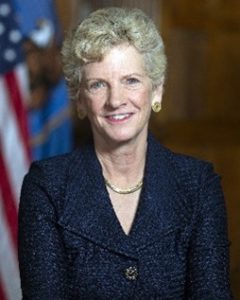 Our second day will begin with keynote remarks from Steven Schooner, Nash & Cibinic Professor of Government Procurement Law at The George Washington University Law School. Before joining the law school faculty in 1998, Professor Schooner was the associate administrator for procurement law and legislation at the Office of Federal Procurement Policy in the Office of Management and Budget. He previously served as a trial and appellate attorney in the Commercial Litigation Branch of the Department of Justice. He also practiced with private law firms and, as an active duty Army judge advocate, served as a commissioner at the Armed Services Board of Contract Appeals. Professor Schooner will be discussing the Biden Administration's priorities and the procurement system.

As with previous conferences, much of the agenda will have concurrent panels on various topics followed by multiple breakout sessions at the end of each day. This will allow you to maximize your time and participation throughout the two days.  For example, our IT and services members may want to attend the GSA Interagency Contracting Portfolio (GWACs, OASIS, and More) panel, the Services on GSA Schedules breakout, the Information Technology breakout, the E-Commerce – Update on Commercial Platforms Initiative breakout, the Cloud Marketplace breakout, and the Services MAC breakout.  Our healthcare members should be interested in attending the VA Procurement and Contracting panel, Future of VA Medical Logistics panel, Medical Supply Chain panel, VA Public Law Pricing Update breakout, DLA MSPV and ECAT breakout, DHA Pharmaceuticals breakout and VA MSPV – Operational Update breakout.  Likewise, our furniture and industrial supply members will be able to participate in the Office Products breakout, Industrial Products/Update from the SSAC breakout, E-Commerce – Update on Commercial Platforms Initiative breakout, Global Supply/4PL breakout, and the Furniture breakout, among others.
Beyond these industry-specific topics, there will be numerous sessions that will be cross-cutting for all our members. These sessions will include our Dialogue with OMB Made in America Director, Celeste Drake, Legal and Compliance panel, IT Modernization and Cyber and Supply Chain Compliance panel, DoD Cybersecurity Initiatives and CMMC panel, Procurement Executive panel, Buy American and Domestic Sourcing panel, and multiple other breakout sessions.
We are confident you and your company will benefit from each of these sessions and we are looking forward to your active participation and dialogue. Thank you again for your support and we'll see you (virtually!) next week!