June 10, 2022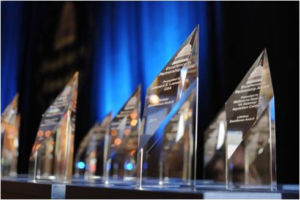 The Coalition for Government Procurement would like to congratulate the 2021 recipients of the Excellence in Partnership (EIP) Awards. We received many nominations from Government and industry partners that highlighted the important contributions that individuals and organizations have made to the procurement system. We are pleased to announce that the 2021 recipients have been selected across four categories: Lifetime Acquisition Excellence, Partnership Appreciation, Acquisition Excellence, and Advocating for Veterans. All of the awardees displayed their dedication to advancing common sense in Government procurement. Thank you to our members for their continued support of the EIP Awards, and we hope to see you at the Spring Conference to celebrate the awardees achievements!
It is with great pleasure that we recognize the deserving recipients of the 2021 EIP Awards.
Lifetime Acquisition Excellence Award
Robert Holman
Robert Holman has spent the past 22 years in the Federal procurement world. Robert started his passion for improving the care of Veterans and our Warfighters at Johnson & Johnson as the National Director of Government Accounts, leading a Team of seven Government Account Directors with Federal healthcare responsibilities. During his time with the organization, he spent 10 years working with the Federal Government to develop new solutions and approaches to positively impact patients. After 20 years at Johnson & Johnson, Robert then accepted a position with Carefusion before ultimately transitioning to Group Vice President, Federal Government at BD, where he worked for 12 years. Robert always put the patient at the center of his recommendations and decisions and has fought to ensure the Veteran and the nation's Warfighters needs are not forgotten. Robert has focused on developing key relationships across Federal agencies which has allowed him to bring his expertise and knowledge into the creation of successful procurement strategies. Robert is always willing to mentor and collaborate with others in the Federal space. To further serve as an industry ambassador, he held a committee chair role with the Coalition's Medical/Surgical Subcommittee.
Ray Moehler
Ray Moehler has been a huge proponent and voice of common sense in Government procurement, especially in the General Services Administration (GSA) arena. From an industry perspective, Ray has been an integral part of the GWACs and the GSA Multiple Award Schedule (MAS) Program. He brought a keen sense of view on various topics and issues related to the GSA Schedule program and often provided the agency with perspectives they hadn't considered. As a longtime member of the Coalition, he actively worked alongside industry peers on many procurement issues like other direct cost limitations, pricing, and consolidation efforts. He also provided recommendations on improving the marketing of the Schedule program and GWACs across Government and encouraged GSA to always keep their Government buyers in the loop for the furtherance of the program. Ray served as a longtime member of the Coalition's Board of Advisors. Among this community, Ray's energy was highly contagious and felt by many who interacted with him. He is known and respected by many for his dedication in promoting these vehicles with the highest integrity.  
Al Holcomb
Al spent nearly 15 years with Johnson & Johnson, where he served as a Government Contract Strategy and Management Professional dedicated to bringing innovative solutions to the Federal healthcare system. Prior to joining Johnson & Johnson, he held the position of Regional Account Director at AstraZeneca. Al possesses expertise and knowledge in managed care, pharmaceutical sales, medical devices, and contract negotiation. Within his organization, he was known as an effective team leader. Throughout the years, Al was incredibly active in his engagement with the Coalition as a member of the Healthcare, Pharmaceutical, and Medical/Surgical Committees. He provided key insights and suggestions to help shape acquisition policy and solutions with key programs like the $14 billion VA Federal Supply Schedules, and always worked towards ensuring the best outcome for veterans. His continued engagement and efforts to deliver common sense acquisition made Al not only a valuable resource to the Coalition, but also a highly recognized and well-respected peer to both his Government and industry partners in the Federal acquisition community.
Paul Smith
Paul possesses a high level of knowledge and experience within both the pharmaceutical and medical device industries. He spent over 25 years with Johnson & Johnson as a highly successful Government Account Director. In this position, he was responsible for managing the VA and DoD national accounts for his organization's medical device companies. Over the course of his career Paul developed domain expertise in Government contract processes and the Federal healthcare system that directly and indirectly supported the delivery of best value healthcare for the warfighter and veterans. Moreover, the Coalition and its members benefitted from his expertise, as Paul served as a Co-Chair for the Medical/Surgical Subcommittee. As a Co-Chair, Paul collaborated with the Coalition members to provide critical feedback on various policies and programs such as the VA's Medical/Surgical Prime Vendor program. Feedback that has lead to incremental improvements in the program.  Paul's efforts throughout his career made him an invaluable resource for the Federal healthcare acquisition community.
Partnership Award
Judith Zawatsky, General Services Administration
Judith Zawatsky is an experienced Federal leader who has served within both Government and industry. During her time with GSA, Judith served as the Assistant Commissioner for the Office of Systems Management (OSM) within GSA's Federal Acquisition Service (FAS). In this role, she spearheaded efforts to both simplify and modernize GSA systems and brought together multiple stakeholders to create innovative program and policy solutions. She also oversaw the transition and operation of SAM.gov. She held multiple roles during her 15-year tenure with GSA, and always demonstrated an extensive expertise in systems management. Judith's transparency and willingness to collaborate were always greatly appreciated by GSA's industry partners. For years, she often engaged with Coalition members on pressing issues related to the modernization of GSA's systems, like the recent consolidation of SAM.gov, at various committee meetings and annual conferences. Judith was a highly valuable Government partner and resource. . Currently, she serves as a Leadership Partner with Gartner, where she continues to engage with the Coalition to bring positive change to the procurement system.
Col. Markus Gmehlin, Defense Health Agency
Colonel Markus Gmehlin served as Chief of the Pharmacy Operations Division for the Defense Health Agency (DHA). In this role, he oversaw the delivery of a $10 billion annual program to the 9.5 million beneficiaries of the Military Health System. Col. Gmehlin joined DHA in 2018. Throughout his time with the agency, he collaborated extensively with industry partners. Prior to joining DHA, Colonel Gmehlin served in the U.S. Air Force for 28 years, where he held multiple positions such as Pacific Air Forces Pharmacy Consultant and Command Surgeon. Coalition members sincerely appreciated his leadership of the TRICARE Pharmacy program during the COVID-19 pandemic and his dedication to an open dialogue with industry during this critical time. He was also recognized for his commitment to innovation and providing new methods of assuring that TRICARE beneficiaries were able to receive pharmaceutical care during the pandemic, through mail order and other means. We sincerely appreciate Col Gmehlin for his participation in numerous conferences and briefing calls where he shared updates on the TRICARE pharmacy program and DHA's pharmacy operations to members. His strong partnership with industry was critical to the advancement of pharmacy within the Military Health System.
Acquisition Excellence Award
 Marine Corps Prepositioning Program (MCPP) Contracting Cell
The Marine Corps Prepositioning Program (MCPP) Contracting Cell, consisting of Nick VonBargen and Lance Rivers, provided acquisition support for the MCPP Logistics Services contract. This contract is a highly complex multiyear Cost-Plus Fixed Fee Indefinite Delivery, Indefinite Quantity (IDIQ) vehicle and is the second largest contract awarded by the United States Marine Corps, Installations and Logistics Contracting Authority. Their acquisition support is critical to national security and the Marine Corps' ability to project forces and rapidly respond to crises across the globe. Nick and Lance executed a full range of contract administration functions. Additionally, they provided contracting expertise to the Maritime Prepositioning Force. Nick and Lance have showcased a comprehensive and extensive knowledge of a broad range of contracting methods, business practices, and market conditions applicable to the MCPP, as well as in-depth understanding of technical requirements to evaluate bid responsiveness, contractor responsibility, contractor performance, and other wide-ranging contractual actions.
Kristen McKenna, Konica Minolta Business Solutions
Kristen has been in the Government procurement for over 20 years, with several of those years spent leading Konica Minolta's Federal acquisition team single-handedly. Kristen has pioneered streamlined procurement processes for her team and has gained a reputation in the field for her wealth of knowledge and experience in Federal contracting. She has been instrumental in moving her organization's Federal acquisition work forward through the MAS refresh process, and does so with expertise and poise. Her breadth of knowledge has helped to expand Konica Minolta's reach in the Federal acquisition space. Kristen is not only committed to her own organization, but also engages with various stakeholders in the public and private sectors. Kristen has shown a strong commitment and passion for the field throughout her career.
Advocating for Veterans Award
National Technical Information Service (NTIS)
The National Technical Information Service (NTIS) is a bureau in the Department of Commerce which provides innovative data services to Federal agencies to advance Federal data priorities, promote economic growth, and enable operational excellence. Since June 2017, NTIS has assisted 13 recovering Service members reintegrate and transition into the civilian work environment under the Operation War Fighter (OWF) internship program. NTIS leveraged the skills, training, and dedication of the OWF interns to assist the agency by managing programs and processes, improving communications, and assisting in the management of finances, information technologies, security, and safety. Their over 6,375 hours of support assisted NTIS in its mission to support the Department of Defense, the Department of Veterans Affairs, and civilian agencies. After leaving military service, many OWF interns credit their time at NTIS with helping to provide them with the skills and confidence to successfully settle into new jobs. The OWF program supports both the veteran and the agency.
GSA Small Business Governmentwide Acquisition Contracts Team
The Small Business (SB) Governmentwide Acquisition Contracts (GWAC) team within GSA has a long history of working with service-disabled, veteran-owned small businesses (SDVOSB), and has diligently worked to create and administer highly successful GWACs for small businesses. Among those, the Veterans Technology Services (VETS) and VETS 2 SB-GWACs have served as contract execution platforms for the Government community to obtain mission-necessary IT services and solutions from experienced and knowledgeable SDVOSBs. VETS 2 is the only SB-GWAC set-aside exclusively for SDVOSBs. The team promotes the contract through its business development efforts by providing training courses to both the Government and vendor communities, collaborating with other GSA organizations on business development efforts, providing customer support that addresses IT and contractual issues, and presenting at conferences. In addition to the ongoing support for VETS 2, the Small Business GWAC team is broadening opportunities for Veterans to work with the Federal Government by announcing a new contract pool for SDVOSB companies on the Polaris SB-GWAC, a new next-generation small business GWAC.