February 9, 2023
Last week, the Coalition spotlighted the General Services Administration's (GSA) efforts regarding the implementation and success of its One Acquisition Solution for Integrated Services (OASIS) professional services contract vehicle since its launch nearly a decade ago. In this week's FAR & Beyond blog, we would like to shift the focus to another best-in-class vehicle, GSA's premier Governmentwide Acquisition Contract (GWAC), Alliant 2. Alliant 2, the follow-on to Alliant Unrestricted, is a multiple award, indefinite-delivery, indefinite-quantity GWAC that offers leading edge IT solutions to federal agencies, including:
Artificial Intelligence;
Distributed Ledger Technology;
Robotic Process Automation; and
Other Emerging Technologies.
Alliant 2 is a ten-year contract with a period of performance of July 1, 2018 to June 30, 2023 with a five-year option period. There are more than 40 companies on Alliant 2 that provide over 100 federal agencies with flexible IT solutions. Because of the vehicle's success, GSA increased its ceiling by $25 billion, raising it from $50 to $75 billion. As Federal Acquisition Service (FAS) Commissioner Sonny Hashmi put it, "Alliant 2 has surpassed our expectations at every turn." Since the contract's inception in 2018, Alliant 2 obligations have reached over $15 billion, with 530 total task orders, according to GSA's FAS GWAC Sales Dashboard. In fiscal year 2022, obligations totaled over $6 billion, representing a near 50 percent growth from the previous year. From 2018 to 2022, the program experienced steady, significant growth, demonstrated by the figure below.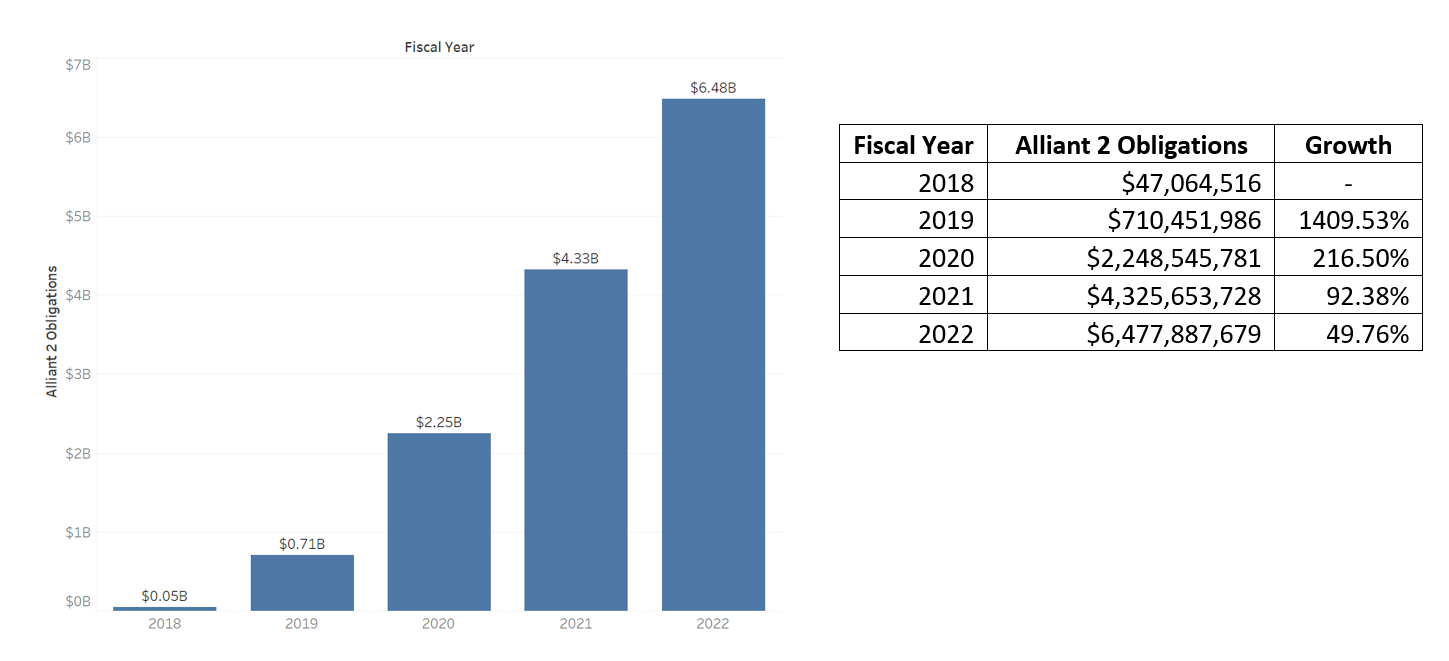 Again, over 100 federal agencies have participated in the Alliant 2 program, demonstrating the value that the vehicle brings in meeting agency customers' IT mission needs. The Department of Defense (DoD) and its constituent agencies accounted for 49 percent of total Alliant 2 obligations in fiscal year 2022. Notably, DoD's Alliant 2 obligations grew 47 percent from fiscal year 2021 to 2022, with the Air Force and Navy both experiencing over a 50 percent increase. The Department of Homeland Security is also very a large Alliant 2 customer, with obligations exceeding $1 billion. Several other federal agencies also saw their Alliant 2 sales skyrocket over the past fiscal year, including the Departments of State, Health and Human Services, Justice, Commerce, GSA, and the Environmental Protection Agency.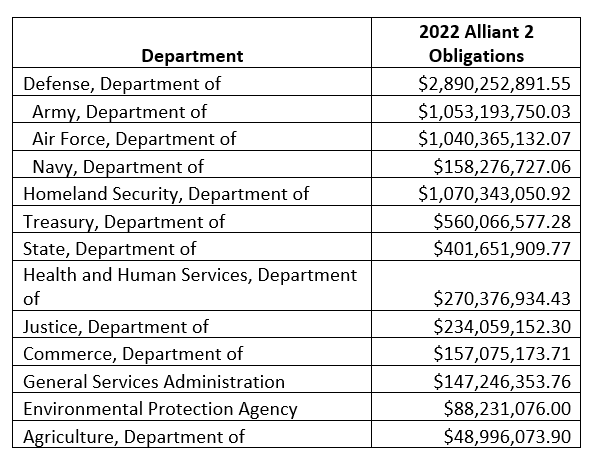 GSA remains dedicated to creating opportunities for qualified small businesses in federal procurement through the agency's acquisition strategy and portfolio of contract vehicles. The Alliant 2 program continues this mission, with a determined goal of 50 percent of all subcontracted dollars performed by small businesses over the life of the contract. According to Laura Stanton, GSA's Assistant Commissioner for the Office of Information Technology Category, "small businesses have already won more than $1.3 billion on Alliant 2, substantially surpassing small business subcontracting dollars won on the original Alliant contract at the same point in the contract's life." Stanton noted that the Alliant 2 ceiling increase also benefits small business organizations through additional subcontracting opportunities.
The success of GSA's Alliant program has been impressive, and the Coalition recognizes the agency's efforts to continue to support the Federal Government's IT mission needs through this best-in-class contract. We also acknowledge GSA's significant efforts towards the Alliant 2 follow-on, Alliant 3. Analogous to its predecessor, Alliant 3 will provide federal agencies with extensive IT solutions while offering significant opportunities for small businesses. In October 2022, GSA released the first Alliant 3 Draft Request for Proposals (RFP), in response to which, Coalition members provided comprehensive feedback. The Coalition's comments can be found here, along with a cover letter. Similar to OASIS+, the Coalition has formed an Alliant 3 Working Group which will continue to engage with GSA on the follow-on vehicle. Members interested in joining the group should email Michael Hanafin at mhanafin@thecgp.org. In the meantime, the Coalition looks forward to continuing the dialogue regarding the future of the Alliant program.