April 20, 2023
Thank you to the VA NAC for Another Successful Annual Meeting in Chicago!
This week, the Coalition for Government Procurement resumed its annual member meeting with officials from the Department of Veterans Affairs (VA) National Acquisition Center in Chicago, which manages healthcare supply and services contracts through the VA Federal Supply Schedules (FSS) program and the National Contract Service (NCS). We are very grateful for the opportunity to finally gather in person again for this important dialogue with the VA for the first time since the fall of 2019. The support for this event from the VA and our members was exceptional, with approximately 180 participants in attendance.
At the meeting, opening remarks were provided by Christopher Parker, Associate Executive Director of the Strategic Acquisition Center and Acting Associate Executive Director of the NAC. In addition, the agenda featured two panels consisting of VA FSS and NCS Chiefs, led by VA FSS Director Dan Shearer and NCS Director Fran De Rosa, who provided key updates from their programs. The Coalition sends along its thanks to the following panelists:
VA FSS Panel
James Booth, FSS Chief, Medical/Surgical A Division
Deborah Zuckswerth, FSS Chief, Medical/Surgical B Division
Trevor Martin, FSS Chief, Pharmaceutical/Dental A Division
Diana Lawal, FSS Chief, Pharmaceutical/Dental B Division
Lydia McKay, FSS Chief, Program Management & Resource Support Division
Bob Satterfield, FSS Chief, Services Division
VA NCS Panel
Regina Blair, Chief, HTME Ordering
Marissa Wright, Chief, HTME Contract Administration
Erika Moreno, Chief, Pharmaceutical Division
Ronald Jenkins, Chief, Prime Vendor
Frank Zacchigna, Chief, PACS and Laundry
In total, we were fortunate to have over 30 representatives from the VA in attendance, including front-line contracting personnel who were there to meet in-person with industry. Throughout the event, members had the opportunity to engage in Q&A as well as network with the VA staff and other industry participants in order to collaborate and build connections.
We sincerely thank the VA for its support of the industry dialogue on the VA's contracting programs. We would also like to give a special thank you to member law firm Mayer Brown for generously providing their facilities to host this event.
The Coalition looks forward to continuing the dialogue at our upcoming Spring Training Conference – Procurement Watchwords for 2023, on May 2 – 3. We are pleased to confirm that on May 3, four VA FSS Chiefs, Dan Shearer, Lydia McKay, Diana Lawal, and James Booth, will be in attendance to lead the "Ask the FSS PMO" table. This table allows conference attendees to schedule one-one-meetings with FSS leadership to ask questions about the program or their contracts. The Spring Conference provides multiple additional opportunities for attendees to learn from leadership and engage with the VA on programs including MSPV, Pharmacy Benefits Management, Prosthetics, Supply BPAs, and Pathfinder.
We strongly encourage all of our members to check out the latest conference agenda to learn more about the variety of sessions offered at the conference. If you haven't already, you can register for the conference here.  If you have any questions and/or topics that you would like to be addressed by our Government speakers, please send them to Aubrey Woolley at awoolley@thecgp.org.
---
The Coalition's 2023 Spring Conference Is Quickly Approaching!
Register now for the two-day conference, which will take place on May 2-3 in Falls Church, VA. This year's Spring Training Conference focuses on four major procurement "watchword" themes that will serve as driving forces for the acquisition system and government operations over the course of the year: Market Continuity, Cybersecurity, Supply Chain Security, and Sustainability. Government and industry leaders will share how these watchwords play a major role in shaping procurement policies and programs. Keep reading to learn more about this year's lineup of sessions, which promises to deliver an experience packed from top to bottom with the most valuable content for Federal contracting professionals.
What to Expect at the Spring Training Conference!
As the weather heats up and the beginning of May quickly approaches, the Coalition's excitement for the 2023 Spring Training Conference continues to grow! The Spring Training Conference – Procurement Watchwords for 2023, will take place on May 2-3 at the Fairview Park Marriott in Falls Church, Virginia. The two-day event focuses on four procurement "watchword" themes and how they will continue to serve as driving forces on the procurement system in 2023 and beyond. These watchwords include Market Continuity, Cybersecurity, Supply Chain Security, and Sustainability.
As always, the goal of the Spring Training Conference is to deliver the latest information on what is happening in government procurement. As we enter the second quarter of the calendar year, there have been a number of important developments that have had an impact on both the Federal Government and industry partners. Below is a snapshot of just some of these key policy and program updates, and why you can expect to learn more about them at the conference!
May 2 – Governmentwide Focus
To kick off the Spring Training Conference, we are pleased to have invited Lesley Field, OMB Deputy Administrator for Federal Procurement Policy, to deliver the Keynote Address. During the Keynote Address, Field will address her priorities and initiatives, especially as they relate to the recent OMB memo on creating a more diverse and resilient Federal marketplace through increased participation of new and recent entrants.
After the Keynote, we will move into our plenary sessions, which cover governmentwide policies and programs from agencies including DoD, GSA, NASA, and more. The importance of the procurement watchwords will be highlighted during these sessions, including:
Market Continuity – We have invited leadership from GSA's Federal Acquisition Service (FAS) to share priorities and initiatives from each of their offices. During the FAS Executive Panel, attendees will hear FAS Assistant Commissioners discuss GSA's continued efforts regarding a number of different procurement programs and how they are moving forward. Invited panelists include Charlotte Phelan, Office of Enterprise Strategy Management; Erv Koehler, Office of General Supplies and Services; Tiffany Hixson, Office of Professional Services and Human Capital Categories; Laura Stanton, Office of Information Technology Category; and Christopher Bennethum, Office of Assisted Acquisition Services.
Cybersecurity – The Cybersecurity Panel invites government officials from GSA and DoD to address recent developments for multiple cybersecurity measures. The panel includes Townsend Bourne, Partner, Sheppard Mullin; Larry Hale, Deputy Assistant Commissioner, IT Category Management, GSA; Kevin Funk, Supply Chain Risk Management Expert, GSA; and Lt. Col. Jason Holman, Deputy Director, Defense Procurement Initiatives, DPC.
Supply Chain Security – The third panel of the day focuses on Supply Chain Security, and we have invited  both government and industry subject matter experts to address supply chain-focused policies, programs, and regulations that will impact the procurement system. Topics covered during the panel include the Cybersecurity Supply Chain Risk Management (C-SCRM) program, the 2023 National Defense Authorization Act (NDAA), the Defense Production Act, and Buy American laws. This panel features John Tenaglia, Principal Director, Defense Pricing and Contracting, DoD; Shon Lyublanovits, C-SCRM Program Office Director, CISA; Cameron Reid, Director, Baker Tilly; and Susan Cassidy, Partner, Covington & Burling
Sustainability – The first day's general sessions will wrap up with the highly informative Sustainability Panel. We have invited speakers from the multiple agencies, including Holly Elwood, the EPA's Senior Advisor to the Environmentally Preferable Purchasing Program, to cover sustainability-related programs and policies, such as the FAR proposed rule regarding disclosure of greenhouse gas emissions and climate risk, the Environmentally Preferable Purchasing program, and federal high-performance green buildings. Troy Cribb, Director of Public Policy at the Partnership for Public Service and Co-Chair for GSA's Acquisition Policy Federal Advisory Committee, will also join the panel.
During the lunch break, there will be a special GSA acquisition policy dialogue with Jeff Koses, Senior Procurement Executive, and Mark Lee, Assistant Commissioner, Office of Policy and Compliance, moderated by Coalition President Roger Waldron.
Following the general sessions, you will not want to miss out on a selection of nine afternoon Market Continuity Panels that will offer a deep-dive into specific agency and governmentwide topics and initiatives, such as:
NASA SEWP VI
OASIS+
Alliant 3
Other Transaction Authorities
GSA Schedules
GSA's Office of the Future
NITAAC Contracting
Assisted Acquisition Services
GSA Global Supplies and Services
Congressional Updates
May 3 – Healthcare Focus
Once again, we have put together multiple sessions that highlight the four watchwords, specifically focused on healthcare procurement. We are happy to announce that Phil Christy, Deputy Executive Director of the VA's Office of Acquisition, Logistics, and Construction (OALC), will be providing the Keynote Address on his priorities for the department.
Market Continuity – In the morning, we have invited VA leadership to participate in back-to-back panels to discuss their ongoing efforts to provide support to veterans and VA healthcare facilities. Following Mr. Christy's keynote, he will be joined by Executive Director and Senior Procurement Executive Angela Billups for a discussion of OALC's initiatives. Following this panel, Veteran Health Administration (VHA) leadership, including Andrew Centineo, Executive Director of Acquisition, Technology, and Logistics; Spencer Roberts, Executive Director, Logistics; and Joe Maletta, Executive Director, Acquisition, will present on VHA's contracting programs and initiatives.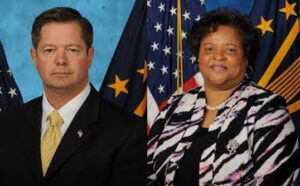 Sustainability – During our lunch break, we look forward to a special presentation from Crowell & Moring Partners Paul Freeman and Lorraine Campos on how sustainability requirements, such as the greenhouse gas disclosures proposed rule, will specifically impact federal healthcare contractors in the present and future.
Cyber and Supply Chain Security – In the afternoon, industry experts James Kim, Partner, Arnold & Porter; Moshe Schwartz, President, Etherton and Associates; and Stephen Ruscus, Partner, Baker & Hostetler, will speak during the Cyber and Supply Chain Security Panel, which will focus on healthcare technology systems and policy efforts to strengthen the medical supply chain.Be sure to check out the draft agenda to learn about the afternoon's Market Continuity Panels, which will provide the latest in-depth information on agency programs such as:
Medical/Surgical Prime Vendor (MSPV) Program
VA Pharmacy Benefit Management Services
Medical Device Cybersecurity
DHA and DLA Pharmaceutical Prime Vendors
DLA MSPV and ECAT Programs
VA Prosthetics
"Ask the PMO" and New Table Opportunities
Returning at the Spring Training Conference will be the GSA Multiple Award Schedule and VA Federal Supply Schedule "Ask the PMO" Tables, which allow for attendees to sit down with program managers from GSA and the VA during one-on-one meetings to discuss any questions they have related to the Schedules.
Ask the GSA Multiple Award Schedule (May 2)
GSA Pricing Tools (May 2)
VA Med/Surg Supply BPAs (May 2)
Ask the VA Federal Supply Schedule (May 3)
VA Pathfinder (May 3)
We are excited to announce that we have added three brand new opportunities for interested attendees to discuss GSA and VA programs with agency representatives. On May 2, joining the Ask the MAS Table will be the Pricing Tools Table and the Med/Surg Supply BPAs Table. The Pricing Tools Table gives attendees the chance to meet with GSA's Catalog Management team, including Josh Royko, Branch Chief, FAS Catalog Management Office, and Mike Shepherd, FAS Catalog Management Office Director, to ask their questions on how to best utilize the agency's pricing tools and platforms for contractors. Supply BPA holders can sign up for one-one-one meetings with VA Supply BPA leadership, such as Craig Hilliard, Division Chief, at the Med/Surg Supply BPAs Table. On May 3, the VA will be manning the Ask the VA FSS Table and the new Pathfinder Table, which will highlight how vendors can use the Pathfinder site to engage with the VA and submit their innovative ideas.
To register for the conference, click here.
The Coalition would like to thank your sponsors for their support of the Spring Training Conference. Sponsors include:
Platinum Sponsors: AvKARE, Covington, and McKesson
Gold Sponsors: Amazon Web Services, Dell, Four Points Technology, and Raytheon
Silver Sponsors: GDIT, The Gormley Group, and Sheppard Mullin
Coffee & Networking Sponsor: SAIC
WiFi Sponsor: FUTREND Technology, Inc.
---
Visit GSA and VA "Ask the PMO" Tables at the Spring Conference
The Coalition for Government Procurement is excited to share a host of new tabletop opportunities that will be available during the Spring Training Conference for attendees. We are pleased to have key contracting programs of interest to our members participating this year. Please see the schedule of GSA and VA program officials that will be joining us on May 2 and 3 to answer your questions one-on-one.
How to Register: One-on-one appointments with the GSA and VA representatives at each table will be available on a first-come, first-served basis beginning at 7:00 AM each day of the conference. Appointments will be available throughout the conference. Please refer to the schedule above as to which day each program will have a tabletop. If you have any questions about the "Ask the PMO" tables or the conference, please contact Michael Hanafin at mhanafin@thecgp.org.
---
OMB Encourages More 'Meaningful In-Person Work' as COVID-19 Emergency Approaches End
Late last Thursday, the Office of Management and Budget (OMB) released a memo articulating expectations for Federal remote and in-person work. Coming a year after Federal agencies implemented office re-entry plans last spring, the memo states that "agencies are generally expected to increase meaningful in-person work." OMB notes, however, that telework is an "important tool for talent recruitment and retention," and encourages agencies to structure their work "based on how they can most effectively achieve their missions while strengthening … for the future." The memo makes clear that customer experience is key to effectiveness and repeatedly emphasizes that agencies should "prioritize improving experiences and services that directly impact the public."
The memo provides three overarching directives for agencies: (i) updating their work environment plans and "describing their current policies for telework and related operational policies … and anticipated future changes," (ii) "establishing routines" for monitoring the changes and organizational health, and (iii) choosing indicators that "major operating units" within agencies will use to monitor performance. Within 30 days, agencies will be required to provide OMB with updated work environment plans for their headquarters, explain how they will implement and measure changes, and designate a lead within 30 days. Later, agencies will provide specific work plans for customer-facing units and analyze their updated plans.
In a follow-up to OMB's guidance, the Office of Personnel Management announced on Tuesday that, in light of the expiration of the COVID-19 public health emergency on May 11, it would cease recommending that Washington, DC-area agencies allow "maximum telework flexibilities." The recommendation becomes effective on May 15. OPM directed agencies to the new OMB memo for guidance on their telework posture.
---
DoD Issues Memo Ending COVID-19 Emergency Acquisition Authorities
The Department of Defense (DoD) Office of Defense Pricing and Contracting issued a memo on Monday updating DoD contracting policy after the President signed a House resolution on April 10 terminating the national emergency related to the COVID-19 pandemic. (The distinct public health emergency declaration remains effective through May 11). The memo forbids contracting personnel to use "emergency acquisition flexibilities that were permitted by the national emergency declaration" terminates implementation guidance based on the emergency, and rescinds class deviations based on the emergency. It also alters 7 class deviations created as a result of the pandemic. Class Deviation 2020-O0012, Undefinitized Contract Actions During the National Emergency for the Coronavirus Disease 2019, is rescinded in full, and large businesses will be returning to the customary progress payment rate of 80% that had been raised by Class Deviation 2020-O0010. Two other class deviations related to Section 3610 of the CARES Act, which allowed Federal agencies to reimburse contractors who provided paid leave to their employees related to the pandemic, will remain in force until reimbursements are complete. The remaining deviations will be codified as regulations.
---
Sponsored Content by McKesson –
Platinum Sponsor of 2023 Spring Conference
Government Solutions to Advance Health Outcomes for All

Deborah Haywood, Vice President of Government Solutions at McKesson, joined the 
Off the Shelf
podcast to discuss the imperative of medical supply chain resilience, the role of the national strategic stockpile, and the impact of Covid-19 on the supply chain. Listen to the full episode 
here
.
---
GSA Signs Memorandum of Understanding with DHS to Boost Sustainability

On Monday, GSA
signed
a memorandum of understanding (MOU) with the Department of Homeland Security (DHS) "aimed at promoting decarbonization, clean and resilient technology, and high-performance sustainable buildings" by sharing "technical expertise, tools, and training." Nina Albert, GSA's Public Building Service Commissioner, said that the "agreement is a roadmap for achieving sustainable and resilient buildings not only at St. Elizabeths campus," the headquarters for DHS, "but also nationwide, so we can achieve a net-zero operational emission building portfolio by 2045." The latter goal is part of the Administration's
Federal Sustainability Plan
, the first of its kind, which also aims to achieve a 50% reduction in Federal building emissions by 2032 and net-zero procurement by 2050. The new MOU is the second on sustainability that GSA has signed this year: last month, it
signed an MOU
with the Department of Defense (DoD) and agreed to help companies that demonstrate successful sustainable products in DoD trials to obtain GSA schedules and sell their products across government.
---
Sponsored Content by Four Points Technology and Amazon Web Services –
Gold Sponsors of 2023 Spring Conference
       
---
Mergers and Acquisitions on the Rise for Government Service Companies
The number of mergers and acquisitions has drastically increased over the last two years, reports Federals News Network. According to Federal News Network, a decade ago the government services market would have between 50-75 mergers and acquisitions a year. Now the market averages about 100 mergers and acquisitions annually. Kate Troendle, a managing director at investment banking firm KippsDesanto and Company, said there were about 180 government service deals in 2021 and 110 in 2022 which is a sharp increase from previous years. Troendle also stated that major investment firms continue to increase funds at a rapid rate and expect the demand for acquisitions to continue to rise over the coming years.
---
Sponsored Content by Four Points Technology and Dell Technologies –
Gold Sponsors of 2023 Spring Conference
       
---
Off the Shelf: An Update on NASA SEWP
Joanne Woytek, NASA SEWP program manager, joined Off the Shelf to give an update on NASA SEWP V over the last fiscal year and provide her outlook for the second half of FY23. In the episode, Woytek highlights some of the key program capabilities that have made NASA SEWP the largest IT GWAC in terms of customers and overall spending. A thought leader in the procurement community on supply chain risk management (SCRM), Woytek highlights the recent NASA SEWP SCRM Forum that brought together government, industry, and associations for a dialogue on the challenges and opportunities in addressing SCRM and C-SCRM. Woytek also discusses the recent RFI for NASA SEWP VI, providing some early thoughts regarding the structure and scope of the next version. She also pays tribute to her former deputy director, Darlene Coen, who recently retired from government service.
To listen to the full episode, click here, or search "Off the Shelf" on all major podcasting platforms.
---
GSA Revamps USA.gov
FCW reports that GSA has launched new versions of the Federal government's main public-facing portals, USA.gov and USA.gov en Español. Upgrades include "a complete overhaul of public-facing content," "new interactive tools and guides," and "more secure and modern infrastructure." "These updates reflect our commitment to coupling smart, user-centered designs with robust data to deliver exactly what the American people need when they come to USA.gov, the federal government's front door," said GSA Administrator Robin Carnahan in an announcement of the site's launch. The sites also "better incorporate buttons, visual cues, and user-friendly content."
During testing, GSA "found that individuals were able to use it five minutes faster than the previous version." In keeping with ongoing interagency efforts to design Federal service delivery around "life experiences," rather than the structure of Federal bureaucracy, the new site includes a life events page that lets users select life events like having a child and see what services may be available to them. GSA will continue to update the website based on user feedback, incorporate new interactive tools and accessibility options, and collaborate with other agencies to streamline the user experience.
---
SBA Proposes Amendment to HUBZone Appeal Process

The United States Small Business Administration (SBA)
published
an amendment to the Historically Underutilized Business Zone (HUBZone) Program that would implement procedures authorizing appeals at the Office of Hearings and Appeals (OHA) for protest determinations regarding the status of a concern as a certified HUBZone Small Business. Currently, the status of a concern as a HUBZone Small Business is authorized by the Associate Administrator of Government Contracting and Business Development. However, Section 864 of the National Defense Authorization Act authorizes SBA's OHA to begin making these authorizations. The rule will be effective on May 10, 2023.
---
GSA Provides Notice of MAS Refresh, Will Hold Webinar on April 27
Last Friday, GSA provided the newest version of its Multiple Award Schedule solicitation and accompanying mass modification of existing contracts which will be implemented in May. Per the announcement, Solicitation 47QSMD20R0001 – Refresh # 16 will implement changes "to clarify how MAS offeror instructions apply to Joint Venture entities," update size standards and NAICS codes, update Service Contract Labor Standards wage determination, change the Offer and Modification Price Proposal Templates, and update clauses and provisions as required by Federal Acquisition Circular 2023-02 and General Services Acquisition Regulation Change 164. It will also make changes to seven categories of the solicitation, including Office Management, Furniture and Furnishings, and Information Technology.
GSA will host a webinar on the changes (link to join here) on Thursday, April 27, 1–2 PM EDT. Comments on the draft may be submitted via the Interact comment section by April 28.
---
Sponsored Content by Raytheon Technologies –
Gold Sponsor of 2023 Spring Conference
We are Advancing Aviation, Building Smarter Defense Systems and Creating Innovations to Take us Deeper into Space.
At Raytheon Technologies, we're accelerating ideas to solve some of the world's biggest challenges by bringing together the brightest, most innovative minds across aviation, space and defense. Learn More
---
Legal Corner:
National Security Update – Departments of Commerce and Treasury Release Notice of Proposed Rulemaking Regarding CHIPS "Guardrails"

The Legal Corner provides the legal community with an opportunity to share insights and comments on legal issues of the day. The comments herein do not necessarily reflect the views of The Coalition for Government Procurement.
By Jonathan Wakely, Michael Wagner, David Fagan, Brian Kim & Jamin Koo
On March 21, 2023, the Department of Commerce ("Commerce") published a Notice of Proposed Rulemaking (the "Commerce Proposed Rule") to implement certain provisions of the CHIPS and Science Act of 2022 ("CHIPS Act") that place restrictions on certain activities of businesses receiving federal funding pursuant to the CHIPS Act ("Commerce Guardrails"). (Covington alert).
The Proposed Rules are relevant to companies that are considering applying for Section 9902 funding under the CHIPS Act or planning to take advantage of the ITC.  They are also potentially relevant to companies that do business with such parties.  As described below, CHIPS Guardrails will impose meaningful constraints on the types of activities or investments into which affected parties can enter.  The Proposed Rules also may contain hints with respect to the general direction of U.S. government policy, articulating concepts and definitions that could be applied in other regulatory regimes, including potential regulation of outbound investments.
Commerce and Treasury have requested public comments on the Proposed Rules by May 22, 2023. Further, Commerce has specifically requested comments on the "extent and nature of . . . pre-existing arrangements" relating to joint research or technology licensing, presumably to evaluate the issue of retroactive application for activities that predate CHIPS Guardrails but will be ongoing after its enactment.
We offer the following high-level comments:
The "affiliate" definition would expand the universe of entities subject to CHIPS Guardrails well beyond the funding or ITC recipient ("Recipient").  The proposed definition would sweep in remote entities within the Recipient's corporate family that may be several degrees of separation from the Recipient, as long as they are under common control.  Thus, if a U.S. subsidiary of a foreign corporation accepts CHIPS Act funds or takes advantage of the ITC, it would bring the foreign parent corporation and all of its controlled subsidiaries globally within the scope of the CHIPS Guardrails restrictions.  This definition of "affiliate" may be subject to challenge under the Administrative Procedure Act because the statute provides for a higher threshold of an 80% ownership to be considered an affiliate, but the Commerce Proposed Rule lowered this threshold to 50%.[1]
Restrictions apply to transactions with "foreign entities of concern" located anywhere in the world.  The Proposed Rules restrict Recipients from engaging in certain transactions (i.e., transactions involving joint research or technology licensing relating to a technology or product that raises national security concerns, as determined by the Secretary) with "foreign entities of concern."  This term is defined to include a broad range of individuals and entities, including Chinese nationals located in China, companies organized under the laws of China (including for example Chinese subsidiaries of U.S. companies), and non-Chinese companies 25% or more of whose voting interests are directly or indirectly owned by the Chinese government.  "Foreign entity of concern" even includes the Recipient's subsidiaries organized under the laws of China and its Chinese employees located in China.
However, the Proposed Rules still leave meaningful room for Recipients to engage in semiconductor-related activities and expansion of manufacturing in foreign countries of concern.  First, "material expansion in . . . manufacturing capacity" is defined purely in quantitative terms, measured in wafer starts per month for semiconductor fabrication facilities.  Consistent with this definition, Commerce's commentary accompanying the Commerce Proposed Rule affirmatively states that the rule "would also allow recipients to upgrade technology at existing foreign facilities (in compliance with export controls) if overall production capacity is not increased."  Second, the Proposed Rules bifurcate the restriction on material expansion for legacy semiconductors and non-legacy semiconductors and provide greater flexibility to expand capacity for legacy semiconductors.  Whereas the Proposed Rules permit only up to a 5% increase in output for leading edge and current generation technologies, they allow up to a 10% increase in output of legacy semiconductors manufactured at either an existing facility or a new facility that predominately serves the market of a foreign country of concern.
Key Open Questions:  Key issues that may require clarification through the comments process include:

Scope of "Foreign Entities of Concern":  The statutory term "foreign entities of concern" includes any foreign entity that is "[o]wned by, controlled by, or subject to the jurisdiction or direction of a government of a foreign country that is a covered nation (as defined in 10 U.S.C. 4872(d))."  The Proposed Rules arguably expanded the scope of this term beyond what the statute contemplates.  First, the agencies interpret the term "entity" to include a natural person.  Second, the Proposed Rules' interpretation of the above phrase to include all entities organized under the laws of China is quite broad.  This phrase "subject to the jurisdiction or direction of a government" could be interpreted more narrowly as requiring some affirmative government influence, as discussed here.
Affiliated vs. Unaffiliated Foreign Entities of Concern:  The Proposed Rules do not differentiate between affiliated foreign entities of concern (e.g., a Recipient's own subsidiaries in China) and unaffiliated foreign entities of concern.  As a result, a Recipient's own, wholly-owned subsidiaries in China would be treated in the same manner as a Chinese state-owned entity for purposes of the Guardrails restrictions.
Scope of Technology Clawback:  The Proposed Rules include a technology clawback provision that restricts Recipients from knowinglyengaging in joint research or technology licensing efforts with a foreign entity of concern that relates to a "technology or product that raises national security concerns."[2]  As currently drafted, "technology licensing" is defined broadly to include patent licensing and sharing of "know-how," which may include such intellectual property provided in connection with products being sold.  Further, the Proposed Rules suggest that even technology or products for which a party has obtained an export license under the U.S. Export Administration Regulations may be subject to these restrictions, if the technology "raises national security concerns" as defined in the Proposed Rules.  In other words, these rules do not contemplate a carve out for ancillary intellectual property or existing export licenses.
Covington has been involved in advising on and shaping the legislation for clients since its original draft was introduced in April 2021, and we stand ready to advise on its contents and specific opportunities for individual clients.  If you have any questions concerning the material discussed in this post, please contact the members of our CFIUS, Public Policy, Government Contracts, and Tax practices.
[1]  For the ITC, there was no statutory prohibition against activities of an affiliate, but Treasury adopted the affiliate prohibition from the Commerce Proposed Rule.
[2]  Unlike the Commerce Proposed Rule, Treasury's proposal for the ITC further requires that this joint research or technology licensing materially expand the semiconductor manufacturing capacity of the Recipient or its affiliates.
---
Healthcare Corner:
GAO releases report on VA Privacy and Security Challenges
The Government Accountability Office (GAO) released a report on the Department of Veterans Affairs (VA) IT systems privacy practices. IT systems privacy practices are of particular importance to the VA due to a large amount of Personally Identifiable Information (PII) held within the VA's medical system. Previously the GAO issued eight recommendations to the VA, however the VA has yet to implement three of the recommendations. The VA has not established a process for ensuring that the Senior Agency Official for Privacy (SAOP) performs a documented review of IT capital investment plans and budgetary requests. Additionally, the VA has not established a fully defined or documented process for privacy workforce management that ensures that the SAOP, or another designated privacy official, assesses the hiring, training, and professional development process regarding privacy. Finally, the VA is yet to establish policies for the role of the SAOP, in reviewing system categorizations, overseeing privacy controls assessments, and reviewing authorization packages for PIIs. The VA has concurred with these recommendations and plans to implement them.
---
By Ken Dodds, Live Oak Bank
The following blog does not necessarily represent the views of The Coalition for Government Procurement.
Bidding Mistakes to Avoid

Importance of Joint Venture Addendums
SBA's rules provide that a joint venture (JV) may receive an unlimited number of contracts within a two-year period following the first contract award.[1] A JV agreement must be amended to address issues specific to individual contracts, such as the name of the project manager for the contract and each partner's responsibility for equipment, facilities, resources, labor, contract negotiation and performance.[2] A JV's size is determined at the time of final proposal revision.[3] The proposed awardee's JV agreement was created in 2018.
The proposed awardee submitted its final revised business proposal including the JV agreement to the procuring agency on September 10, 2021. The contracting officer (CO) issued pre-award notification of the proposed awardee on September 15, 2021. On September 17, 2021, an unsuccessful offeror filed a size protest. On September 23, 2021, the CO requested a revised technical proposal to incorporate into the contract. On September 24, 2021, the proposed awardee submitted a revised technical proposal but also submitted a revised business proposal and an addendum to the JV agreement. The initial JV agreement was clearly deficient because it was not specific to this contract. OHA found that the addendum was invalid because it was not signed by the parties as required by the JV agreement. Further, OHA found the correct date to determine size was September 10, 2021, when the proposed awardee submitted its business proposal including the 2018 JV agreement, prior to creation of the addendum. Negotiations were over and the proposed awardee had been selected for award prior to the date the CO requested the revised technical proposal and prior to creation and submission of the JV addendum. Finally, the JV addendum did not sufficiently address the responsibilities of the parties with respect to the contract. Even for indefinite contracts, a general description of the responsibilities of the parties is still required.[4]
Precision is Critical
The VA issued a solicitation for a multiple award contract as an SDVO SBC set-aside using a three-tiered evaluation method. The VA would evaluate offers in the first tier and would only review offers in the second or third tier if a suitable number of awards could not be made in the preceding tier. The first tier was for SDVO offerors that joint ventured or subcontracted with SDVO SBCs or VO SBCs. To qualify as an SDVO SBC or VO SBC, firms had to be certified by the VA and be in the VA's Vetbiz database at the time of offer. Firms also had to be in SAM and qualify as small at the time of offer and award. The VA could not verify that the protester's subcontractor was an SDVO or VO SBC, and therefore exclude the offer from the first tier. The VA ultimately made a sufficient number of awards based on first-tier offers. The protester submitted an offer listing Alaris Advisors, LLC as its SDVO subcontractor. The VA could not find Alaris Advisors, LLC in SAM or the Vetbiz database, and the submitted DUNS number was also incorrect. During the protest, the protester submitted a letter of SDVO certification for Alaris Advisers, LLC. GAO denied the protest. Offerors bear the burden of submitting well-written proposals. The protester submitted a proposal with the wrong name and DUNS number for its subcontractor. In addition, the subcontractor was not listed in SAM at the time of award. Thus, the VA reasonably excluded the protester from consideration.[5]
Do you have a topic you wish to have covered or a question on how Live Oak Bank can support your business? Email me at ken.dodds@liveoak.bank. 
[1] 13 CFR 121.103(h).
[2] 13 CFR 125.8(b)(2).
[3] 13 CFR 121.404(d).
[4] Focus Revision Partners, SBA No. SIZ-6188 (January 31, 2023).
[5] Kizano Corporation, B-420858.4, Mar. 8, 2023.
---
AFCEA Bethesda's 15th Annual LEAPS Technology Forum, May 10
The Coalition is pleased to be a sponsor of AFCEA Bethesda's 15th annual Law Enforcement and Public Safety (LEAPS) Technology Forum to be held on May 10 at the National Press Club in Washington, D.C. AFCEA Bethesda will provide an opportunity for government and industry to share information about lessons learned in resolving current challenges law enforcement face in an increasingly digital world. Panel discussions and roundtables provide a forum for engaging and interactive dialog. Government participants will learn from their colleagues and industry partners. Industry participants will discover opportunities where they can introduce innovations to their government clients. The LEAPS Technology Forum will look at how federal, state, and local agencies are working with industry partners to implement effective solutions with an emphasis on 5G Communications, AI/ML, Cybersecurity & Zero Trust, and Cloud Migration. To register for this event, click here.
---
SBA Proposes Amendment to HUBZone Appeal Process
The United States Small Business Administration (SBA) published an amendment to the Historically Underutilized Business Zone (HUBZone) Program that would implement procedures authorizing appeals at the Office of Hearings and Appeals (OHA) for protest determinations regarding the status of a concern as a certified HUBZone Small Business. Currently, the status of a concern as a HUBZone Small Business is authorized by the Associate Administrator of Government Contracting and Business Development. However, Section 864 of the National Defense Authorization Act authorizes SBA's OHA to begin making these authorizations. The rule will be effective on May 10, 2023.
---
Please Welcome New Premier Member
Please Welcome New Standard Member