April 26, 2023
See You at the Spring Conference!
There is excitement in the air as we approach next week's Spring Training Conference – Procurement Watchwords for 2023.  The conference will take place on May 2-3 at the Fairview Park Marriott in Falls Church, Virginia.  During this two-day event, attendees will focus on four procurement "watchword" themes, specifically, Market Continuity, Cybersecurity, Supply Chain Security, and Sustainability, and how those themes will continue to serve as driving forces in the procurement system.  As our first in-person-only event since the COVID outbreak, we are especially gratified to see the enthusiastic response of the procurement community.  We are approaching the highest level of attendance ever for an in-person training conference.  The faith our community has vested in this event is humbling, and it places a significant responsibility on us to assure value-based, actionable content is made available in an environment that facilitates collaboration.
In that regard, we assure you that this event will not be disappointing.  We are privileged to be hearing from leaders in the General Services Administration (GSA), the Department of Veterans Affairs (VA), the Department of Defense (DoD), and host of others discussing topics, like a Diverse and Resilient Federal Marketplace; VA Supply Chain Modernization; the nation's Cybersecurity Strategy; GSA's OASIS and Alliant 3; VA's MSPV Gen Z; Supply Chain Risk Management; and Sustainability.  Equally important, during both days, agency leaders are making themselves available for any questions attendees might have at "Ask the PMO" tables for engagement on the GSA MAS and Pricing Tools and the Med/Surg Supply BPAs (Day 1), and VA FSS and VA Pathfinder (Day 2).  At the end of each day, there will be a Networking Reception during which all may discuss and share their learnings from the days.
Now more than ever, as we continue to awaken from the COVID slumber that put much of the world on hold, it is important to provide opportunities for engagement to allow our community to reconnect, dialog, and recommit to promote our collective efforts in service to the agency missions that serve our fellow citizens.  It is our privilege to be a part of this effort, but we hasten to point out that it would not be possible without the support of our sponsors: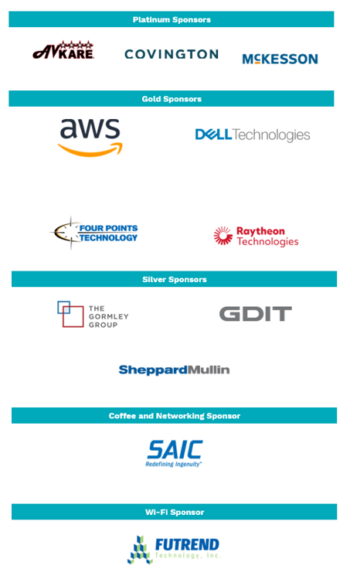 We hope you are as excited as we are about this conference!  We look forward to seeing you next week.
---
House Passes Debt Ceiling Increase
GovExec reports that the House passed the Limit, Save and Grow Act of 2023 in a narrow 217-215 vote on Wednesday. Engineered by House Majority Leader Kevin McCarthy, the bill would raise the debt ceiling and makes significant cuts to Federal spending. Specifically, it reduces discretionary spending in fiscal year (FY) 2024 to the FY 2022 level of $1.47 trillion, limits annual spending to 1% over the next nine fiscal years, and increases the debt limit by $1.5 trillion or suspends it through March 31, 2024, whichever comes first. According to the Congressional Budget Office (CBO), the bill would reduce budget deficits by $4.8 trillion over the 2024–2033 period. The bill also repeals several energy tax credits, rescinds unspent COVID-19 relief funds, cancels the President's student loan forgiveness plan, expands work requirements for Federal welfare programs, simplifies some energy permitting regimes, and would require Congressional approval of all major rules.
Responding to inquiries from congressional Democrats, Federal agencies predicted that the bill would significantly reduce their budgets and require cuts to staffing, service delivery, and grant and program spending. The Department of Veterans Affairs, for instance, estimated that depending on the specifics, the VA could see a shortfall of either $26.7 or $29.7 billion under the act. In the latter scenario, it would have to reduce expected FY2024 outpatient visits from 139 million to 126 million, let at least 1,178 staff go in the Veterans Benefits Administration, put off infrastructure upgrades, and delay implementation of critical IT initiatives.
The bill is not expected to pass the Senate and President Biden announced that he would veto it, consistent with his position that the debt ceiling should be increased without conditions and that any reductions in Federal spending be addressed in appropriations for FY 2024. While the U.S. technically reached the ceiling on January 19, it has since taken "extraordinary measures" to extend borrowing. According to CBO estimates from February, these measures will run out between July and September of this year. However, estimates from early 2023 vary based on uncertainty about how much revenue the Federal government would bring in during tax season. For instance, the Treasure Secretary estimated in January that these measures may run out by June 2023.
---
Visit GSA and VA "Ask the PMO" Tables at the Spring Conference
The Coalition for Government Procurement is excited to share a host of new tabletop opportunities that will be available during the Spring Training Conference for attendees. We are pleased to have key contracting programs of interest to our members participating this year.  Please see the schedule of GSA and VA program officials that will be joining us on May 2 and 3 to answer your questions one-on-one.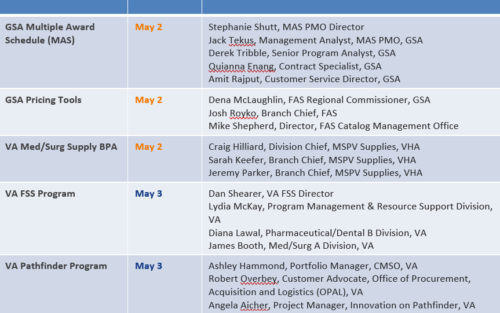 How to Register:
One-on-one appointments with the GSA and VA representatives at each table will be available on a first-come, first-served basis beginning at 7am each day of the conference. Appointments will be available throughout the conference. Please refer to the schedule above as to which day each program will have a tabletop. If you have any questions about the "Ask the PMO" tables or the conference, please contact Michael Hanafin at mhanafin@thecgp.org.
---
GSA and Department of State Address Efforts to Increase Sustainable Procurement
Federal News Network reports that both the State Department and GSA spoke about recent moves to improve sustainability last week. At a webinar, Michael Derrios, Acquisition and Procurement Executive at the Department of State, spotlighted plans for a department-wide rollout of a U.S. Embassy program for sustainable procurement, which relies on finding "vendors with eco-friendly certifications, low emissions and a low waste disposal or recycling plan." The department is also changing its contract language and evaluation criteria to emphasize sustainability, adding guidance to reduce single-use plastics in overseas IDIQ contracts, and buying less disposable cutlery. To reduce emissions directly, the Department is looking at purchasing more solar power overseas.
Speaking with Federal News Network, Jeff Koses, Senior Procurement Executive at GSA, noted that the agency has made sustainability a priority by requiring the chief sustainability officer be invited to all acquisition review boards. "We issued our policy changes to require that sustainability be much more formally analyzed and considered in acquisition strategy documents," Koses said, adding that GSA encourages "the workforce to think about sustainability at each phase of the acquisition lifecycle."
---
Webinar: Domestic and Foreign Sourcing Requirements, May 25
The Coalition for Government Procurement is pleased to host a webinar on Domestic and Foreign Sourcing Requirements.  This webinar will take place on May 25th from 12:00 -1:00 p.m. EST and will feature Covington attorneys Mike Wagner (Partner) and Jen Bentley (Associate).
Sourcing from the United States and trade agreement partners has been subject of increased bipartisan attention in recent years, and a series of new statutes, regulations, and executive orders underscore the importance of compliance with domestic sourcing requirements.  This webinar will provide an overview of key considerations for government contractors who need to comply with various domestic content regimes.  Topics covered will include:
The Buy American Act ("BAA"), Trade Agreements Act ("TAA"), Bipartisan Infrastructure Law's Build America, Buy America Act ("BABA");
Review of the standards for each regime;
Process and scope of waivers and exceptions;
Latest proposed guidance issued on BABA; and
Best practices for managing supply chains and key developments to watch.
To register, click here.
---
Interior Department Seeking Feedback on Next Iteration Cloud Contract
Washington Technology reports that the Department of Interior (DOI) is moving forward with the recompete of its Foundation Cloud Hosting Services (FCHS) contract, which was awarded 10 years ago. On April 20, DOI issued a draft request for proposals (RFP) for the potential $10 billion FCHS 2 contract, with a response date of April 27 for four sections of the procurement. These sections included Supplies, services and costs (Section B); Statement of work (Section C); Instructions, conditions and notices (Section L); and Evaluation factors for award (Section M). Feedback on all other sections of the RFP is due on July 30.
FCHS 2 will provide the agency with cloud services in areas including storage, file transfer, databases, and testing. DOI has obligated nearly 55 percent of the overall ceiling for the first iteration of the FCHS contract. DOI plans to make between three and five awards for FCHS 2 using a two-phase advisory process to determine awardees.
In addition, DOI is also working towards awarding a potential $1 billion contract, Cloud Hosting Solutions III, focused on the virtual data center component of the agency's cloud migration goals. Proposals for this contract were due November 2022.
---
DLA Presents Demand Forecast and Vendor Satisfaction Survey Results to Industry
On April 25, the Defense Logistics Agency (DLA) hosted an industry association meeting to share the results of their third DLA Vendor Satisfaction Survey. The survey was launched in October 2022 asking vendors to evaluate their experience on conducting business with DLA from pre-solicitation through delivery and closeout. Specifically, the survey was designed to measure supplier attitudes on:
The efficiency of DLA communications;
The strength of suppliers' relationship with DLA;
The suppliers' growth potential working with DLA; and
The suppliers' opinion of the effectiveness of DLA processes
More than 2,500 suppliers participated in the survey and while CY22-23 was a tough business environment with near universal concerns with inflation and labor and supply chain disruptions, suppliers felt DLA is a trusted partner and values its suppliers. Additionally, during the meeting DLA provided an update on their Demand Forecast showcasing how things look halfway through FY23 and presented some information on what is being seen in the defense industrial base and the ongoing impact of inflation.
Slides from DLA's presentation to the industry on April 25 are posted here: https://www.dla.mil/Info/Strategic-Plan/Industry-Engagement-Plan/Demand-Forecast/
In terms of resources for vendors, DLA also urges the industry to review its Strategic Plan, and other DLA materials on how to do business with DLA, and its Industry Engagement Program.
---
DHS Releases Third Quadrennial Homeland Security Review
The Department of Homeland Security (DHS) published its long-awaited Quadrennial Homeland Security Review last week, "assessing the ways homeland security has evolved since the department was formed over 20 years ago and the significant changes to the threats and challenges facing the nation." In his introduction to the report, DHS Secretary Alejandro Mayorkas observed that technological change, a globalized economy, climate change, and threats from nation states have created a complex and dynamic threat environment that was unimaginable at the department's creation. New or heightened challenges in the threat environment include "changes in global migration, human trafficking, domestic violent extremism, strategic competition from nation states, wide-ranging cyber threats, impacts of climate change, emerging infectious diseases, and transnational organized crime." At the same time, he emphasized that the Department has "never been more fit for purpose," citing both its own strength and "its ability to work with partners," including the private sector through initiatives like the Joint Cyber Defense Collaborative.
The report also includes information on how acquisition will play a role in DHS response and how DHS develops its "most important assets: people, physical assets, data, and technology." DHS "will seek to expand its work in foundational and emerging research" and "must develop new business opportunities to promote technology transfer and commercialization of DHS-funded research" through programs such as the Homeland Security Startup Studio, which 9 of 10 teams successfully completed last year. Programs like Startup Studio are intended to close the "valley of death" that small businesses get stranded in when they are unable to commercialize successful prototypes. The report also cited the Silicon Valley Innovation Program, the DHS Small Business Innovation Research program, and prize competitions as further non-traditional means of contracting and industrial base development that DHS will rely on to achieve its development and innovation goals.
---
Legal Corner: Supreme Court Hears Arguments on False Claims Act Scienter Standard
The Legal Corner provides the legal community with an opportunity to share insights and comments on legal issues of the day. The comments herein do not necessarily reflect the views of The Coalition for Government Procurement.
By David T. Fischer & Sheela Ranganathan
Companies regularly are required to interpret ambiguous and vague regulatory provisions. Today, the United States Supreme Court heard oral arguments in a pair of consolidated cases to determine whether a defendant's subjective interpretation of an ambiguous regulation is relevant to determining the knowledge (or scienter) element of the False Claims Act or, as the Seventh Circuit held in the case below, that once a defendant can articulate an objectively reasonable interpretation its contemporaneously held subjective belief is irrelevant to the knowledge inquiry.
The issue is a significant one for both the government and relators on one side, and potential defendants on the other, as False Claims Act (FCA) liability imposes treble damages and penalties exceeding $20,000 per claim as well as relators' attorneys' fees and costs.
The Seventh Circuit case below turned on the FCA's knowledge element, which reaches claims that are "knowingly" false which includes (1) actual knowledge, (2) deliberate ignorance of the truth or falsity of the information, or (3) reckless disregard of the truth or falsity of the information.
The Court's questioning did not signal the likely decision. All of the Justice asked questions, allowing both Relators and the government (collectively, Petitioners) and Defendants (Respondents) to exceed the established time limits. Three lines of arguments and questioning stood out, however. First, both sides were candid that they were seeking a ruling that would provide broad guidance to future litigants, although each side readily acknowledged they would certainly be content with a narrow holding favorable to their position. Seeking a broad ruling, however, invited extensive colloquy concerning hypotheticals and appeared, to us, to muddy the analysis.
Petitioners pressed the Court to hold that a defendant's subjective belief as to its statements concerning factual or legal matters is relevant to the inquiry whether a defendant's admittedly false statement was made with actual knowledge. Defense counsel, unsurprisingly, warned the Court that to permit inquiry into a defendant's subjective intent where there is an objectively reasonable, lawful interpretation would lead to costly discovery, require defendants to waive the attorney-client privilege, and preclude resolving cases by dispositive motion, although the Court did not appear to be particularly concerned about this risk. Justices Kagan, Sotomayor, and Jackson appeared receptive to Petitioners' argument that precluding inquiry into a defendant's subjective intent could allow an after the fact objectively reasonable interpretation to shield a defendant from FCA liability for a statement it believed to be false at the time it was made. Their questions suggest that they believe the Court should simply reverse the Seventh Circuit's holding that, as they described it, a defendant's subjective belief that its statements were false is relevant to the scienter determination. Justice Kagan reasoned that the Court in Escobar noted the FCA is grounded in common law fraud principles under which a defendant's subjective knowledge of the truth or falsity of its statement is relevant to the knowledge inquiry.
Justices Thomas, who initiated the questioning for the Court, displayed some sympathy to the difficulty of requiring a company to defend its interpretation of ambiguous regulations. Justices Kavanaugh, Alito, and Gorsuch echoed this concern. They presented hypotheticals asking whether a defendant's decision to adopt an interpretation that it believed would likely be rejected by a court could satisfy the knowledge element. For example, Chief Justice Roberts and Justice Alito inquired whether a defendant who adopted an interpretation that it subjectively believed had a 49% likelihood of being correct could be found to have made a knowing false statement.
Second, Petitioners also argued that the text of the FCA and congressional intent encourage transparency. They argued a defendant can avoid liability if it discloses with the claim (or statement) its understanding of the ambiguous term(s). Government counsel argued, for example, that if defendants in the cases here "had shown their work" and provided proof of why they thought their interpretation was reasonable, there would not have been anything deceitful regarding their disclosure and thus there would not be liability under the FCA. Defense counsel countered that Petitioners' approach would be unworkable as a practical matter in many contexts and would unduly burden every company that does business, directly or indirectly, with the government. Moreover, as defense counsel noted, the government is able to address ambiguous terms through rulemaking followed by authoritative guidance. "[I]f the federal government wants to take [a] position, there's a way to do it. It adopts a rule. It tells everybody what the standard is, and then you're on notice, and there's no question." Justice Kavanaugh was receptive to this argument, saying that if a company's understanding is "based on a legal understanding, it's a little hard for me to say your legal view is false." Further, in our view, requiring a company to set forth its legal view of an ambiguous regulation to an agency and then having the agency decide upon the merits of the legal view puts the government agency in the role of judge, and jury.
Third, Respondent's counsel repeatedly emphasized that requiring evidence of subjective intent relating to ambiguous regulations would necessarily require waiver of the attorney-client privilege. FCA defendants would be required to do this in order to prove what advice was given and what the client knew. This issue was briefly addressed in just two paragraphs of Respondent's brief. It is possible that this issue was repeatedly emphasized during oral argument as it may appeal to all of the Justices and provide an issue that could unify the bench, although the Justices did not appear receptive to it based on their lack of questions on this issue.
Predicting outcomes based on oral argument is challenging. Nonetheless, it appears to us unlikely that a majority of the Justices will adopt the broad interpretation advocated by the Government and Relator. First, Petitioners' reliance on policy arguments beyond the text of the statute is inconsistent with the Court's history of taking a textual approach to interpreting the FCA. Second, Petitioners' argument would require the Court to distinguish its prior holding in Safeco Insurance Co. of America v. Burr, in which the Court held, in ruling upon a similar scienter spectrum in the Fair Credit Reporting Act, that a regulated entity cannot be a "knowing or reckless violator" when it conducts itself consistent with an objectively reasonable interpretation of ambiguous legal obligations. 551 U.S. 47, 70 n.20 (2007). And, based on that decision, the D.C. Circuit, in a decision joined by then D.C. Circuit Judge Kavanaugh, applied the Safeco reasoning to reach substantially the same result in United States ex rel. Purcell v. MWI Corp., 807 F.3d 281, 290–91 (D.C. Cir. 2015). It seems unlikely that Justice Kavanaugh experienced a change of heart since the Purcell decision. Nevertheless, the bench as a whole was clearly troubled by the potential and unknowable consequences of holding that a defendant's subjective interpretation can never be relevant to determining its state of mind if it can generate an objectively reasonable interpretation, including a post hoc interpretation.
The Justices suggested possible bases for a narrow ruling, such as holding that a false statement of fact can be considered in determining scienter and leaving the question of the falsity of a regulatory interpretation for another day. Or, taking into account prior precedent, the Court could decide that a subjectively held objectively reasonable interpretation of an ambiguous regulatory provision defeats scienter, even if the interpretation was arguably wrong, unless authoritative guidance warned the defendant away from its interpretation.
Regardless of the outcome, the decision will likely be consequential for healthcare companies and other regulated industries. We will report the Court's decision and offer guidance companies can use to strengthen their compliance and risk-management programs as appropriate.
---
Healthcare Corner: VA Pauses All Further EHR Deployments
The Department of Veterans Affairs (VA) announced last week that all future deployments of the new Electronic Health Record system have been halted until improvements have been made at the existing centers. The VA is currently working on an amending contract to ensure accountability for the EHR system. In the interim, additional deployments will not occur until the VA is confident that the EHR is highly functioning at current sites and exhibiting sustained high performance and reliability. "We've heard from Veterans and VA clinicians that the new electronic health record is not meeting expectations – and we're holding Oracle Cerner and ourselves accountable to get this right," said VA Secretary Denis McDonough. "This reset period will allow us to focus on fixing what's wrong, listening to those we serve, and laying the foundation for a modern electronic health record that delivers for Veterans and clinicians."
---
NIST Unveils Strategy for Semiconductor Center, Calls for Board Nominations
The National Institute of Standards and Technology (NIST) released a new strategy for creating the National Semiconductor Technology Center. The funds for the center were appropriated by the CHIPS and Science Act to facilitate domestic development of semiconductor chips to mitigate the national security risks of a critical component relying on foreign supply. The center will be a private-public partnership with three primary goals.
Extend American leadership in semiconductor technology
Reduce the time and cost of moving prototypes to commercial production
Build and develop the semiconductor workforce
To facilitate the development of the center, NIST has published a request for nominations for the selection committee to serve as board members for the nonprofit center. All nominations must be submitted by May 10.
---
SBA Releases Final Rule Amending Affiliation and Lending Criteria for Loan Program
The Small Business Administration (SBA) will be amending affiliation and lending criteria for their business loan program. Effective May 11, the SBA will change its restrictions on the use of proceeds in order to allow the use of loan proceeds in purchasing a portion or other owner's interest in a business. Additionally, the SBA is streamlining the creditworthiness requirements for loan determination to the following, as applicable:
(a) The credit score or credit history of the applicant (and the Operating Company, if applicable), its associates and any guarantors;
(b) The earnings or cashflow of the applicant; or
(c) Where applicable, any equity or collateral of the applicant.
Additionally, the regulation has been updated with a new requirement that SBA must use generally accepted commercial credit analysis processes and procedures consistent with similar non-SBA guaranteed commercial loans. The SBA is also modifying its requirements for hazard insurance on collateral so that loans of $150,000 or less lenders must follow hazard insurance policies consistent with loans made for similarly sized non-commercial loans. The process for reconsideration after denial has also been updated to allow for final reconsideration to be delegated by the Director of the Office of Financial Assistance. Previously, this authority was solely held by the Director. Finally, the SBA is amending size standard determinations to streamline the affiliation determination by removing the principle of control and is establishing the definition of a small business concern as one which is independently owned and operated, and which is not dominant in its field of operation.
---
A View From Main Street
By Ken Dodds, Live Oak Bank
The following blog does not necessarily represent the views of The Coalition for Government Procurement.
Size Protest and SDVO Updates
Responding to a Size Protest
A firm's size under a revenue-based size standard is determined based on the firm's last five most recently completed fiscal years.[1] Usually tax returns are used. However, if tax returns have not been filed, the protested concern must still establish its revenue for a completed fiscal year by furnishing accounting records, audited financial statements or affidavits.[2] If SBA accepts the size protest (the protest is timely and specific, the protester is an interested party, etc.), the protested concern has the burden of establishing it meets the size standard.[3] If a concern fails to provide requested information, SBA may make an adverse inference and assume that the requested information would negatively impact the concern.[4] In a recent size appeal, a protester alleged the prospective awardee had 38 affiliates. The protested concern acknowledged that it had 35 affiliates and claimed that 23 did not have revenue during the period in question, but did not provide evidence to support the claim. The owner of the protested concern submitted personal tax returns that appeared to indicate one of the affiliates did have revenue. The protested concern also submitted redacted tax returns. The protested concern further claimed that some affiliates had not filed tax returns but did not provide any other information to establish revenues for the relevant fiscal years. The Area Office made an adverse inference and found the protested concern to be other than small. On appeal, the protested concern attempted to submit unredacted tax returns but did not file a motion to admit new evidence. Size appeals are generally decided based on the information before the Area Office, unless a party can show good cause for admission of new evidence on appeal.[5] OHA rejected the new evidence and denied the appeal,[6] noting that the protested concern had failed to submit a complete application for a size determination (Form 355), and SBA can presume that requested information that is not provided would demonstrate the concern is other than small.[7]
Franchises
SBA's affiliation rules applicable to government contracting used to allow franchisees to qualify as small businesses if the firm had the right to profit from its efforts and bore the risk of loss commensurate with ownership. The rule was inadvertently deleted effective November 16, 2020.[8] On September 9, 2022, SBA proposed to reinsert the old rule back into the general affiliation rules applicable to government contracting.[9] The rule will be finalized in late April and be effective late May, 2023. In the context of qualification as an SDVO SBC, SDVs must control the daily business operations and the long-term decision-making of the firm. Given the control that franchisors have over their franchisees as set forth in most franchise agreements, franchisees are unlikely qualify as SDVO SBCs.[10] The same probably is true for WOSBs/EDWOSBs and 8(a) Participants.
Do you have a topic you wish to have covered or a question on how Live Oak Bank can support your business? Email me at ken.dodds@liveoak.bank. 
[1] 13 CFR 121.104(c)(1).
[2] 13 CFR 121.104(a)(1), (2).
[3] 13 CFR 121.1009(c).
[4] 13 CFR 121.1009(d).
[5] 13 CFR 134.308.
[6] Rigid Constructors, LLC, SBA No. SIZ-6193 (February 24, 2023).
[7] 13 CFR 121.1008(d).
[8] 85 FR 66146.
[9] 87 FR 55642.
[10] Partners In Energy, L.L.C., SBA No. CVE-253-A (January 18, 2023).