May 8, 2023
The Coalition for Government Procurement would like to thank everyone who attended this week's Spring Training Conference – Procurement Watchwords for 2023: Market Continuity, Cybersecurity, Supply Chain Security, and Sustainability. Your participation was key in having an incredibly valuable dialogue at the event between industry and the Federal Government about the latest procurement-related developments. We would especially like to recognize our speakers, whose contributions and expertise were crucial to the success of the conference:
Day One Speakers
Keynote Addresses:
Lesley Field, Deputy Administrator for Federal Procurement Policy, Office of Management and Budget (OMB)
Mark Lee, FAS Assistant Commissioner, Office of Policy and Compliance, General Services Administration (GSA)
Jeff Koses, Senior Procurement Executive, GSA
 Panelists:
Charlotte Phelan, Federal Acquisition Service (FAS) Assistant Commissioner, Office of Enterprise Strategy Management, GSA
Erv Koehler, FAS Assistant Commissioner, Office of General Supplies and Services, GSA
Tiffany Hixson, FAS Assistant Commissioner, Office of Professional Services and Human Capital Categories, GSA
Laura Stanton, FAS Assistant Commissioner, Office of Information Technology Category, GSA
Christopher Bennethum, FAS Assistant Commissioner, Office of Assisted Acquisition Services, GSA
Bill Toth, FAS Assistant Commissioner, Office of Customer and Stakeholder Engagement, GSA
Townsend Bourne, Partner, Sheppard Mullin
Larry Hale, Deputy Assistant Commissioner, IT Category Management, GSA
Kevin Funk, Supply Chain Risk Management Expert, GSA
John Tenaglia, Principal Director, Defense Pricing and Contracting, DoD
Lt. Col. Jason Holman, Deputy Director, Defense Procurement Initiatives, Defense Pricing and Contracting, Department of Defense (DoD)
Shon Lyublanovits, C-SCRM Program Office Director, Cybersecurity and Infrastructure Security Agency (CISA)
Cameron Reid, Director, Baker Tilly
Susan Cassidy, Partner, Covington & Burling
Holly Elwood, Senior Advisor to the Environmentally Preferable Purchasing Program, Environmental Protection Agency
Brennan Conaway, FAS Branch Chief, Acquisition Policy Division, Office of Policy and Compliance, GSA
Troy Cribb, Director of Policy, Partnership for Public Service
Joanne Woytek, SEWP Program Manager, National Aeronautics and Space Administration (NASA)
Andrea Ross, Contract Specialist, NASA
Cheryl Thornton-Cameron, Executive Director (SES) Office of Acquisition/SCRIM Operations, GSA
Joel Lundy, Director of IT Software Category, ITC, GSA
Patricia Waddell, Director, Office of IT Services, GSA
John Breen, IWAC Chief, Projects Branch, GSA
Kristine Stein, IWAC Business Development Director, GSA
Shaun Kelly, MAS Branch Chief, GSA
Chuck Hardy, Chief Architect, GSA PBM
Chris Hamm, Director, FEDSIM, GSA
Corey Nickens, Deputy Assistant Commissioner, AAS PMO (DAC), GSA
Jennifer Allsbury, Contract Specialist, GSA
Ricky Clark, Deputy Director, NIH Information Technology Acquisition and Assessment Center (NITAAC)
Ed Wilgus, Executive Outreach, NITAAC
Erin Pacifico, Contracting Officer, NITAAC
Adam Soderholm, Acting Director, Program Operations, GSA PSHC
Keith Jeffries, Director, Office of Contracting Operations, GSA
Ana Eckles, Director, Human Capital Solutions, R2, GSA
Bob Woodside, Director, Region 2 Supply Acquisition Center, GSA
Teresa McCarthy, Director, Heartland Region, GSA
Latasha Goines, Director, Southwest Supply and Acquisition Center, GSA
Ryan Schrank, IWAC Director, GSA
Stephanie Halcrow, Senior Fellow, Center for Government Contracting, George Mason University
Brig. Gen. Al Abramson (ret.), Vice President, National Armaments Consortium
Kristine Kassekert, Director, Other Transaction Learning, Defense Acquisition University
Day Two Speakers
Keynote Address:
Phil Christy, OALC Deputy Executive Director, Department of Veterans Affairs (VA)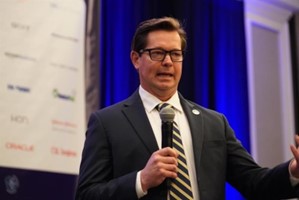 Panelists:
Phil Christy, OALC Deputy Executive Director, VA
Dr. Angela Billups, Executive Director and Senior Procurement Executive, OALC, VA
Andrew Centineo, Executive Director, Acquisition, Technology and Logistics, Veterans Health Administration (VHA)
Spencer Roberts, Executive Director, Logistics, VHA
Joe Maletta, Executive Director, Acquisition, VHA
Paul Freeman, Partner, Crowell & Moring
Lorraine Campos, Partner, Crowell & Moring
James Kim, Partner, Arnold & Porter
Moshe Schwartz, President, Etherton and Associates
Stephen Ruscus, Partner, Baker & Hostetler
Craig Hilliard, Division Chief, Medical/Surgical Prime Vendor (MSPV) Supplies, VHA
Katie Hulse, Director, Acquisition Services 3, Strategic Acquisition Center (SAC), VA
Mike Easley, Deputy Program Manager, Medical Supply Program Office Commodities, VHA
Dr. Jennifer Martin, Deputy Chief Consultant, PBM Services, VA
Col. Joseph Hoffert, Risk Management Executive Division, Defense Health Agency (DHA)
Terri Pryor, Program Manager, Integrated Clinical Systems, DHA
Capt. Edward Norton, Chief, Pharmacy Operations Division, DHA
Marsha Petersen, Chief, Pharmacy Support Branch/Senior Contracting Officer, DHA
Ruth Herman, Division Chief, Pharmaceutical Prime Vendor Program, Defense Logistics Agency (DLA)
Dr. Julia Trang, Strategic Sourcing Pharmacist/Industry Technical Liaison, DHA
Maryann Dimeo, IST Chief, Medical Surgical Prime Vendor Program, DLA
Fred Miller, IST Chief, ECAT Lab Dental and Optical Programs, DLA
Joanmarie Grace, Lead Contracting Specialist, ECAT Medical Surgical/Manufacturing Direct Programs, DLA
Penny Nechanicky, Director for Prosthetics and Surgery Aids, VHA
Ardene Nichols, Clinical Liaison Nurse, Prosthetic and Sensory Aids Service, VA
Brian Shepard, Supervisory Contract Specialist, SAC, VA
Joy Smith, Director of Contracts, Acquisition Services 4-6, VA
Zach Wilcox, Contracting Officer, Strategic Acquisition Center (Prosthetics), VA
We would also like to recognize the officials who served at our four "Ask the PMO" tables, including three the Coalition held for the first time, on GSA MAS, VA FSS, Med/Surg Supply BPAs, VA Pathfinder, and GSA Pricing Tools:
Stephanie Shutt, Multiple Award Schedule (MAS) PMO Director
Jack Tekus, Management Analyst, MAS PMO, GSA
Derek Tribble, Senior Program Analyst, GSA
Quianna Enang, Contract Specialist, GSA
Amit Rajput, Customer Service Director, GSA
Dena McLaughlin, FAS Regional Commissioner, Region 3, GSA
Josh Royko, Branch Chief, FAS Catalog Management Office
Mike Shepherd, Director, Catalog Management Office (CMO), Office of the Regional Commissioner Mid-Atlantic Region, FAS
Craig Hilliard, Division Chief, MSPV Supplies, VHA
Sarah Keefer, Branch Chief, MSPV Supplies, VHA
Jeremy Parker, Branch Chief, MSPV Supplies, VHA
Daniel Shearer, FSS Director, VA
Lydia McKay, FSS Chief, Program Management & Resource Support Division, VA
Diana Lawal, FSS Chief, Pharmaceutical/Dental B Division, VA
James Booth, FSS Chief, Medical/Surgical A Division, VA
Ashley Hammond, Portfolio Manager, CMSO, VA
Robert Overbey, Customer Advocate, Office of Procurement, Acquisition and Logistics (OPAL), VA
Angela Aicher, Project Manager, Innovation on Pathfinder, VA
Our members played a key role in the preparation and execution of the conference by serving as moderators for the various panels, lending their expertise to help make the sessions highly informative for all attendees:
Aaron Wasserman, SAP
Brian McManus, Amazon
Tim Barrios, MillerKnoll
Tad Laszewski, GDIT
Tony Celeste, Ingram Micro
Kelly McGriff, HNI Corp
Roger Sion, Deloitte
Mike Pullen, CGI Federal
Mike Bell, Booz Allen Hamilton
Joel Hinzman, Oracle
Gabrielle Horton, Grainger
Moshe Schwartz, Etherton and Associates
Parry Carter, McKesson
Ryan Sanford, Boston Scientific
J'Aime Conrod, Horizon Therapeutics
Alan James, Stryker
Karol Ann Sharp, AvKARE
Alexander Hastings, Covington & Burling
Kurt Meyer, Abbott
This conference was made possible by the tremendous support of our sponsors. Our sincere thanks to these organizations for supporting our mission and increasing dialogue between government and industry:
Platinum Sponsors: AvKARE, Covington, McKesson
Gold Sponsors: Amazon Web Services, Dell Technologies, Four Points Technology, Raytheon Technologies
Silver Sponsors: The Gormley Group, GDIT, Sheppard Mullin
Coffee and Networking Sponsor: SAIC
Wi-Fi Sponsor: FUTREND Technologies
The Coalition remains dedicated to delivering high-quality engagements that benefit the government contracting community as a whole. We are grateful for your participation, and look forward to continuing the partnership throughout this year and beyond. We hope to see you at more of our events as we come upon another quarter packed with opportunities to build common sense in government procurement.