June 22, 2023
As the pleasant summer weather approaches, one of the Coalition's most-loved events of the year draws closer. We are excited to share that registration for the 10th Annual Joseph P. Caggiano Memorial Golf Tournament is now open! This event honors the legacy of our dear friend Joe Caggiano, a Navy veteran and federal marketplace expert with a career spanning over 25 years. The tournament will take place on August 16 at the beautiful Whiskey Creek Golf Course in Ijamsville, Maryland. Golfers of all skill levels are invited to participate in the friendly competition, and there even will be a chance to win prizes! For those who do not play, we still encourage you to come take in the stunning scenery of Whiskey Creek from the club house deck, network with friends and colleagues, and enjoy the closing reception.
The tournament provides a great opportunity to support some wonderful charitable causes. Over the years, we have had the privilege of supporting a number of initiatives that aid our veterans, including The Coalition for Government Procurement Endowed Scholarship Fund at the George Washington University Law School, which supports a veteran concentrating their studies in U.S. government procurement. Thanks to the continued generosity of our members, we have raised over $135,000 for the scholarship, and in total, approximately $250,000 for multiple causes.
Last week, we announced that, in addition to contributing to the GWU scholarship fund, the proceeds from this year's tournament will support a new charity organization for veterans and service members: Paws for Purple Hearts. Paws for Purple Hearts, founded in 2006, strives to improve the lives of veterans and wounded service members facing mobility challenges and trauma-related conditions, such as post-traumatic stress disorder and traumatic brain injury, by providing the highest quality assistance dogs and canine-assisted therapeutic programs. Through its Canine Assisted Warrior Therapy program, veterans and service members have the opportunity to actively train service dogs alongside a Paws for Purple Hearts trainer. Once a service dog is trained, Paws for Purple Hearts matches the dog with a veteran or wounded service member using a science-backed methodology developed by the prestigious Bergin College of Canine Studies. Paws for Purple Hearts is the only service dog organization in the world for veterans and wounded service members that partners with Bergin College.

Paws for Purple Hearts also works to build awareness about the role service dogs play in helping veterans and wounded service members along the road to recovery. A large portion of service members who return with a service-related disability have post-traumatic stress disorder (PTSD), traumatic brain injury (TBI), or another mental health condition. In fact, about 39% of post-9/11 service members suffer from some level of PTSD, TBI, or both. Through its programs, Paws for Purple Hearts uses service dogs to reduce the severity of veterans' symptoms, such as anxiety and stress, and help build strong connections with others again. The positive impact these service dogs have on the lives of veterans can be seen in this video.To learn more about Paws for Purple Hearts, visit pawsforpurplehearts.org. To register for the Joseph P. Caggiano Memorial Golf Tournament, click here.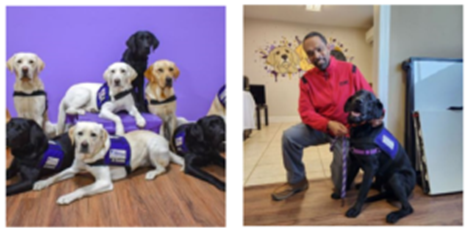 The Coalition is thrilled to have the opportunity to support this important organization in Joe's honor. And, we promise that you will have the opportunity to meet some of the service dogs at the tournament!
The Coalition would like to thank our current sponsors of the Joseph P. Caggiano Memorial Golf Tournament. We are gratified to have received this strong support from our members after just one week. Current sponsors include: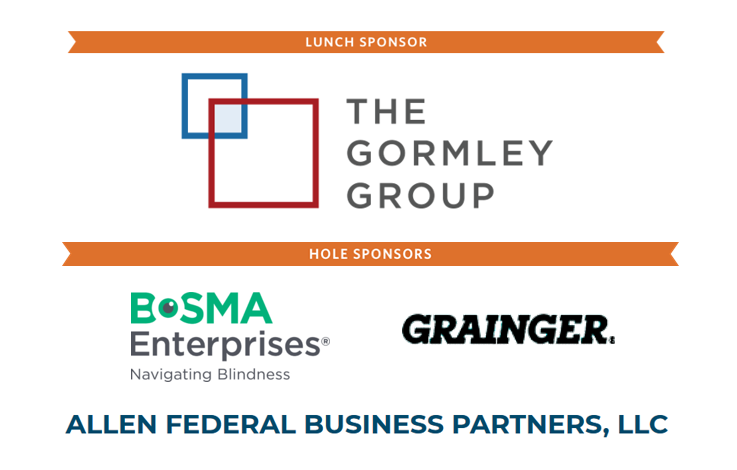 Plenty of great sponsorship opportunities are still available for the tournament, including:
Title Sponsorships (2 available)
Reception Sponsorships (3 available)
Luncheon Sponsorships (2 available)
All-Day Beverage Cart Sponsorships (4 available)
Hole Sponsorships with 4 Players OR Hole Sponsorships (no players) (17 available)
Veranda Club Sponsorships (unlimited)
Golf Foursomes (unlimited)
Single Golfer (unlimited)
Learn more about these sponsorship packages, as well as their benefits, by clicking here. To secure your sponsorship, or if you have any questions, please contact Heather Tarpley at htarpley@thecgp.org.
We look forward to seeing you on August 16 to support these wonderful causes and honor the legacy of our colleague Joe!